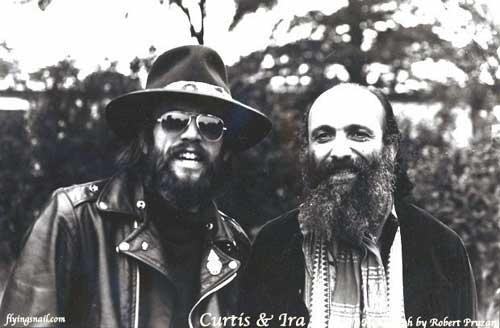 Curtis and Ira Cohen - Photograph: Robert Pruzan
Ira Cohen

Ira Cohen from 31 Squirrel ~ https://vimeo.com/15046320 via Amestizo (Crazy Horse)
Ira Cohen, an Artist and a Touchstone, Dies at 76
By DOUGLAS MARTIN, Published: May 1, 2011, Source: New York Times
Ira Cohen made phantasmagorical films that became cult classics. He developed a way of taking photographs in mesmerizing, twisting colors, including a famous one of Jimi Hendrix. He published works by authors like William Burroughs and the poet Gregory Corso. He wrote thousands of poems himself. He wrote "The Hashish Cookbook" under the name Panama Rose. He called himself "the conscience of Planet Earth."
But his most amazing work of art was inarguably Mr. Cohen himself. NY Arts magazine in 2008 called his life "a sort of white magic produced by an alchemist who turned his back on the establishment in order to find God, art and poetry."
He died of renal failure in Manhattan on April 25 at the age of 76, his family said.
Mr. Cohen made his Lower East Side loft an artists' salon, then left to spend many years on pilgrimages to Marrakesh, Katmandu and the banks of the Ganges. He hung with Beats but rejected being called one. He was an entrepreneur of the arts who didn't care about money.
Clayton Patterson, a photographer and historian of the Downtown scene, suggested that if Mr. Cohen couldn't be easily summed up, that was pretty much the whole idea: "On the one hand he was part of everything, but on the other he was an outsider to everything," Mr. Patterson said in an interview.
In certain artistic and literary circles, Mr. Cohen was a touchstone. "Ira was a major figure in the international underground and avant-garde," Michael Rothenberg, the editor of Big Bridge magazine, an Internet publication, said in an interview. "In order to understand American art and poetry post-World War II, you have to understand Ira Cohen."
Mr. Cohen was born in the Bronx on Feb. 3, 1935. Both his parents were deaf, as were most of their friends, and he learned early to communicate with signs. "I grew up constantly surrounded by these wonderful, loving people with strange voices like doves cooing in the eaves of a country house," he said.
He graduated from the Horace Mann School at 16 and attended Cornell, where he took a class taught by Vladimir Nabokov. He smoked marijuana and imagined how wonderful certain great writers might have been had they had the opportunity. He dropped out of Cornell, then enrolled at the School of General Studies of Columbia University but did not graduate.
He married Arlene Bond, a Barnard student, in 1957, and they had two children. By the early 1960s they were divorced, and he had taken the same Yugoslavian freighter to Morocco that Jack Kerouac had jumped a year earlier. In Tangiers, he lived and worked with Mr. Burroughs and Paul Bowles, the composer and author. He started a literary magazine called Gnaoua, ostensibly dedicated to exorcism. A copy can be seen on the mantelpiece on the cover of Bob Dylan's 1965 album "Bringing It All Back Home."
In the late 1960s, he returned to his loft and perfected his technique of photographing reflections on the surface of a polyester film with the trade name Mylar. Jimi Hendrix, of whom Mr. Cohen made a famous picture, likened the effect to "looking through butterfly wings."
In 1968, Mr. Cohen made a 20-minute film using the Mylar technique, "The Invasion of Thunderbolt Pagoda," which has steadily risen in popularity. The original drummer of the Velvet Underground, Angus MacLise, improvised the score, a smorgasbord of Tibetan, Moroccan and Druidic trance music. A Village Voice reviewer said one left the film "perched full-lotus on a cloud of incense, chatting with a white rabbit and smoking a banana."
Also in 1968, Mr. Cohen's name popped up in newspaper articles when he was arrested and fined $10 for obstructing a police officer trying to shut down a performance of the avant-garde Living Theater company for obscenity. Mr. Cohen's production company, Universal Mutant, soon produced a movie of the questioned play, "Paradise Now."
In the 1970s Mr. Cohen went to Katmandu, Nepal, where he started a hand-operated press to publish manuscripts, some on black rice paper with red ink flecked with gold powder. Mr. Corso had left a poem in Katmandu, and Mr. Cohen published it.
He returned to New York in 1981 and moved in with his mother in an Upper West Side apartment. In 1982 he married Carolina Gosselin; they divorced seven years later. After his mother died in 1993, he remained in the apartment until his own death.
Mr. Cohen wrote countless poems; had photographic exhibitions around the world; did poetry readings; helped edit small literary magazines; released a movie about a Hindu religious festival; and became the president of a nonprofit corporation dedicated to preserving "the hidden meaning of the hidden meaning."
He is survived by a son and daughter from his first marriage, David Schleifer and Rafiqa el Shenawi; a daughter from his second, Lakshmi Cohen; a son from his relationship with Jhil McEntyre, Raphael Cohen; a sister, Janice Honig; and several grandchildren.
A self-described multimedia shaman, Mr. Cohen compared writing to "pushing a peanut with my nose." But a postscript to one of his poems marveled at the beauty that could inexplicably blossom: "Sometimes when I pick up my pen," he wrote, "it leaks gold all over the tablecloth."
A version of this article appeared in print on May 2, 2011, on page A24 of the New York edition with the headline: Ira Cohen Is Dead at 76; An Artist and a Touchstone.
Lower East Side Artist, Ira Cohen: 1935-2011
By TheFreeAdviceMan / April 28, 2011, Source: Jewcy

Photo of Ira Cohen by Gerard Malanga
This past Monday a most thought-provoking and remarkable poet and visual artist, one of the last few greats of the Lower East Side Avant-Garde 60s Beatnik scene, quietly sneaked out–by the back door–of the great theater of life.
Ira Cohen, raised in the Bronx by his deaf parents, was 26 when he did a very daring thing; he boarded a Yugoslavian freighter heading for Tangier, Morocco in 1961. At the time Tangier had become the ultimate place for non-conformist writers, including many American Beat Generation writers, poets and artists. It was where William S. Burroughs was inspired to write his "Naked Lunch"; a book even more controversial than "Catcher in The Rye". Cohen was eager to get inspired and spent the next four years there, where he published the exorcism magazine GNAOUA, which featured Beat Generation Poetry, introducing such greats as William S. Burroughs, Brion Gysin, Harold Norse, Jack Smith, Irving Rosenthal, among others. And he produced a recording of Dervish trance music, recorded by Paul Bowles, titled Jilala. He also published under the alter-ego pen-name Panama Rose.
Before returning to New York City in the mid-1960s he lived in the Costa del Sol, Spain and went on to spend some time in Paris and London.
Back home he began to evolve a new form of visual art which he created using what he called "mylar images" using bendable mylar mirrors, billing himself as a "mythographer". These involved creating a somewhat psychedelic translucent-like colour-filtered alterations of the photographic images of people, including Jazz musician John McLaughlin, his friend William S. Burroughs, and the legendary Jimi Hendrix. Ira's works reflected his own shamanistic, spiritual and tantric explorations.
In 1968 he directed an Avant-Garde film titled Invasion of Thunderbolt Pagoda, inspired by the works of Sergei Parajarov and Kenneth Anger. He also produced a film on the experimental theatre Living Theatre's historic tour of America: Paradise Now.
In the 1970s he left his 'Mylar Chamber' in New York and headed off to The Himalayas, and after many months travel, stopping over in Morocco, Tunisia, Afghanistan and India, accompanied by Petra Vogt, the two arrived in Kathmandu (Nepal), where he began to write his "Starstream" poetry series and publish these and the works of other poets, such as Charles Henri Ford, Paul Bowles and Gregory Corso. Not only were the poems great, but so was the way Ira printed these books, using traditional rice paper and wood block printing, Tibetan and Indian style, techniques taught to him by the local craftsmen.
In 1972 he spent almost a whole year reading his poetry and doing improvisational performances in the wilder venues of San Francisco. After that he returned to New York for a series of exhibitions of his photography and photographic art-works.
By the 1980s he was on his way to Ethiopia, Japan and India. And it was then that he documented in video the Kumbh Mela Festival, a Hindu tradition dating back millennia, which is not only the largest gathering of spiritual Yogis, Shamans and Fakirs in the World, but the largest cyclical gathering of people on Earth, bar none.
During the 1990s and 2000s Ira not only had his poems published, but he became a contributing editor for Third Rail Magazine, a prestigious international arts and ligature review based in Los Angeles, California. In 1994 Sub Rosa Records released his first CD titled The Majoon Traveller, readings of his poems, edited by Cheb I Sabbah with assorted musical bits by Lights In A Fat City trio, Kenneth Newby, Eddy Sayer and Stephen Kent, Angus MacLise and The Tribal Orchestra quatro with Angus MacLise, Loren Standlee, Hetty MacLise, Raja Samyanna, as well as Ziska Baum, Don Cherry, Ed Blackwell, Ornette Coleman, Robert Palmer and The Master Musicians of Jajouka.
He was a staunch critic of Reactionary politics, and spoke out against War and Socio-Economic exploitation. He was a most eccentric individual who will be missed by quite a few of the world's most creative people!
And I only met knew him briefly; when he was my guest at my apartment in Budapest in the Winter of 1998. Two eccentric Philosopher-Poets and a couple of mice!
If you would like to read a Poem I wrote in Tribute to Ira, you may do so by going to my website. The poem will be put to music and visual art here.
Ira Cohen
From Wikipedia, the free encyclopedia
IRA COHEN
http://www.bigbridge.org/issue5/ira.htm
MY FATHER by LAKSHMI COHEN
http://www.bigbridge.org/issue7/artiracohen.htm
IRA COHEN'S PHOTOGRAPHS : A LIVING THEATRE
http://www.bigbridge.org/issue5/iraphot.htm
IRA COHEN: MYSTICAL MADNESS
http://www.bigbridge.org/issue5/irafilm.htm
IRA COHEN: THE COSMIC MAVERICK
http://www.bigbridge.org/issue5/irapoetry.htm
THE GREAT RICE PAPER ADVENTURE KATHMANDU, 1972-1977
From New Observations, New York City, Issue 106, May/June 1995. Guest
Editor: Valery Oisteanu
http://www.bigbridge.org/issue5/irabook.htm
AKASHIC WEEK-END by IRA COHEN
http://www.magic.be/Akashic/Ira.html
Ira Cohen @ cynthiabroan.com
http://www.cynthiabroan.com/ic_exhibcatalog.html
ANNOUNCING THE IRA COHEN AKASHIC RECORD DVD SERIES - A BASTET EXCLUSIVE
IRA COHEN'S "THE INVASION OF THUNDERBOLT PAGODA" DVD FEATURING "BRAIN DAMAGE" & "FROM THE MYLAR CHAMBER" SLIDESHOW
http://www.arthurmag.com/news/
Doctored Strange
Invasion of the party crashers: A druggie Biennial highlight
by J. Hoberman
March 14th, 2006 1:35 PM
http://www.villagevoice.com/film/0611,hoberman,72538,20.html
As gnarly and globalistic as V for Vendetta is, the movie would hardly seem out of place in the "Day for Night" Whitney Biennial. Selected films range from George Butler's John Kerry doc Going Upriver to Michael Snow's 15-minute Wavelength remake ("for those who don't have the time," per Snow); there are also several sub-curated shows of avant-garde movies going back to the 1930s. The ultimate comic-book attraction, however, is Ira Cohen's 1968 Invasion of Thunderbolt Pagoda—part "Dr. Strange," part Inauguration of the Pleasure Dome, so High '60s that you emerge from its 20-minute vision perched full-lotus on a cloud of incense, chatting with a white rabbit and smoking a banana.
Although The Invasion of Thunderbolt Pagoda is basically occult masquerade in the mode invented by cine-magus Kenneth Anger (also at the Whitney), the main influence is Jack Smith. Bec Stupak's "blind" scene-by-scene remake of Flaming Creatures—recently at Deitch Projects—isn't just a flashback to Smith's queer orgy but a reminder of how often it was restaged (and colorized) back in the day.
Invasion is a languidly opiated costume ball in which an assortment of masked and painted bohos, some sporting outsize elf ears, loll about a candlelit, Mylar-lined set, blowing soap bubbles and nibbling majoon. (The outdoor ending—a sort of human mandala passes around a well-deserved golden globe—is very Normal Love, complete with Beverly Grant.)
In lieu of action, Cohen uses all manner of superimposition and prismatic image-splitting; his big effect, however, is the deliquescent Mylar reflection. What saves The Invasion of Thunderbolt Pagoda from preciosity is the vague menace of Angus MacLise's improvised pan-piping, tabla-tapping, creature-yipping score. Although this masterpiece of Tibetan-Moroccan-Druidic trance music was reissued on CD several years ago, it truly blossoms in conjunction with the exotic smorgasbord served at Cohen's psychedelicatessen.
The Invasion of Thunderbolt Pagoda
Directed by Ira Cohen
Whitney Museum, March 17 and May 12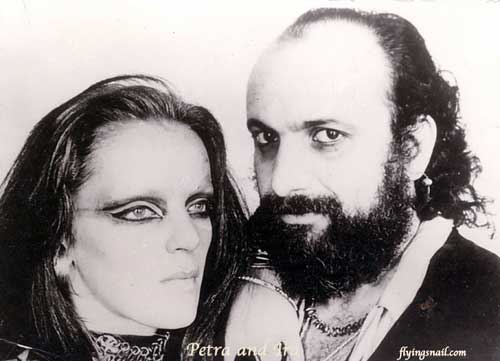 Petra Voght and Ira Cohen - Photograph: Ira Cohen
---