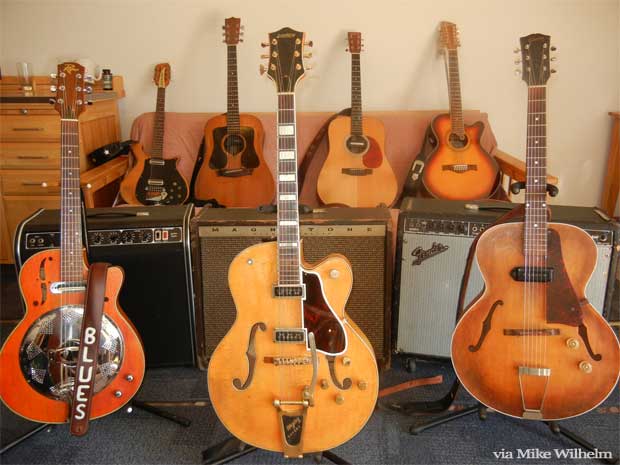 Mike Wilhelm Guitars
Hi Curtis,
Some time ago I had found in the book Gruhn's Guitar Guide that my Gretsch was indeed a 1954 model, this year being the only year the metal knobs had smooth tops. A few months back I discovered through a couple of Gretsch guitar forums that not only was my Country Club a 1954 model but that it was made in late 1953, the earliest ones having no pearloid position marker at the first fret, later in 1954 they added the first fret marker. The serial # indicates that it may have been the 3rd or 4th one made, the 1954 model year being the first year for the Country Club. I became interested in restoring it to look more similar to the stock appearance it had when I bought it in 1965 in the proverbial hock shop in Reno ($285.00!!!). Two of the items missing were the original Melita bridge (broke in half during the late '60s) and the pick guard (lost while it was in the repair shop in the late '60s). I still have the original tailpiece in the case, replaced with a Bigsby Vibrato tailpiece early on.
I had been using a Bigsby bridge which was problematic because it is non-adjustable and is compensated for a wound G string whereas I use an unwound G. My luthier/amp tech, John Battit, recently brought over a couple of goodies, the first being a 10-way adjustable bridge made in USA by Wilkinson which has roller saddles, perfect for the Bigsby Vibrato unit. It is not a Melita but is functionally superior in every way, as state-of-the-art as the Melita was in its day. The vibrato unit is smooth as snot now and always returns to pitch. The intonation is spot-on for the first time since the Melita bridge broke lo those many years ago.
The second item he brought was a tortoise shell plastic pick guard which he made from a cardboard pattern I had given him which I made to match a photo of the guitar as it appeared when I bought it.
I think you'll agree that the guitar looks classier than ever now.
The group shot [top of this page] features: Front row, l-r; 2000 Rogue biscuit cone resonator w/Carvin pickup, 1954 Gretsch Country Club, 1949 Gibson ES125 resurrected from the dead by John Battit - Back row, l-r; 1967 Rickenbacker 450 12-string, 1972 Fred Gerlach #16 Brazilian rosewood and western red cedar dreadnaught, 1988 Martin D18 mahogany and spruce dreadnaught re-topped & re-necked by John Battit with ebony fingerboard & bridge (this thing is a cannon!), 2000 Charvel 625CE 12-string - Middle row amplifiers, l-r; 1970 Traynor Guitar Mate 10 watt practice amp hopped up by John Battit to 65 watts (a tone monster!), 1958 Magnatone 460 Stereo Vibrato (true vibrato and reverb), 1965 Fender Twin Reverb Amp w/JBL D120F speakers bought from Jerry Garcia in 1966.

Happy trails,
Mike Wilhelm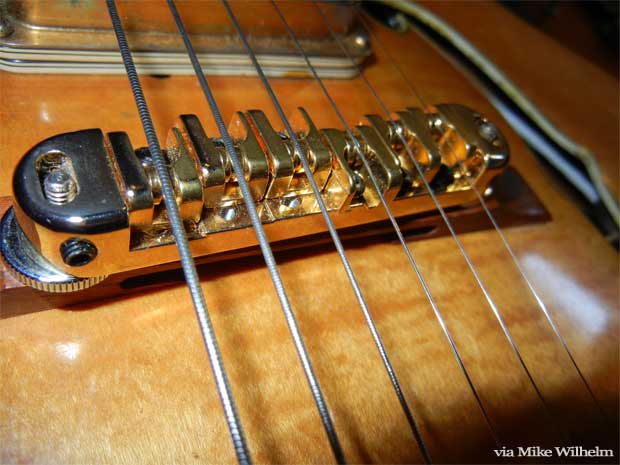 Mike Wilhelm's 1954 Gretsch w/Wilkinson 10-way adjustable bridge made in USA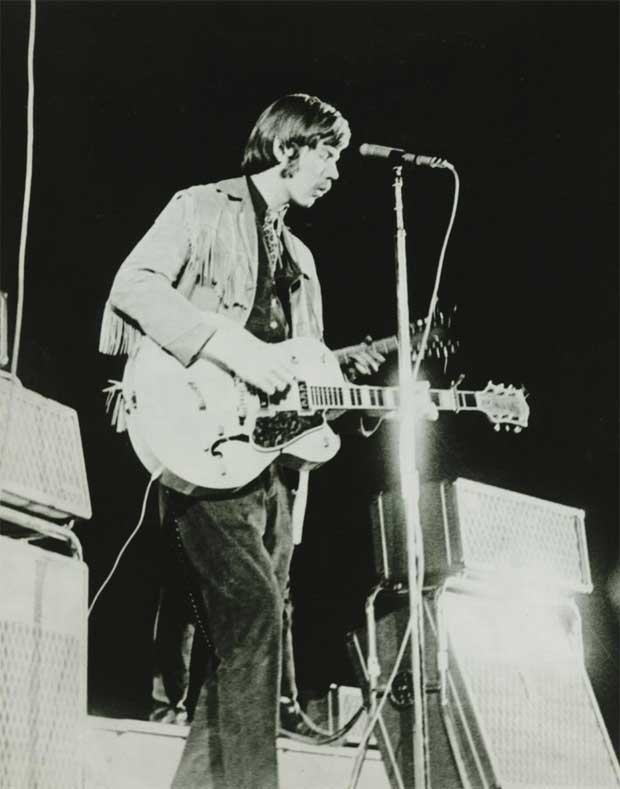 Dan Hicks (Charlatans) playing Mike Wilhelm's 1954 Gretsch, Cow Palace, April 4,1966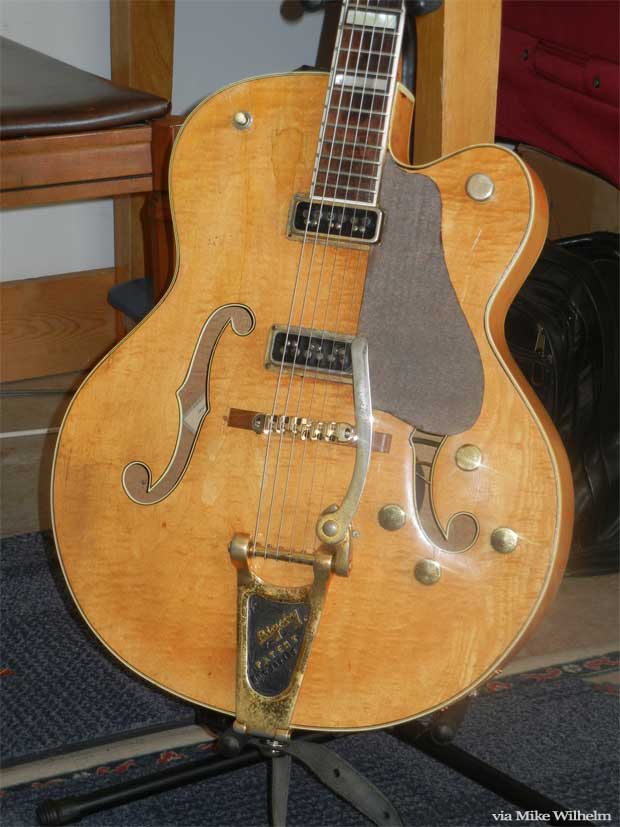 Mike Wilhelm's 1954 Gretsch w/Bigsby Vibrato tailpiece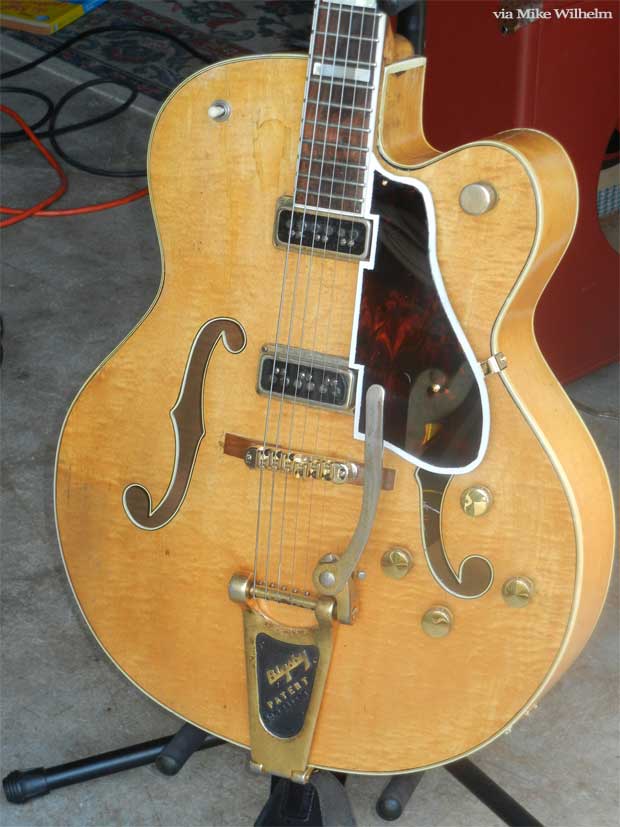 Mike Wilhelm's 1954 Gretsch w/Bigsby Vibrato tailpiece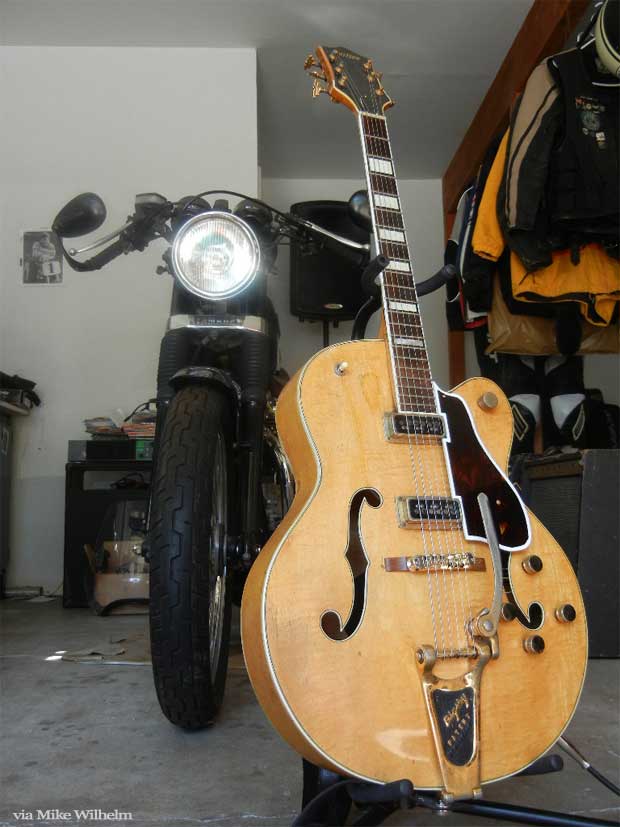 Mike Wilhelm's 1954 Gretsch Country Club
---