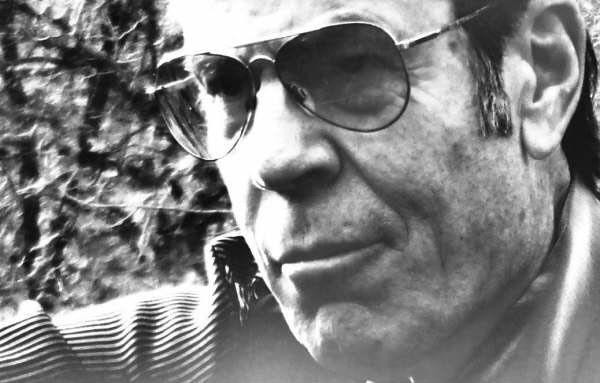 Mike Wilhelm
Performances & Photographs
---
---
Hello Curtis,
Thank you for letting me know about Mike's passing on.
At Barbara Moore's Sonoma Sanctuary 2009 JoyFest, I spent the afternoon there with some of my favorite musicians. And Mike was playing for us that day.
I last saw Mike at The Red Dog Saloon in Virginia City, NV celebrating the Charlatan's 50th Anniversary - https://youtu.be/HBsZtla9iV8
"How Can I Miss You When You Won't Go Away?"
Long live Mike Wilhelm!
Love, Chris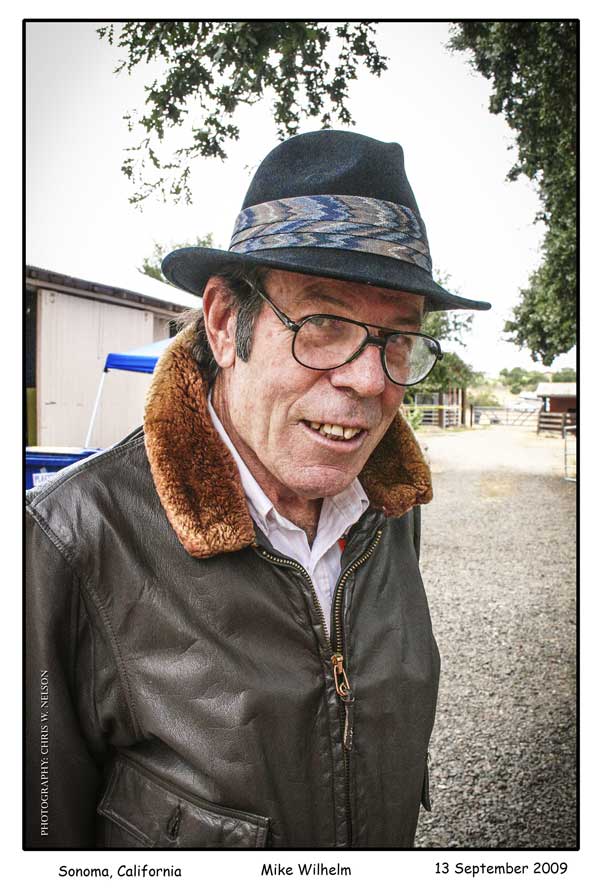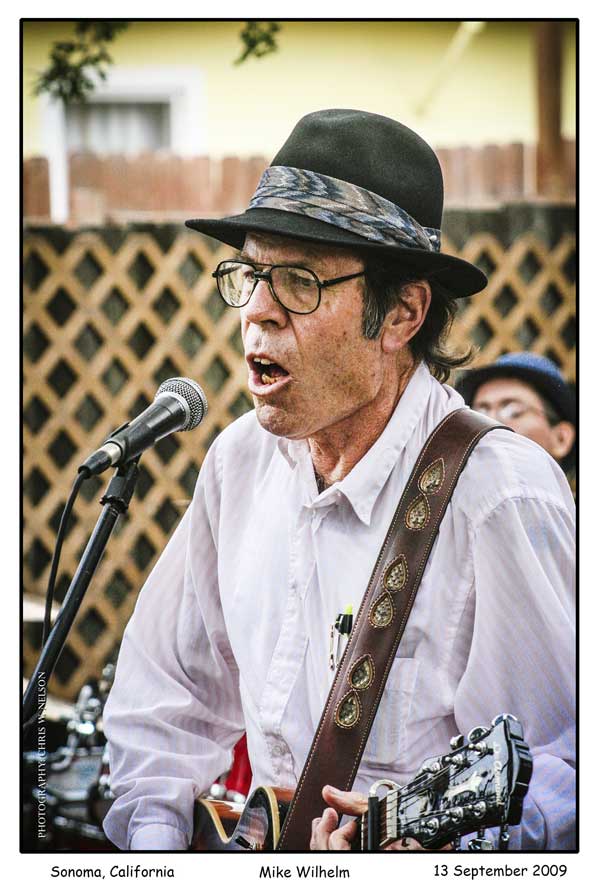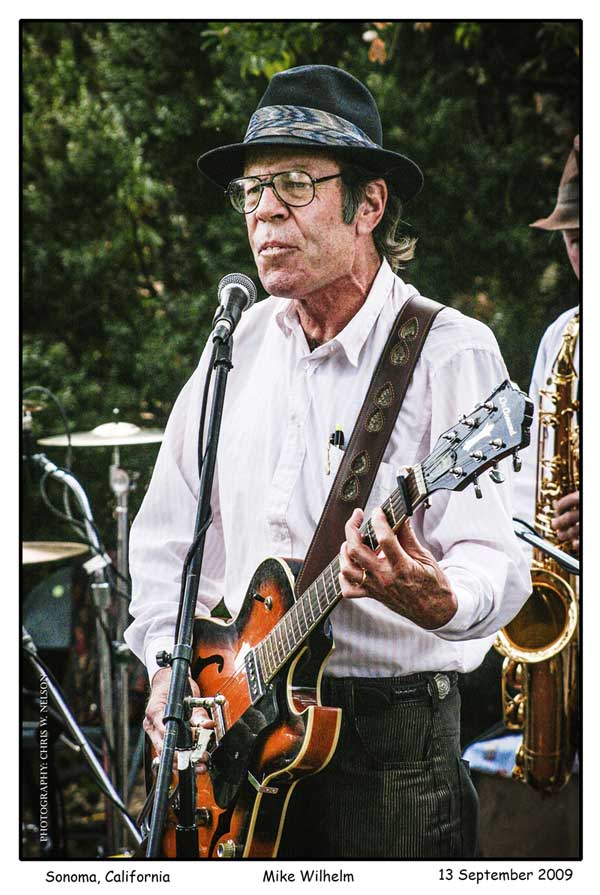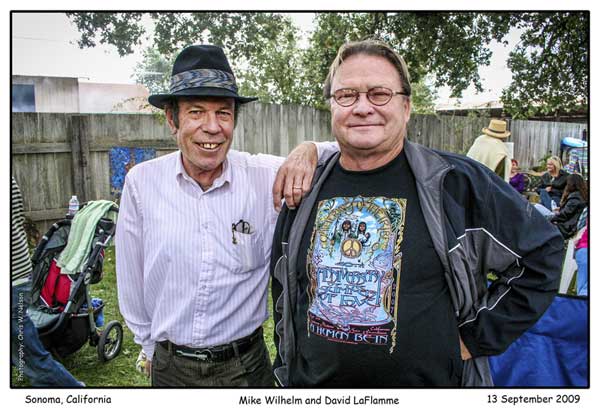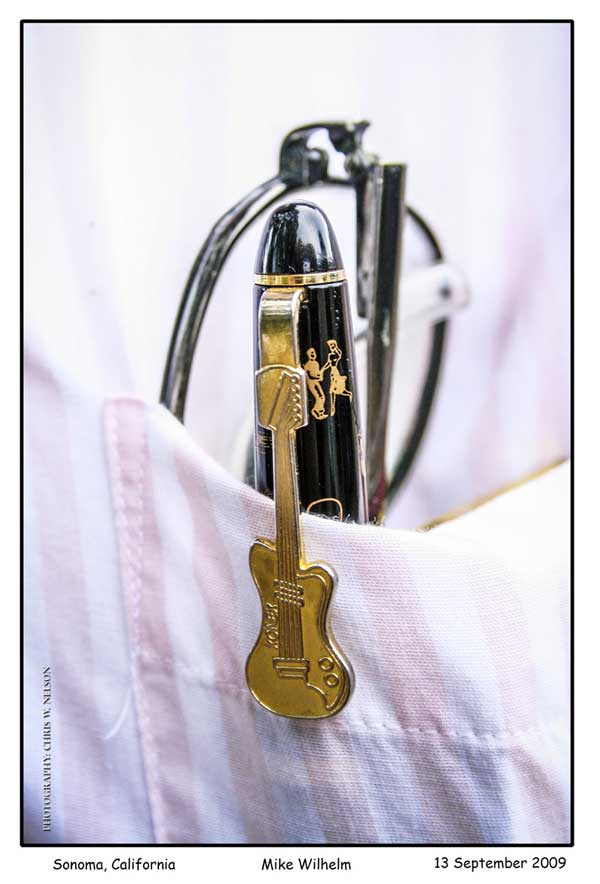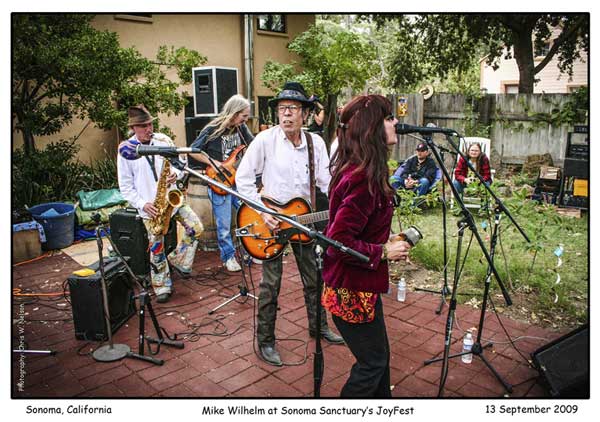 Notes from ~@~ Dream Hour Radio Show, May 18th, 2019, 6am PDT

Dream Hour
May 18, 2019
(Saturday Morning),
at 6 am PDT
I will be doing a one hour radio show on WVUD, 91.3, FM
The first half (6:00 am to 6:30 am pdt): 'United State Cafe'
The second half (6:30 am to 7:00 am PDT):
Mike Wilhelm
Go To: http://www.wvud.org/?page_id=24
Click on a listening link below the WVUD logo:

Available locally in DE on WVUD-FM 91.3, Shoutcast [Search: WVUD], and TuneIn
Dream Hour 201905.18,
06:30 PDT Set List:
Mike Wilhelm:
Hear the People ~ 02:40
http://www.flyingsnail.com/Podcast/HearThePeople.mp3
Sympathy for the Devil ~ 05:25
http://www.flyingsnail.com/Podcast/SympathyForTheDevil.mp3
Big Boss Man ~ 05:33 w/Neon Napalm
http://www.flyingsnail.com/Podcast/BigBossMan.mp3
House of Blue Lights ~ 03:13 w/Neon Napalm
http://www.flyingsnail.com/Podcast/HouseOfBlueLights.mp3
When You Got A Good Friend ~ 09:00
http://www.flyingsnail.com/Podcast/WhenYouGotAGoodFriend.mp3
Jesse's Theme ~ 02:59
http://www.flyingsnail.com/Podcast/JessesTheme.mp3
---
---

Mike Wilhelm
Will be on KPFZ 88.1 FM
Lake County Community Radio
Saturday, April 20th, 2019
11AM (PDT) ~ 1PM (PDT)
---
---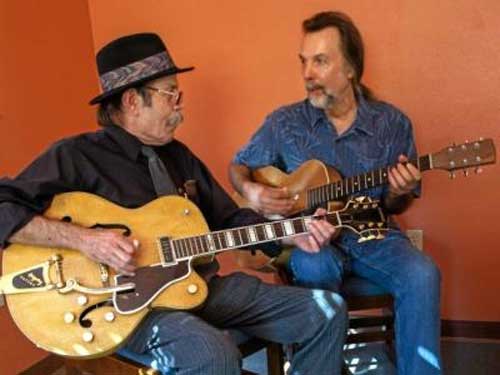 Photo: Ukiah Daily Journal, Karen Rifkin. Mike Wilhelm (left) & Rich Kirch jam unplugged.
Michael Wilhelm
Blues, Brews and BBQ:
Meals on Wheels benefit
September 27, 2014
6 to 10 PM
Mendocino Lake Event Center
1500 Lake Mendocino Drive, Ukiah, CA
Boogie in the Wine Country! Mike Wilhelm will be opening the show solo acoustic at Blues, Brews and BBQ on Sept. 27 at Mendocino Lake Event Center at 1500 Lake Mendocino Drive, Ukiah, CA.
The headliner is Rich Kirch's Talk That Talk featuring: vocals by Lisa Kindred (Lisa Kindred Band); guitars by Rich Kirch, (John Lee Hooker Band), Dave Aguilar (Norton Buffalo); bass by Ron Perry (John Lee Hooker Band) and, last but not least, drums by Roy Blumenfeld (The Blues Project), Barry Melton Band. Expect a lot of jamming and unexpected surprises.
This show is a Plowshares benefit for Meals on Wheels which will run from 6 to 10 pm. Gourmet BBQ & Anderson Valley Brewing beers, vegetarian menu available as well. Admission includes dinner and music.
Advance tickets are available at Dig Music, Mendocino Book Company and Plowshares. Sponsors include: Thurston Auto Corporation, Frey Organic Winery, Anderson Valley Brewing Company, Beckstoffer Vineyards, K-Wine and Max radio stations. Further information at Plowshares, tel. (707) 462-8582.
---
---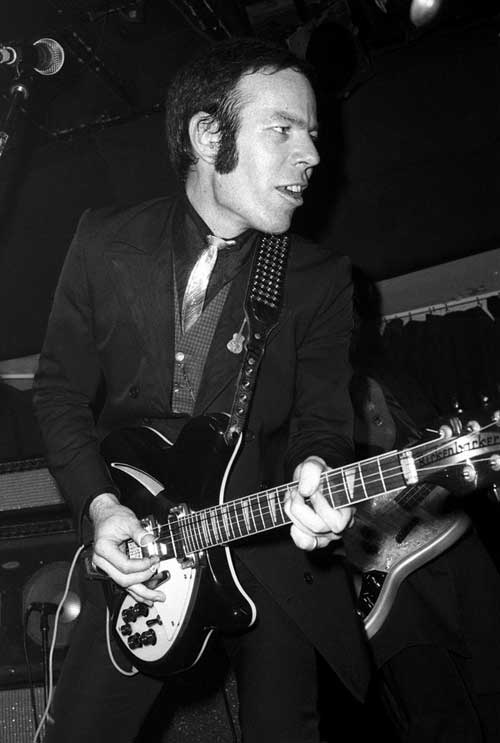 Mike Wilhelm To Play at:
A Tribute to the Life
and Music of Terry Dolan
Sunday May 13, 2012 at 7:00 PM
Terry Dolan (Terry and the Pirates) to be remembered in Bay Area tribute concert
by Dawn Lee Wakefield, Classic Rock Music Examiner, Article Source
On Sunday, May 13, a virtual "Who's Who" in San Francisco Bay rock will gather at Slim's Club, to host a tribute to musician Terry Dolan (Terry & the Pirates fame), who passed away January 15 at the age of 68. For over 25 years, Dolan's guitar and vocals would define a unique genre of music that has brought together artists who've committed to be there "for Terry's sake." The man behind this reunion prefers to remain out of the spotlight, instead preferring the focus to be on Dolan and his music. And yet, Mike Somavilla is the story behind so much of why Dolan's music is near-iconic on the west coast.
Dolan's life and times are shared best by Mike Somavilla, Dolan's friend and manager for 29 years. Mike is also lovingly known as "Fan-Man" to anyone who knew Terry Dolan. That's what Terry called Mike, so everyone picked it up from him. Somavilla is a major music resource, an organized event manager, and he's worked every job there is in the live music business. Thus, he is highly respected among those involved in the club scene, given all that he did with Dolan during his "Pirate" music days.
View slideshow: Terry Dolan photos from Mike Somavilla collection
What exactly is Pirate music? It includes several genres packed into one. Somavilla says "it's hard-driving, psychedelic-flavored country rock." Imagine. The main Pirates lineup included Dolan, Greg Douglass, John Cipollina, Hutch Hutchinson and David Weber. Their first official date together was June, 1973 at a club called "The Orphanage," near San Francisco's North Beach area. Word-of-mouth was the way Dolan, his music, and his band achieved fairly legendary, beloved status there. Of all his songs, two most identifiable with Dolan are "Inlaws and Outlaws" (see accompanying video), "Silverado Trail" and "Wish I Were Your River."
If you were ever part of the club and live music scene during the heyday of San Francisco rock, you know Dolan and his music. However, if you were looking for Terry & the Pirates albums in the United States, you'd be out of luck. He's actually better known in Italy, Germany, the UK, France, and various bootleg "pirated" recordings than in the traditional path of groups such as, e.g., the Grateful Dead, in the United States.
Somavilla has also invested untold hours into making sure Terry's compendium of work remained vital and respected during Dolan's lifetime. A companion story will share a Q&A with Somavilla regarding Terry's discography. Further, he's managed to gather people together for some landmark mini-reunions of people playing together for the first time in many, many years. Such reunion groups include members from the bands Mistress, Problem Child, the Steve Miller Band, and SFO.
On Sunday, what's going to happen, for the singularly affordable ticket price of only $25, is that a gathering of many of the most respected live musicians will launch at 7:00 at Slim's (located at 333 11th Street in San Francisco). Somavilla has created "A Tribute to the Life and Music of Terry Dolan," where musicians including Greg Douglass, Mario Cipollina, Nick Gravenites, Michael Wilhelm, David Hayes and more will perform.
Somavilla said "the response to fellow musicians to performing in Terry's memory has been phenomenal." Dolan's fellow musicians from the days of Terry and the Pirates have rich credentials to bring to the tribute evening.
Just some of the musicians who will appear include (along with their other band and artist affiliations): Greg Douglass (Steve Miller, Hot Tuna), David Hayes (Van Morrison, Lamb), Jeff Myer (Jesse Colin Young), Mario Cipollina (Huey Lewis & The News), Brian E. Kilcourse (Hohfeld, Mistress), Michael White (NRPS), Steve Derr (Country Weather), Byron Allred (Steve Miller, Todd Rundgren), Rich Smith (Ed Earley Band), Joel Jaffe (Jesse Barish), Greg Anton (Zero, Rocky Sullivan), Ed Earley (Elvin Bishop), Chris Janda (Chuck Day Band), Evan Palmerston (Elvin Bishop), Bill Baron (Mistress), and David Weber (Copperhead, (SFO).
Still not convinced this is the best gathering of Bay Area brilliance? Wait! There's more. Special guests who will be onstage with the others include another dynamic lineup: Les Lizama (Problem Child, Link Wray), William Sievers (Sopwith Camel), Jeff Jolly (Jeff Jolly Band), Gary Vogensen (NRPS), Chris Cole (Problem Child), Michael Wilhelm (The Charlatans), Michael Elvin Hunt (The Lion's Share), Kent Housman, (Ducks) Nick Gravenites (Electric Flag), Bill Laymon (David Nelson Band), George Michalski (Harvey Mandel), Reb Blake (Wild Ones), David Denny (Steve Miller), Jim Moscoso (Cleveland Wrecking Company), Joli Valenti (Quicksilver Gold), David Lewark (SFO), Desiree Jolly (Jeff Jolly Band); and J. C. Flyer.
It's hard to imagine a more fitting tribute to Terry Dolan than this Sunday's concert. If you're anywhere near San Francisco this weekend, after you've loved and celebrated the women who brought you into this world and those closest to your heart, take the evening off and enter another world altogether, of grand and glorious hard-driving, fist-pumping country rock, remembering Terry Dolan's 68 great years spent with his friends throughout all of his lifetime. To reach out to Mike Somavilla, you can check out the "Keeper of the Flame" at his web site celebrating San Francisco music.
Concert details:
Tickets are available online here; two pricing ranges are available. General admission tickets are $25 each and if you'd like dinner and the show, it's only $49.95 (and you're guaranteed a seat). Doors open at 6 pm and the show begins at 7:00 pm. For additional information, call (415) 255-0333.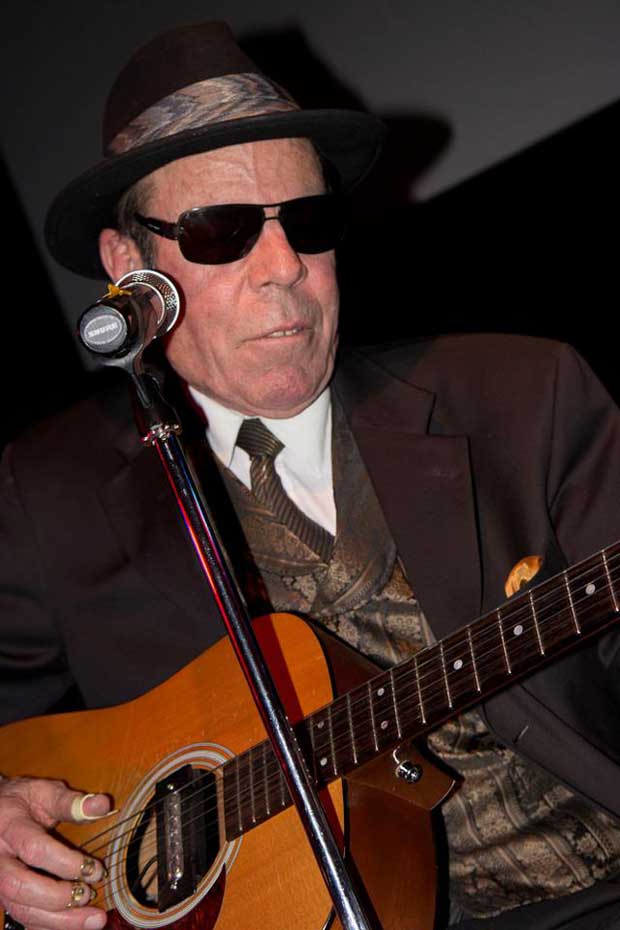 Mike Wilhelm - December 31, 2011 - Photograph: Rick Washburn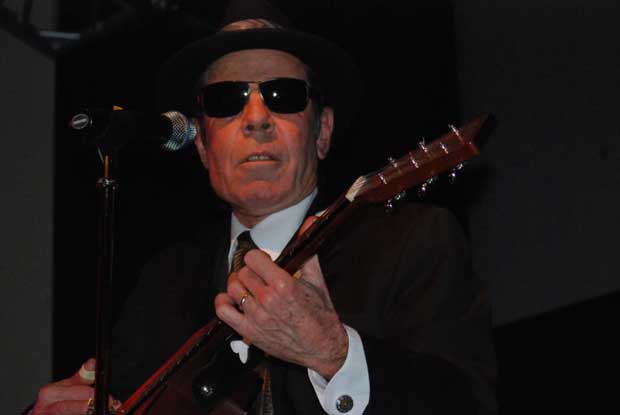 Mike Wilhelm - December 31, 2011 - Photograph: Keizo Yamazawa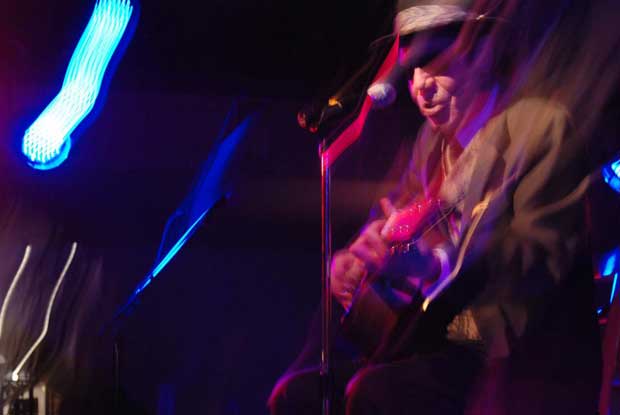 Mike Wilhelm - December 31, 2011 - Photograph: Keizo Yamazawa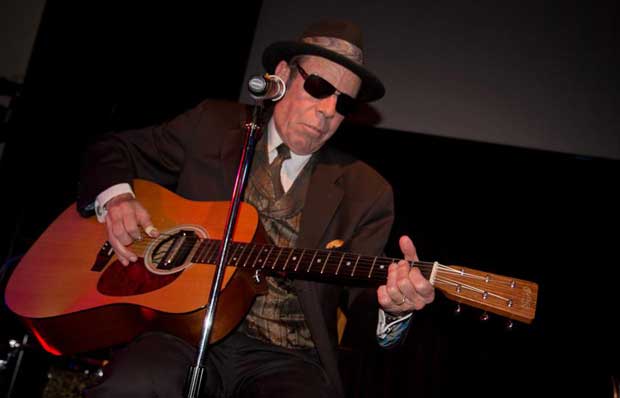 Mike Wilhelm - December 31, 2011 - Photograph: Rick Washburn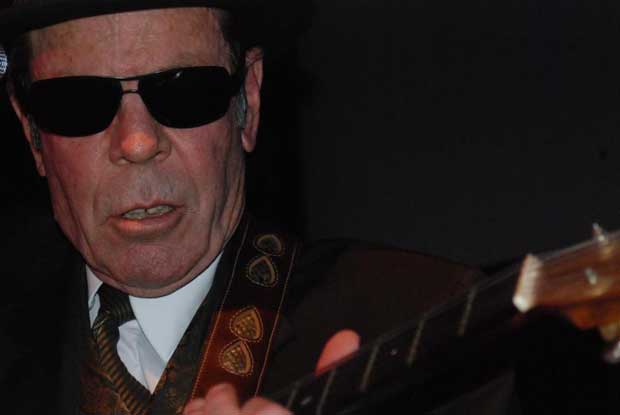 Mike Wilhelm - December 31, 2011 - Photograph: Keizo Yamazawa
Celebrate the New Year with Mike Wilhelm
and The Unauthorized Rolling Stones
FOR IMMEDIATE RELEASE:
A Celebration of 50 years of the Rolling Stones premiers New Years Eve
Redwood City, CA —While "will they or won't they" swirls around the Rolling Stones 50th Anniversary, a multi-act, multimedia theatrical event, culminating in a recreation of a live Stones concert, is set to storm into showrooms next year with a local musician in the lead role. This New Year's Eve at Redwood City's Club Fox, you'll be able to catch a sneak preview of Satisfaction Five-O, A Celebration of 50 Years of The World's Greatest Rock 'N' Roll Band and dance the year out with the "Mick Jagger" of the tour and his San Francisco based band, The Unauthorized Rolling Stones.
Satisfaction Five-O features contributions from genuine members of the 60's Classic Rock scene and a band assembled from the premier tribute artists in the business. Rudy Colombini of The Unauthorized Rolling Stones is portraying Mick Jagger, as Satisfaction Five-O tours showrooms in 2012.
Setting the stage for the climactic concert is a gallery of seminal images from famed Rolling Stone Magazine photographer Robert Altman, a multimedia show of previously unpublished photos of the Stones and other Classic Rock Icons by Bay Area photographer Chris Brorsen, and a set honoring the Delta Blues that inspired the Jagger-Richards team by guitarist Michael Ray Wilhelm of Charlatans and Flamin' Groovies fame. Both Altman and Wilhelm will be at the Fox for this event to promote the national tour.
A limited number of tickets are available to the public for the New Years Eve Sneak Preview, which offers a most unique alternative to the abundance of other year-end events.
A Celebration of 50 Years of the Rolling Stones
Saturday, December 31, 2011
2209 Broadway Street
Redwood City, CA
650-FOX-7770
Ages21 and over. Doors open 8:00 PM / Show begins 9:00 PM
Tickets $39.50, includes appetizers and champagne at midnight.
# # #
Contact for photos, ticket giveaways, interviews: Douglas Reynolds
775.220.0995 - doug@musiccitysf.org - http://www.clubfoxrwc.com/ Video: http://satisfaction50.com
---
Mike Wilhelm plays the Blue Wing solo
for Sunday Brunch on December 11, 11:30-2pm.
---
Mike Wilhelm Plays Tonight
Saturday, December 3, 2011 @ 8 PM
Hi Curtis,
I will be playing this benefit for Jerilyn Brandelius Saturday night (12-3-11) at Presidio Yacht Club opening solo acoustic blues (roots of the Stones) for The Unauthorized Rolling Stones, the best Stones tribute band. Plan is for me to go on at 8pm for 45 min. and then play a few tunes with The URS before they swing into their high powered set.
Happy trails, Mike Wilhelm

Jerilyn Lee Brandelius, the author of the Grateful Dead Family Album
As some of you already know, our friend Jerilyn Lee Brandelius, the author of the Grateful Dead Family Album, was graced with a new liver. She had been suffering from Hepatitis C since 2006 and on February 8, 2011 at the UCSF Transplant Clinic she received a liver transplant. We are happy to report that she is now recovering and looking forward to be able to do things on her own again. As you can imagine the medical bills are expensive, as is the assistance that she is in need of as she is recovering. Jerilyn's family has set up a Special Needs Trust to address her financial needs regarding her ongoing care.
The Unauthorized Rolling Stones are playing a Benefit Concert and all proceeds will go to the Jerilyn Lee Brandelius Special Needs Trust Fund. Advance tickets are recommended since this is a small venue.
Please come on out and show Jerilyn how much we love her and support her in her healing.
Thank you & God Bless!
Hosted by: The Grateful Dead Family Album, Jerilyn Brandelius
---
New Years Eve party withMike Wilhelm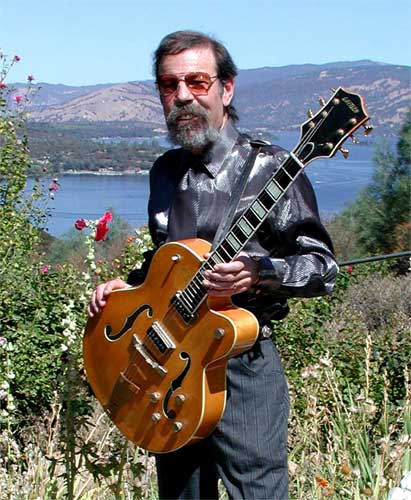 FOR IMMEDIATE RELEASE:
New Years Eve party with Mike Wilhelm
By Wellman Moody
POTTER VALLEY – Dance the night away at the Hopper's Corner Saloon New Years Eve party featuring music by Mike Wilhelm. Pot luck supper will start at 6:00 pm and the band starts playing at 7:00. Complimentary champagne will be served at midnight.
The band will consist of veteran musicians Wilhelm on guitar, slide guitar and vocal; Frank Reblano, from the Ft. Bragg band Rootstock, on drums and James Weber, formerly with the band 12:30, on bass. Special guest guitarist Dave Diaz will also perform.
Hopper's Corner Saloon is located at 10770 Main St., Potter Valley, CA 94169. The telephone number is 707-743-1678.
---
Rivero Victory Party
Sunday November 21, 2010 - 3-7pm
Konocti Vista Casino
No charge, complimentary food, no host bar.
Music by:
Without A Net
Irma Lopez
Mike Wilhelm
Blue Moon (Sarah and David Ryan)
Also, dynamic poetry by Lake County Poet Laureate Russell Reza-Khaliq Gonzaga.
Please come celebrate Frank's big victory and bring friends.
Wear your dancing shoes.
Open to everyone.
More Information
---
Mike Wilhelm at Tuscan village, 2 Goombas Deli
October 8, 2010, 6:30 - 8:30 PM. Solo acoustic.
16175 Main Street (adjacent U. S. Post Office)
Lower Lake, California 95457 USA - Phone 707-994-3354
Tuscan Village Friday Night Free Concert Series
---
Mike Wilhelm at Hamilton Field
Saturday September 18, 2010
Hamilton Field in Novato, Marin County, California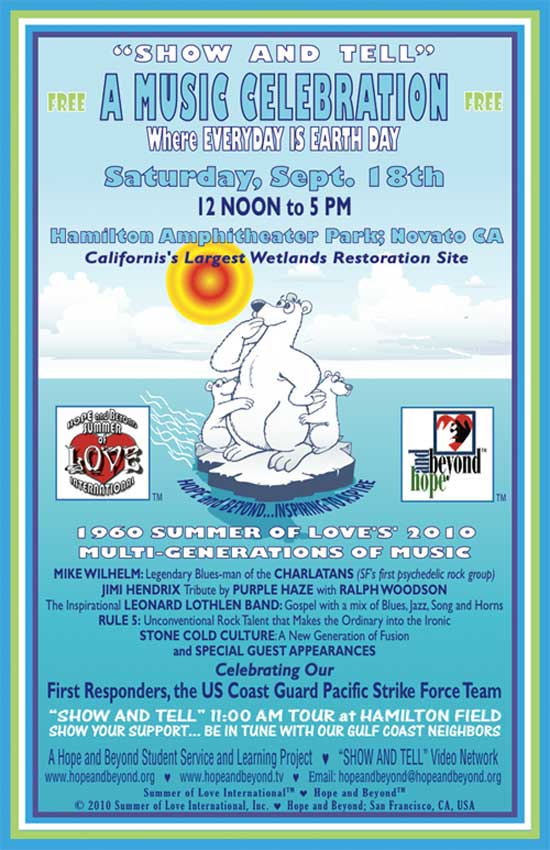 Celebrate California's Wetlands, Wildlife Habitats, and Coastal Waters
FREE - 11 AM to 5 PM - FREE.... Hamilton Amphitheater Park
Celebrating the advancements and prospects of innovative technologies that benefit the environment, health, and communications. The Hope and Beyond students, in service and awareness projects, recognize the importance of technological advances supporting our natural environments. The student projects are giving focus to our Earth's waters, where life sustaining Oxygen is produced. ♥ Student participants learn while engaging in touring Wetland Habitat Coastal Water sites, interviewing site keepers, and sharing their multimedia recordings via social networking and Website Reports. The Kick-Off starts on Sept. 18, 2010 and runs through to the Earth Day 2011 events. - http://www.hopeandbeyond.org/

Rocks And Gravel by Mike Wilhelm

Instructional Demo - Mike Wilhelm plays blues in E, See, See Rider - Michael Wilhelm's Videos on facebook

Instructional Demo - Mike Wilhelm plays blues in A, When You've Got A Good Friend.

Sweet Home Chicago by Mike Wilhelm, September 17, 2011
---