Remnant of Paradise Continued by ~@~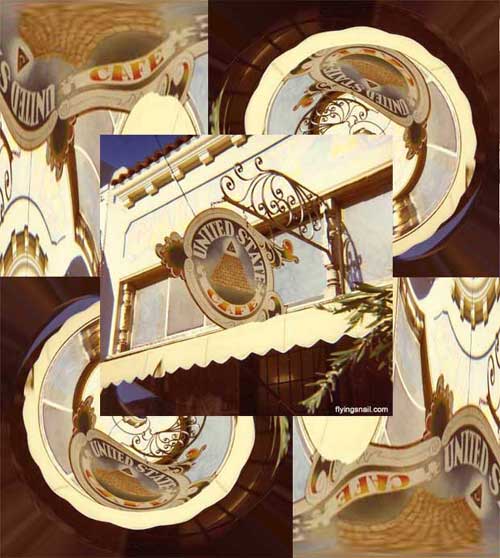 The P In SPAT
The only folks who will understand this page (imo) are those who took psychedelics before they were made illegal. [SPAT = Spiritual, Psychedelic, Already There.]
My reason for stating "before they were made illegal" is because it was perfectly legal to obtain psychedelics from a reputable source before the laws were changed, and from a research point of view this was important.
Anybody who is aware of this reality also understands it is next to impossible to relay and there is no easy way to start.
When I was a teenager I ingested 500 micrograms of Sandoz LSD-25 by mistake, thinking it was a glass of water.
Fortunately, one of the adults present was a psychologist doing LSD and alcoholism research, and became my "guide".
What was interesting about the above is, I did not react to the drug like other people before me, and that, in itself, puzzled those around me, because the effect of the drug made me feel perfectly 'normal' and provided perks.
My reason for bringing this up is due to the visions I experienced and (imo) Somebody did not want Anybody to know what secrets lay within an 'inner journey' and it became apparent hallucinogens put 'accepted religion' at risk.
I do not want to extend this by explaining how a lot of people in history suffered from mass hallucinations similar to the visions produced by LSD-25, so here is a start on discovering what Ergot Poisoning is about:
Ergot Poisoning
December 7, 2005 6:23 AM PST
http://www.metafilter.com/mefi/47339
Ergot
From Wikipedia, the free encyclopedia
http://en.wikipedia.org/wiki/Ergot
If one would like to understand why current religion has a problem with this subject, read this:
Sacred Mushroom and the Cross
By John Marco Allegro
http://www.johnallegro.org/
At this point I also need to share two stories with you that will provide necessary background for future statements and why this section exists.
Yoga vs. Lysergic

Around 4:30 AM, December 6, 1969, I heard a bunch of noise outside the house, got up, peered out the window, and saw a bunch of my friends getting out of a station wagon and walking up the steps to the house.

I made coffee as everyone settled on the living room floor and the topic of conversation was, 'today's concert at Altamont'.

One of my friends, who is no longer with us, was grinning ear-to-ear and announced he had some of Bear's 4 way wafers, made special for us'.

We each decided to take one wafer, figuring we would leave around 10:00 AM for the 'Stones' concert.

After about twenty (20) minutes everybody was 'feeling it', except me, so I took another one just to make sure.

By the time everyone was ready to leave I had eaten fourteen (14) wafers and still wasn't feeling anything, so I told my friends, "This is too weird, I think I'll stay home." and off they went.

Just to complete the end of that story, my friends got lost on the way and ended up on a back road that took them to the rear of the concert, where they parked, crawled under the stage, sat down in front, and saw the 'whole show'. Because of what happened at that show, I am glad I did not attend.

Meanwhile, back at home I am still going about my daily routine as if nothing happened; all while trying to figure out why I was not affected like my friends. At this point I went to bed to take a nap. This is when something strange happened.

When I closed my eyes, I found myself sitting on the top of a ladder, with my head pressed against the ceiling, in a room with no windows or doors, that was dimly lit. When I opened my eyes, everything was normal; or perceived to be "normal".

The next day, some of the friends who went to Altamont dropped by to tell me their adventure, and I tell them mine, because it was still happening. After they leave, my first wife suggested I call my old friend Richard to see if he could offer any advice.

I knew Richard before he became Ram Dass and used to hang out with him at his Dad's house on the lake in New Hampshire, so that's where I called him.

His assistant told me he had just returned from India, had been asked to speak at Esalen in California, gave me the number, and told me to call him there.

When I called Esalen, I was told he was giving a lecture out on the lawn and they would give him my message.

About two hours later the phone rings and it is Richard asking me, "What's up?"

I tell him the story and he listens while saying, "Ahhh..." a lot. I also closed my eyes to see if that strange effect is going on, and am still sitting on the top of that ladder.

It takes me about five (5) minutes to explain my story and then he takes over the conversation for the next hour, telling me about his experiences in India.

As he is talking, I start to experience this light beginning to radiate around me and had my eyes open.

When I shut my eyes, the room with no windows or doors had become, for lack of better words, a gold/white luminous cloud; except this time, I am sitting on a ladder in the middle of the cloud, with my head pressed against a ceiling of brilliant white light.

I interrupted Richard and told him what was going on; to which he responded with a very long, smile sounding, "Ahhh...."

The moment he did this, a trapdoor slammed open in the ceiling of light and I looked into what appeared to be infinite time, space, and beyond; something no amount of words will ever describe.

In the midst of phenomenal beauty, I saw this chubby old man wearing a blanket float by. As he passed, I noticed he seemed to be holding the earth, similar to the way one would hold an apple by the stem.

He lifted his head and gazed at me. When our eyes met this incredible smile came across his lips and the next thing I knew, I was jettisoned into another place I am not able to describe, other than say it was 'wheel like' and there were some incredible beings there [I did attempt to create a picture, which is located near the top of page two.]...at the same time, explaining this over the phone, as it is happening.

Richard said to me, "It has obviously happened to you." and "I'll send you a letter."




Letter Content:

Namaste

Curtis,

It's obviously happened to you. The seed has been planted. You need not worry too much it will flourish and seek its own way to the light. What follows now is a very slow and gentle opening, a listening, a re-evaluating, re-assessing, a calming of the mind along with the opening of the heart. Be very patient and very calm. We are dealing with eternal time and infinite space. All else is melodrama.

[snipped traveling to the Bay Area and getting together part]

Shanti, (peace)

Ram Dass

Along with the letter there was a booklist and names of some people I was to look up; which led me to Neem Karoli Baba, who explained there were two types of acid, Yoga and Lysergic and here is what I heard.

If one takes lysergic acid, finds a quiet, calm, cool place, and meditates, one might expect four (4) to six (6) hours of Darshan and come back down; whereas, when one works on themselves (Yogi Acid) and discovers where to turn on that 'switch', one never needs to come down, ..which began a new quest.


Original copy of what became the book known as, "Be Here Now"

Since this is the Internet (smile), here is a handwritten letter regarding a problem I had about 'running up against psychic walls':

Letter Content:

Curtis,

By not acting upon desires one weakens their hold. This ultimately follows non-attachment or desire - all things come to you By calming the mind through meditation you will see that desires are based on a misconception - i.e., mistaking yourself for your body or thoughts. Further meditation shows you that all is impermanent, all is changing and there is no place to stand anywhere. Then we merge and float into the One - where we are always together in Love.

Shanti,

Ram Dass

Addendum Page added 200708.12
The next part will continue with The P In SPAT and the below arrows will guide one through these pages until an index is built.
---