Remnant of Paradise Continued by ~@~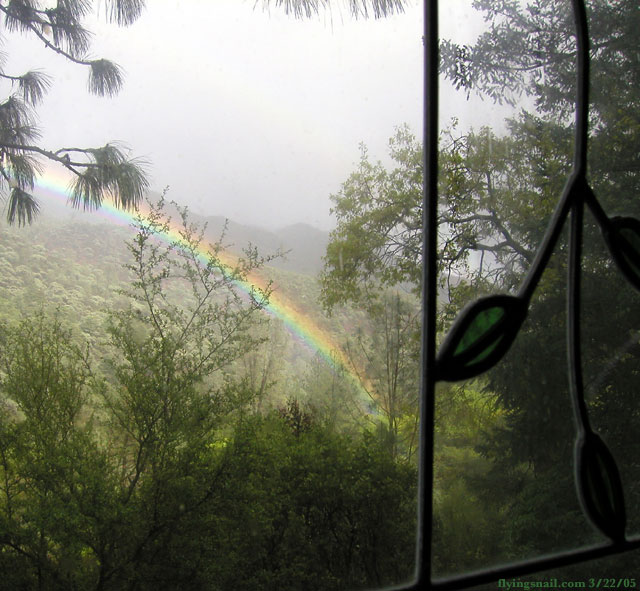 The Lonely One
by Dave Mason
http://www.dave-mason.com/
There've been moments of despair - There've been times I couldn't care - I was the lonely one - Then you showed myself to me - And I found I needn't be - Another lonely one
(CHORUS) - Running in the wilderness - And dreaming in the sun - n'Crying to the sky at night - For God's eternal son
Through the truth and through the lies - There is really no disguise - To hide the lonely one - You can find him on a card - Being matched with other hearts - The really lonely one
(CHORUS) - Running in the wilderness - And dreaming in the sun - n'Crying to the sky at night - For God's eternal son
Inside your rooms behind your wall - I see your face you know - I hear your call - Is this some madness that's been left unchecked - Or will there always be just promises
(CHORUS) - Running in the wilderness - And dreaming in the sun - n'Crying to the sky at night - For God's eternal son
There are men that hold the key - To set everybody free - But they are the lonely ones - And if the day should come - When they all can work as one - There'll be a destiny, Yes I know
(CHORUS) - Running in the wilderness - And dreaming in the sun - n'Crying to the sky at night - For God's eternal son, ............Yeah, yeah
Introduction to Psilectronics
There is a conclusion from the previous page that is not in print yet and relates to 'working on ones self as a means of permanent understanding', rather than the 'quick trip' method (psychoactive drugs) which only lasts for hours.
I have spent over thirty (30) years 'working on my self'; or as Ram Dass called it, "Learning to NO myself."
On page four, I mentioned the 1967, San Francisco, Human Be-In, and that, "Something odd happened at this Gathering of the Tribes that still permeates my mind.", but there was more.
What I did not mention was a series of instructions that were, as best as I can explain, relayed in telepathic fashion.
I must also repeat I was not the only one who had this 'group experience' and (imo) only those with 'personal experience', for the most part, will understand the next few sentences.
One of the instructions stated 'something evil was messing with the flow' and related to 'the collapse of a particular collective wave function' (before its time) resulting in 'dispersed conscious fragments.'
and that,
LSD-25, the Haight/Ashbury, and Human Be-In were some of the many failsafe subroutines designed to 'reconnect these scattered conscious fragments' that had been 'forced to collapse prematurely'.
'Once reconnected', and as part of the process, it was suggested 'our experiences' would play an important role within the shaping of a future society and prevent a 'false negative takeover' of consciousness, in the eternal struggle of good vs. evil.
Little did I know, at that time, one of the things we would manifest, over the years, was the personal computer and Internet.
Have you ever stopped for a moment and considered, "Where would the people of the United States and World be at this moment, if it had not been for those two things?"
Computer History
My computer history started during the summer of 1952 when I became interested in electronics through amateur radio.
I 'hung out' with a kid, on the weekends, that lived near one of my Grandparents' homes and his father was a General Class amateur radio operator, who had built 'all' of his equipment; including a very large beam antenna mounted to a 75 foot [telephone style] pole.
On Saturday mornings we would get together before kids' radio shows began and communicate with anyone who was willing to talk to us via amateur radio using morse code.
(fwiw) Television signals did not reach this area, at that time, and the only form of corporate media was AM radio, 78 RPM records, 45 RPM records, and movies.
I eventually ended up with a 1st Class F.C.C. license which allowed me to work in radio and television and an Amateur Extra Class F.C.C. license, which allowed me to do, what I consider, some neat things.
For example, I was able to receive pictures from the "Mars Lander" via J.P.L. (Jet Propulsion Laboratory) using amateur slow scan television (from my home):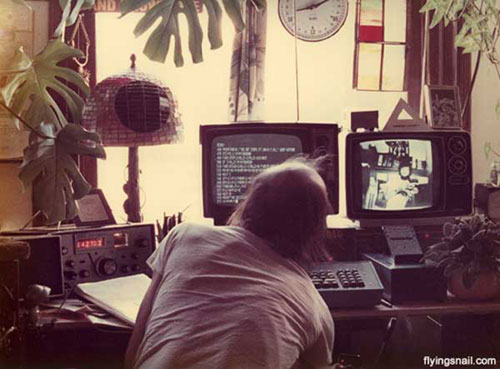 Photograph by Dwight Dolliver
communicate with MIR, the Soviet Space Station (from my home):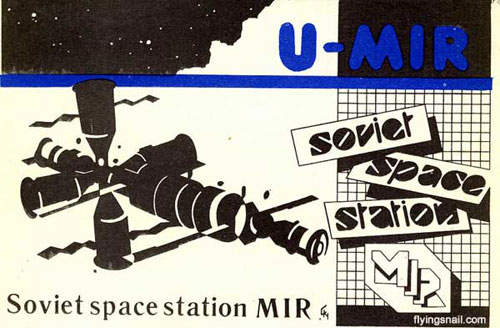 and with the Spacecraft Columbia; special thanks to NASA (from my home):

The next part will continue with computer background. In the meantime click the below MP3 and review the introduction page again.
http://www.flyingsnail.com/Podcast/freedomdance.mp3 - Freedom Dance
Source: http://www.flyingsnail.com/Podcast/ - Jumpin Jupiter
A Page on Jumpin Jupiter is located at:
http://www.flyingsnail.com/Scrapbook/UnitedStateCafe/uscpage036.html
---