CommuniTree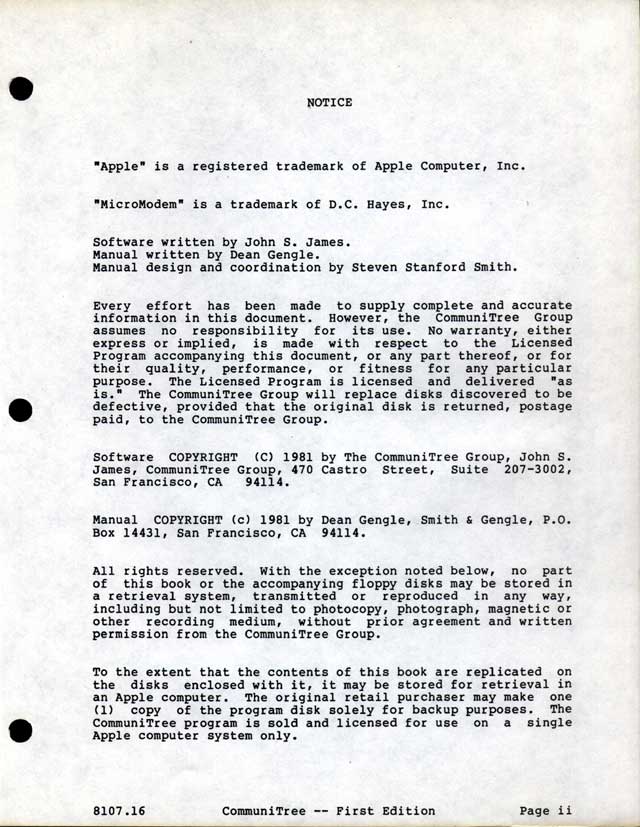 Copyright
NOTICE
"Apple" is a registered trademark of Apple Computer, Inc.
"MicroModem" is a trademark of D.C. Hayes, Inc.
Software written by John S. James
Manual written by Dean Gengle.
Manual design and coordination by Steven Stanford Smith.
Every effort has been made to supply complete and accurate information in this document. However, the CommuniTree Group assumes no responsibility for its use. No warranty, either express or implied, is made with respect to the Licensed Program accompanying this document, or any part thereof, or for their quality, performance, or fitness for any particular purpose. The Licensed Program is licensed and delivered "as is." The CommuniTree Group will replace disks discovered to be defective, provided that the original disk is returned, postage paid, to the CommuniTree Group.
Software COPYRIGHT (C) 1981 by The CommuniTree Group, John S. James, CommuniTree Group, 470 Castro Street, Suite 207- 3002, San Francisco, CA 94114.
Manual COPYRIGHT (c) 1981 by Dean Gengle, Smith & Gengle, P.O. Box 14431, San Francisco, CA 94114.
All rights reserved. With the exception noted below, no part of this book or the accompanying floppy disks may be stored in a retrieval system, transmitted or reproduced in any way, including but not limited to photocopy, photograph, magnetic or other recording medium, without prior agreement and written permission from the CommuniTree Group.
To the extent that the contents of this book are replicated on the disks enclosed with it, it may be stored for retrieval in an Apple computer. The original retail purchaser may make one (1) copy of the program disk solely for backup purposes. The CommuniTree program is sold and licensed for use on a single Apple computer system only.
8107.16 CommuniTree -- First Edition Page ii