CommuniTree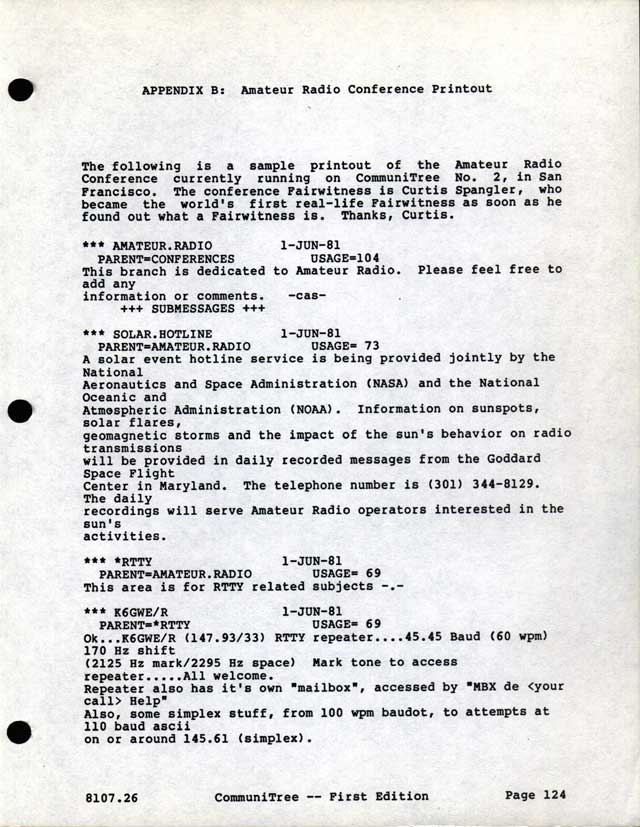 APPENDIX B: Amateur Radio Conference Printout
The following is a sample printout of the Amateur Radio Conference currently running on CommuniTree No. 2, in San Francisco. The conference Fairwitness is Curtis Spangler, who became the world's first real-life Fairwitness as soon as he found out what a Fairwitness is. Thanks, Curtis.
*** AMATEUR.RADIO 1-JUN-81
PARENT=CONFERENCES USAGE=104
This branch is dedicated to Amateur Radio. Please feel free to add any information or comments. -cas-
+++ SUBMESSAGES +++
**** SOLAR.HOTLINE 1-JUN-81
PARENT=AMATEUR.RADIO USAGE= 73
A solar event hotline service is being provided jointly by the National Aeronautics and Space Administration (NASA) and the National oceanic and Atmospheric Administration (NOAA). Information on sunspots, solar flares, geomagnetic storms and the impact of the sun's behavior on radio transmissions will be provided in daily recorded messages from the Goddard Space Flight Center in Maryland. The telephone number is (301) 344-8129. The daily recordings will serve Amateur Radio operators interested in the sun's activities.
*** *RTTY I-JUN-81
PARENT=AMATEUR.RADIO USAGE= 69
This area is for RTTY related subjects -.-
*** K6GWE/R 1-JUN-81
PARENT=*RTTY USAGE= 69
Ok ... K6GWE/R (147.93/33) RTTY repeater .... 45.45 Baud (60 wpm) 170 Hz shift (2125 Hz mark/2295 Hz space) Mark tone to access repeater All welcome. Repeater also has it's own "mailbox", accessed by "MBX de <your call> Help" Also, some simplex stuff, from 100 wpm baudot, to attempts at 110 baud ascii on or around 145.61 (simplex).
8107.26 CommuniTree -- First Edition Page 124