CommuniTree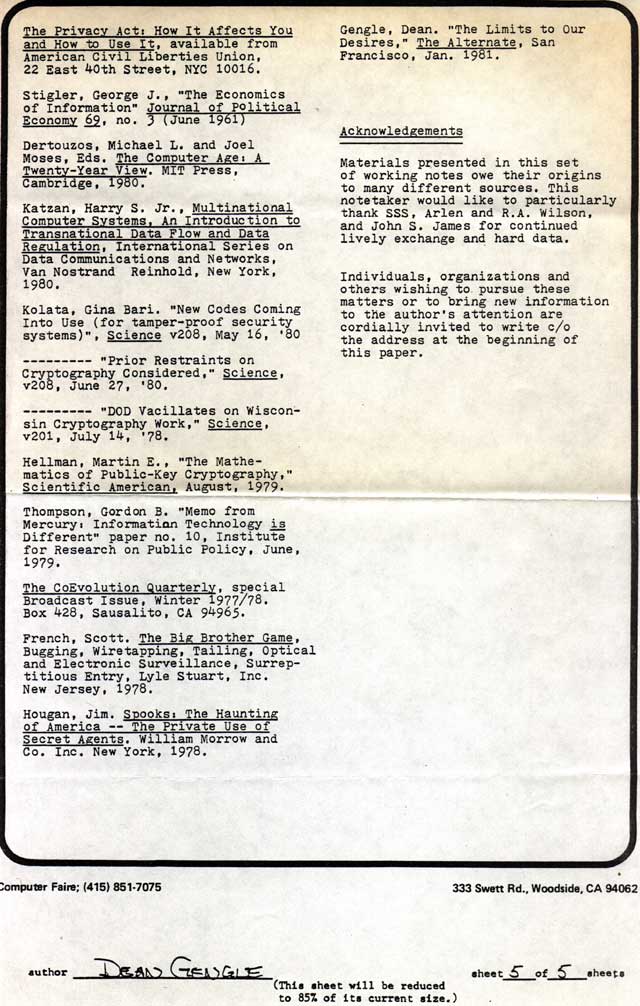 TOWARD AN ELECTRONIC BILL OF RIGHTS
The Privacy Act: How It Affects You and How to Use It, available from American Civil Liberties Union, 22 East 40th Street, NYC 10016.
Stigler, George J., "The Economics of Information" Journal of Political Economy 69, no. 3 (June 1961)
Dertouzos, Michael L. and Joel Moses, Eds. The Computer Age: A Twenty-Year View. MIT Press, Cambridge, 1960.
Katzan, Harry S. Jr., Multinational Computer Systems, An Introduction to Transnational Data Flow and Data Regulation, International Series on Data Communications and Networks, Van Nostrand Reinhold, New York, 1980.
Kolata, Gina Bari. "New Codes Coming Into Use (for tamper-proof security systems)", Science v208, May 16, '80
--------- - 'Prior Restraints on Cryptography Considered," Science, v208, June 27, '80.
----------- "DOD Vacillates on Wisconsin Cryptography Work," Science, v20l, July 14, '78.
Hellman, Martin E., "The Mathematics of Public-Key Cryptography," Scientific American, August, 1979.
Thompson, Gordon B. "Memo from Mercury: Information Technology is Different" paper no. 10, Institute for Research on Public Policy, June, 1979.
The CoEvolution Quarterly, special Broadcast Issue, Winter 1977/78. Box 428, Sausalito, CA 94965.
French, Scott. The Big Brother Game, Bugging, Wiretapping, Tailing, Optical and Electronic Surveillance, Surreptitious Entry, Lyle Stuart, Inc. New Jersey, 1978.
Hougan, Jim. Spooks: The Haunting of America -- The Private Use of Secret Agents. William Morrow and Co. Inc. New York, 1978.
Gengle, Dean. "The Limits to our Desires," The Alternate, San Francisco, Jan. 1981.
Acknowledgements
Materials presented in this set of working notes owe their origins to many different sources. This notetaker would like to particularly thank SSS, Arlen and R.A. Wilson, and John S. James for continued lively exchange and hard data.
Individuals, organizations and others wishing to pursue these matters or to bring new information to the author's attention are cordially invited to write c/o the address at the beginning of this paper.