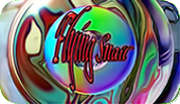 During times of universal deceit, telling the truth becomes a revolutionary act. ~ George Orwell
Video: US Supreme Shol'va Court Appointment Hearings via redditortan
Throughout America's adventure in free government, our basic purposes have been to keep the peace; to foster progress in human achievement, and to enhance liberty, dignity and integrity among people and among nations. To strive for less would be unworthy of a free and religious people. Any failure traceable to arrogance, or our lack of comprehension or readiness to sacrifice would inflict upon us grievous hurt both at home and abroad. Dwight D. Eisenhower
Thanksgiving Is A Celebration of Genocide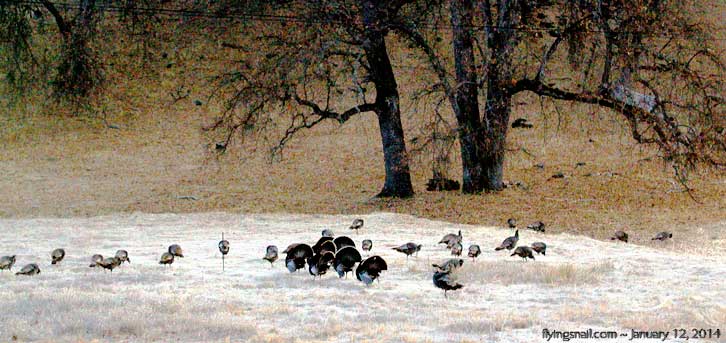 Robbie Basho, Wounded Knee ~ Laura Allan, Ceremonial Song ~ (flyingsnail MP3 Podcasts)
Disclaimer #6: If we want world peace, we must let go of our attachments and truly live like nomads. That's where I no mad at you, you no mad at me. That way, there'll surely be nomadness on the planet. And peace begins with each of us. A little peace here, a little peace there, pretty soon all the peaces will fit together to make one big peace everywhere.

Nothing else matters, Metallica arr. Karianne Brouwer violin, Maaike Schoenmaker cello
Rockin' In The Free World
A mp4 video by the Leningrad Cowboys +++ Official Video Page at Vimeo
Boptime ~ Saturday Mornings ~ w/Even Steven Leech
On Boptime we begin at 6am (EST) on Saturday morning with oldies back to back to back. At 7am (EST) on The Heart and Soul of Delaware Rock n' Roll we continue to tell the story of Wilmington's Richie Records that includes music from Joey & the Challengers, Johnny Neel, and the Enfields. At 8am (EST) on Rockabilly Ridge, Michael Ace spins tunes that were not for U. S. release. At 9am (EST) on Beatlemania we bop back to 1967, the end of a psychedelic year for the Beatles, at the zenith of the war in Vietnam, great Soul music and music with a message. ~ Steve

BOPTIME: Saturday, 6 AM Eastern, 3 AM Pacific time
Go To: http://www.wvud.org/?page_id=24
Click on a listening link below the WVUD logo:

Boptime available locally in Delaware on:
WVUD-FM 91.3
Shoutcast = [Search: WVUD] || TuneIn

CNN Article Makes the Case That Daylight Savings Is Racist via freespoke.com

Daylight Saving Time sheds light on
lack of sleep's disproportionate
impact in communities of color

by Jacqueline Howard @ CNN

As the United States rolled back the clocks one hour this month to observe the end of Daylight Saving Time, many people got a bit more sleep than usual – but some not as much as others.

Growing evidence shows that lack of sleep and sleep disorders, such as obstructive sleep apnea, remain more prevalent in Black, Asian, and Hispanic or Latino communities, and these inequities can have long-term detrimental implications for physical health, even raising the risk of certain chronic diseases.

Meanwhile, Daylight Saving Time itself – enacted in the US to reduce electricity usage by extending daylight hours – has long been controversial in the United States.

The American Academy of Sleep Medicine, the Sleep Research Society and other medical groups have advocated for ending the practice, calling for the adoption of a permanent standard time that would not involve shifting forward each spring and falling back each autumn.

"Daylight saving time is associated with increased risks of sleep loss, circadian misalignment, and adverse health consequences," Dr. Beth Malow, professor of neurology and pediatrics and director of the Vanderbilt University Medical Center Sleep Division in Nashville, said in a news release this month. She authored a paper, published in September in the journal Sleep, detailing the potential health benefits of adopting a permanent standard time.

In March, the US Senate unanimously passed the Sunshine Protection Act, which would make Daylight Saving Time permanent across the country – meaning there would be no reverting to "standard time" from early November through mid-March – but the legislation would have to pass the House and earn President Joe Biden's signature before becoming effective in November 2023.

Now, some sleep researchers worry about the potential effects that continuing to change standard time twice each year may have on sleep health inequities.

"Poor sleep is associated with a host of poor health outcomes, including obesity, hypertension, type 2 diabetes, cardiovascular disease and certain cancers, including of the breast and colon. Many of these health outcomes are more prevalent in the Black population," said Chandra Jackson, a researcher and epidemiologist with the National Institute of Environmental Health Sciences, who has been studying racial and ethnic disparities in sleep.

"Experimental as well as observational studies have linked sleep to these health outcomes. Therefore, sleep could be an important contributor," she said. "Fortunately, sleep health is largely modifiable."

As for the inequities seen in sleep health, it's not that White adults don't also experience a lack of sleep and its health consequences – but people of color appear to disproportionately experience them more, and that's believed to be largely due to social systems in the United States.

What sleep does to the body

Sleep allows the body to restore itself on a cellular level. During quality sleep, your heart rate, blood pressure and breathing can rise and fall, which may be important for cardiovascular health, and your body releases hormones that help repair cells and control its use of energy, according to the National Institutes of Health. These hormone changes also can influence your weight.

A study published in October in the journal PLOS Medicine suggests that people 50 and older who sleep five hours or less at night have a higher risk of multiple chronic diseases as they age compared with peers who get a longer night's rest.

Separate research, also published in October in the journal of the American Heart Association, shows that cardiovascular health guidelines are more effective at predicting a person's risk of heart disease if they include sleep – and not focus solely on diet and exercise.

Certain physiologic processes – such as immune function, cardiovascular health and memory formation – require certain amounts of sleep. So without enough sleep, the body and brain may not function optimally, said Dr. César Caraballo-Cordovez, a postdoctoral associate in the Yale-based Center for Outcomes Research and Evaluation who has studied racial and ethnic disparities in sleep duration.

"Short sleep duration has been associated with higher risk of adverse medical events and conditions, including diabetes, obesity, hypertension, heart disease, impaired cognitive functions, and death," Caraballo-Cordovez wrote in an email, adding that the consensus is that most adults need at least seven hours of sleep per day.

Yet the racial and ethnic disparities in sleep duration appear to be getting worse across the United States, according to recent research by Caraballo-Cordovez, Jackson and their colleagues. Their study, published in April in the medical journal JAMA Network Open, found that among more than 400,000 adults in the US, between 2004 and 2018, the prevalence of short and long sleep duration was persistently higher among those who were Black and Hispanic or Latino. Short sleep is less than seven hours in a day, and long sleep is more than nine hours.

Although there was a significant increase in the prevalence of insufficient sleep across all groups during the study period, the prevalence of short sleep increased 6.39 and 6.61 percentage points among Black and Hispanic or Latino adults, respectively, compared with 3.22 percentage points among White people.

Several social and environmental factors that can interfere with sleep are more common among Black and Hispanic or Latino people in the US, Caraballo-Cordovez said.

"Among those are housing conditions, noise pollution, light pollution, air pollution, stress from different sources – including perceived racial discrimination – and jobs or working conditions," he said, adding that the convergence of all those factors may explain why getting the recommended amount of sleep "may be less common among Black adults than among White adults."

Caraballo-Cordovez and Jackson both emphasize that the causes behind the racial inequality of sleep warrant more research.

The 'persistent barriers' to quality sleep

Many social and environmental determinants of health – including living conditions or work schedules that don't support sleep – may emerge, at least in part, from historical and persistent forms of structural racism, which Jackson considers as the "totality of ways in which societies foster racial discrimination through mutually reinforcing systems of housing, education, employment, wages, benefits, credit, media, health care and criminal justice."

Jackson added that she often reflects on how the shooting death of Breonna Taylor in Louisville in March 2020 and the shooting of George Floyd's 4-year-old grandniece in Houston on New Year's Day both happened when they were asleep – and how systems of structural racism in the US can cultivate conditions that make such incidents more likely to happen in Black communities. "This would require research," she said.

Examples of structural racism and how they can have impacts on health include the history of discriminatory mortgage lending and appraisals in the US, which affect the conditions in which people of color may live; how predominantly white school districts tend to get more funding than districts serving people of color, influencing the quality of education some people of color may receive; and even how hair discrimination may contribute to some Black women using potentially harmful chemical hair products because policies might not allow specific hairstyles in school or the workplace.

"These policies and practices can produce disparities due to the maldistribution of health-promoting or harming resources across racial groups and can, in turn, reinforce discriminatory beliefs," Jackson said. "That is, it is believed that discriminatory policies and practices across sectors of society create the physical and social conditions that make it more difficult for Black families to get optimal sleep and grow up healthy. Fortunately, these policies and practices are also modifiable."

Although more research on the causes of disparities in sleep is needed, she said, essentially anything that produces physical and psychological stress is a threat to sleep health, and these stressors tend to be more prevalent in Black communities.

In the US Department of Health and Human Services' Healthy People 2030 plan for the nation, improving health by helping people get enough sleep was listed as a goal, with objectives including increasing the proportion of adults with sleep apnea symptoms getting evaluated by a health care provider and increasing the proportion of schools that start later in the mornings. Improving sleep health has been a national objective in the federal government's past two Healthy People programs, noted Caraballo-Cordovez, who is not involved in the programs.

But he added that "the impact of strategies focused on improving sleep knowledge and habits – although important and necessary – may be limited if they do not address the persistent barriers that disproportionally prevent Black individuals from achieving and maintaining a healthy life."

https://www.cnn.com/2022/11/25/health/racial-inequities-sleep/index.html ~ Links at site
Boptime ~ Saturday Mornings ~ w/Even Steven Leech
On Boptime we begin at 6am (EST) on Saturday morning with oldies back to back to back. At 7am (EST) in The Early Hour we'll visit Minton's at West 118th Street in Harlem back in 1941 with music from Charlie Christian, Don Byas, Thelonious Monk, Helen Humes and others. At 8am (EST) we'll head on over to Birdland with Betty Roché and Duke Ellington, then to Basin Street with Clifford Brown, Sonny Rollins and Max Roach. Co-host Larry Williams joins us on Clifford's Corner for more choice jazz sides and rarely heard R&B tunes.  ~ Steve

BOPTIME: Saturday, 6 AM Eastern, 3 AM Pacific time
Go To: http://www.wvud.org/?page_id=24
Click on a listening link below the WVUD logo:

Boptime available locally in Delaware on:
WVUD-FM 91.3
Shoutcast = [Search: WVUD] || TuneIn
Boptime ~ Saturday Mornings ~ w/Even Steven Leech
On Boptime we begin at 6am (EST) on Saturday morning with oldies back to back to back. At 7am (EST) in The Early Hour we present the music soundtrack from the 1960 movie rendition of Jack Kerouac's novel The Subterraneans, including an excerpt read by Kerouac with music from Charlie Parker. At 8am (EST) Larry Williams joins us on Clifford's Corner with a wide variety of jazz selections followed by some R&B sides that may surprise you. ~ Steve

BOPTIME: Saturday, 6 AM Eastern, 3 AM Pacific time
Go To: http://www.wvud.org/?page_id=24
Click on a listening link below the WVUD logo:

Boptime available locally in Delaware on:
WVUD-FM 91.3
Shoutcast = [Search: WVUD] || TuneIn
Notes from ~@~
Remembering Our Dear Friend


Lisa Kindred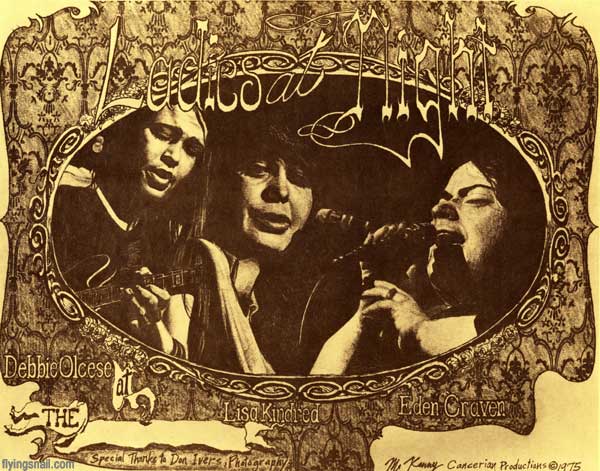 Ladies at Night ~ Debbie Olcese, Lisa Kindred, Eden Craven ~ United State Cafe
Lisa Kindred (1940-2019) was an American folk and blues singer.

Kindred, born in 1940 in Buffalo, New York,[1][2] was a figure in the Greenwich Village and Cambridge, Massachusetts folk scenes of the 1960s.[3] She played with Bob Dylan, Dave Van Ronk and other legendary folk singers, and was mentored by guitarist and songwriter Fred Neil.[3] She performed at the Cafe Wha?,[4] Club 47, The Bitter End and other venues.[3] In that extraordinary musical era in the Village, she was influenced as well by visiting blues greats such as Mississippi John Hurt and Skip James and legendary jazz pianist/composers McCoy Tyner and Thelonious Monk.[5]

Kindred's debut album, I Like It This Way, was released on Vanguard Records in 1965. Her second album was to have been released on Vanguard in 1966 under the title Kindred Spirit,[6] but the master tapes were stolen[7][8] and delivered to Mel Lyman, a musician in the backing band and soon-to-be leader of the Mel Lyman Family. The album was only released four years later on Warner Bros./Reprise Records under the aegis of the Lyman Family, titled American Avatar - Love Comes Rolling Down. The album cover showed a picture of Lyman, not Kindred.[7][8] That was Kindred's last album on a major label. She became a long-time fixture on the San Francisco bar scene, appearing on occasional compilations[6] and two self-released albums, Steppin' Up In Class (2003) and Blues and Beyond (2013).[3]

In 1966, she organized and was the lead guitarist and singer with the UFOs, an avant-garde, all-female, rock band. It also featured Ann Sternberg, Diane Tribuno and Lorry Stanton. She and the other members were interviewed by Leonard Bernstein for the 1967 documentary, Inside Pop: The Rock Revolution, which also interviewed Graham Nash, Brian Wilson, Frank Zappa and from Herman's Hermits, singer Peter Noone.[9] In the 1967 movie, The Love-Ins, the group performed their song, Hello World.[10][11]

Kindred led and fronted the Haight Ashbury band, Ascension, featuring lead guitarist Debbie Olcese and Kindred on rhythm guitar. Ascension's original bassist was a woman named Maus. She and the Grateful Dead's Phil Lesh owned two of the first Alembic basses in San Francisco. Ascension rocked the Great American Music Hall, opening twice in one night for the legendary Etta James.[12] Ascension's drummer was Chuck Bernstein, keyboards was Malcolm Rockwell; Maus left the group in 1974, replaced by Gary Nelson on a blonde 1968 Fender Telecaster bass. Kindred still performs and sings at the Saloon in North Beach in San Francisco and other venues. She sang on the 2009 album, Stu Blank and Friends, which included Charlie Musselwhite and Tommy Castro.[13] In 2013, after co-producing it over four years with keyboardist Austin deLone, and joined by Dennis Geyer, Willie Riser and Dick McDonough, she released Blues and Beyond. San Francisco Chronicle music critic Joel Selvin, though not given to effusiveness, took the occasion to describe her as a "bona fide blues queen who sings like one of the greats."[5]

In addition to her decades-long contributions to the folk and blues community in her home in Mill Valley, Marin County, California, and her many gigs at the Sweetwater Music Hall and other local venues, she has made civic contributions as well, directing the city's juvenile play program and worked for years as a teacher's aide at Park School.[5]

Kindred passed away in California Nov 11, 2019.[14] [Continue Reading]
Feetlines
~ Is corporate media promoting political violence?
Report: Twitter & Facebook Had Regular Meetings with DHS on Censoring Americans

Media Research Center Report: Google Manipulated Searches in Senate Races

Feetlines: Is corporate media promoting political (election) violence?
Nobody for President
~ Nobody will establish one, single standard, time !

Busy night for Stonehenge workers who move the rocks back one hour!

CONGRESS VOTED FOR PERMANENT
DAYLIGHT-SAVING TIME THIS YEAR,


RIGHT?

Well, unfortunately, no. It's true that the U.S. Senate on March 15, by unanimous consent, passed the Sunshine Protection Act of 2021. There was much buzz over the bill at the time, given that it would make daylight-saving time permanent starting on Nov. 5, 2023 — that is, if the House and the president approved it.

As you can now probably guess, that hasn't happened. The bill was sent to the House, but nothing has been done with it since March.

Continue reading complete article by Shaun Goodwin and Patrick McCreless, Updated September 12, 2022 12:27 PM, at:

https://www.thenewstribune.com/news/politics-government/article265547561.html

Daylight saving time




From Wikipedia, the free encyclopedia

https://en.wikipedia.org/wiki/Daylight_saving_time
[Citations located at links]

Proponents of DST generally argue that it saves energy, promotes outdoor leisure activity in the evening (in summer), and is therefore good for physical and psychological health, reduces traffic accidents, reduces crime or is good for business. Opponents argue the actual energy savings are inconclusive.

A 2017 meta-analysis of 44 studies found that DST leads to electricity savings of 0.3% during the days when DST applies. Several studies have suggested that DST increases motor fuel consumption, but a 2008 United States Department of Energy report found no significant increase in motor gasoline consumption due to the 2007 United States extension of DST. An early goal of DST was to reduce evening usage of incandescent lighting, once a primary use of electricity. Although energy conservation remains an important goal, energy usage patterns have greatly changed since then. Electricity use is greatly affected by geography, climate, and economics, so the results of a study conducted in one place may not be relevant to another country or climate.

Later sunset times from DST are thought to affect behavior; for example, increasing participation in after-school sports programs or outdoor afternoon sports such as golf, and attendance at professional sporting events. Advocates of daylight saving time argue that having more hours of daylight between the end of a typical workday and evening induces people to consume other goods and services.

Many farmers oppose DST, particularly dairy farmers as the milking patterns of their cows do not change with the time, and others whose hours are set by the sun. There is concern for schoolchildren who are out in the darkness during the morning due to late sunrises. DST also hurts prime-time television broadcast ratings, drive-ins and other theaters.

It has been argued that clock shifts correlate with decreased economic efficiency, and that in 2000 the daylight-saving effect implied an estimated one-day loss of $31billion on U.S. stock exchanges, Others have asserted that the observed results depend on methodology and disputed the findings, though the original authors have refuted points raised by disputers.

Is Daylight Saving Time
Healthy for Humans?

https://freespoke.com/search/web?q=Is+Daylight+Saving+Time+Healthy+for+Humans%3F


Turtles All the Way Down by Sturgill Simpson via Mankind Film
Tainted News:
Tomi Lahren should fight addiction and not have to step on "used heroin needles" to get high?

Saluting the Heroes of the Coronavirus Pandumbic The Daily Show w/Trevor Noah via Joey deVilla
1,000,000
March 23, 2022 Coronavirus (COVID-19) Stats & Numbers showed:
One Million (U.S.A.) HUMANS DEAD
Nobody really knows that ... on November 12, 2022 there have been
1,069,807
provisional COVID-19 deaths in the United States, begging the question:
Was Tainted News Accessory to Murder?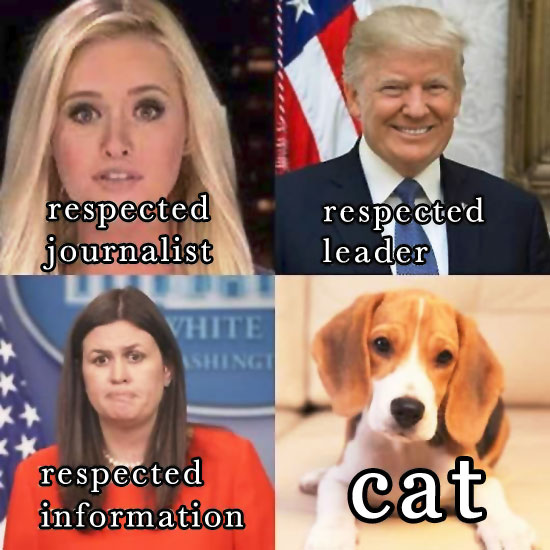 The lie can be maintained only for such time as the State can shield the people from the political, economic and/or military consequences of the lie. It thus becomes vitally important for the State to use all of its powers to repress dissent, for the truth is the mortal enemy of the lie, and thus by extension, the truth becomes the greatest enemy of the State. Joseph Goebbels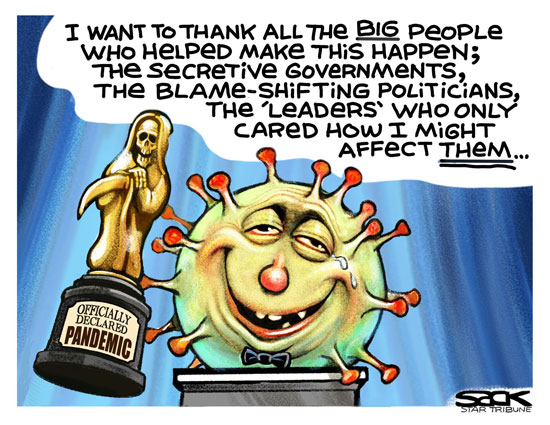 I want to thank all the BIG people who helped make this happen; the secretive governments,
the blame-shifting politicians, the 'leaders' who only cared how I might affect THEM...
Cartoon by Steve Sack @ Star Tribune https://en.wikipedia.org/wiki/Star_Tribune...
Whenever any Form of Government becomes destructive of these ends, it is the Right of the People to alter or to abolish it, and to institute new Government, laying its foundation on such principles and organizing its powers in such form, as to them shall seem most likely to effect their Safety and Happiness. Declaration of Independence

Positively 4th Street, Bob Dylan, HQ via Franciescoli Polanni
Forget the politicians. They are irrelevant. The politicians are put there to give you the idea that you have freedom of choice. You don't. You have no choice! You have OWNERS! They own you! They own everything. They own all the important land. They own and control the corporations. They've long since bought, and paid for the Senate, the Congress, the state houses, the city halls, they got the judges in their back pockets and they own all the big media companies, so they control just about all of the news and information you get to hear. George Carlin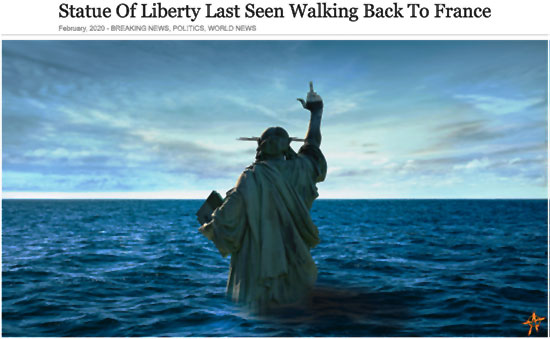 Statue of Liberty last seen walking back to France
Feetlines ~ Is There A CURE Yet? ~ 202209.06: How about antibody SP1-77 ?
Is There A CURE Yet ...asking for a friend?


Scientists Discovered an Antibody


That Can Take Out All COVID-19 Variants

https://www.prevention.com/health/a41092334/antibody-neutralize-covid-variants/

And they hope to create a new vaccine with it.

by Korin Miller, @ Prevention, September 6, 2022

COVID-19 vaccines have been effective at keeping people from getting severely ill and dying from the virus, but they've required different boosters to try to keep on top of all of the coronavirus variants that have popped up. Now, researchers have discovered an antibody that neutralizes all known COVID-19 variants.

The antibody, called SP1-77, is the result of a collaborative effort from researchers at Boston Children's Hospital and Duke University. Results from mouse studies they've conducted were recently published in the journal Science Immunology, and they look promising.

But what does it mean, exactly, to have an antibody that can neutralize all variants of COVID-19, and what kind of impact will this have on vaccines in the future? Here's what you need to know.

What is

SP1-77
[Click for Updated: Current Articles & Source @ freespoke.com]

SP1-77 is an antibody developed by researchers that so far can neutralize all forms of SARS-CoV-2, the virus that causes COVID-19. It was created after researchers modified a mouse model that was originally made to search for broadly neutralizing antibodies to HIV, which also mutates. [continue reading @ Prevention]

Heads up folks:
Bacteria from respiratory droplets spread by one sneeze,
singing one minute, talking one minute, & two coughs

via Dr. Richard Davis @ Providence Sacred Heart Medical Center

freespoke.com/search/topic/60be49c5015c2300122b89aa/covid-19-origins

"Lab Accidents Happen" : WHO, Biden Admin
Consider Lab Leak Theory
via SPANGLD


spangld.com/2021/07/18/lab-accidents-happen-who-biden-admin-consider-lab-leak-theory/

THE SPANGLD TAKE

The possibility of a lab leak origination of the coronavirus pandemic is once again being considered. Mainstream media is no longer mocking those discussing it! ~ View Summary@ SPANGLD
Nobody for President
~ NONE of the ABOVE should be a choice on VOTER BALLOTS
Has the Supreme Court become a big
Joke, now that there are 3 Stooges?


His Honor Slapstick...___...His Honor Physical...___...Her Honor Farce
Video: US Supreme Court Appointment Hearings, Roe vs. Wade via redditortan

What lawsuits and investigations is
Donald Trump facing?

[August

2022

]

https://www.theguardian.com/us-news/2022/aug/08/donald-trump-fbi-raid-explainer

Missing national records

The US National Archives and Records Administration (Nara) in February notified Congress that it had recovered about 15 boxes of White House documents from Trump's Florida home, some of which contained classified materials. [snip]

Attack on the US Capitol

A congressional panel investigating the January 6 attack by Trump supporters on the US Capitol is working to build a case that he broke the law in trying to overturn his 2020 election defeat. [snip]

Wire fraud

Democrats said in a June hearing of the January 6 committee that Trump, a Republican, raised some $250m from supporters to advance fraudulent claims in court that he won the election, but steered much of the money elsewhere. [snip]

Georgia election tampering

A special grand jury was selected in May to consider evidence in a Georgia prosecutor's inquiry into Trump's alleged efforts to influence the state's 2020 election results. [snip]

New York criminal inquiry

Alvin Bragg, the Manhattan district attorney, has been investigating whether Trump's family real estate company misrepresented the values of its properties to get favorable bank loans and lower tax bills. [snip]

New York attorney general civil inquiry

Letitia James, the New York state attorney general, is conducting a civil investigation examining whether the Trump Organization inflated real estate values. Trump and two of his adult children, Donald Trump Jr and Ivanka Trump, agreed to testify in the investigation starting on 15 July. [snip]

E Jean Carroll's defamation case

E Jean Carroll, a former Elle magazine writer, sued Trump for defamation in 2019 after the then president denied her allegation that he raped her in the 1990s in a New York City department store. He accused her of lying to drum up sales for a book. [snip] [Read complete article @ The Guardian, UK]

NONE of the ABOVE should be a valid choice on Voter Ballots!
Boptime ~ Saturday Mornings ~ w/Even Steven Leech
On Boptime we begin at 6am (EST) on Saturday with oldies back to back to back. At 7am (EST) on the Best of Broadway we present Irma La Douce from this time in 1960. At 8am (EST) Michael Ace spins Southwestern rock & roll tunes on Rockabilly Ridge. We return to this day in 1960 at 9am (EST) when John Kennedy had just been elected President and current President Eisenhower was grappling with the U.S. U-2 spy plane getting shot down over the Soviet Union and about to warn us about "the military industrial complex." We'll have the #1 tunes, the movies playing in the area, as well as a little taste of the night life in 1960.  ~ Steve

BOPTIME: Saturday, 6 AM Eastern, 3 AM Pacific time
Go To: http://www.wvud.org/?page_id=24
Click on a listening link below the WVUD logo:

Boptime available locally in Delaware on:
WVUD-FM 91.3
Shoutcast = [Search: WVUD] || TuneIn
4. Life is like photography. You use the negative to develop.


Leningrad Cowboys, Happy Being Miserable via Leningrad Cowboys Official
ASIFA-SF, Karl Cohen
~ Association International du Film d'Animation, SF Newsletter
ASIFA-SF October 2022 Newsletter [PDF]

This is a big issue that includes several pages at the end about the new 22nd Animation Show of Shows, a tribute to Sally Cruickshank and Vince Collins by the Academy of Motion Pictures Arts and Science in LA (Vince still lives in SF and Sally lived here when she created her Quasi shorts) , news of Henry Selick, and a lot of other interesting items include a major tribute to William Kentridge. ~ Karl Cohen
Boptime ~ Saturday Mornings ~ w/Even Steven Leech
On Boptime we begin at 6am (EDT) on Saturday with oldies back to back to back. At 7am (EDT) on The Heart and Soul of Delaware Rock & Roll we'll hear selections from Wilmington's rockabilly label, A-B-S Records, before hearing the first big success story for Wilmington's Richie Records, recordings from Teddy & the Continentals, as well as Wilmington's first "girl group" the Continettes. We'll end the episode with early tunes from Lue Cazz as an introduction of more of his recordings heard in upcoming programs. At 8am (EDT), on Rockabilly Ridge, Michael Ace spins tunes about those who "were gone too soon." At 9am (EDT) on Beatlemania, we bop back to this time in 1966 when the alleged incident that began the "Paul is dead" rumor occurred, and when rock music began to develop more serious content and greater innovation. ~ Steve

BOPTIME: Saturday, 6 AM Eastern, 3 AM Pacific time
Go To: http://www.wvud.org/?page_id=24
Click on a listening link below the WVUD logo:

Boptime available locally in Delaware on:
WVUD-FM 91.3
Shoutcast = [Search: WVUD] || TuneIn
Notes from ~@~
Freedom of expression and freedom of speech aren't really important unless they're heard...It's hard for me to stay silent when I keep hearing that peace is only attainable through war. And there's nothing more scary than watching ignorance in action. So I dedicated this Emmy to all the people who feel compelled to speak out and not afraid to speak to power and won't shut up and refuse to be silenced.  Tom Smothers

Carlin Step, DJ Steve Porter & Eli Wilkie via Roland Kardeby

The Great Bell Chant (The End of Suffering) via R Smittenaar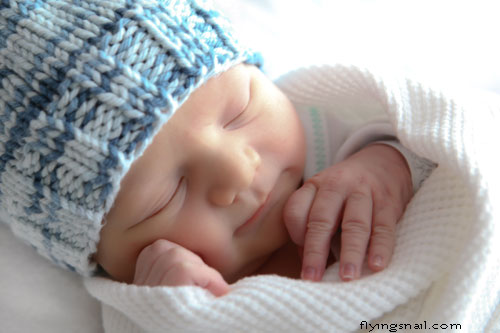 One Day, Matisyahu

Unsung Hero via Rattakarn Srithavatchai "Garn"
The Sacred Clowns ~ Heyókȟa
The Heyókȟa symbolize and portray many aspects of the sacred, the Wakȟáŋ. Their satire presents important questions by fooling around. They ask difficult questions, and say things others are too afraid to say. By reading between the lines, the audience is able to think about things not usually thought about, or to look at things in a different way.
Principally, the Heyókȟa functions both as a mirror and a teacher, using extreme behaviors to mirror others, thereby forcing them to examine their own doubts, fears, hatreds, and weaknesses. Heyókȟas also have the power to heal emotional pain; such power comes from the experience of shame--they sing of shameful events in their lives, beg for food, and live as clowns. They provoke laughter in distressing situations of despair and provoke fear and chaos when people feel complacent and overly secure, to keep them from taking themselves too seriously or believing they are more powerful than they are.
In addition, sacred clowns serve an important role in shaping tribal codes. Heyókȟa's don't seem to care about taboos, rules, regulations, social norms, or boundaries. Paradoxically, however, it is by violating these norms and taboos that they help to define the accepted boundaries, rules, and societal guidelines for ethical and moral behavior. This is because they are the only ones who can ask "Why?" about sensitive topics and employ satire to question the specialists and carriers of sacred knowledge or those in positions of power and authority. In doing so, they demonstrate concretely the theories of balance and imbalance. Their role is to penetrate deception, turn over rocks, and create a deeper awareness.

Develop Your Mind, Not Sacred Sites
Only after the last tree has been cut down, Only after the last river has been poisoned, Only after the last fish has been caught, Only then will you find money cannot be eaten. Cree Prophecy
Nobody for President ~ NONE of the ABOVE should be a choice on voter ballots!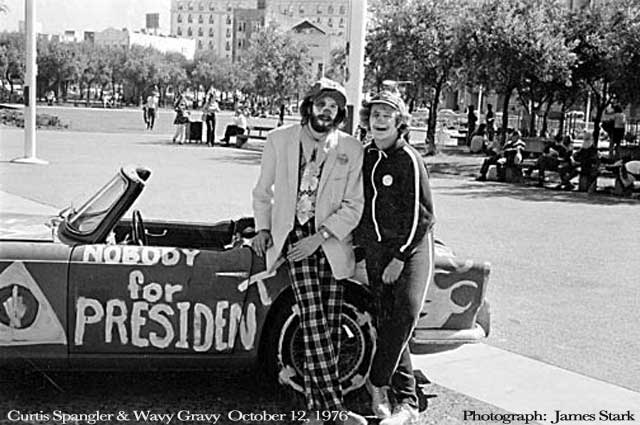 Curtis Spangler & Wavy Gravy, Nobody for President, 197610.12 ~ Photo: James Stark
Nobody bakes apple pie better than Mom, is eternal, perfect, has all the answers, ended war, will love you forever, brought peace to our time, fixed global warming, fed the hungry & destitute, knows, cares, shives a git about you, loves you when you're down & out, and if elected will not lie to, or steal from, 'the people'; ...begging a question, What's NOTA's entry fee ...more lies that lead to mass murder or human sacrifice, when Nobody says why not try love again?

American Dream, George Carlin via Ishtar [Not Work Safe] Alternative source with text
NOBODY should have that much power!
Message
via
Mike Pinder
Oh, I hope that I see you again I never even caught your name As you looked through my window pane ~ So I'm writing this message today I'm thinking that you'll have a way Of hearing the notes in my tune ~ Where are you going? Where have you been? I can imagine other worlds you have seen ~ Beautiful faces and music so serene ~ So I do hope I see you again My universal citizen You went as quickly as you came ~ You know the power Your love is right You have good reason To stay out of sight ~~ But break our illusions and help us Be the light. Mike Pinder

Why I Think This World Should End, Prince EA via Prince EA
Without love in the dream, it will never come true. ~ Jerry Garcia/Robert Hunter
And in the end, the love you take is equal to the love you make. ~ John Lennon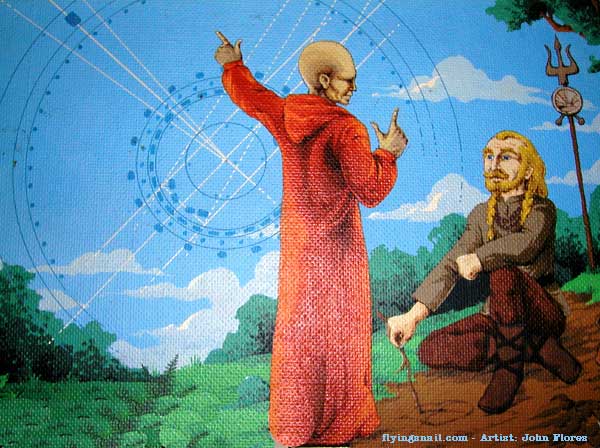 ---
---
The man whispered, "God, speak to me" and a meadowlark sang. But the man did not hear. So the man yelled "God, speak to me" and the thunder rolled across the sky. But the man did not listen. The man looked around and said, "God let me see you" and a star shined brightly. But the man did not notice. And the man shouted, "God show me a miracle" and a life was born. But the man did not know. So the man cried out in despair, "Touch me God, and let me know you are there" Whereupon God reached down and touched the man, But the man brushed the butterfly away and walked on.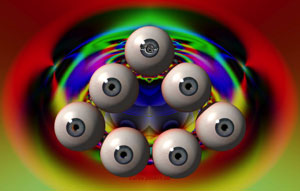 Don't miss out on a blessing because
it isn't packaged the way you expect!
---
---

Some search sites have been banned from scanning local content since 2012.
Please use DuckDuckGo.com, or freespoke.com, or Bing.com to search.
{ ͡ʘ ͜ʖ ͡ʘ} Did politicians lie about Daylight Saving Time? { ͡ʘ ͜ʖ ͡ʘ}

Daylight Savings Time Sucks via Jeff Davis