Freedom of expression and freedom of speech aren't really important unless they're heard...It's hard for me to stay silent when I keep hearing that peace is only attainable through war. And there's nothing more scary than watching ignorance in action. So I dedicated this Emmy to all the people who feel compelled to speak out and not afraid to speak to power and won't shut up and refuse to be silenced. - Tommy Smothers - 200809.21

- http://flyingsnail.com/Dahbud/index.html

- http://flyingsnail.com/Dahbud/Balzac/index.html
FlyingSnail Archive &&& index3
Thomas Bolin Smothers III (born February 2, 1937) is an American comedian, composer and musician, best known as half of the musical comedy team The Smothers Brothers with brother, Dick Smothers.
Life and career
Smothers was born in New York City, the son of Ruth, a homemaker, and Thomas B. Smothers, an army officer. After moving to California, he graduated from Redondo Union High School in Redondo Beach, Southern California. He was a competitive unicyclist, and a state champion gymnast in the parallel bars. Smothers later attended San José State University.
The Smothers Brothers appeared on numerous television shows over the past few decades, including two variety shows of their own, The Smothers Brothers Show from 1965 to 1966, and The Smothers Brothers Comedy Hour in 1967.
Tom Smothers negotiated creative control over the CBS show. The documentary Smothered describes how the brothers (particularly Tom) fought CBS censors to sneak in references to religion, recreational drugs, sex, and the Vietnam War. Smothers is widely quoted as saying: "The only valid censorship of ideas is the right of people not to listen." He and others have implied that the brothers' oppositional politics led to their show's demise. Tom also admits that politics sometimes took precedence over humor.
Smothers is also the owner of Remick Ridge Vineyards in Sonoma County, California with his wife Marcy and two children, Riley Rose (b. 1996) and Bo (b. 1993).
In motion pictures, Tom Smothers portrayed corporate-executive-turned-tap-dancing-magician Donald Beeman in one of Brian De Palma's earlier films, Get to Know Your Rabbit (1972). He also played a banker in Silver Bears. He later portrayed Spike in Serial (1980).
In 1973, he voiced Ted E. Bear (Theodore Edward Bear) in the DePatie-Freleng NBC animated Christmas special The Bear Who Slept Through Christmas. Ten years later, he voiced Ted E. Bear again for its Halloween sequel The Great Bear Scare. Smothers played guitar on John Lennon's recording of his single "Give Peace a Chance".
To augment their act in recent years, Tom Smothers created the mostly non-speaking character "Yo-Yo Man", a surprisingly expert performer of difficult tricks using a yo-yo. In their 2008 tour, Yo-Yo Man is listed as the group's opening act. The name is possibly a reference to the folk song "Yo-Yo Man," which the brothers sang together on the Smothers Brothers Comedy Hour.
In 2008, during the 60th Primetime Emmy Awards, Smothers was awarded a special Emmy. In 1968, when he was head writer of "The Smothers Brothers Comedy Hour", the writing staff was awarded the Emmy for Outstanding Writing In A Comedic Series. Smothers had refused to let his name be on the list of writers nominated for the Emmy, because he felt his name was too volatile. The award at the 2008 ceremony was presented by Steve Martin, who was once a writer on the program.
Currently, Tom can be found in commercials promoting the River Rock Casino in Geyserville, California.[citation needed] He has two kids with his wife, Marcy Carriker, Riley and Bo Rose. He also has a son named Tom Jr.
Visit source for references and links: http://en.wikipedia.org/wiki/Tommy_Smothers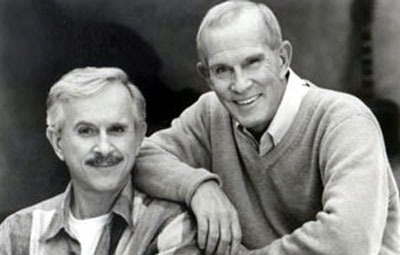 Dick and Tom Smothers
Smothers Brothers' Legacy: Introducing The Doors, Ike & Tina and the Counterculture
by Ted Drozdowski
Through the prism of 40 years The Smothers Brothers Comedy Hour looks quaint. The just-released four CD-set of TV shows from their third season in 1968 captures Tom and Dick Smothers in their Nehru jackets trading schticky banter, and among their guests are Vegas legend Liberace and English stage actor Anthony Newley.
But there was another side to the Smothers — which ultimately got them banned from the air. The program, which ran from '67 to '69 was initially just one of the era's variety shows. It rapidly became a pipeline for youth culture, channeling groundbreaking musicians, anti-Vietnam war sentiment and reefer-fueled cosmic consciousness into America's living rooms every Sunday night.
Everybody from Steppenwolf to the Muppets got a big break on the Smothers Brothers' show. African-American R&B musicians including Ike and Tina Turner
http://www.gibson.com/en-us/Lifestyle/Features/Smothers-Brothers/