"If a president is willing to lie about the most basic governmental and political facts, civic debate becomes impossible, and the public becomes incapable of informed judgment. Because of the great weight that any president's words have with the public, the president of the United States must not be a liar. " - Tony (Hypocritter) Blankley
Hey George did YOU know,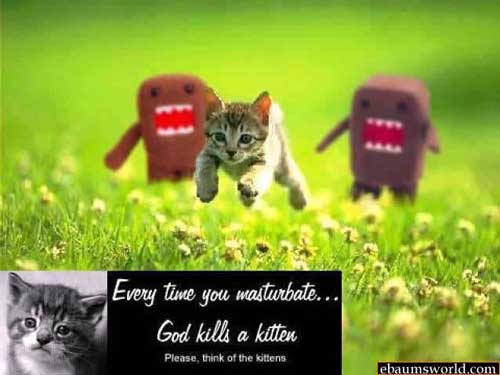 SAVE THE KITTENS, IMPEACH BUSH


International War Crimes Tribunal
United States War Crimes Against Iraq
NSA used banned data-tracking on Web site
Federal rules bar 'cookies'; spy agency says it was a mistake
NEW YORK - The National Security Agency's Internet site has been placing files on visitors' computers that can track their Web surfing activity despite strict federal rules banning most of them.
These files, known as "cookies," disappeared after a privacy activist complained and The Associated Press made inquiries this week, and agency officials acknowledged Wednesday they had made a mistake.
Nonetheless, the issue raises questions about privacy at a spy agency already on the defensive amid reports of a secretive eavesdropping program in the United States.
"Considering the surveillance power the NSA has, cookies are not exactly a major concern," said Ari Schwartz, associate director at the Center for Democracy and Technology, a privacy advocacy group in Washington, D.C. "But it does show a general lack of understanding about privacy rules when they are not even following the government's very basic rules for Web privacy. "
Until Tuesday, the NSA site created two cookie files that do not expire until 2035 — likely beyond the life of any computer in use today.
Don Weber, an NSA spokesman, said in a statement Wednesday that the cookie use resulted from a recent software upgrade. Normally, the site uses temporary, permissible cookies that are automatically deleted when users close their Web browsers, he said, but the software in use shipped with persistent cookies already on.
"After being tipped to the issue, we immediately disabled the cookies," he said.
Strict federal rules
Cookies are widely used at commercial Web sites and can make Internet browsing more convenient by letting sites remember user preferences. For instance, visitors would not have to repeatedly enter passwords at sites that require them.
But privacy advocates complain that cookies can also track Web surfing, even if no personal information is actually collected.
In a 2003 memo, the White House's Office of Management and Budget prohibits federal agencies from using persistent cookies — those that aren't automatically deleted right away — unless there is a "compelling need. "
A senior official must sign off on any such use, and an agency that uses them must disclose and detail their use in its privacy policy.
Peter Swire, a Clinton administration official who had drafted an earlier version of the cookie guidelines, said clear notice is a must, and "vague assertions of national security, such as exist in the NSA policy, are not sufficient. "
Daniel Brandt, a privacy activist who discovered the NSA cookies, said mistakes happen, "but in any case, it's illegal. The (guideline) doesn't say anything about doing it accidentally."
Would cookies even help agency?
The Bush administration has come under fire recently over reports it authorized NSA to secretly spy on e-mail and phone calls without court orders.
Since The New York Times disclosed the domestic spying program earlier this month, President Bush has stressed that his executive order allowing the eavesdropping was limited to people with known links to al-Qaida.
But on its Web site Friday, the Times reported that the NSA, with help from American telecommunications companies, obtained broader access to streams of domestic and international communications.
The NSA's cookie use is unrelated, and Weber said it was strictly to improve the surfing experience "and not to collect personal user data. "
Richard M. Smith, a security consultant in Cambridge, Mass., questions whether persistent cookies would even be of much use to the NSA. They are great for news and other sites with repeat visitors, he said, but the NSA's site does not appear to have enough fresh content to warrant more than occasional visits.
The government first issued strict rules on cookies in 2000 after disclosures that the White House drug policy office had used the technology to track computer users viewing its online anti-drug advertising. Even a year later, a congressional study found 300 cookies still on the Web sites of 23 agencies.
In 2002, the CIA removed cookies it had inadvertently placed at one of its sites after Brandt called it to the agency's attention.
Associated Press - Updated: 4:23 p.m. ET Dec. 28, 2005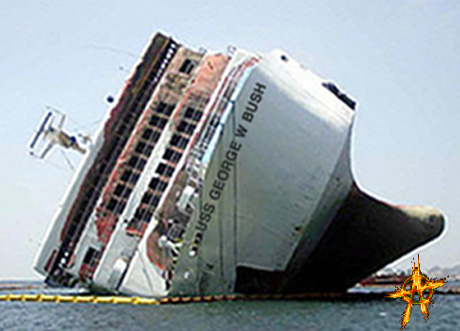 Nation Building 'We Say So' Rogue Government
"Will Monitor Your Driving by Satellite"
E-tracking, coming to a DMV near you
By Declan McCullagh
http://news.com.com/E-tracking%2C+coming+to+a+DMV+near+you/2010-1071_3-5980979.html

Story last modified Mon Dec 05 04:00:00 PST 2005

Trust federal bureaucrats to take a good idea and transform it into a frightening proposal to track Americans wherever they drive.
The U.S. Department of Transportation has been handing millions of dollars to state governments for GPS-tracking pilot projects designed to track vehicles wherever they go. So far, Washington state and Oregon have received fat federal checks to figure out how to levy these "mileage-based road user fees."
Now electronic tracking and taxing may be coming to a DMV near you. The Office of Transportation Policy Studies, part of the Federal Highway Administration, is about to announce another round of grants totaling some $11 million. A spokeswoman on Friday said the office is "shooting for the end of the year" for the announcement, and more money is expected for GPS (Global Positioning System) tracking efforts.
In principle, the idea of what bureaucrats like to call "value pricing" for cars makes sound economic sense.
Airlines and hotels have long charged less for off-peak use. Toll roads would be more efficient--in particular, less congested--if they could follow the same model and charge virtually nothing in the middle of the night but high prices during rush hour.
That price structure would encourage drivers to take public transportation, use alternate routes, or leave earlier or later in the day.
The problem, though, is that these "road user fee" systems are being designed and built in a way that strips drivers of their privacy and invites constant surveillance by police, the FBI and the Department of Homeland Security.
Zero privacy protections
Details of the tracking systems vary. But the general idea is that a small GPS device, which knows its location by receiving satellite signals, is placed inside the vehicle.
Some GPS trackers constantly communicate their location back to the state DMV, while others record the location information for later retrieval. (In the Oregon pilot project, it's beamed out wirelessly when the driver pulls into a gas station.)
The problem, though, is that no privacy protections exist. No restrictions prevent police from continually monitoring, without a court order, the whereabouts of every vehicle on the road.
No rule prohibits that massive database of GPS trails from being subpoenaed by curious divorce attorneys, or handed to insurance companies that might raise rates for someone who spent too much time at a neighborhood bar. No policy bans police from automatically sending out speeding tickets based on what the GPS data say.
The Fourth Amendment provides no protection. The U.S. Supreme Court said in two cases, U.S. v. Knotts and U.S. v. Karo, that Americans have no reasonable expectation of privacy when they're driving on a public street.
The PR offensive
Even more shocking are additional ideas that bureaucrats are hatching. A report prepared by a Transportation Department-funded program in Washington state says the GPS bugs must be made "tamper proof" and the vehicle should be disabled if the bugs are disconnected.
"This can be achieved by building in connections to the vehicle ignition circuit so that failure to receive a moving GPS signal after some default period of vehicle operation indicates attempts to defeat the GPS antenna," the report says.
It doesn't mention the worrisome scenario of someone driving a vehicle with a broken GPS bug--and an engine that suddenly quits half an hour later. But it does outline a public relations strategy (with "press releases and/or editorials" at a "very early stage") to persuade the American public that this kind of contraption would be, contrary to common sense, in their best interest.
One study prepared for the Transportation Department predicts a PR success. "Less than 7 percent of the respondents expressed concerns about recording their vehicle's movements," it says.
That whiff of victory, coupled with a windfall of new GPS-enabled tax dollars, has emboldened DMV bureaucrats. A proposal from the Oregon DMV, also funded by the Transportation Department, says that such a tracking system should be mandatory for all "newly purchased vehicles and newly registered vehicles."
The sad reality is that there are ways to perform "value pricing" for roads while preserving anonymity. You could pay cash for prepaid travel cards, like store gift cards, that would be debited when read by roadside sensors. Computer scientists have long known how to create electronic wallets--using a technique called blind signatures--that can be debited without privacy concerns.
The Transportation Department could require privacy-protective features when handing out grants for pilot projects that may eventually become mandatory. It's now even more important because a new U.S. law ups the size of the grants; the U.K. is planning GPS tracking and per-mile fees ranging between 3 cents and $2.
We'll see. But given the privacy hostility that the Transportation Department and state DMVs have demonstrated so far, don't be too optimistic.
Copyright ©1995-2005 CNET Networks, Inc. All rights reserved.
Attention Veterans: Chickenhawks At It Again
Vets' files on the TSA watch list
From Congressional Quarterly:
CQ HOMELAND SECURITY - INTELLIGENCE Dec. 9, 2005 - 8:57 p.m. TSA Wants Access to Veterans' Files to Add 'Mental Defectives' to Watch List By Jeff Stein, National Security Editor
Is there an efficient, legal way to keep crazy people off airplanes altogether, like the manic depressive man shot dead at the Miami airport last week?
As it turns out, the government was taking steps in that direction almost a month before Rigoberto Alpizar was plugged by U.S. air marshals after he ran down the Jetway with a bundle in his hands while saying, according to the government, that he had a bomb.
A Nov. 15 notice put out by the Transportation Security Administration (TSA), which is always thinking about new ways to keep potentially dangerous people off our airliners, states TSA is looking for contractors to add a number of new databases for screening passengers and airport workers.
Up first are the files of the Defense Department (DoD) and Veterans Administration (VA), which the TSA says it wants scoured for "mental defectives. "
As if troubled veterans didn't have enough to worry about. According to a 2004 Government Accountability Office (GAO) study, about 15 percent of the soldiers coming home from the intense guerrilla wars in Iraq and Afghanistan are likely to be afflicted with what was once called "combat fatigue. "
The New England Journal of Medicine also reported in 2004 that "15.6 percent to 17.1 percent of returning soldiers from Iraq exhibited signs of anxiety, major depression or other mental health problems. "
Today those symptoms are lumped together in what's called post- traumatic stress disorder, or PTSD, which afflicted hundreds of thousands of soldiers who came home from Vietnam combat with "a thousand-yard stare" and fell into depression, suicide, alcoholism and drug abuse.
One of them might be sitting next to you on an airplane: More than half, or 53 percent, of the 1 million combat veterans of Vietnam were afflicted to one degree or another, said a four-year, $9 million study published by the VA in 1990.
And the trend line for the new generation of veterans is going north. The number who sought help for depression at VA clinics in 2004 grew tenfold over the year before, according to the Los Angeles Times.
"In all, 23 percent of Iraq veterans treated at VA facilities have been diagnosed with post-traumatic stress disorder," it said. The VA is struggling to keep up with services for the troubled veterans, GAO said, thus exiling many to the streets, where they could be walking time bombs.
Secret Codes
The military services used to put a secret code for "mental disorders" on veterans' discharge papers until the practice was exposed and banned in 1974. As it turned out, the numbers weren't secret at all to potential employers and others who knew how to decipher them.
Maybe now they won't be secret to the airlines and the TSA, either.
But one puzzling aspect of the TSA's plan is that DoD and the VA may not even have a classification for vets who are "mental defectives."
A VA spokeswoman who has worked at the agency for 22 years said she had never heard of such a category, but she didn't want her name used until she could make a thorough inquiry.
DoD spokeswoman Lt. Col. Ellen G. Krenke flatly declared, "There is no such category" in military records. But, she added by e-mail, "The only area where information such as this may be contained is in the section for standard separation program designator codes. However . . . this information is stamped 'For Official Use Only' and will not be furnished to any agency or individual outside the Department of Defense."
David Addlestone, an Air Force judge advocate from 1966 to 1968 and author of "The Rights of Veterans," said that years ago the armed services had a "personality disorder discharge" for people who couldn't adjust to military life, but he said he wasn't sure it still existed.
Yet the TSA notice, called a "sources sought" inquiry and first reported by Government Security News, reads: "Examples of new data sources would be DoD files for military service histories or VA files for lists of persons who have been declared mental defectives."
TSA spokesman Darrin Kayser did not have an immediate explanation for the apparent contradiction late Friday but said he would look into it.
The prospect of a return of secret codes that could amount to a blanket flight ban against troubled veterans upsets John Terzano, vice president of the Vietnam Veterans of America Foundation.
If it's true, Terzano said, "This is a really, really shameful thing. Veterans do get traumatized by war, of course. But for all their pain and sacrifice, to have the government looking over their shoulder and putting their names in a database is unconscionable."
For TSA data-hunters, though, it's just the beginning.
"We plan to add two new data sources per year," its notice said.
Backchannel Chatter
Speaking of watch lists, the FBI quietly announced via the Federal Register on Dec. 2 that it was putting the Terrorist Screening Records System beyond the reach of the Freedom of Information Act.
The "exemptions are necessary to avoid interference with the law enforcement, intelligence, and counterterrorism functions and responsibilities of the FBI and the Terrorist Screening Center," the Justice Department said in its "final" notice, a response to comments invited from the public about the proposed rule. David Sobel, general counsel of the Electronic Privacy Information Center, a civil liberties advocate in Washington, said,"Most of [it] is devoted to debunking the arguments we made in our comments." . . . Elsewhere in Justice, 493 terrorism-related cases were referred to the department for prosecution from 2002 to 2004, 167 were prosecuted, and 95 convictions were won, according to numbers assembled from the department by TRAC, the Transactional Records Access Clearinghouse, also in Washington. Of those, 73 people were sentenced to prison for an average of 38 months. The median term was 12 months, according to the numbers . . . Just in time: a conference on "Intelligence and Ethics," at the Joint Services Conference on Professional Ethics, Jan. 27-28. "It is the goal of this conference to establish the first international meeting of civilian and military intelligence professionals, educators and those with academic perspectives in national security, philosophy, law, history, psychology, theology and human rights," an announcement said.
* Ethics & Intelligence 2006 <http://eli.sdsu.edu/ethint>
Jeff Stein can be reached at jstein@cq.com
Source: CQ Homeland Security © 2005 Congressional Quarterly Inc. All Rights Reserved.
Thanks to Veterans for Peace and Rainbow Puddle for the 'heads up'.

Source: http://villagevoice.com/blogs/bushbeat/archive/2005_11.php
MIDI - AUDIO COMMENT - by Balz
WTC black boxes were found White House,
FBI Lied to 9-11 Commission about 9-11
by Dave Lindorff
This article appeared first as a special report in the December 20 issue of Counterpunch magazine
One of the more puzzling mysteries of 9-11 is what ever happened to the flight recorders of the two planes that hit the World Trade Center towers. Now it appears that they may not be missing at all.
Counterpunch has learned that the FBI has them.
Flight recorders (commonly known as black boxes, though these days they are generally bright orange) are required on all passenger planes. There are always two--a flight data recorder that keeps track of a plane's speed, altitude, course and maneuvers, and a cockpit voice recorder which keeps a continuous record of the last 30 minutes of conversation inside a plane's cockpit. These devices are constructed to be extremely durable, and are installed in a plane's tail section, where they are least likely suffer damaged on impact. They are designed to withstand up to 30 minutes of 1800-degree heat (more than they would have faced in the twin towers crashes), and to survive a crash at full speed into the ground.
All four of the devices were recovered from the two planes that hit the Pentagon and that crashed in rural Pennsylvania. In the case of American Airlines Flight 77, which hit the Pentagon, the FBI reports that the flight data recorder survived and had recoverable information, but the voice recorder was allegedly too damaged to provide any record. In the case of United Airlines Flight 93, which hit the ground at 500 mph in Pennsylvania, the situation was reversed: the voice recorder survived but the flight data box was allegedly damaged beyond recovery.
But the FBI states, and also reported to the 9-11 Commission, that none of the recording devices from the two planes that hit the World Trade Center were ever recovered.
There has always been some skepticism about this assertion, particularly as two N.Y. City firefighters, Mike Bellone and Nicholas De Masi, claimed in 2004 that they had found three of the four boxes, and that Federal agents took them and told the two men not to mention having found them. (The FBI denies the whole story.) Moreover, these devices are almost always located after crashes, even if not in useable condition (and the cleanup of the World Trade Center was meticulous, with even tiny bone fragments and bits of human tissue being discovered so that almost all the victims were ultimately identified). As Ted Lopatkiewicz, director of public affairs at the National Transportation Safety Agency which has the job of analyzing the boxes' data, says, "It's very unusual not to find a recorder after a crash, although it's also very unusual to have jets flying into buildings.
"Now there is stronger evidence that something is amiss than simply the alleged non-recovery of all four of those boxes. A source at the National Transportation Safety Board, the agency that has the task of deciphering the date from the black boxes retrieved from crash sites--including those that are being handled as crimes and fall under the jurisdiction of the FBI--says the boxes were in fact recovered and were analyzed by the NTSB.
"Off the record, we had the boxes," the source says. "You'd have to get the official word from the FBI as to where they are, but we worked on them here.
"The official word from the NTSB is that the WTC crash site black boxes never turned up. "No recorders were recovered from the World Trade Center," says the NTSB's Lopatkiewicz. "At least none were delivered to us by the FBI." He adds that the agency has "always had a good relationship" with the FBI and that in all prior crime-related crashes or flight incidents, they have brought the boxes to the NTSB for analysis.
For its part, the FBI is still denying everything, though with curious bit of linguistic wiggle room. "To the best of my knowledge, the flight recording devices from the World Trade Center crashes were never recovered. At least we never had them, " says FBI spokesman Stephen Kodak.
What the apparent existence of the black boxes in government hands means is unclear.
If the information in those boxes is recoverable, or if, as is likely, it has been recovered already, it could give crucial evidence regarding the skill of the hijacker/pilots, perhaps of their strategy, of whether they were getting outside help in guiding them to their targets, of how fast they were flying and a host of other things.
Why would the main intelligence and law enforcement arm of the U.S. government want to hide from the public not just the available information about the two hijacked flights that provided the motivation and justification for the nation's "War on Terror" and for its two wars against Afghanistan and Iraq, but even the fact that it has the devices which could contain that information? Conspiracy theories abound, with some claiming the planes were actually pilotless military aircraft, or that they had little or nothing to do with the building collapses. The easiest way to quash such rumors and such fevered thinking would be openness.
Instead we have the opposite: a dark secrecy that invites many questions regarding the potentially embarrassing or perhaps even sinister information that might be on those tapes.
Dave Lindorff publishes thiscantbehappening.net
Original Article at http://www.opednews.com/articles/opedne_dave_lin_051220_fbi_lied__the_wtc_bl.htm
MSNBC VOTE TO IMPEACH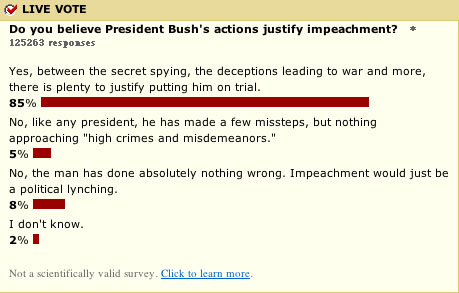 http://www.msnbc.msn.com/id/10562904
WHY SUPPORT A ROGUE GOVERNMENT?
by Balz
Why do Senate and Congress continue to support a rogue government bent on corporatism, oil, special interest, and self destruction?
I suppose they are part of the problem and (imo) we need another review for the short attention span sleep walkers (SASSW).
1). As a candidate for the presidency in 2000, George W. Bush insisted that, if elected, he would not allow U.S. military forces to engage in "nation building."
2) The Governor of the United States was appointed by a partisan Supreme Court.
3) There is NO real evidence Osama bin Laden was responsible for 9/11. 9/11 was an 'inside job'.
4) The Governor of the United States led U.S. into an illegal war with Iraq using bogus, hand picked, information.
5) Republicans gave Iraq WMD and Rumsfeld showed Saddam how to use them on "his own people".
6) It is now known Bush lost the second election and Kerry/Edwards lied when they said, 'every vote would count and be counted.'
7) [snipped pages and pages of actual Republican and Corporate Media lies (Hi Scotty) to get to] Bush spies on Peace loving Quakers as (sic) "tear ist" and a government so full of constipated corruption that it can not see the light for the brown stains in it's eyes.
8) Under the 'You become what you hate scenario', the Origin of "The Plan", mass murdering with Depleted Uranium (FLASH), killing one hundred thousand plus innocent Iraqi civilians, torture, Dirty Dick blood for oil Halliburton, General Electric (mega-WMD provider to the world) owner of NBC/MSNBC/etc., reporters on the government payroll, and a Secret Government have turned Neocons into mirrors of Saddam.
9) When the Governor of the United States spoke the other evening, he suggested there were two choices, Victory or Defeat, and since I served my country honorably; not like the CHICKENHAWKS running the country, I feel I have the right to offer a third choice: IMPEACHMENT !
The last time I looked, the "Gross National Debt" was $ 8, 108, 666, 000,000 and do you have a clue as to how much interest taxpayers are 'forking out'? I doubt it, so for the number challenged, the above figure is in trillions and the approximate amount of interest, per day, is $1.77 BILLION dollars, since 30 September 2004. In other words, long after the Governor of the United States is gone, tax payers will be paying for his blunders. Look it up for yourself.
Here is one more, just so it is not forgotten:
Latest government report on Wellstone 'accident' finds its scapegoats, many questions remain

By Jackson Thoreau
I'm for the little fellers, not the Rockefellers. - Sen. Paul Wellstone
Shortly before he died in a mysterious airplane crash 11 days prior to the 2002 elections, Minnesota Sen. Paul Wellstone met with Vice President Dick Cheney, probably the Bush administration's most evil public face.
Cheney was rounding up Senate support for the October 2002 vote on giving the administration carte blanche to invade Iraq, with or without blessing from the United Nations. Cheney strong-armed opposing politicians like the most vindictive of mafioso leaders, and opponents usually gave in.
But not Wellstone. Whatever you thought of his progressive brand of politics, he wasn't a wimp. And that's what made him more than dangerous in the eyes of people like Cheney.
At a meeting full of war veterans in Willmar, Minn., days before his death, Wellstone told attendees that Cheney told him, "If you vote against the war in Iraq, the Bush administration will do whatever is necessary to get you. There will be severe ramifications for you and the state of Minnesota." [click to continue reading].
Regarding "Rogue Government" here is a snip from: GLOBAL ROGUE STATE by Edward S. Herman (imo) a very good read for understanding my title above.
Global Rogue Aggressions
Ignoring both minor bombing raids and the numerous subversive efforts not involving military forces, since the end of World War II the United States has committed acts of aggression against Guatemala (1954), Lebanon (1958), the Dominican Republic (1965), Vietnam (1954-75), Laos (1964-1975), Cambodia (1969-1975), Nicaragua (1980-1990), Grenada (1983) and Panama (1989). I would argue that the Persian Gulf war was also a case of U.S. aggression, as the U.S. took advantage of Iraq's aggression against Kuwait to smash a regional power that had defied it. In short, the U.S. has been the number one international aggressor over the past 50 years.
In the case of the Vietnam War, the global rogue was able to ignore the 1954 Geneva Accords, place a puppet in power in South Vietnam, invade and bomb all of Indochina, killing as many as four million people over two decades, without the slightest interference from the UN or World Court. In the case of Panama, the rogue invaded in 1989 to capture its leader, Noriega, allegedly for drug dealing and authoritarian rule. But Noriega had been on the U.S. payroll for years while dealing in drugs and ruling by terror. The real reason for the invasion was Noriega's refusal to collaborate with the U.S. in its illegal attacks on Nicaragua. Again, the U.S. veto and overall power allowed this multi-leveled rogue operation to go forward without impediment.
Continue reading at: http://www.zmag.org/zmag/articles/feb98herman.htm
Links for this article:
"they" = http://www.flyingsnail.com/Dahbud/mensch001.html
"nation building" = http://www.thebostonchannel.com/helenthomas/2117601/detail.html
"Supreme Court" = http://www.salon.com/politics/feature/2000/12/14/bush/index.html
"evidence" = http://www.flyingsnail.com/Dahbud/DahArc/daharc20.html
"his own people" = http://www.sfbg.com/News/32/21/Features/iraq.html
"tear ist" = http://news.bbc.co.uk/2/hi/americas/4536310.stm
"The Plan" = http://www.flyingsnail.com/Dahbud/theplan.html
"Depleted Uranium" = http://www.flyingsnail.com/Dahbud/DU.html
"Gross National Debt" = http://www.academycomputerservice.com/economics/charts.htm
"click to continue reading" = http://www.duckdaotsu.org/thoreau291203.html
New Patriot Act Amendments would Create Secret Police
From An Infowars Reader:
The Patriot Act Amendments to HR3199 include a portion for creating a Secret Service Uniformed Devision.
This "Secret Police" will have rights to warrantless arrest. They can be called upon by the president at special events of national significance, as determined by the President.
(1) When directed by the President, the United States Secret Service is authorized to participate, under the direction of the Secretary of Homeland Security, in the planning, coordination, and implementation of security operations at special events of national significance, as determined by the President.
the entire text:
http://thomas.loc.gov/cgi-bin/cpquery/R?cp109:FLD010:@1(hr333)
http://thomas.loc.gov/cgi-bin/query/R?r109:FLD001:H11280
******
Here is the relevant section:
SEC. 605. THE UNIFORMED DIVISION, UNITED STATES SECRET SERVICE.
(a) In General- Chapter 203 of title 18, United States Code, is amended by inserting after section 3056 the following:
`Sec. 3056A. Powers, authorities, and duties of United States Secret Service
Uniformed Division
`(a) There is hereby created and established a permanent police force, to be
known as the `United States Secret Service Uniformed Division'. Subject to the supervision of the Secretary of Homeland Security, the United States Secret Service Uniformed Division shall perform such duties as the Director,
United States Secret Service, may prescribe in connection with the protection of the following:
`(1) The White House in the District of Columbia.
`(2) Any building in which Presidential offices are located.
`(3) The Treasury Building and grounds.
`(4) The President, the Vice President (or other officer next in the order of succession to the Office of President), the President-elect, the Vice President-elect, and their immediate families.
`(5) Foreign diplomatic missions located in the metropolitan area of the District of Columbia.
`(6) The temporary official residence of the Vice President and grounds in the District of Columbia.
`(7) Foreign diplomatic missions located in metropolitan areas (other than the District of Columbia) in the United States where there are located twenty or more such missions headed by full-time officers, except that such protection shall be provided only--
`(A) on the basis of extraordinary protective need;
`(B) upon request of an affected metropolitan area; and
`(C) when the extraordinary protective need arises at or in association with a visit to--
`(i) a permanent mission to, or an observer mission invited to participate in the work of, an international organization of which the United States is a member; or
`(ii) an international organization of which the United States is a member; except that such protection may also be provided for motorcades and at other places associated with any such visit and may be extended at places of temporary domicile in connection with any such visit.
`(8) Foreign consular and diplomatic missions located in such areas in the United States, its territories and possessions, as the President, on a case-by-case basis, may direct.
`(9) Visits of foreign government officials to metropolitan areas (other than the District of Columbia) where there are located twenty or more consular or diplomatic missions staffed by accredited personnel, including protection for motorcades and at other places associated with such visits when such officials are in the United States to conduct official business with the United States Government.
`(10) Former Presidents and their spouses, as provided in section 3056(a)(3) of title 18.
`(11) An event designated under section 3056(e) of title 18 as a special event of national significance.
`(12) Major Presidential and Vice Presidential candidates and, within 120 days of the general Presidential election, the spouses of such candidates, as provided in section 3056(a)(7) of title 18.
`(13) Visiting heads of foreign states or foreign governments.
`(b)(1) Under the direction of the Director of the Secret Service, members of the United States Secret Service Uniformed Division are authorized to--
`(A) carry firearms;
`(B) make arrests without warrant for any offense against the United States committed in their presence, or for any felony cognizable under the laws of the United States if they have reasonable grounds to believe that the person to be arrested has committed or is committing such felony; and
`(C) perform such other functions and duties as are authorized by law.
`(2) Members of the United States Secret Service Uniformed Division shall possess privileges and powers similar to those of the members of the Metropolitan Police of the District of Columbia.
`(c) Members of the United States Secret Service Uniformed Division shall be furnished with uniforms and other necessary equipment.
`(d) In carrying out the functions pursuant to paragraphs (7) and (9) of subsection (a), the Secretary of Homeland Security may utilize, with their consent, on a reimbursable basis, the services, personnel, equipment, and facilities of State and local governments, and is authorized to reimburse such State and local governments for the utilization of such services, personnel, equipment, and facilities. The Secretary of Homeland Security may carry out the functions pursuant to paragraphs (7) and (9) of subsection (a) by contract. The authority of this subsection may be transferred by the President to the Secretary of State. In carrying out any duty under paragraphs (7) and (9) of subsection (a), the Secretary of State is authorized to utilize any authority available to the Secretary under title II of the State Department Basic Authorities Act of 1956.'
http://www.infowars.com/articles/ps/patriot_act_amendments_secret_police.htm
If we want world peace, we must let go of our attachments and truly live like nomads.
That's where I no mad at you, you no mad at me.
That way, there'll surely be nomadness on the planet.
And peace begins with each of us.
A little peace here, a little peace there, pretty soon all the peaces will fit together to make one big peace everywhere.
http://www.flyingsnail.com/Dahbud/disclaimer.html