Flashbacks: March 28, 2010
Flashbacks - 28 March 2010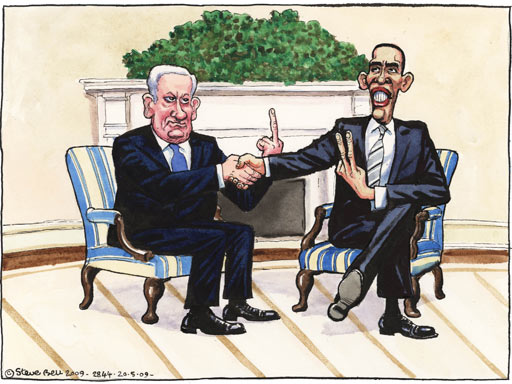 Obama and Netanyahu: up close and personal - Steve Bell
Barack Obama branded 'disaster for Israel'
Both sides deny snubbing the other in settlement row as insiders launch outspoken press attack on US leader [Click to Continue]
by Rory McCarthy in Jerusalem, guardian.co.uk, Sunday 28 March 2010 19.27 BST, Article History
Israeli Prime Minister Netanyahu
Smears Nobody
by Dahbud Mensch, "J Street" Advocate
J Street is the political voice of the pro-Israel, pro-peace movement, and the Jewish Alliance for Change.
Why, because Nobody Brought Peace to Our Times ???
Recently Israel; a country where BILLIONS of U.S. TAX dollars go, has been smearing the United States. In fact it got so bad, Prime Minister Benjamin Netanyahu was forced to make public statements to tone down 'damaging rhetoric against the United States' and mistakenly attacked my leader: Nobody, who is absolutely perfect all the time:
I would like to make it clear: I find these remarks to be unacceptable. They are from Nobody acting on my behalf.
Above quote by Benjamin Netanyahu
and From Wikipedia, the free encyclopedia :
Nathan Mileikowsky
(Writer and Zionist activist)
|
Benzion Netanyahu
(Professor of History and Zionist activist)
|
Benjamin Netanyahu
(Prime Minister of Israel)
---
Obama planned "ambush" of Israel at U.N.?
A rumor email smear, originally published at OneJerusalem.com, claimed that President Obama planned an "ambush" of Israel at the United Nations General Assembly and was going to demand that Israel recognize a Palestinian "terror state" on the West Bank.
Obama threw Israel under the bus
in Cairo speech?
A nasty smear claims President's Cairo speech was the "end of the America's strategic alliance with Israel" or worse.
Birther leader claims Obama is
"clear and present danger to Israel?"
Orly Taitz, the de facto leader of the group to prove President Obama is not an American citizen and ineligible to be President, makes insane claims about Israel in a recent Haaretz interview.
President Obama is trying to make
the West Bank "Judenrein"?
Some are arguing that President Obama's call for a freeze of Israeli settlement building in the West Bank, and the likely removal of Jewish settlers to achieve a two-state solution, is an attempt to make the West Bank Judenrein.
Obama resettling Hamas members in America?
Obama signed an executive order to resettle Hamas members in the United States?
Iranian terrorists let go?
A wild rumor that the Obama Administration let five Iranian terrorists go in Iraq.
Removing West Bank Israeli settlements
is ethnic cleansing?
Some are claiming that removing Israeli settlements in the West Bank amounts to ethnic cleansing.
Obama's policy on Jerusalem and the US
Consulate is anti-Jewish and anti-Israel?
An email smear claims that the US "has joined the Palestinian Authority in wiping Israel off the map."
The above information is from:
Obama Smear Busters
http://www.obamasmearbusters.com/
We fight smears on President Obama's approach to the Middle East with the facts. We are pro-Israel, pro-peace, and pro-truth. [Please visit]
---

Martin Rowson - The Glory that was Rome
Nobody Remembers Who Murdered and Maimed U.S. Military and Got Away With It ...and Nobody knows U.S. Navy Veterans have been forced to sit in silence for over forty years, under the threat of imprisonment at Leavenworth, while having to watch a limp Congress continue to fund Zionists.
Zionists will 'employ/apply' the term: anti-semitic on anybody; including PEACE loving Israelis, who comment on continuing Zionist ATROCITIES against Humanity.
Examples of a Racist, Zionist mind-set:
Abort Every Black Baby to Stop Crime
Neocon, Congressional, Racist, Zionist, Bill Bennett Tells 1.25 Million Listeners! - 109TH CONGRESS - H. RES. 473 - 1ST SESSION Condemning the racist remarks of William Bennett. IN THE HOUSE OF REPRESENTATIVES - SEPTEMBER 29, 2005 - Source
The Dirty Work of Zionism Is Not Finished Yet
Even today I am willing to volunteer to do the dirty work for Israel, to kill as many Arabs as necessary, to deport them, to expel and burn them, to have everyone hate us, to pull the rug from underneath the feet of the Diaspora Jews, so that they will be forced to run to us crying. Even if it means blowing up one or two synagogues here and there [?9/11?], I don't care. And I don't mind if after the job is done you put me in front of a Nuremberg Trial and then jail me for life. Hang me if you want, as a war criminal… What you lot don't understand is that the dirty work of Zionism is not finished yet, far from it. - Ariel Sharon, Ex Israel Prime Minister, Zionist, 1982
A Few Weeks After 9/11:
Every time we do something you tell me America will do this and will do that . . . I want to tell you something very clear: Don't worry about American pressure on Israel. We, the Jewish people, control America, and the Americans know it. - 3 October 2001 - Israel Prime Minister, Ariel Sharon, Zionist
...and then, Christian Zionist Pat Robertson Wants to:
Nuke the United States State Department
If I could just get a nuclear device inside Foggy Bottom, I think that's the answer.
Wikipedia - http://en.wikiquote.org/wiki/Pat_Robertson
Maybe we need a very small nuke thrown off on Foggy Bottom to shake things up like [Republican] Newt Gingrich wants to do.
CNN - http://www.cnn.com/2003/US/10/09/robertson.state/
Pat Robertson & The Anglo-American support apparatus behind the Afghani mujahideen
Dahbud - http://flyingsnail.com/Dahbud/mosrobertson.html
Geez Pat, It was "Love One Another," not, Nuke One Another!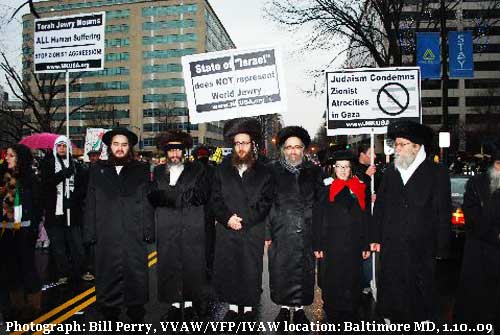 Photograph: Bill Perry, VVAW/VFP/IVAW location: Baltimore MD, 1.10.09
Peace Can Be Universal!
---