Bottle Rock Blues & Rhythm Band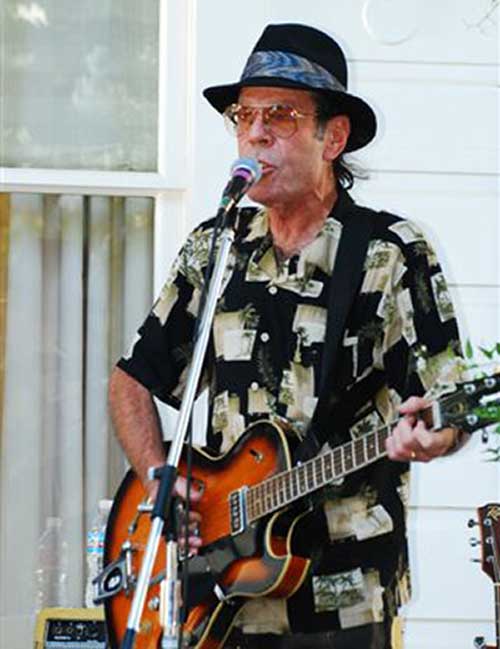 Bottle Rock leader Mike Wilhelm. Photo courtesy of Bernard Butcher.
Bottle Rock Blues & Rhythm Band
To Play at San Francisco Halloween Celebration
October 25, 2008 FOR IMMEDIATE RELEASE:
Local band to play San Francisco Halloween celebration
by Wellman Moody
Contributing writer
SAN FRANCISCO – Lake County's own Bottle Rock Blues & Rhythm Band will play at AT&T Park for this year's San Francisco Halloween Celebration on October 31. The celebration runs from 4:00 p.m. until late. Admission is free.
The celebration, which gets national media coverage, has been held in Castro St. in past years but due to ever-larger crowds has been moved to AT&T Park's Parking Lot A.
The opening segment features '60s musicians and is produced by Summer of Love Productions' Ron Frazier in the name of AIDS awareness. Anyone can be a victim of this deadly disease. Stopping the spread of AIDS begins with being tested.
The music starts at 4:00 p.m. with Big Brother and the Holding Company featuring Cathy Richardson. Big Brother was Janis Joplin's band back in the '60s. The tribute to Jimi Hendrix featuring Ralph Woodson starts at 5:30 p.m. Bottle Rock plays at 6:30 p.m.
The recently formed band's music is described by leader Mike Wilhelm as "Smokin' R & B!" Bottle Rock also sprinkles in some '50s, '60s and '70s rock and roll. Many will remember their well received sets at this year's Lake County Fair.
The band features the superb voice and percussion stylings of Neon Napalm, '60s legend Wilhelm on vocal and guitar, Stephan Holland on lead guitar and vocal, Bill McMenomy on bass and vocal with Mark Phillips on drums.
Napalm, a card-carrying member of the Cherokee Nation, was formerly the lead singer of the well-known Native American band Gary Farmer and the Troublemakers. The rest of the band members are all veterans of well-known San Francisco Bay Area groups.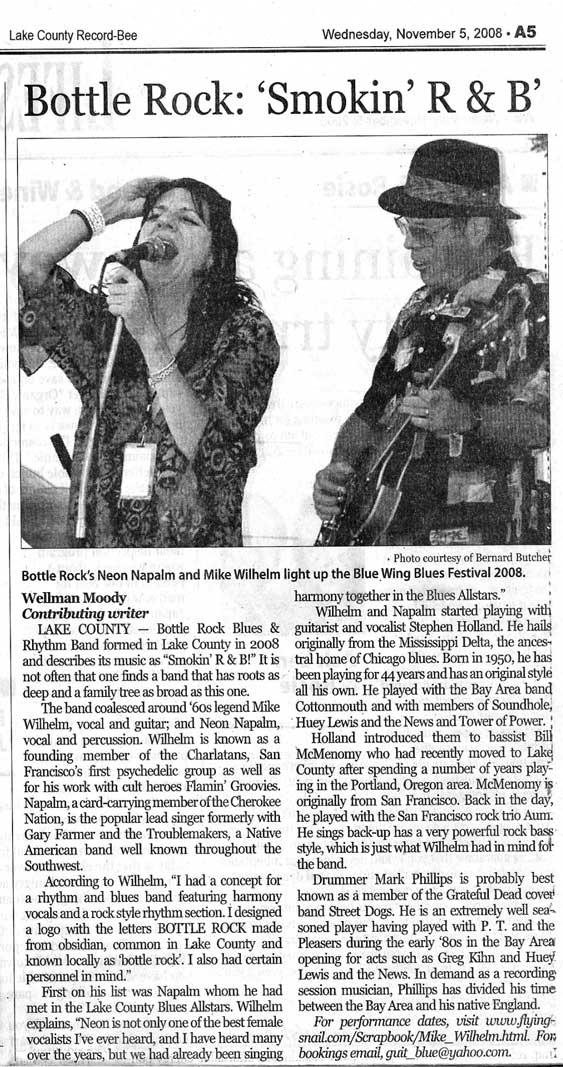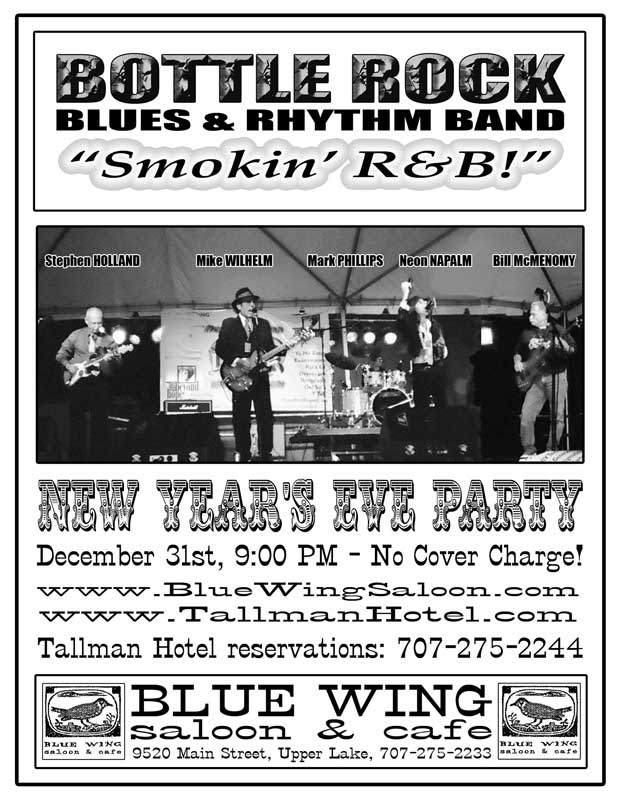 November 18, 2008
FOR IMMEDIATE RELEASE:

Blue Wing to host New Year's Eve gala

Wellman Moody
Contributing writer

UPPER LAKE – Proprietors Lynne and Bernie Butcher will host a gala New Year's Eve Party at the Blue Wing Saloon & Café starting at 9:00 pm December 31. Bottle Rock Blues & Rhythm Band featuring Mike Wilhelm and Neon Napalm will supply live music. There is no admission charge.

The Blue Wing is located adjacent the Tallman Hotel at 9520 Main St., Upper Lake and is open every day from 11:00 am until 9:00 pm. The phone number is (707) 275-2233. For those wishing to book rooms, the Tallman reservation desk is (707) 275-2244. For further information go to www.BlueWingSaloon.com or www.TallmanHotel.com.
Neon Napalm - vocal and rhythm - Card-carrying member of Cherokee Nation and formerly lead singer of the well-known Southwest Native American band, Gary Farmer and the Troublemakers.
Mike Wilhelm - vocal and guitar - Founding member of the Charlatans (San Francisco's first psychedelic group), Loose Gravel, Lake County Blues Allstars, Bottle Rock Blues & Rhythm Band, and former member of cult heroes, Flamin' Groovies.
Stephen Holland - guitar and vocal - Formerly played with, Cottonmouth and members of Soundhole, Huey Lewis and the News, and Tower of Power.
Bill McMenomy - bass guitar and vocal - Formerly with San Francisco rock trio, Aum.
Mark Phillips - drums - Formerly with P. T. and the Pleasers and Grateful Dead cover band, Street Dogs
BRB&R Band is becoming Northern California's Number One Band, Catch them live!
Sat. August 8 – Bottle Rock Blues and Rhythm Band plus Twice as Good with Guest Star Curtis Lawson
http://lakeconews.com/content/view/9639/768/
Presented by Six Sigma Wines, Radio Station KNTI, Blues Express Records, UCC Rentals, ReMax Realty.
The Bottle Rock Blues Band is a group of top musicians from Lake County led by veteran guitarist and vocalist Mike Wilhelm and featuring the explosive vocals of Neon Napalm. Mike's distinctive baritone has been heard around Northern California since the 1960's, when he was a founding member of the popular Charlatans. His guitar blends beautifully with the vibrant voice of Neon.
Twice as Good, featuring the Native American father and son team of Rich and Paul Steward, have been favorites at the Blue Wing since it opened in 2005.
Since its formation six years ago, the group has released three CDs and toured all over the country. Whether Paul is diving off the stage, doing the splits, or dancing his way through the audience, he'll have a big smile on his face as he's out to entertain as well as to create great music.
Originally from Houston, Texas, Curtis Lawson has been singing his brand of authentic down-home blues at all the top spots in the SF Bay Area since 1958. A master showman, Curtis has written over 300 songs, headlined many festivals and appeared on stage with all the greats of the blues genre.
CyberSoulMan: The third Annual Blue Wing Blues Festival
Part One by T. Watts
Monday, 10 August 2009
Lake County News
UPPER LAKE – About midway through the set of the Bottle Rock Blues & Rhythm Band's set, vocalist Neon Napalm asked the crowd to join her in a moment of meditative Zen; a quick moment of silent appreciation, not only for the artistic vision of Bernie and Lynne Butcher, but also for the good fortune of just being able to be blessed by the music, food and camaraderie we all experienced at the third annual Blue Wing Blues Festival.
It was certainly a unique moment, one that perhaps went past some of us in attendance, yet appreciated as well by audience members who realize that this burgeoning event is destined to cement and enhance the perception of the capabilities of what goes on in the County of Lake.
This year's festival kicked off on Wednesday, Aug. 5, in the picturesque garden courtyard between the Tallman Hotel and Blue Wing Café & Saloon.
Opening each night of the four-day festival was renowned country folk blues artist Barry "Big B" Brenner.
Mr. Brenner was born and raised on Chicago's South Side and is heavily steeped not only in the traditional blues that migrated to Chicago and became an urban style of its own, but also the regional styles that migrated to the big city, including Mississippi Delta, Texas Plains, Piney Woods, Piedmont Seaboard, Ragtime and Louisiana Swamp Bayou.
A virtuoso on six-string, 12-string and National Resonator, Brenner keeps four guitars on stage and intersperses them all throughout his set list which included selections from masters such as Tampa Red, Robert Johnson, Mississippi John Hurt, Leadbelly and so many others. A craftworthy and accomplished songwriter, Big B also performs original works.
Over the four nights, Brenner proved to be not only a great player, but accommodating and gracious to the attendees also. Often he inserts vocal histories and anecdotes into the performance, educating and entertaining. It was a welcome return to the Blue Wing for Brenner, who last played here at the original Blue Wing Festival back in 2007. More info on "Big B" Brenner can be obtained at www.bigbbrenner.com .
Lynne and Bernie Butcher, speaking separately yet of the same mind, concurred that the stark contrast between Barry Brenner's strictly acoustic roots-inflected sets and the electric blues ensembles of Mighty Mike Schermer, Chris Cain, Levi Lloyd, Twice As Good and Curtis Lawson made for a first class festival event.
One of the festival goers was also heard to remark that in the near future they're gonna have to block off Main Street in Upper Lake to contain the blues-loving throngs.
Closing the opening nights festivities was the Mighty Mike Schermer Band with special guest, Lara Price. Now some of you know of the resume of Mighty Mike. This is the guy whom Elvin Bishop says kicks his booty every night they play together.
For over 20 years Mighty Mike has solidly represented on guitar other heavyweights including Willie Dixon, Booker T., Bonnie Raitt, Maria Muldaur Howard Tate, The Gospel Hummingbirds and many, many others. He has a smokin' new CD entitled "Live Set" and he and the band reprised much of it Wednesday night
When Schermer, the fellowette and fellows hit the stage the first thing he inquired was, "got any blues lovers in the house?" They then launched into their arrangement of CC Rider and by the second number, "Jump, Rock & Wail," the dancers in attendance were up an moving.
Midway through the third number, Schermer had to come out of his jacket. It was gettin' hotter up there. Schermer and his very talented saxophonist Nancy Wright traded "touch the sky solos" throughout their set.
Mike Schermer is the author of the song "Big Sister's Radio," a poignant, autobiographical, intensely soulful rocker that was No. 1 on XM radio in 2006. When he played it Wednesday night, the CyberSoulMan went a little nuts and sang along a little too loudly. When he hit a wrong note and was looked at crazily by a nearby blues lover, he shut up and went back to reporting to you what went on.
What transpired next was the introduction of the dynamic Lara Price. The music press keep calling her up and coming but trust me, she's already here. With four CDs already released, Ms. Price also has four live projects she performs with – Lara Unplugged, Velvet Plum, The Lara Price Band and Lara Price & Yesterday's Band.
She came out singing "I'd Rather Drink Muddy Water" and followed it with a blues medley that included, I believe, "The Love You Left Behind." She and Mighty Mike then did a cover of Ike and Tina Turner's "It's Gonna Work Out Fine." It was a great and different arrangement of a wonderful song. In fact it was one of the first records, that the young CyberSoulBoy bought. Ever!
The Schermer Band closed their first set with an extended jam medley that kept the dance floor sizzlin'. The songs included "Honky Tonk," "Shotgun," "I Got You," "Knock On Wood," "Signed, Sealed and Delivered," "Pretty Woman," "Satisfaction," "Paint It Black," "You Really Got Me," "Shout," "Tequila," "Johnny B. Goode" and "Wipeout." The list goes on from there. I think they were out to hurt the dancers!
Stay tuned for part two, coming soon.
Keep prayin', keep thinkin' those kind thoughts.
T. Watts is a writer, radio host and music critic. Visit his Web site at www.teewatts.biz
Source: http://lakeconews.com/content/view/9864/764/
CyberSoulMan: The third Annual Blue Wing Blues Festival
Part Two by T. Watts
Sunday, 16 August 2009
Lake County News
During the annual Blue Wing Blues Festival earlier this month, the Mighty Mike Schermer Band put on a great performance filled with a number of songs, then returned to the stage after a brief intermission for a second set. After a short instrumental jam, Lara Price returned to the stage with a rollicking version of the Randy Newman penned, "You Can Leave Your Hat On."
Stretching out a little bit, Price then strapped on her guitar and gave the folks a tad of her musicianship. She modestly only considers herself a pianist but if you check out her recorded repertoire you will see that she plays drums as well.
Mighty Mike slipped in a little slide guitar work on the next number which was "Make Me An Angel." Those folks who attended the sets of Barry Brenner and the Bottle Rock Blues & Rhythm Band were thus treated to three different slide guitar stylists over the course of the festival. The third was Mike Wilhelm.
The Mighty Mike Schermer Band closed out their performance with "Got You On My Mind" and "Wondering Why You Had To Go."
Seemingly sadly, Schermer announced that he is relocating to Austin, Texas, to join the Marcia Ball Band. It seems sad for us here on the West Coast, but rest assured we have not seen the last of Mighty Mike Schermer.
It's actually a shrewd career move on his part. Plugging into the vibrant music scene in Austin is what a lot of players only dream of. Many musicians migrate there in search of fortune and fame. Being in Ms. Ball's band with her connections to the Crescent City scene as well, can only enhance Mighty Mike's already stellar career. Meanwhile, keep your eyes on Lara Price!
Thursday's musical paring was opener "Big B" Brenner followed by Chris Cain. This year the crowds at the Blue Wing Blues Festival seemed to increase in size each night that the festival continued. When I arrived Thursday night, "Big B" Brenner was hard at work pickin' out an instrumental called Trippin' Along from his first CD, Blues, Rags and Stomps.
Keeping steady time with his foot throughout his sets, Brenner consistently grooved in the styles of the old masters. This night he covered Muddy Waters, Blind Blake and Robert Johnson territory as well as his own. His set list varied each night and the crowd response was always strong.
Chris Cain and his band had just arrived back from a tour in Italy and came straight to Upper Lake for the Blue Wing Festival. I had never seen Chris Cain live but was aware of the accolades showered upon his showmanship and the authenticity of his records. All my musician friends who are into blues guitar marvel at his ability and technique testifying to the fact that he is the real deal.
When Cain band keyboard man Tony Stead came out and started setting up, I could see by his poker faced intensity and attention to detail that the band would be up to something. He was connected pedals and gizmos like a surgeon preparing for the operating room.
From the moment the Chris Cain band hit, it was obvious that they are a gifted unit capable of dazzling forays into the soundscape of the blues. Chris Cain's stage persona, I noticed is not wholly unlike that of a Jimi Hendrix in terms of his use of wry wit, the use of the artistic devices of double entendre and allegory in his between song commentary.
Their set list included "Tennessee Woman," a song penned by Fenton Robinson as well as the blues crossover hit made famous by Robert (Little Jr.) Parker, "Barefootin'." When Cain introduced a song that he called a "sad love long," it turned out to be titled, I believe, "Dirty, Dirty Cat," a very, if you will, low down blues. Waaay back in the alley! They rocked it out. The festival goers with the dancin' feet stood and testified accordingly. When the song ended, Cain remarked, "That was a tender little ballad. Wrote it at my house with a crayon!"
Rhythmically, the Chris Cain Band is anchored on bass by Dwayne Pate. The drummer is Taylor Eng. "Young" Taylor Eng as Chris Cain kept calling him. When I spoke with Eng after the show about his nickname, he admitted he is actually the oldest cat in the band!
The highlight of the band's time on stage was the articulate, authentic solos by Chris Cain and Tony Stead. One could hear the Albert King influence in Cain's note placement. His physical presence is very expressive. His energy, talent and heartfelt vocals are amazing.
Chris Cains master chops, interspersed with Tony Stead's dazzling keyboard was an amazing show. At times Stead's piano voiceings suggested Herbie Hancock. Cain and Stead steadily bridged the space between jazz and blues.
The Chris Cain band played steadily with authority for about an hour. Suddenly after all that high energy the set came to what might have been perceived as an abrupt end. Most of the band filed off stage. Chris Cain though lingered and shifted over to the keyboard throne. The crowd was cryin' for an encore. Cain gave us a plaintive blues piano w/vocal tune entitled "What's Gon' Become Of Me." It was a very effective end to what had to be a hard journey, straight from a week's dates in Italy to the Tallman Hotel's veranda stage.
On Friday following another fascinating set by Barry Brenner, Levi Lloyd and his fellows (The 501 Band), started their set in stages, gradually tuning, mic and monitor checking and if you listened hard enough, you heard the chord changes to "Willow Weep For Me."
Levi made a casual announcement, "We're just doing a little tuning while we get the sound system tight." The band then launched into a bluesy version of "Cantalope Island" followed by an extended cover of Jimmy Reed's "You Got Me Runnin'."
Just before blues diva Bettie Mae Fikes was introduced, 501 drummer Steve Guerrero remarked to Levi so that the crowd could hear, "Everything is based in the blues, right Levi?"
Then as if to get a witness to that truth, Levi introduced Ms. Fikes who regally graced the stage and greeted the audience.
"So glad to be back on the hill, though I haven't quite claimed Upper Lake. I came to have a good time. What about you?"
The crowd responded with an affirmative "yeaah" as Ms. Fikes wrapped her voice around "Hey, Hey, The Blues Is All Right." Playing to the crowd with a little help from a couple seated at a front row table, Bettie and the couple did a little mystery theater blues as Bettie sang, "Hey Lady, Your Husband Is Cheatin' On Us." The crowd loved it. Third in a row was "Down Home Blues."
After the third song Bettie interspersed a little monologue into her performance.
"I told Levi I want to go to church tonight. I've been strugglin' and strainin', on my way home, singin' gospel, human rights and the blues. Travelin' all over the world for freedom. Just don't seem to pay enough."
"'Cept here," chimed in Bernie Butcher from the back.
Next, Bettie Mae then wrenched all the wax out of "How Blue Can You Get." She inquired, "Now do you see why I don't have a husband? Traveling about, running through airports, I'm astonished at how people are caught up in themselves. Forty to 50 years in civil rights. I can't have no husband. Just give me a band that sounds like this."
Levi Lloyd and the 501s set a torrid, blues party pace all the way through the end of the first set and firmly promised to cook some more after a short intermission.
When the band returned to the stage Levi & the fellows opened with "Big Boss Man" as a tribute to Bernie Butcher. Levi sings that number for Bernie every time he appears at the Blue Wing and it's always a crowd pleaser.
Next up was sound man D. Wils who did an excellent joy manning the board for all the acts that appeared over the course of the festival. Many people don't know that he is a performer as well. He got the party people up and moving by first motivating the women in the house by declaring, "ladies in control." He than covered The Isley Brothers' "It's Your Thing" and James Brown's "I Feel Good." D had the dance floor packed throughout both numbers.
Bettie Mae Fikes came out again for a medley that included "Everyday I Have The Blues," "I Been Mistreated" and "Going Down Slow." The Lake County all-around-the-world blues diva killed them again. After the standing ovation, there was much autograph signing, picture taking and CD selling. Not bad for a Friday night in Upper Lake.
The Bottle Rock Blues & Rhythm Band followed Barry Brenner to the stage on Saturday night. The BRBRB though local, is fronted by the legendary Mike Wilhelm who is a peer of the late, great Jerry Garcia. He was playing his 1966 Gretsch guitar through a 1965 Fender Twin Reverb amp that he actually bought from Garcia. As has been reported before Wilhelm was Garcia's favorite guitarist.
Neon Napalm is the other lead vocalist in the group. After Wilhelm stunned the crowd with his "New Old Pawnshop Blues," Neon tore up "I'm Tore Down, I'm Gonna Move Up To The Country And Paint My Mailbox Blue."
Wilhelm then showed off his bandleader/arranger skill with a totally unique version of "Louie Louie." It was a combination of the original arrangement by Richard Berry & The Pharoahs as well as a hook or two from the Paul Revere & The Raiders version. Throw in the Wilhelm twist and the BRBRB has a great song.
The band also played "The Thrill Is Gone." "A song I made famous by B.B. King," quipped Wilhelm, kidding on the square. Wilhelm and Napalm did a fabulous duet of "House Of Blue Lights." Other songs they performed were "Sweet Home Chicago," "Stormy Monday" (which Neon wailed on) and Aretha's, "Chain, Chain, Chain." Great set!
Twice As Good closed the Blue Wing Blues Festival Saturday night and from the first note, it was instant dance floor fill. Perennial Blue Wing Favorite, young Paul Steward is out to capture the audience every time. He anchored a spirited set that included "T Bone Shuffle," "Goin' To Clarksdale," "Bad Case Of Love," "Don't Treat Me Right" and "Don't Make A Move Too Soon."
It is interesting to watch the progress of Twice As Good as Paul Steward becomes a better and better frontman for the group. The Saturday night set was heightened and augmented by the special guest appearance of the Legendary Curtis Lawson who has been singing the Blues in the San Francisco Bay Area since 1958.
Lawson has a resume longer than most living Bluesmen. Mr. Lawson brought along one of his guitarists Bert Cardone, who is a resident of Lake County. In an exclusive to the CyberSoulMan, Curtis Lawson revealed how impressed he was with Twice As Good. Though the only had one rehearsal, they were one take rehearsals in that when an idea was presented the band was able to play it back right away.
In an abbreviated set Curtis performed "Flip, Flop & Fly," "Shake, Rattle & Roll" and his self penned, "My Woman, My Girl, My Wife" which brought down the house. The song is autobiographical in nature and when Curtis introduced his wife to the audience he had an instant legion of new fans. Word is that Lake County will be seeing and hearing more of Mr. Lawson.
After Curtis Lawson left the stage Twice As Good performed several more songs including "Wang Dang Doodle,' "Going To Mississippi," "Sleepwalk" and closed with James Brown's "Give It Up Turn It Loose."
Twice As Good is sporting a funkier, even more danceable soon with the addition of Jahan Pride on bass and Julius Johns on drums. They continue to attract a lot of attention and are in it to win it. Can a record deal with new collaborations be far off?
Can't forget the food. Executive Chef Mark Linback whipped up a firestorm of succulent cuisine that left even the pickiest gourmet satisfied. Man, they served lamb kabobs, prawn kabobs, blackened rock cod, barbecued chicken breast, fall off the bone barbecued ribs, portobello mushroom sandwiches, grilled quarter-pound hot dogs, beef brisket, garden burgers, grilled swordfish, fig wrapped cod and my memory, not to mention my notes, are starting to fail me here. In short, the Blue Wing staff was not jiving.
However, they couldn't have done it without the generous sponsorship of the following primarily local businesses: Brassfield Estate Vineyard, High Valley Vineyards, Moore Family Wines, Shannon Ridge Vineyards & Winery, Six Sigma Ranch & Vineyards, KNTI 99.5 FM, KXBX 98.3, Allora DaCar Productions, Blues Express Records, Jonas Heating & Cooling, Lake Event Design, MAX Design Studio, ReMax Realty, Strong Financial Network, UCC Rentals, Vintage Antiques and Windrem Law Firm.
Sound, Lighting and extra funk by D. Wills. See you all back next year!
Keep prayin', keep thinkin' those kind thoughts.
---