---
Mike Wilhelm
March 18, 1942 ~ May 14, 2019

Terry Dolan Tribute / Mike Wilhelm ~ "High Coin" via Jesse Block
---
Mike Wilhelm, first psychedelic
rock guitarist, dies at 77
He played with the Charlatans, Loose Gravel and Flamin' Groovies
by Aidin Vaziri May 16, 2019 Updated: May 16, 2019, 8:29 pm ~ Source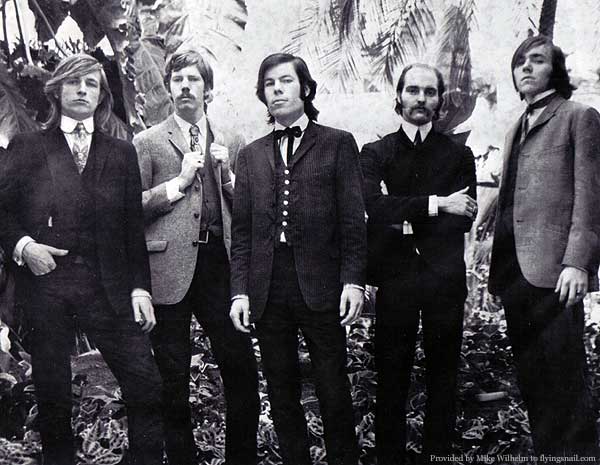 The Charlatans ~ Golden Gate Park Conservatory, San Francisco ~ Photo: Erik Jacobsen
Mike Wilhelm, the co-founder and lead guitar player of the pioneering San Francisco psychedelic rock outfit the Charlatans, who also played with the bands the Flamin' Groovies and Loose Gravel, died on Tuesday, May 14 at a hospital in San Francisco. He was 77.
The cause was complications from cancer, said his wife, Ana Maria Wilhelm.
The Charlatans never released an album during their Summer of Love heyday, but the group's impact was huge on the nascent San Francisco scene. Dressed in vintage Edwardian finery, the five-man band developed its rowdy amalgamation of blues, rock and Western swing over the summer of 1965 during a residency at the Red Dog Saloon in Virginia City, a small Sierra Nevada town.

Photo: Tim Kao, The Chronicle
Returning to San Francisco, the Charlatans – which also included founder George Hunter, bassist Richie Olsen, pianist Mike Ferguson and drummer Dan Hicks — were the main attraction at "A Tribute to Dr. Strange," the LSD-infused dance party at the Longshoreman's Hall in 1965 that ignited the psychedelic-rock era. Mint condition posters from that show, widely considered the first of their kind, go for more than $18,000 on the resale market.
"They were superstars," said Ana Maria Wilhelm. "People wanted to dress like them. They wanted to look like them. They wanted to play like them."
On a national level, the Charlatans were soon eclipsed by acts like the Grateful Dead, Quicksilver Messenger Service and Jefferson Airplane (the latter was also on the lineup at the Longshoreman's Hall show). Yet Wilhelm's distinctive Americana playing style heavily influenced musicians like Jerry Garcia and John Cipollina, and later, acts like the Byrds and Eagles.
"He had a unique finger-picking style," said author Joel Selvin, former Chronicle Senior Pop Music Critic. "He was the most highly-evolved musician at that time. The Charlatans covered everything from blues to old-timey country, and Wilhelm handled it all."
Garcia told Haight-Ashbury scene photographer Herb Greene that Wilhelm was his favorite guitarist.
"He was a master at taking any guitar — no matter how funky — and turning it into a symphonic wonder," said Dan Healy, longtime Grateful Dead sound man.
[Video at Source]
Following his run with the Charlatans from 1965 to 1968, Wilhelm performed with the rock trio Loose Gravel in the early '70s, a favorite of the Hells Angels. He is best remembered from that time for his cameo in the 1972 documentary "The Last Days of the Fillmore," when he showed up unannounced at Bill Graham's office trying to persuade the famously testy rock impresario to book his new band at the famed venue.
When Graham declines and marches him outside, Wilhelm gives him the finger and explodes, "Well, f— you and thanks for the memories!"
Ana Maria Wilhelm said they remained friends despite the heated encounter caught on film. "Mike never held a grudge," she said.
Later in the decade, Wilhelm became the lead guitarist of the Flamin' Groovies, one of the forerunners to the San Francisco punk scene, performing on the albums "Flamin' Groovies Now," released in 1978, and "Jumpin' in the Night," in 1979. The band was a regular attraction at the San Francisco clubs On Broadway and Mabuhay Gardens.
He also released several solo albums, including 1985's "Mean ol' Frisco" and 1993's "Wood & Wire."
"He had no roadmap for what he became," said George Michalski, a friend who played piano for everyone from Barbra Streisand and the Allman Brothers, before serving as music director on the television series "Nash Bridges." "He was an acid cowboy and a mod rocker. He was funny and acerbic. But most of all, he was original."

The Charlatans:  Dan Hicks (left),  Mike Wilhelm (seated),  Richard Olson  and  George Hunter
pose in their Sonoma, CA rehearsal space Wednesday June 10, 2015. A hugely influential psychedelic band
of the 1960s is getting back together for performances in Virginia City, NV. Photo: Brant Ward, The Chronicle
[Article photo at Source]
Michael Ray Wilhelm was born on March 18, 1942, in Los Angeles. His father Peter Raymond Wilhelm was a professional dancer, and his mother Dorothy Currier worked at the Beverly Hills Medical Clinic. Even though he grew up in a house steeped with classical music, he discovered the blues through his older sister Katherine and a weekly television variety show produced by bandleader Johnny Otis.
As a teenager, Wilhelm met one of his guitar heroes, the Tennessee blues musician Walter "Brownie" McGhee, who offered him free  lessons.
In 1960, Wilhelm graduated from Canoga Park High School, where Hunter was a classmate, and joined the Naval Air Reserves, a year later, working as an airplane mechanic. Following his two-year stint in the armed forces, which took him to Vietnam and Japan, he hitchhiked to San Francisco in 1963 at age 19, and settled in Berkeley before moving to San Francisco's Fillmore District.
He ran into Hunter after performing at an open-mic night at the Blue Unicorn on Hayes Street.
"The rest is history," Ana Maria Wilhelm said.
[Video at Source]
Even though Wilhelm effectively retired from touring in 1993, due to ongoing lung problems and recurring pneumonia, he did take part in a reunion of the Charlatans in 1996 to celebrate the release of an odds-and-ends compilation album, "The Amazing Charlatans," and a documentary film, "Rockin' at the Red Dog," by Mary Works, whose father, Don Works, was a bartender at the saloon.
By then the band had become so obscure that a young British group had already adopted and released several albums under the Charlatans name, known here as the Charlatans U.K.
Wilhelm's fans rallied to buy him a portable oxygen unit, it didn't help with live performances. He moved up to Lake County and focused on writing songs and producing albums for other artists. He also started a Monday blues night at the Blue Wing Saloon.
In 2005, Wilhelm was involved in another reunion of the Charlatans for a performance at a memorial concert for Family Dog founder Chet Helms in Golden Gate Park; then again, two years later, for a free concert commemorating the 40th anniversary of the Summer of Love in San Francisco.
In 2015, the group played it final shows where it all began in Virginia City, just before Hicks died in 2016.
Wilhelm is survived by his wife, Ana Maria; and sister Katherine Wilhelm.
Aidin Vaziri is The San Francisco Chronicle's pop music critic. Email: avaziri@sfchronicle.com Twitter: @MusicSF

Mike Wilhelm Interview ~ December 2001 via Jesse Block ~ https://vimeo.com/130632329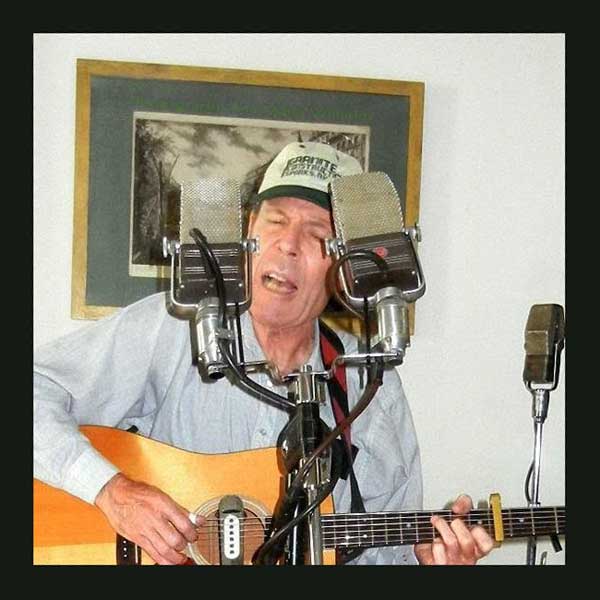 Mike Wilhelm recording at Richard Wahlberg Studio ... Photograph: Ana Maria Wilhelm
Lake County News: Mike Wilhelm, famed blues and rock guitarist, dies at 77 ~ Mike's Wikipedia Page
---
Asked by famed rock photographer Herb Greene to name his favorite guitarist, Jerry Garcia replied, "Mike Wilhelm." Charles Perry said it all in a Rolling Stone Magazine review of Mike's first solo album when he wrote, "Wilhelm's voice is so tough and effective that it's scarcely credible that he's doing all that slick finger-picking at the same time, but the song was done in one take."
Being a founding member of San Francisco's first psychedelic rock band, the amazing Charlatans, Mike Wilhelm staked his claim in Rock and Roll history early on. The musical earthquake that happened in and around San Francisco in the mid '60s, which would go around the globe in waves, was generated by five sharp-dressed, curious and visionary musicians about to touch new land; the dawn of psychedelic rock and the fashion, image and culture that would follow was loudly trumpeted by the appearance of the amazing Charlatans. The dancehall and festival culture as well as the Vietnam protest movement were direct results of a youth that wanted to open their minds while embracing the world.
While still a teenager, he ran into Walter "Brownie" McGhee, the legendary bluesman and partner of Sonny Terry. McGhee, described by Mike as "a most generous teacher", taught Wilhelm his fingerpicking licks. Highly talented Mike impressed McGhee so much that he taught him at no charge and obviously very, very well. His fingerpicking creates the illusion that you hear at least one more guitar. His slide work has an elegant silverish tone and accuracy, both the softness and bite of a panther. He is a cultural bridge between Robert Johnson, Jimi Hendrix and Johnny Cash.
His career led him around the world, playing LA's famed Whisky a Go-Go and Berlin's historic Sportpalast as well as the legendary Avalon, Fillmore and Winterland, touring Japan and Europe, working with Janis Joplin's Big Brother and the Holding Company, Chicago blues great Nick "the Greek" Gravenites, playing and recording with Quicksilver Messenger Service's John Cipollina, influencing West Coast Sound and establishing trends as art forms with his bands the Charlatans, Loose Gravel and Flamin' Groovies. Mike tells the story of this land and its people when doing songs such as Pizen Switch and Betty And Dupree on six or twelve strings.
Writer H. C. Anderson is a music critic from Berlin, Germany who currently resides in San Francisco.
---
Hippies, Guns, and LSD:
The San Francisco Rock Band
That Was Too Wild For the Sixties

By Ben Marks ~ July 19th, 2017
Article Source ~ Photographs, Posters, etc. at Source


Charlatans, 1966 in front of former Barbary Coast hot spot: Hippodrome, Pacific St., San Francisco.
[Local photograph provided by Mike Wilhelm]

George Hunter of the Charlatans never shot Jerry Garcia of the Grateful Dead, not even once. But in the spring of 1966, on the grounds of Rancho Olompali just north of San Francisco, Garcia had reason to believe Hunter was gunning for him, causing the great guitarist to royally freak out. The misunderstanding unfolded when Hunter decided to drop some LSD and bring a loaded .30-30 Winchester rifle to a party at the Dead's new Marin County hangout. Hunter never intended to strike fear into the heart of his genial host, but when he did, he was so high that he began to panic—perhaps he hadaccidentally shot someone, if not Garcia, after all. It took a long bummer of a night, and three of Hunter's closest friends, to shake that demon thought from his troubled mind.

You've probably never heard of the "Incident at Olompali," as no one has called it since, and your awareness of the Charlatans is likely limited to seeing the band's name on scores of vintage rock posters, alongside more familiar monikers such as Jefferson Airplane, Quicksilver Messenger Service, Big Brother and the Holding Company, and Grateful Dead.

That's too bad, because in their heyday, from 1965 to 1968, the Charlatans were a lot of people's favorite band, thanks to a danceable mix of distinctively American musical genres—from the blues and rock to Western swing and jazz. Around the time of the Charlatans' first paying gig, in June of 1965, the Grateful Dead were still playing pizza parlors as the Warlocks, Jefferson Airplane had yet to take off, Big Brother was a year away from handing Janis Joplin a microphone, and Quicksilver was not even a gleam in anyone's eye. By 1966, the Charlatans had a record deal with the same label that had released the 1965 smash hit "Do You Believe In Magic?" by the Lovin' Spoonful.

Given their head start as performers, the Charlatans should have been one of the biggest music acts of the 1960s. They were doing acid tests before anyone even called them that, and were the first band to promote itself with a poster and perform while bathed in the glow of a light show. Just as importantly, the Charlatans were trailblazers at a moment in musical history when rock bands were being rewarded for conforming to the new psychedelic orthodoxy. In particular, the band's embrace of Americana was years ahead of the Byrds, Grateful Dead, and Eagles, who also wove threads pillaged from those genres into their repertoires. That's not to give the Charlatans credit for "Sweetheart of the Rodeo" and "Workingman's Dead"—or blame for "Desperado"—but they got to the Americana party first.

All of this should have worked in their favor, but by the Summer of Love in 1967, the band was self-destructing, and by the time Jimi Hendrix was playing the last notes of "Hey Joe" at Woodstock in the summer of 1969, the Charlatans were history. What happened? == [Click to Continue Reading]

---

---

High Curtis,

Below is a track recorded at Richard Wahlberg Studio in San Francisco using old RCA ribbon mics for that "authentic" sound

http://www.flyingsnail.com/Podcast/PalletOnYourFloor.mp3

Pallet On Your Floor done in one take. Ana Maria took this pic while I was recording.

Keep rockin',
Mike Wilhelm,
Charlatans' guitarist, June 15, 2016


How Can I Miss You When You Won't Go Away ~ Dan Hicks and the Hot Licks w/Mike Wilhelm
from Mark Messina ~ https://vimeo.com/8931252


The Charlatans"The Limit Of The Marvelous" ~ New LP Compilation

Published on Dec 17, 2015:

With the 50th anniversary of the legendary Charlatans' debut occurring this year, Big Beat are celebrating with this carefully conceived deluxe vinyl edition of the original line-up's best recordings, "The Limit Of The Marvelous".

The iconic quintet are widely acknowledged with kickstarting the entire San Francisco 1960s renaissance. The Charlatans presented themselves with an iconic blend of Americana-infused popular styles, encompassing olde-English folk, country, swing, bluegrass and 50s rock'n'roll. And the band's conceptual image radiated a class that few of their hirsute, tie-dyed peers could hope to match.

"The Limit Of The Marvelous" distils the best cuts from Big Beat's essential "Amazing Charlatans" CD to approximate the long-player the group should have issued at their peak in 1966. It juxtaposes idiosyncratic folk-rock such as 'Codine Blues' and 'Alabama Bound' with dustbowl-dry originals from the pen of guitarist/drummer Dan Hicks, including the first recording of his signature 'How Can I Miss You When You Won't Go Away.'

Housed in a Globe Propaganda-approved sleeve complete with copious illustrations of this most photogenic of outfits, "The Limit Of The Marvelous" is a fitting reminder in their anniversary year of the continuing magic of the Charlatans.

A 180g coloured vinyl release: http://acerecords.co.uk/the-limit-of-the-marvelous
---
---
Photographs of the Charlatans 50th Anniversary Celebration
Pipers Opera House & Red Dog Saloon ~ June 20th & 21st 2015
Bill Ham Light Show featured in background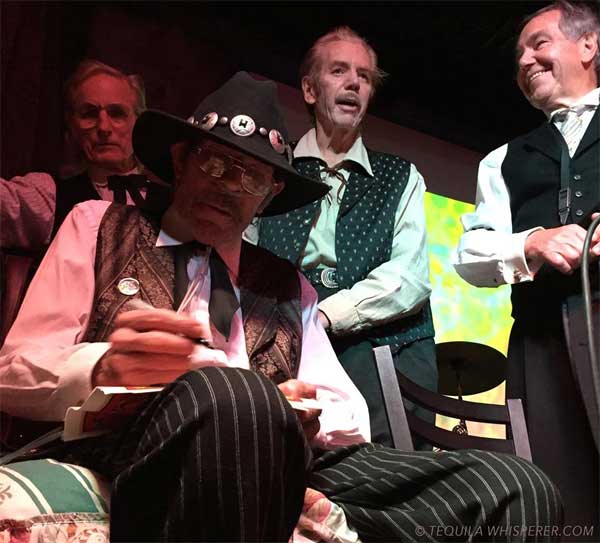 The Charlatans ~ 50th Anniversary Celebration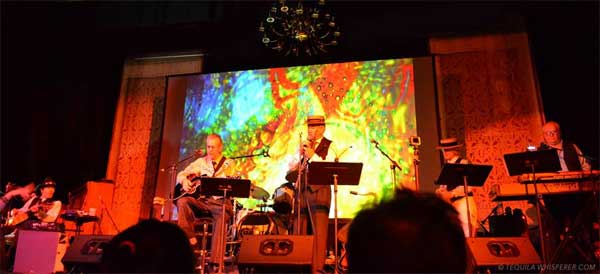 The Charlatans ~ 50th Anniversary Celebration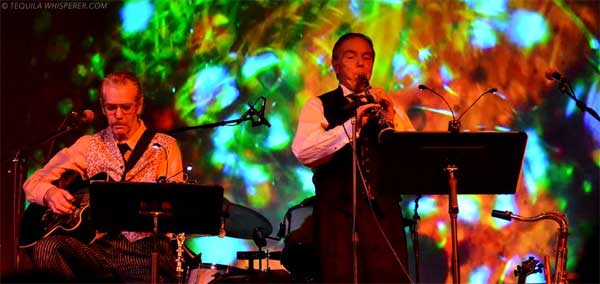 The Charlatans ~ 50th Anniversary Celebration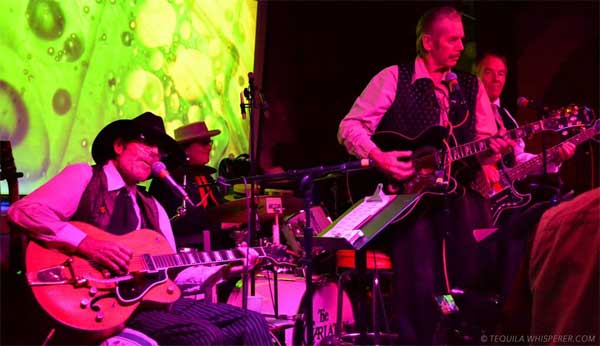 The Charlatans ~ 50th Anniversary Celebration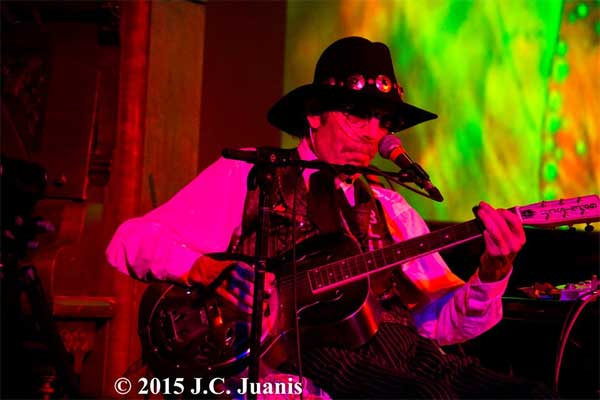 The Charlatans ~ 50th Anniversary Celebration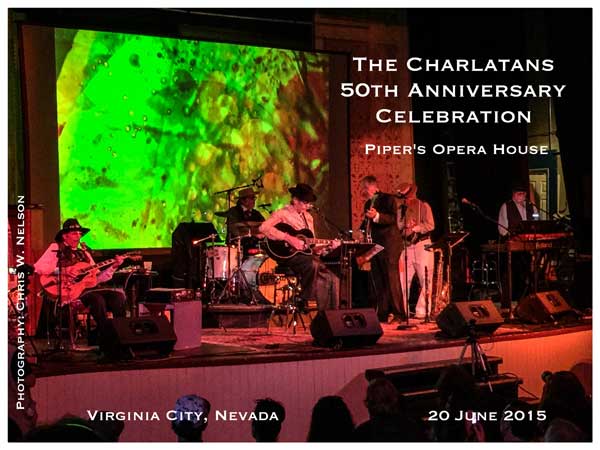 The Charlatans at Piper's Opera House, June 20, 2015 ~ Photo: Chris W Nelson
50th Anniversary of
The Charlatans
first public performance
June 20, 2015 & June 21, 2015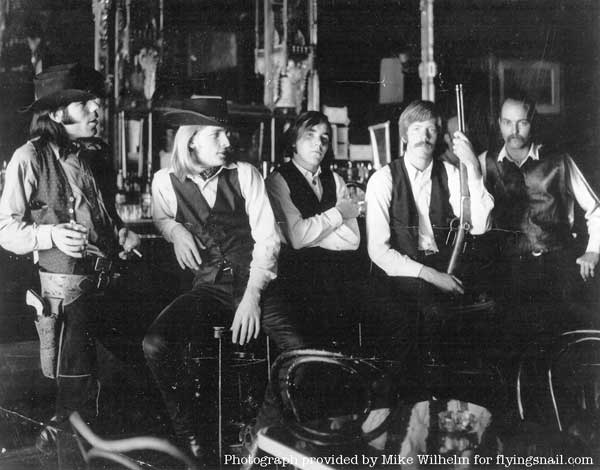 The Charlatans at The Red Dog Saloon
THE CHARLATANS & THE RED DOG SALOON'S
50th ANNIVERSARY CELEBRATION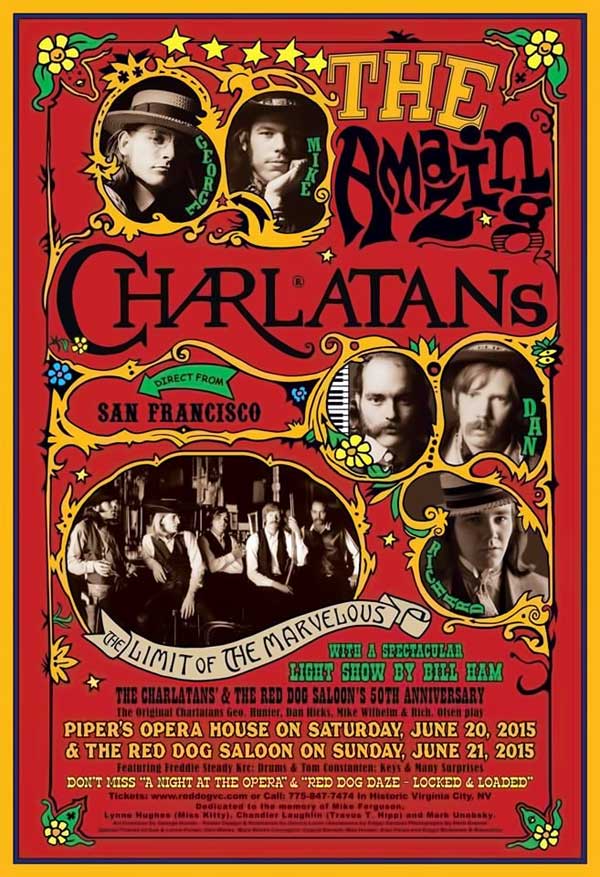 "Summer time and the acid was legal"
May 1, 2015
VIRGINIA CITY, NV – June 21, 2015 marks the fiftieth anniversary of the single most important moment in the early history of psychedelic rock and the Counterculture, the Charlatans' first performance at the Red Dog Saloon, a famed rock 'n' roll bar and restaurant located in Virginia City, Nevada. To commemorate this momentous occasion, the Charlatans are returning to the Comstock for two unprecedented performances. On Saturday, June 20th the Charlatans will hit the stage for "A Night at the Opera" at the historic Piper's Opera House. This show will be followed by a "Meet and Greet" after party at the Red Dog Saloon. On June 21st, they will make rock history playing their final performance as a group at the Red Dog Saloon, "Locked and Loaded - The Red Dog Experience." In addition to the Charlatans sets, there will be dramatic re-enactments of the most infamous stories from 1965. Both the Opera House and the Red Dog performances will feature light shows by Bill Ham, the originator of the liquid projection light show and co-creator of the light show machine that colored the Red Dog in 1965.
Tickets for Saturday at Piper's are $75 or $100 for both Piper's and the after party at the Red Dog. Tickets for Sunday at the Red Dog Saloon are $100. A discount ticket for all events is $175. Seating is extremely limited, and these shows are expected to sell out. Tickets are available from http://www.reddogvc.com/ or by phoning the Red Dog at 775-847-7474. Doors open at 7:00 pm.
Performing will be all four living original members of the band, George Hunter, Richard Olsen, Mike Wilhelm and Dan Hicks. Playing with them on drums is Texas Music Hall of Famer Freddie Steady Krc. On piano is Tom "TC" Constanten, former keyboardist of the Grateful Dead who also has a host of credits of his own.
The Charlatans were the first of the San Francisco "psychedelic rock" bands. Their summer long residence at the Red Dog Saloon starting on June 21, 1965 introduced nearly all of the features which were to be the hallmarks of the San Francisco ballroom dance/concert scene including the first "psychedelic" poster by Charlatan members George Hunter and Mike Ferguson, now known as "the seed". Other innovations were the light show, style of dress, long jams and eclectic electric music. The Red Dog begat the Family Dog. The story is detailed in a documentary film by Mary Works. For more information go to http://www.reddogsaloonfilm.com/.
The Charlatans have dedicated these shows to the memory of Charlatans pianist Mike Ferguson, Lynne Hughes (aka Miss Kitty), Chandler Laughlin (aka Travus T. Hipp), Red Dog proprietor Mark Unobsky and all of the other beloved members of the Red Dog Gang who are now playing with The Really Big Band.
S.F.'s '60s rock scene started
with a band you never heard of

By Joel Selvin ~ June 15, 2015 Updated: June 17, 2015 10:56am ~ Source

The Grateful Dead may be holding multimillion-dollar concerts in football stadiums to mark 50 years in the business, but the real golden anniversary of the San Francisco scene will be celebrated in a somewhat less exalted fashion this weekend in a small ghost town in the Nevada hills, which, oddly enough, is where it all really did begin.

Today the band is little recalled by those who weren't there, but the Charlatans were the first important new rock band in San Francisco when LSD first rolled through town and things started getting weird. When the five-man band of Edwardian dandies in immaculate vintage wear returned from playing all summer 1965 at the Red Dog Saloon in Virginia City, the Charlatans were the headline attraction at A Tribute to Dr. Strange, the Longshoreman's Hall dance/concert that was ground zero for the '60s San Francisco rock scene. It was the night it all began. Farther down the program that evening was another new band just starting out at a former pizza parlor in the Marina with the peculiar name of Jefferson Airplane.

In a few months, that order would be reversed and, rather quickly after that, the Charlatans' brief reign would be eclipsed by other new bands, but for that primal moment, the Charlatans were the unquestioned stars of the new scene.

"Any kind of history, we'll be in there," says Dan Hicks, who was the band's drummer. "There'll be all the groups everybody knew — the Airplane, the Dead and us. Who? Fred Smud?"

"It doesn't pay to be first," says bassist Richie Olsen.


Photo: Brant Ward, The Chronicle

Codger reunion

They have gathered in recent weeks at the rustic Sonoma creekside home of founder George Hunter, who lives in a mini-Winchester Mystery House with shelves of fixtures and hardware in almost every room and out in the yard, projects under way everywhere. Under the leafy canopy above a large skylight, the four original members have crowded into Hunter's book-lined study to work up a couple of dozen songs, enough for two sets, along with hired hands Audie DeLone on keyboard and Freddy Krc on drums.

"It always cracks me up when they talk about how old the Stones are," says guitarist Mike Wilhelm. "Real musicians don't retire."

They were always characters, and age hasn't entirely mellowed them. They are alternately annoyed and oblivious with each other, both friendly and prickly, like in a long marriage. Or like four codgers who have played music off and on together since they were kids and never really managed to shake off having been the Charlatans, at one time the coolest band on the planet.

The band first re-formed in 1996 to celebrate the release of a documentary film, "Rockin' at the Red Dog," by filmmaker Mary Works, whose father, Don Works, was a gun-slinging hippie bartender at the Red Dog. "It's just an 18-year break," says Hicks. "We're not starting from scratch. Sounds like a lot — 18 years — but at this point in life, it's just a little segment of the calendar."

Once again, Hunter designed a poster for the event. The one he drew 50 years ago, called "The Seed" by collectors, is commonly considered the first psychedelic rock poster. Of course, in typical hippie fashion, the date on the original poster says June 15, but work on the saloon wasn't done in time and the opening did not take place until June 21. That's the date that will be celebrated at the Red Dog, a century-old dance hall that had been restored back then and staffed by a group of acid heads, long-haired freaks in beards and handlebar mustaches who dressed the part in cowboy clothes and sidearms. (The band will play a slightly larger hall in Virginia City the night before, Piper's Opera House, a 19th century building with a raked stage and sprung dance floor.) The Red Dog show is already sold out, and the Opera House show is expected to be as well.

Artist Bill Ham will be at the reunion to re-create the psychedelic light show he invented for the Charlatans' original run at the Red Dog. The Red Dog turned out to be the laboratory experiment that birthed the San Francisco ballrooms. The original promoters of the acid-rock dances, called the Family Dog, visited Virginia City that summer. Olsen remembers Ken Kesey and the Merry Pranksters pulling up to the Red Dog in their famous repurposed school bus, called Furthur, the day Olsen went back to San Francisco. (Replacing the Charlatans at the club was another new San Francisco band called Big Brother and the Holding Company, yet to find their female vocalist).

No actual rock bands deserve to be called legendary, but the Charlatans' status is special. Although the band's place is firmly lodged in the history of San Francisco rock, the group remains so obscure that a bunch of upstart Britpop rockers in the '90s thought they could simply appropriate the name. They were advised otherwise by the San Francisco band's attorney and arrived in this country calling themselves the Charlatans UK.

Although the Charlatans never released an album during the band's active lifetime, archivist Alec Palao pieced together an extensive 1996 CD collection of unreleased studio experiments and live recording for an English record company. "We are well known in Europe — more than here — but we've never set foot on European soil," Hunter says.

"Maybe they're thinking of the other band," Olsen says.

Dreamed up the band

A kindly, mumbling absent-minded-professor type, Hunter built architectural models and dreamed up his rock band, designed the logo and figured out the look before he ever contacted other musicians or, for that matter, even learned to play a musical instrument himself.

Smitten with the Beatles and the Stones, he met Olsen at a bus stop and was delighted to discover that he actually knew how to play music. They recruited former surf guitarist Mike Wilhelm, and Santa Rosa Junior College student Dan Hicks replaced the original drummer. Hicks graduated from college, failed his draft physical and left for the Red Dog with the Charlatans all in the same week. Hunter taught himself Autoharp to play in the band.

The irony of belonging to a "legendary" band is not lost on Hunter. "It crosses my mind every day," he says. "Where's the f— money? We are called an anomaly — is that the right word?"

"Sounds good," says Olsen.

"I don't know what I really think about it, but it is sort of puzzling," he says.

Joel Selvin is a former San Francisco Chronicle music critic and a Bay Area author.
---

Hire the Guns
---
[Note: Recent Entries Have Been Archived at: Mike Wilhelm & Hired Guns
and at: (Mike Wilhelm) Solo Performances & Photographs]
---

If You Live, Mike Wilhelm & Hired Guns

Pecos River Queen by Mike Wilhelm

Strawberry Roan by Mike Wilhelm
Most artists have edited Strawberry Roan lyrics.
Here are the complete lyrics as written by Curley Fletcher, 1915.

Published on Jan 22, 2013 by Mike Wilhelm

I'm a-layin' around just spendin' my time, Out of a job and ain't holdin' a dime, When a fellow steps up and says, "I suppose That you're a bronc fighter by the looks of your clothes." "You figures me right, I'm a good one," I claim, "Do you happen to have any bad ones to tame?" He says he's got one, a bad one to buck, And for throwin' good riders, he's had lots of luck.

He says that this pony has never been rode, That the boys that gets on him is bound to get throwed; Well I gets all excited and asks what he pays To ride that old pony for a couple of days. He offered a ten-spot, I says "I'm your man, 'Cause the bronc never lived that I couldn't fan; The horse never lived, he never drew breath, That I couldn't ride 'til he starved plumb to death.

"I don't like to brag but I got this to say, That I ain't been piled in many a day." Says he, "Get your saddle, I'll give you a chance." So I gets in his buckboard and drifts to his ranch. I stays until mornin' and right after chuck, I steps out to see if this outlaw can buck. Down in the horse corral standin' alone Was this caballo, a strawberry roan.

His legs is all spavined, he's got pigeon toes, Little pig eyes and a big Roman nose, Little pin ears that touch at the tip And a double square iron stamped on his hip. Ewe-necked and old with a long lower jaw, I can see with one eye, he's a reg'lar outlaw. I puts on my spurs - I'm sure feelin' fine - Turns up my hat and picks up my twine.

I throws that loop on him and well I know then, That before he gets rode, I'll sure earn that ten, I get my blinds on him and it sure was a fight, Next come my saddle, I screws it down tight. Then I piles on him and raises the blind, I'm right in his middle to see him unwind. Well, he bows his old neck and I guess he unwound, For he seems to quit livin' down on the ground.

He goes up toward the east and comes down toward the west; To stay in his middle, I'm doin' my best. He sure is frog-walkin', he heaves a big sigh. He only lacks wings for to be on the fly. He turns his old belly right up towards the sun, He sure is a sun-fishin' son of a gun. He is the worst bucker I've seen on the range; He can turn on a nickel and give you some change.

While he's a-buckin', he squeals like a shoat, I tell you, that pony has sure got my goat. I claim that, no foolin', that bronc could sure step But I'm still in my saddle, a-buildin' a rep. He hits on all fours and suns up his side, I don't see how he keeps from sheddin' his hide. I loses my stirrups and also my hat, I'm grabbin' the leather and blind as a bat.

With a phenomenal jump, he goes up on high, And I'm settin' on nothin', way up in the sky, And then I turns over and comes back to earth And lights into cussin' the day of his birth. I knows the horses I ain't able to ride Is some of them livin' - they haven't all died, But I bets all my money there ain't no man alive, That can stay with that bronc when he makes that high dive!
Time Machine June 1965
The Charlatans Debut - View PDF File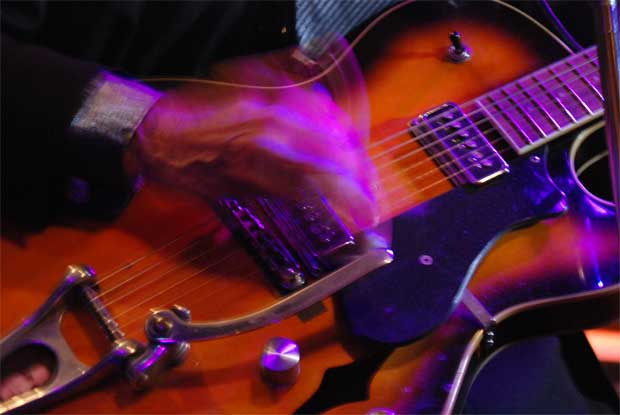 Photographs from May 3, 2012, Presidio Yacht Club by Keizo Yamazawa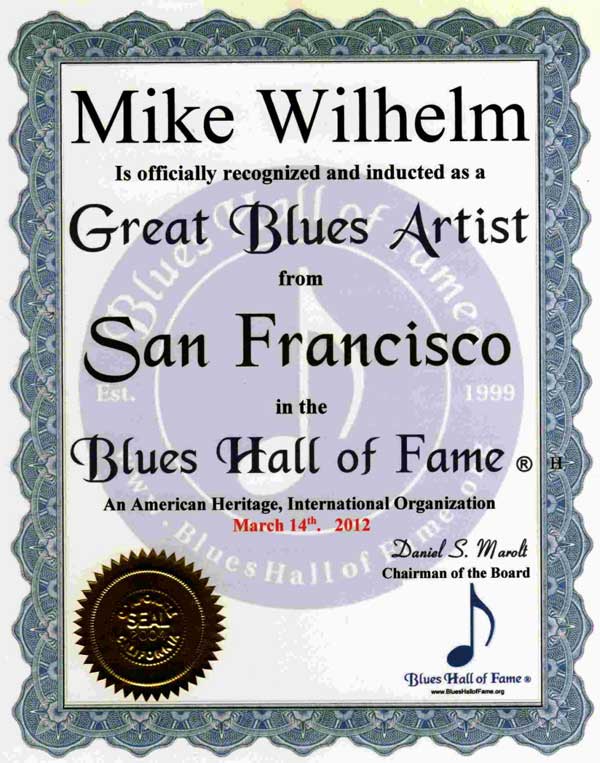 Mike Wilhelm recognized as Great Blues Artist of San Francisco
and Inducted in the, American Heritage International Blues Hall of Fame, March 14, 2012

Mike Wilhelm Blues Hall of Fame Induction photo by Keizo W. Yamazawa
---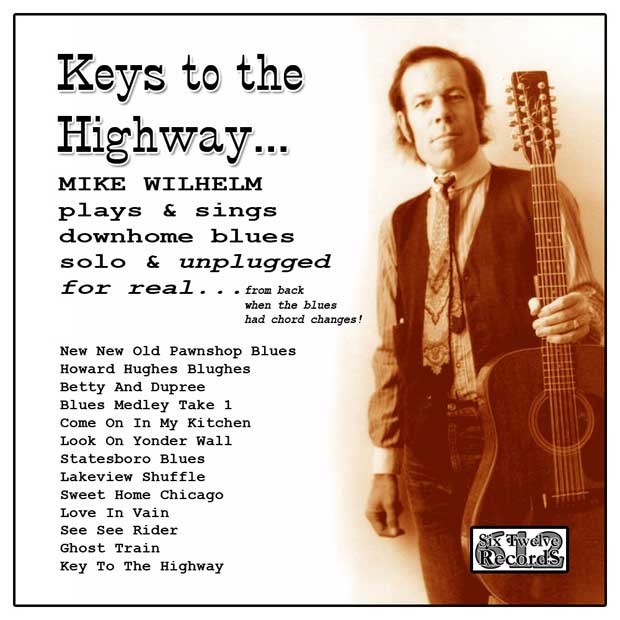 High Curtis,
I again have CDs available of the solo acoustic blues album Keys to the Highway... Money order to P. O. Box 2094, Clearlake, CA 95422. $15 domestic orders, USD $20 foreign orders. Personalized autographs gratis. Please allow at least 30 days for delivery.
Happy trails, Mike Wilhelm
---
New Section (on Right) about Mike Wilhelm's Guitars: Featuring Mike's 1954 Gretsch Country Club or click below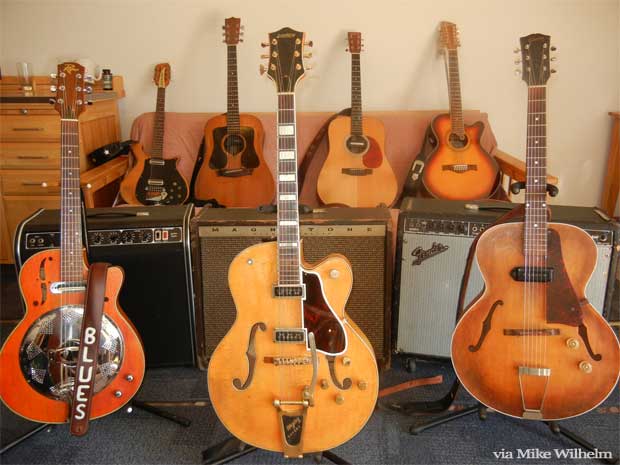 Guitars featuring Mike's 1954 Gretsch Country Club
---

Make Me A Pallet On Your Floor, Mike Wilhelm, 1978, from Girl George TV Show

Fan It, Mike Wilhelm, 1978, from Girl George TV Show - after return from Europe tour with Flamin' Groovies.
---
Mike writes August 17, 2011
A couple more in my continuing Cowboy & Western series.
The Ridge Runnin' Roan -- The Pecos River Queen
Check out the Pecos River high bridge. Whoa!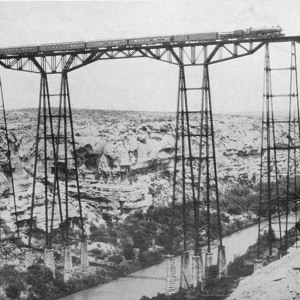 Addendum August 19, 2011: I noticed that Jack Thorpe had it wrong about it being the Comstock bridge. It was Jim Converse's bridge, he being Southern Pacific's Chief Engineer of Lines West and responsible for it's construction. I re-recorded this song today with a corrected lyric and put it up on sound cloud. The previous link works.
Happy trails, Mike Wilhelm
Mike writes:
A new song, Buckaroo Life, http://soundcloud.com/guitar-willie/buckaroo-life
Buckaroo: A corruption of the Spanish word "vaquero", meaning "cowboy".
An original song by Michael Ray Wilhelm
---
On 12/09/2010 Mike writes: Here's a link to a rare Monica Dupont video [now embeded below]:

Hurricane Betsy by Monica Dupont
---
Mike Wilhelm, on 12/06/2010, writes:
Found this track in my flash drive. From my Japan tour April/May '95. Don't remember exactly where or who the musicians are but I'm playing my Rickenbacker 450 12-string. Just a jam but I started singing Two Trains Runnin' so I guess that's the title.
http://www.flyingsnail.com/Podcast/TwoTrainsRunnin.mp3
Yours truly, Mike Wilhelm
---
30th Anniversary - Summer of Love Video
Mike Wilhelm: Video Interview by Dwight Dolliver
http://www.flyingsnail.com/video/30th-summer-of-love/index.html
---
High Curtis,
Just found some stuff on YouTube of the guy I played with in Japan back in '95 & '97. kyOn is a great keyboard, accordian, guitar & mandolin player. This stuff is from the band he formed in the late '90s called the Hobo King.
He's the tall guy on the left, purple suit, plexiglass guitar and or mandolin. Yours truly, Mike Wilhelm
バニティーファクトリー 佐野元春 and The Hobo King Band (Live)
http://www.youtube.com/watch?v=pPRQecmVTcA
http://www.youtube.com/watch?v=s4MdDhcRMsM
---
201008.23 - Blog and New Video
Mike Wilhelm's Blog - http://blogs.myspace.com/mikewilhelm1
New Video - Fan It - http://www.myspace.com/mikewilhelm1
201008.16 - Anthony Clark writes:
Curtis, The new album by former Flamin' Groovies singer Chris Wilson features a number of old band mates - Mike Wilhelm, George Alexander, James Ferrell and original Groovies front man Roy Loney. Rounding out the guest list is Procol Harum's Hammond player Matthew Fisher and Robin Wills, guitarist from The Barracudas.
Mike contributes slide guitar to the Zeppelin-infused Bad Dreams, George appears on two tracks - Can't Let Go and Semaphore signals, and James and Roy guest on the song Gamblin' Man, an old-school Groovies-style rock 'n' roll stomp. This is the first time Chris and Roy have sung together on a studio track, something that will no doubt excite Groovies fans.
Matthew adds bravura keyboards to Fading Away while Robin sings and plays guitar on Way Too Fast.
The album, Love Over Money, is due for release in October on the French Rock Paradise label.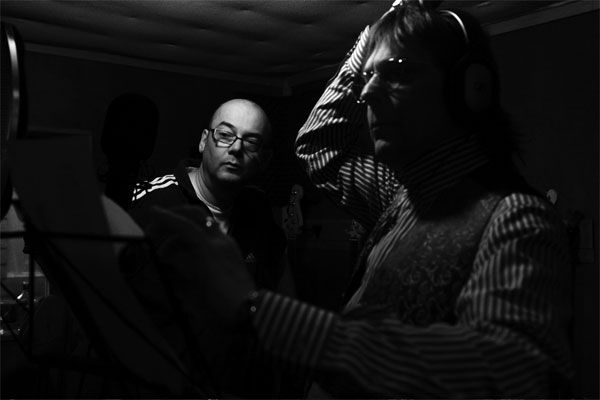 Anthony Clark [left] and Chris Wilson in the studio...
For more information visit: www.flamin-groovy.com
201008.13/18 - NEW Charlatans and Flamin' Groovies photographs
201008.08 - Mike Wilhelm writes: New MP3s for webpage
Ladyfriend - Here's another Flamin' Groovies track, a cover of an obscure Byrds tune that only appeared on the flip side of a 45 single. Ladyfriend was written by David Crosby. We opened our show at Le Pavillon de Paris with this song and it tore the crowd up.
I Got Mine - Mike Wilhelm, acoustic 12-string and vocal; Riley Osbourne, piano; Waller Collie, bass; Fred "Freddie Steady" Krc, drums. Krc is pronounced "Kirch". Recorded in Austin, March, 2000.
Sweet Home Chicago - New Bottle Rock Blues & Rhythm Band track.
201007.31 - Mike Wilhelm writes: Flamin' Groovies mp3s for webpage
Hi Curtis, 'Tis me in another facet of my ever more fractured personality. ;-)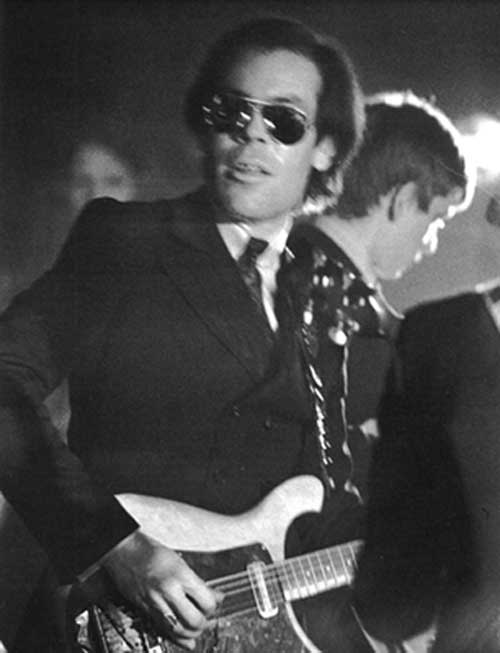 Mike Wilhelm, Flamin' Groovies, Brunel University, England
Take Me Back [MP3] is from Flamin' Groovies Now
In The USA [MP3] is from Flamin' Groovies Jumpin' in the Night.

Personnel are: Chris Wilson, vocal & guitar; Cyril Jordan, vocal & guitar; George Alexander, vocal & bass; Mike Wilhelm, guitar; David Wright, drums. Both tunes from the late '70s and songwriting credit is Jordan/Wilson.
[Ed. Note: Available via Podcast feed http://www.flyingsnail.com/Podcast/rss.xml]
---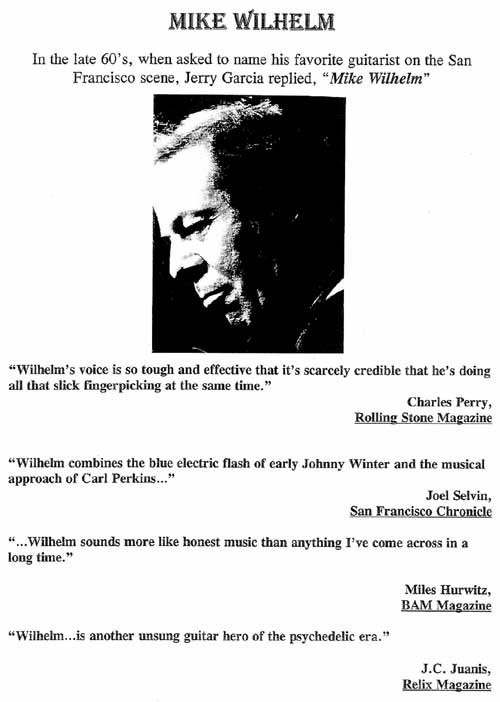 1967: Jerry Garcia was asked to name his favorite guitarist on the San Francisco scene. His quick reply? "Mike Wilhelm."
2008: Mike's marvelous new self-produced acoustic CD, Keys to the Highway, displays the guitarist's stellar abilities as a stand-alone bluesman, in the manner of his heroes Brownie McGhee and Robert Johnson.
The veteran guitarist is now 66 years old. He began studying blues while still a teenager with legendary Tennessee bluesman Walter "Brownie" McGhee. Mike had run into him in Los Angeles, quite by chance. He enthuses, "I told him I really dug his records. I wanted to know how he managed to get that thumping bass and how he fingered his signature turnaround lick. Of course, I had my guitar with me; I never went anywhere without it back then! He asked for my guitar, showed me his set of fingerpicks and then the lick. I almost couldn't believe it happened just like that! I bought a set of fingerpicks the next day and a day or so later I had Brownie's turnaround down. And so it began..."
McGhee, recognizing Mike's talent and strong desire, thoroughly schooled him at no charge. "At one point I began to think I was getting pretty damn good. Then Brownie told me that, once I could play licks in the long A position, do bass runs at the same time and sing over that intelligibly and with feeling, I could seriously consider myself a blues guitarist. I mean, talk about setting the bar high! Even after I began playing professionally, it was many years before I cracked that nut. Even now, I'll make some really cool breakthrough, then suddenly I get the flashback, 'Oh, right! Brownie tried to get me to do that over 40 years ago!' I owe him so much, what a wonderful, generous man!"
The bulk of these tracks are fresh renditions, including his most recent sly update of Brownie's hard times classic, Pawnshop Blues. In The New New Old Pawnshop Blues, Mike sings about today's hard times with wry humor...now the middle class has the blues! His arrangement of Big Bill Broonzy's Key To The Highway stands out from the pack through his use of the changes he "learned from Brownie"...plus some tricks of his own! Wilhelm is fond of introducing songs with, "Here's one from back when the blues had chord changes."

Eric Clapton made it trendy to cut Robert Johnson tunes but not even Clapton did so without backup musicians. Here Mike has no problem pulling off three of Johnson's songs with no overdubs. Like on Johnson's recordings, there are times when I could almost swear I hear a second guitar but, with practiced ease, Wilhelm can readily reproduce this illusion in live performance.
Other old masters, the Reverend Gary Davis, Ma Rainey, Blind Willie McTell, and W. C. Handy, are represented here as well. We have two of Mike's moody 12-string instrumentals. Lakeview Shuffle is an A-A-B-A format, unusual for delta blues. The eerie Ghost Train is like nothing I've heard from any blues guitarist. Obviously not content to be a slavish imitator, Wilhelm has created a style all his own while carefully remaining true to the music he so obviously loves.
He is, as he says, "in all the rock history books" as a founding member of San Francisco's first psychedelic rock group, the Charlatans, back in 1964. After the Charlatans broke up in 1969, he led his own rock and roll trio, Loose Gravel, until 1976 when he joined cult heroes Flamin' Groovies. The Flamin' Groovies are considered the fathers of power pop. He toured and recorded extensively in both Europe and America with the Groovies until 1982 when he began anew his solo career.
Wilhelm has played solo all across the U.S., in Europe and did solo tours of Japan in 1995 and 1997. 1997 also saw a series of reunion concerts with the Charlatans culminating in their historic shows at Cleveland's Rock and Roll Hall of Fame and Museum and San Francisco's Fillmore. In 2007, Mike and the Charlatans played the 40th anniversary of the Summer of Love in Golden Gate Park.
In addition to his recent solo work, like Western Maryland Blues Fest, he has been appearing with the very popular Lake County Blues Allstars at local venues, such as the Blue Wing Blues Festival.
Alexandria Johns
Lake County, CA, July 2008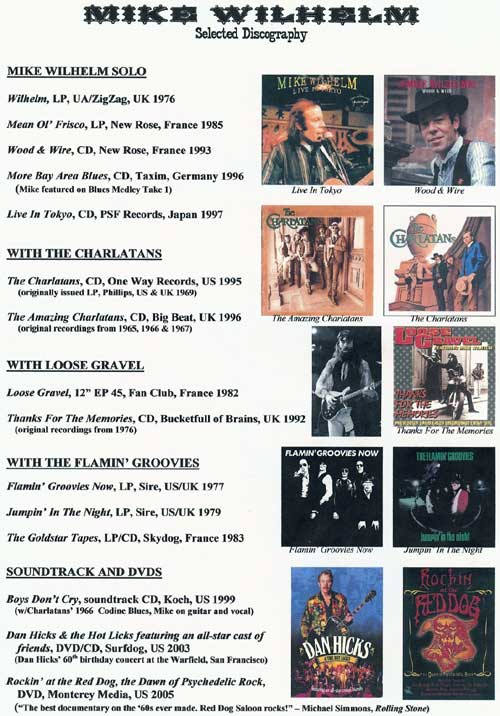 Mike Wilhelm: Dapper and dangerous as usual
Written by Gary Peterson, Friday, 09 February 2007
"May the baby Jesus shut your mouth and open your mind." That's what it says on the Family Dog's logo and that's how Lake County's finest guitarist, Mike Wilhelm, signs his e-mails these days.
It's an anonymous quote, probably contributed by Family Dog founder and Avalon Ballroom entrepreneur, Chet Helms, who died in June 2005. Helms was the power behind the throne of both the concert hall and the people promoted shows.
Wilhelm attended Helms' funeral where he says a large urn containing Helms' ashes sat next to a smaller one with the overflow and a blown up portrait of the anti-Bill Graham standing in front of Palo Alto's Antonio's Nut House with its "Hippies Use Side Door" sign.
Wilhelm's old band, The Charlatans (with Dan Hicks), played the Avalon in the 60s -- as well as Virginia City's Red Dog Saloon, establishing themselves as the first psychedelic band in San Francisco and Nevada.
Charlatans George Hunter and the late Mike Ferguson also produced the first psychedelic posters for Family Dog and the Avalon.
Wilhelm, who is on the cover of one of the histories of Haight-Ashbury, penned by an ex-Billboard editor, is all over the photos in others in the company of Janis Joplin, the Grateful Dead, Jefferson Airplane, etc.
Last year he had a problem with his hand, which was cured by Chinese acupuncture. Later he was invited by Flamin' Groovies founder, Cyril Jordan, to sit in at a Plimsouls Reunion/Magic Christian in San Francisco at the Cafe du Nord on Market Street.
Wilhelm was in the Flamin' Groovies, named the number four SF band of all time by the Chronicle in 2000 (right after the Grateful Dead) for six years. Magic Christian is Jordan's new band, with drummer Prairie Prince (The Tubes), Roger Daltry-like lead vocalist "without the English accent," Paul Kopf, and British music archivist and bassist, Alec Palao.
Palao wrote the liner notes for the English issued "The Amazing Charlatans" and produced boxed sets by The Zombies and Creedence Clearwater Revival as well as the ever popular "Nuggets" anthologies of one-hit wonders.
Peter Case, who's just reformed his 70s band, The Plimsouls, busked the streets of San Francisco in bygone times with Wilhelm and others.
In his post-concert blog at www.petercase.com, Case describes his dressing room reunion with the "Kaiser:" "Wilhelm comes in looking dapper and dangerous as usual, the quintessential SF musician/1890s outlaw vibe ... and we start jammin' up there. I never play like this with anybody. We do 'Stagolee,' (Mike's strange, rocking endless old ragtime version with the big chorus no one's heard, the one we used to do on the street).
"Then 'Ella Speed,' the Mance Lipscomb song that begins with the lines: 'first time I shot Ella, I shot her through the side'... outrageous ... I'd cut an album of this stuff with Wilhelm ..."
In a post-concert phone interview, Wilhelm gave his version of the dressing room reunion: "I brought my resonator guitar upstairs with me so as to be able to go over the songs we would play at the jam with Peter and his boys ... Peter and I reminisced about playing on the streets of North Beach and Chinatown where we first met back in the early-mid seventies ... Peter asked about my ragtime version of "Stagger Lee,' which has nearly endless verses and a chorus he has never heard anyone else do ... I then started and Peter quickly joined in playing Mance Lipscomb's decidedly original version of 'The Death of Ella Speed.' "
Wilhelm learned the latter from Lipscomb. That and his having had Brownie McGee as his guitar teacher give the man a direct line straight back to the old guys.
My favorite Wilhelm stories still come from Lake County though. One time, coming off a two-week isolation due to illness, Mike came to my house and literally spent eight hours reminiscing about the Flamin' Groovies legendary tours of Europe.
In Manchester, England, he recalled, the Groovies played one night after the legendarily volatile English-French punk rock band, The Stranglers. Manchester is famous for its tough criticism so the Stranglers actually went out, sought out the particularly vicious critic, and beat him up.
When the Groovies hit the stage the next night in the Beatlesque costumes they then favored, the audience was, shall we day, a tad unfriendly. So the band left, then Wilhelm came out again, alone, "dapper and dangerous as usual," as Case put it, and simply said in his Johnny Cash deep bass voice: "We agree with The Stranglers; there are older laws."
The Manchester audience remained most respectful for the rest of the evening.
Another Wilhelm tale: When the Groovies played the Sports Palace in Berlin, where Hitler made many of his speeches, not only was it eerie, but when Mike hit the stage someone yelled out at the top of their lungs -"(Expletive Deleted) you, Mike Wilhelm!
Mike figures it was a response to his gesture towards Bill Graham at the end of the film, "The Last Days of the Fillmore.
In any case, it was something akin to the infamous heckler at the Dylan/Band concert at Royal Albert Hall.
Heckler: "Traitor!" Dylan: "I don't believe you!"
For the Sunday's last concert, Mike changed in the "airless" dressing room, into his equally "dapper" outfit, a Black Italian suit with a Crosby, Stills & Nash Fillmore tie, diplomat shirt with pale blue stripes and white collar and cuffs. His spider-in-web cufflinks were a gift from Richard Olsen (Charlatans) back in 1967.
I once had dinner at a restaurant with Mike and his lovely wife, Ana Maria, and he left the orginal 60s Charlatans black cowboy hat behind. But, only briefly, as we went back and got it.
You'll notice a lot of Wilhelm in George Thorogood, who was taken in by the then Loose Gravel guitarist and taught most everything he knows, including how to dress for performance. The Charlatans favored a 19th Century frontier look that bands like the Doobie Brothers later emulated for their robbing the stagecoach LP cover. Stevie Ray Vaughn's hat comes to mind as well.
Mike's only comment: "Poor old misguided Bill Graham is no longer around to collect the royalties on his necktie line."
In "The Last Days of the Fillmore," Wilhelm told Graham what he thought of him for not allowing Loose Gravel to play in the recorded concert, via his middle finger.
"Bill liked it so much," Wilhelm once told me, "they kept it in."
The man who told off Bill Graham didn't actually sit in with Magic Christian Sunday night, as I thought he might. But the group did a stellar set of mostly Jordan-penned originals from their new "official bootleg CD," which includes a live concert recorded at the Great American Music Hall and a few old Groovies covers.
The famously balding Jordan, sporting a wig, somehow managed to make his Dan Armstrong plexiglass guitar sound exactly like George Harrison's guitar on the original "Tax Man."
"Bleeding amazing, that," Wilhelm commented, adopting a British accent.
Their set also featured "Make My Bed," by the Down Under Beatles, The Easybeats.
Mike and Cyril joined the Plimsouls at the end of their excellent set played to a sold out audience of 350 mostly younger people, who probably don't remember the Charlatans.
But the last time I saw Wilhelm open for Case, who was then playing solo in SF, the audience screamed "Charlatans, Charlatans," repeatedly, something you don't hear in Lake County.
But this crowd was no less enthusiastic for the reunited Plimsouls and friends. In fact, I've talked to a surprising number of younger folks who remember the original Plimsouls.
When Jordan and Wilhelm joined the reunited band, they brought the house down with covers of the Rolling Stones, Jimmy Reed, the Groovies' classic, "Jumpin' In The Night,' and even "The House of Blue Lights," sung by the Kaiser hisself.
Before the show, I asked Mike if he was going to do Chuck Berry's duckwalk, something I've seen him do a few times. He didn't and he also didn't say why.
Maybe, he's just saving the best for Lake County.
http://lakeconews.com/index.php?option=com_content&task=view&id=248&Itemid=2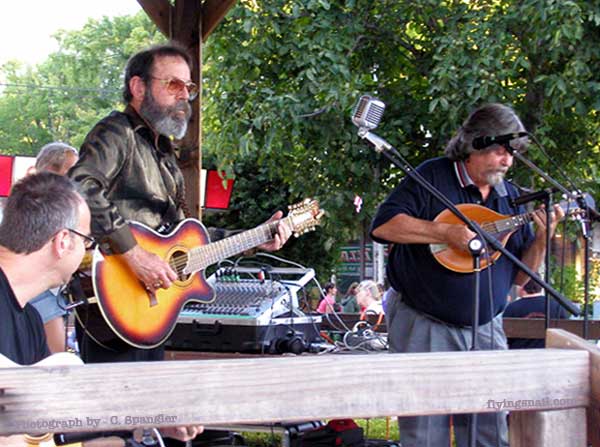 Mike Wilhelm, Lake County Fair ~ Photo: Curtis Spangler
An Unlikely Blast From the Past Film,
CD bring S.F.'s Charlatans back to life
JOEL SELVIN, Chronicle Pop Music Critic
Monday, October 7, 1996
As likely as being struck by a bolt from the blue, members of a long-forgotten '60s San Francisco rock group suddenly find themselves in the spotlight again, with a documentary film and a CD release of recordings made 30 years ago.
When the four surviving members of the Charlatans arrive tonight at the Mill Valley Film Festival in a vintage limousine for the world premiere of "The Life and Times of the Red Dog Saloon,'' the musicians, always conscious of how they looked, will disembark clad in the same sartorial combination of Edwardian finery and Wild West wear that was their trademark.
"We didn't go national,'' said Dan Hicks, who was the band's drummer before starting a successful solo career. "We didn't get past Denver. We never made a record. Never toured. Never appeared on television.''
BEGINNING OF S.F. ROCK SCENE
Nevertheless, the Charlatans spent a brief but shining moment at Olympian heights atop the nascent San Francisco rock scene, headlining the first acid rock dance at Longshoreman's Hall, billed above the Jefferson Airplane, which was also making its first concert appearance. But the Charlatans, by virtue of their residency that summer at the fabled Red Dog Saloon in Virginia City, Nev., were the stars of the show that night in September 1965 that marked the beginning of the San Francisco rock scene.
Although the group came apart at the seams and finally dissolved two years later, the musicians reunited eight years ago in a successful legal battle to reclaim ownership of the various tapes the Charlatans recorded. By coincidence, the release of "The Amazing Charlatans,'' a 23-song British CD combining tapes from three sources (including an unreleased 1966 album), coincides with the debut of a documentary film by Mary Works, the 29-year-old daughter of a couple who worked at the Red Dog Saloon 30 years ago.
The Charlatans served as house band at the silver rush dance hall, renovated by a bunch of crazed hippies playing cowboys and Indians while high on LSD in the Sierra Nevada ghost town. In Works' engaging, affectionate film, the Charlatans emerge as the centerpiece of a wild and wacky little community, full of characters whose eyes still gleam as they recall the glories of summer 1965.
How They Ended Up
"I was always afraid I'd lose you guys to Harrah's or something,'' Red Dog proprietor Mark Unobski, who died earlier this year, tells Richard Olsen of the Charlatans.
Today Olsen heads one of San Francisco's leading society dance bands. Hicks continues his solo work in performances across the country, a career move he made even before leaving the band in 1968. Charlatans founder George Hunter is a successful furniture designer living in Sonoma. Guitarist Mike Wilhelm lives in Clear Lake and considers himself retired. Pianist Mike Ferguson died in 1979, a blind diabetic amputee living on welfare in Alameda.
Assembling at Olsen's Inner Richmond home for a photo shoot recently, Wilhelm easily fit into the Victorian waistcoat he wore that summer in Virginia City, while Hicks said he no longer owns any of his authentic Charlatans outfits ("I outgrew 'em,'' he said, patting his waist. "I have a belt buckle left''). Hunter needed to borrow an Autoharp; he lent his to the Rock and Roll Hall of Fame in Cleveland.
"Essentially I was wondering about the movie, would it be of interest to anyone else,'' said Hicks. "I mean, we have a film of our frat party and we can always watch it and dig it. But I'd like other people to see it.''
The recordings on the British CD have been circulating on European bootlegs for more than 20 years, but "The Amazing Charlatans'' marks the first time the complete record of the band's studio sessions has been assembled on one piece from the master tapes.
There may be some truth to the musicians' jocular accusations of each other that they were the source for the illicit bootlegs. Hunter frankly admitted that he gave Rhino Records the one Charlatans track officially rereleased in this country 10 years ago. "I collected all the royalties and didn't give any to the rest of the guys,'' he said.
"It's not that we don't know about it,'' said Olsen. "I have a complete accounting upstairs.''
"I got rich on that one,'' said Hunter.
But the new record also supplies some long-missing physical evidence to counter an oft-repeated claim that although the Charlatans always looked great, they never played that well. "After listening to this stuff and seeing it in perspective,'' said Hunter, "I think we were a lot better than we thought we were.''
"We were certainly a lot better than we were given credit for,'' said Olsen, still smarting.
Indeed, Jerry Garcia often cited Wilhelm as his favorite guitarist on the San Francisco scene. "Some of the stuff I played back then was so difficult I don't know how I did it,'' said Wilhelm.
But the legend of the Charlatans has lingered, the image of these gun-toting, guitar-playing dandies too delicious to fade away entirely. Several years ago, in fact, a British rock group decided to simply appropriate the band's name, although when Olsen warned the group's American record label, the British upstarts suddenly turned up Stateside named Charlatans U.K.
"If we're not the Charlatans, who is?'' said Olsen. "That's our name. They should think up their own.''
With all the current activity bringing the band back from the shadows of dim memories, talk inevitably turns to a return to the stage. The band members obviously have discussed the possibility, envisioning the four original members augmented by some of the musicians currently performing with the Richard Olsen Orchestra.
"Everybody's talking about it,'' said Wilhelm. "But nobody's talking about paying us.''
Some things never change.
http://www.sfgate.com/cgi-bin/article.cgi?file=/chronicle/archive/1996/10/07/DD31203.DTL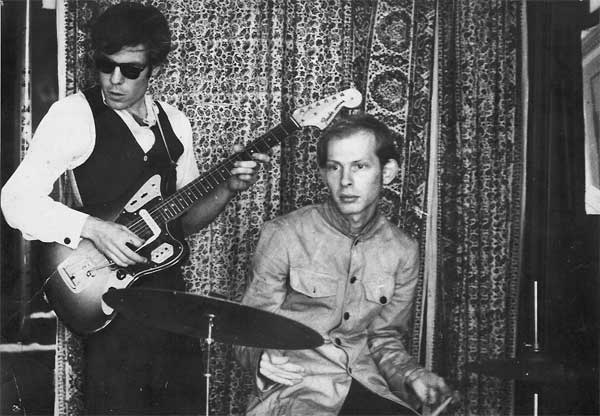 1964, 2 of the Mainliners in George Hunter's front parlor, Mike Wilhelm and Sam Linde.
Photo by Sam Linde from the Mike Wilhelm Collection
---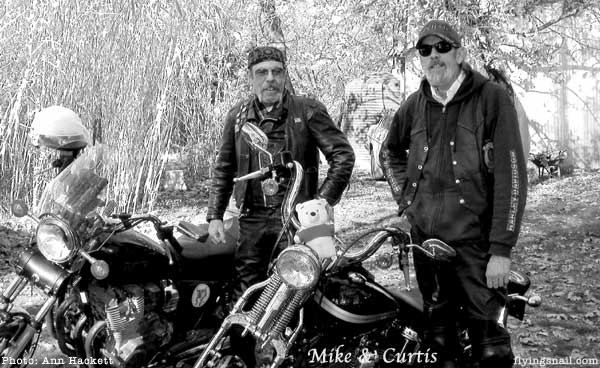 Mike Wilhelm & Sprung (Curtis) ~ Photo: Ann Hackett
---