Remnant of Paradise Continued by ~@~
Computer History Continued
Reneging On My Refusal to Buy Intel
This page is out of order, but needs to be placed here now, because I am about to go back on my word, but not by choice. Later, this section will be moved into its 'proper place' within Remnant of Paradise. ~@~
I am one of 'those folks' who get excited about MacWorld; usually held in San Francisco, during the month of January.
Leading up to MacWorld there is speculation on what Steve will present for Apple and this year I have an opinion that I have been trying to get out since Apple moved to the Intel processor.
I personally believe one of the best computer equipment producers was Digital Equipment Corporation, believe DEC had some of the best software and hardware engineers on the planet, and cut my '2nd teeth' on PDP 8s and 10s.
Although I can not prove this, I feel Steve was aware of DEC, what happened to it, and who ended up owning certain Digital processor designs (Intel). I also believe DEC was about to topple Intel, at that time, due to a processor constructed by Samsung, for DEC, at one third the cost of the original processor, and that it ran circles around anything Intel could produce. Ask Linus!
I got the feeling Steve reminded Intel they were sitting on something futuristic, in regard to processor technology, and the next thing I hear is, Apple is switching to the Intel processor.
Here is something that gives a little credibility to this story from May 13, 1997:
Digital Equipment Corporation sues Intel Corporation for violating microprocessor architecture patents
... Lawsuit maintains Intel infringed Digital patented technology to enhance performance of Pentium, Pentium Pro and Pentium II microprocessors ...

and here is a Photoshop PDF with the complete story.
64-bit Technology
By the mid '90s I had moved from 8-16-32-bit architecture to 64-bit architecture and focused on a machine that would allow me to do animation.
Leading up to this, I used a Video Toaster currently running LightWave v2.0 [pictures later].
The 64-bit machine I selected was a Digital AlphaStation XL 300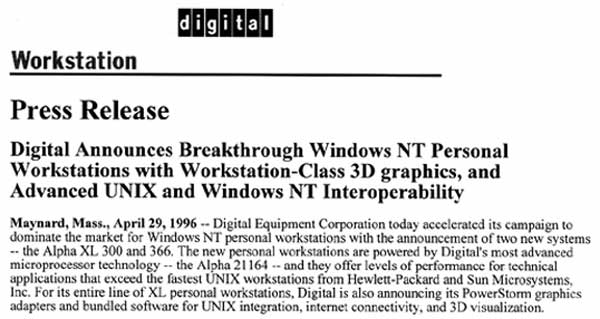 Digital Announce Breakthrough Windows NT Personal Workstations with Workstation-Class 3D graphics, and Advanced UNIX and Windows NT Interoperability - Maynard, Mass., April 29, 1996
I have created 3 Photoshop PDF documents containing the complete Press Release:
and the main reason I purchased it, was because Microsoft and Digital Equipment Corporation were working on a special version of NT-5, specifically designed to work with Dec Alpha 64-bit architecture.
The following is something I wrote on the AlphaNT list many years ago, showing what happened:
How the Boyz in the Back Room Got Rid of
Digital Equipment Corporation
I read an e-article this morning "Microsoft Considers Yearly Charge For Windows":
http://dailynews.yahoo.com/headlines/tc/story.html?s=v/nm/19981120/tc/antitrust_58.html = broken link, but here is what was said:
WASHINGTON (Reuters) - An internal Microsoft memo released at the software giant's antitrust trial Thursday showed the company has considered charging an annual fee to computer users for its Windows operating system starting in 2001. The potentially explosive revelation helps bolster government charges Microsoft's monopoly in operating systems harms consumers. The memo to Microsoft Chairman Bill Gates from a top executive said the proposal to charge consumers annually was "the best thing long term" and noted, "We have increased our prices over the last 10 years (while) other component prices have come down and continue to come down."
that reminded me of a discussion on this list a few years ago. = most of the material is gone, but here is the link:
The gist of that discussion: Microsoft was finally going to release a 64 bit version of NT for the Alpha by September 1998 and this was due to an understanding (read - lawsuit) initiated by Digital. In fact, (iirc) talk about this 64 bit NT has been happening since, at least, mid to late 1995 or 96 (smile - Terry ?).
CEOs get a clue: A 64 bit machine running a 32 bit OS and emulating i386 software, TODAY, is a joke AND my comment IN NO WAY reflects the OUTSTANDING WORK done by both the Digital em86 and FX!32 teams, because they KNOW what I am talking about and worked extremely hard to produce a TEMPORARY solution until NATIVE software was AVAILABLE and have made a GREAT contribution to relieve some of the AlphaNT dilemma.
I don't want to be different, I just want to be NATIVE!
(smile) In an act of being responsible for my previous words and to exemplify my intention was not beyond reason, here are a 'small' group of sources:
http://www.digital.com/info/misc/alpha-doc.txt.html = broken link
Alpha: A million people a step ahead
"This [alliance] is a renewal of our commitment to Alpha. It is a resounding endorsement of Alpha as a premier platform." - Bill Gates, August 2, 1995
*******
http://ww1.digital.com/services/nsis/new/ntint.htm = broken link, but here is a backup:
http://www.prnewswire.com/cgi-bin/stories.pl?ACCT=104&STORY=/www/story/28645&EDATE=
Digital/Compaq SEPTEMBER 25, 1996
Commitment to Windows NT
Since delivering the industry's first RISC-based platforms for the Windows NT network foundation in 1992, DIGITAL has been providing the industry's most scalable Windows NT solutions, including Windows NT on both Intel and Alpha platforms, and added-value Windows NT Server clustering. For the future, DIGITAL is working with Microsoft to bring DIGITAL's expertise with 64-bit computing to Windows NT.
Now in its second year, the Microsoft/DIGITAL Alliance for Enterprise Computing represents extraordinary cooperation between the two companies to deliver technology, products, sales, service, and support. Under the Alliance, Microsoft and DIGITAL cross-licensed patent portfolios and are bringing to market Windows NT clustering solutions."
*******
http://www.ornl.gov/its/archives/mailing-lists/alpha-osf-managers/1996/01/msg00218.html = broken link
+++ interesting thoughts from the alpha-osf-managers list - January 12, 1996
"It would seem foolish to dump an operating system supporting some high dollar hardware and software for the 'promise' of what NT could hold. Yes, Digital and Microsoft have a strong alliance and will presumably continue to maintain their partnership. Unix clusters are on the way - where is NT clustering? Is NT a 64 bit operating system? Does NT support the applications that Unix does?"
*******
http://www.infoworld.com/cgi-bin/displayStory.pl?97096.emicrosoft.htm
InfoWorld Electric September 6, 1997
"Despite Microsoft Senior Vice President Jim Allchin?s public declaration in July that the NT 5.0 beta version would debut at the developer's conference, officials last week sounded less committed to that time frame.
We are certain we will be able to meet our 1997 milestone for a beta," said Enzo Schiano, NT product manager. "Whether that's the PDC or not is something something we're not discussing at this time."
Complete Article:
NT 5.0 beta ship date likely to slip; Win 3.1 users to get Windows 98 upgrade path
By Bob Trott and Ed Scannell
InfoWorld Electric
Posted at 10:37 AM PT, Sep 6, 1997
Microsoft plans to make a much-needed repair to a hole in its operating-system migration path, the Windows 3.1 to Windows 98 upgrade, but this news comes amid signs that the OS coveted by enterprise customers ? Windows NT 5.0 ? is being pushed even further into the future.
For weeks, Microsoft has been promising delivery of the first beta version of NT 5.0 at its Professional Developers Conference (PDC), which begins Sept. 22 in San Diego. But it is unlikely that what developers receive at the conference will resemble beta code, sources close to Microsoft said.
"This will definitely be alpha code," said one analyst who requested anonymity. "It isn?t close to a beta cycle yet."
Despite Microsoft Senior Vice President Jim Allchin?s public declaration in July that the NT 5.0 beta version would debut at the developer?s conference, officials last week sounded less committed to that time frame.
"We are certain we will be able to meet our 1997 milestone for a beta," said Enzo Schiano, NT product manager. "Whether that?s the PDC or not is something we?re not discussing at this time."
Meanwhile, Microsoft has committed to delivering a specific upgrade to Windows 98 from Windows 3.1 90 days after Windows 98?s release date, currently set for the first quarter of 1998.
With Windows 3.1 still widely in use throughout corporate America, high-ranking Microsoft officials have turned up the heat in recent weeks to ensure that a smooth migration path to Windows 98 is available ? particularly because there will be no path from Windows 3.1 to Windows NT.
"We?ve had a lot of customer feedback about a 3.1 upgrade. There?s been a lot of concern that there will be one," said Stacey Breyfogle, a Windows product manager. "We?re working now on the delta between the product release and when the Windows 3.1 upgrade will ship. It will be three months."
Although it would be possible to move from Windows 3.1 to Windows 98 without this specific upgrade path, that migration would force users over a treacherous trail, because they would run the risk of not picking up support for all of the installed device drivers and existing 16-bit applications, industry observers said.
"Right now, upgrading your Win 3.1 base to Windows 98 is certainly not seamless from a device-driver standpoint and, more importantly, from a FAT-32 and applications standpoint,?? said John Dunkle, president of Workgroup Strategic Services, in Portsmouth, N.H. "Win 3.1 users typically are in heterogeneous environments running all sorts of 8- and 16-bit apps, and Win98 wants and must have all 32-bit apps."
One user said the 3.1-to-98 upgrade is good news for users who aren?t going to NT.
"There is a place it might be attractive because we?re not sure what to do with our Windows 3.1 laptop users," said Brian Jaffe, network and client services director at Bantam Doubleday Dell, in New York, and a member of InfoWorld?s Corporate Advisory Board.
Microsoft Corp., in Redmond, Wash., can be reached at http://www.microsoft.com/
*******
http://www.techweb.com/se/directlink.cgi?CRN19970908S0124 = broken link
Computer Reseller News September 08, 1997
"The Digital-Microsoft collaboration grew out of the Alliance for Enterprise Computing, a partnership rolled out in August 1995. The alliance is considered critical for Digital, which is trying to expand the market for its 64-bit Alpha processor. The vendor made a major coup when Microsoft last year revealed plans for a 64-bit version of Windows NT and tapped the Alpha as the only RISC architecture that would support the operating system.
Copyright (c) 1997 CMP Media Inc.

********
http://www.zdnet.com/pcweek/news/1020/20alpha.html = broken link
PC Week Online October 20, 1997
"NT won't support 64-bit processing until Version 5.0 ships next year; Digital is working on 64-bit addressing for the new release, sources said."
Alternative Report:
http://www.hpcwire.com/hpc-bin/artread.pl?direction=Current&articlenumber=12139
New Alphas Address NT Scalability Issue
10/24/97
San Diego, CA -- As PC Week reported, Digital Equipment Corp. is leveraging its Alpha technology to address a common complaint about Windows NT, its lack of scalability. Digital will soon introduce an eight-way, 64-bit TurboLaser Alpha server that runs NT. The current TurboLaser runs OpenVMS and Digital Unix.
The announcement is part of a series of forthcoming rollouts including the AlphaServer 1200, a dual-processor Alpha server; clock-speed upgrades for existing AlphaServers; a new Alpha processor with firmware designed to run only NT; and an upgrade to Digital's Affinity Wave program that provides tighter integration between NT and OpenVMS.
The NT-based TurboLaser initially will support up to eight 64-bit Alpha processors and eventually will scale to 14, sources said. NT won't support 64-bit processing until Version 5.0 ships next year; Digital is working on 64-bit addressing for the new release, sources said.
At the lower end of the enterprise, Digital will position its new rack- mountable AlphaServer 1200 for communications applications such as Microsoft's Exchange and Lotus Development Corp.'s Notes. The 1200, which will be available with either 400MHz or 533MHz Alpha processors, will support up to 6,000 Exchange users, sources said. The 1200 will run NT, OpenVMS or Unix and will be priced at about $15,000, sources said.
********
http://www.zdnet.com/wsources/content/0198/nts_intro_03.html = broken link
ZDNet December 1997
"There has also been quite a bit of hoopla surrounding NT 5.0's built-in 64-bit support, which was integrated specifically for the Very Large Memory (VLM) model. But only the 64-bit Alpha RISC processor, which is the one non-x86 architecture NT 5.0 will support, will be able to take advantage of VLM."
Alternative Article:
http://www.windowsitpro.com/articles/print.cfm?articleid=3130
Scalability Daze
From the February 1998 Edition
of Windows IT Pro
February 01, 1998
Mark Smith
Editorial
[snip]
Before I let my mind wander too far, I did a little analysis and concluded that the Digital and Intel deal is OK for Alpha users. First, Intel joins Mitsubishi and Samsung as a Digital outsourcing partner for manufacturing the Alpha and StrongARM chips. This partnership lets Digital focus on design, while its partners focus on manufacturing. As a result, Digital can reduce its development costs and can start pricing its Alpha-based servers more like its Intel-based servers for NT.
Also, Digital, Intel, and Microsoft have agreed to cooperate on source code compatibility of NT 64-bit APIs across Intel's IA-64 (code-named Merced) and Digital's Alpha. This cooperation means software developers will be able to write code once and compile it to run on either Alpha or IA-64.
In past editorials, I mentioned 64-bit NT 5.0. Technically, that term is incorrect. NT 5.0 is still a 32-bit operating system, but NT 5.0 will incorporate a 64-bit Very Large Memory (VLM) model capability, initially for Alpha only. By using Microsoft's 64-bit APIs to take advantage of this VLM, enterprise-level versions of SQL Server, Oracle, and other applications can increase performance when a server has more than 4GB of memory (although the additional memory addressable through the 64-bit APIs is not pageable or swapable). NT 4.0 applications are limited to 2GB of RAM, and NT 4.0 Enterprise Edition applications are limited to 3GB of RAM. VLM uses 4GB to 32GB of RAM.
By addressing more memory, applications can keep more data in the computer's memory simultaneously, reducing the need for swapping data to and from a disk. Digital claims that Oracle running on VLM can run 50 times as fast as a similarly configured system without VLM.
Getting back to my previous editorials that deal with 64-bit NT 5.0: My point was that the Alpha-based systems will have a significant head start on providing a platform for applications to take advantage of these VLM APIs. For companies that are bumping up against the performance ceiling, the 64-bit VLM capability is welcome news.
[snip]
*******
http://www.microsoft.com/BillGates/speeches/1-28msdigital.htm = broken link
Robert Palmer and Bill Gates - San Francisco January 28, 1998
Robert Palmer:
"The expanded alliance further strengthens Microsoft's and Digital's commitment to the Alpha architecture. Microsoft will continue to ship Windows NT products with the same features on both the Alpha and the X86 architecture. The products include NT Workstation, NT Server, all major BackOffice products, and the complete set of application development tools. We have agree to ensure that application developers will have a common programming model for Alpha today, and Alpha and Intel's IA-64 architecture tomorrow."
Bill Gates:
"The alliance we've had with Digital has been a fantastic success. Both companies can say that it exceeded the expectations we had going into it. A key element of this was that Digital was willing to be on Windows NT and Microsoft Exchange when those products were just coming to the marketplace. They saw that the demand would be there, and really this alliance, I think, has been a key element in the success that those products have received."
and:
"Now, the technical teams at Digital and Microsoft have been working very closely. That's one of the reasons why the Alpha benchmarks are so good, is that the tuning is there. One of the big things in today's announcement that's new is this commitment by Digital to take out the servers. So we'll have 32 or even 64 processors, and work with us to get Windows NT taking advantage of those systems."
Alternative Link:
http://www.microsoft.com/presspass/exec/billg/speeches/1998/1-28msdigital.aspx
Digital and Microsoft Announce Expanded Alliance to Accelerate the Adoption of Windows NT Across the Enterprise
Microsoft Chairman and CEO Bill Gates and Digital CEO and Chairman Robert Palmer
San Francisco, CA
January 28, 1998
MR. GALLOP: I'd like to take this opportunity to welcome the members of the press, the industry analysts, and the other invited guests who have come to San Francisco today to hear from Bill Gates and Bob Palmer as we announce the next level of a very special partnership between Digital and Microsoft, the Alliance for Enterprise Computing.
I also want to say good morning, good afternoon, or good evening, depending on where you are, to the worldwide audience that is watching this event either by telecast or cybercast over the Internet. I'm not sure how many people that constitutes electronically, but I guess it's something less than the 800 million that watched the Super Bowl on Sunday. But we have a little different agenda. That was all about competition, this is all about cooperation and collaboration today.
Microsoft and Digital formed just such a team two-and-a-half years ago, the Alliance for Enterprise Computing. It was formed in order to meet the requirements of customers' demand and to build the foundation that is focused on supporting the deployment of Windows NT across the enterprise, today and into the 21st Century. The message we want to convey today is that the Digital-Microsoft Alliance for Enterprise Computing has been very successful to date, and today we're here to talk about extending it.
Let me share just a few key points with you. The alliance has already demonstrated strong business results measured in billions of dollars in systems, service and software sales. Windows NT is proven for the enterprise, as shown in many implementations delivered by Digital and Microsoft to customers such as Reuters, whom you'll hear from a bit later, Lockheed Martin, Dow Chemical, and many other very well-known names.
Our successful Exchange program is clearly accelerating, being adopted as the messaging standard by many of the world's major corporations. And speaking on behalf of Digital, the Windows NT business is growing very rapidly, as indicated in our last quarter's results. We announced that our NT solution business grew by 94 percent.
Today, you will hear how the Alliance for Enterprise Computing will accelerate the adoption of Windows NT in the enterprise. Bob Palmer and Bill Gates will give you the specific details of technology collaboration, expansion of services and support, and new target market initiatives. Following Bob and Bill, Peter Job, chief executive officer of Reuters Whole News PLC, will join us via satellite to share how Digital and Microsoft are working with his worldwide enterprise. Then, Mr. Jeremy Coote, president of SAP, will tell us what the combination of Digital platforms and Microsoft Windows NT mean to his customers. So, a full agenda.
And let's begin. So, ladies and gentleman, please welcome the Chairman and Chief Executive Officer of Digital Bob Palmer.
(Applause.)
MR. PALMER: Thank you, Mike. You know, it was almost exactly two-and-a-half years ago, on August 2 of 1995, that Bill Gates and I sat together here in San Francisco to announce the Alliance for Enterprise Computing. We had a strong mandate from customers to bring Windows NT to the enterprise, building on Microsoft's strengths in client server software and Digital's leadership in enterprise platforms, services, and systems integration.
As we consider the successes of the Alliance for Enterprise Computing, it's exciting to contemplate how we might take the partnership to a new level. The announcement this week of Digital's merger agreement with Compaq gives us just that opportunity. The dynamic combination of Digital and Compaq will further strengthen the alliance and make up the strongest and most viable Windows NT solutions provider in the business. This is a very positive and exciting development for our customers, our partners and for the industry.
In a few minutes, John Rose, Compaq's senior vice president and general manager of their Enterprise Computing Group, will join me on the podium to offer his comments about this exciting development. You know, as I stand here today, I see an alliance that has succeeded where it matters the most, with enterprise customers. For example, the customers who have turned to Digital and Microsoft for mail and messaging solutions built around Microsoft's Exchange running on Windows NT and Microsoft BackOffice, and powered by Digital's Alpha and Intel-based systems. The customers who are implementing Internet solutions based on Microsoft commercial Internet system designed and deployed by Digital's systems integration business. And the customers who are integrating Windows NT with Digital's open VMS and UNIX operating systems for scalable, mission critical computing.
Our alliance with Microsoft is strong and enduring, in an industry where alliances, partnerships and coalitions are commonplace and often short-lived. In fact, we believe that the Digital Microsoft Alliance for Enterprise Computing has worked so well that it serves today as the showcase for how two companies should work together in the best interests of their customers.
Here are just a few of the highlights of the accomplishments during our first two years. Digital has, by far, the largest Windows NT and Microsoft BackOffice professional services workforce in the world, more than 1,600 Microsoft certified systems engineers and Microsoft certified solutions developers, around 4,000 Microsoft certified product specialists, plus thousands more trained as NT service professionals. We have opened two Digital Enterprise Solutions Centers for Windows, one in Bellevue, Washington, and the other in Bayonne, France. And a third facility is scheduled to open in Kuala Lumpur, Malaysia, later this year.
Digital operated more than 128 Microsoft Certified Solution Provider Centers around the world, half of all the Exchange seats in large enterprises today have involved Digital. Digital has two million Exchange seats under contract throughout the world, far more than any other vendor. We were the first to provide Windows NT clustering and are one of the market leaders with over 6,800 licenses sold. Digital has continued to build on the broadest range of systems running Windows NT in the industry, from Intel-based notebooks and desktops to the most powerful 64-bit Alpha servers. In fact, just yesterday, we announced a new line-up of Intel and Alpha-based servers specifically designed to run Windows NT.
With Microsoft's support, we have demonstrated the power and scalability of Windows NT solutions for the enterprise. Digital's Alpha Server 4100, for example, is able to handle 10,000 Exchange users, and at Microsoft's Scalability Day we demonstrated over 50,000 Exchange users on a single Digital server.
As a result of these and other performance advantages, more enterprise customers are turning to Windows NT solutions. Recently, Dow Chemical selected Digital to install a new Enterprise mail infrastructure at 115 of its global sites. With more than 1,000 mainframes, UNIX, VAX, Macintosh and Intel mail servers, Dow needed a company with the experience and the resources to implement Microsoft's Exchange quickly, maintain the old and new system at mission critical levels, and lower operations costs. In a record six months, together, Digital and Microsoft successfully migrated and upgraded Dow's entire worldwide infrastructure to support the new Microsoft Exchange mail and messaging environment for 36,000 new accounts, six months.
Reuters is another example of a customer working with Digital on a very large Windows NT project. I want to thank Peter Job, Reuter's Chief Executive Officer, for the speech he will do later today.
I'd now like to ask John Rose to join me for his remarks. John.
(Applause.)
MR. ROSE: Thank you, Bob. It's a pleasure to be here this morning on the heels of Monday's landmark event [announcing Compaq's acquisition of Digital], it is particularly fitting that Bob and I are here today with Bill. We announced just two days ago a vision for the creation of a new force in the computer industry, a force that in partnership with Microsoft will accelerate the adoption of Windows NT into the enterprise. The new Compaq and Digital relationship is tremendously exciting for all of us, and for customers. The strengths of Digital, including leadership platforms, innovative technology, and, of course, global services, are key elements of our success going forward.
Compaq continues committed to these investments and its strategic assets. Compaq places tremendous value on the customer relationships that Digital has cultivated for almost 41 years. We're committed to supporting customers, the customers' investments in Digital's NT products and services, including those PC products. The combination of Compaq, Digital and, of course, Tandem, will create the new leader in global enterprise NT solutions. Together with our partner Microsoft, we will empower our customers with unparalleled competitive advantages for their businesses.
It's a pleasure to be here, and thank you, Bob.
MR. PALMER: Thank you, John.
You know, it's funny, John and I worked together at Digital for the same executive. When I joined Digital, we were on the path, and I believe you worked there 16 years?
MR. ROSE: That's correct.
MR. PALMER: That's great.
MR. ROSE: It's fun.
MR. PALMER: There are many executives at Compaq that, at one time or another, had worked at Digital, which gives me a lot of confidence in how easily we're going to be able to accomplish this merger.
But, anyway, today we're announcing an expanded Alliance for Enterprise Computing that confirms Digital's position as the first worldwide prime integrator for Windows NT enterprise solutions. For customers dealing with a prime integrator means a single point of contact for the acquisition, the design, the implementation and the support of solutions for NT and BackOffice products. It also helps customers to reduce the risk, because the prime integrator offers global life cycle support, and ensures that Microsoft's own service organization is part of the engagement.
The alliance will concentrate on three important areas. On joint marketing initiatives, on joint technology development, and on expanding our service capabilities and offerings. In the marketing initiative, we want to replicate the tremendous success that we've had with Exchange. The enterprise infrastructure initiative is designed to make it easier and cost-effective for enterprises to adopt Windows NT server and Microsoft SQL server for 64-bit systems, enterprise applications, and data marks. And the Internet initiative will provide highly scalable, integrated, manageable, and low-cost computing solutions to large customers.
The second part we will focus on is technology. This will include new SMP-based hardware architecture for Windows NT server systems that will substantially increase high-end scalability and performance. During 1999, this hardware collaboration will allow customers to deploy NT servers using 32, 64 or even more Alpha processors. We will develop added-value enterprise class software to enhance and extend the scalability, availability and manageability of Windows NT. This will enable customers to deploy mission critical applications on NT sooner and with lower risk than from any other vendor. Digital and Microsoft will continue to develop integration and migration tools for all the VMS and UNIX recognizing that most companies continue to have mixed operating system environments.
The expanded alliance further strengthens Microsoft's and Digital's commitment to the Alpha architecture. Microsoft will continue to ship Windows NT products with the same features on both the Alpha and the X86 architecture. The products include NT Workstation, NT Server, all major BackOffice products, and the complete set of application development tools. We have agree to ensure that application developers will have a common programming model for Alpha today, and Alpha and Intel's IA-64 architecture tomorrow.
The third area of focus for the alliance involves services. As Microsoft's worldwide prime integrator for Windows NT enterprise solutions, Digital will expand its service capacity and its offerings. Together with Microsoft, we will develop five new services. Total cost of ownership, migrating from PROFS to Exchange, building on enterprise intranet with Site Server, building a Web commerce site with Site Server, and LAN readiness assessments. We will also double the number of Microsoft certified systems engineers to over 3,000 by the end of calendar '98. One thousand of these will be certified in Microsoft SQL Server for deployment of data marks, others will have extensive training in Exchange, Internet/intranet, and Windows NT migration.
The expanded Alliance for Enterprise Computing is committed to helping customers deploy Windows NT across the enterprise from the desktop to the data center. It is a deep-rooted alliance that is not based on talk but on action, and results. A partnership that gives customers a competitive advantage, and that will give them even greater benefits as Digital and Compaq move forward with their merger.
Thank you.
And now it's my pleasure to introduce the Chairman and Chief Executive Office of Microsoft Corporation, Bill Gates.
(Applause.)
MR. GATES: Well, good morning.
The alliance we've had with Digital has been a fantastic success. Both companies can say that it exceeded the expectations we had going into it. A key element of this was that Digital was willing to be on Windows NT and Microsoft Exchange when those products were just coming to the marketplace. They saw that the demand would be there, and really this alliance, I think, has been a key element in the success that those products have received.
Windows NT momentum is very strong. It's over 100,000 servers a month, greater than all the UNIX shipments combined. And a part of that that we're particularly excited about is the way that Windows NT is being used in Internet infrastructure. A majority now of new Internet servers are based on Windows NT and that's been a big area of focus and something that Digital has had a lot of expertise in helping to pull together.
Now, the alliance has had many parts to it. Part of it was, at the technical level, great support for the Alpha chip that we've done with a broad set of products to show off the capabilities that that technology has. Another element has been getting out there and really helping customers put these solutions to work. With Microsoft Exchange, Digital has over 2 million seats that they're rolling out. And that's a substantial percentage of the Exchange seats, really the expertise there, Digital has definitely gotten out in front. The centers that Digital has put together, on in the United States, one in Europe, and one being put together in Asia, those have been fantastic in showing people that very demanding tasks can be done using this technology.
Now, Microsoft has a lot of different programs that we use in working with partners. And Digital is really the only company that has worked with us on every single one of these things. And we've put it together so that it's seamless for the customer. Their ability to license our software, support our software, their ability to come in and provide consulting, working with us. We even have some support offerings, where it's transparent to the customer, whether it's the Digital support center, or the Microsoft support center, that's dealing with the issues that they have there.
Today we're talking about all of this combined, making Digital a prime integrator, for enterprise NT solutions. And that's a very concrete thing, because we have a lot of customers, some of them that we got early in the alliance, some that are very recent, that saw these combination of services as the reason that they could bet on Microsoft products, and count on Digital as something to pull it all together and make it work very effectively for them.
Now, the technical teams at Digital and Microsoft have been working very closely. That's one of the reasons why the Alpha benchmarks are so good, is that the tuning is there. One of the big things in today's announcement that's new is this commitment by Digital to take out the servers. So we'll have 32 or even 64 processors, and work with us to get Windows NT taking advantage of those systems.
If you think about performance, there are many elements that are coming together, faster processors, from both the Intel product line and the Alpha, more processors in the system, which is a big boost up, more clusters, where you get systems working together, as a single complex, and then very substantial improvements in the software performance, for example, the advances that we'll have in database, as we go from SQL version 6 and 6.5 to SQL version 7. And all of those factors compound with each other. And so the rate of improvement will be very dramatic.
The reason that Digital and Microsoft are making the investment to do this is that customers are expecting even greater transaction rates now than they ever have before. It's not just moving applications that ran on mainframes and other systems onto NT. It's new applications, particularly applications that run across the Internet, where the transaction loads will be very incredible. And the desire to analyze all of that traffic will be critical for a company that wants to understand what it should be doing to it's products, and responding in a very real time way.
So there's the clustering initiative, there is some middleware software that Digital is developed expertise in over the years, on their Open VMS product. They'll now be moving that over onto Windows NT, things like batch job management, that you need as you get NT into the data center, with lots of different products there.
Another particular initiative is taking the emulation software, that Digital calls APEX 32, and not just having that run on top of NT, but have it built down into the NT product, so it's really transparent, whether you're running an application that's been native compiled, or an application that's using the emulator that they have there. And so between the evangelism we do to people to do the native compilation, and the other applications, you get the full benefit of being able to work on Alpha.
As was said earlier, there is a doubling here of the number of certified people that Digital is going to have. Digital has actually slightly more certified NTSE employees than even Microsoft has. That puts them way ahead of anybody else. But, the demand exceeds supply. The interest in having those people with that background in the marketplace is very strong. Even as Digital moves up and doubles that to 3,000, we have no doubt those people will be very, very busy. Digital is also leading the way in getting involved in SQL Server certification. And so there is a very significant commitment there, that's a major bet by both companies that SQL growth that we've seen will continue and even accelerate as we get version 7 into the market later this year.
We're taking the success in Exchange and building on that. We're building programs that are very focused on cost of ownership. Things that we're doing today and, of course, a major milestone with Windows NT 5. And so many of our mutual customers will be getting the NT 5 beta 2 in the next few months, and be able to give us feedback on how we make sure that really solves everything they're interested in, in the cost of ownership area.
So this is a very broad alliance. It's a technical alliance. It's a go to market alliance. And I think it's really a model for what partnerships should be like in this industry. And I just want to thank Digital for their support. And I think the evolution that will take place as Digital and Compaq come together is definitely a fantastic thing for Microsoft.
So it's great to be here this morning, thank you.
MR. GALLOP: Thank you very much, Bob, Bill and John. As someone who spends his life out talking to CIOs around North America, I can personally attest to the power of talking about solutions at this level, with those corporations.
Now, we are going to take a look from a slightly different perspective. Digital recently announced that Reuters has signed a contract for the supply of Windows NT Servers from Digital, for use throughout its worldwide network. Reuters will be installing servers from Digital, running Microsoft Windows NT Server, at its data centers, and customer sites, on a very dispersed basis, worldwide. Digital will also be providing warrantee and maintenance services to that network environment. To tell us more, we are very pleased to have with us, live via satellite, from London, Peter Job CEO of Reuters holdings PLC.
Welcome Peter.
MR. JOB: I was thinking, as I drove over here from my office, that if I was younger, and a bit more beautiful, I could say I was a bridesmaid at a lovely wedding. Of course, it's more complex than that. People have many partners, nowadays. But this is a notable pairing up. Not, the least because we've known this couple for quite a while. Digital was the first supplier of the key equipment that allowed us, in the early '70s, to launch a revolutionary new service for the foreign exchange market, which was called then The Reuter Monitor.
And by 1982, or thereabouts, I recollect, Reuters realized that it should not be writing too much proprietary software, when it wasn't necessary, and it quickly lighted on the virtues of Windows, which I think helped, Bill would agree, to popularize that throughout the financial community. Now, moving on again, from there, what we see is that this -- these two organizations are still very well placed to give satisfaction in the financial services community, albeit, at a more complex level all the time.
And if we were to try and describe the complexity, I would say it's, from my point of view, something like this, in a dealing room today, in a high moment on Wall Street, you'll be having about 3,000 changes per second, hitting that dealing room. And you may have in that dealing room, perhaps, 1,000 people, but each of those thousand people is interested in one or more, a small subset, probably at that time, of those 3,000 changes per second hitting the dealing room. You don't resolve this kind of technical problem without some fairly high power software and hardware. And the experience that we have, particularly in Europe, is that the NT software is very good for this purpose. UNIX is stronger in the United States, but that's partly for historical reasons. And we see NT getting stronger all the time. And we're using it ourselves, for our most complex and power demanding applications.
At the same time, Digital is a company that knows how to build hardware for these demanding situations. So those 3,000 updates, those 1,000 users, they're going to need this combination. And they're going to need a combination, because they want a way to take the complexity out of their lives. What Digital has, we know, is a very large work force around the world. Which is able to come and take some of the load of those -- getting those things to work properly. It's often not easy, even for the most sophisticated customers to get the array correctly working, on fairly high specifications.
So Digital brings, in addition to its powerful tradition in hardware, it brings that support capability. Microsoft has the software, and by the way, I expect it to deliver more important things. We're already, obviously, using object-oriented software for dealing room delivery. We're writing now to Active X controls. And I'm expecting that before long, what we see happening at Microsoft means that we'll be able to find a good software route for very efficiently delivering very high performance video into dealing rooms.
So this is a partnership which greatly appeals to us, and the addition of Compaq to it, if that goes forward, as I believe it will, will only help, because again, the addition of more power to the partnership gives more capability to go to those people, who at the moment struggle with different suppliers, and get single answers from the group.
So thank you very much, and I wish you both well with your partnership.
MR. GALLOP: Thank you very much, Peter. So there's a perspective from the user's side. And now, next on the agenda, a perspective from yet again a different position in the marketplace.
I'm personally pleased to introduce our next speaker, we've done a lot of good work in the North American marketplace together, and that is Jeremy Coote, President of SAP.
Jeremy, welcome.
MR. COOTE: Good morning, ladies and gentlemen, I'm proud to represent SAP, as a valued business partner of Digital and Microsoft, as we support their announcement today. SAP is the market leader for enterprise-wide business applications. And as the market leader, we're constantly looking for ways to provide the most innovative, mission critical business backbone solutions.
We're committed to offering the market, the most robust solutions possible for today's high competitive online world. Enterprise customers want and expect at least three things. One, highly scalable and reliable solutions, in order to drive large, common, 7 by 24-hour applications. Two, world class, professional services, to implement and maintain these systems. And three, a commitment to investment in new and future technologies.
Today's announcement from our strategic partners, Microsoft and Digital, allows us to further our mission of continually bringing premier business solutions to our customers. We at SAP realize that our customers need to stay current with technology, as well as changes in their business environments. And, of course, a great example of this sort of change now awaits Digital and Compaq, and one thing that we will help them through that, is that they are both SAP customers, and we're therefore confident of their future IT infrastructure.
In the history of SAP, many of our brightest innovations grew from change. Back in 1987, SAP began working with Digital, as a development partner, on a new generation of our software. That open client and server development vision eventually became the R3 System. In 1993, SAP began working with Microsoft, and in 1994, R3 was first released on the Microsoft Windows NT platform. Since then, after a steady growth to 4,000 worldwide installations, Windows NT represents over 31 percent of our total customer base, and its momentum grows.
While the UNIX platform continues to be strong, in the R3 marketplace, Windows NT has been key to opening new market opportunities for SAP. Today, looking at the past year of 1997, we've witnessed 45 percent of new R3 installations shipping on Windows NT, with brand new customers buying R3 on Windows NT, at a staggering rate of more than 50 percent.
Last year, SAP shipped more than 2,000 new R3 installations in Windows NT, and nearly 500 of those were shipped for use with Microsoft's SQL Server. Actually, now that Digital plans to merge with Compaq, this new computer giant will support more than 50 percent of our current customers, running Windows NT. A sampling of these customers include the following, whose size and computing requirements are as diverse as the industries they represent.
Happily, together we can count joint customers in Dow Chemical, Pennzoil, McCaffrey Associates, PetSmart and so on. And what excites these, and all of our customers, though, is not congratulating their current success, but exploring the plans we have together for the future. Imagine a world in which applications such as R3 can enjoy 10 to 100 gigabytes in main memory, avoiding bottlenecks of disk access, while at the same time allowing for the analysis for of masses amounts of data.
In a business context, manufacturing and distribution companies, utilizing SAP's supply chain software for advanced planning and optimization applications, will soon be checking online credit and inventory availability while simultaneously processing new MRP runs. In the future, a whole new generation of data warehousing products will be available using 64-bit technology, allowing for online access, to seemingly endless analytical data, because in 64-bit computing, developers and engineers believe that current business processes will be executed at least 100 times faster.
I am here today on behalf of SAP to recommend to the software industry at large that I join us in embracing these new technology innovations, offered by Microsoft and Digital, because of innovations like these announced today, combined with world class, professional services, possibilities for new application functionality seem endless.
In conclusion, we at SAP stress our commitment to working with Microsoft, Digital, and Compaq to continually bring down the overall cost of computing. Together with our partners, we pledge to fully enrich this modern client services business application architecture, so that our customers can focus on improving their businesses and most importantly, adding to their bottom line. Thank you.
[Question and answer session follows.]
****
MR. QUINLAN: Tom Quinlan, from the San Jose Mercury News. I have a couple of questions. One, is Digital actually shipping 32 and 64 processor systems? Will the work it does on NT and SQL Server to support those systems be transferable to the Intel platform? And perhaps the representative from SAP could say whether he intends to support the 64-bit processor, immediately on Alpha, or will he wait until 64-bit processing comes on Intel, as well, before he starts developing software for that?
MR. PALMER: Tom, we have not yet developed that sophistication, as far as scalability is concerned. And it's an extraordinarily complex task. But, working with Microsoft, we intend to get that into the marketplace, in calendar year '99. Relative to the other question, I think fundamentally we are clear that Alpha will be available on 64-bit computing ahead of Merced and at least by the technology road map that Intel has indicated, we should have the 64-bit support from Microsoft prior to Merced. So I think many customers will look at it as if you can start today on Alpha, and migrate an application later, or choose to stay on Alpha, or whatever. But, you can get started today.
QUESTION: Can Windows NT support 64-bit architectures today?
MR. GATES: NT today is 32 bit. The first large memory version of NT is NT 5.0. And NT 5.0 will on the Alpha support VLM, very large memory, and the way we've done that makes it very easy for SQL, Exchange, SAP and other applications to take advantage of that. So it's with the shipment of NT 5, that's the first time we move up to the VLM environment.
MR. EVANS: Jeff Evans, Computer Paper of Toronto.
The combination of the three firms, Microsoft, Intel and the new Compaq-Digital, will result in something which is larger than IBM, and perhaps is more significant in the market than IBM ever was. Do you see Windows, partly as a result of that merger, Mr. Gates, displacing UNIX much faster than might have been imagined?
MR. GATES: Well, there certainly is competition between Windows and UNIX today, and every day that goes by Windows is getting a higher share than it's had in the past. If you look at that on the desktop today, it's pretty dramatic. UNIX desktop solutions actually went down in the last year. And, as we're going into the areas where they've been strong, the CAD type areas, the real-time trading type areas, we expect to see an acceleration on the desktop.
On the server level, there's definitely a need to interoperate between UNIX and NT. There's a lot of UNIX systems out there. There are still going to be UNIX systems sold for a long time to come, quite a variety of UNIX systems. Remember, there are dozens of flavors of UNIX, and we need to interoperate with all of those. So, we're actually increasing the things we do to interoperate, while at the same time competing. NT on the server gets stronger and stronger, but I think it's inappropriate to say that it will ever take over the market. There's always going to be lots of different operating systems out there. Windows NT will just be more prominent than it is today.
I do think the combination of Digital and Compaq is a very positive thing for Windows NT.
MS. DiCARLO: Lisa DiCarlo with PC Week. This question is for Bill Gates.
Can you comment on how this deal compares with your NT alliance deal with HP, and if Microsoft is interested in expanding its enterprise alliance with HP in this way?
MR. GATES: Well, the situation we have is that the demand for NT expertise in the marketplace exceeds the supply. And Digital certain got out in front in being willing to train their people and get really involved in those things. Now, in no way is that exclusive to Digital. We are working with other partners as they build up their capacity. And we are very interested in expanding what we do with other partners. What we're seeing today is that Digital has built with the customers a very strong reputation for doing these things quite well. They are not the only one doing these things. But if you look, for example, at Exchange the 2 million seats is way, way beyond what anybody else has been able to achieve there.
So, yes, we're anxious to have more people working with us on this, because we see the customer demand for it. But we've taken what's been successful with Digital and decided to bring that to a whole new level, doubling the number of people they have with the certification.
QUESTION: I will say this is pretty much related with the one before. I just wanted to know how much market share do you expect for Windows NT, and when and if you expect such a prominent position for Windows NT like Windows in the world of PC?
And my second question is for Robert Palmer. I just wanted to know if Digital at some point in the future will stop selling UNIX and when?
MR. GATES: In terms of market share, I don't think there is any specific number that -- you know, we don't make forward predictions on anything, whether it's earnings or market share or volume, anything. We're very conservative about making any predictions. Windows NT is growing in its acceptance. And there's a positive thing that happens, that is the more momentum you get, the more service capability you get. The more momentum you get, the more applications you get. And that feeds on itself where people are doing more innovative hardware. Customers are training their people and getting more used to it. That positive cycle that definitely drove Windows on the desktop, that same cycle, all those same dynamics, are driving Windows on the server.
And so, although I don't think the server market will ever be quite as simple because people keep systems around longer, people have more specialized needs on the server, Windows NT is going to be very strong on the server. And getting up to these 64-processor clusters that we're talking about here, getting the very large memory support, these are very specific things that customers are telling us we need to do, and that's why we've increased the R&D we put behind Windows NT, and the joint R&D we have with Digital quite substantially, because the demand is out there for those capabilities.
MR. PALMER: With respect to your question on Digital's 64-bit UNIX, Digital was the first systems company to offer 64-bit general purpose UNIX for the marketplace more than five years ago. We have, by most analysts' accounts, the leading implementation of UNIX with or without regard to 64 bits, if you look at V.H. Browner, Gartner, whomever. Because of that leadership, we've been able to attract most recently Sequent Computer Systems to look to the future for 64 bits on the IA-64 architecture, and to stay partnered with Digital.
Bill mentioned the many, many flavors of UNIX that are out there. Obviously not all supportable as they go to 64-bit capability. These companies do not have the volumes to afford the investment to develop a new 64 implementation. Their choices come down to a relative few. They can go to a watered-down version of Solaris on IA-64 that in no way will be comparable to the Solaris on Sparc, or they can come over Digital's 64-bit UNIX, which is the same, whether it's going to be on IA-64 or Alpha, and it will have partners already like Sequent, and I expect many others. And the agreement with Compaq to acquire Digital can only strengthen that.
So the answer to your question is quite clear, we have the best opportunity we've ever had to establish Digital's 64-bit UNIX as the standard on the high 64-bit architecture. We expect to ship it when Merced ships, and we will have the same ISV environment for both IA-64 and Alpha.
In addition to that, although you didn't ask, we will continue to invest in, support, and sell and service open VMS. This has been committed by Eckhard Pfeiffer on numerous interviews that he and I went through on Monday, and it makes all the sense in the world. The number one most attractive thing to Compaq about Digital was its huge, loyal, installed customer base, and Compaq is totally committed to protect their $10 billion investment by protecting the investments for those customers.
MR. RAJ: Winston from PC Week Asia.
I just want to know whether Open VMS sales will be eroded in the future with your commitment towards NT?
MR. PALMER: I think that it is well understood that Open VMS is only growing in specific applications where the unprecedented high availability and the faster recovery features that Open VMS, which are still better today than anybody's UNIX, including our own, where those have real merit. If you're trading hundreds of millions of dollars a day, I'd suggest you get something that doesn't go down, you know. But it's clear that with the investments that are being made at Microsoft, the quality, the security, the scalability is inexorably improving rapidly. And I see that that is the future. That's where things are going. So, we're emphasizing, how do we make sure the interoperability between today's leadership disaster recovery operating system and what is obviously going to be tomorrow's is the best in the industry.
QUESTION: It's for Bob. Do you consider NT 5.0 a true 64-bit operating system such as your UNIX systems, and if not when do you think NT will catch up and be as scalable as UNIX?
MR. PALMER: I think NT 5.0 is going to astound the critics. We are excited about it. We could not be more eager for it to come to market. But, as you know, in software, whether it comes from Digital, Microsoft, or anybody else, it is complex and difficult, and thorough and rigorous testing must be performed in order to ensure a quality product enters the marketplace. When it's available, we'll be ready there to support it, and we know it is going to outperform the critics.
MR. BARAN. Nick Baran, Windows NT Systems Magazine.
Could you comment, Bill, a little bit further on time frame for NT 5.0, and what some of the problems are with bringing it to market?
MR. GATES: We're making excellent progress with NT 5. The only very specific date that we're giving for NT 5 is that we'll put out the beta 2 before the middle of this year, and that's a major milestone for us, because all the functionality will be there. It's based on the customer feedback we get on the beta 2 in terms of how do they like the performance, how do they like the reliability. It's after that that we'll commit to a final schedule. We feel we're getting very close with the product. We're making very good progress. It's a major thing. It's the biggest release of NT that we've ever done. There's more new lines of code in this than even in any of the releases we've done. And it's the directory, it's the security, it's the IntelliMirror breakthrough for cost of ownership, and it's the platform for building the rich distributed applications.
And so, what I encourage you to do is fork along with us, talk to the customers that get beta 2, get a copy yourself, see how that looks. Our top priority is making sure that that is a super high quality product that the customers believe that we're ready to release that product. And so, it's based on that that we'll -- that's when we'll put it out.
MR. HARDING: James Harding from VNU. A question for Bill Gates. How can you be as confident that Compaq will be as committed to Windows NT as Digital is?
MR. GATES: Well, the answer is pretty simple. They already are. Compaq really, because they're in a sense newer to the computer game, they made their bet on Windows even more strongly than companies that had their own operating system, where Digital had VMS, which has been a very important product for them. Compaq bet on Windows.
So, if you look at Compaq servers, Windows NT has an overwhelming share there. If you look at Compaq desktops, Windows has an overwhelming share there. The only real major criticism of Compaq that people have had is that when it comes to complex networks and putting together enterprise solutions, they just don't have the capacity in the field and in their experience to have the same expertise that, say, an IBM or a Digital have in those areas. And that's why we see the combination of Digital's strengths, and Compaq's strengths working together for NT being very, very exciting. But there's no lack of commitment on Compaq's part to Windows NT. And John Rose is here, and he'll make that crystal clear if you have any doubts about that at all.
QUESTION: This is a question for Bill Gates.
Do you expect to sign an agreement like this one with any other companies other than Compaq and Digital? If so, what is the competitive advantage for Digital?
MR. GATES: Well, the agreement that we reached over two years ago provided great competitive advantage to both Digital and Microsoft. It's certainly been great for us in getting out into customers that Digital built up the capacities, and was there to meet those customer demands. And this new strengthening of their capacity and some of the new focus that comes out of this, both technically and field capacity wise, that's going to be a great competitive advantage for Digital.
Now, there's not an exclusive in here that says that somebody else can't go out and certify other people as well. There's nothing in here that says that we won't do things with other companies. But you have to say that Digital has gotten out in front on this, and with what we're talking about here today, they are very committed to staying out in front on it.
And so, where do you end with real competitive advantage, it's in the customers. I mean, why did Reuters, which is about as big a deal as has gone down in this industry for a long, long time, why did they pick the combination of Digital and Microsoft? It's largely because of the capacities that have been built up under the first arrangement with Digital.
Now, there are other companies that look at that Reuters' deal that are jealous of it, and you bet that will motivate them to build up some of this capacity. And we're not going -- we at least are going to encourage them to do that. That is the nature of this deal. But I feel Digital has done what it's going to take to stay very, very strong in all of this, and get a lot of benefit out of it.
MR. PALMER: You know, I agree with Bill. There are a lot of companies that coveted that Reuters deal. Compaq paid nearly $10 billion to get it when you think about it.
(Laughter.)
MR. BANK: David Bank with the Wall Street Journal.
Mr. Palmer, can you tell us what kind of partner Microsoft has been, maybe detail some of the ups and downs, and also what Microsoft offered in this to get this deal?
MR. PALMER: I can do that with great enthusiasm. I already did actually with a customer event that occurred earlier this morning, because I had a speech that was all full of bits and bites and things, but Bill had already covered those more than adequately. So, I was left with very little to say about the technology. I decided I'd say something about the relationship.
This relationship started, as I said, August the 2nd, 1995. And, at that time, my associates and friends and competitors in the systems business said, well, I can't believe you'd do that. It won't work out. And whatever, and so forth. I can tell you that we've not had any relationship with any partner, although we've had many good partners, that's gone better than this relationship. I have never literally looked at the contract since it was signed. I did look at it pretty carefully before it was signed. But after we signed it, we never had to look at it again. And why? Because it was working so well.
Microsoft not only met every contractual obligation, but even more important, in the spirit of what we were trying to do, and as new things came along, there was never the least hesitation on Bill's part or his company's part to work to a customer advantage with Digital. And I'd like to think that the same could be said of my company working with Microsoft. You talk about ups and downs, it's only been ups.
MR. GATES: Now, just to give you some of the flavor of it, whenever there's a big account that we're looking at, there's a lot of electronic mail going back and forth. In fact, we've exchanged mail on several occasions to really put together customer references where they can see how we're working together. And we've won a number of major deals, even in the last month, because the other customers were willing to go in and talk about how the two companies were working together.
QUESTION: (Inaudible.)
MR. GATES: Yes. I think the question is, when will we see betas of NT taking advantage of the large memory?
MR. PALMER: Well, fundamentally, as Bill was saying, that's really a function of the information that Microsoft learns from the beta 2. And the platform is obviously ready today. We've been shipping 64-bit VLM, which we developed with a different partner, on UNIX. In this case, Oracle, as you all remember, in April of 1995, one of the better days in my career, when we announced the ability to put all of that data in main memory, and exceed mainframe performance by two orders of magnitude at a fraction of the cost, which really demonstrated the VLM that was pioneered between Oracle and Digital.
So, just like Digital's partnership with Microsoft is extraordinarily important to our customers and to our company, it's not exclusive. We have others. But this is going to be the first time, I think, that you will have such a low cost capability of taking advantage of VLM and 64 bits. And the competition is healthy for the industry. It clearly will cause more competition. It will cause better choice and better availability in the marketplace, and we're eagerly awaiting it.
MR. GATES: Let me add two specific points on this. The VLM support is in beta 2. And, in fact, applications like the SQL 7 betas that are out take advantage of that VLM. The VLM and what we're doing with NT 5 is the same thing that was done with the UNIX.
And when you say true 64-bit, you can actually mean something that goes beyond VLM, that is beyond what was done in UNIX or what's being done in NT 5. You know, VLM is a pretty specific definition where you use the very large memory for buffer pools, and so you avoid all the disk accessing. The place that gives you big, big wins are things like databases or Internet servers. And that's why you've got great benchmark results coming out from VLM-based systems. Today those are on UNIX. We believe we'll match or exceed those benchmark results on NT VLM, and we're using the beta right now to make sure that that takes place.
True 64-bit, which has not been done on either of those systems, is being done on NT. But that's on a time frame somewhat after the NT 5 time frame.
QUESTION: Bill, what will Microsoft be offering by way of services in this area, or do you intend offloading all of it to partners?
MR. GATES: Microsoft made the decision that we should focus on building software products. Now, you can't do that without having a lot of service capabilities. You've got to have 24-hour support, you've got to have regional support centers. You've got to have systems engineers in the field. And so we have built up that capacity.
But, in terms of systems that involve more than just Microsoft software, when you have hardware involved, where you've got a communication network involved, where you have applications, the people who can support those systems are our partners. And we've made an explicit decision not to turn our services business into an P&L.
If you look at Oracle, which would be sort of the extreme example, they today get more than half their revenue from services as opposed to product sales. Microsoft, we get only a few percent of our sales from services. But we have consultants out there in the field that listens to customers, and gets the feedback to us. But our goal for those consultants is as much as possible to build up our partners' capacity, to build up our customers' capacity, so that they can move on to the next situation.
And so that's the opposite of a service organization where you're really trying to treat it as a business, which is a valid thing to do, it's just that that's not what Microsoft has chosen to do. Part of the reason we chose to go this way is, it allows us to work very, very well with partners like Digital and that has been incredibly successful.
The real test of it is to talk to some of these customers and say, did what Microsoft come up with in terms of services you expect directly meet your needs, and did they have partners to take the broad systems view and fill in what you needed there, and that, we have really risen to that challenge, the partnerships, particularly the Digital one, have been central to that.
MR. ABBOTT: John Abbott, from Computergram.
I wondered if Bob could make it clear to us a bit more about the technology behind the 32-bit and 64-bit processors, as it relates to the technology you have there out in the market at the moment, and are you now looking at the Tandem technologies that Compaq has been looking at in this area, as well?
MR. PALMER: We are not at this moment looking at our competitors' technologies. I think one thing that needs to be really clear is that although we have announced that we have signed, and our boards of directors have enthusiastically and unanimously approved the merger agreement, that until the authorities in the European Commission, the United States and other geographies, and until Digital shareholders have the opportunity to vote on this issue, we remain competitors. And we compete aggressively, assiduously, in the marketplace and will continue to do so.
On the other hand, we expect that the appropriate regulatory process will run relatively smoothly. It's obviously a good thing for the industry. And we expect that we will see that close in the second quarter. At that time, I think it's very clear that some of the technologies that are resident today in Compaq, resident today in Tandem, resident today in Digital could be better combined to create new systems. The systems we're talking about today have been under development for some time. And these systems, as far as the hardware is concerned are not radically different. I mean, we're continuing on our Alpha road map, of innovation.
There will be some new announcements very shortly of even more powerful processors and all of that sort of thing. But, it's more software, it's systems architecture. And, in fact, Digital's primary core competency in my view, at least, has always been architecture. And so it's a new architecture, very dramatically expanding the capability and scalability in these systems.
MR. GATES: And just to clarify something, the scalability announcement about 32 processors, and 64 processors, that's not 32-bit, 64-bit, that's a separate issue. That has to do with the memory model on the individual processors. But, we are announcing that for scalability, Digital will have 32 processor systems by early '99, running Windows NT. And then we'll take that up to 64 and even to more, beyond that. So that -- you can take the performance you get out of all those processors, and multiply it by the power you get out of the individual processors, and whatever improvements are on the software, to get the total increase in system performance.
QUESTION:This is with regard to the additional 1,400 certified engineers. Who is responsible for finding these people, and funding the effort, and training, and if there is such a shortage of certified engineers, where are these people coming from?
MR. PALMER: Well, that's a very good question. We're responsible for identifying, and recruiting, and training those people, or taking experienced systems engineers, with VMS experience, and getting them retrained. And frankly, because it's so exciting, the opportunity and the obvious growth in this phase, it isn't that hard to recruit people and retain them. Our actual turnover of Microsoft certified engineers is lower than the turnover in other categories in the company technical ranks, because it's such an exciting opportunity. People, engineers in particular, want challenging problems to work on. And they want to be appreciated for the work that they're doing. And this provides exactly that kind of environment.
With respect to investment, both companies are clearly investing heavily to bring the maximum competitive advantage to our customers.
MR. Lutrell: Okay. Folks, we promised you we'd be back with a wrap-up. First of all, I should point out that this is all, of course, on top of the Compaq-Digital merger. So let us give you some of the high points from this presentation today. The main message is very clear. Microsoft is endorsing Digital as the first and the only prime integrator for Windows NT enterprise solutions, which obviously gives Digital a major advantage over all of its competitors. Now, there were perhaps two -- well more, but two key product messages. Digital and Microsoft will co-engineer a new generation of high performance servers, that will drive Windows NT performance to unprecedented levels. Also, the commitment to Alpha continues ensuring concurrent, simultaneous release of Windows NT, and BackOffice on Alpha, and Intel platforms.
Now, service messages, one thing you should probably take note of is that as Microsoft's prime integrator, Digital will expand its already very, very rich portfolio of Microsoft-based services, and will double its delivery capacity to 3,000 Microsoft certified systems engineers, and developers. And, of course, Digital right now has more Microsoft certified professionals than all of its competitors combined.
The prime integrator status is Microsoft's recognition and endorsement of Digital's services, worldwide depth, breadth, and capacity. And that is very important, a very major distinction.
Also, if you joined us late, if you joined the telecast or the cybercast late, you'll be able to hear both -- or you'll be able to hear the audio portion of this event, beginning about one hour after the event concludes. And this is going to be available to you for 48 hours thereafter. All you have to do is to call in the United States, 800-633-8284. And I assume that we've got that up there on the screen for you. But, if not, okay, I'll repeat it. It's 800 -- write this down, 800-633-8284. Now, if you're calling from outside the United States, the number is (303) 248-1201. And I'll repeat that. Outside the U.S. it's (303) 248-1201.
Now, you'll need a reference number for those calls. And the reference number for both the calls is 37-65-916. That's 37-65-916. Field engagement resources, you probably want some information on that. You can visit the AEC internal Web site, and that's at -- let me see, I think you've got that there, where is it? The internal Web site is http://dsn.mro.dec.com/alliances/microsoft/. And I would repeat that, but let me get through the rest of this first.
A resource information kit, by the way, is being assembled right now, as we speak, to help Digital and Microsoft account teams win businesses, win new business, I should say, together. So to order that, the title is, The AEC's Field Engagement Kit. And the part number is EE-E8931-21. And you can order that through -- that's, I hope, and I believe it's on the screen right now. So, a lot of numbers there. You can order that through the literature ordering system, LOS. And that will contain all of the collateral materials that were developed for today's event, and also a guideline so you can put together consumer events.
Also, a videotape of today's announcement event, here in San Francisco, will be available shortly. And that order number is P/N -- I had it just a moment ago. Here is it, P/N-V156-CX. And you can get that through the information repository. And I, again, hope and believe that that was on there on the screen for you, right? Okay. If not, let me repeat that, the videotape, which you may be very much interested in, is P/N -- this is the order number, P/N-V156-CX, that's V156-CX. And you can get that through the information repository.
Well, folks, you can see all the excitement. It's beginning to subside, and move into areas outside this room. We just to thank you very, very much for joining us. I'm Buzz Lutrell for the Digital Video Network. And again, happy selling, a wonderful future, bright outlook, you've got to be happy about all this. Take good care. Bye-bye.
(End of presentation.)
*******
http://www.news.com/2100-1001-207579.html
C/NET Enterprise Computing January 28, 1998
"Mike Howard, Digital's vice president for the Microsoft alliance, said the company would offer new systems by next year that take advantage of 32 and 64 of 32 and 64 Alpha microprocessors in one box, with plans to take the high-end systems even further."
"Plans for Digital to port its emulation software to NT so that Alpha-based applications can be used in conjunction with Intel-based systems and for both firms to drive a single interface for future 64-bit implementations of NT. Microsoft also pledged to deliver its development tools on the Alpha platform."
Complete Article:
Microsoft, Digital expand pact
The two firms add new initiatives and disclose a new architecture for Digital to take Windows NT Server into the highest levels of corporate America.
By Ben Heskett
Staff Writer, CNET News.com
Published: January 28, 1998, 12:20 PM PST
SAN FRANCISCO--Executives from software giant Microsoft (MSFT) and systems provider Digital Equipment (DEC) were all smiles at an event to announce an extension to their partnership and why not?
One firm announced a blockbuster merger earlier this week and the other will reap the benefits through the growing use of the Windows NT operating system.
News of the expanded alliance follows what has to be the busiest week in Digital's history, due to the announcement of a $9.6 billion merger with PC giant Compaq Computer and the realignment of the company's server system line.
On the heels of those moves, the two firms repeated the oft-professed benefits of their relationship, which dates back to 1995, and added new initiatives, capped by the disclosure of a new systems architecture being developed by Digital to take Windows NT server into the highest levels of corporate America.
"This is a deep-rooted relationship that is not based on talk, but on action," Robert Palmer, Digital's chairman, said.
As part of the new pact, Microsoft and Digital will double the number of support professionals dedicated to Windows NT-based systems at the systems giant, cooperate on new technologies that build on NT's current capabilities, and focus on several key markets for joint sales.
The new developments underscore the high stakes involved in taking Windows NT into the far reaches of corporate America. Rather than rely on its own innovation, Microsoft has relied on a variety of partners, including Hewlett-Packard, to fulfill the enterprise requirements for NT. Maybe none as much as veteran Digital.
"Digital was willing to bet on Windows NT and Microsoft Exchange when those products were just coming to the marketplace," said Bill Gates, Microsoft's chairman and CEO.
Though details were sketchy, one result of the expanded partnership will be NT's ability to run on large enterprise-class systems in the near future.
Mike Howard, Digital's vice president for the Microsoft alliance, said the company would offer new systems by next year that take advantage of 32 and 64 Alpha microprocessors in one box, with plans to take the high-end systems even further.
These multiprocessor server computers, commonly referred to as SMP (symmetric multiprocessing) systems in the industry, will be based on a "NUMA-ish," or nonuniform memory access, design, according to Howard. The systems will also take advantage of the Very Large Memory (VLM) capabilities in the forthcoming version 5.0 of NT, the first component of a 64-bit drive for the software.
VLM support allows larger chunks of data to be housed in system memory, speeding up the execution of applications.
The NUMA architecture for server systems represents a nascent technology that ties memory systems on various chip boards together. Howard said Digital was working on a variant of the architecture that does not sacrifice performance by tying various memory subsystems together.
"It's clear that computing architectures are about to take a quantum leap," Howard said.
Other elements of the partnership include:
# Collaboration to develop resource sharing capabilities for Microsoft Cluster Server.
# Plans for Digital to port its emulation software to NT so that Alpha-based applications can be used in conjunction with Intel-based systems and for both firms to drive a single interface for future 64-bit implementations of NT. Microsoft also pledged to deliver its development tools on the Alpha platform.
# A focus on three key markets: messaging, where Digital has installed more than two million seats of Microsoft's Exchange; infrastructure, where Digital will provide tools to tie NT to Unix and other systems, and both firms will promote use of the next version of NT and the SQL database; and the Internet, where the two will jointly push adoption of Microsoft's Site Server and Internet Information Server.
# Further use of Digital software, such as Digital Expeditor, Visual Batch, and Alta Vista Process Flow, to add new features to Microsoft Exchange. The new partnership enhancements can only be good news for Microsoft, a company that has essentially decided that Windows NT will become the driver for future growth. Gates said that work on the highly anticipated NT 5.0 upgrade is showing "excellent progress," and Palmer said the next version of the software "is going to astound the critics."
*******
http://www.zdnet.com/pcweek/news/0216/16wintel.html = broken link
ZDNet February 16, 1998
"At the same time, Microsoft continues to cozy up to Digital Equipment Corp. to develop the 64-bit version of Windows NT, which will be tuned for Digital's Alpha processors as well as Merced."
"Microsoft: 64-bit version of Windows NT is due simultaneously with release of Merced chip."
Alternative Article:
http://www.infoworld.com/cgi-bin/displayStory.pl?98127.eh64bit.htm
Microsoft continues drive to 64 bits
By Bob Trott and Ed Scannell
InfoWorld Electric
Posted at 6:38 AM PT, Dec 7, 1998
Microsoft is chugging along in its bid to build a 64-bit version of its upcoming Windows 2000 operating system, hoping that slow and steady will win the race.
The software giant has come under fire for being slow to build a 64-bit OS -- deemed essential for a vendor that wants to storm the enterprise with heavy-duty data-center solutions -- but Microsoft's timing may actually be in line with what customers are looking for.
Many analysts said there is little interest among corporate users for a 64-bit version of Windows NT that runs on Intel-based servers. The obvious reason is that Intel's Merced chip will not ship until mid-2000. But perhaps as important, 64-bit computing is not crucial for most mission-critical applications in the near term, they said.
"It is true that [64-bit technology] is gaining some momentum, but it is among small pockets of users who want it for very large databases for data mining and warehousing," said John Oltsik, a senior analyst at Forrester Research, in Cambridge, Mass.
Windows 2000 will include 64-bit extensions, such as Very Large Memory, or VLM, capabilities. But Microsoft is trailing in the race to build a full 64-bit OS, as other OSes -- Digital Unix; SGI's Irix; IBM's AIX, OS/400, and OS/390; HP-UX; and Sun Solaris -- are already there.
According to one source, Microsoft is engineering its future version of Windows 2000, dubbed Win64, to be processor-bit independent so that over time it can be easily moved to next-generation processors, such as 128-bit or 256-bit.
"That would indicate a single source code that can be optimized for either [32-bit or 64-bit processors]," said Dwight Davis, a Kirkland, Wash.-based analyst at Summit Strategies.
Because Merced is not expected until mid-2000, Microsoft has time to worry about matters at hand, such as delivering Windows 2000, (formerly known as Windows NT 5.0), in 1999. Still, the company is setting goals.
"We will have 64-bit NT no later than the general availability of [Intel's] IA-64 architecture," said Ed Muth, group product manager for enterprise marketing at Microsoft. Muth added that this 64-bit functionality will likely be a point upgrade to Windows 2000, due in 1999.
However, because both Unix and NT will run on Merced, Microsoft will face new competition for operating system market share on low-cost Intel boxes.
"With Merced coming, it will be Unix and NT [competing] on the same box," said Mary Hubley, an analyst at the Gartner Group, in Delran, N.J. "If you want 64-bit systems, you're going to buy Unix [because that is what is shipping]."
But that competitive point may be moot for now, Hubley added, because "people aren't dying for [64-bit] by the time Merced ships."
In September, Microsoft obtained from Intel an updated emulator, which is software that simulates 64-bit instruction sets, for the IA-64 environment.
"We are working to make it available to everybody," said an Intel official, in Santa Clara, Calif.
Microsoft Corp., in Redmond, Wash., is at www.microsoft.com.
Bob Trott, based in Seattle, is a senior editor at InfoWorld. Ed Scannell is an InfoWorld editor at large.
*******
http://www.byte.com/art/9802/sec16/art2.htm
Byte Articles February 1998
"In addition, the 64-bit version of Windows NT5.0, running on an Alpha as a 64-bit architecture, will give the Alpha a huge time-to-market edge over the Merced."
Complete Article:
Alpha's Future
February 1998 / International Bits / Alpha's Future
What the Intel deal means.
by Nebojsa Novakovic
Digital Equipment's Alpha architecture has been the CPU performance leader for almost the entire time since its arrival in 1992, and it's the only non-x86 NT architecture. Yet it accounts for a relatively small share of the workstation and server markets. Will the recent Digital-Intel settlement change anything ?
In this settlement, Intel licensed the right to use Alpha technology (which remains under Digital ownership) and its related patents. The company also purchased the Digital Semiconductor manufacturing and sales operation. This settled the existing patent-infringement issue between Digital and Intel.
The deal generated both pessimistic and optimistic comments. Pessimists warned that it's the end of the Alpha, as Digital will now support the IA-64. Optimists believe that Digital will now have more resources to accelerate Alpha designs for multiple foundries. "This agreement meets both companies' needs," says Craig Barrett, president and chief operating officer at Intel.
According to Syed Ali, executive director of Alpha marketing at Samsung Semiconductor, "Samsung is now poised to take the lead in Alpha manufacturing, on both the price and the performance fronts." He adds that Samsung is not alone in its long-term Alpha support, noting that "Mitsubishi will also offer current and future Alpha PC processors, and AMD will use the ultrafast 21264 Alpha bus for its K7." That could make possible future chip sets and mainboards that support both the K7 and the 21264 Alpha families, according to Ali.
However, if the Alpha is to survive the Merced attack and take a significant market share away from Intel, the CPU needs to not only be priced affordably but also widen its performance delta against future Intel products. Ali expects his company's Alpha chips to reach the 1-GHz level by the end of this year, providing performance of well over 60 SPECint95 and 90 SPECfp95. Looking at Intel's rough Merced performance road map, the 1-GHz 21264 should be faster than the initial Merced, which will appear a year or so later.
Aaron Bauch, Alpha technical marketing manager at Digital Semiconductor, says that the Intel deal enables Digital and other Alpha partners to accelerate the performance road map because they will be able to make use of new CMOS processes faster. For instance, the jump to the 0.18-micron process, which was originally slated for late 2000 or early 2001, is now due to take place in late 1999. This will enable both higher operating frequencies and better features sets.
Jesse Lipcon of Digital stated in his keynote speech at DECUS Anaheim 1997 that the schedule for 0.18-micron Alpha microprocessors has been accelerated by roughly a year (to late 1999, accor ding to other sources). He said that this change in scheduling is a result of the recent Digital-Intel agreement.
Besides maximizing the performance of the EVxx Alpha family and enabling it to offer twice the performance of Intel chips at a similar price, Samsung is also tuning several new-generation chip sets for specific PC, workstation, or server use. According to Ali, Samsung is also using its expertise with fine processes for next-generation memories to accelerate the Alpha's move to smaller processes and greater speeds. In addition, the 64-bit version of Windows NT5.0, running on an Alpha as a 64-bit architecture, will give the Alpha a huge time-to-market edge over the Merced.
With foundries and partners gradually embarking on designing their own CPU derivatives, chip sets, and other support, the Alpha processor is now less dependent on Digital for both its technical and marketing development. Whether all this will make the Alpha a serious alternative to the IA-32 and IA-64 remains to be see n: The ball is now in the Alpha-powered alliance court.
Chart ommited: New-Generation x86 and Alpha Processors
*******
http://www.zdnet.com/sr/breaking/980323/980327b.html = broken link (no reference)
ZDNet March 27, 1998
"Microsoft already has done a lot of the "heavy lifting" in terms of making NT a 64-bit operating operating system, said group product manager Ed Muth, "We've made all the [NT 5.0] system services, APIs (application programming interfaces) and pointers 64-bit already," Muth said. "Ninety-nine percent of the NT 5.0 source code base will be the same for 64-bit NT. Only a few things, like the memory-management module, will be different."
"The company has said it is developing a 64-bit NT implementation that will be based on the Win64 API set. It is promising to deliver 64-bit NT by the end of 1999, the same time that Intel Corp. ships Merced, and less than a year after it is expected to ship the final 32-bit NT 5.0 release."
*******
http://www.zdnet.com/wsources/content/0598/fob_nt_explorer.html = broken link
ZDNet Windows SOurces April 1998
"The first time I spoke with Microsoft seriously about 64-bit NT--at the NT 4 Professional Developer's Conference in 1996--the core developers were quick to point out that they'd be adding support for 64-bit memory access in the next version of Windows NT (via the VLM support in NT 5)."
http://www.zdnet.com/wsources/content/0498/fob_outlook.html = broken link
ZDNet April 1998
"Bill Gates says a Merced version of NT is "far along" and company documents say NT will be available on Merced "as soon as it ships.""
*******
http://www5.zdnet.com/anchordesk/story/story_2020.html = broken link
ZDNet April 27, 1998
"Even if NT 5.0 were released tomorrow, it would still be 18 months late. But it won't show up tomorrow. It won't show up in 1998, Microsoft's coy statements to the contrary. It may not even show up in 1999. Microsoft knows this. But refuses to come clean because it doesn't want you experimenting with competing products. Such as commercial versions of Unix. Click for full story. Or the freeware Unix variant Linux. Click for full story."
"Adding 64-bit support. Intel's 64-bit Merced processor is supposed to ship in 1999. As Windows Source's David Chernicoff points out, "if Microsoft doesn't have an OS for Merced the moment it ships, the Unix folks will have a field day." As a result, the company is delaying NT 5.0 to build in better 64-bit support. Click for full story."
"So when will NT 5.0 really show up? All signs point to 1999 at the earliest. Or even 2000 if things don't go well in the three areas outlined above. And that's the truth. The truth Microsoft didn't want you to know."
*******
http://www.ntsystems.com/205e.htm = broken link (no reference)
May 1998 Editorial
"But it may be premature to write off the Alpha. Microsoft recently reiterated its commitment to the Alpha platform in an elaborate press conference touting its "Alliance for Enterprise Computing" with Digital. But more importantly, the Alpha is likely to be the first processor to support a 64-bit version of Windows NT. As Microsoft's Jim Gray told me, "Sixty-four-bit implementations take a long time to mature. NT 5.0 is already being debugged on the Alpha, which gives it a big head start over Merced."
*******
http://www.computerworld.com/home/print.nsf/all/9808106186 = broken link (no reference)
ComputerWorld August 10, 1998
"Although users have been expecting NT 5.0 for more than a year, no official release date has been set. It is generally expected anywhere from mid-1999 to sometime in 2000. Microsoft plans an intermediate NT release the year after NT 5.0 is shipped, and the 64-bit version is slated to ship the year after that, Muth said.
"Anyone with a DEC Alpha knows the ending to this story; gone, but not forgotten" and the funny thing is, on or about this time Samsung produced a 700+ MHz processor for DEC at about 1/3 of the cost. DEC could have led the market with 64 bit architecture, and (imo) Intel would, today, have been, maybe, number two, but (imo) 'the 'boyz' in the back room' scuttled this possibility!
(fwiw) I have hard copy of all missing articles in storage.
It is also interesting to note that DEC touted the $13k XL-300 would run 64 bit NT.
Did I mention Intel recently bought the Alpha processor, sans the 800MHz Samsung Alpha?
---
As it turned out, DEC sent a bunch of folks to Redmond and (imo) an incredible 64-bit NT was built; however, the only people who saw this were the folks who participated with Microsoft development, and I did get a copy of "beta 3". (fwiw) I ran this 64-bit NT-5 for ten (10) years and only saw 3 BSODs (Blue Screen of Death), which were due to an overloaded disk.
Anybody who bought one of these expensive Dec Alpha computers, with hopes of running a native 64-bit NT OS, got screwed, and after this happened, I swore I would never buy another Intel based machine.
I moved to a SGI 64-bit INDIGO 2 - IMPACT 10000, and eventually to an Apple Mac G4 with dual 500 MHz processors. All of my machines are currently broken or barely running and I need an upgrade.
Since I have invested 'big' into Mac software, and am a fan, I feel obliged to buy a newer Mac, which (imo) unfortunately has Intel processors, and why I am going back on my word.
---
200801.15
10:44 am Stay tuned to MacRumors for continuing Macworld coverage
10:44 am Randy is done and Steve has wrapped it up. That's all folks. Thanks to Arn and Longofest for on-site keynote coverage and Knox and JSW for back-end support. Also a special thanks to MacHeist for fully supporting MacRumorsLive coverage.
10:41 am Apple's site has been updated with details on today's announcements.
10:31 am Randy Newman, Academy Award Winner to perform
10:29 am In just the first 2 weeks of 2008, we have updated the Mac Pro, introduced Time Capsule, software updates for iPhone and iPod Touch, Movie Rentals for iTunes, Apple TV software updates, and MacBook Air
10:28 am Environmental highlights: fully aluminum case (good for recycling), first fully mercury and lead free display, circuit boards are BFR free, retail packaging are 56% less volume than MacBook.
10:26 am New Ad for MacBook Air. Plays off of the ability to fit in an envelope.
10:25 am Pre-orders today, shipping in two weeks
10:24 am $1799
10:24 am 2 GB Memory standard
10:23 am 5 hours of Battery Life
10:23 am No optical drive, but a Superdrive accessory is available for $99. Also, software comes with the MacBook Air that allows you to "borrow" a Mac or PCs optical drive.
10:21 am 802.11n + Bluetooth 2.1/EDR
10:20 am Other features: 45 Watt MagSafe, 1 USB 2.0 port, Micro-DVI, Audio Out
10:19 am Steve retaking stage
10:19 am Otellini: The processor is as thick as a nickel and as wide as a dime.
10:18 am Apple asked Intel to shrink the Core 2 Duo. Intel shrunk the processor by 60%. Paul Otellini, CEO of Intel is taking the stage
10:17 am 1.6 GHz Standard, 1.8 GHz Option -- Intel Core 2 Duo
10:16 am 80 GB hard disk standard, 64 GB SSD as an option. "they're pricy, but they're fast"
10:15 am 1.8" Hard Drive
10:15 am How did we fit a Mac in here?
10:15 am Move a window by double-tap and move. Rotate a photo by pivoting your index finger around your thumb. Of course, pinch-zoom.
10:14 am Multi-touch trackpad
10:13 am display is LED backlit. iSight is built-in. MacBook-like keyboard, but with an ambient light sensor
10:12 am Magnetic latch, 13.3" widescreen display
10:12 am MacBook Air is 0.16" to 0.76". The thickest part of the MacBook Air is thinner than the thinnest part of the Sony. It fits inside a envelope
10:10 am We thought 3 lbs is a good target weight, but there was too much compromise with the other features
10:10 am Most people think of Sony TZ series when they think of thin notebooks. Competition specs: 3 lbs, .8-1.2 inches, 11 or 12" display, miniature keyboard, and slower processor.
10:08 am "The World's Thinnest Notebook"
10:08 am As you know, Apple makes the best notebooks in the industry. Today, we are introducing a third kind of notebook. It's called the MacBook Air
10:08 am 4th thing: There's something in the air
10:07 am Steve has re-taken the stage
10:07 am Gianopulos: Of course, DVDs will still be with us for a while. Digital Copies will be on disks going forward. The first iteration is the Family Guy: Blue Harvest DVD, which contains an iTunes compatible digital copy
10:05 am Gianopulos: Video rentals aren't a new thing, but Apple is doing it in an intuitive, insightful, etc way. This will be a transformative version of the rental model.
10:03 am Gianopulos: Fox wanted to make great movies, and get it into as many people's hands as possible. Consumers wanted the same thing
10:02 am 20th Century Fox was the first studio to sign up for movie rentals. Jim Gianopulos, Chairman and CEO of Fox is taking the stage
10:01 am New software will be out in 2 weeks
10:01 am Apple TV price drop. Entry price drops from $299 to $229
10:00 am The new Apple TV is a free software update.
10:00 am Demo over, reviewing features.
9:59 am Music can be bought from within Apple TV
9:57 am Photo screensavers can be retrieved from .Mac web galleries
9:51 am Steve demoed starting a movie just after having rented it. Note he has an extremely fast connection. The movie was downloading at 1% per second.
9:48 am Can preview movies from the interface, and see what other users who have rented that movie have rented
9:46 am Demo
9:46 am HD rentals are $4.99. 100 titles today
9:46 am Synching with iTunes.
9:45 am Photos from Flickr & .Mac
9:44 am Podcasts = audio and video
9:44 am Apple TV Take 2. No computer required. Rent movies on Apple TV. DVD quality AND HD + Dolby 5.1
9:44 am What about the flat screen TV? "we have all tried to get movies on a flat screen TV, and we all missed."
9:42 am iTunes Movie Rentals launches today in the U.S. International will launch later this year. Software updates for iPods and iTunes will be forthcoming
9:41 am Library titles: $2.99, New Releases: $3.99
9:40 am Rules: 30 days to start watching. 24 hours to finish
9:40 am Watch instantly (30 seconds with modern broadband)
9:40 am Watch anywhere (Macs, PCs, all current iPods and iPhone
9:39 am Over 1000 movies (available 30 days after DVD release)
9:38 am Every major studio is on board
9:38 am Touchstone, Miramax, MGM, Lionsgate, Newline, FOx, WB, Disney, Paramount, Universal, Sony all on board
9:37 am iTunes Movie Rentals
9:36 am 125 million TV shows sold. 7 million movies. Both are way above competitors, but did not meet expectations
9:36 am 20 million songs sold in one day on Christmas day. New one-day record
9:36 am 4 billion songs sold as of last week
9:35 am 3rd thing: iTunes
9:35 am $20 upgrade for existing users
9:35 am Maps
9:34 am Mail, Stocks, Notes, and Weather
9:34 am For iPod Touch: 5 new apps
9:34 am Demo is done. The software update will be available today as a free update to all existing iPhone users
9:33 am iPhone has added chapter options and language capability in iPod mode
9:31 am Webclips (website bookmarks on your home screen) will remember where you zoomed/panned to. You can create up to 9 of them.
9:27 am Note: the features appear largely consistent with what was previously leaked
9:26 am Demoing now
9:26 am Lyrics
9:26 am Maps with location, Webclips, Customize home screen, SMS multiple people
9:24 am We want to give folks something for today. New software.
9:23 am people are excited about the SDK that we will release in February
9:23 am First quarter shipping, iPhone has got 19.5% of U.S. SmartPhone market (2nd behind RIM)
9:21 am 20,000 iPhones per day average
9:21 am 200th day since iPhone went on sale. 4 million sales
9:21 am 2nd thing: iPhone
9:20 am Now showing recent Mac/PC ad for Time Machine
9:20 am 2 versions: 500 GB version - $299, 1 TB $499
9:19 am Full Airport Extreme base station with "server grade" hard drive internal.
9:19 am Leopard feature: Time Machine. For notebooks, it doesn't work so well because you have to constantly plug/unplug a hard drive. New product: Time Capsul
9:18 am Leopard has also seen some great support from developers. Office 2008 is now shipping. The last intel native app to ship.
9:17 am Running down some praises of Leopard from Mossberg, Pogue, USA Today, etc.
9:16 am 20% of Mac OS X install base has upgraded to Leopard
9:16 am 1st thing: Leopard. 5 million copies delivered in first 3 months. This is the most successful release of Mac OS 10 ever
9:15 am 4 things to talk to us about today
9:15 am Thank you to our customers for making it all happen.
9:15 am Looking back to 2007. 2007 was an extraordinary year for Apple. New iMac. New iPods. iPhone. Leopard, and other software.
9:14 am Welcome to Macworld 2008. There is clearly something in the air today
9:14 am Steve is taking the stage. Big applause
9:14 am New Get a Mac commercial: Happy New Year. PC has had a bad year, but looking forward to this year.
9:13 am Lights are dimming. No Steve quite yet
9:11 am Current music: Feist 1234
9:01 am People are being seated. The room can seat up to 4000 people.
Source: http://macrumorslive.com - 200801.15
---