ALERTS
[new information at bottom]
---
Harley-Davidson won't expand
Milwaukee plants, will build out-of-state
The Business Journal of Milwaukee - 2:07 PM CDT Monday
by Rich Rovito

Harley-Davidson Inc. announced Monday that it will build an additional motorcycle powertrain manufacturing and assembly plant outside of Wisconsin after the union representing hourly workers at the company's Milwaukee-area plants rejected contract concessions.

A new plant is needed to accommodate the expanded production of Milwaukee-based Harley-Davidson's Big Twin motorcycle engines and transmissions, company management said.

The announcement follows a vote Monday by members of Harley-Davidson's largest union, United Steelworkers Local 2-209, not to accept a plan that would have been favorable to expanding production capacity in Milwaukee.

Leaders of the union, which represents about 1,500 employees at Harley's plants in Wauwatosa and Menomonee Falls, had recommended that rank-and-file workers agree to concessions that would have cut pension benefits for existing employees, lowered wages for new hires and resulted in increased health care premiums.

In return, Harley management had vowed to invest $120 million to expand the company's Milwaukee-area factories.

Harley management had advised its international and local unions of the need to add capacity and to do so in a way that would significantly reduce future costs and improve flexibility.

"We're disappointed with the vote, but we need to address capacity, cost and flexibility in tandem," said Rod Copes, vice president and general manager of Harley-Davidson's powertrain operations in Menomonee Falls.

"Harley-Davidson is very successful today and all of us want to keep it that way," Copes said. "That means being good stewards and actively managing costs across the entire organization that could be detrimental to our business over the long term if we don't start to control them now."

Over the past 10 years, Harley-Davidson's shipments of motorcycles containing the Big Twin engines have nearly tripled. Harley invested $175 million in engine production upgrades at Milwaukee-area plants between 2004 and 2006.

Harley introduced the newest generation of Big Twin engine, the Twin Cam 96, in July to what company management has deemed "enthusiastic consumer and dealer response."

Company management said it will meet with representatives from the unions representing Harley-Davidson workers to "find the best possible U.S. location" for a new engine and transmission plant.

The company said the jobs of existing Milwaukee-area production workers are not at risk as a result of the decision to build a new plant elsewhere in the United States.

The company currently has powertrain manufacturing operations in Wauwatosa, Menomonee Falls and Kansas City, Mo., final assembly operations in York, Pa., and Kansas City, and components manufacturing in Tomahawk.

Jim Wheiland, president of Local 2-209, could not be reached for comment.

http://www.bizjournals.com/milwaukee/stories/2006/10/16/daily9.html
---
Willie G. Davidson to Keynote Annual Motorcycle Hall
of Fame Museum Breakfast at Daytona Bike Week
Press release courtesy of the Motorcycle Hall of Fame Museum

Image Source: http://www.motorcyclemuseum.org/events/breakfast/07/WillieG.jpg
Harley-Davidson styling guru and Motorcycle Hall of Fame member William G. Davidson, better known to millions of enthusiasts as Willie G., will share his vision of Harley-Davidson's iconic design heritage at the 19th Annual Motorcycle Hall of Fame Museum Fundraising Breakfast during Daytona Bike Week.

The event takes place Friday, March 9, in Daytona Beach, Florida. Each year, funds raised at the Breakfast play an important role in supporting the non-profit Motorcycle Hall of Fame Museum's mission of education and preservation, including world-class exhibits and America's only Hall of Fame dedicated to motorcycling.

Inducted into the Motorcycle Hall of Fame in 1999, Davidson helped usher in The Motor Company's most successful era. He joined Harley-Davidson's design department in 1963 after a stint at Ford Motor Company and quickly scored a major success with the design and debut of the Harley-Davidson FX Super Glide. A response to the rising popularity of choppers, cruisers, and customs, the original FX laid the groundwork for some of Harley-Davidson's best-selling machines.

Today, Davidson is the senior vice president and chief styling officer for Harley-Davidson, and continues to guide the company's team of innovative designers.

In addition to fueling Harley-Davidson's distinctive style for over four decades, Davidson was one of 13 employees to buy the company back from AMF and guide it to financial health during the 1980s.

A passionate rider, Davidson continues to be an immensely popular participant in motorcycle rallies and events around the country. He is one of the most widely recognized and admired enthusiasts in the world.

Following the breakfast, Davidson will host an autograph session.© 2006, Motorcycle Hall of Fame Museum
---
SICKLES FILM FESTIVAL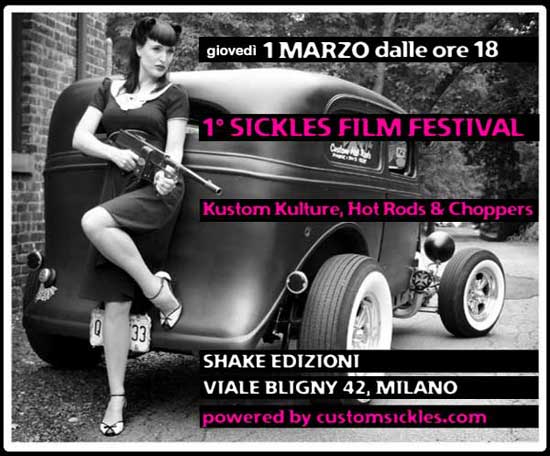 Thursday 1 March 2007
Viale Bligny 42, Milano
Custom Sickles
www.customsickles.com
Shake Editions
www.shake.it
MAD FABRICATORS SOCIETY film trailer:
http://www.madfabricators.com/samples.htm
CHOPPERTOWN - THE SINNERS film trailer:
http://www.choppertown.net/choppertown_teaser.htm
Google Translate
translate.google.com
---
Firefox Harley Theme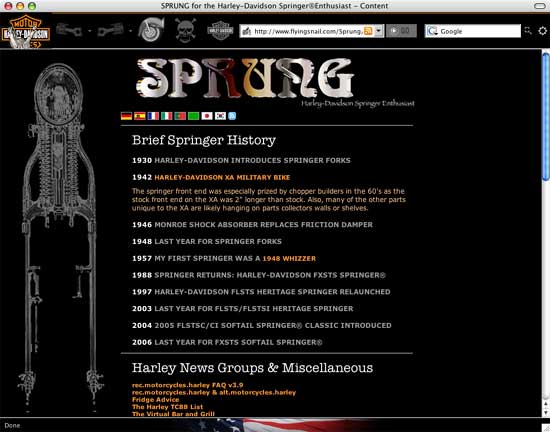 https://addons.mozilla.org/firefox/4511/
---
Gas-o-Haul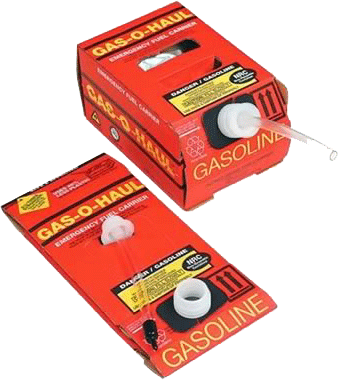 Emergency Gas Containers
GAS-O-HAUL stores under your seat, in your trunk, even in your center console... FLAT! In an emergency it transforms into a 1 gallon gas container complete with pouring nozzle. Meets all federal requirements in all states. Made in USA. Measures 14"x61/2"x2" (collapsed)
http://www.genuinehotrod.com/Products.asp?DepID=46&SecID=307&PLID=869
---
The Boy Who Cried Freebird
by Mitch Myers
HOFMAG.com Exclusive
Chicago, Illinois
Editor's Note
Mitch Myers is a writer, journalist, and storyteller whose work has been featured in publications such as Rolling Stone and The Village Voice and on NPR's All Things Considered. He also maintains the Shel Silverstein Archive in Chicago and divides him time between Chicago and Manhattan. His just-released The Boy Who Cried Freebird (Harper-Collins) is a collection of essays about popular music and American culture. His story Back to the Fillmore follows the adventures of a teenage Grateful Dead fan from 2069 who time-travels back to 1969 to see his heroes play in San Francisco.
back to the fillmore
The year is 2069 and Adam Coil V is celebrating his eighteenth birthday alone in his room with his computers. Adam's mother had just put one hundred and fifty bancredits into a digital dollarfund and given him his very own access code to the account.
Within fifteen minutes, Adam had transferred the entire sum over to Grateful Dead Enterprises (a wholly owned subsidiary of the one and only Record Company). He then opened his personalized Dead file and examined his new purchases, which were the three latest Grateful Dead live collections, (Dick's Picks) Volumes 1498, 1499, and 1500.
Adam browsed through the still images, video clips, and historical text that accompanied the postdigital sound files. Then he downloaded the information into his custom database that cross-referenced each Dead recording by date, personnel, song selection, venue, set list, and many other categories. While Adam was thrilled to bring his archive up- to-date and hear the latest Dick's Picks, he was already thinking about the next five hundred Dead recordings scheduled for release.
At the same time, he was restless and bored. Despite all of the data that streamed into his computer, the days held little mystery for Adam.
He rarely went outdoors since the earth's atmosphere made it impossible to breathe easily. Besides the terrible environment that kept him inside, his legs were weak from lack of exercise, and the recreational drugs provided by the WG (World Government) made him sleepy. Lately, he'd been more lethargic than usual, and he couldn't shake the sense of dull apprehension.
The Grateful Dead were Adam's main escape from a dreary reality. He came from a long line of Deadheads, and while his father's own interest in the family's Dead collection had waned when Adam was just a child, Adam Coil IV still made sure to pass down the library of hard- to- find Dead relics to his only son.
The inherited memorabilia from the twentieth century included live Dead recordings preserved on Maxell XLIIS hi-bias cassette tapes, vinyl LPs, vintage compact discs, ticket stubs, backstage laminates, and original poster art from the Fillmore West. Of course, these items were merely the foundation for Adam's current collection. He'd been immersing himself in Dead culture since he was eight and devoted every bancredit that came his way toward his passion.
His interest in the Dead began during a childhood trip with his anthropologist grandfather, Adam Coil III, to the Terrapin Museum and Grateful Dead Memorial Library. Since then Adam had taken to collecting books made of actual paper, old-time videos, and every Dead-related recording he could find. He'd amassed thousands of essays written about the band, including rare interviews and forgotten concert reviews. Adam took after his grandfather and considered himself an authority on all things Dead.
Adam's parents were gone for the season, so he had invited some friends over to watch holographic concert films of the Dead on his quantum-entertainment console. He rarely saw his peers in person; it was easier to see them on the home videophone or enjoy qua-encounters on the computer. He was actually startled when the doorbell rang that afternoon. It was still too early for visitors.
It was a delivery service, and when the autobot informed him of a priority letter for Mr. Adam Coil V, he enthusiastically accepted the package. He became even more excited when he saw that the parcel was from his grandfather.
He tore open the envelope and found a handwritten letter attached to a large folder of official- looking documents. "Dear Adam," the note read. "Here is your birthday present. Use it wisely and be sure to tell your old granddad all about your trip upon your return." "Trip?" Adam thought. "What kind of trip? Gramps knows that I hardly ever leave the house." It was true; Adam had no desire to travel and like most kids his age, he did his globetrotting through the Virtual Reality Voyage Vender. It was quicker, safer, and much less strenuous.
Adam examined the contents of the folder. There he read the words: "This voucher entitles Adam Coil V (only) to one round- trip ticket anywhere in the past two hundred years. Some restrictions may apply. See pages 2 through 12 for details and international guidelines. Please bring three separate items of identification and a signed copy of the consent contract (page 13) to your local time- travel representative after reading the regulations and choosing your exact destination and itinerary. "
A journey through the past! Adam wasn't sure how his grandfather had managed to pull the strings for such a high- level excursion, but when he checked with the Bureau of Time and Space Travel, they confirmed his eligibility.
"Just make sure to read the entire contract before you plan your trip," the department chief told him. "It's not complicated, but there are some very important rules when it comes to time travel. Basically, you can't tell anyone you meet anything about the future, you can't have sex with anyone from the past, you can't do any drugs, and you absolutely must return to the present exactly twelve hours after your departure from our time zone. You know, the standard time-travel restrictions."
It hadn't been difficult for Adam to choose a destination for his fantastic voyage. When he first saw the travel voucher, the thought came to him that he could go see the Grateful Dead perform at the Fillmore West on February 28, 1969. That was supposed to be a magical gig. Even the classic twentieth-century album Live/Dead contained performances from that psychedelic evening.
Adam couldn't say what drew him to that particular Friday, but there was something about the date that called out to him. He knew that the Fillmore West (formerly the Carousel Ballroom) began its operations under Bill Graham in the summer of 1968, and that the original Fillmore had closed in the aftermath of Martin Luther King's assassination. Adam barely recalled who Martin Luther King was, but he knew a lot about the Fillmore.
The prospect of catching the Dead on the second of four nights at the Fillmore was just too good to pass up. He would be seeing Jerry Garcia at his early peak and keyboardist Ron "Pigpen" McKernan in his boozy prime. According to Adam's archives, Mickey Hart's role as the band's second drummer was already established, and on February 28 the Dead had jammed their way through a cosmic second set including immortal renditions of "Dark Star," "Saint Stephen," and "The Eleven."
There was no doubt about it; Adam was going to see the Dead in San Francisco!
It took him a week to finalize his travel plans. Of course, his parents were upset about Adam going back in time all by himself. They resisted the idea until he wore them down with a combination of pleading, golden promises, and black oaths.
"Fine, go ahead and time travel if that's what you really want to do," his father said wearily on the videophone. "But I'm going to speak to your grandfather about this. Next time he'd better clear things with us before putting crazy ideas into your head. You never know what kind of people you're going to meet back there in the past. I only hope that you'll be extra careful and not talk to any strangers. It was an uncertain world back then. "
When Adam arrived at the Time Travel Agency, he was ushered into a white room with two men sitting at a long table. He was intimidated by the formality of the screening process and wondered if the men were dressed in identical suits because they were required to or because it was the current style.
"Do you understand the international rules and regulations of time travel as they have been presented to you?" one man asked. "Yes sir," Adam answered. "Do you agree to comply with the aforementioned rules?" asked the other man. "Yes sir," Adam replied again. "Good," said the first man. "Now remember that you'll have to stand in the exact same spot where you materialized when it's time for your return." "I will, sir, " answered Adam.
Then the second man leaned forward and said sternly, "You can't be at all late when the time comes to return home. Otherwise, you'll be stuck in the past and we would have a hard time ever finding you again. The consequences of reckless time travel are quite serious, young man. Your grandfather is highly respected here at the Bureau, and he personally vouched for your qualifications. If it weren't for him, you'd be on an eternal waiting list, like everyone else from the consumer sector. "
After several more reminders, they asked Adam if he was ready for his maiden voyage. "I guess so," he said nervously. Adam had dressed for the occasion in a leather jacket with fringe hanging from the shoulders and a skull and roses embroidered on the back. He'd taken it from a box in his father's closet. "I was going to auction it off and put the bancredits toward your educational dollarfund," his father told him, "but we can always sell the jacket when you get back. "
Adam's father seemed sad when they exchanged good- byes on the videophone. "Don't worry, Dad," Adam had said reassuringly. "The whole trip will only take an hour or two on this end. You won't even have time to miss me. I'll call as soon as I get home, I promise." Still, Adam felt anxious as he walked toward the room with a fioating sign that read, "Time Travel Division: Departure Department." Before a team of technicians began their final countdown for Adam's timelaunch, one of the men made him empty his pockets and took away his electronic wallet with all of his identification. Then he handed Adam an envelope and said, "Your grandfather asked us to give this to you. It's the only thing you're allowed to take with you that you don't have to bring back. "
Opening the envelope Adam found a twenty-dollar bill from 1964 and a note that read, "Don't spend it all in one place! Have fun, Granddad."
The time technicians explained that they'd be transporting Adam directly inside the Fillmore, so he wouldn't have to worry about buying a ticket to the concert. "You'll be arriving at the venue a few hours early, so just try to blend in until the show starts. And please, remember the exact spot where you arrive because you have to be in that same location when it's time to come home. "
Finally, the head technician clamped a titanium timepiece on Adam's right wrist and said, "You have exactly twelve hours. Enjoy your trip."
The time transport itself was not unpleasant, but the brief period of disembodiment left him senseless when he arrived in 1969. At first, Adam stumbled around and couldn't see or hear a thing. Gradually, he began to acclimate to his surroundings and sensed a bright light above him. He concluded that he wasn't in the Fillmore, but outdoors. He also sensed that someone else was standing quite nearby.
As his eyes and ears slowly adjusted, Adam realized that someone was yelling at him. It was an intense, dark- haired man and he was screaming in Adam's face. "What in the hell is wrong with you, kid? Are you too stoned to understand English? I told you that you couldn't stand here; now get in line like everybody else! "
Looking around bewilderedly, Adam saw that he was just outside of the Fillmore and a number of young people were standing in a line alongside the building. Several bystanders laughed as he tried to take a step and fell right into the arms of the screaming man.
"Jesus Christ!" the man screamed. "What is your problem?" Adam tried to speak but his mouth refused to form any words. Then, the smells from Earth's rich atmosphere and the dog crap under his feet made Adam sick to his stomach. He puked violently and the screaming man got more irate.
Adam was starting to fear for his safety when a tough- looking guy dressed in motorcycle garb stalked up to his raging antagonist. "Hey, Graham," the biker shouted. "Why don't you pick on somebody else? Don't you have anything better to do than harass your own clientele? "
The screaming man whirled around and said, "What the hell do you want, Barger--are you turning into some kind of humanitarian? Why don't you just go ride your damn Harley, man, and let me run my own business? "
Meanwhile, Adam had pulled himself together and was trying to figure out what was happening. Then it hit him: The two men arguing were none other than Fillmore impresario Bill Graham and the infamous leader of the Hell's Angels, Sonny Barger. "Wow," thought Adam. "I made it. I'm actually here! "
Sonny Barger and Bill Graham were nose to nose. Both men were swearing and arguing until Graham finally said, "Okay, Sonny, you win. Just get this kid the hell away from me before I bury my foot up his ass. I've got a million hassles to deal with tonight and you aren't one of them. "
"Screw you, Bill," Barger shot back. Then Sonny grabbed Adam by the scruff of his neck and dragged him away from the Fillmore. Down the street, several men were waiting on their motorcycles. Adam tried to squirm out of Barger's iron grip. "Hey," he pleaded. "Let me go. I've come a real long way to see the Dead and I've got to hang around for tonight's show. "
Sonny threw Adam against a car and held him down by his throat. "Listen, punk," he growled. "I saw you appear out of nowhere. One minute the sidewalk was empty and then you just materialized out of thin air. I don't know where you came from or how in the hell you got here, but I'm not letting you out of my goddamn sight until you tell me what's going on. Understand? "
Adam was frightened and puked again, barely avoiding Barger's boots. He tried telling Sonny that he was just another kid who'd come to San Francisco to be with the hippies. The Hell's Angels surrounded Adam as Sonny shook his head, "No, you're coming with us. I've got some important meetings tonight and we've got to get going right now. "
"But I've got to see the Grateful Dead," Adam wailed. Sonny slapped Adam on the back of the head and said, "Quit crying or I'll give you something to cry about. Besides, the Dead won't be on for hours. Just tell me how you got here and I'll bring you back to the Fillmore. I know Garcia and I know Rock Scully. Hell, I've done business with both of them. And, motherfucker, you will tell me what I want to know, one way or another. "
The Angels laughed and gunned their engines as Sonny threw Adam on the back of his motorcycle. "You better hang on, kid," Barger said. Howling maniacally, Sonny and the Hell's Angels roared off in the direction of the Bay Bridge.
Their first stop was a seedy bar in Oakland and the place was loaded with intoxicated bikers. Adam was dizzy from the first motorcycle ride of his life--as well as the residual effects of his journey through the space-time continuum. He'd kept leaning the wrong way during the motorcycle ride, and Barger had threatened to push Adam off his Harley. He was both frightened and exhilarated by the experience.
Terry the Tramp, one of the Angels who'd been with Barger near the Fillmore, said to Adam, "Hey, kid, you got any cash? We need some beer."
"All I have is this paper money my grandfather gave me," Adam replied. "I'm not supposed to spend it all in one place. "
"Well, this is an emergency," said the Tramp as he grabbed the twenty and strode toward the bar. Adam was now broke, kidnapped, and far from the Fillmore. He looked at the front door of the bar, but before he could take a step he felt a heavy hand on his shoulder.
"Don't even think about it," a deep voice said. Adam turned around and stared up at the biggest man he'd ever seen.
Hell's Angel Armand Bletcher was six foot eight inches and weighed around three hundred fifty pounds. He was wearing a sleeveless jean jacket, sunglasses, and a scowl. His massive arms were tattooed and he smelled as strong as he looked.
Armand drained a glass of beer and said, "Sonny says for you to stay right here while he does his business." Adam looked around and saw two dozen Hell's Angels, some members of the Nomads, and a smattering of rough- looking women. They were all drinking, yelling, and laughing like crazy.
Suddenly, a fight broke out. Mouldy Marvin must have said something offensive to Doug the Thug because they'd knocked over a table and were rolling around on the floor. They were punching the living hell out of each other, much to the enjoyment of their fellow Angels. The fight spilled out onto the street but five minutes later the two men were back in the bar smiling, bleeding, and drinking together in the corner of the room.
"These people are insane," Adam thought. "What was I thinking, coming to such a backward and dangerous time period?" The odors of the bar, combined with the exhaust fumes he'd inhaled on the motorcycle ride, made Adam's stomach churn.
With Armand Bletcher watching him, Adam sat near the window and tried to calm his stomach. A moment later, Terry the Tramp was next to him with a drink in his hand. "Here, kid," he said with a leer. "You gotta be thirsty. Have a beer on me. "
Adam sat frozen as Terry extended a bottle in his direction. The biker asked, "Are you refusing to drink with me?" Adam shook his head fearfully. "Good," the Tramp laughed. "Then drink up." Meekly, Adam took a sip.
"I said drink it, not play with it," the Tramp insisted. So, Adam guzzled the beer with the Angel nodding approvingly. "That's it, kid. You'll be fine in no time. "
Terry the Tramp strolled back to the bar. Adam was certain that Terry was talking about him and when the Tramp caught his eye, the biker raised his glass high into the air. There was more laughing and Adam wondered what was so damn funny.
Still nauseated, Adam peered out the window. He saw Sonny Barger and three other Angels step out of a car parked across the street. Some kind of deal must have just gone bad because the driver jumped out of the car and ran after Barger, yelling about money. Within seconds, the Angels began kicking the man to the ground. This wasn't a good natured bar fight like the one between Doug the Thug and Mouldy Marvin. This was a vicious beating pure and simple.
Adam was horrified. The Angels walked back into the bar, leaving the man stretched out near his car. Once inside, Barger made his way across the room and walked up to Terry the Tramp. They seemed to be looking in Adam's direction.
Sure enough, the Angels approached him. "So, kid, how you feeling?" Sonny asked. "Not too good," Adam answered. Sonny winked at Terry the Tramp and said, "Listen, we're done here. Are you ready to go to a party? There will be loads of hippie chicks, you might even get lucky. "
"But what about the Grateful Dead?" Adam asked.
Barger put his arm around Adam and pulled him close. Adam felt Sonny's sour breath on his face as the biker whispered hoarsely, "There's still plenty of time to go back to the Fillmore; let's head to this party first and talk about it there."
Before he knew what was happening Adam was back on Sonny's Harley, hanging on for dear life. Terry the Tramp and Mouldy Marvin were on opposite sides of Barger, trailing slightly behind as they all sped off into the night. Adam heard Sonny say that they were going to Marin County.
As they rode in the moonlight, Adam stared up at the sky in wild wonder. His queasiness had passed and he'd never seen a sky as breathtaking as this one. Each star twinkled and gleamed, and the constellations seemed to dance before his eyes. The fringe from his leather jacket was flapping in the wind and the sounds of the motorcycles roared in his ears.
Unaware that Terry the Tramp had dosed his beer with a large amount of LSD, Adam began to let go of his fears and frustrations. He loosened his grip around Barger's waist and started leaning into the turns as Sonny instructed. He inhaled deeply through his nose and finally understood what fresh air was supposed to smell like.
Sonny was humming "Good Morning Little Schoolgirl" and Adam found himself singing along. He felt an abrupt sense of discovery and had a series of revelations regarding nature's delicate balance and the spectacular beauty of life itself. Adam could hardly believe that he was really on a motorcycle in northern California in the year of 1969. He threw back his head and laughed. By the time the bikers rolled into Marin, Adam was howling at the moon.
The party was in full swing when they arrived. Music blared as the Angels cut their engines. There were people sitting in the moonlight, while others wandered in and out of the sprawling ranch house. Almost immediately, a skinny long- haired guy accompanied by three young girls greeted the bikers. "Sonny, man, glad you finally made it. I've been waiting all night. Is everything cool? "
Kissing one of the girls, Sonny nodded and said, "Sure, Roger, everything's cool. Let's go work out your thing right now." The skinny hippie looked pleased as he and the girl followed Barger into the house.
"What are all these people doing out here?" Adam wondered. He was confused, and turned to see Terry the Tramp stripped down to his underwear and dancing with the other two girls. The night air was cool and Adam shivered while Terry and his nubile partners boogied in the moonlight.
Adam looked over at Mouldy Marvin and Mouldy Marvin looked back at Adam. "We better get some beer," Marvin said. As they walked inside, Terry and the girls ran laughing into the woods behind the house.
By this time Adam was hallucinating in Technicolor and eventually concluded that he was tripping on some old- fashioned bathtub acid. "This sure isn't anything like the hallucinogens that the government provides back home," he thought.
Music was reverberating throughout the house and there were hippies everywhere. Rooms were filled with chattering longhairs, and thick clouds of pot smoke rolled in the air. Adam gawked shamelessly and was thrilled when people smiled and said hello. He followed Marvin into the kitchen and stood there high as a loon while the biker drank three beers in rapid succession.
A couple of teenaged girls came into the kitchen and one of them started talking to Mouldy Marvin about his motorcycle. Marvin and the girl began kissing. Embarrassed, Adam looked away and saw that the other girl was smiling at him. Shyly, she asked, "Are you with the Hell's Angels?"
"I guess I'm with the Angels tonight," he replied. The girl had long dark hair and big brown eyes. She was barefoot and wore a long peasant dress. Adam was feeling self-conscious and his mind was reeling, but the girl had such a gentle manner that he found himself feeling happy and relaxed.
"I thought you were with the Angels because of your leather jacket," she said. "Do you really know Sonny Barger?" Adam was lost in the girl's big brown eyes. "Yes," he said. "I rode up here on the back of his motorcycle. "
"You can call me Cinnamon Girl," she said. "My name is Cindy but everyone calls me Cinnamon Girl." Adam was so entranced that he almost didn't notice Mouldy Marvin and his new girlfriend had slipped off into another room.
But Adam saw the opportunity for escape. "I wonder where Sonny is now," he said casually. "Oh, he's in the back "with Roger Dodger," answered Cinnamon Girl. "I don't think he'll be coming out for a while though. My friend Donna is with him and she and Sonny will be making it groovy tonight. "
Even in his acid-drenched condition, Adam knew that this was his chance to make it back to the Fillmore. So he said, "Hey, I've really got to go, but it was nice meeting you. "
Adam was caught off guard when Cinnamon Girl leaned over and kissed him. He held her tightly and the warmth of her body radiated through him. Then Cinnamon Girl exhaled into his ear and Adam forgot all about the time- travel contract that he'd signed in the future.
With music and smoke swirling around him and fireworks going off in his head, Adam followed Cinnamon Girl into an empty bedroom. She switched on a black light and pulled off her dress. Adam was technically still a virgin in 2069, but he knew what he wanted to do with his Cinnamon Girl. The sex that they had was exquisite. He'd only known Cindy for half an hour, but Adam was falling in love.
Afterward, they lay in each other's arms until Cinnamon Girl sat up and said, "Hey, what's your name anyway?" "Adam," he answered. "Well, Adam, my friends and I are heading over to see the Dead. Are you going to the Fillmore tonight?" Adam couldn't believe his ears. He was about to ask her for a ride to the concert when he looked up and saw Sonny Barger standing silently in the doorway.
Adam turned back to Cinnamon Girl and said, "Yeah, I'll be there. Shall we meet up later? "
"That would be cool," she answered. "Is it okay if I wear your leather jacket to the show? I promise I'll give it back. "
"Sure," he said. "Take the jacket. I'll find you at the Fillmore." Cinnamon Girl put her dress back on and leaned down to kiss Adam. Then she grabbed his jacket and ran off to join her friends.
Adam sat unmoving until Sonny said, "Well, get dressed, motherfucker. And hurry up! You've got some explaining to do or else you're not going to make it in time for your date. "
Adam knew that he had a decision to make. He also knew that by going to bed with Cinnamon Girl and tripping on acid, he'd broken two major time- travel rules. There was going to be hell to pay back home.
He was in double jeopardy and counting. "What will happen if I tell Sonny what he wants to know?" Adam wondered. "The entire universe could be affected and it would be my fault. And what if Sonny doesn't take me back to the Fillmore after I tell him? What if this whole thing with Cinnamon Girl is some kind of setup? "
Adam recalled the vicious beating the Angels had administered outside of the bar in Oakland. He began to hyperventilate as he imagined being murdered right there in Marin County. Shaking, he walked into the kitchen where Sonny Barger, Mouldy Marvin, and Terry the Tramp were waiting.
"Okay, Sonny," he said. "You win. I'll tell you what you want to know." And with the dose of acid still saturating his brain, Adam told Sonny all about the future. He explained his obsession with the Grateful Dead, Grandpa Coil's spectacular birthday gift, and the approaching deadline for his return to the year 2069.
His confession initially amazed the bikers, but Marvin and Terry became bored with Adam's tale. He kept going on about the terrible state of the future and how technology and pollution were killing man's spirit and how they all had to get back to nature to avoid the trappings of corporate greed. Adam was reliving the events of his own future in an inverted, psychedelicized state. You could even say that rather than an acid flashback, he was having a fiash- forward.
Marvin and Terry soon had their fill of Adam's blather and they departed on their motorcycles, promising to meet up with Sonny at the Dead show should he make it back to the Fillmore.
The entire time Adam spoke, Sonny Barger sat and listened. He would ask a question now and then, but for the most part he let Adam ramble on. At one point Sonny handed Adam a beer, which he drank greedily.
After what seemed like an eternity (it was about twenty- five minutes), Adam looked straight at the leader of the Hell's Angels and said, "Well, that's the story. I really don't care whether you believe me or not but I would really appreciate it if you'd take me to the Fillmore before it's too late. I've just got to get back home. "
"Well," mused Sonny. "I guess I could take you back. Maybe you can tell me a few more things about the future on the way." "Anything!" Adam promised. "Just please take me back to the Fillmore. Maybe I'll get to say good- bye to Cinnamon Girl." "Hell," Sonny said. "You keep telling me details and I'll get you back in time for the second set. "
On the ride to San Francisco, Sonny quizzed Adam about the future. Sonny told Adam that he didn't care about the deaths of Jimi Hendrix, Jim Morrison, and Janis Joplin; the Kent State incident; Woodstock; the future of the Grateful Dead; or the tragedy at Altamont. He was more interested in the Vietnam War, big business, drug laws, the CIA, Bob Dylan, national politics, and the Watergate scandal.
Sonny also inquired about the stock market, but by that time the second dose of acid he'd slipped into Adam's beer started to kick in. They were crossing the Golden Gate Bridge when Adam became extremely disoriented. After that, he couldn't remember any U.S. history except for the Microsoft years and when Bill Gates ran for president. Still, Sonny seemed satisfied and brought Adam back to the Fillmore.
After parking his Harley, Sonny walked to the Fillmore entrance with Adam following behind. Then Adam got sidetracked. He began gazing at a bright red-orange concert poster announcing the Dead's current four- night stint and was transfixed by the mesmerizing combination of photography and psychedelic art. "There they are," Adam murmured. "The greatest-performing rock band of all time. But who are Pentangle and the Sir Douglas Quintet? There's so much that I still don't know. "
Sonny poked Adam in the ribs, "Kid, the party is inside the Fillmore, not out here. Do you want to see the show or not?" Adam nodded, and then he started gagging and shaking uncontrollably. "Oh Jesus," Sonny muttered. He grabbed Adam by the arm and dragged him back toward the entrance.
When they got to the front door, the guy collecting tickets stopped them. "Don't you know who I am?" Sonny asked. The guy looked blankly at Sonny and said, "No, who are you?"
At that point Sonny snapped. "Motherfucker! I'm Sonny fucking Barger and you'd better let me in before I burn this place to the ground! Why the hell don't you just get Scully or Bill Graham or Garcia? You think I'm one of these hippie wannabes who just hitchhiked here from Idaho to walk around barefoot on the Haight? I should kick your ass! "
Right then, an older black man came out from behind the soda counter and said, "It's okay, you can let them in." Sonny brushed past the ticket guy and shook the black man's hand. "Thanks, John, I was going to take that guy out. Listen, my friend here came a long, long way to see the Dead, but he's a little out of it right now. Can you keep an eye on him? "
The man smiled and said, "Sure, I'll try, Sonny, but I'm a little busy tonight. I just hope your friend isn't too far gone." "He'll be okay," Barger promised. Then Sonny turned to Adam and said. "Kid, this is John Walker. He'll show you around. "
With that, Sonny Barger walked off, leaving Adam dazed and confused, and in the care of kind John Walker.
John Walker had worked at the Fillmore for quite some time, and he had seen a lot of kids in Adam's condition. He gently led Adam over to a wooden barrel filled with apples and said, "Son, you look like you could use something in your stomach. Try one of these and tell me how that makes you feel. "
As soon as Adam bit into the apple, he felt the world open up like a flower blooming in the sun. He looked around and saw hundreds of exotic people dressed in colorful clothes, all moving and grooving in complete communion with a colossal good vibe.
A moment later, Adam heard Bill Graham's voice come over the PA system, "And now the last of the gay desperadoes, the Grateful Dead!" Music seemed to come at Adam from every direction as the band began playing "Cryptical Envelopment." The resounding psychedelia surged and intensified around him, and the striking sense of unity that Adam perceived grew even more exaggerated.
"You okay, son?" John Walker's voice interrupted Adam's cosmic reverie.
"Yes," said Adam. "I'm perfect. Would you mind it if I called you Uncle John? "
"No," John Walker replied. "I guess that would be all right. Are you feeling okay? I should be getting back behind that counter soon." "I'm fine, Uncle John, " Adam laughed. "I've come to hear the band."
As Adam bid goodnight to John Walker, he had the distinct sense that time was being stretched and slowed and somehow bent to his will. He heard the Grateful Dead segueing from "The Other One" back into "Cryptical," and he hurried out onto the main floor of the Fillmore.
The band launched into "Dark Star," which psycho-activated Adam's barely suppressed memories of his unique, nonlinear reality. It was like a déjà vu with the poignancy of a perfect stolen moment that never was. He stared wide-eyed at the band as they launched into a spirited version of "Saint Stephen." Then, he decided to look for Cinnamon Girl.
Adam wandered around, and eventually glanced at the titanium timepiece fastened to his wrist. His heart sank. According to the timepiece, he had just fifteen minutes to get outside in order to make his trip back home. He was just getting into the groove and the concert wasn't going to end for another hour and a half.
Adam thought about the rest of the second set, which he had memorized. The Dead were due to play "Death Don't Have No Mercy" and then jam on "Alligator," which went in and out of "Drums" and into "Caution (Do Not Stop on Tracks)" before closing with "We Bid You Goodnight." Adam didn't know what to do.
By this time the Dead were well into a cooking version of "The Eleven" and Adam heard these words reverberating in the air. ". . . now is the time of returning . . . with our thought jewels polished and gleaming. . . . Now is the time past believing . . . the child has relinquished the rein . . . now is the test of the boomerang . . . tossed in the night of redeeming. . . . "
"Wow," thought Adam.
He wondered about the trouble that he was going to be in when he got back to 2069.
"What's going to happen now that I had sex with Cinnamon Girl and did acid and told Sonny Barger all about the future?" Adam remembered the liability clause of the contract that he had signed and the massive bancredit debt his family would incur.
And what would Grandpa Coil say?
Besides all of that, Adam really just wanted to stay out past his stupid time- traveling curfew. He hadn't even found Cinnamon Girl yet--would it really matter if he let her keep his jacket? It was a dilemma that Adam was in no condition to contemplate. "Man, the future is uncertain," he thought.
Adam became distracted by the psychedelic light show going on behind the Grateful Dead. He gazed at the splashing hot colors and the lights that throbbed in sync with the music. When Adam shifted his gaze from the undulating backdrop, he saw Sonny Barger, Bill Graham, and John Walker standing together on the right side of the stage. Adam was also pretty sure that he'd glimpsed Terry the Tramp stripped down to his underwear again.
At the last minute, he spotted Cinnamon Girl and her friends spinning around near the front of the stage. The room was shimmering in a great golden light, and it occurred to Adam that everyone he knew at the Fillmore was smiling. Cinnamon Girl was smiling. Terry the Tramp and Mouldy Marvin were smiling. John Walker was grinning from ear to ear, and even Bill Graham and Sonny Barger looked happy.
But there was no time to say good- bye. Adam had to leave immediately if he was ever going to get back to his life in 2069.
As Adam sadly turned away from the dancing throng, he realized that he himself had never danced, ever. Adam had not danced one time in his entire life and now he was heading back to a world that didn't dance, either.
Impulsively, Adam ran back through the crowd toward Cinnamon Girl and began moving in a wild, spastic manner. He twisted and twirled and jumped up and down as the music of the Grateful Dead echoed around him.
At that precise moment, Adam decided that being stuck in the past wasn't such a terrible thing after all.
His long strange trip had truly begun,
-- Dedicated to J. R. Young, wherever you are
Source, Links, Pictures: http://www.hofmag.com/content/view/813/119/
---

23rd November - 2nd December
http://www.motorcycleshow.co.uk/
Latest News:
ITALIAN GIANTS DUCATI AND BENELLI ROUND OFF A STAR-STUDDED LINE-UP FOR THE 2007 INTERNATIONAL MOTORCYCLE & SCOOTER SHOW
http://www.motorcycleshow.co.uk/press_releases_item.shtml?press_id=38255
---
Why Rubber Boots May Not Be A Good Idea
Biker's penis hit by lightning
A Croatian motorbiker's penis was zapped by lightning as he stopped beside the road to take a leak.
Ante Djindjic, 29, from Zagreb, said: "I don't remember what happened. One minute I was taking a leak and the next thing I knew I was in hospital.
"Doctors said the lightning went through my body and because I was wearing rubber boots it earthed itself through my penis. "
Djindjic, who suffered light burns to his chest and arms, added: "Thankfully, the doctors said that there would be no lasting effects, and my penis will function normally eventually. "
http://www.ananova.com/news/story/sm_2517312.html
---
These boys were born to be wild --- a long time ago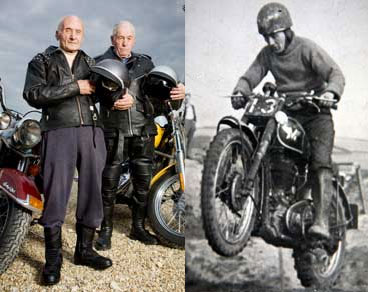 They may both be in their nineties but the oldest bikers in Britain tell Emma Smith they are still kings of the road.
From The Sunday Times
October 7, 2007
Cyril Hopwood was 15 when he got his first motorbike. It was 1929, the year Ramsay MacDonald became Labour prime minister for the second time, when Laurel and Hardy made their first talkie, Cole Porter ruled the airwaves and petrol was a shilling and sixpence a gallon.
The Wall Street crash was about to trigger the Great Depression, but in the backyard of a terraced house in Ashton-under-Lyne near Manchester, Hopwood, known to everyone as "Hoppy", had just discovered the seductive power of a two-stroke engine and 4bhp.
Today Hoppy is still in the saddle and, a few days from his 94th birthday, has just been named the oldest biker in Britain.
He's not as steady on his feet as he used to be and his Isle of Man TT days are behind him but he says he's not ready to put down his helmet – the one he first wore in the 1949 TT – just yet.
"It is the most wonderful feeling you'll have when you get yourself across a bike – other than a lady of course," he laughs. "I can't give up bikes now. The only time I'll leave them is when I'm in the box. "
Now living in Skegness, Lincolnshire, where he retired in 1978, the great-grandfather of four only discovered his claim to fame last month following a nationwide search by Bennetts, the motorcycle insurance specialist. Until Hoppy turned up, 90-year-old Reg Scott, who served in the merchant navy during the second world war and was one of the first outsiders to photograph the destruction of Hiroshima in the aftermath of the atomic bomb, was convinced he must be the oldest. Scott, of Ludham, Norfolk, was "considerably miffed" to be beaten into second place.
Dressed head to toe in black leathers and carrying a bright red flame-emblazoned helmet under one arm, Scott is an imposing presence at over 6ft tall, striding confidently into the Taz motorcycle dealership in Peterborough where we had arranged to bring these two biking elder statesmen together.
Scott's first bike was a Norton 16H, bought for £73 in 1937. He now rides a canary yellow Honda CBF600 sports bike, with a top speed of 140mph. "Not that I've tested it," he says hurriedly, "although I have done 100mph on it, once, but don't tell anybody." And now he's got his eye on a Harley-Davidson.
In recent years there has been a trend for older men (occasionally women) to take up or return to biking. Dubbed "born again bikers" or "grey beards", those in their forties and fifties now make up more than 40% of the motorbiking population, according to the Motor Cycle Industry Association. But while a pensioner branch of the Hells Angels is a long way off, there are now an estimated 150,000 bikers over 60 in the UK. The figure is rising as the population ages and pensioners remain active for longer and are less willing to restrict themselves to chugging along in the slow lane in an ageing Honda Civic.
This shift has led to calls for stricter health checks on older drivers and the government is considering introducing a new test for licence holders over 70, but Scott and Hoppy are convinced they've still got what it takes.
Having been in the saddle for more than 70 years, Scott has only ever had one fall – a minor scrape about 20 years ago – and Bennetts has asked him and Hoppy to pass on the benefits of their experience to younger and less experienced bikers.
Both remember a time when the freedom of the open road still had real meaning, when there were fewer than 2m cars scattered across the UK's roads, compared with the 29m today, a time before motorways and long before speed cameras and laser speed guns, when you could be the only one belting along a clear strip of freshly laid asphalt.
"It used to be all about freedom but nowadays I ride more for convenience," admits Scott. "You know what four wheels are today? Basically a short hop to the nearest traffic jam. "
Emptying their collections of black and white photographs onto a table at the back of the motorcycle showroom, the pair recall a life on two wheels. "Bikes, they gets a grip on you," says Hoppy, as he remembers his first bike (a 1913 belt-driven Bradbury) and zipping about on the Douglas bike he bought for "five bob" in the 1930s. "That bike, it went like a bomb. It had a top speed of 50mph and the speedway race bikes were only doing 55mph at the time.
"There were lots of Douglas bikes around and you could get them cheap because they were left over by the dispatch riders after the first world war. "
In his youth, Hoppy enjoyed playing the daredevil. When he was 21 and a motorcycle stunt team came to Ashton-under-Lyne with its infamous "Wall of Death" (basically a giant wooden drum with vertical walls the bikers would ride around performing stunts) Hoppy begged to have a go on his AJS bike.
"You started off on the flat, circling around the bottom, getting up to speed, then you had to open it up and you'd go up the wall, only mine didn't, not the first time, it came down – fast," he says. "I hurt me elbow, that were all. I sat down and had the only smoke I've had in my life. Then I had another go and the second time I managed a lot better.
"It was a thrill, aye. I was 21 then and very useful in lots of ways."
Later, while working for Kings bike shop in Manchester, he became the works' motorcycle racer and competed in the Isle of Mann TT five times, the first time in 1949 when the engine of his Royal Enfield 350 blew up and he had to push it 11⁄2 miles to the finish. The following year he came flying off on a turn at 90mph. "I didn't get hurt, I've been lucky. I never had a scratch, ripped all my leathers but that 's all."
He's had a few brushes with celebrity, too: in 1947 he sold a Norton to George Formby, a huge motorbike fan and the highest paid entertainer of his day. Just 5ft tall, Hoppy now rides a tiny 50cc Honda Sky.
Scott, 31⁄2 years his junior, isn't ready to downsize. He recently test drove a Harley and met up with Carl Fogarty, former world superbike champion, to swap biking memories. He grew up in Tyneside and was living in Jarrow at the time men set off on the famous Jarrow March to protest at unemployment and poverty in 1936. In the second world war Scott joined the merchant navy, landing in Japan shortly after the dropping of the atomic bombs. He and his wife Dorothy later settled in Kent.
Both he and Hoppy are now widowed. Tears well up in Scott's eyes at the mention of Dorothy. "She died in 2001 and I can't tell you how much I miss her," he says, leafing through his photo album to a black-and-white photo of his wife riding pillion on the Norton in 1942.
Hoppy recalls he was married "for 49 years, seven months and four days" until his wife Anne passed away in 1989.
A long and active life can be put down to the love of a good woman, not smoking, drinking in moderation and "keeping on the move", the two men say.
Scanning his bundle of fading snaps, Hoppy recalls how his motorcycling career almost didn't happen. "My mum took a dim view of it," he says. "She was a bit of a demon, me mother. She was only 4ft 9in but by Christ she was tough."
When his father bought him his first bike, they had to hide it in a shed. "When she found out I were hiding it she went barmy, she went loop the loop," he laughs. "She came round eventually, but it was ages before we could persuade her into the sidecar."
What would Hoppy 's mother say if she could see him now?
"She'd probably tell me to grow up and act me age," he says. "But then people always says I'll kill myself and I've outlived the lot of them. "
http://driving.timesonline.co.uk/tol/life_and_style/driving/features/article2595156.ece
---
Buell's big brother has major muscles
by Bruce McLaughlan
The motorcycle business is far more volatile than the automobile business, largely because its consumers care so passionately about what they're buying.
Consider the consequences if the auto companies had to totally revamp their best-selling models every two years to avoid marketplace disaster, instead of every five to seven (and in the case of some models, like the Ford Crown Victoria, twenty years or more riding the same basic design).
Who would survive in such a competitive environment? Only the innovators.
That's exactly the case with sport bikes. Honda, Yamaha, Suzuki and Kawasaki are locked in a perpetual battle over the 600cc and 1000cc classes. Triumph has raised its game, and Ducati has hit a homerun with its 1098 sportbike. Even formerly stodgy BMW is kicking up its heels in a big way.
America's homegrown sportbike company, Buell, is at least as innovative as the others -- but has spent 25 years flying well beneath the popular radar.
One reason is because all those clever Buell innovations -- now loosely termed the "Trilogy of Technology" -- were wrapped around an engine derived from old-school, heavy-metal parent company Harley-Davidson.
That history is what makes Buell's newest bike such big news. The new Buell 1125R is crafted around an all-new water-cooled engine designed and built to Erik Buell's long wish-list by industry-leader BRP-Rotax in Austria.
And a very nice engine it is.
Bigger (at 1125cc) stronger (146 HP at the crank) and smoother (no more "potato potato") than anything Buell has offered, the new powerplant does more than speed the journey from 0-60 mph and way, way beyond. It makes Buell relevant.
This could be a niche-buster.
If they got it right, that is -- and if is always the biggest word in an engineer's dictionary. So technical specifications aside, how does this bike deliver?
Simply put, it rocks.
Who better to judge than Buell owners? That's the typical rider-focused approach of this little go-their-own-way company sheltered within the tattooed arms of the Motor Company.
So Buell brought a couple dozen new, pre-production 1125Rs to Mid-Ohio Sports Car Course last week as part of a nationwide tour to get feedback from real riders, and hopefully generate some enthusiasm among the Harley dealers who will have to market these beasts.
Again, the contrast to the up-tight car business is stunning -- putting pre-production units on a race track in the hands of (gasp!) consumers? In this day of electronic bulletin boards and instant chat rooms? Actually, yes.
I was fortunate enough to get lots of laps on one of those pre-production units, and it certainly felt ready for prime time. Comparing notes with other riders -- after all, that's what Bench Racing is all about -- confirmed and solidified the riding impressions:
- Powerful. The spec sheet doesn't lie, this is a potent engine. But like the BMW 1200cc four-cylinder, it's an "electric" power that comes on smoothly and just keeps coming, as the scenery blurs ever more quickly. Exiting Mid-Ohio's slow Keyhole onto the back straightaway, it raised an enthusiastic power wheelie -- in third gear! But let's not get carried away -- it didn't gain ground on a well-ridden Yamaha R6 race bike.
- Quiet. It's amazingly quiet, especially given the raucous racket of previous Buell's. You might consider it too quiet -- in part a matter of taste. At idle there's very little mechanical drama, but the exhaust note really finds its true voice as the tach swings past 4000 RPM -- not quite menacing, but authoritative.
- Smooth. Forget vibration. There doesn't seem to be any, despite the solid engine mounts. This level of sophistication, right out of the box (remember, these were pre-production units) is pretty amazing, again bearing in mind the company's history. Buells have always been fun. Quirky even. But refined? Not among the words that come to mind.
- Planted. Except for some enthusiastic grinding from the too-long footpeg feelers (shortened for production) the chassis took aggressive riding in stride. It even forgave mistakes such as clumsy braking, ham-fisted shifting and sloppy throttle work without even a protest. This was at about an 85-percent pace -- which still put us faster than I've ever ridden a lap at Mid-Ohio. And please send a note of congratulations to Pirelli, who provided the production dual-compound street tires. These tires are absolutely amazing, sticky on the sides for cornering, and firm in the center for mileage. Pirelli also claims these to be great in the wet -- thank goodness I didn't get to test that claim.
- Distinctive. OK, what else would you expect from Buell? This is a company that has firm, rider-centric ideas about sportbike design, and it executes them. The 1125R has some features you'd expect from a Buell, such as an exhaust system tucked away beneath the engine, very steep fork angle, Zero Torsional Load rim-mounted front brake, belt-drive, fuel tank integrated into the frame. Great ideas, all of them, for a spirited street bike, but here are a few more.
Belt-drive allows the swingarm dimensions to be totally fixed -- there is no need to adjust for chain length as on a more conventional design. That fact has allowed innovative placement of the rear brake to the inside of the right side of the swingarm, tucked out of sight. Neat.
The new engine features a semi slipper-clutch design, which works off engine vacuum. Close the throttle to shift, and the sudden engine vacuum draws on a diaphragm to loosen the clutch plates' grip on each other, allowing them to slip. In practice, this is an easy-shifting bike, with a light clutch pull. Can you still get the back tire to step out a little dancing into a corner? Yeah baby.
Air management. Yes, management is the right term, as the bike's motion directs air over shaped surfaces to do clever things. Two side pods feature internal splitters to guide cool air through radiator fins. An engineered high-pressure zone above the front tire is tapped to feed the airbox inlet and an oil-cooler. Air passing through the radiators is directed toward an air-foil at the leading edge of the swingarm to manage low-pressure turbulence. Best of all is the wind-tunnel proven "quiet zone" for the rider, behind the double-bubble style windscreen. This will do wonders for reducing rider fatigue at the high speeds this bike is likely to see.
Speaking of speed, will the 1125 make a good race bike, which is after all the main focus of this column?
Put it this way -- I was computing class eligibility after my second time in the saddle. In the right hands, this bike will run with all the bike twins from Suzuki, Honda, Ducati and Aprilia. No doubt. Not run away, but run with.
It will need just a few accessories -- particularly a GP-shift kit -- to make the leap as a Supersport-spec racer. I'd be very interested in seeing a project like this come off.
Check out the photos for more details.
The 1125R is due in dealerships in November -- which is an awkward time to take test rides here in the Midwest. But dealers are already soliciting orders -- I got a postcard offering one in the mid-$11,000 range.
Bruce McLaughlan, a racing enthusiast his whole life, began racing motorcycles 10 years ago and is rated "expert" by AMA, WERA and CCS.
http://www.detnews.com/apps/pbcs.dll/article?AID=/20071011/OPINION03/710110472/1047/SPORTS03
---
[home]