ALERTS
[new information at bottom]
---
Motorcycle Cancer Seat Patent Granted
MISSISSAUGA, Ontario, Jan. 8, 2008 /PR Newswire/ -- The United Kingdom has granted a patent to Canadian inventor Randall Dale Chipkar for his innovative 'electromagnetic shielding motorcycle seat'. The invention is designed to shield motorcycle electromagnetic field radiation from penetrating the rider's vital organs.
"I am grateful to the U.K. for sharing my vision and I appreciate their recognition of this serious health concern for motorcyclists. This is a major step in my quest to protect riders worldwide," Chipkar says.
"Various types of extremely low frequency (ELF) electromagnetic field (EMF) radiations have been linked to health disorders including cancer. Many motorcycles generate excessive ELF EMF radiation up through the seat penetrating directly into the rider's groin and torso. The prostate is of major concern as it is one of the closest delicate glands invaded by the radiation. The colon and neighboring organs are also at risk," adds Chipkar.
ELF EMF radiation at close exposure is unnatural and over time could have devastating biological consequences. Major organizations now agree that ELF EMF magnetic fields are a possible carcinogen. People should not have to gamble with their health because they love riding motorcycles. Consumer safety is priority.
"ELF EMF magnetic fields penetrate through steel and even lead. Only highly processed material can dramatically shield us from these cancer controversial forces. With patent protection, we can now aggressively market this innovative shielding seat to provide riders with peace of mind," Chipkar says.
Chipkar adds, " I am now open to licensing or even selling some of my worldwide patents as long as I am assured the seats can reach consumers immediately. Hopefully, this new seat will revolutionize the motorcycle industry to keep riders safer.
"Let's put 'true freedom' back into riding motorcycles!" Chipkar concludes.
Chipkar can be reached through his website at http://www.motorcyclecancer.com where his new book, Motorcycle Cancer?, is also available along with further information.
Buell Motorcycle Company works with thinkID
on innovative 1125R sportbike design
Milan, February 18, 2008 – Buell Motorcycle Company, a subsidiary of Harley-Davidson, Inc., continued its winning ways in the high performance superbike market thanks to the release in November 2007 of the new 1125R, designed with thinkID.
Headquartered in East Troy, Wisconsin, USA, the company has been using think3's thinkdesign (CAD) and thinkteam (PDM) solutions to automate and optimize their product development process since 1998.
For the creation of the new 1125R, Buell extended their partnership with think3 and adopted thinkID, think3's styling solution, which ensures maximum design creativity.
" We wanted to create a radically new motorbike focusing on power, maneuverability and agility for a unique riding experience," said Erik Buell, Chairman and Chief Technical Officer, Buell Motorcycle Company. "thinkID helped us in meeting this challenge. think3's Global Shape Modeling (GSM3) technology allowed us to carry out accurate changes in a quick and automated way, at different stages of the product development process, while preserving the original design intent and reducing production time. With thinkID, we could meet our objectives within the planned timeframe, presenting an innovative sportbike with a unique design that combines an aggressive style with excellent performance."
The 1125R leads with an all-new front fairing and radiator cowling for superior aerodynamics, and its new 1125cc DOHC V-Twin Helicon engine is the first liquid-cooled engine to power a street-legal Buell motorcycle.
The multi-year cooperation between think3, Inc., and an innovative manufacturer like Buell Motorcycle Company is a testament to the value and innovation provided by think3 's solutions.
http://www10.mcadcafe.com/goto.php?http://www.think3.com/en/company/release_detail.aspx?id=1197
Harley-Davidson Acquires 'XR 1200' Trademark Rights
From Storz Performance
June 23, 2008
Storz Performance, Inc. announced that Harley-Davidson, Inc. has reached agreement with Storz Performance, Inc. of Ventura, CA to acquire Storz' trademark rights for the mark "XR 1200" (U.S. Trademark application No. 77/048680). Specific terms of the agreement are confidential.
Harley-Davidson India launches online test facility
Expanding horizons help US bike giant's road to recovery
Posted: 21 April 2010
by Visordown News
TROUBLED-BUT-RECOVERING US bike manufacturer Harley-Davidson has launched an online test ride facility in India, starting today (Wednesday).
Twelve models from the company's range can now be booked online through five of the company's Delhi-based dealers.
"It has been an overwhelming response on Day One of the booking, as people have been waiting for years for these legendary bikes," enthused Sanjay Tripathi, the company's Marketing Director - India.
The American manufacturer recently reported better than expected profits, with India proving to be one of the company's most promising markets. According to H-D India, nearly 1,000 large capacity machines (800cc+) were were sold in 2009.
The country's buoyant economy, coupled with a rapidly improving road system, bodes well for an increase in future sales.
Your Motorcycling Freedoms Are Under Attack:
A message to all members of Motorcycle Riders Club of America
Expanding horizons help US bike giant's road to recover
Members of the MRCA,
When the Motorcycle Riders Club of America began, one of its founding principals was embracing freedom: the freedom of riding the open roads, the freedom to ride as we see fit and the freedom to share the unique camaraderie with other who enjoy life on two wheels. Sadly, the National Transportation Safety Board (NTSB) has decided that motorcyclists are not capable of making their own decisions, and this organization has set its sights on permanently removing your freedom to choose how you ride your motorcycle in regards to helmets.
The MRCA fully embraces safe riding, and we encourage all our members to ride in a manner that fits with experience level, weather conditions and traffic conditions. What we do not endorse, however, is any government agency attempting to strong-arm the American people into behaving how it sees fit. We believe that every American, and every member of the MRCA, should have the right to choose for themselves how to ride.
I encourage all of you to read the press release from the Motorcycle Riders Foundation that outlines the NTSB's efforts. (You can find the release at http://www.mrf.org/2010/news_release/10NR33.htm.) Join the MRF and help fight this unprecedented attack on motorcycling freedoms. Riding a motorcycle is not a hobby to you -- it's a lifestyle that is worth of protecting. I'll be there, fighting every step of the way, and I hope you'll join me in the battle.
Sincerely,
Michael Berger
Exec. Director
Motorcycle Riders Club of America
Spanish Harley riders out of the saddle as police query MOT 'scam'
Easy ride vaporises for bikers as crackdown looks set to take up to 5,000 imported Harley-Davidsons off the road
Giles Tremlett, in Madrid, guardian.co.uk, Thursday 15 September 2011 16.05 BST, Article history, Article Source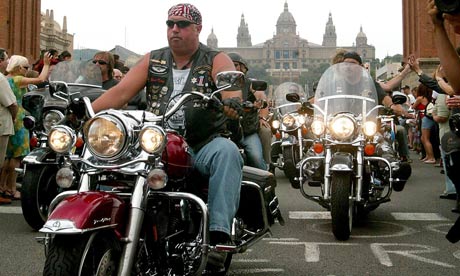 Harley-Davidson riders gathering in the Plaza de Espana, Barcelona, to
celebrate the company's 100th anniversary. Photograph: Cesar Rangel/AP
A Harley-Davidson is the dream of many a middle-aged, leather-loving, motorbike enthusiast, and Spaniards, especially, are in love with the US machine. But now thousands of the bikes are being ordered off the road, or running the risk of being impounded by the police.
Up to 5,000 Harleys could be brought to a halt following detection of a scam used by importers. Harleys bought in the US and shipped to Spain by some importers have reportedly then been sent to privately owned MOT centres that have been willing to turn a blind eye to the legal requirements for vehicles in Spain.
The police crackdown has infuriated Harley owners who, having paid upwards of €16,000 (£14,000) for their machines, claim the company is trying to stop secondhand imports so as to sell more motorbikes through its official dealers.
Harley-Davidson has vigorously denied any such involvement. "The police have detected that some MOT centres are giving imported secondhand Harleys a bill of health when they have not been adapted to Spanish norms," said a company spokesman. "It has nothing to do with us."
Some importers stress they carefully follow the guidelines. "We change everything that has to be changed and then take the bike to the MOT to make it legal to ride," said Alfonso Martínez, a Madrid importer. "I can imagine that one or two bikes get through without being properly adapted – but not this many."
A group of owners, unable now to ride their bikes, have formed an association and hired a lawyer. Now the association and Harley are arguing over whether the secondhand imported bikes are different to, or the same as, those brought in by the company.
"We understand that some people like to get bikes from the US because they think of them as more authentic," said the company spokesman. "There is no problem with imported secondhand bikes as a whole, only with illegal ones."
Spain is one of the top markets in Europe for Harleys, which have lost much of the biker gang image they first acquired after the Hollister riot which occurred during a motorbike rally in California in July 1947.
Owners have also moved on from the days of the 1969 classic road movie Easy Rider, which starred Peter Fonda and Dennis Hopper, and are now mostly aged in their forties or older. "In the world of leisure our competition is motorboats and golf," Rob Lindley, managing director of Harley-Davidson Europe, told El País newspaper in a recent interview.
But younger Spaniards are also now showing an interest. Barcelona has become the European city where most new Harleys are sold.
Motorcycle helmet optional bill [Michigan] becomes law
LANSING, 9:11 AM, April 13, 2012 – Gov. Rick Snyder has signed into law a bill making motorcycle helmets optional.
"While many motorcyclists will continue to wear helmets, those who choose not to deserve the latitude to make their own informed judgments," Snyder said in a news release today.
The bill, sponsored by Sen. Phil Pavlov, R-St. Clair, had strong support from motorcycle enthusiasts but was opposed by those who said it would increase insurance costs.
Snyder's office said he signed the bill Thursday.
Although the law was passed with immediate effect, it sets out certain conditions that must be in place before someone can legally ride without a helmet.
It lets motorcyclists who are at least 21 years old choose whether to wear a helmet if they carry additional insurance. They also must have passed a motorcycle safety course or have had their motorcycle endorsement for at least two years. Motorcycle passengers who want to ride without a helmet must also be 21 and carry additional insurance.
Snyder's office said Michigan will join the Great Lakes states of Illinois, Indiana, Ohio, Wisconsin, Minnesota and Pennsylvania in making helmets optional.
To legally ride without a helmet, a motorcyclist or passenger must have in place "security for the first-party medical benefits payable" in the event of an accident of not less than $20,000 per occurrence, according to the law.
---
[home]