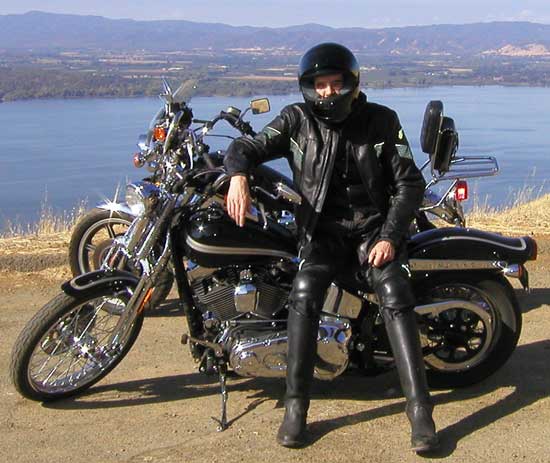 Sprung Riding Gear
Leading up to helmet laws; with exception to a 'sometimes worn' motorcycle jacket, I never wore any protective gear for street riding or touring. It never crossed my mind.

;-) I'm older now, technology has changed, and 'protecting my body, to the best of my ability', has become a priority. (-;

The following is what I wear when riding a TC-88B, ...NOT a recommendation or advertisement.

[Note: I am over 6 feet tall, in height, and require 'extra length' clothes. I have no affiliation with any of the below products or stores other than being happy with my choices. Comments are included below.]
Helmet: Shoei TZ-1
http://www.shoei-helmets.com/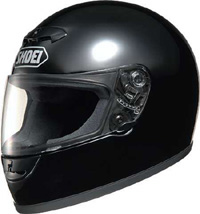 (fwiw) Although it does not appear in this picture, I removed the SHOEI emblem on the front of the helmet with my thumb nail and a lot of patience/work. I kept the smaller SHOEI and DOT label on the back of the helmet.

"Full face" was 'choice', because I got tired of getting hit in the face by bugs and other flying objects.
FirstGear Z Pilot Jacket & Pilot Leather Pants
http://www.firstgear-usa.com/index.html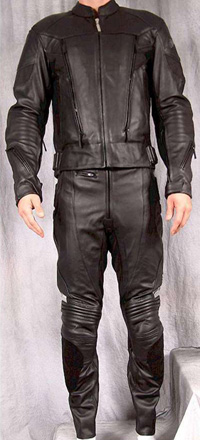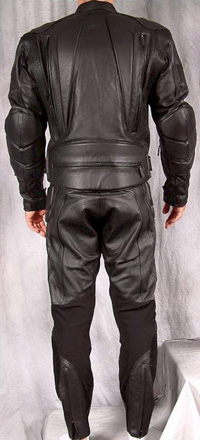 (fwiw) My suit is an older version of the above and the stitching around the knees, with the knee shields installed, would catch rain if I wasn't wearing a rain suit.

Here is my solution for leaky stitching AQUASEAL® STITCH GUARD and have been told any "good mink oil will do, if the stitching is good".
Wesco Motor. Patrol 20" Boot
https://www.boot.com/bwpatrol.shtml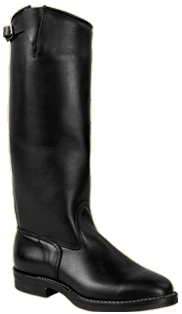 (fwiw) These boots are personal choice for three reasons, rattlesnakes (I live in rattlesnake country and had two encounters where; what I thought was a stick in the road attempted to strike/bite me in the leg.), hot pipes (Had a motorcycle fall on top of my leg, once.), and recommendations. Related: Snake With Serious Case Of Road Rage Tries To Attack Motorcyclist
Chaps
Harley-Davidson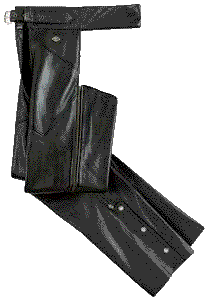 (fwiw) Mine are a similar, older, thicker version of the above, and very handy during cold weather or riding on gravel roads.
Gloves - Racer Speed Gore-Tex
http://www.racer.at/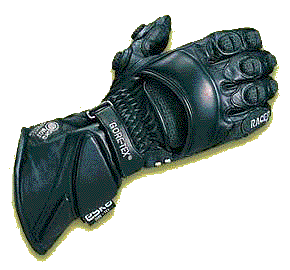 Top protection Gore-Tex® waterproof, breathable membrane / Aniline-Nappa Leather / Pittards Digital leather on palm / rivets on base of palm for extra protection / Schoeller® Keprotec® on fingers and hand / wrist strap / cuff closure.

(fwiw) I have a prototype. They are waterproof, warm, hard to locate in the United States, and 'choice'. I use similar, lighter, gloves for warm weather.

I have been toying with the idea of electric gloves for years, but haven't needed them yet.
Underwear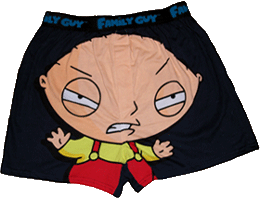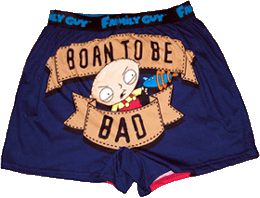 (fwiw) In order to answer the humorous 'boxers' or 'briefs' questions I have received since posting the 'gear page'; my wife buys underwear for me, the above is a sample of what comes home, and ;-) I like them!
WINTER GEAR
Silk Long Johns - Men's Heavyweight - Winter Silks

Huskie Grey Wool Boot Socks - Boot/Shoe/Hunting/Military stores.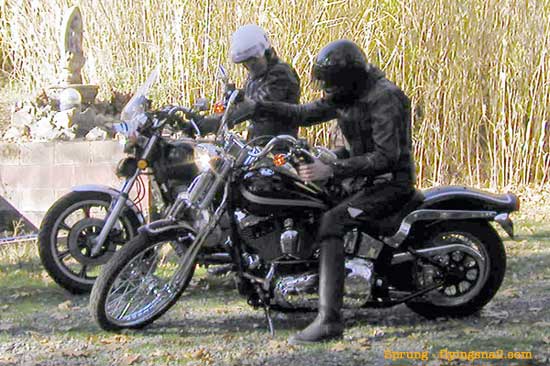 Mike Wilhelm (The Charlatans) & Sprung
[home]