Other Two Wheels or Three
[new additions located at bottom of page]
Page 5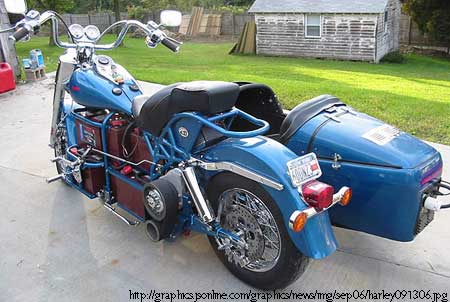 The hog that hums
Electric bike has no vroom, but plenty of voltage
By RICK BARRETT
For decades, Harley-Davidson riders have tinkered with their motorcycles to give them a little deeper, richer, more distinctive sound. The syncopated "potato, potato, potato" rumble helps separate Harley from the rest of the motorcycle pack.
Carl Vogel of Long Island, N.Y., says forget the sound. He has modified a Harley-Davidson chassis so that it houses 560 pounds of lead-acid batteries and an electric motor - capable of reaching 85 mph, but sounding like an electric golf cart.
Vogel, an inventor-entrepreneur with a passion for alternative fuels, said he was afraid that other Harley enthusiasts would snub his bike because it was so odd. It resembles a regular motorcycle, but the lack of a gasoline engine, and the electric solar panel behind the seat, are immediate signs that it's a very different animal.
"They weren't too keen on the fact that there was no familiar sound," Vogel said of the critics. "But they appreciated all of the work that went into the bike."
Vogel has traveled across the United States on his electric Harley, a road trip that started in northern Wisconsin. After several years of sweating the details, he hopes to begin manufacturing electric motorcycles in 2007.
"The real challenge was to get that many batteries in a bike and get all of the systems working together," Vogel said. "And I didn't want a little scooter. I wanted a big bike that had performance and was fun to ride."
The Milwaukee area has dozens of custom motorcycle builders, some of them building one bike at a time in their home garages. But you would be hard pressed to find a builder revving up a battery-powered Harley, said Frank Lisiak, a partner at Jamie's Customs motorcycle shop in Big Bend.
There's more interest in bikes with eight-cylinder car engines.
"It's more of a macho thing" than an electric motorcycle, Lisiak said.
Pursuing a similar dream, Harold Benich has converted a Harley-Davidson Fat Boy chassis so that it sports a diesel engine that runs on vegetable oil. Benich, who teaches auto mechanics at a Pennsylvania prison, is building a small manufacturing plant to produce the bikes in Cranesville, Pa., starting in January.
Benich's diesel motorcycle sounds something like a big garden tractor. The bike is less powerful than a stock Harley, but its fuel mileage is impressive - up to 115 mpg when ridden conservatively.
"Normally, I get about 80 or 90 miles per gallon," Benich said.
It has been rare for the Milwaukee motorcycle manufacturer to endorse any of them as genuine Harley products.
This month, Harley announced it had signed a deal with Lehman Trikes U.S.A., of Spearfish, S.D., to build three-wheel motorcycles. The bikes will be sold through Harley dealerships, giving them immediate credibility in the cycling world.
Vogel doesn't aspire to sign a contract with Harley, and he hasn't even shown his battery-powered bike to the company.
Rather, he sees electric motorcycles as a natural fit with other interests such as alternative fuels.
"It could become a mass-production bike if there's enough call for it," Vogel said. "I can make them now with about a five-month lead time."
The electric motorcycle can be plugged into an electrical wall outlet and recharged in three hours. It can travel about 60 miles, at 55 mph, on a single charge.
The bike also has a diesel engine, mounted in a sidecar, that can recharge the batteries during driving time. The accessory engine runs on vegetable oil or biodiesel fuel made from soybeans.
The motorcycle's plastic gas tank holds gobs of wires and electronics, not gasoline. Flip a switch and the bike goes into reverse, just like an automobile.
As for the sound?
"I think it's very nice," Vogel said. "You're just gliding along the road, listening to the wind and the sound of the road underneath you."
Benich used an industrial diesel engine for his motorcycle. The same type of power plant is used for landscape tractors and mini-excavators.
"Mitsubishi just came out with a three-cylinder engine that packs a lot of power in a small package. I want to try one of those," Benich said.
A tinkerer by nature, Benich took two years to build his first diesel bike. Now he can build one pretty quickly based on his own chassis design.
"They say a motorcycle frame is an extension of your personality. My frames are made from square tubing, so I guess that makes me kind of square," Benich quipped.
He plans to quit his teaching job in January to pursue full-time manufacturing of diesel motorcycles selling for between $29,000 and $40,000. He travels around the country on his bike to motorcycle and diesel-engine shows. The fact that he uses a 50% blend of soybean oil draws interest from the crowd.
"The bike has never let me down. I have never had to walk home from a ride," he said.
Benich has shown his motorcycle to Harley engineers in Milwaukee and at the company's plant in York, Pa.
"But the market for this isn't big enough for someone like Harley-Davidson," he said.
Benich is building a diesel motorcycle for the 2007 Iron Butt motorcycle rally, which covers 11,000 miles in 11 days.
The idea of building a diesel Harley stemmed from a joke, but now it's serious.
"Just let me know if you have a bike that you want converted to diesel. I can do it," Benich said.
http://www2.jsonline.com/story/index.aspx?id=496309
---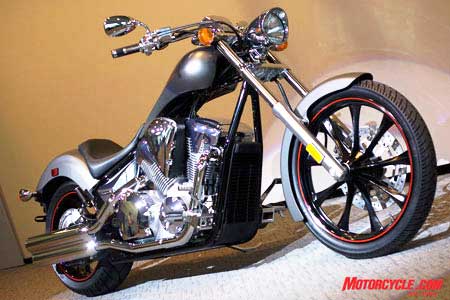 2010 Honda Fury Unveiled
Big Red does its first chopper
By By Kevin Duke, Jan. 16, 2009, Photography by Alfonse Palaima and Honda, Video by Alfonse Palaima
When Honda announced its 2009 lineup last fall, many, including us, scratched our heads at the scarcity of new models from this motorcycle giant. It turns out that Big Red was holding at least one valuable card up its sleeve, as we can now report on one of the coolest-looking cruisers ever offered by a Japanese manufacturer.
You're looking at the 2010 Honda Fury, an inspired design built around a familiar motor. Featuring chopper styling cues such as the high headpipe and the largely exposed backbone frame tube, the Fury is Honda's attempt at creating a mass-produced 'custom' chopper. - Continue Reading at: Motorcycle.com
2010 Honda Fury
The Fury Has Been Unleashed!
http://powersports.honda.com/2010/fury.aspx
---
India's Bajaj scooters reach end of the road
Bajaj, once the world's leading scooter manufacturer, is ending production of new scooters to focus on the growing Indian demand for motorcycles and cars. The scooters were popular with the middle classes and waiting lists could last decades, but sales have since plummeted.
(6 pictures) - http://www.guardian.co.uk/world/gallery/2010/mar/19/bajaj-scooters-india
---
1913 Harley-Davidson
---
Electric Motorcycle Hits 190.6 MPH
By Chuck Squatriglia, April 13, 2011, Wired.com
Doing 190.6 mph is amazing under any circumstances. It is even more so when it's done on an electric motorcycle.
Chip Yates, who just keeps proving electric motorcycles are for real, hit 190.6 mph on Sunday during the Mojave Mile. It wasn't enough for Yates to top the previous record and achieve another milestone in electric motorcycling. No, he had to shatter it by a full 17 mph.
Thing is, Yates said the bike had more to give.
Yates said computer modeling suggested the bike would top 200 mph, but high-speed buffeting kept him south of that. He and the Swigz.com Pro Racing crew made some tweaks in the pits, but then blew their primary and backup chargers. With no way to recharge the 12.4 kilowatt-hour battery pack, Yates was limited to two runs.
"The blunt rear end is causing buffeting. Now we have more data from this weekend, we will address it 100 percent," Yates said late Tuesday in an email. "With the buffeting gone, on a one mile we should be just over 200 mph — maybe up to 210 max. On the open (Bonneville) Salt Flats or El Mirage, we should be even faster."
The Mojave Mile was a detour for Yates, who is prepping the bike for the Pikes Peak International Hill Climb. He recently upped the bike's output to 240 horsepower (and 365 pound feet of torque) to improve the power to weight ratio of the 585-pound machine.
The previous version had "only" 194 horsepower and 295 pound feet, but it was enough to put Yates on the podium in two classes at the WERA Heavyweight Twins races in January. He raced against machines like the Ducati 848, KTM RC8 and Suzuki SV650. He hit 158 mph at one point as he lapped AutoClub Speedway and posted a fastest lap of 1:39.792.
The demands of a one-mile sprint from a standing start are quite different than road racing or hill climbing. To meet the challenge, Yates added a custom fairing to minimize drag, tweaked the motor controller software and installed a custom jackshaft and sprockets to handle the torque while spinning at 8,500 RPM. He also added a booster pack to the battery for additional voltage
Yates said the bike hit a dyno speed of 227 mph during stress testing.
"This run should go a long way towards our goal of demonstrating that electric vehicles can lay down extreme performance and compete directly against gasoline powered vehicles if properly designed and executed," Yates said.
But for now, his attention is focused squarely on Pikes Peak.
"I hired a dirt coach for myself," Yates told us. "He won Pikes Peak in 1995 and we are going to the dry lake this week to begin testing. I just picked up my first set of tires today and preparations are underway!"
Photos and video: Chip Yates

Chip Yates and his crew. No, that's not a trunk. It's part of the battery pack.
Not much to see, but that's what 190.6 mph sounds like on an electric motorcycle.
---
[home]