Other Two Wheels or Three
[new additions located at bottom of page]
Page 4
Roehr Motorcycles
The V-roehr 1130 superbike



http://www.roehrmotorcycles.com/images/buildup6_031a.jpg
Powered by America's finest
Harley-Davidson* Revolution* engine
---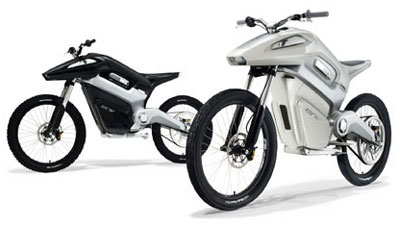 http://www.intelligent-energy.com/images/uploads/articleimage.jpg
The ENV fuel cell motorbike
http://www.intelligent-energy.com/index_article.asp?SecID=12&secondlevel=869
Specification sheets and publications
http://www.intelligent-energy.com/index_article.asp?SecID=12&secondlevel=866
Hydrogen generation
http://www.intelligent-energy.com/index_article.asp?SecID=12&secondlevel=809
Power generation
http://www.intelligent-energy.com/index_article.asp?SecID=12&secondlevel=795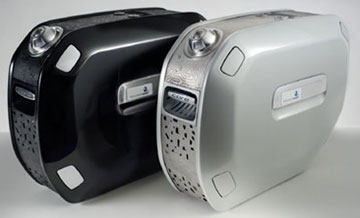 http://www.intelligent-energy.com/images/uploads/articleimage04.jpg
---
Chopper Computers Has Gone Out of Business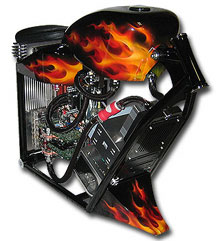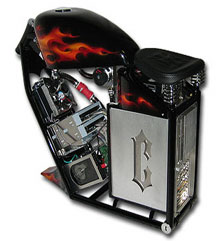 We're sorry, but the first complete computer modification sold to the public is no more. We have decided to cease operations as of the begining of the new year but will keep this page as a memorial to our incredible works of computer art and labor of love. - "Play Hard, Ride Hard, and Mod Hardcore" [Click below link to visit]:
http://www.choppercomputers.com/
---
Now THIS is what you call a Vespa!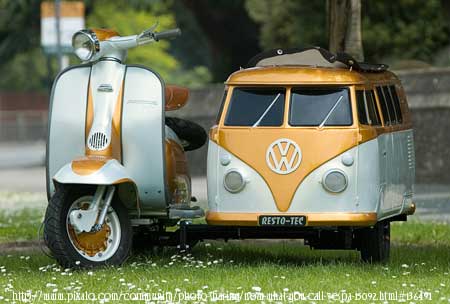 http://www.pixalo.com/community/photo-sharing/now-what-you-call-vespa-15092.html#136491
---
Projekt V2 Harley Davidson Case Mod is a Real Running Engine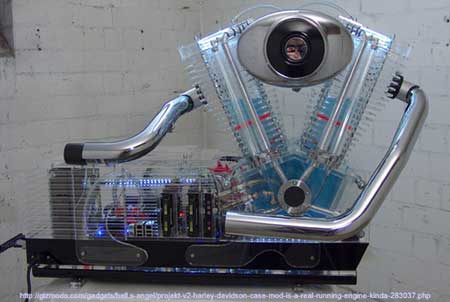 Case mod may be a bit of an understatement here - this monstrosity is really a case fabrication project, done almost entirely from scratch. A huge fan of Harley Davidson motorcycles, a computer geek with a knack for shaping acrylic decided to build a 1:1 scale Harley Davidson V2 engine. A case this meticulously detailed would be commendable, but this engine actually runs! The pistons fire and pump the water through the system to cool everything off. Did we not mention it's water-cooled?
http://gizmodo.com/...v2-harley...-case-mod-is-a-real-running-engine...283037.php
---
THE STORY OF THE POWERPLUS 100
Its looks are based on engine designs lost in the mists of history, yet those who helped in its design, development, and assembly represent an international cast of characters with strong credentials. They have created a handsome engine that is modern but retro with air-cooling, a carburetor, and pushrods activating two valves per cylinder. One that makes do without a balance shaft, and is the largest V-twin motorcycle engine from an American OEM. The design is based on the best V-twin technology, but purposely falls far short when compared to current sport bike practice, where cutting edge technology is king. And this engine-this 100-in.3 monster of an air-cooled V-twin-wears the name of a motorcycle company that died in 1953 and was resurrected in 1999: Indian.
"There were about 15 Indian employees involved in designing, developing, and bringing the Powerplus 100 to production over the past 24 months," says Fran O'Hagan, senior vice president, Product Management and Marketing for the Indian Motorcycle Corporation (Gilroy, CA). This group's capabilities were enhanced by Indian's reliance on outside consultants, including Thunder Heart Performance Corp. (White House, TN); VePro Ltd. (Leicestershire, England); the Ann Arbor and Southfield, MI, offices of England's Lotus Engineering; and Performance Assembly Solutions (Livonia, MI). The latter, in its role as a Tier 1 supplier to Indian, builds the engine, which is destined for the 2002 Indian Chief. (See "Building the Powerplus 100.")
The serrated, billet rockers covers are clearly visible in this shot, as are the polished pushrod tubes, and the Mikuni carburetor that sits on the left-hand side of the engine. In production, the electronic ignition module just visible at the front of the engine will be moved and replaced by a plaque carrying the initials of the workers who build the bike.
Thunder Heart was involved from the very beginning, helped with engineering, and built the first prototype engine. VePro, fresh from its involvement in the design, engineering, and development of the ill-fated Excelsior-Henderson motorcycle (the parent company went bust), helped Indian set the design parameters, source the parts, and bring the engine into production. Once it was ready for testing, Lotus Engineering climbed on board, handling much of the durability, drive-by noise, and refinement testing and development.
Going to outside consultants made sense, says O'Hagan. "If you need someone who can design a combustion chamber, but only need them once every 10 years, it's hard to justify having them on staff." Yet using such a diverse group of advisors also had its drawbacks, including teleconferences that mixed British and American forms of a supposedly common language. "We had companies from the Midwest, the U.K., Tennessee, and California on line at the same time," says O'Hagan. "It took some getting used to, but they have complemented each time," says O'Hagan. "It took some getting used to, but they have complemented each other very well. "
The result of all this talk and negotiation is the Powerplus 100, a dead-simple V-twin motorcycle engine. Made of aluminum, the long-stroke motor has billet rocker covers with a serrated edge that evoke memories of the vertical fins found on past Indian twins. Once production reaches high enough numbers-Indian plans to sell 6,000 motorcycles in 2002-cast pieces will replace the costly billet units.
"We did a lot of research to see what customers expected from an Indian engine," says O'Hagan. "The three things that stood out were: 1) It had to perform and have plentiful torque, 2) It had to have historic Indian design cues-as in carburetor on the left, round cylinders, vertical fins on top-and 3) Take the best of proven technology and create an engine that's both reliable and durable." And though O'Hagan refuses to give power figures prior to the engine's official introduction, an educated guess based on figures from Harley's competing 88-in.3 pushrod V-twin suggests the Powerplus 100 has at least 95 lb.-ft. of torque. Unfortunately, like Indian, Harley Davidson doesn't quote official horsepower figures for its engines, making a similar comparison impossible. Apparently torque is more important than horsepower in the Cruiser market.
Buyers wanted a strong, reliable engine that looks good.
The dry-sump Indian motor has a separate gearbox, a compact and efficient gerotor oil pump, a 26-lb. flywheel, hydraulic lifters, and places the pushrods in polished tubes that run outside the cylinder jugs. Intake valves are 1.94-in., exhaust valves 1.615-in., and the bore and stroke are 3-7/8-in. and 4-1/4-in., respectively. "The long stroke gives the engine lots of torque," says O'Hagan, "and we've used H-beam connecting rods for extra strength."
Strength was an important consideration because owners are not shy about modifying their engines. O'Hagan likens it to those who see a "Do Not Remove This Tag" label on a mattress, and pull it off the first chance they get. "It's awfully hard to dictate to somebody that they can't change the pipes, airbox, or carburetor jets," he says. "So we tested configurations that gave us 15 to 20 more horsepower, and 15 to 20 more lb.-ft. of torque than stock, just to make sure there would be no reliability problems if reasonable modifications are made by the owner."
And while modifications may have caused a ripple of concern, near-term emission and noise regulations haven't. "We've passed the current emission and sound standards," says O'Hagan, "and know we'll have to shift from carburetion to fuel injection in the future. We're already 80% down that path." So, for at least the next 3-4 years, the Powerplus 100 will be able to meet any of the regulations currently on the horizon, and the engine could have a 10-year lifespan should there not be any drastic legislative changes. This will be more than enough time for derivations of the engine to make their way across the Indian lineup, and more powerful versions of the Powerplus 100 to power future Indian Chiefs as well as other models currently under consideration.
All that, however, is in the future. For now, O'Hagan is content to busy himself with getting the 2002 Chief into production, and not lose out on the growth in the Cruiser market. "Harley sales grew a healthy 14% last year in a market that was up by 19%," says O'Hagan, "so there's a lot of growth in there for us." And though Indian doesn't have to sell 20,000 to 40,000 units each year to be successful, they now have a home grown engine-an important image factor for potential customers-that should help them get closer to that level than ever before.
Building the Powerplus 100 Performance Assembly Solutions (PAS) is a joint venture between Uniboring (Howell, MI) and Roush Industries (Livonia, MI) that has the ability to take an engine from concept to assembly. With the start of production of the Indian Powerplus 100 engine, it assumes full responsibility for the engine, supplying complete units to Indian as a Tier 1 supplier."Based on the assumptions Indian asked us to quote to and what we think is realistic," says Chris Zucker, vice president and general manager of PAS, "we have nine people assembling the engine. So at 110 engines per week, seven are direct assemblers and two are support people." The total area dedicated to assembling the Powerplus 100 is 1,500 ft2."Just like we do with the OEMs [PAS was involved on the Aston Martin V12 and builds crate motors for GM's aftermarket unit], we insist that all of our sub-suppliers prove that they are capable of manufacturing the pieces to part-print tolerances with some statistical control," says Zucker. PAS has APQP (Advanced Product Quality Planning) meetings with its suppliers to identify all open issues, and determine whether or not a defect will be caught before reaching the customer. If not, further investigation is done in order to find a solution that works.Uniboring supplies the finished cylinder jugs, case, and cylinder head castings, while Roush is involved with validating the finished engine. "Roush does 100% cold-test on the Indian engine," says Zucker, "measuring torque-to-turn, oil pressure, oil flow, and compression." In addition, one out of every 30 engines is pulled and sent to Roush where a friction stabilization test and performance verification run are performed. "If that engine meets specification," says Zucker, "and the other engines in that batch have passed their cold-test requirements, they are released for shipment to Indian."Balancing production flow won't be easy, especially when the supply base stretches from California to the Midwest, and includes Japan. "On certain parts, like the cases, cylinder head and jugs," says Zucker, "we should be able to keep enough of a flow going, based on cycle time, for Uniboring to keep a couple of CNC machines busy all the time." And though Zucker would like to run with a two-week inventory, he knows some parts will have to be built in batches, then shipped to the assembly facility. To make certain no problem pieces are left waiting on the shelf, Zucker plans to sample each lot, and put the remainder on the shelf. "That way," he remarks, "you'll know if you have an inherent problem."And adding a motorcycle engine to the company's repertoire is an opportunity, not a problem in Zucker's eyes. "We like the diversity of being in the transportation industry, but not on the automobile side with this project," he says, though he's confident that building the Powerplus 100 will "increase our business in that market." He's probably right .
http://www.ironindianridersassocmi.com/michigan_iron_indian_riders_assoc_006.htm
http://www.indianmotorcycle.com/
---
Acabion announces new GTBO will have 750bhp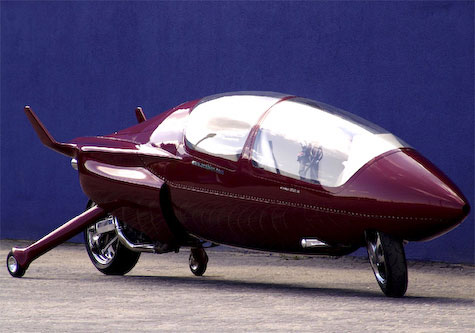 Image Source: http://www.acabion.com/
Acabion GTBO 0–300mph in 30 seconds, top speed 340mph on half throttle.
100mph equals 100mpg, 250mph equals 25mpg using low aerodynamic drag, low weight, low rolling resistance and a 750bhp, turbocharged Hayabusa engine.
http://jalopnik.com/346625/acabion-gtbo-the-750bhp-340mph-enclosed-motorcycle-enters-production
http://hellforleathermagazine.com/2008/01/acabion-announces-new-gtbo-wil.html
---
Zero X

Image Source: http://www.zeromotorcycles.com/images/sales-zero-x-pic.jpg
* Fastest acceleration in its class * Suitable for off-road or back country * No emissions or sound * Less than $.01 per mile to operate
http://www.zeromotorcycles.com/index.php
Two Wheels, Zero Emissions and Loads of Fun
By Chuck Squatriglia
Ask Neil Saiki why he designed an all-electric motocross motorcycle and he'll tell you EVs are the future, dirt riders must be more environmentally responsible and the sport faces a shaky future because dirt bikes are so loud they'll make your ears ring. That's all true, but push him a little and he'll confess the truth.
" I love to ride. That's the real reason I did it," he told us with a laugh. "I wanted to make a product that's crazy fast and fun to ride. " [Continue Reading At]:
http://blog.wired.com/cars/2008/08/two-wheels-zero.html
---
[home]