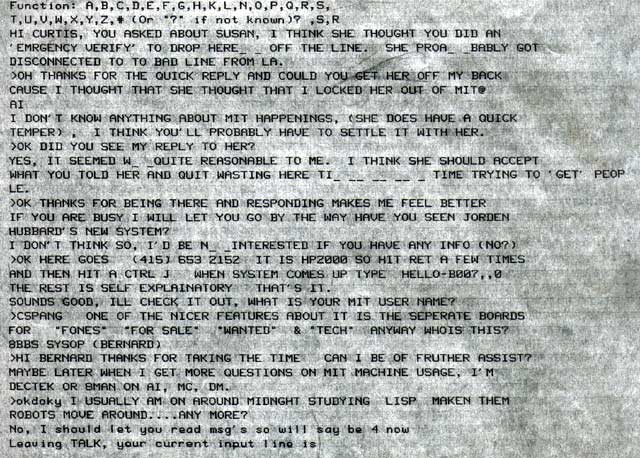 Function: A,B,C,D,E,F,G,H,K,L,N,Q,P,Q,R,S,
T,U,V,W,X,Y,Z,# (Or "?" if not known)? ,S,R
HI CURTIS, YOU ASKED ABOUT SUSAN, I THINK SHE THOUGHT YOU DID AN 'EMRGENCY VERIFY' TO DROP HER OFF THE LINE. SHE PROBABLY GOT DISCONNECTED TO TO BAD LINE FROM LA.
>OH THANKS FOR THE QUICK REPLY AND COULD YOU GET HER OFF MY BACK CAUSE I THOUGHT THAT SHE THOUGHT THAT I LOCKED HER OUT OF MIT@AI
I DON'T KNOW ANYTHING ABOUT MIT HAPPENINGS, (SHE DOES HAVE A QUICK TEMPER) , I THINK YOU'LL PROBABLY HAVE TO SETTLE IT WITH HER.
>OK DID YOU SEE MY REPLY TO HER?
YES, IT SEEMED QUITE REASONABLE TO ME. I THINK SHE SHOULD ACCEPT WHAT YOU TOLD HER AND QUIT WASTING HER TIME TRYING TO 'GET' PEOPLE.
>OK THANKS FOR BEING THERE AND RESPONDING MAKES ME FEEL BETTER IF YOU ARE BUSY I WILL LET YOU GO BY THE WAY HAVE YOU SEEN JORDEN HUBBARD'S NEW SYSTEM?
I DON'T THINK SO, I'D BE INTERESTED IF YOU HAVE ANY INFO (NO?)
>OK HERE GOES (415) 653 2152 IT IS HP2000 SO HIT RET A FEW TIMES AND THEN HIT A CTRL J WHEN SYSTEM COMES UP TYPE HELLO-B007,,0 THE REST IS SELF EXPLAINATORY THAT'S IT.
SOUNDS GOOD, ILL CHECK IT OUT, WHAT IS YOUR MIT USER NAME?
>CSPANG ONE OF THE NICER FEATURES ABOUT IT IS THE SEPERATE BOARDS FOR "FONES" "FOR SALE" "WANTED" & "TECH" ANYWAY WHOIS THIS?
BBBS SYSOP (BERNARD)
>HI BERNARD THANKS FOR TAKING THE TIME CAN I BE OF FRUTHER ASSIST?
MAYBE LATER WHEN I GET MORE QUESTIONS ON MIT MACHINE USAGE, I'M DECTEK OR BMAN ON AI, MC, DM
>okdoky I USUALLY AM ON AROUND MIDNGHT STUDYING LISP MAKEN THEM ROBOTS MOVE AROUND .... ANY MORE?
No, I should let you read msg's so will say be 4 now
Leaving TALK, your current input line is