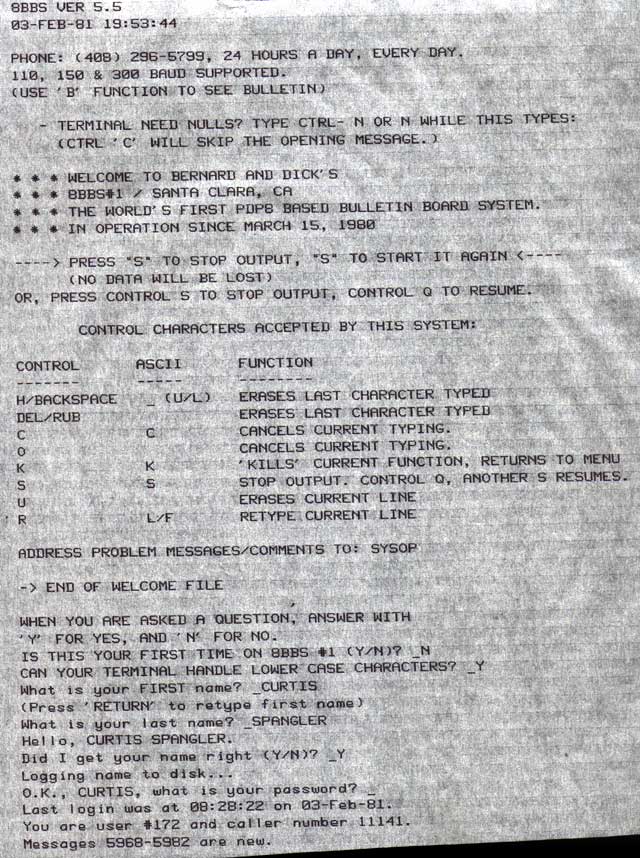 BBBS VER 5.5
03-FEB-81 19:53:44
PHONE: (408) 296-5799, 24 HOURS A DAY, EVERY DAY.
110, 150 & 300 BAUD SUPPORTED.
(USE 'B' FUNCTION TO SEE BULLETIN)
- TERMINAL NEED NULLS? TYPE CTRL- N OR N WHILE THIS TYPES:
(CTRL 'C' WILL SKIP THE OPENING MESSAGE.)
*** WELCOME TO BERNARD AND DICK'S
*** BBBS#1 / SANTA CLARA, CA
*** THE WORLD'S FIRST PDPB BASED BULLETIN BOARD SYSTEM.
*** IN OPERATION SINCE MARCH 15, 1980
----> PRESS 'S" 'TO STOP OUTPUT, "'S" TO START IT AGAIN <----
(NO DATA WILL BE LOST)
OR, PRESS CONTROL S TO STOP OUTPUT.' CONTROL Q TO RESUME.
CONTROL CHARACTERS ACCEPTED BY THIS SYSTEM:
CONTROL ASCII FUNCTION
------- ----- --------
H/BACKSPACE _(U/L) ERASES LAST CHARACTER TYPED
DEL/RUB ERASES-LAST CHARACTER TYPED
C c CANCELS CURRENT TYPING.
O CANCELS CURRENT TYPING.
K K 'KILLS' CURRENT FUNCTION, RETURNS TO MENU'
S s STOP OUTPUT. CONTROL Q, ANOTHER S RESUMES.
u ERASES CURRENT LINE
R L/F RETYPE CURRENT LINE
ADDRESS PROBLEM MESSAGES/COMMENTS TO: SYSOP
-> END OF WELCOME FILE
WHEN YOU ARE ASKED A -QUESTION, ANSWER WITH
'Y' FOR YES, AND 'N' FOR NO.
IS THIS YOUR FIRST TIME ON OBBS #1 (Y/N)? _N
CAN YOUR TERMINAL HANDLE LOWER CASE CHARACTERS? _Y
What is your FIRST name? _CURTIS
(Press 'RETURN' to retype first name)
What is your lost name? _SPANGLER
Hello, CURTIS SPANGLER. Did I get your name right (Y/N)? _Y
Logging name to disk ... O.K., CURTIS, what is your password?
Last login was at 08:28:22 on 03-Feb-81.
You are user #172 and caller number 11141.
Messages 5966-5982 are new.