CommuniTree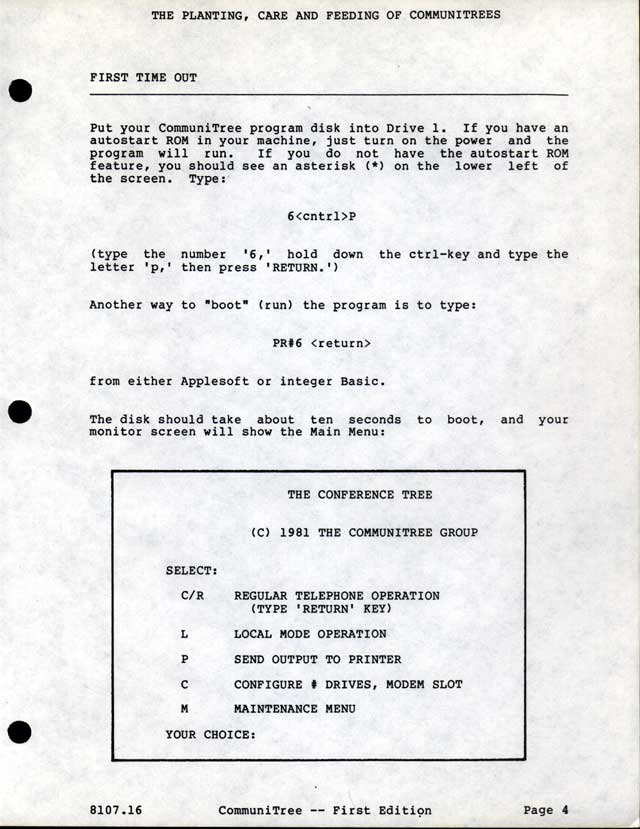 Operator's Manual
THE PLANTING, CARE AND FEEDING OF COMMUNITREES
FIRST TIME OUT
Put your CommuniTree program disk into Drive 1. If you have an autostart ROM in your machine, just turn on the power and the program will run. If you do not have the autostart ROM feature, you should see an asterisk (*) on the lower left of the screen. Type:
6<cntrl>P
(type the number '6,' hold down the ctrl-key and type the letter 'p,' then press 'RETURN.')
Another way to "boot" (run) the program is to type:
PR#6 <return>
from either Applesoft or integer Basic.
The disk should take about ten seconds to boot, and your monitor screen will show the Main Menu:
THE CONFERENCE TREE
(C) 1981 THE COMMUNITREE GROUP
SELECT:
C/R REGULAR TELEPHONE OPERATION
(TYPE 'RETURN' KEY)
L LOCAL MODE OPERATION
P SEND OUTPUT TO PRINTER
C CONFIGURE # DRIVES, MODEM SLOT
M MAINTENANCE MENU
YOUR CHOICE:
8107.16 CommuniTree -- First Edition Page 4