CommuniTree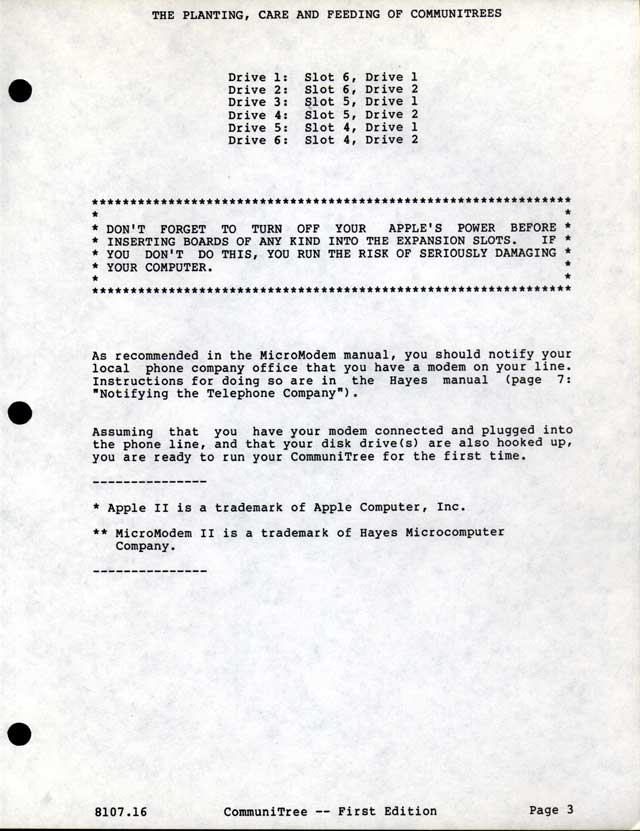 Operator's Manual
THE PLANTING, CARE AND FEEDING OF COMMUNITREES
Drive 1: Slot 6, Drive 1
Drive 2: Slot 6, Drive 2
Drive 3: Slot 5, Drive 1
Drive 4: Slot 5, Drive 2
Drive 5: Slot 4, Drive 1
Drive 6: Slot 4, Drive 2
DON'T FORGET TO TURN OFF YOUR APPLE'S POWER BEFORE INSERTING BOARDS OF ANY KIND INTO THE EXPANSION SLOTS. IF YOU DON'T DO THIS, YOU RUN THE RISK OF SERIOUSLY DAMAGING YOUR COMPUTER.
As recommended in the MicroModem manual, you should notify your local phone company office that you have a modem on your line. Instructions for doing so are in the Hayes manual (page 7: "Notifying the Telephone Company").
Assuming that you have your modem connected and plugged into the phone line, and that your disk drive(s) are also hooked up, you are ready to run your CommuniTree for the first time.
* Apple II is a trademark of Apple Computer, Inc.
MicroModem II is a trademark of Hayes Microcomputer Company.
8107.16 CommuniTree -- First Edition Page 3