Amateur Radio Public Seismic Network (ARPSN)
Current Equipment
TM-D700AG
http://www.kenwoodusa.com/Communications/Amateur_Radio/Mobiles/TM-D700A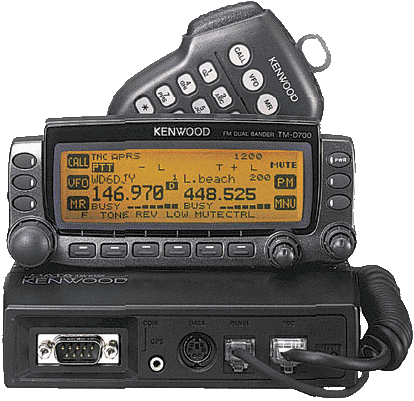 Kenwood continues to provide new and advanced APRS™ ham radio equipment by introducing the new TM-D700A mobile transceiver. For current owners of the TH-D7A handheld with built-in TNC and APRS™ software, the TM-D700A offers even more features and versatility. The TM-D700A is unlike any other dual-band mobile radio Kenwood has ever produced. The control head is detached and comes with remote cable for easy installation. The new radio also incorporates a 9-pin PC connection for easy hook-up to program frequencies and other APRS™ mapping programs. Your TM-D700A is a full dual-band operation radio so VHF+VHF/VHF+UHF/UHF+UHF operation is possible. Full digipeater functions allow anyone to set up a digipeater location wherever needed to help fill in APRS™ nationwide network. Internet gateway operation is also possible for world-wide text communication over VHF.
General Features
• 144/440 MHz TX operation
• 118-1.3 GHz receive with cellular + blocked
• Built-in 1200/9600 bps TNC
• 200 memory channels/PC programmable
• 10 memory scan bands possible
• Visual band scope for scanning activity
• DX packet cluster monitoring
• Grid square locator
• NMEA 0183 GPS input terminal
• Built-in CTCSS
• Built-in digital coded squelch (NEW)
• Remote control and cross-band repeater operation
• Mars modifiable with permit
• 64 character international messaging with Interet gateways
• NEW backlite alphanumeric microphone for message input
• Position (latitude/longitude) memory function
• Transmit message memory function
Specifications
APRS Yes
ARRL TravelPlus Compatible No
Cross Band Repeat Yes
CTCSS Enc/Dec
DCS Enc/Dec
Dual Band Receive Yes
Dual Receive on Same Band (VxV, UxU) Yes
EchoLink Memory Automatic Dialer No
EchoLink Sysop Mode For Node Terminal Operation No
Extended Receive VHF Band, UHF Band 118-470MHz
VHF Band, UHF Band 136-174MHz 300-524MHz
excluding cellular band
Memory Channels 200
Number of Bands 2
Output Power 50W VHF
35W UHF
Packet Cluster Tune Yes
PC Programmable Yes
Receiver Operating Mode FM-W/AM
SkyCommand Yes
TNC Yes
Transmit Frequency Range 144-148MHz
430-450MHz
Voice Synthesizer (Optional) Yes VS-3
Weather Alert No
Wide/Narrow FM No
Wireless Remote Yes
Comet GP-9
[Cobb Mountain]

GP-9 (with SO-239 Conn) GP-9N (with N-Conn)
DualBand 146/446MHz
Gain & Wave:
146MHz 8.5dBi
5⁄8 wave x 3
446MHz 11.9dBi
5⁄8 wave x 8
VSWR: 1.5:1 or less
Max Power: 200 watts
Length: 16' 9"
Weight: 5 lbs. 11 oz.
Mounting to Mast Size:
11⁄4-21⁄2"
Connector:
SO-239 or Female N-type
Construction:
Heavy-duty fiberglass, 3 sections
Elk Antennas 2M/440L5
[Hidden Valley Lake]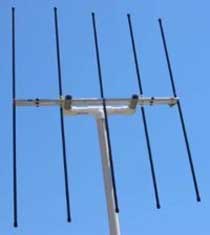 http://www.elkantennas.com/
Elk Antennas Dual Band 2M/440 - 2M Gain 6.6 dbd (8.7 dBi)
440 Gain 7 dBd (9 dBi)
20 +dB Front to Back Ratio
24 Inch Boom Length
1:1 SWR 144-148 Mhz, 430-450 Mhz
200W Max Power 2M, 100W 440
Weighs 1.5 lbs.
Corrosion resistant aluminum alloy boom
Anodized aluminum elements
Stainless steel hardware
Designed for long life
Super fast and easy assembly/disassembly (three minutes).
Color-coded elements screw onto studs on the color-coded boom- just match the colors!
Two bands with one coax fitting. Use your dual band HT for satellite contacts.
No duplexer required, no duplexer loss, no duplexer power limit, no duplexer cost!
Use all portions of the band without retuning.
Change polarity easily, just twist the mounting assembly to change from vertical to horizontal polarity.
Designed with the latest synthesis software to achieve highest gain and highest front to back ratio for its size.
Now with "soft touch" handle for satellite and foxhunting applicationsModel 2M/440L5
L15B - A/D & Amp. Filter - L15B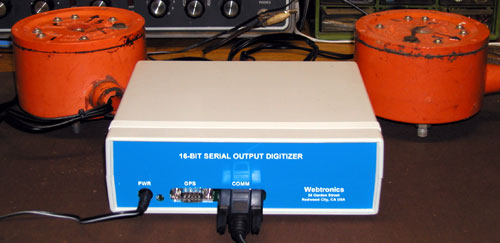 Mark Products L15B - http://www.seismicnet.com/geophone/index.html
A/D - http://www.seismicnet.com/serialatod.html
Enclosure - http://www.seismicnet.com/datalogger/index.html
Amp. Filter - http://www.seismicnet.com/serialamp.html
Davis 6152c (cabled) Weather Station
http://www.davisnet.com/weather/index.asp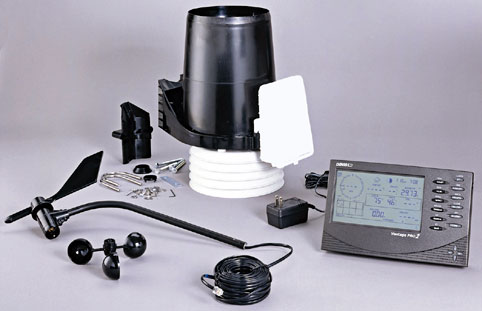 with WeatherLink APRS software (6540). More information located on Progress Log page.
---