Amateur Radio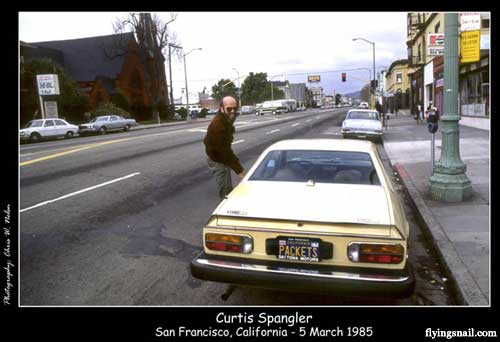 C. Spangler ~ Packets Photograph by Chris Nelson
I became interested in Amateur Radio during the summer of 1952.
I 'hung out' with a kid, on the weekends, that lived near one of my Grandparents' homes and his father was a General Class amateur radio operator, who had built 'all' of his equipment; including a very large beam antenna mounted on a 75 foot [telephone style] pole.
On Saturday mornings we would get together before kids' radio shows began and communicate with anyone who was willing to talk to us via amateur radio using morse code.
(fwiw) Television signals did not reach this area, at that time, and the only form of corporate media was AM radio, 78 RPM records, 45 RPM records, and movies.
I eventually ended up with a 1st Class F.C.C. license which allowed me to work in radio and television, and an Amateur Extra Class F.C.C. license, N6ECT, which allowed me to do, what I consider, some 'neat' things.
For example, I was able to receive pictures from the Mars Viking Lander via J.P.L. (Jet Propulsion Laboratory) using SSTV (amateur slow scan television)
The most fortuitous station worked early in the event was Mel, W6VLH, who asked if we would be on SSTV. Our answer was negative, that no one in our club had the equipment. A couple of days later, we received a call from Robot asking what equipment we needed for SSTV operation and if they could loan it to us! Thus began one of the most wanted SSTV operations in the world. Jim, WA6MYJ, and Stan, K6YYQ, operated most of the SSTV (since the equipment was on loan, we were sensitive as to its use.) Pictures of Mars from both the Viking Orbiter and Lander were aired over N6V, occasionally into areas where there was little or no news coverage of the mission. A most memorable QSO was: "N6V de CZ20 ... What are those pictures you are sending? They look like the surface of Mars!" "CZ20 de N6V ... That's what they are!" We felt good that the pictures were recognizable. We are grateful to the JPL Public Information Office for providing us with the high quality photographs for our transmissions. We also had a direct video feed to the shack which allowed us to monitor and transmit some of the photos "live" from Mars as they were received here on Earth and processed by the computers. Jose', YV5FBL, Caracas, Venezuela, was late to a ham club meeting when the XYL said the rest of the club would not believe him unless he had tapes to prove it. At least one ham, Bill, W1PFA, was able to have his Polaroid photo of our transmissions published in the local newspaper, and then sent us a clipping. Bruce, VK3VF, sent impressive photos of a couple of pictures he received and also submitted to the newspaper. VE3AXC arranged to have TV news coverage live while receiving SSTV. Our local KABC-TV news team covered our operation in the Los Angeles area. We would greatly appreciate receiving any clippings you have managed to have published.
from my home: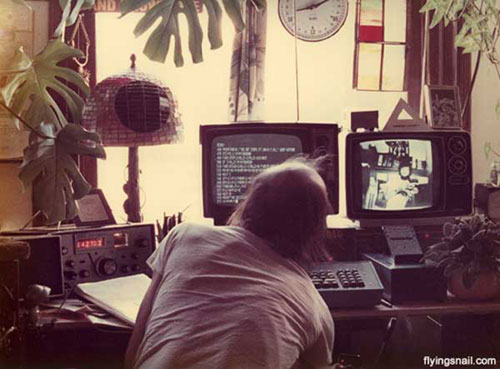 C. Spangler Photograph by Dwight Dolliver
communicate with MIR, the Soviet Space Station, February 25, 1989, from my home: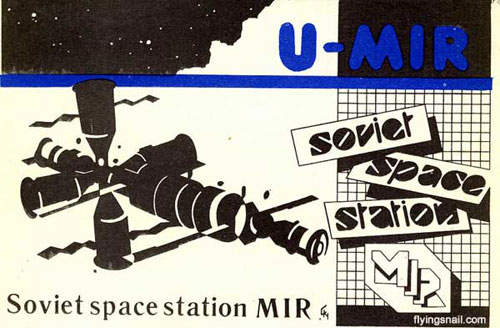 and with Spacecraft Columbia, from my home November 28, 1983, special thanks to NASA: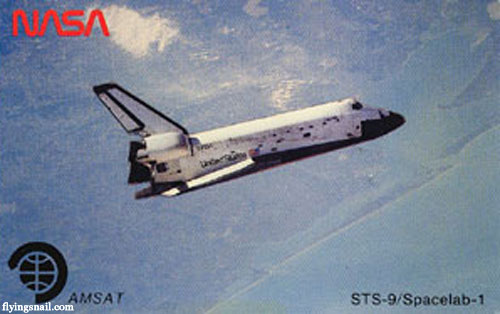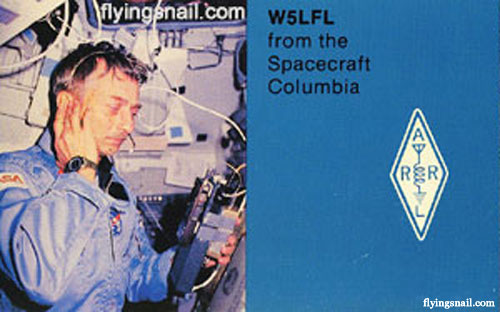 Owen Garriott, W5LFL from the Spacecraft Columbia
Another reason why I liked Amateur Radio was because most operators provided free Community Service communications for their area emergency services ... and beyond. The following are a few of the many things I have participated in: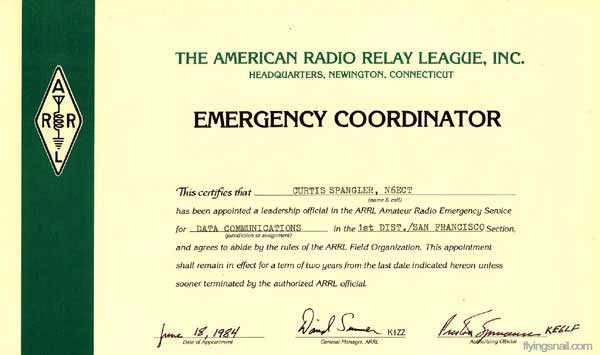 THE AMERICAN RADIO RELAY LEAGUE, INC.
HEADQUARTERS, NEWINGTON, CONNECTICUT
EMERGENCY COORDINATOR
This certifies that CURTIS SPANGLER, N6ECT

has been appointed a leadership official in the ARRL Amatery Radio Emergency Service

for DATA COMMUNICATIONS in the 1st DIST./SAN FRANCISCO Section

and agrees to abide by the rules of the ARRL Field Organization. This appointment

shall remain in effect for a term of two years from the last date indicated hereon unless

sooner terminated by the authorized ARRL official.

June, 18, 1984, David Summer, K1ZZ, General Manager, ARRL, Preston Spruance, KE6LF, Authorizing Official

[Note: I served as Data Communications coordinator for ten (10) years.]
During the 1970s, Fred Bray, KE6CD (Emergency Coordinator Radio Communications) and I, N6ECT (Emergency Coordinator Data Communications) provided the Mayor's Office of Emergency Services a complete FREE Emergency Disaster & Evacuation plan for the City of San Francisco, as a service of the Amateur Radio community and San Francisco Radio Club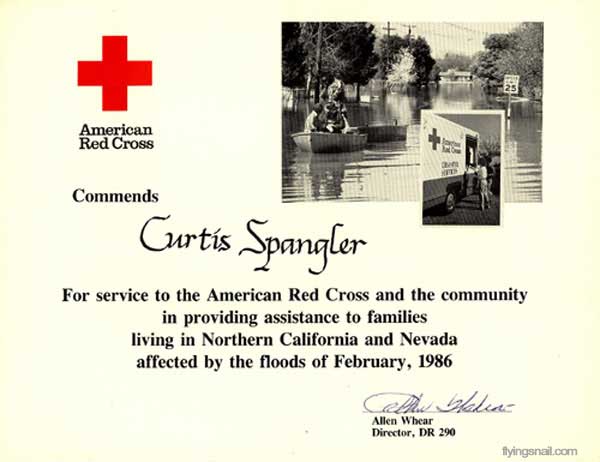 American Red Cross
Commends
Curtis Spangler
For service to the American Red Cross and the community
in providing assistance to families
living in Northern California and Nevada
affected by the floods of February, 1986
Allen Whear
Director, DR 290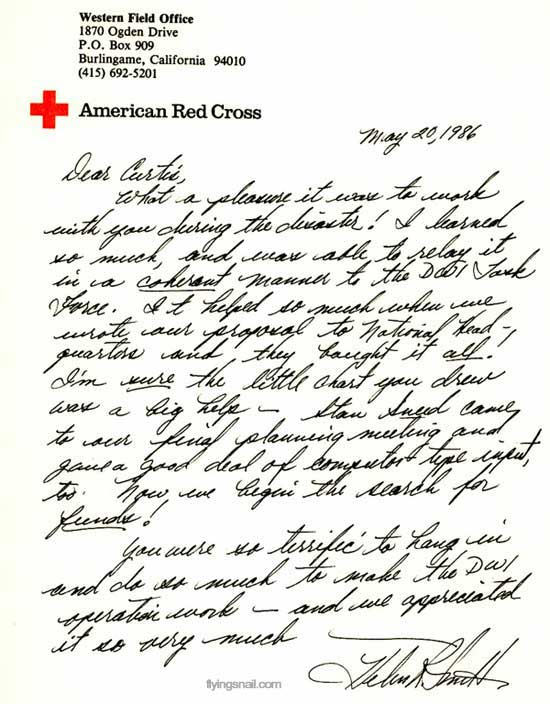 Western Field Office
1870 Ogden Drive
P.O. Box 909
Burlingame, California 94010
(415) 692-5201
American Red Cross
May 20, 1986
Dear Curtis,
What a pleasure it was to work with you during the disaster! I learned so much, and was able to relay it in a coherent manor to the DWI [Department of Welfare Inquiry] Task Force. It helped so much when we wrote our proposal to National Headquarters and they bought it all. I'm sure the little chart you drew was a big help -- Stan Sneed came to our final planning meeting and gave a good deal of computer type input too. Now we begin the search for funds!
You were so terrific to hang in and do so much to make the DWI operation work -- and we appreciated it so very much.
Helen R. Smith
San Francisco CommuniTree - 1978
In Memory of Dean Gengle
Fairwitnessing
APPENDIX B: Amateur Radio Conference Printout
The following is a sample printout of the Amateur Radio Conference currently running on CommuniTree No. 2, in San Francisco. The conference Fairwitness is Curtis Spangler, who became the world's first real-life Fairwitness as soon as he found out what a Fairwitness is. Thanks, Curtis.
*** AMATEUR.RADIO 1-JUN-81
PARENT=CONFERENCES USAGE=104
This branch is dedicated to Amateur Radio. Please feel free to add any information or comments. -cas-
+++ SUBMESSAGES +++
**** SOLAR.HOTLINE 1-JUN-81
PARENT=AMATEUR.RADIO USAGE= 73
A solar event hotline service is being provided jointly by the National Aeronautics and Space Administration (NASA) and the National oceanic and Atmospheric Administration (NOAA). Information on sunspots, solar flares, geomagnetic storms and the impact of the sun's behavior on radio transmissions will be provided in daily recorded messages from the Goddard Space Flight Center in Maryland. The telephone number is (301) 344-8129. The daily recordings will serve Amateur Radio operators interested in the sun's activities.
*** *RTTY I-JUN-81
PARENT=AMATEUR.RADIO USAGE= 69
This area is for RTTY related subjects -.-
*** K6GWE/R 1-JUN-81
PARENT=*RTTY USAGE= 69
Ok ... K6GWE/R (147.93/33) RTTY repeater .... 45.45 Baud (60 wpm) 170 Hz shift (2125 Hz mark/2295 Hz space) Mark tone to access repeater All welcome. Repeater also has it's own "mailbox", accessed by "MBX de <your call> Help" Also, some simplex stuff, from 100 wpm baudot, to attempts at 110 baud ascii on or around 145.61 (simplex). - 8107.26 CommuniTree -- First Edition Page 124
(Copyright @ 1981 Smith & Gengle) - http://www.flyingsnail.com/missingbbs/CommuniTree.html
Page Source - Hackers - The Missing BBS Files - http://www.flyingsnail.com/missingbbs/index.html
Index
Amateur Radio Public Seismic Network - ARPSN
Pacific Packet Radio Society - PPRS - http://www.pprs.org/
---