Other Two Wheels or Three
[new additions located at bottom of page]
Page 3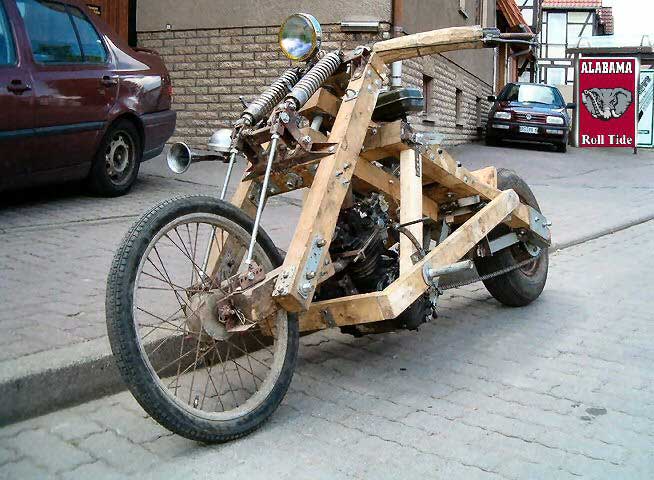 From: Steve Wozniak
Date: April 10, 2006 11:49:06 AM PDT
Subject: Alabama Harley

Does this qualify as a "chopper"?

So just where do you sit on this beast?

If the engine overheats, does the chassis burn?

Does it need periodic maintenance, like a wood preservative?

If you need parts can you just go to Home Depot?

Thanks to: Vern Halterman (contributed by Julie Roth)
---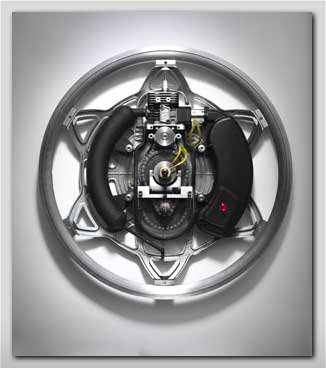 The Wheel by RevoPower
http://revopower.com/
Convert any 26-inch wheel bicycle into a 200 +/- MPG moped.
---
Smart helmet points out the potholes
http://news.com.com/2100-1008_3-6111162.html?part=rss&tag=6111162&subj=news
Image: http://i.i.com.com/cnwk.1d/i/ne/p/2006/helmet_click125x143.jpg
By Stefanie Olsen
Staff Writer, CNET News.com
Published: August 30, 2006, 5:25 PM PDT

What if your bike helmet could warn you about a pothole in the road? Or the airport arrivals-and-departures sign could sell you a Sprite?

Then you'd be living in Ted Selker's world, where design meets intelligent computing. A research scientist at the Massachusetts Institute of Technology's Media Lab, Selker invented these gadgets, among others, out of a desire to make his life and the environment a little bit smarter.

Take the Smart Helmet, a functional headpiece he invented five years ago after reaching a boiling point about inadequate roads and bad drivers in the Boston area. (He commutes by bike from Arlington, Mass., to MIT's campus in Cambridge about three times a week.) Now, the shiny BMX-adapted bike helmet is nearly perfect, he says.

What can it do? It can play music or audio books, with hook-ups for an iPod or tape cassette. It can record speech through built-in microphones and GPS (Global Positioning System), warning the wearer of a hazard on a given route. It also can detect important sounds like a fire siren to mute music when necessary. It has a Motorola cell phone with Bluetooth installed so a bicyclist can talk on the phone, hands-free, while commuting.

Also, wearers can tip their heads to the left to turn the left-side blinker on at the back of the helmet. Set the helmet down on a kitchen counter and it will turn itself off, thanks to installed motion detectors. If the wearer yells at an unruly motorist, the helmet will activate a horn at a higher decibel than the human noise. Selker said this feature helps keep him out of trouble with motorists.

"As a bicyclist, people don't like it when I yell," said Selker, a professor of context-aware computing and industrial design intelligence at MIT's Media Lab.

"One of the problems wearable computers have had in the past is--why would you wear something that would complicate the freewheeling feeling of walking around unencumbered?" Selker said. "I want to make something that people already wear or use, but better. "

The helmet exemplifies Selker's work on gizmos that mediate communication between people and the environment and create a kind of virtual city that enhances the ones we live in. He's working on hundreds of other projects that meld intelligent design with everyday gizmos or industrial objects.

The vending machine is one. He's helped develop a working model of a vending machine that doesn't look like a vending machine. Rather than the typical Pepsi logo that wraps most soda machines, the machine has a video screen display with airport arrival and departure times. That way, the airport could save money on signage, but also sell sodas in a way that's less intrusive to the environment.

In another version, the video screen includes an interactive word game much like Scrabble that encourages passersby to make a word from a set of letters. Other people contribute to the game over time, and it stays persistent in the community.

MIT plans to show the working model of the vending machine at an upcoming Digital Life conference in New York.

From the outside, the Smart Helmet looks normal. It's a black, shiny BMX helmet designed to block wind noise. It has a chin bar with a built-in microphone near the mouth that muffles external noise, too. Business calls are typically off-limits for Selker, however, because he breathes too heavily while riding.

Inside, the helmet has a microchip PIC processor that controls everything from turning blinkers on to recording voice commands. A built-in accelerometer--a device that measures acceleration or its own motion--detects when the wearer gets bumped or nods his head, which then causes the chip to activate various commands.

Selker has built about four versions of the Smart Helmet since 2001, and each time, he adds a new idea or function. For example, he wanted the first model to simply let him talk on a cell phone and listen to music with ease. For that, he began working with different headpieces and microphones, and eventually built software that applied linguistic analysis to interpret various ambient sounds and discern which were important. That way, the helmet would stop playing music, for example, when a paramedic's alarm was sounding off.

The downside of the first version, however, was that the software required a huge Sony PC, making the helmet too unruly.

So in the follow-up version, he downsized the code to discern only the volume and pitch of noises to have roughly the same functionality. "If it's loud enough, the computer listens to it," he said. Now, it has a few hundred lines of C programming without a whole PC in the helmet.

The newest Smart Helmet, finished this summer, lets the biker shake his head to turn on a microphone, which then records a voice command. For example, if Selker runs into a blind spot at an intersection or a pothole in the road, he can activate the microphone by shaking his head and then say "bad intersection" or "dangerous hole." With GPS technology installed, the helmet will then detect when Selker is traveling near those same spots another day and turn on the recorded audio.

"I live in Boston where there are typically no street signs," he said. "With the helmet, I can shake my head, and say, 'Massachusetts Avenue,' and create a virtual city. "

Selker said the helmet would sell for about $200 in a store, without the costs of a connected iPod or cell phone. Still, he has yet to commercialize the helmet. "I'm the only one who uses it. Making a prototype is hard, " he said.

He envisions the next version will have the ability to make connections with other bikers. With a Bluetooth device, which has a unique identifier, the helmet could detect others on the road with the same technology who, for example, share the same route.

"Your devices could broker a relationship and make you both aware of one another, so one of you could say, 'Hey,' and start a conversation," Selker said.
---
World's longest stoppie, 305 metres
Buell Firebolt XB12R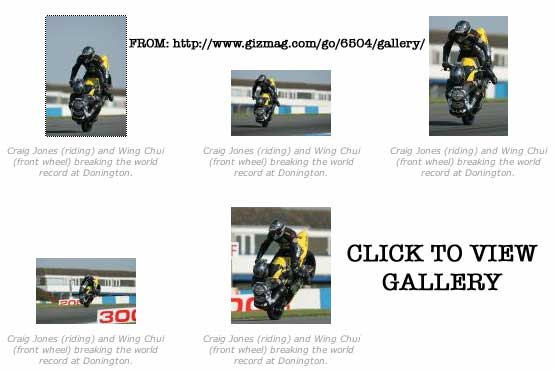 http://www.gizmag.com/go/6504/gallery/
November 25, 2006 We've mentioned before the spectacular reverse wheelie known as the stoppie – and indeed, we have previously mentioned the particular propensity well balanced motorcycles with wickedly powerful yet controllable and predictable brakes such as the Aprilia RS250 and Buell are at performing said stoppies.

Not content with having set two official Guinness World Records for solo stoppies, Buell Motorcycles professional extreme rider Craig Jones has been busy rewriting the record books and rules of extreme riding once again. But this time the world-best was a breathtaking two man effort with the former European champion and co-rider Wing Chui travelling an astonishing 305 metres together on their Buell Firebolt XB12R's front wheel.

The new milestone was set on a damp and challenging day at the UK's famous Donington Park race circuit.

Jones took the Buell Firebolt to speeds in excess of 120mph before applying the front brake and balancing the bike on its front wheel. Wing Chui, a strong contender for the most courageous man in motorcycling, was mounted on an extension to the front wheel spindle. As he hung onto the fairing bracket Wing was able to watch Craig steer the Buell Firebolt and had a compelling reason to hang on tightly as he travelled at 100mph with the Donington track just a few inches beneath him.
---
Vintage Harley Davidson Motorcycle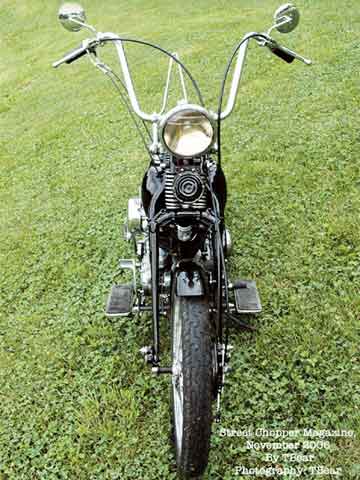 Jonathan's VLELXAFL
Built From The Parts Pile
By TBear
Photography: TBear
Street Chopper Magazine, November 2006

Jonathan Hughes of Poughkeepsie, New York, has had a long-time love affair with vintage motorcycles. Working as a motorcycle cop keeps him in the saddle most of the day, so you would think that motorcycles would be the furthest thing from his mind during his time off. You would be wrong. Jonathan lives and breathes vintage bikes. His fully restored collection consists of a vintage '26 "B" Peashooter, a '34 VL, a '41 and a '42 WLA (one with complete sidecar setup), a '65 Police Model panhead, and, just to round out the collection, a '57 BMW.

Jonathan's bikes are faithful restorations and are meant to be ridden. He has spent years scouring swap meets and recently the Internet on his worldwide search for the correct original period parts. He has now accumulated quite a pile of them. With such a collection, the only thing Jonathan felt he was missing was a chopper. What to do? He decided to build one from the spare-parts pile. Jonathan contacted his buddies at Harbor Vintage Motor Company in Jonesville, Vermont, and ran the idea by them. They were happy to pitch in and help out.

The design for this bike came from the mind of Dave "Rat" Scherk, along with input from Jonathan. The idea was to use leftover antique parts that Jonathan had from restorations, operating on the idea that it was the late '50s. What would a guy build with parts left over from the '30s, '40s and '50s? Some items had to be cheated on, such as the 12-volt solid-state ignition, a decent V-Twin drum dual-piston front brake, and a few new parts from catalogs.

Jonathan had a complete '47 61ci EL knucklehead motor in his garage, so they decided to use that as the bike's powerplant. The knuck still had its original stock cases, which were chromed, as well as original flywheels. They freshened up the pistons, polished the stock cylinders and heads, and added a cam that was a little hotter than the original knuck cam. Jonathan and Dave went with an S&S D-3 carburetor and custom-made pipes with '58 "K" model Sportster mufflers. They opted for a '50 Harley-Davidson transmission, although the ratchet top had to be changed on the old tranny to accept a foot shifter and a hand clutch. The stock cases were chromed, along with the stock gears and clutch basket. They kept the original primary chaindrive as well.

A lot of work went into making the '47 knuckle engine fit into a '34 VL frame. First, the frame had to be modified, the engine mounts had to be moved 3/4 of an inch to the left, and a new top mount had to be added. Next, the spine tube was raised to accommodate the knucklehead motor. The seat tube was removed, and new seat brackets were welded into place. The frame's powdercoating was done in-house by Harbor Vintage.

The front forks are from a military '45 H-D XA Springer. The XA Springer frontend was made stock 2 inches over the standard 45ci frontend for easy use in the North Africa desert sand, which made it a perfect chopper frontend. They had to go with a set of Custom Chrome triple-trees to make the setup work. The front wheel is a 21-inch spoker from V-Twin with a V-Twin dual caliper drum-style brake with a Dunlop MH90-21 tire. The rear wheel is a 16-inch rim off a stock '58 FL with a '34-style drum brake with a Dunlop 130/90B16 tire.

The '34 VL fuel tank also required a bit of modification. The left half of the fuel tank that held the hand oiler and oil tank was reworked as a fuel-only holding unit with a front-mounted petcock. A new Custom Chrome oil tank was also added down below the seat. The original fine-thread VL gas caps were cleaned up and reused. The front fender was modified from a Wide Glide unit, and the rear fender struts were custom-made to house the new rear fender, which was fabricated from one off a '37 Plymouth automobile.

The 8-inch ape hanger bars from Custom Chrome sit nicely on a set of vintage 4-inch Flanders Dog Bone-style risers. The hand controls are also from Custom Chrome and blend in well with the vintage speedometer and the '29 vintage U.S. Gauge amp meter. Lighting the way for Jonathan is a '40 Cycle-Ray headlight as well as a vintage '34 VL taillight. The footboards and controls are also vintage '30s VL, with the exception of the aftermarket foot shift lever. The solo seat was also made up from spare parts and reupholstered in black leather.

It took Jonathan and the folks at Harbor Vintage Motor Company 14 months to get the project ready for its first test ride. Jonathan was so pleased with the result that two weeks later he took the bike from upstate New York down to Daytona Bike Week, only having to stop for gas along the way. We were happy to run into Jonathan in Daytona. He renewed our faith that there are people out there maintaining the craftsmanship of a bygone era. Our hats are off to folks that can take vintage parts, and with a little imagination, turn them into something new and special.

Article Pictures: - http://www.streetchopperweb.com/

Article Source: - http://www.streetchopperweb.com/

Street Chopper Magazine - http://www.streetchopperweb.com/
---
Chinese 750 MOTORCYCLE WITH SIDECAR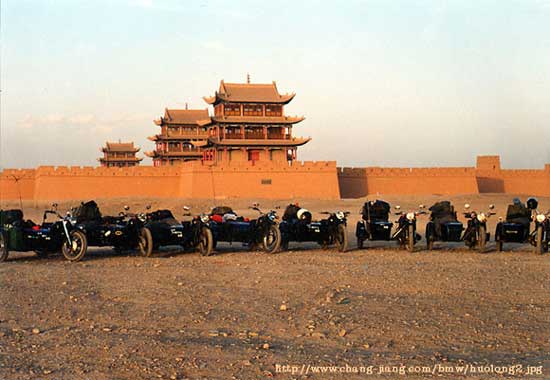 (SIMILAR TO PRE-WAR II BMW R71)
http://www.chang-jiang.com/bmw/pa.htm
Other Motorcycles
http://www.chang-jiang.com/motornew/motor.htm
Chang Jiang
http://www.chang-jiang.com/
---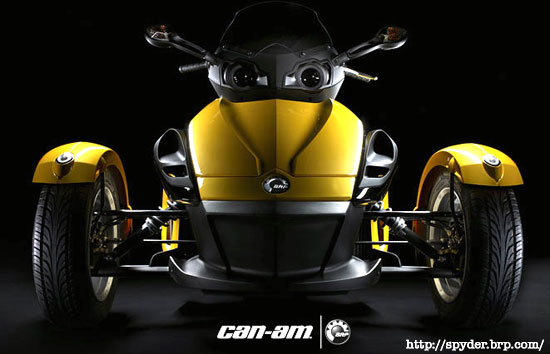 Three-wheel hybrid motorcycle with rear wheel drive (two wheels at the front and one at the back), powered by a Rotax 990 V-twin liquid-cooled engine, five-speed manual transmission, antilock breaks, traction control, dynamic power steering, and the Y-shaped chassis has a center steel beam, which BRP says is welded for better structural stability.
---
5-Minute Project: Drill-Powered Skateboard

Do you have a skateboard that is gathering dust in the corner of your garage? Breathe some new life into those wheels by zapping them with some volts. Specifically, attaching a battery-powered electric drill to the front of your skateboard will provide effortless nosegrinding and endless hours of fun.
Three factors will enhance your battery-powered skateboarding:
1. More Volts. Higher voltage battery-powered drills (at least 9.6V) will provide more minutes of skateboarding fun.
2. Greater Torque. Drills that can generate more torque will be able to move, ahem, heavier riders.
3. Big, Bad Rubber Wheel. The more rubber that meets the highway, the higher the performance.
---
[home]