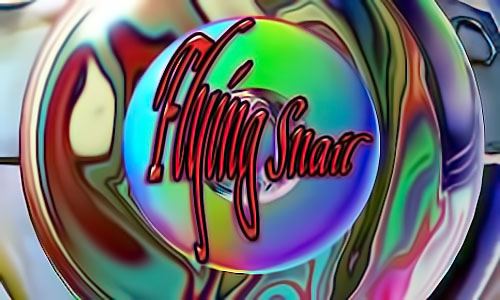 Tell-A-Vision = Why Not Try Love Again?
Mike writes:
A new song, Buckaroo Life, http://soundcloud.com/guitar-willie/buckaroo-life
Buckaroo: A corruption of the Spanish word "vaquero", meaning "cowboy".
An original song by Michael Ray Wilhelm
Wilhelm's Hired Guns at the Wing
By Katherine Morgenstern
UPPER LAKE - Mike Wilhelm & Hired Guns play at the Blue Wing on Monday, August 8, from 6 until 9 pm. Personnel are regulars Wilhelm and Randy Hare, guitars; James "Jimmy the Lion" Leonardis, tenor sax; James "Jamie" Webber, bass and Slammin' Scott Slagle, drums.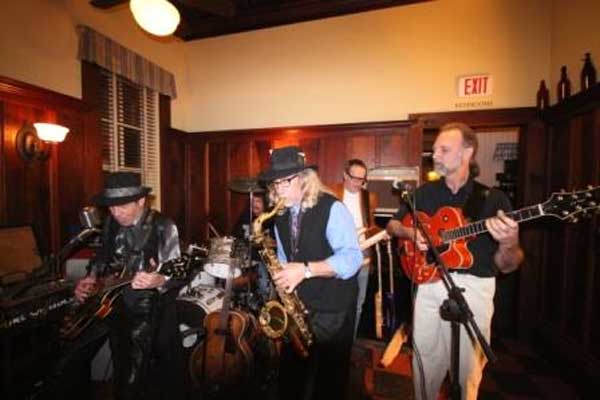 Mike Wilhelm, , Scott Slagle, Jim Leonardis, Jamie Webber and Randy Hare @ the Blue Wing Photo: Jim Warren
The Blue Wing Saloon & Cafe is located at 9520 Main St., Upper Lake, California. Reservations are recommended for parties of six or more. Accommodations are available at the historic Tallman Hotel adjoining the Blue Wing. Telephone is 707-275-2233.
Satirist Paul Krassner Turning 80, Going Strong
Michael Sigman, 8/4/11 04:44 PM ET, Article Source
There's irony in the fact that Paul Krassner sees "increasing insanity" in our current politics and culture. The 1960s activist whom the FBI once tagged "a raving, unconfined nut," told me recently that "insanity is evolving along with everything else."
And yet? "And yet I'm still optimistic that compassion is on the rise," he says. "Or is that just wishful thinking? As singer-songwriter Harry Chapin once told me backstage at a benefit, 'If we don't act like there's hope, there is no hope.' Maybe that's only a placebo, but placebos do work."
I first met Krassner in 1989. I was charged with finding a keynote speaker for the Association of Alternative Newsweeklies annual convention, to be held in L.A. for the first time. The unavailability of such obvious choices as Tom Hayden and Jesse Jackson turned out to be a lucky break, because we landed Paul Krassner, the self-described investigative satirist whom People magazine once called "the father of the underground press" -- prompting Krassner to demand a paternity test.
Speaking before a few hundred reporters, editors and publishers -- many of them still of the humorless lefty variety -- Krassner delivered a brain-twisting tour de force that was equal parts Lenny Bruce, George Carlin and Groucho Marx. Time blurs the specifics, but what remains is the kind of magical resonance you feel when you think about a book you treasured long ago, though you couldn't recount the plot if your life depended on it.
It's hard to believe that that man will turn 80 next year.
The founder and editor of the groundbreaking journal The Realist says he feels 23. He's publishing a new, expanded edition of his 1993 autobiography Confessions of a Raving, Unconfined Nut: Misadventures in the Counter-Culture.
He's also writing lots of magazine articles, updating his website, publishing every issue of The Realist online and, in his spare time, maintaining what he calls his "cottage industry"-- peddling a digitally colored edition of the infamous "Disneyland Memorial Orgy" parody, created by Madmagazine artist Wally Wood and first published in 1967 as a centerspread in The Realist. This may look tame today, but that's owing in part to Krassner, who relentlessly pushed the cultural envelope.
Krassner is something of a Zelig of the left, except he wasn't just there, he was a key player. He co-founded the Yippies with Abbie Hoffman and Jerry Rubin, and took LSD with Ram Dass, Ken Kesey and Timothy Leary -- Leary let him listen in on a call from a Wall Street broker thanking him for turning him onto acid "because it gave him the courage to sell short." He accompanied Groucho Marx on his first acid trip and later named the protagonist of his first novel Kevin "Schmucko" Marx.
He edited Lenny Bruce's autobiography, How to Talk Dirty and Influence People. He was a musical prodigy who debuted at Carnegie Hall at age 6, a stand-up comic who recorded comedy albums and a radio host. He's written many books and thousands of articles in newspapers and magazines too numerous to mention. Most recently, Krassner's oldest friend, Orson Bean, who happens to be the father-in-law of conservative bad boy Andrew Breitbart, arranged for Krassner and Bretibart to have a "Dialogue" for an upcoming issue of Playboy.

Today, Krassner worries that "things seem to be going backward. During the '60s, when abortion was illegal," he recalls, "I ran a free underground referral service, and got subpoenaed by district attorneys in two cities, but refused to testify. I thought it would never be legalized in my lifetime, but I became the sole plaintiff in a lawsuit declaring the abortion law in New York State to be unconstitutional. Later, women's groups joined in, which, my attorney told me, eventually led to Roe vs. Wade. Then I thought abortion would never be illegal again, so now it's disheartening to see the right-wing religious conservative movement that supposedly wants to keep government out of our lives, nevertheless trying to criminalize reproduction rights in my lifetime. The devil never sleeps."

Neither, it seems, does Krassner. He's helped pave the way for untold numbers of activists, artists, writers, reporters and editors to express themselves more freely. And he's inspired not just activists and radicals but suburbanites of several generations. When I told my mom I was in touch with Krassner, she reached over to her nightstand and began reading to me from an ancient copy of The Realist, which has occupied that prime position since I was a kid. "The pages are a little yellow," she said, "but I can still read everything, including the postmark."
Amestizo writes:
Curtis,
Don't want to over load but check out these gems!
Be well, aho, Randy Crazyhorse
When You Gonna Wake Up?
by Bob Dylan
God don't make promises that He don't keep
You got some big dreams baby, but in order to dream you gotta still be asleep.
When you gonna wake up, when you gonna wake up
When you gonna wake up strengthen the things that remain ?
Counterfeited philosophies have polluted all of your thoughts
Karl Marx has got ya by the throat, Henry Kissinger's got you tied up in knots.
When you gonna wake up, when you gonna wake up
When you gonna wake up strengthen the things that remain ?
You got innocent men in jail, your insane asylums are filled
You got unrighteous doctors dealing drugs that'll never cure your ills.
When you gonna wake up, when you gonna wake up
When you gonna wake up strengthen the things that remain ?
You got men who can't hold their peace and woman who can't control their tongues
The rich seduce the poor and the old are seduced by the young.
When you gonna wake up, when you gonna wake up
When you gonna wake up strengthen the things that remain ?
Adulterers in churches and pornography in the schools
You got gangsters in power and lawbreakers making rules.
When you gonna wake up, when you gonna wake up
When you gonna wake up strengthen the things that remain ?
Spiritual advisors and gurus to guide your every move
Instant inner peace and every step you take has got to be approved.
When you gonna wake up, when you gonna wake up
When you gonna wake up strengthen the things that remain ?
Do you ever wonder just what God requires ?
You think He's just an errand boy to satisfy your wandering desires.
When you gonna wake up, when you gonna wake up
When you gonna wake up and strengthen the things that remain ?
You can't take it with you and you know that it's too worthless to be sold
They tell you, 'Time is money' as if your life was worth its weight in gold.
When you gonna wake up, when you gonna wake up
When you gonna wake up and strengthen the things that remain ?
There's a man up on a cross and He's been crucified for you
Believe in His power that's about all you got to do.
When you gonna wake up, when you gonna wake up
When you gonna wake up and strengthen the things that remain ?
h.p. lovecraft
"It is unfortunate, considering that enthusiasm moves the world, that so few enthusiasts can be trusted to speak the truth." -Arthur Balfour
h.p. lovecraft - gloria patria
http://www.youtube.com/watch?v=llGiV6G8HPM&feature=related
h.p. lovecraft - wayfaring stranger
http://www.youtube.com/watch?v=x8IMFLMEJK8&feature=related
h.p. lovecraft - high flying bird
http://www.youtube.com/watch?v=oCrLAeK03nY&feature=related
h.p. lovecraft - that's the bag i'm in
http://www.youtube.com/watch?v=bjzyHAob7kw&feature=fvst
h.p. lovecraft - the drifter
http://www.youtube.com/watch?v=bYQ2rA_QDPk&feature=related
h.p. lovecraft - keeper of the keys
http://www.youtube.com/watch?v=rZvm4v7TxYk&feature=related
h.p. lovecraft - let's get together
http://www.youtube.com/watch?v=38GEWRTUsIA&NR=1
h.p. lovecraft - it's about time
http://www.youtube.com/watch?v=zzhJlgcPnk4&feature=related
h.p. lovecraft - time machine
http://www.youtube.com/watch?v=RUtEjq4dftI&feature=related
h.p. lovecraft - at the mountains of madness
http://www.youtube.com/watch?v=EHxuWBzBbpw&feature=related
h.p. lovecraft - spin, spin, spin
http://www.youtube.com/watch?v=VlLT_hJK9cw&feature=related
"Why would it be a crime to sit back in my own back yard with a shot of a nice whiskey and a pipe to take a toke off of every so often?
The Puritans would throw me in the stockades for relaxing, even if it is my day off. And the Moneyed descendents of the Colonial Puritans are unhappy that I have a day off not being spent being mind controlled by some religious hypocrites.
Remember they don't think that spontaneous public dancing is OK? So what do these modern day Puritans do? They get the govermnent to start up a war on drugs. Gin (pun intended) up facts that any drug use is dangerous. Then once the jails are loaded up, they start up their own companies that run the jails, collect a fee and pay off judges to send in more criminals.
To a 21st Century capiltist Puritan, the only happiness allowed is to those that are very, very rich, especially if like a vampire, they suck the happiness out of the poor unfortunate common folk."
Pride of Man
by Hamilton Camp
Turn around go back down
Back the way you came
Can't you see that flash of fire
Ten times brighter than the day
And behold a mighty city broken in the dust again
Oh God, Pride of Man
Broken in the dust again
Turn around go back down
Back the way you came
Babylon is laid to waste
Egypt's buried in her shame
The mighty men are all beaten down
Their kings are fallen in the ways
Oh God, Pride of Man
Broken in the dust again
Turn around
Go back down
Back the way you came
Terror is on every side
Though our leaders are dismayed
All those who place their faith in fire
Their faith in fire shall be repayed
Oh God, Pride of Man
Broken in the dust again
Turn around,go back down
Back the way you came
And shout a warning unto the nation
That the sword of God is raised.
Yes, Babylon, backedby it's city
Rich in treasures, wide in fame
Oh God, Pride of Man
Broken in the dust again
The meek shall cause your tower to fall
Make a you a pyre of flame
Oh you who dwell on many waters
Rich in treasures, wide in fame
You bow unto your God of gold
Your pride of might shall be a shame
For only God can lead his people
Back unto the Earth again
Oh God, Pride of Man
Broken in the dust again
A Holy mountain be restored
and mercy on that people, that people...
eric clapton - i shot the sheriff
http://www.youtube.com/watch?v=10qLYy6hiFQ
cold blood (original sample)- funky on my back
http://www.secondoctave.com/media/Funky%20on%20My%20Back.mp3
cold blood (cover) - funky on my back
http://www.youtube.com/watch?v=28ZjcY8il54
cold blood - valdez in the country
http://www.youtube.com/watch?v=0pCXGotc0H8&feature=fvsr
the loading zone - can i dedicate
http://www.youtube.com/watch?v=5PHOVyDGUV8&feature=BFa&list=AVGxdCwVVULXcW9QEsQkxiKNXYVIvOVVJv&index=1
the loading zone - i can't please you
http://www.youtube.com/watch?v=lQEXtP_GfGw&feature=related
the siegel- schwall band - down in the bottom
http://www.youtube.com/watch?v=01Y8A4VtY3Q
the siegel- schwall band - bring it with you when you come
http://www.youtube.com/watch?v=JNO1CZZo8p4&NR=1
the siegel- schwall band - louise, louise, louise blues
http://www.youtube.com/watch?v=ecZCsvXDeCQ&feature=related
the siegel- schwall band - hush hush (live)
http://www.youtube.com/watch?v=lZKk2XKfXwg&feature=related
David writes:
Hello,
This is my latest painting: "Mistress, May I?"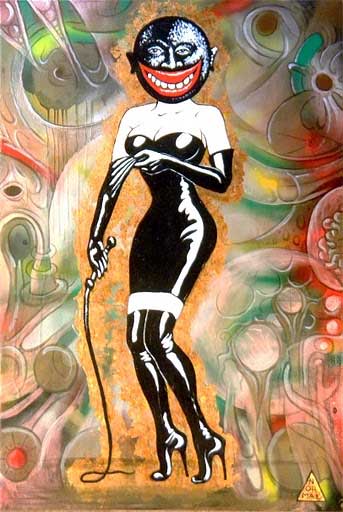 "Mistress, May I?" Acrylic on Canvas, 24" x 36" (61 x 91.5 cm) 2011
For more info about this piece (or any of my other work) please visit my blog, http://normal.bz.
Also, I was interviewed recently for the "Vasa Transmedia Global Project." You may read the interview here.
- David Normal
Hal, Rainbow Puddle writes:
Can u pass it ?
I have a video of the build and will help erect it on the playa. Thx
[illumination] Aurora's Kickstarter almost there just need a little more..
Hello, Friends, family, fellow artists and those who i know who enjoy art,
This summer i am making a giant work of art. It is called Aurora, it is a willow tree that is 30' tall has 4400 kinetic copper leaves, and 50,000 LEDs. I received a grant to bring this work to burning man but as it almost always goes that grant does not really cover the cost of building the work and transporting it there and back. So i am asking all of you to help us raise the money to make this happen.. We are very close, if you can follow the link below and donate even just $1 it would mean a lot to me...
and the best part is we are trying really hard to bring this work of art back to SF and stand her up on a street corner for a year or two, so hopefully all of you will get a chance to see it.
thank you again for your support, we are very close to the our stated goal and it will be be great to get there but our costs are still soaring so if we could reach $15,000 our life would be much happier.
The KICK STARTER PAGE
http://www.kickstarter.com/projects/aurora/aurora-the-willow
http://charlesgadeken.com/art ( then click on Aurora...)
http://www.wired.com/underwire/2011/06/aurora/ (an article written
this summer by Wired.com about Aurora and my art)
Cheers and thank you
charlie
PS... this will be my last plea for money..please give if you can..... PSS. We still need people to help us, we have two weeks left to finish this work of art and this could your chance to get involved in making something beautiful in the world, plus learn a new skill or two. if you are interested drop me email or give me a call.
charlie gadeken, 415-359-5084, http://www.charlesgadeken.com (my art) - http://www.boxshopsf.org (my art space)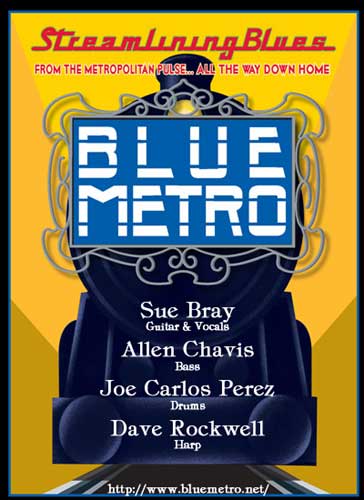 Streamlining Blues - Blue Metro - http://www.bluemetro.net/ +++ Pat O'Brien & the Priests of Love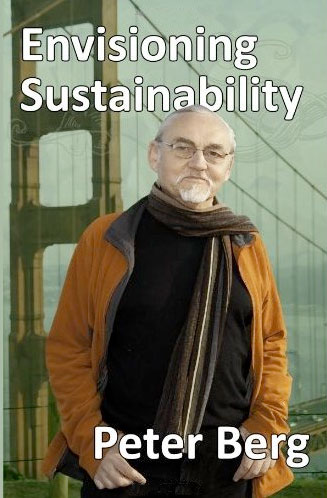 In Memory of A Good Friend: Peter Berg
On the morning of Thursday, July 28th, Planet Drum Foundation's founder, Peter Berg, breathed his last. His life-partner, Judy, and daughter, Ocean, were with him. In many ways his death was too soon and unexpected. Now he has joined the electric pulse of the planet; he exists in the earth and sky, water and wind, and in our hearts and memories. Look for him in the glittering sparkles of sunlight, in the stars at night, and in all the beauty of Pachamama which he so loved.

Peter was a clear-seeing, passionate, visionary activist, analyzing all aspects of human species interactions and following through his ideas with action. Prior to his bioregional work, he participated in early civil rights action and theater; wrote, directed, produced, and acted in plays for the SF Mime Troupe; and formulated theory and actions with the Diggers in San Francisco, writing ecstatic prose/poetry manifestos.

Peter founded Planet Drum Foundation in 1973, and continued as its director for 38 years. The originator of the term "bioregion" and concept of "reinhabitation," Peter was a noted ecologist, author and speaker. According to Gary Snyder, Peter's work and Planet Drum's newsletter Raise the Stakes were "of immeasurable importance in defining and disseminating the ideas and possibilities of bioregionalism." Works include extraordinarily innovative revegetation and green city projects both locally and abroad, which directly manifest his vision of ecological and cultural sustainability. "Throughout his long career he stayed with living right in San Francisco and in word and deed was a proponent of a non-dualistic urban/hinterland view of bioregionalism. Peter was a unique and cranky figure," -- Gary Snyder.

Peter's books include: Envisioning Sustainability, Discovering Your Life-Place: A First Bioregional Workbook, A Green City Program for the San Francisco Bay Area and Beyond, Figures of Regulation: Guides for Re-Balancing Society with the Biosphere, and Reinhabiting a Separate Country: A Bioregional Anthology of Northern California. Articles and interviews with him have been published internationally, and he has done presentations and workshops at events, conferences, schools/universities, etc. worldwide.

No one will be able to replace his presence, but Planet Drum Foundation will continue. In his last months, Peter laid the groundwork to ensure that the Foundation would carry the bioregional legacy into the future. As part of this effort, Peter and his brother established the Eliot and Peter Berg Endowment Fund.

"We didn't play it for the Big Time. We didn't play it for the Small Time. We played it for the Real Time"-- Peter Berg 7/24/11
Planet Drum Foundation, www.planetdrum.org
Bioregionalism (a definition)
From: Peter Berg
Date: 25 Apr 2002, Article Source: http://www.diggers.org/freecitynews/_disc1/00000017.htm
By Peter Berg
[Peter Berg coined the term "bioregionalism" in the early 70s to define an environmental perspective that emphasizes action over protest, lifestyle over legislation. Here he brings us up to date on the definition as it currently is being acted out on the stage of the ecology crisis we all must confront. The original publication is located at http://www.planetdrum.org/.]
The catastrophic effects on Earth's biosphere due to human activities since the inception of the industrial era have become imperiling to all life. A transformation of fundamental aspects of consciousness is urgently required to halt and reverse this destructive process. Conservation of resources and environmentalism alone are not adequate to the task. The concept of a bioregion as the basic location where people live, and the practice of reinhabitation of that life-place by its residents, are necessary to rejoin human beings into the overall web of life. Harmonizing with the natural systems of each bioregion is a necessary step toward preserving the whole biosphere.
A bioregion is defined in terms of the unique overall pattern of natural characteristics that are found in a specific place. The main features are generally found throughout a continuous geographic terrain and include a particular climate, local aspects of seasons, landforms, watersheds, soils, and native plants and animals. People are also counted as an integral aspect of a place's life, as can be seen in the ecologically adaptive cultures of early inhabitants, and in the activities of present day reinhabitants who attempt to harmonize in a sustainable way with the place where they live.
Because it is a cultural idea, the description of a specific bioregion is drawn using information from not only the natural sciences but also many other sources. It is a geographic terrain and a terrain of consciousness. Anthropological studies, historical accounts, social developments, customs, traditions, and arts can all play a part. Bioregionalism utilizes them to accomplish three main goals: 1) restore and maintain local natural systems; 2) practice sustainable ways to satisfy basic human needs such as food, water, energy, housing, and materials; and 3) support the work of reinhabitation. The latter is accomplished through proactive projects, employment and education, as well as by engaging in protests against the destruction of natural elements in a life-place.
Bioregional goals play out in a spectrum of different ways for different places. In North America, for example, restoring native prairie grasses is a basic ecosystem-rebuilding activity for reinhabitants of the Kansas Area Watershed Bioregion in the Midwest, whereas bringing back salmon runs has a high priority for Shasta Bioregion in northern California. Using biomass as a renewable energy source fits Cascadia Bioregion in the rainy Pacific Northwest. Less cloudy skies in the Southwest's sparsely vegetated Sonoran Desert Bioregion make direct solar energy a more plentiful alternative there. Education about local natural characteristics and conditions varies diversely from place to place, along with bioregionally significant social and political issues
In the early 1970s, the contemporary vision of bioregionalism began to be formed through collaboration between natural scientists, social and environmental activists, artists and writers, community leaders, and back-to-the-landers who worked directly with natural resources. They wanted to do "more than just save what's left" in regard to nature, wildness and the biosphere. Planet Drum Foundation in San Francisco became a voice for this sentiment through its publications about applying place-based ideas to environmental practices, society, cultural expressions, philosophy, politics, and other subjects. By the late 70s, bioregional organizations such as the Frisco Bay Mussel Group in northern California and Ozark Area Community Congress on the Kansas-Missouri border were founded to articulate local economic, social, political, and cultural agendas. The Mussel Group eventually played a pivotal role in persuading the public to vote down a bioregionally lethal Peripheral Canal proposal to divert fresh water away from San Francisco Bay. The Ozarks group has held continuous annual gatherings to promote and support place-based activities. At present there are hundreds of similar groups (and publications) in North and South America, Europe, Japan, and Australia.
There is a strong affinity for bioregional thinking in many fields that relate to ecological sustainability. Restoration ecology practitioners readily grasp the importance of an appreciative local culture for their efforts to revive native plants and animals. Urban ecology advocates use bioregions for "nesting" their redesigned cities in a broad natural context. Permaculturalists and most organic farmers employ techniques that are appropriate to their particular locales and insist on maintaining soils, water sources, and native species. Poets, painters, theater groups, and other artists have embraced bioregional themes in their works. Grade school teachers introduce bioregional concepts, and graduate schools recognize theses and dissertations based on them. Followers of Deep Ecology claim bioregionalists as a social manifestation of their biocentric philosophy. Even traditional conservation and environmental groups including the Sierra Club have subsequent to the inception of bioregionalism adopted a system of "ecoregions" to address members' problems in home areas.
Bioregionalists are primarily concerned with their own local areas. There are a surprisingly large number of opportunities to address everyday living conditions for the benefit of local sustainability; as wide-ranging as resident-based reforestation projects in rural areas and community gardens in cities. Their influence is felt most strongly on county and city levels because this is where they take place and are most visible. Watershed-based organizations with bioregional priorities for basins as small as a creek or as large as the Great Lakes are a steadily growing phenomenon. Their recommendations to boards, councils, and other agencies aren't limited to creek restoration, water conservation, and other obvious issues, but may also include redrawing political borders to fit watershed lines and adopting ecological urban plans.
On a broader level, representatives of the bioregional movement from far- flung places have held gatherings and congresses in Canada, Italy, Mexico, and the US that resulted in the formulation of general principles and statements of intent like the often-reprinted proclamation "Welcome Home". The defense of bioregions from globalist intrusions is a persistent issue that requires especially creative responses. When the town of Tepoztlan in Mexico was threatened with loss of traditional water rights and political autonomy by multinational land developers, bioregionalists from throughout North America assisted in mounting a resistance that was eventually approved by the Mexican government. Most recently, the destructive ecological impact and official "greenwashing" of the 2002 Winter Olympics in Salt Lake Bioregion was investigated and successfully exposed to international media coverage through Guard Fox Watch, a monitoring group made up of bioregional activists from Japan and the US. More bioregional alliances to defend particularly threatened places can be expected in the future.

BFF - Donald & Saddam
US contractor can sue [Stanford Hoover Institute Fellow]
Donald Rumsfeld for alleged Iraq torture, judge rules
Ex-US defence secretary faces personal damages claim for approving interrogation methods of US army at Camp Cropper
http://www.guardian.co.uk/world/2011/aug/04/american-sues-donald-rumsfeld-iraq-torture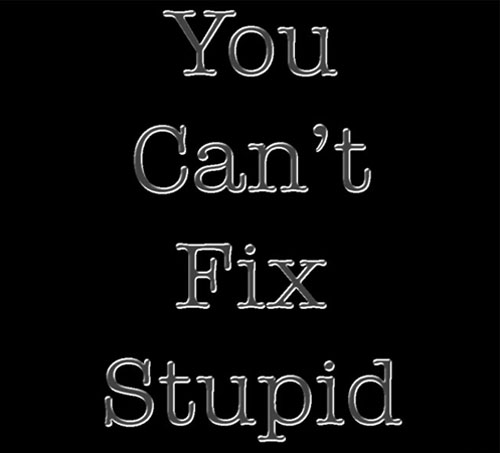 You Can't Fix Stupid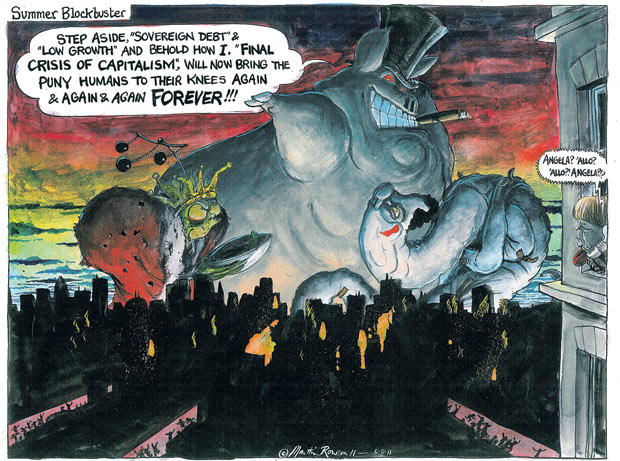 Martin Rowson cartoon on the final crisis of capitalism
European and North American stock markets are at their most volatile since the 2008 collapse of Lehman Brothers
Evil Republican Tea Party Sabotages America:
Tea Party Causes U. S. to Lose AAA Credit Rating



Tea Party Causes 401K Retirement to Drop 10%


Because of debt ceiling hold off and failure to tax rich,
U.S. Citizens Will Pay Higher Corporate Interest!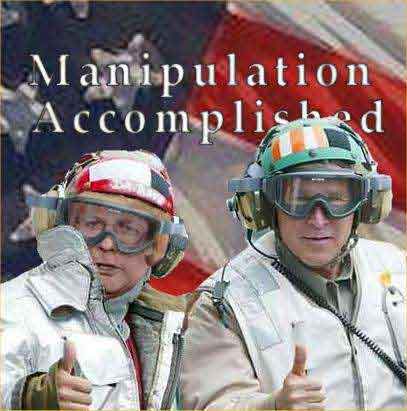 Republican Tea Party: Manipulation Accomplished!
Debt deal: anger and deceit has led the US into a billionaires' coup
The debt deal will hurt the poorest Americans, convinced by Fox and the Tea Party to act against their own welfare
George Monbiot, guardian.co.uk, Monday 1 August 2011 21.29 BST, Article history, Article Source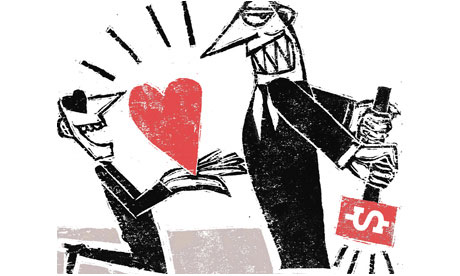 Illustration by Daniel Pudles
There are two ways of cutting a deficit: raising taxes or reducing spending. Raising taxes means taking money from the rich. Cutting spending means taking money from the poor. Not in all cases of course: some taxation is regressive; some state spending takes money from ordinary citizens and gives it to banks, arms companies, oil barons and farmers. But in most cases the state transfers wealth from rich to poor, while tax cuts shift it from poor to rich.
So the rich, in a nominal democracy, have a struggle on their hands. Somehow they must persuade the other 99% to vote against their own interests: to shrink the state, supporting spending cuts rather than tax rises. In the US they appear to be succeeding.
Partly as a result of the Bush tax cuts of 2001, 2003 and 2005 (shamefully extended by Barack Obama), taxation of the wealthy, in Obama's words, "is at its lowest level in half a century". The consequence of such regressive policies is a level of inequality unknown in other developed nations. As the Nobel laureate Joseph Stiglitz points out, in the past 10 years the income of the top 1% has risen by 18%, while that of blue-collar male workers has fallen by 12%.
The deal being thrashed out in Congress as this article goes to press seeks only to cut state spending. As the former Republican senator Alan Simpson says: "The little guy is going to be cremated." That means more economic decline, which means a bigger deficit. It's insane. But how did it happen?
The immediate reason is that Republican members of Congress supported by the Tea Party movement won't budge. But this explains nothing. The Tea Party movement mostly consists of people who have been harmed by tax cuts for the rich and spending cuts for the poor and middle. Why would they mobilise against their own welfare? You can understand what is happening in Washington only if you remember what everyone seems to have forgotten: how this movement began.
On Sunday the Observer claimed that "the Tea Party rose out of anger over the scale of federal spending, and in particular in bailing out the banks". This is what its members claim. It's nonsense.
The movement started with Rick Santelli's call on CNBC for a tea party of city traders to dump securities in Lake Michigan, in protest at Obama's plan to "subsidise the losers". In other words, it was a demand for a financiers' mobilisation against the bailout of their victims: people losing their homes. On the same day, a group called Americans for Prosperity (AFP) set up a Tea Party Facebook page and started organising Tea Party events. The movement, whose programme is still lavishly supported by AFP, took off from there.
So who or what is Americans for Prosperity? It was founded and is funded by Charles and David Koch. They run what they call "the biggest company you've never heard of", and between them they are worth $43bn. Koch Industries is a massive oil, gas, minerals, timber and chemicals company. In the past 15 years the brothers have poured at least $85m into lobby groups arguing for lower taxes for the rich and weaker regulations for industry. The groups and politicians the Kochs fund also lobby to destroy collective bargaining, to stop laws reducing carbon emissions, to stymie healthcare reform and to hobble attempts to control the banks. During the 2010 election cycle, AFP spent $45m supporting its favoured candidates.
But the Kochs' greatest political triumph is the creation of the Tea Party movement. Taki Oldham's film (Astro) Turf Wars shows Tea Party organisers reporting back to David Koch at their 2009 Defending the Dream summit, explaining the events and protests they've started with AFP help. "Five years ago," he tells them, "my brother Charles and I provided the funds to start Americans for Prosperity. It's beyond my wildest dreams how AFP has grown into this enormous organisation."
AFP mobilised the anger of people who found their conditions of life declining, and channelled it into a campaign to make them worse. Tea Party campaigners take to the streets to demand less tax for billionaires and worse health, education and social insurance for themselves.
Are they stupid? No. They have been misled by another instrument of corporate power: the media. The movement has been relentlessly promoted by Fox News, which belongs to a more familiar billionaire. Like the Kochs, Rupert Murdoch aims to misrepresent the democratic choices we face, in order to persuade us to vote against our own interests and in favour of his.
What's taking place in Congress right now is a kind of political coup. A handful of billionaires have shoved a spanner into the legislative process. Through the candidates they have bought and the movement that supports them, they are now breaking and reshaping the system to serve their interests. We knew this once, but now we've forgotten. What hope do we have of resisting a force we won't even see?
• A fully referenced version of this article can be found on George Monbiot's website. On Twitter: @GeorgeMonbiot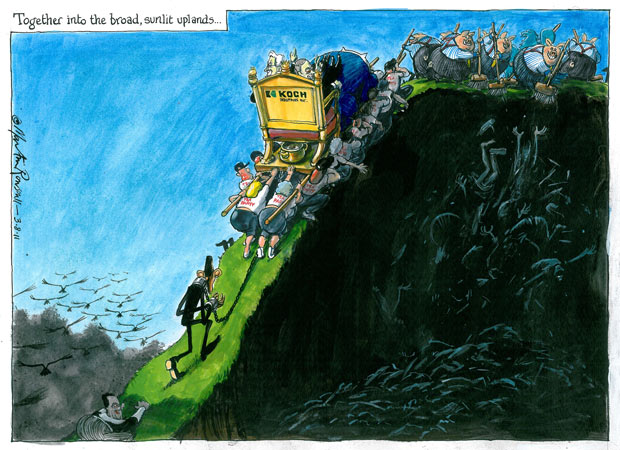 Martin Rowson cartoon: US debt deal passes in the Senate
Barack Obama expected to sign deficit-cutting bill into law immediately and signals he will press for future tax reforms
Tea Party's tough tactics on debt alienating moderate voters, polls show
Pollsters expect backlash against Tea Party movement following unwillingness to compromise on US debt ceiling talks
Ed Pilkington in New York, guardian.co.uk, Tuesday 2 August 2011 19.01 BST, Article history, Article Source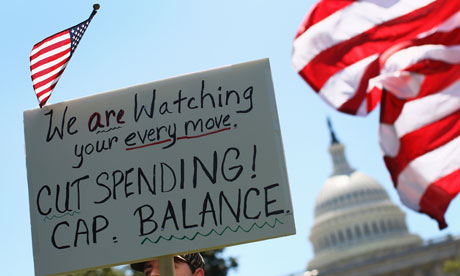 Key players in the Tea Party movement claimed that for the first time they had succeeded in
putting spending cuts at the centre of Washington affairs. Photograph: Win McNamee/Getty Images
Tea Party leaders are claiming victory in the outcome of the debt ceiling talks despite indications that their tough tactics, which pushed the US to the point of a government shutdown, may have alienated many moderate voters. Key players in the Tea Party movement said that for the first time they had succeeded in putting spending cuts at the centre of Washington affairs.
"We defined the contours of the debate and made it impossible to raise the debt ceiling without achieving serious spending cuts," said Phil Kerpen, head of policy at the prominent Tea Party group, Americans for Prosperity.
Kerpen estimated that of the 66 Republicans in the House of Representatives who voted against the final compromise, on the grounds that it does not cut public spending enough, about a half were Tea Party affiliated. The group included Michele Bachmann, a candidate to be the Republican presidential nominee.
One of the few points that both sides in the bitter talks can agree upon is that the Tea Party was seminal in shaping the terms of the debate.
Though the movement has been relatively quiet since its impressive showing in last year's midterm elections, the lull was deceptive – as the impact on such a crucial confrontation in Washington shows.
Newt Gingrich, who led the Republicans in their last major clash over spending in the 1990s, credited the Tea Party with having beaten Obama.
"A very leftwing president blinked, and that would not have happened without the Tea Party," he told Fox News. A similar recognition of Tea Party power was expressed from the left of the Democratic party, though in more impassioned language.
Vice president Joe Biden was forced into damage limitation mode after it was reported that at a private meeting he had convened with Democratic Congress members, Tea Party supporters were accused of "acting like terrorists".
Sal Russo, an influential strategist and founder of the Tea Party Express, said that even the terrorist jibe was a sign of success. "When people make outrageous comments like that you know they have lost the rational debate and you are winning."
The messy nature of the partisan fighting over raising the debt ceiling carries risks for the Tea Parties.
The more influence they wield on Capitol Hill, the more they will be held accountable for the impact of their actions.
That is already reflected in opinion polls. A survey by the Pew Research Center found that 37% of respondents had formed a less favourable opinion of the Tea Party affiliates in Congress as a result of the debt ceiling standoff – exactly the same indication of political damage as recorded for Barack Obama.
The only group that fared worse was the Republicans in Congress, who suffered a deteriorating reputation among 42% of the survey sample.
Pollster Scott Rasmussen, co-author of a book on the Tea Parties, Mad as Hell, said that he expected to see a backlash against the movement following all its recent activities.
"Among Democrats, many voters already have negative feelings and that may grow among moderate Republicans and unaffiliated voters."
But Rasmussen added that as an authentic grassroots movement, the advance of the Tea Parties would not be halted.
"The ideas that animated the Tea Parties will continue to grow regardless of what happens to their popularity."
US debt crisis: a bloody battle with no winners, only losers
A deal on raising the debt ceiling finally emerges -- and for all the sound and fury, the net result is a meaningless jumble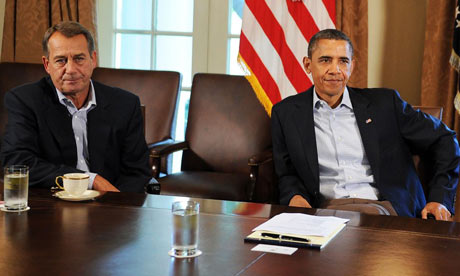 The happy couple: President Obama and Republican Speaker of the House John Boehner
could both be out of a job in 2013. Photograph: Jewel Samad/AFP/Getty Images
What kind of debt ceiling deal is it when none of the parties involved seem happy? Barack Obama went on national television to say: "Is this the deal I would have preferred? No." The Republican Speaker of the House of Representatives, John Boehner, told journalists: "This isn't the greatest deal in the world."

Politics in Washington DC has come to this: everybody loses, because nobody can win. It's very possible that both Obama and Boehner will be out of a job come January 2013.
The fact that there is a debt limit deal at all – barring a tantrum of historic proportions by the House of Representatives – is because neither side wanted to be blamed for a potential US default and lowered credit rating. And since neither side could pin the blame on their opponents, a deal was done. Finally.

Both the Democrat left and the Republican right are also feeling some pain at the deal, with more noise coming from the liberals. But, frankly, the scope of the deal should probably concern the Tea Partyers more than the left, because there isn't much meaningful in this deal that I can see.
By "meaningful" I mean cuts and savings that have to take effect by the general election in November 2012.
Yes, the proposal has some big spending cuts: $2.5tn over ten years but only a fraction of the cuts are coming next year, meaning the electoral impact will be almost zero. This is nothing like the scale of fiscal retrenchment seen in the UK or elsewhere in Europe. And the timescale involved means that future congresses may easily revise the figures at their choosing and in the light of economic circumstances.
Then there's the matter of the bipartisan "super committee" to recommend a further $1.5tn worth of savings and cuts. Call me a cynic but the track-record of such committees in Congress suggests that it too will punt any big cuts over the political horizon.
So, frankly, if I was a member of the Tea Party I'd be worried that this was just Washington politics as usual, kicking the can down the road, as Americans say. Especially as Obama got a couple of big gains here: one being putting further debt ceiling nonsense off until after the 2012 elections – a big sigh of relief from the West Wing – and left open the juicy possibility of allowing the huge Bush tax cuts to expire at the end of next year.
According to the Democratic left, this deal marks some huge shift to the right by Obama. Perhaps if they keep saying that loudly enough, the Republican right might buy it to and let the debt limit deal sail through the House of Representatives.
Here's the thing: if the shape of politics change, then this deal will change. If Democrats retake the House in 2012 – unlikely but not impossible at this point – and hold the Senate and White House, then they can sit down and take this all apart again. And if by 2013 there is an economic recovery underway, then it'll be so much easier.
If the Republicans win the White House, Senate and House – more likely – in 2012, then they can do what they like and this deal won't preclude them from doing anything differently.
Probably more importantly is the question of whether the credit ratings agencies buy this deal as improving the US's fiscal position. It doesn't, and so they shouldn't, but credit rating agencies aren't particularly brave institutions as we know, so they will probably use the deal as an excuse to avoid downgrading the US's triple-A sovereign debt rating.
Anyway, here's the good news: at the end of September this year the US federal budget runs out. Remember how much fun that last minute dealing and wheeling was last time? Well, get ready to rumble. Again.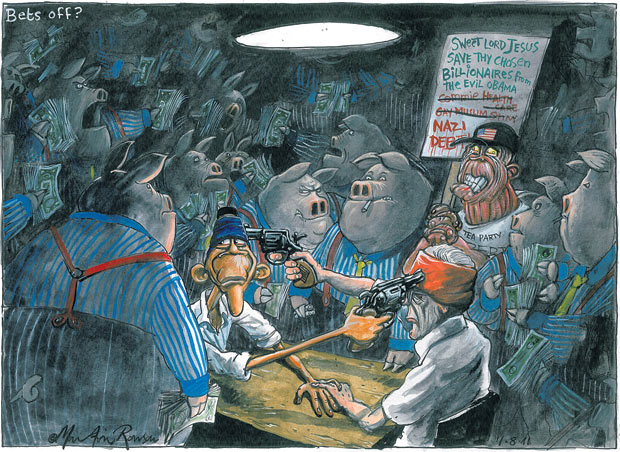 Martin Rowson cartoon on the US debt ceiling negotiations
Barack Obama and John Boehner's slow-moving attempt to find a compromise
Nobody Is Happy With the Debt Ceiling
Sarah Palin says, "Don't Retreat, Instead, RELOAD!"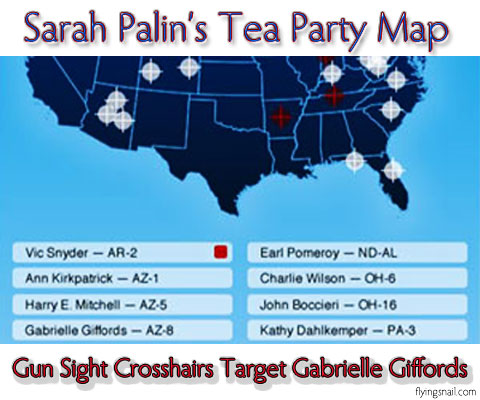 Sarah Palin's Targeted List Qualifies Tea Party As Terrorist Cell

'The View' Condemns Palin's Political Target Map; Behar Cracks: 'Looks Like Al-Qaida Christmas'
Giffords was named as a political campaign target for conservatives in last November's mid-term elections by the former Alaska governor Sarah Palin.
Palin had published a "target map" on her website using images of gunsights to identify 20 House Democrats, including Giffords, backing the new healthcare law. Gifford won by a narrow margin, seeing off opposition from a Tea Party-backed Republican candidate.
In an interview after the office vandalism, Giffords referred to the animosity against her. "We're on Sarah Palin's targeted list," she said, "but the thing is, the way that she has it depicted has the crosshairs of a gun sight over our district.
"When people do that, they have to realise that there are consequences to that action."
Giffords was also the target of a campaign event advert for her opponent, Jesse Kelly, which invited supporters to fire a gun with the candidate. It read:
"Get on Target for Victory in November. Help remove Gabrielle Giffords from office. Shoot a fully automatic M16 with Jesse Kelly." - Source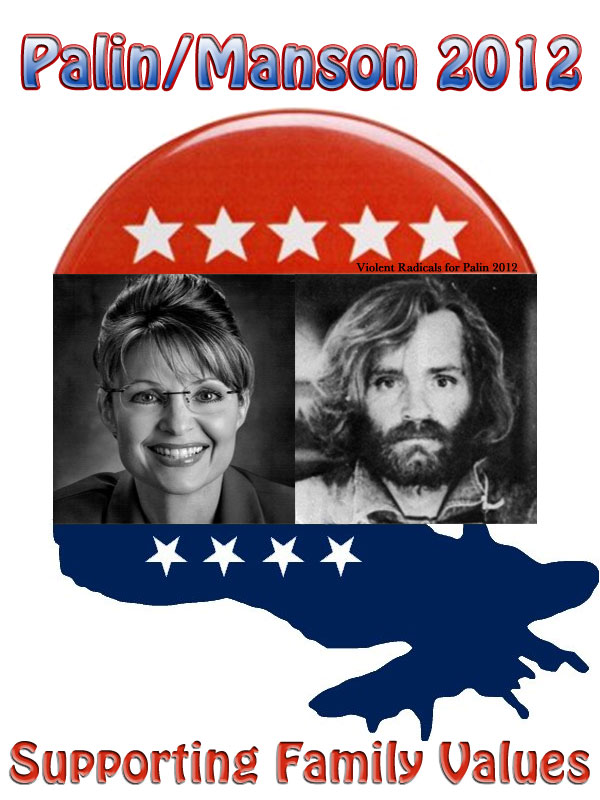 Violent Radical Tea Party Republicans for Palin 2012
PG&E Dodges Blame in San Bruno Pipeline Explosion Lawsuits

Photo credit: smi23le
After flubbing their initial response to last September's massive San Bruno pipeline explosion, utility Pacific Gas & Electric seemed to take responsibility for the accident, and even bought full-page ads in area newspapers proclaiming "We Apologize." But in court filings this week, PG&E has backtracked, denying any blame for the deadly pipeline explosion and suggesting that other parties were at least partially responsible in order to dodge millions of dollars in damages from more than 100 lawsuits.
PG&E blamed third parties and even the blast victims themselves for contributing to last September's pipeline explosion, which destroyed 38 homes, killed 8, and injured many more. The gas and electric company wrote in court filings that these victims "may have been legally responsible under a doctrine of comparative negligence (or) contributory negligence," but did not indicate specific ways they may have been negligent. San Bruno City Manager Connie Jackson called their assertions "completely surprising…It's unfortunate that they have thrown everything plus the kitchen sink in this, to cover their legal strategy."
PG&E claims aside, let's look at the evidence that has surfaced over the past 9 months thanks to the work of Bay Area reporters and safety advocates.
In 2004, the national agency that regulates gas pipelines reported that pipeline degradation can occur with little obvious damage and required all major gas companies to conduct "risk-based assessments." After the accident, the Wall Street Journal reported that "none of the special measures was taken in the case of the San Bruno pipeline that exploded."
Between 2003 and 2010, PG&E increased pressure on gas pipelines in San Bruno to dangerous levels more than a dozen times, according to the San Francisco Chronicle. The line was pushed to the federal limit of 400 pounds per square inch in December 2003 and again in 2008. Safety advocates say the 10 other pipelines that underwent similar tests could be vulnerable to future explosions.
The National Transportation Safey Board has repeatedly criticized PG&E for serious "record-keeping problems" which they say could lead to "potentially unsafe" pressure settings and even future pipeline explosions. In one example, PG&E initially claimed that the San Bruno pipeline in question had no ruptured seams, which was later proven false.
It's difficult to tell whether PG&E will maintain this obstinate throughout the legal process. For now, PG&E spokeswoman Brittany Chord has called the filing "a standard part of the legal process" and said that PG&E will "continue to move forward and work to resolve the claims of all parties as quickly as possible."
UPDATE: PG&E is now claiming that it did not blame victims for last September's pipeline explosion. "We want it to be crystal clear that no one at PG&E would suggest that the plaintiffs or residents of San Bruno impacted by this accident are somehow at fault," the company said in a statement. - Source
PG&E San Bruno Explosion Lawsuit Defense Includes Blaming Victims
http://sanfrancisco.cbslocal.com/2011/07/11/pge-seeks-jury-trial-for-san-bruno-blast-lawsuits/
SAN BRUNO VICTIMS OUTRAGED BY PG&E COURT FILING
http://turn.org/article.php?id=1724
[PG&E] Pipeline Records Probably "Trashed"
http://www.nbcbayarea.com/news/local/Former-PGE-Manager-Pipeline-Records-Probably-Trashed-126037773.html
California PUC's safety head leaves job
http://www.mercurynews.com/breaking-news/ci_18531984?nclick_check=1
55 more people sue PG&E over San Bruno blast
http://www.mercurynews.com/san-mateo-county/ci_18477877
Newly Released NTSB Records Confirm [PG&E] Piecemeal Pipe
http://sanbruno.patch.com/articles/newly-released-ntsb-records-confirm-piecemealed-pipe
TIME FOR A CORPORATE DEATH PENALTY!
[PG&E] SmartMeters

PG&E Smart Meters via prez @ usa-exile
FROM: Certified U.S. Postal Mail #....
Energy Customer's Name
Street Address
City State Zip
TO:
Energy Provider
Street Address
City State Zip

Date of letter
NOTICE OF NO CONSENT TO TRESPASS AND SURVEILLANCE, NOTICE OF LIABILITY
Dear (Energy Provider) and all agents, officers, employees, contractors and interested parties,
If you intend to install a "Smart Meter" or any activity monitoring device at the above address, you and all other parties are hereby denied consent for installation and use of all such device on the above property and installation and use of any activity monitoring device is hereby refused and prohibited. Informed consent is legally required for installation of any surveillance device and any device that will collect and transmit private and personal data to undisclosed and unauthorized parties for undisclosed and unauthorized purposes. Authorization for sharing of personal and private information may only be given by the originator and subject of that information. That authorization is hereby denied and refused with regard to the above property and all its occupants. "Smart Meters" violate the law and cause endangerment to residents by the following factors:
1. They individually identify electrical devices inside the home and record when they are operated causing invasion of privacy.
2. They monitor household activity and occupancy in violation of rights and domestic security.
3. They transmit wireless signals which may be intercepted by unauthorized and unknown parties. Those signals can be used to monitor behavior and occupancy and they can be used by criminals to aid criminal activity against the occupants.
4. Data about occupant's daily habits and activities are collected, recorded and stored in permanent databases which are accessed by parties not authorized or invited to know and share that private data.
5. Those with access to the smart meter databases can review a permanent history of household activities complete with calendar and time-of-day metrics to gain a highly invasive and detailed view of the lives of the occupants.
6. Those databases may be shared with, or fall into the hands of criminals, blackmailers, law enforcement, private hackers of wireless transmissions, power company employees, and other unidentified parties who may act against the interests of the occupants under metered surveillance.
7. "Smart Meters" are, by definition, surveillance devices which violate Federal and State wiretapping laws by recording and storing databases of private and personal activities and behaviors without the consent or knowledge of those people who are monitored.
8. It is possible for example, with analysis of certain "Smart Meter" data, for unauthorized and distant parties to determine medical conditions, sexual activities, physical locations of persons within the home, vacancy patterns and personal information and habits of the occupants.
9. Your company has not adequately disclosed the particular recording and transmission capabilities of the smart meter, or the extent of the data that will be recorded, stored and shared, or the purposes to which the data will and will not be put.
I forbid, refuse and deny consent of any installation and use of any monitoring, eavesdropping, and surveillance devices on my property, my place of residence and my place of occupancy. That applies to and includes "Smart Meters" and activity monitoring devices of any and all kinds. Any attempt to install any such device directed at me, other inhabitants, guests, my property or residence will constitute trespass, stalking, wiretapping and unlawful surveillance, all prohibited and punishable by law through criminal and civil complaints. All persons, government agencies and private organizations responsible for installing or operating monitoring devices directed at or recording my activities, which I have not specifically authorized in writing, will be fully liable for any violations, intrusions, harm or negative consequences caused or made possible by those devices whether those negative consequences are justified by "law" or not..
This is legal notice. After this delivery the liabilities listed above may not be denied or avoided by parties named and implied in this notice.
Notice to principal is notice to agent and notice to agent is notice to principal. All rights reserved.
Signature
Name of energy user and/or customer - Source
World Health Organization has classified SmartMeter
Radiation as "possibly carcinogenic to humans."
In case you haven't noticed,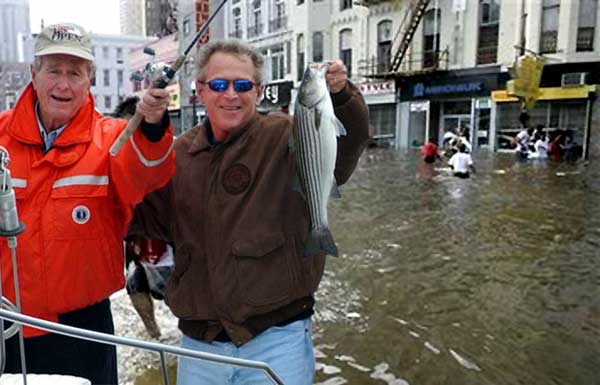 THEY RETURNED
THEY Took Your Jobs
THEY Took Your Homes
THEY Took Your Money
THEY Started Illegal Wars
THEY Destroyed the Economy
THEY Murdered Women & Children
THEY Put Martha Stewart & Tommy Chong In Jail
and... THEY
Held the Teachers Accountable!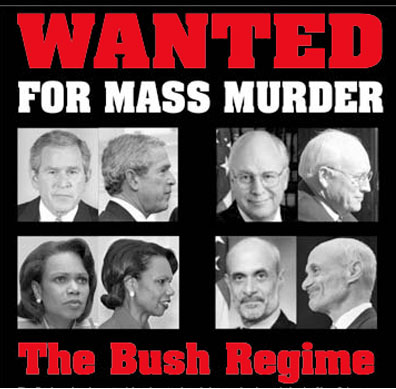 This EVIL
good ol' boy network
Brought Disgrace to the United States
with Republican, Democrat, Senate, Congress, Supreme Court Approval,
AND WALK FREE TODAY.

George Carlin - The Owners of America


Nobody Brought Peace To Our Times
"None of the Above" Should Be On Voter Ballots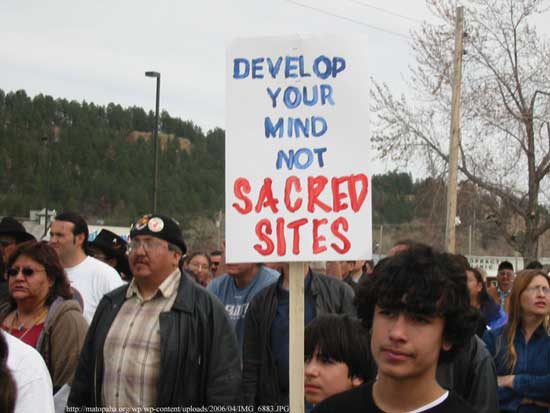 Develop your mind, not Sacred Sites
In an 1868 treaty, drafted at Fort Laramie in Sioux country, the United States established the Black Hills as part of the Great Sioux Reservation, set aside for exclusive use by the Sioux people. However, after the discovery of gold there in 1874, the United States confiscated the land in 1877. To this day, ownership of the Black Hills remains the subject of a legal dispute between the U.S. government and the Sioux.
The US, the S&P and the Tea Party in the Debt Ceiling Crisis Aftermath
The Conservative Party of America claims Obama won the recent debt ceiling crisis shoot-out in Washington DC while voices on the Left claim the Tea Party reigns victorious. Should the issue be seen simply as one of who blinked or who caved first as so often portrayed by our increasingly partisan 24/7 media throughout that finger-biting weekend and its aftermath?
Meanwhile an S&P team – based apparently on partially flawed data combined with an abhorrence of political gridlock – has declared a pox on the US.
Standard and Poor's (S&P), one of the three major government bond rating agencies, waited until after the stock market closed on Friday to downgrade US government debt from its 70 year old triple A rating to AA+ -lowering its standing to that of Belgium and New Zealand although the US Treasury argues that "A judgment flawed by a $2 trillion error, speaks for itself." Since the downgrading had been rumored for over a week, it's unclear whether the S&P's pronouncement will usher in a self-fulfilling prophecy by raising rates the US will need to pay for borrowing – or given the lack of alternatives – be shrugged off in today's turbulent economic world.
An aside: Here's a snapshot of a few select, but important, S&P ratings which, in themselves, make me wonder about how several were calculated: AAA:UK, France, Germany, Canada, Australia; AA+:USA, Belgium, New Zealand; AA-:Japan, China. Source: S&P
It's not that I disagree with the team's concerns about current US political problems – the dysfunctional result of our divide and rule form of government and an election last fall that produced the current stalemate. But it wasn't divide and rule that got the country into the current economic mess.
It began with the illegal election of an incompetent and fiscally irresponsible president in 2000 and yet again in 2004 which is when – in my view – a bond rating agency like the S&P should have issued its warnings if it were truly nervous about this country's lack of political maturity - rather than waiting until now.
Regardless, this year's non-crisis crisis was manufactured by the 80 some Tea Party neophytes in Congress and a weak Republican House leadership that simply could not control party ranks. After all, the US government debt-ceiling was raised seven – or possibly even eight- times under President George W Bush – with nary a stir and under divided government.
I suppose in retrospect the Obama administration could, and should have dealt with the debt ceiling issue last fall once and for all when the Democrats still controlled both houses of Congress, but why should it have had to do so?
This time the howls of self-righteous fiscal irresponsibility turned into a nasty, partisan war-hoop that needlessly shook the halls of financial institutions here and abroad as well as those of Congress sending the stock market into sharp decline – until, at least, traders looked around at the July jobs report and the unappetizing alternatives. Switzerland can, after all, absorb only so much capital and the UK is in flames.
The new Republican House "minority-majority" was put into office in a low turnout mid-term election by a coalition of conservative Republican business interests that included the deep pockets of the US Chamber of Commerce, the stealthy wallets of the right wing's shadowy Koch Brothers and Rupert Murdoch's unrelenting unfair and unbalanced Fox News television "news" reporters and radio talk show hosts who irresponsibly and without credible facts spewed their brand of anti- Obama, conservative economic palliatives for what ails this country's economy - beginning with the Tea Party's first Halloween-costumed prance-around at the dawn's early light in April 2009.
True, these newcomers upset the status quo – knocking off establishment Republicans in the primaries as well as the Democratic majority in the House of Representatives in November.
But to what extent these freshmen Congresspersons even represent the will of their supporters is another question. Or has their intransigence gone too far - among other things – by publicly embarrassing John Boehner, the Republican House's elected speaker, who does know the meaning of compromise – to get their way?
In the end, Boehner fashioned a coalition of establishment Republicans and centrist Democrats to support the compromise while the Tea Party Congressional faithful thumbed their noses at him and the country including many of their rank and file supporters. Tea Party poll numbers, by the way, appear to be plummeting.
Then there's the Tea Party Caucus' tone deafness to the warnings of their corporate patrons including the US Chamber of Commerce and the National Association of Manufacturers who strongly advised their unruly clients to climb down from their self-imposed precipice. Or?
The Tea Party is not a party
Yet how monolithic is the Tea Party and how important as a political protest movement will it turn out to be in the overall scheme of American politics? Will its leaders decide to break from the traditional Republican Party and form a political party of its own or will they continue, as they have been doing, to attempt a raucous, made for media, takeover of the GOP from within? Or, will the Tea Party ultimately fade away as has happened with other far right wing movements in America's past waiting to return in some other guise and under new leadership to play again another day?
Kate Zernike's excellent political reporting on the Tea Party over the past several months for The New York Times has unearthed a number of facts that suggest these zealots in Congress and their rank-and-file voters do not read from the same score card – in fact, she tells us that the movement is so amorphous that its rank-and-file adherents do not themselves see eye-to-eye. Yes, it is a movement on the conservative side of the spectrum but it is also very much a coalition of forces expressing real and perceived grievances and views that do not necessarily coincide.
Most importantly, the Times/CBS polling that Zernike cites has shown that the majority of Tea Party supporters are less doctrinaire than their elected officials. Zernike found that they do believe in political compromise, did not rule out tax increases as part of a grand bargain and – like the majority of Americans –simply wanted to see an end to the faux-crisis: And one that would not toss the country and their stock portfolios off the financial cliff.
Bloom off the Tea Party rose?
As importantly, a CBS/New York Times poll taken in mid-July showed a far smaller percentage of voters pledging allegiance to the Tea Party this summer (22%) than exit polling showed supported the Tea Party last November (40%). Now this data can be interpreted in various ways. On the one hand, it suggests that budget cutting and fiscal conservatism are one thing – clearly these people have never read John Maynard Keynes or The New York Times economic columnist Paul Krugman so they will have missed the fact that the federal government really does have more tools available to influence the functioning of the US economy short and long term than does an individual household or a mom-and-pop convenience store – but on the other, the poll data also demonstrates that this right-wing crew is far from united as to how the federal budget and deficit - not to mention other contentious social issues - should be handled.
Furthermore, a majority of those voters interviewed stressed that dealing with the weak employment picture and the economy itself were more important to them than raising - or not - the federal debt ceiling.
This contradiction and other stranger ones show up in spades in a recent New York Times/CBS poll taken in the wake of the budget deal and reported in more detail on August 8, 2011.
Shattering of two Republican mantras in one fell swoop
Yet one of the most interesting results of recent polling suggests that even some Tea Party officials and voters think the US spends too much on the military – a break from the Republican Party's support-our-troops-at-all-costs mantra of the recent past. This is corroborated by Gallup and Washington Post public opinion polls taken in early and mid-July and reported by University of Maryland political polling analyst Steven Kull. Kull pointed out that Republican and Democrat respondents alike agreed to significant cuts in a wide range of areas (as well as tax increases) and that the largest reductions for both was defense.
Unlike others on the Right for whom defense decreases are still anathema, there are Congressional Tea Party members (and not just their voters) who are willing to have that oversized budget included among the items on the table subject to the budget ax.
If the Left would stop sulking, it would see that although it did not get the tax increases that I too think should have been part of the deal, the Republicans blinked on reducing the bloated military which currently consumes 20% of the entire budget. Furthermore, a majority of their supporters do not agree with the signing of Grover Norquist's no-new-taxes pledge. Both are important take-aways for the future. Republicans reportedly blinked on other items as well. Maybe the next item should be to do away with debt ceiling entirely.
Now I doubt that cutting the military budget will help lower the unemployment rate because it will cut into employment at defense-industry firms dependent upon the Pentagon for weapons contracts as well as reduce the numbers of active duty enlisted personnel (I understand the officer corps is harder to cut).
I, however, have thought for a long time that US foreign policy implementation could do quite nicely with far less hardware, fewer troops and defense contractors and more effective use of career diplomats, aid personnel, public diplomacy specialists and peace corps volunteers who speak the local language, understand the culture, wear civilian clothes and work for non-defense related agencies.
One major problem is that their numbers are miniscule and their budgets represent only around 1% of the US federal budget - if that. Frankly, since the end of the Cold War and history's faux-end, the US hasn't had enough experienced diplomats to make the needed shift in this country's national security face abroad. And experienced diplomats don't just sprout up like mushrooms after a rain.
Whether civilians are more or less expensive on a per capita basis than soldiers depends, I think, on what they are asked to do, what their qualifications are and what their salary grade levels are. A civilian professional who speaks Russian, Chinese, Korean or Arabic, for instance, may well cost more on paper than someone in the military wearing combat boots and brandishing a machine gun but unable to communicate with the natives in their own language. But I'll bet if you take into consideration the expensive military hardware, training, and upkeep - the comparative costs will be a lot closer and certainly the resentment abroad to a smaller US military "footprint" and a healthier civilian presence will be far lower.
Moreover, if Ohio State University professor John Mueller is correct about the multiple weaknesses of Al Qaeda then the US either needs to find a real adversary to expend zillions of dollars on fighting or substantially reduce the amount spent on opposing Islamic terrorism –and use what does remain in the foreign affairs kitty far more intelligently at home and abroad. This includes resources that can and should transcend agency lines. If ever there was a rationale for massive troop withdrawals from both Afghanistan and Pakistan, Mueller's article in Foreign Affairs is it. And a reduction of troops should also reduce the number of contractors hired to support them.
Changing the dial to get the country out of its economic doldrums
This post is not a comprehensive proposal by any matter of means but, who knows, maybe the kernel of one. What I am suggesting is that there are persuasive arguments about America's role abroad that can be used to "change the dial" that would also help get this country out of its economic conundrum – and this administration should be using them more effectively than it now does.
How all this squares with the S&P credit downgrade is another question. The turbulence in the markets with investors selling stocks on Monday, buying them on Tuesday and rushing to buy both gold and US T-bills while the UK pound depreciated against the dollar just shows how confused the situation is.
I'm personally not convinced, for instance, that the UK Coalition's Austerity Plan is going to result in that country's economy being any more robust than the politically dysfunctional one right here in river city on the Potomac – yet that doesn't seem to concern S&P raters. After all, an economic plan that has thrown middle and lower classes out of work thereby reducing overall purchasing power, tipping an economy into depression, and inflaming riots in the London suburbs does not sound like a healthy long term bet to me.
Or how the German and French economies are going to weather the ongoing EURO-zone crisis with far fewer economic and political tools at their disposal than those of the US government is another question that needs to be considered.
Nevertheless, I agree. The US does have serious political and economic problems that desperately need to be addressed but then maybe American voters will have second thoughts about reelecting those funny folk in Colonial garb with 17th century ideas, the US business community will stop trembling at their very sight and shift its campaign war chest to politicians who do understand the basics of 21st century economics and politics and just perhaps, the S&P will review the competency of its own staff and its ability to use a calculator.
SCIENTISTS FIND ERUPTION AT UNDERSEA VOLCANO
AFTER FORECASTING THE EVENT
Oregon State University, 8-9-11
NEWPORT, Ore. – A team of scientists just discovered a new eruption of Axial Seamount, an undersea volcano located about 250 miles off the Oregon coast – and one of the most active and intensely studied seamounts in the world.
What makes the event so intriguing is that the scientists had forecast the eruption starting five years ago – the first successful forecast of an undersea volcano.
Bill Chadwick, an Oregon State University geologist, and Scott Nooner, of Columbia University, have been monitoring Axial Seamount for more than a decade, and in 2006 published a paper in the Journal of Volcanology and Geothermal Research in which they forecast that Axial would erupt before the year 2014. Their forecast was based on a series of seafloor pressure measurements that indicated the volcano was inflating.
"Volcanoes are notoriously difficult to forecast and much less is known about undersea volcanoes than those on land, so the ability to monitor Axial Seamount, and determine that it was on a path toward an impending eruption is pretty exciting," said Chadwick, who was chief scientist on the recent expedition, which was jointly funded by the National Oceanic and Atmospheric Administration and the National Science Foundation.
Axial last erupted in 1998 and Chadwick, Nooner and colleagues have monitored it ever since. They used precise bottom pressure sensors – the same instruments used to detect tsunamis in the deep ocean – to measure vertical movements of the floor of the caldera much like scientists would use GPS on land to measure movements of the ground. They discovered that the volcano was gradually inflating at the rate of 15 centimeters (six inches) a year, indicating that magma was rising and accumulating under the volcano summit.
When Axial erupted in 1998, the floor of the caldera suddenly subsided or deflated by 3.2 meters (10.5 feet) as magma was removed from underground to erupt at the surface. The scientists estimated that the volcano would be ready to erupt again when re-inflation pushed the caldera floor back up to its 1998 level.
"Forecasting the eruption of most land volcanoes is normally very difficult at best and the behavior of most is complex and variable," said Nooner, who is affiliated with the Lamont-Doherty Earth Observatory. "We now have evidence, however, that Axial Seamount behaves in a more predictable way than many other volcanoes – likely due to its robust magma supply coupled with its thin crust, and its location on a mid-ocean ridge spreading center.
"It is now the only volcano on the seafloor whose surface deformation has been continuously monitored throughout an entire eruption cycle," Nooner added.
The discovery of the new eruption came on July 28, when Chadwick, Nooner and University of Washington colleagues Dave Butterfield and Marvin Lilley led an expedition to Axial aboard the R/V Atlantis, operated by the Woods Hole Oceanographic Institution. Using Jason, a remotely operated robotic vehicle (ROV), they discovered a new lava flow on the seafloor that was not present a year ago.
"It's funny," Chadwick said. "When we first arrived on the seafloor, we thought we were in the wrong place because it looked so completely different. We couldn't find our markers or monitoring instruments or other distinctive features on the bottom. Once we figured out that an eruption had happened, we were pretty excited.
"When eruptions like this occur, a huge amount of heat comes out of the seafloor, the chemistry of seafloor hot springs is changed, and pre-existing vent biological communities are destroyed and new ones form," Chadwick added. "Some species are only found right after eruptions, so it is a unique opportunity to study them."
The first Jason ROV dive of the expedition targeted a field of "black smoker" hot springs on the western side of the caldera, beyond the reach of the new lava flows. Butterfield has been tracking the chemistry and microbiology of hot springs around the caldera since the 1998 eruption.
"The hot springs on the west side did not appear to be significantly disturbed, but the seawater within the caldera was much murkier than usual," Butterfield said, "and that meant something unusual was happening. When we saw the 'Snowblower' vents blasting out huge volumes of white floc and cloudy water on the next ROV dive, it was clear that the after-effects of the eruption were still going strong. This increased output seems to be associated with cooling of the lava flows and may last for a few months or up to a year."
The scientists will examine the chemistry of the vent water and work with Julie Huber of the Marine Biological Laboratory to analyze DNA and RNA of the microbes in the samples.
The scientists recovered seafloor instruments, including two bottom pressure recorders and two ocean-bottom hydrophones, which showed that the eruption took place on April 6 of this year. A third hydrophone was found buried in the new lava flows.
"So far, it is hard to tell the full scope of the eruption because we discovered it near the end of the expedition," said Chadwick, who works out of OSU's Hatfield Marine Science Center in Newport. "But it looks like it might be at least three times bigger than the 1998 eruption."
The lava flow from the 2011 eruptions was at least two kilometers (1.2 miles) wide, the scientists noted.
"Five years ago, these scientists forecast this eruption, which has resulted in millions of square meters of new lava flows on the seafloor," said Barbara Ransom, program director in the National Science Foundation's Division of Ocean Sciences. "The technological advances that allow this research to happen will lead to a new understanding of submarine volcanoes, and of any related hazards."
The bottom-anchored instruments documented hundreds of tiny earthquakes during the volcanic eruption, but land-based seismic monitors and the Sound Surveillance System (SOSUS) hydrophone array operated by the U.S. Navy only detected a handful of them on the day of the eruption because many components of the hydrophone system are offline.
"Because the earthquakes detected back in April at a distance from the volcano were so few and relatively small, we did not believe there was an eruption," said Bob Dziak, an OSU marine geologist who monitors the SOSUS array. "That is why discovering the eruption at sea last week was such a surprise." Both Dziak and Chadwick are affiliated with the Cooperative Institute for Marine Resource Studies – a joint NOAA/Oregon State University institute.
This latest Axial eruption caused the caldera floor to subside by more than two meters (six feet). The scientists will be measuring the rate of magma inflation over the next few years to see if they can successfully forecast the next event.
"The acid test in science – whether or not you understand a process in nature – is to try to predict what will happen based on your observations," Chadwick said. "We have done this and it is extremely satisfying that we were successful. Now we can build on that knowledge and look to apply it to other undersea volcanoes – and perhaps even volcanoes on land."
About OSU's Hatfield Marine Science Center: The center is a research and teaching facility located in Newport, Ore., on the Yaquina Bay estuary, about one mile from the open waters of the Pacific Ocean. It plays an integral role in programs of marine and estuarine research and instruction, as a laboratory serving resident scientists, as a base for far-ranging oceanographic studies and as a classroom for students.
Social Networks, Telecoms, High Tech Corporations
Sell Out Users - Kill Your SmartPhone Now !!!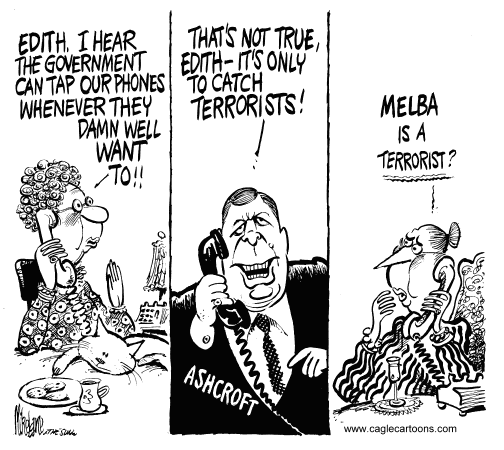 Republicans & Democrats Authorized Telecom & Corporate Spying on U.S. Citizens
London riots: police to track rioters who used BlackBerrys
Research In Motion vows to cooperate with police after claims BlackBerry Messenger helped organise violence
Josh Halliday, guardian.co.uk, Tuesday 9 August 2011 18.58 BST, Article history, Article Source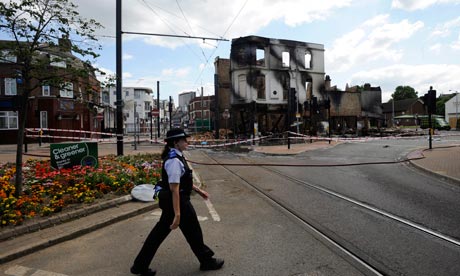 London riots: a police officer passes the remains of a burnt out furniture shop in Croydon. Photograph: Facundo Arrizabalaga/EPA
Police investigating those responsible for the London riots will be able to track down and arrest them based on their BlackBerry Messenger communication with others who took part.
BlackBerry owners using the private social network to message each other and plan unrest could find their personal information – including their names and those of their contacts – handed over to police as part of their investigation.
The BlackBerry-maker, Research In Motion, on Monday vowed to cooperate with the Scotland Yard inquiry following claims that BlackBerry Messenger played a key role in helping to organise the violence.
David Lammy, the MP for Tottenham, on Tuesday appealed for the Canadian manufacturer to shut down BlackBerry Messenger in attempt to stem further unrest.
Information about those sending messages about the London riots on the covert social network, which is only available to BlackBerry owners, will be of great interest to police. Three teenagers were arrested earlier on Tuesday on suspicion of inciting rioting via Facebook.
Research In Motion (RIM) could hand over information about rioters – including their names, the number of messages sent and received, the names of people they sent messages to, the time they were sent, and the location – without being issued with a warrant by the police.
However, police officers would have to be granted a warrant in order to force RIM to hand over the contents of users' "broadcasts".
Mike Conradi, the partner and telecoms specialist at London law firm DLA Piper, said: "It would be unlawful of RIM to disclose the contents of messages without a warrant issued by a senior police figure or a secretary of state – but that doesn't mean [RIM] couldn't disclose information that would be helpful to the police."
Conradi added the names, contacts and times of prominent BlackBerry Messenger users would allow police to draw up "quite a detailed picture" of which rioters to pinpoint and obtain a warrant for.
A clause in the Data Protection Act allows companies to hand over an individual's private information if it is in the interests of national security or if it allows for the detection and possible prevention of crime.
Research In Motion declined to comment. On Monday the company emphasised that it complies with UK legislation on the interception of communication and co-operates fully with the Home Office.
Lammy said BlackBerry Messenger was "one of the reasons why unsophisticated criminals are outfoxing an otherwise sophisticated police force".
He added: "BBM is different as it is encrypted and police can't access it."
However, only BlackBerry devices used by enterprises and large corporations use sophisticated encryption software. Regular consumer handsets bought on the high street employ less sophisticated security, meaning RIM can view messages sent from those devices via its servers.
Computer hackers defaced the RIM official blog earlier on Tuesday in a retaliatory attack over the company's pledge to assist the ongoing police investigation.
The hackers, who called themselves TeamPoison, posted a message on the site that read: "You Will _NOT_ assist the UK Police because if u do innocent members of the public who were at the wrong place at the wrong time and owned a blackberry will get charged for no reason at all, the Police are looking to arrest as many people as possible to save themselves from embarrassment."
Iran names street after Rachel Corrie
Tehran pays tribute to US activist crushed to death by bulldozer while trying stop the demolition of Palestinian homes
Associated Press, guardian.co.uk, Thursday 11 August 2011 13.32 BST, Article history, Article Source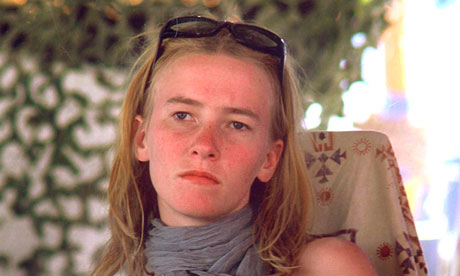 Iran has named a street in central Tehran after Rachel Corrie, an American
pro-Palestinian activist who was killed in 2003. Photograph: Denny Sternstein/AP
Tehran city council has named a street after an American activist who was crushed to death by an Israeli military bulldozer in the Gaza Strip in 2003, a local newspaper has reported.
The report in the Hamshahri, a daily affiliated with Tehran's authorities, said the council has named the street Rachel Aliene Corrie. It said the sign would be placed in the city centre, but did not say when it would be displayed.
Corrie, a pro-Palestinian activist from Washington, was trying to prevent what she and other campaigners believed was a push by the Israeli military to demolish nearby Palestinian homes. She was 23 at the time of her death.
Iran does not recognise Israel and supports the Palestinians.
[Note: The Republican Bush Administration and a Republican & Democrat Congress refused to investigate this murder by Israel just like they refused to investigate the 34 U.S. dead Military and 171 wounded U.S. Military Israel maimed and murdered on the USS Liberty, which has been covered up since June, 8, 1967. Republicans and Democrats are criminals who back Middle Eastern Israeli terrorists.]
The decision marked the first time an Iranian street has been named after a US national since the 1979 Islamic revolution that ousted the pro-west shah Muhammad Reza Pahlavi.
Before the revolution, at least three high streets in the Iranian capital were named after former US presidents: Dwight Eisenhower, John F Kennedy and Franklin Roosevelt.
Iran and the US have not had diplomatic ties since militant students occupied the US embassy in Tehran, holding American diplomats hostage for 444 days from 1979 to 1981.
There are a few streets in the city named after western nationals, including Bobby Sands, a member of the IRA who died on hunger strike in a British prison in 1981, and Edward Brown, a British Orientalist known for his work on Iranian history.
Washington and its allies say Iran is trying to develop nuclear weapons, and have imposed sanctions on the country. Tehran maintains its nuclear programme is for peaceful purposes.
Nation is decaying from within
Written by Dave Gebhard, Lake County News, Sunday, 07 August 2011, Article Source
Thanks to the lack of tax income, the government is pricing the middle class out of our university system.
Also, for the same reason our kindergarten to 12th grade school systems, are cutting important programs, while we are concurrently asking them to up the level of accomplishment, to keep up with the rest of the industrial world.
Yes, our health care and educational systems are not keeping up with our peers around the world. I realize they are having problems also, but they are still supplying more benefits to their citizens.
Thus, our infrastructure is falling into decay, and we are not embracing new technology because of conflicts with the almighty oil industry.
We should be attacking the problems with alternative energy with the same fervor we approach high tech. We are decaying from within, an old story in the history of nations.
Five percent of our citizens own 90 percent of our country's wealth. A minority of Congress allows the same 5 percent and our most successful corporations from paying their fair share of taxes.
A large amount of our citizens cannot afford eye, dental, even health care. That same minority is attempting to subvert what little advances in health care we are still awaiting.
Like a third world country, the wealthy and corporate interests control an inordinate amount of legislators through their election donations. Are we becoming a third world country?
We need a dialogue regarding our national identity. Do we want to be a third world country, with all the elitism and inequality? Or do we want to stand for the ideals of democracy, equality, and the pursuit of happiness for all?
A wise man once said that democracy required an informed electorate; of course, we could revert to colonial times, and only allow landowners to vote. That would ensure that we were not taken for a true republic.
The United States is following in the footsteps of the Roman Empire, allowing the elite to run the country, while the people increasingly became homeless, hungry and ignorant. Showing their power, they managed to change the dialogue from unemployment to deficit reduction, which should be secondary.
We need new blood in Congress, people who care about their constituents, and understand the unemployed cannot pay taxes.
Both parties need to consider running candidates who believe in their party's platforms, not just the gifts of lobbyists and their promises of jobs after government service. [View Reader Comments]

The Corporation: Documentary Trailer

THE CORPORATION [1/23] What is a Corporation?
The Corporation (complete, chapters 1 to 23)
http://www.youtube.com/view_play_list?p=FA50FBC214A6CE87
Here's all 23 chapters of The Corporation which I have uploaded at the best possible quality for your viewing pleasure. Independent filmmakers need your support if they are to continue making films independently. If you support the film, please support the filmmakers too. You can make a contribution, large or small, at www.thecorporation.com, or better still, enjoy over 8 hours of excellent extras on the 2-DVD Special Edition which you can also get at www.thecorporation.com. Buying from us supports our continuing grassroots outreach efforts. Thanks!
Electronic 'tattoos' to monitor vital signs
by Jessica Hamzelou, New Scientist, 11 August 2011, Article Source

Electronic Tattoos to 'Monitor Vital Signs'
Once a patient has left hospital, how can doctors track his or her physical condition? Conventional technology is too bulky or obtrusive, but rub-on electronics that stick to the skin like a temporary tattoo could revolutionise medical monitoring.
When doctors need to keep watch on someone's bodily systems, from the heart's beat to the brain's activity, they have to use bulky electronic devices and attach electrodes to the skin with sticky gel.
"These are useful in some clinical settings, but in the real world they restrain movement and cause irritation to the skin," says John Rogers at the University of Illinois at Urbana-Champaign.
To avoid restricting movement, Rogers's team have given their new "epidermal electronics" the flexibility, elasticity and density of skin. They took the silicon and gallium arsenide typically used to build transistors, diodes and resistors, and fashioned it into wires just a few nanometres thick, each bent into the shape of a tiny meandering river. The meanders can stretch and contract to give electronics constructed from them a degree of flexibility which matches that of skin.
The researchers then took circuits made from the wires and put them on a thin patch of rubber. Finally, they embedded the rubber in a water-soluble protective sheet of plastic, creating a patch around 40 micrometres thick. This patch can then be applied to the skin like a temporary tattoo: it is placed on the skin, rubbed with a wet finger to dissolve the protective sheet and left to dry.
Tech style
The nifty "tattoo" is kept in place by the weak intermolecular forces that are at play whenever two surfaces come together. Because the circuit is soft and stretchy enough to conform to the skin's texture, the contact between the two surfaces is good enough to keep the device in place for several days. For the style-conscious patient, it can even be combined with a conventional temporary tattoo (see video above) – although until a wireless transmitter can be incorporated into the design, the temporary tattoo must still be wired to a computer.
In a preliminary study, the group put patches on the throats of volunteers. The thin electronics could detect the electrical changes beneath the skin associated with muscle movements as the volunteers spoke. The signals were then sent through a computer algorithm, which could differentiate the signals associated with different words and allow the volunteers to control a video game with spoken commands.
The first generation of medical patches can monitor electrophysiological signals associated with the heart, other muscles and brain activity. But in future people may benefit from patches that go beyond this passive role, says Rogers.
"We can also use the device to stimulate muscle contractions," he says – although this work, achieved in rats, has yet to be published.
The patches are "a beautiful example of the novel applications than can be enabled by building electronic systems on non-conventional substrates", says Ali Javey, an electronic engineer at the University of California, Berkeley. "This is truly exciting work," he adds.
Journal reference: Science, DOI: 10.1126/science.1206157
Shell confirms oil leak in North Sea
Company confirms spill from flow line serving Gannet Alpha platform and takes further measures to isolate it
Agencies, guardian.co.uk, Friday 12 August 2011 23.57 BST, Article history, Article Source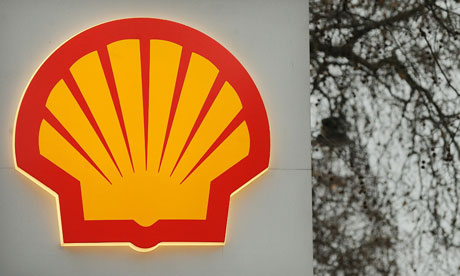 Shell have confirmed a leak in a pipeline serving one of their North Sea platforms. Photograph: Ben Stansall/AFP/Getty Images
Royal Dutch Shell has said it is working to contain an oil leak at its Gannet Alpha platform in the North Sea, but declined to specify the size of the leak.
"We can confirm we are managing an oil leak in a flow line that serves the Gannet Alpha platform. We deployed a remote-operated vehicle to check for a subsea leak after a light sheen was noticed in the area," a Shell spokesman said.
"We have stemmed the leak significantly and we are taking further measures to isolate it. The subsea well has been shut in, and the flow line is being depressurised."
Asked about the size of the leak, a Shell spokeswoman declined to say.
One of the wells at the oilfield 112 miles east of Aberdeen has been closed, but Shell did not specify whether output was reduced.
According to Argus Media, the Gannet field produced about 13,500 barrels of oil between January and April. The field is co-owned with US firm Exxon and operated by Shell.
A document available on Shell's website says the Gannet facilities have capacity to export 88,000 barrels of crude oil per day.
Shell also said it had restarted its North Sea Brent Alpha and Bravo fields on Thursday after a seven-month shutdown, while two other fields remained shut.
The company shut all four of its Brent platforms, Alpha, Bravo, Charlie and Delta, in January for repairs.
"Brent Alpha and Brent Bravo are producing gas for export via the Flags(far north liquids and gas line) to the St Fergus gas plant," Shell said.
"It is anticipated that Brent Delta will resume export in the near future and Brent Charlie will restart in early 2012."
The statement said that the work at the Brent fields was technically challenging and depended on the weather in the area.
Green party co-leader Patrick Harvie said: "It's too early to tell how serious this spill is, but it is imperative now that Shell act both urgently and efficiently.
"They must also keep the public and the authorities properly informed about progress, something BP failed to do during the Gulf of Mexico disaster last year.
"Whatever the outcome of this incident, it certainly underlines the need for the oil industry to publish proper response plans, as Greenpeace have been asking them to do. If they refuse to do so, ministers should act to make it a condition of their licences."
Before the shut-in, the four Brent fields produced about 4.5 million cubic metres a day of gas, less than 2 percent of current UK gas demand, and just 20,000 barrels per day of oil.
Brent was once Britain's largest oilfield, and still has global significance as one of the four key North Sea crude streams along with Forties, Oseberg and Ekofisk.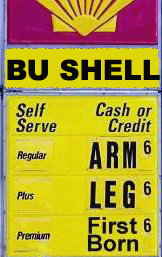 Feminist summer school: training the new generation of 'suffragettes'
Two-day UK Feminista event aims to mobilise activists and school them in art of campaigning and direct action
Lizzy Davies, guardian.co.uk, Sunday 14 August 2011 19.39 BST, Article history, Article Source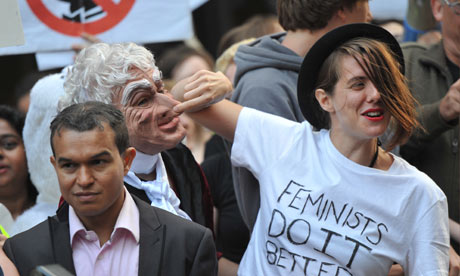 'Feminism is nothing but audacious': UK Feminista trainees hope to stage more direct action
such as the recent protest outside London's Playboy Club. Photograph: Daniel Deme/EPA
After just one day of classes at her summer school of choice, Emily Birkenshaw had already learned a crucial lesson: how to "go floppy" when facing arrest. "You're heavier then, so you can't be carried," she said, with the genuine delight of a new recruit.
The 24-year-old been practising by linking arms with her classmates and singing loudly at a pretend policeman. "It just felt really empowering," she said. "If that happened [in real life] – and I hope it wouldn't – I'd know how to do it without getting hurt."
Birkenshaw, a teaching assistant from York, was one of about 500 who descended on Birmingham at the weekend for the UK Feminista summer school, a two-day event aimed at mobilising feminist activists and training them in the art of campaigning and direct action. With new groups, new campaigns and a set of decades-old beliefs being repackaged for the 21st century, leading figures such as Kat Banyard are claiming a "massive resurgence" in feminism.
If anyone felt intimidated by the "monumental shifts" needed, Banyard, author of The Equality Illusion, told the audience, they needed to look no further than at the mountains moved by their antecedents. "Feminism is nothing but audacious," she said. "It can be done."
For many younger participants of the so-called suffragette school, this was their first real experience of feminism. Birkenshaw signed up because of "a collection of things that have made me go, 'This isn't right!'" One of those things, she said, was walking down the street in "funky dresses and funky tights" and fearing male comments, or worse. "I don't like the fact that as a woman I have to feel scared," she said.
It was this kind of anger that gave rise, earlier this year, to the SlutWalk marches which took place all over the world and saw thousands of people turn out to defend a woman's right to wear what she liked and not feel threatened. Feminists are determined that this will not be the only headline-grabbing event of 2011. Having already carried out protests outside London's new Playboy Club and direct action against lads' magazines in a branch of Tesco, they are planning more.
In London, a UK Feminista activist group is launching in a fortnight. In Bristol, feminists are mobilising against applications for lapdancing clubs, bombarding the city council with objections and highlighting their campaign at the summer school.
Pink Stinks, the campaign team that took on the "pinkification" of the Early Learning Centre, is preparing to take aim at stores that sell makeup for young girls. And, across the country, feminists are dreaming up ways of combatting government cuts to services such as Sure Start childcare centres.
"This is a women's struggle," said Vita, 50, who has been an activist with the movement for more than 20 years. "We know that women are disproportionately affected by the cuts and it's a way of highlighting that."
One idea for action, which came out of a session on International Women's Day, suggested hanging Sure Start books from the Bristol suspension bridge "in order to show what has been suspended by this government". Vita's plan, meanwhile, is for "all-women" action against the cuts.
Men were, however, welcome in other quarters. In a session on Sunday, Matt McCormack Evans of the Anti Porn Men Project rejected any suggestion that men could not be proud members of the movement. "Yes, men can be feminists because it's a movement with an aim and goal," he said.
Jacob Mirzaian, a 22-year-old student at Leeds University, agreed. One of several men to attend the summer school, he said he had been interested in feminism since school.
"I reckon that if there is this fissure between men and women, then that's something that everyone suffers from," he said. The issues being discussed, he said, had affected the women in his life, including his mother: "It's a second-hand experience."
As wide-reaching and forward-looking as the contemporary movement is, however, many younger feminists are aware of the negative connotations from which it still suffers in mainstream society. "I think there's a massive image problem which sometimes is not helped by women who do not represent feminism in the best way, using it as a catchword to seem 'edgy' and 'rebellious'," said Rachelle Hunt, 22, a student at Bradford University, singling out popstars and celebrities for criticism.
Birkenshaw admitted she had feared people would take her for an "angry, man-hating mentalist" when she identified herself as a feminist. But, she said, a moment in a session on Saturday summed up her response to such reactions.
"This woman said: 'When people ask you why you're a feminist, your response should be: 'Well, why aren't you?'" said Birkenshaw. "Why wouldn't I be here? I'm a woman, I care about women's rights, about my own rights; I care about equality, I don't think anyone unequal, so it just makes sense."
The contemporary feminist's in-tray



Commercial sex industry
Pornography; sex trafficking; lap-dancing and strip clubs; magazines featuring semi-nude women: all these raise the ire of many feminists. However some say there should be more support for sex workers, some of whom identify as feminists.
Government cuts
The Fawcett Society has said women are "bearing the brunt" of cuts to benefits and public services. It estimates that by 2015 the average single mother will have lost the equivalent of over one month's income per year.
Amendments to the Health and Social Care Bill could see independent groups- including those with an anti-abortion stance- invited to offer counselling in place of providers such as Marie Stopes and the British Pregnancy Advisory Service.
Representation in politics and in the boardroom
Women are outnumbered four to one in parliament (144 MPs to 504), which Banyard says has led to a "democratic deficit". Only one in eight directors of FTSE 100 companies are women.
Why Ministers of Satan Do Not Want to Tax the Rich
The bible warns Satan's demons take on the image of God, similar to that done in Eden, (How else do they gain control of earth?): II Corinthians, 11:14
The Antichrist is variously understood as being a consummately evil system of government or leader.
The Antichrist will be a leader who deceives many people.
The Antichrist will divide the world and create war without end.
The Antichrist will declare that things which are evil to be good.
The Antichrist will refer to war as peace, death as a solution for justice, and serving the wealthy as a means of helping the poor.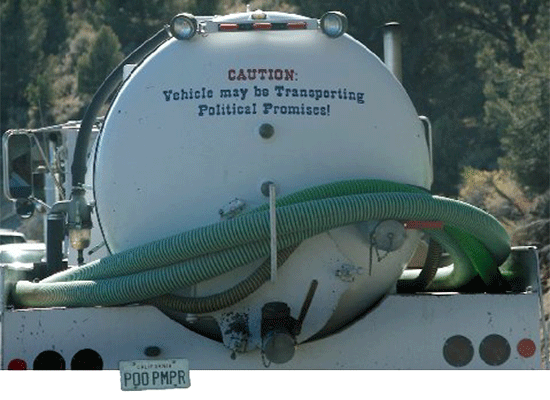 CAUTION: Vehicle may be Transporting Political Promises!
Dark heart of the American dream
It's the most polluted state in the planet's most powerful country. Ed Vulliamy goes into George Bush's backyard to reveal how big oil got in bed with big politics and the price paid by the little people
Ed Vulliamy, The Observer, Sunday 16 June 2002, Article history, Article Source
There is a perverse beauty to the landscape arraigned below the iron bridge where Highway 255 strides the Houston Ship Channel: great towers of light and fire as far as the eye can behold; sinewy steel piping, plumes of smoke and flame twinkling into a Texas twilight coloured by a shroud of pollution hanging from the sky. The awesome prepotency of this smokescape is no illusion, for this is an epicentre of power, oil capital of the Western world and the most industrialised corner of the United States. It is also the capital of a power machine perfected in Texas, elevated to rule the nation and now unchallenged across the planet. A machine that operates in perpetual motion - an equilibrium of interests - between industry and politics. LaNell Anderson, former Republican voter, businesswoman and real-estate broker who lived many years in this land of smokestacks and smog, calls it 'vending-machine politics: you puts your money in and you gets your product out'.
'We don't see ourselves as a dynasty,' said George Bush Sr as his son launched the election campaign that won him the current presidency, raiding father's Rolodex to do so. 'We don't feel entitled to anything.' And yet at no point in the past 50 years - the half-century since 1952 which defines the modern age - has there not been a Bush in a governor's mansion (in Texas or Florida), on Capitol Hill or in the White House - and usually more than one of those at a time. The 'vending machine' is a single family whose tango with the powers which illuminate this endless horizon of light and flame is a dance around every corner in the labyrinth of Texan and now national - indeed global - politics. 'Everything they learned when they started out in west Texas,' says Dr Neil Carman, once a regulator of pollution in the state, 'they applied to the governor's mansion, the nation and the world... Power in America is not so much about George W Bush, it's about the people from Texas who put him there.'
This is the dynasty's throne, the state whose highways are lined with the spirited advice 'Don't Mess With Texas' (originally the slogan of an anti-litter campaign). As if litter would make much difference: Texas counts the worst pollution record in the US, top in the belching of toxic chemicals and carcinogens into the air, top in chemical spills, top in ozone pollution, top in carbon-dioxide emissions, top for mercury emission, top in clean-water violations, top in the production of hazardous waste. Houston overtook Los Angeles for the coveted title of 'most polluted city' in the early 90s.
'You are looking at the biggest oil refinery in the world,' indicates LaNell Anderson. She refers to the edifice that is the 3,000-acre Exxon Mobil plant at Baytown, near Houston, producer of 507,800 barrels a day. Here begins a story of both dynasty and destiny, for it was on this spot in 1917 that the Bush family's oil connection was forged - where the Humble Oil company, which struck black gold in the Houston suburb of that name, took root, later to be- come the Exxon behemoth. Humble's founder, William Stamps Farish, went on to become president of Standard Oil. His daughter became a friend of George Bush Sr and his grandson William Jr was taken in 'almost like family' (said Barbara Bush) while campaigning for George Sr's entrée into Washington Senatorial politics in 1964. Farish Jr claims to have been the first man to whom Bush Sr confided his ambition to be president one day, and was last year named US Ambassador to London.
At first, Anderson welcomed the benefits to a community of the 200 oil-related industries relocated to the Houston area by the time she and her second husband set up home in a suburb wedged between Exxon and the Lyondell chemical plant. Neither she nor he had any history of disease in their families. But in 1985, her husband's daughter gave birth to a girl, Alyssa, with a rare liver disease - she died aged six months. In 1986, Anderson's mother became ill and died of bone cancer a year later. The following year, Anderson and her sister were diagnosed with rheumatoid arthritis, as was a granddaughter in 1992, and an older sister with Crohn's disease. In 1991, her father died from emphysema; a year later the mother of Alyssa gave birth to a son immediately diagnosed with severe asthma. Anderson connects the litany of disease with mishaps by her industrial neighbours. She paraphrases their attitude thus: 'If someone doesn't like it, they can sue us if they can - and since we have more money than God, we will win.'
A thumbnail sketch of politics and the environment in the United States today depicts oil as the lifeblood running through every vein of an administration forging ahead with its energy policy. The White House has just been forced to disclose (after being faced with a Congressional subpoena) that it drew up a national energy plan based on increased production without regard to the environment or conservation, having failed to consult with anyone other than its friends among the producers themselves, notably the disgraced Enron. This despite the fact that an energy crisis in California last summer caused most analysts to draw the opposite conclusion, stressing the need to curb a gas-guzzling America.
At the hub of this turning wheel of influence is Vice President Dick Cheney, fresh into office from his post as chief executive of Halliburton, the world's second-largest oil-drilling services company, where he netted a personal fortune of $36m in the year before leaving, with help from contacts accumulated while serving under George Bush Sr. Just last week, however, Halliburton joined Enron in coming under investigation by the Securities and Exchange Commission for the same system of publishing inflated revenues - 'aggressive accounting' - for which Enron has become a synonym for shame. These alleged misdeeds took place during Cheney's directorship. The company also faces a floodtide of civil lawsuits over asbestosis_ unless a model can be found (as has been established in Texas) to make such resort to the law nigh impossible for anyone without money.
The entwinement of the Bush dynasty with the energy barons of Texas has apparently humble beginnings, in the Lone Star State's wild west, on the plains around Midland and Odessa. This is barren land across which dust devils fly and trains rumble like iron snakes. This is where George Bush Sr was sent by his father, Senator Prescott Bush, to a trainee job with the International Derrick and Equipment Company, a subsidiary of Dresser Industries, controlled by the Bush family and selling more oil rigs than anyone in the world. (Dresser later became absorbed by Halliburton.)
The world first heard of Odessa on that fateful day in December 1998 when Bush Jr was governor of Texas and the sky turned black after an 'upset' at the Huntsman chemical plant literally on the wrong side of the railroad tracks it shares with poor housing, where Mexicans and blacks live. (An 'upset' is an unplanned accident releasing pollution, not part of the plant's normal running procedure, and which does not count in its regulatory tally.) Lucia Llanez, who lives in this tightly knit community of bungalows between plant and railroad, will never forget this one: 'It was dark all over; cars on the Interstate slowing down and putting their lights on because they couldn't see, though it was day. There was a rumbling like trains that rattled the windows, and people were going to hospital for watering eyes, allergies and problems breathing. The cloud stayed two weeks.'
The story of Huntsman goes back to the days of Bush Sr's arrival, when Odessa was a town of what retired fireman Don Dangerfield calls 'wildcatters'. In the 40s, the US Air Force bombed deep holes in the giant Permian oil basin in a search for oil which then attracted a stampede of speculators (including those from Humble) who would, recalls Dangerfield, 'spend the nights in a hotel, the End of the Golden West, and gamble their lots in rooms so thick with cigar smoke you could hardly see'. Among them was a man he remembers well: John Sam Shepherd, a former attorney general of Texas and member of the White Citizens Council - a political wing of the Ku Klux Klan - disgraced by a land scandal and come to seek his fortune out West by setting up the El Paso Products company, later Huntsman.
George Bush landed in this mayhem but quickly decamped 20 miles north to Midland, where new millionaires like him established a country club, a Harvard and a Yale club, met at the Petroleum Club and played golf on irrigated lawns. Midland was, recalls Gene Collins, a member of the National Association for the Advancement of Colored People in Odessam 'one of two towns in America with a Rolls-Royce dealership and more millionaires per head than anywhere'. This was where Bush Sr built his oil fortune, launched a political career on its shoulders and raised his son George W Bush in the art and language of power he now feigns not to speak. The story of how Bush Sr constructed his empire is well known, as is that of how his son George W was groomed to follow in his footsteps. Less widely broadcast, however, are the depths and intricacies of a system the Bush family built in bonding with the energy industry, as the dynastic machine elevated its methods from Odessa to the Senate, the governor's mansion in Austin, the oil centres of Houston and Dallas, the White House and thereafter the globe.
Neil Carman has a professorial air to him that belies the sharpness of the surgical blade with which he tries to operate on 'Toxic Texas'. Originally a plant biologist, he was an investigator for the Texas Natural Resources Conservation Commission (TNRCC), responsible for issuing permits for agreed levels of pollution and enforcing environmental law. In 1989, he took on the General Tire and Rubber Company for 'systematic violations'.
The firm hired a lobbyist, Larry Feldcamp, from the Baker Botts law firm whose senior partner, James Baker III, was secretary of state to then president George Bush Sr and who later, as an attorney, secured the delivery of the state of Florida for Bush Jr during last year's election recounts. Baker Botts advertises itself as a 'full service firm', counting Shell, Mobil, Union Carbide, Huntsman, Amoco on its books. The other law firm indivisible from the energy lobby and the Bush fiefdom is Vinson & Elkins, which acts for both Enron and the Alcoa aluminium giant, whose former chief executive Paul O'Neill is now US Treasury Secretary. Between these law firms and the regulatory body supposed to face them down, says Dr Carman, 'there's a revolving door. Feldcamp's place was taken recently by the most active attorney on the oil scene, Pamela Giblin - one of the TNRCC's first appointees.'
Carman resigned because 'all they had to do was hire people like Feldcamp and you were off the case. They did not deny permits - they must have issued 50,000 permits for air pollution during my time and refused only two, on occasions when the public raised hell. And they don't revoke them - it's not like drunk driving: if you get caught, they just keep reissuing. They used to refer to these places as "industrial areas", as if that meant they were outside the law. I called them "sacrifice zones".'
There is another problem, unique to Texas: the 'grandfathering' rule. Grandfathering dates back to the Texas Clean Air Act of 1971, exempting existing installations from compliance with new regulations. The idea was that they would be modernised or become obsolete and close. In the event, firms found that not being obliged to spend on pollution control gave them a competitive edge, and nearly three decades later, grandfathering accounted for more than 1,000 plants and 35 per cent of all pollution in Texas. Nevertheless, in the early 90s, the TNRCC began to toughen its stance in accordance with a more aggressive federal approach to pollution by the new Clinton administration. Then, in 1994, Texas went to the polls to elect a new governor - 'And when Bush took over,' says Carman, 'everything changed.'
Two groups based in Austin - Texans for Public Justice (TPJ) and Public Research Works (PRW) - crunched the statistics on the wave of money on which George W Bush sailed into the governor's mansion. It was what Andrew Wheat of the TPJ calls 'something unheard of in Texas or anywhere else: $42m on two campaigns'. Grandfathered polluters poured $10.2m into the campaign coffers between 1993 and 1998, led by what PRW calls the 'dirty 30', including Exxon, Shell, Amoco, Enron and the Alcoa aluminium giant. Bush himself received $1.5m from 55 grandfathered companies, led by Enron, with a handsome $348,500 top-up from the man he calls Kenny Boy - Kenneth Lay, the company's chief executive, currently under criminal investigation.
Wheat's analysis of the new governor's 'personal time' shows a revolving door for campaign donors and the energy industry. Andrew Barrett, Bush's in-house environmental policy advisor, began daily visits to the TNRCC in preparation for the appointment of new commissioners: Ralph Marquez, lobbyist for the Texas Chemical Council and former executive of the Monsanto chemical firm, and Barry McBee, attorney with the law firm Thompson & Knight, a major contributor to Bush funds with a host of oil-industry clients.
Legislation based on the notion of 'self-regulation' followed: a law enabling companies to audit their own pollution records provided they reported them, in exchange for which there would be absolute protection from public disclosure. Big oil was delighted, as a memo obtained by an environmentalist group, the Texas SEED Coalition, illustrated: a record of a gathering in June 1977 at Exxon in Houston by 40 representatives of the Texas oil and gas industries - written by one of their number - said 'the "insiders" from oil and gas believe that the governor's office will persuade the TNRCC to accept whatever program is developed between the industry group and the governor's office'.
It was not until Bush became president that, in its 2001 state legislature, Texas finally decided to rein in the 'grandfathered' plants. A bill gave them until 2007 to come into line with federal law or shut down. Even then, there was a legal challenge to the TNRCC's science from the Houston Business Partnership, recently entrusted with millions in federal money to clean up the Gulf coastline. The partnership is a high-octane chamber of commerce, throwing up a few familiar names: Exxon, Conoco, Enron, James Baker's law firm Baker Botts - and George Bush Sr.
Most important of all - and best hidden - was Bush's programme for Tort Reform. It was this that his father's advisor Karl Rove (dispatched to steer Bush's presidential campaign and now the White House itself) insisted the new governor make his hallmark, and this is potentially the dynasty's greatest gift to big oil. Put simply, Tort Reform means making it harder for citizens to sue corporations. TPJ calculated that business interests specifically isolating Tort Reform on their political agenda poured money into Bush's gubernatorial campaigns. Soon after being elected governor, says Andrew Wheat, Bush declared Tort Reform an 'emergency issue'.
This meant appointing a judge to the Texas supreme court whom President Bush is tipped to bring aboard the Supreme Court in Washington (to which, some say, he owes his presidency). Alberto Gonzalez wrote a decision soon after his appointment to the Texas court which made it all but impossible for citizens to bring class actions. 'The result,' says Shawn Isbell, a lawyer working on environmental cases, 'is that it will simply be too expensive to bring cases against the corporations.'
Another ruling, says Sandra McKenzie, the lawyer who fought a long and bitter battle against the Formosa Plastics firm, stipulates that 'anyone trying to prove a personal chemical injury had to show that other people in a similar situation had suffered the same reaction, according to a study in a published journal'. The new precedents, says McKenzie, 'changed the laws to establish a no-compromise, "take no prisoners" approach by the Bushes'.
In 1989, George Bush presented the Governor's Award for Environ mental Excellence to the Valero chemical refining company. Foremost in the minds of the proud executives at the ceremony in Austin's luxury Four Seasons Hotel was their 'refinery of the future' at Corpus Christi, on the Gulf, at the far end of the coastal strip that runs through Houston to the Louisiana border.
Alfred Williams gets a better view of the refinery of the future across the freeway from the garden of his mobile home than Governor Bush did from the Four Seasons. He can smell it better too - the inimitable stench on the muggy delta air that signifies the cooking up of cheap crude-oil 'feed stock' to produce its chemical by-product and treating the neighbourhood to a dose of sulphur dioxide.
When Williams, an ex-Vietnam Marine, moved here in 1972, 'this was all farmland'. He now delivers an impassioned requiem for his garden, with its peach trees dead or buckling over. The light of a quicksilver moon catches the plume of sulphur along what they call Refinery Row.
'I'm in my golden years,' he reflects. 'But I can't sell my house because no bank will give a loan without 40 per cent down. And they won't relocate me, as I'd do if they offered.
'It started with having to wipe residue from off of my car. Then the iron on my rooftop here started to get corroded, and the trees were dying. Sometimes I have to come inside because my eyes are burning.'
Williams filed a civil suit against Valero, steered by attorney Shawn Isbell. The court in Corpus denied Williams class action status in accordance with the zeitgeist, but Isbell managed to discover how the refinery of the future was so poorly crafted that Valero had (unsuccessfully) sued the companies which had built it. She also found out how the Texas system of overlooking 'upsets' works. Since 1994, Valero had suffered more than 480 'upsets', but the TNRCC records each set of emissions separately - for example, Valero's sulphur-dioxide emissions for 1977 show up on the commission's website as 166.4 tons, while the reality including 'upsets' is closer to 700 tons. Nevertheless, says Isbell, 'I've seen the TNRCC go harder after a pig farmer than I have after these kinds of companies.'
Williams keeps a notebook by his phone to record the 'upsets' over the road. He reports them to the TNRCC. But, he says, 'I call them rainbows: they are shut at night and on the weekend when the sulphur is released, and they only come when the storm has come and gone.'
Cornelius Harmon is a cab driver in Corpus, and takes a drive along Refinery Row, down a road he calls the 'buffer zone'. It divides a wasteland of former housing - where those relocated because of pollution by another plant, Koch, once lived - from the mostly black and Hispanic community of Hillcrest. 'Are you gonna tell me,' posits Harmon, 'that the hand of God Almighty drew a line down this road and He says: "Over yonder side is contaminated and this side is fit for folks to live ?" And what have we got here? Well, I'll be doggone if it's not a school, with children playing in the smell. The people who run these things, they give our kids a new pair of sneakers and go to church and think they're going to heaven. But at the pearly gates, they're going to find St Peter in his Afro saying: "Whassup cuz? Seems like you're trying to get into the wrong place."'
Time came for destiny to fulfil itself, for the son to stand for the high office in Washington which the Bush dynasty and its backers saw as having been usurped by Bill Clinton. The story of what carried George W Bush to the White House is well known: the most ruthlessly efficient campaigning machine ever assembled - by Karl Rove - with all the family's best connections filling a treasure chest that broke all records. As they returned to number-crunching in Austin, Texans for Public Justice and Public Research Works found little to surprise them save the machine's speed and efficacy. Within a month, Bush had raised hundreds of thousands of dollars, with Enron leading the field and two law firms giving $146,900 - most prominently Vinson and Elkins, attorneys to Enron and the Alcoa aluminium giant, and James Baker's company, lawyers to the oil industry.
When Bush came to pick his cabinet, almost all pivotal positions went to Bush Sr's inner sanctum, apart from the posts of commerce secretary (Don Evans, longtime buddy of Bush Jr's and a fellow Midland oil man) and treasury secretary (Paul O'Neill, currently touring the globe with Bono of U2, and former chief executive of Alcoa, the world's biggest producer of aluminium).
Alcoa held a stockholders meeting to send O'Neill off with a torrent of eulogies and an annual pay packet worth $36m, but three speakers spoiled the party. Two were trade unionists from O'Neill's troubled plant at Ciudad Acuna in Mexico, challenging the chief executive's claim that conditions at their factory were so good 'they can eat off the floor'. The third was the soft-spoken Texan Ron Giles, drawing attention to the biggest of the state's 'grandfathered' polluters - the Alcoa smelting plant at Rockdale. If the Rockdale plant were a single state, it would count 40th for pollution among the 50 in the union, belching more than 100,000 tons of toxins in 1997.
The smokestacks of the largest aluminium smelter in North America fit incongruously into the pastoral ranch land northeast of Austin. And they seem especially odd as backdrop to the 300-acre ranch where Wayne Brinkley's family has raised cattle since the late 1800s, but over which hangs a stench wafting across the moonscape of Alcoa's lignite mine.
Brinkley looks as much the Texan as President Bush in his boots and Stetson - 'Only difference is,' he says, 'I am one, and Bush is not.' In his office is a hog, stuffed and mounted, and an awesome collection of vintage knives and firearms. On his desk is a survey by the independent Research Analysis Consultations group showing that concentrations of magnesium, calcium and aluminium register 'very high' around Brinkley's barn, and sodium and titanium over his fields. 'My son had cancer when he was just a young kid,' he says in a voice like sandpaper. 'They tried to buy us out. They keep offering various deals saying I can't talk to anyone about this for 35 years, and then they changed it to forever. But why should I leave? My family's been here 100 years; they've been here 50. They should do it by the book, and keep it clean for the rest of us.'
Alcoa continues regardless, feted by Wall Street for 'dazzling' returns. But in the last light of a warm evening, quiet rebellion stirs in the community room of a little town called Elgin. A group of local people, Neighbors for Neighbors, have obtained records that show Alcoa to be cheating, making improvements to its production plant worth some $45m without parallel investments in pollution control. As a direct result of the Neighbors' exposé, the company was investigated by a TNRCC with no place to hide this time.
Neighbors for Neighbors, enjoying statewide coverage and acclaim for its pluck, is itself suing the company. Billie Woods, Neighbors' president, says that Alcoa has responded by pressing ahead with its plans for a new lignite mine that would carve up 15,000 acres of farmland. The company has also made court applications to enter and search the homes of Neighbors activists. The request was denied, but the matter moved the usually conservative Daily Texan newspaper to demand: 'Stop the Alcoa Gestapo!'
Yesterday Texas, today Washington, tomorrow the world. With Bush family business back home in the US presidency, it now moves, in the form of the father, to the apex of global finance. The Carlyle Group defines the next phase of power: a Washington-based private equity fund with a difference. It is headed by Frank Carlucci, former CIA director and defense secretary under Ronald Reagan and lifelong friend of George Bush Sr. Bush (also once director of the CIA) sits next to Carlucci on the board with a portfolio specialising in Asia and does not hesitate to communicate with his son on concerns of regional relevance to Carlyle such as Afghanistan or the Pacific Rim. Bush Jr was once chairman of a Carlyle subsidiary making in-flight food.
On Carlucci's other flank is the ubiquitous James Baker III. Chairman of Carlyle Europe is John Major. The group's new asset management is headed by Afsaneh Beschloss, former treasurer of the World Bank. Carlyle has grown quickly to be worth some $12bn, specialising in energy and defence, with particular attention to the oil-producing Gulf states. Among its most eager investors is Prince Bandar, Saudi ambassador to Washington and his father Prince Sultan, the kingdom's defence minister. The group's most spectacular recent coup was to reap $400m in a stock sale of its subsidiary United Defence Industries, maker of the Crusader artillery system which most military experts argued was redundant, but which won $470m in development money from the Pentagon and whose future in the US arsenal still hangs in the balance after a series of recent meetings between Carlucci and Defence Secretary Donald Rumsfeld. Within a month of 11 September last year, Carlucci was meeting with Rumsfeld and his deputy Paul Wolfowitz, and 10 days later offered an assessment which exactly predicted the endless-war scenario: 'We as Americans,' he said, 'have to recognise that terrorism is more or less a permanent situation.'
'What's the secret?' chided William Conway, a co-founder of the group. 'I don't think we have any secrets. We are a group of businessmen who have made a huge amount of money for our investors.' 'I never bought into this conspiracy theory about the Bush family, the energy companies or the Carlyle Group,' says Michael King, seasoned political editor of the Austin Chronicle , who has observed the phenomenon for decades. 'It is perfectly clear what they're aiming at from what they do in public: managing the global economy to their own advantage, and doing a pretty good job of it.'
On 11 September, while Al-Qaeda's planes slammed into the World Trade Center and the Pentagon, the Carlyle Group hosted a conference at a Washington hotel. Among the guests of honour was a valued investor: Shafig bin Laden, brother to Osama.
Hello ! This is my latest painting:"The Torture Garden"
This piece will debut tonight, August 11th 2011, at Trickster Salon, a monthly arts salon held at Mission Control in San Francisco. This is a vibrantly creative and fun event - don't miss it! I hope to see you there tonight!
For more info about this piece (or any of my other work) please visit my blog, http://normal.bz. - David Normal
Kill Your TV Before It Kills You
Too much television may shorten your life
Six hours of TV a day can cut life expectancy by nearly five years, research shows
Alison Rourke in Sydney, guardian.co.uk, Tuesday 16 August 2011 11.14 BST, Article history, Article Source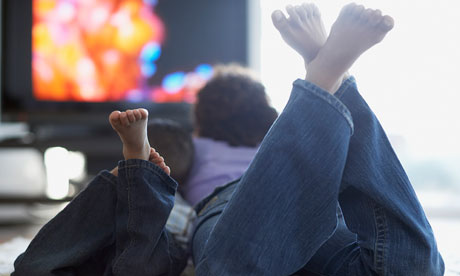 Too much television could shorten your life, putting TV-watching 'in the same
ballpark as smoking and obesity', say researchers. Photograph: Fancy/Veer/Corbis
Watching too much television could shorten your life, a study suggests. Research carried out in Australia, and published in the British Journal of Sports Medicine, showed that every hour of TV watched after the age of 25 may shorten lifespan by 22 minutes.
According to one of the report's authors, Dr Lennert Veerman, from the School of Population Health at the University of Queensland, it puts long hours spent in front of the box "in the same ballpark as smoking and obesity". "While smoking rates are declining, watching TV is not, which has implications at a population level," he said.
Last year, another Australian study found an hour of TV a day led to an 8% increase in the risk of premature death.
"We've taken that study and translated it into what it means for life expectancy in Australia given how much TV we watch," said Veerman.
Australians watch about two hours of TV a day. As a result their life expectancy at birth is reduced by 1.8 years for men and 1.5 years for women, according to the study. Britons watch more than three hours of TV a day, according to the Broadcasters' Audience Research Board.
Too much sitting, as distinct from too little exercise, is associated with higher mortality risk, particularly from cardiovascular disease. "Logically we know that physical activity is good for health and so it's not so strange that the reverse is not so good," said Veerman.
The report was based on an observational survey conducted in 1999-2000 with more than 11,000 participants aged 25 and over. Participants reported the amount of time they spent watching TV or videos in the previous week, when it was their main activity (ie, not doing the cooking or the ironing at the same time).
The report also showed that a person who watches an average of six hours of TV a day would live on average 4.8 years less than someone who watches none.
New US Government Symbol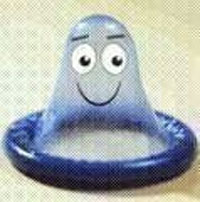 The government announced it is changing its symbol from an Eagle to a CONDOM, because it more accurately reflects the government's political stance .... A condom allows for inflation, halts production, destroys the next generation, protects a bunch of Cheneys, and gives one a sense of security while being screwed!
Magnitude 3.5 - August 17, 2011 at 02:02:51 AM PDT at epicenter - The Geysers
Proof of Republican 'doublethink'
The Republican world view is a mash-up of Orwell's 1984 and It's a Wonderful Life – with 'doublethink' at its heart
Hadley Freeman, guardian.co.uk, Tuesday 16 August 2011 20.00 BST, Article history, Article Source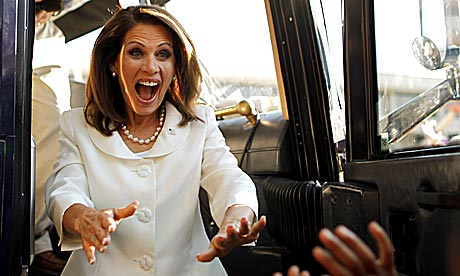 Republican presidential candidate Michele Bachmann. Photograph: Chip Somodevilla/Getty Images
"Isn't the Democrat/Republican choice in the US really a choice between good and evil?" someone tweeted me during last week's Republican debate in Iowa. On the one hand, such a reductive perspective only exacerbates the dysfunctionally hyper-partisan current state of American politics, with the Republicans retreating to a wing so far right it would have given their beloved Ronald Reagan whiplash.
On the other hand, the message did arrive just moments after the morally repulsive Rick Santorum had finished explaining that abortions must be denied even to victims of rape and incest because the baby shouldn't be "victimised twice", concentrating so deeply on maintaining his sanctimonious facial expression that he hadn't the mental space to consider that maybe it would be the raped woman who would be victimised twice if she were to be denied an abortion if she wished to have one. But then, of course, it's hard to answer intelligently when one talks out of one's arse and the brain is therefore so far away from one's speaking orifice.
Anal vocalisation is not the only explanation for much of the Grand Old party's (GOP) behaviour and pronouncements in recent days: rather, it is, I can exclusively reveal, currently engaged in a mash-up of 1984 and It's a Wonderful Life, two pieces of fiction created over 60 years ago, which goes some way to explaining the distinct smack of irrelevance to the party today.
Despite having been written by one of those dreaded European socialists, 1984 appears to be the guidebook for today's Republican contenders. Even aside from the crazed fascination with sex some of them have (the Iowa debate also provided a platform for Santorum to explicate, again, his theory that gay marriage is the same as polygamy, having presumably decided that his worn-down-to-the-nub rib-tickler that homosexuality is analogous to bestiality needed a bit of sprucing up) which would impress 1984's Junior Anti-Sex League, the frank use of doublethink has been if not quite impressive then certainly unembarrassed.
Doublethink is, according to Orwell, "the power of holding two contradictory beliefs in one's mind simultaneously, and accepting both of them … To tell deliberate lies while genuinely believing in them, to forget any fact that has become inconvenient …"
This is different from simply lying, which – as we live in what Tom Cruise once snarled is "a cynical, cynical world" – is expected from most politicians. Doublethink is looking at the truth and seeing just a reflection of one's desired self. It is the only explanation for Michele Bachmann's insistence that the credit downgrade was due to the raising of the debt ceiling, even though it was largely, S&P said in its statement, because of her and her fellow Tea Partyists' "contentious and fitful" wrangling. She claimed on NBC's Meet the Press on Sunday that one should never "mess with the full faith and credit of the United States", and yet that is precisely what she did.
Bachmann has said that wives "are to be submissive to their husbands" and, as Sarah Posner wrote this week on Salon, this idea, of the woman being "the obedient helpmeet, the vessel for the children, the devoted mother and warrior for the faith" is "central to the faith of many evangelicals". Yet when asked about it directly in the Iowa debate and again on Sunday on NBC, Bachmann retranslated "submit" to mean "respect", even though one could argue that their meanings are if not diametrically opposite, then at least on the quarter angle. It's enough to make one sentimental for English reappropriation of the "refudiate" kind. But where Palin only seeks publicity, Bachmann is a far scarier proposition.
Just as Bachmann was explaining her "submit"/"feminist" theory in the Iowa debate, John McCain's wife, Cindy, took to Twitter to complain: "I am so disgusted with how disrespectful the media is to all Republican woman [sic] in politics." Aside from the striking originality of accusing others of misogyny against a woman who was at that moment explaining the value of submission to one's husband, McCain presumably hadn't heard some of the things members of her own family had said about a certain Republican woman in the past, such as Meghan McCain's complaint that Sarah Palin was ruining her love life.
Perhaps the most blatant use of doublethink was Mitt Romney's self-serving claim last week that "corporations are people, my friend", which managed to be both deeply Orwellian as well as sounding like an offcut from It's a Wonderful Life. It doesn't even require a tiptoe of imagination, let alone a leap, to envisage Lionel Barrymore as evil Mr Potter cackling to James Stewart as poor George Bailey: "Corporations are people, George!"
(Incidentally, a version of this self-entitled mentality was echoed by Megyn Kelly on Fox News, the GOP mouthpiece, last week when she ferociously defended her right to maternity leave, despite having derided "entitled programmes" in the past. As Jon Stewart pointed out: "They're really only entitlements when they're something other people want. When it's something you want, they're a hallmark of a civilised society.")
Doublethink is the inevitable result of a Republican party that has become so McCarthyite; where homophobia, anti-abortion beliefs, Christianity verging on the evangelical, disbelief in science and a refusal to accept that rich people should be taxed more are essential so as not to be accused of being a Rino (Republican in name only). And there is no colder proof of doublethink than the look of moral superiority on a candidate's face when they are describing their wholly immoral beliefs that exist purely to cause misery, such as an "unblemished record" of homophobic policies (Bachmann). Is this evil? It's dystopian.
Facebook: New Murder for Hire Social Network?
Target of murder plot hatched on Facebook is killed, police say
By Dave Warner, editing by Ellen Wulfhorst and Cynthia Johnston, Reuters, Article Source
PHILADELPHIA (Reuters) - A man who authorities say was the target of a murder-for-hire plot hatched on Facebook by the mother of his child was shot and killed in Philadelphia, police said on Tuesday.
Corey White, 22, died at the Hospital of the University of Pennsylvania on Monday shortly after being shot in the chest on a Philadelphia street, police spokeswoman Tanya Little said.
White's ex-girlfriend, London Eley, 19, and Timothy Bynum, 18, who have been implicated in an alleged plot to kill White, were in jail at the time of the shooting, Little said.
The pair were arrested in June and charged with criminal solicitation for murder and attempted murder. Police began probing Eley and Bynum after getting a tip that Eley had posted on Facebook asking for someone to kill White, Little said.
Eley had offered to pay a "stack" -- slang for $1,000 -- for the killing, and Bynum allegedly responded on the social media site that he would do the job, Little said.
Prior to the shooting, the two were ordered by a municipal court judge on Monday to stand trial.
No arrests were made after White's death, but two unidentified men were seen in a brown car driving away from the scene, Little said.
Time for a Corporate Death Penalty
How Many Big Tobacco Executives Are On Death Row for Murder? = None !!!
Magnitude 3.5 - August 17, 2011 at 02:02:51 AM PDT at epicenter - The Geysers
Black Sabbath reunion is 'speculation', says Tony Iommi
Rock band preparing comeback album, reports suggest
Sean Michaels, guardian.co.uk, Wednesday 17 August 2011 21.20 BST. Article history, Article Source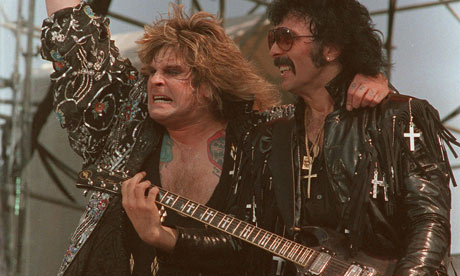 Ozzy Osbourne and Tony Iommi performing in Black Sabbath in 1985. Photograph: Rusty Kennedy/AP
More than 40 years after Ozzy Osbourne first sang about Satan coming round the bend, Black Sabbath's original lineup may be getting back together. Osbourne, Tony Iommi, Geezer Butler and Bill Ward have reportedly reunited in a "secret rehearsal studio", with plans to record a new album and tour.
Metal Talk and the Birmingham Mail have both reported Black Sabbath's return, with the Mail quoting a June interview with Iommi. While the guitarist criticised the report on his website, calling it "speculation", he stopped short of denying that the band had reformed. "Thanks to the internet it's gone round the world as some sort of 'official' statement on my part," he said. "To my old pals, Ozzy, Geezer and Bill, sorry about this, I should have known better."
In the June interview, Iommi was more forthcoming. "It's all been very hush-hush," he said. Although Iommi was reconciled with Osbourne last year, they didn't begin writing together until this summer.
Just a fortnight ago, Metal Talk claimed, the group booked a date in the studio, coming together for the first time since 2006. "We're really looking forward to it and I think the stuff we've been writing is really good," Iommi said. "It's more back to the old original stuff."
Last year, a Black Sabbath reunion looked about as likely as an audience for Osbourne at the Vatican. The singer was suing Iommi, asking him to "do the right thing" and share the Black Sabbath trademark with the rest of the band. "I don't think there is any chance [of a reunion]," Osbourne told Rolling Stone. But in July 2010 they buried the hatchet, and plans have apparently been simmering since then. "Ozzy's been the worst at trying to hold it back," Iommi said. "He's doing a lot of TV and he's being asked stuff about a reunion and he's going, 'Well I never say never.' He told me, 'I don't know what to say.'"
If Black Sabbath have indeed reunited, it still doesn't mean they will necessarily release a new album; they didn't manage it last time. But the sexagenarian band-members have high hopes. Only Ward, their drummer, is suffering with health issues. "He hasn't been 100%," Iommi said. "He had [a heart] operation a few months ago, so we'll see how he is."
Black Sabbath have sold more than 100m albums worldwide. They were admitted to the Rock and Roll Hall of Fame in 2006.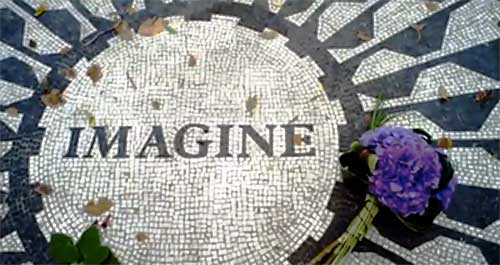 Ozzy Osbourne sings John Lennon's "How?"

Trippy The Clown's Official Website
Shell's second oil leak in North Sea pipeline caused by relief valve
Campaigners and politicians have criticised the oil company for being slow to release information on the spill
Fiona Harvey and Severin Carrell, guardian.co.uk, Tuesday 16 August 2011 15.03 BST, Article history, Article Source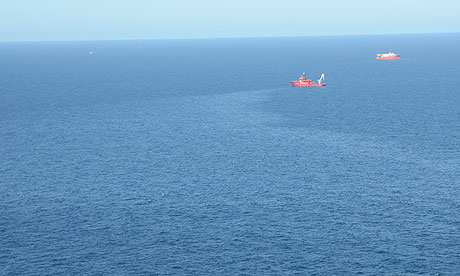 Shell Gannett Alpha platform oil spill in the North Sea. Photograph: Marine Scotland
A relief valve close to the faulty pipeline at Shell's Gannet Alpha oil platform in the North Sea appears to be the source of a secondary leak that is adding to the worst oil spill in UK waters in a decade.
Green campaigners and members of the Scottish parliament have rounded on the oil company for being slow to release full information on the leak, which was first detected last Wednesday but only disclosed to the public on Friday evening.
Shell said on Tuesday that while the leaking well was "under control", and the main spill had been shut off successfully, a small quantity of oil was still finding its way to the sea by another pathway. After lengthy searching, the valve was pinpointed as the likely source.
Work will continue to dam the small quantities of oil – at up to five barrels a day, a trickle compared with the 1,300 barrels thought to have gushed out in the first days of the leak, but Shell could not say how soon it would be completed. The company has also been so far unable to explain how the leak occurred in the first place.
Green campaigners accused the company of complacency and secrecy, as information on the progress of the leak continued to be slowly released. Per Fischer, communications officer at Friends of the Earth Scotland, said: "It beggars belief that we are still being drip-fed information and that Shell's initially 'insignificant' leak is still causing problems."
Tony King, head of policy at the Scottish Wildlife Trust, added: "It seems clear that there has been a substantial oil spill in the North Sea, putting sea birds, whales and dolphins, fish and other wildlife at risk. Shell needs to come clean on exactly how much oil has entered the sea. This is an extremely serious matter and wildlife organisations need information in order to plan what, if anything, can be done to safeguard Scotland's marine wildlife. Once the immediate threat to the environment has been removed, Shell must be open about exactly how this spill came about and what measures it is taking to make sure that it never happens again."
Shell rebuffed these criticisms, saying it had responded "promptly" and "properly". The company said it had followed correct procedures in alerting the Department of Energy and Climate Change (Decc) first about the leak last week, and agreeing a course of action to stop it. Most of the oil has now been dispersed by the waves, leaving only a small area where a sheen can be seen on the sea surface.
Government advisers also played down the risk to bird life, as the oil is unlikely to reach shore from the rig – 112 miles east of Aberdeen – and said the risk to fish was also small as most of the oil should be cleared by natural processes. Officials said that while the leak was the biggest in UK waters for a decade, it was less serious when viewed in context of other major spills such as BP's blowout in the Gulf of Mexico last year, which was estimated to be spilling up to 70,000 barrels a day.
Sarah Boyack, Labour's environment spokesperson in the Scottish parliament, said people needed more assurances from the government agencies involved: "I want to know from Marine Scotland what contingency plans they put in place to deal with major oil spillages. I also want information on the lessons they learned from the Deepwater Horizon disaster in relation to wildlife protection, protection of public health and protection of the fishing industry."
Glen Cayley, the technical director of Shell UK, said that since the original leak had been shut off last Thursday, the company had been "working to find the source of the much smaller flow of hydrocarbons. It had proved difficult to find because we are dealing with a complex subsea infrastructure and the position of the small leak is in an awkward place surrounded by marine growth. So, it has taken our [remotely operated vehicle] inspections some time to establish exactly where the source is. Once we've confirmed this we will then develop a series of mitigation options to stop this leak. There is no new leak."
Green campaigners said the incident raised questions over the safety of oil companies' plans to drill in deep water in the Arctic, as the North Sea is generally supposed to be the safest in the world in terms of spills. Vicky Wyatt, senior oil campaigner at Greenpeace, said: "As Shell finalises plans to move into the fragile Arctic, where oil spills are almost impossible to clean up, the company has important questions to answer. Meanwhile the government should halt its rush to hand out new licences for deep water drilling to the west of Shetland."
Greenpeace is taking legal action to stop the granting of more than 20 new licences for oil companies to drill in the deep water to the west of Shetland, arguing that the government cannot be certain that a spill in the area would not devastate specially protected wildlife havens.
Campaigners also pointed to wider lessons for oil companies in other parts of the world, including places where oil spills have been covered up such as Nigeria. As the Guardian recently revealed, Shell has been forced to admit liability for spills in the region that have dwarfed last year's Gulf of Mexico disaster.
Fischer said: "It is ironic that the information [Shell has] made available is actually vastly better than what was offered to the people of Nigeria, where Shell for a long time denied any responsibility for endless oil spills. For decades, oil companies have acted with impunity when it comes to the environment. At a time when we could be using the skills learnt through oil exploitation to advance our renewable energy resources, we should be placing much higher standards of operation on companies like Shell."
Shell said: "The high winds and waves over the weekend have led to a substantial reduction in the size of the oil sheen as can be seen from the current levels on the water," said Cayley. "This is a significant spill in the context of annual amounts of oil spilled in the North Sea. We care about the environment and we regret that the spill happened. We have taken it very seriously and responded promptly to it."
Decc said: "Shell has informed us that the oil leak at its pipeline at the Gannet Alpha platform east of Aberdeen is under control and has now been greatly reduced. They are working to completely halt any further leakage. Although small in comparison to the Macondo incident [at one of BP's platforms in the Gulf of Mexico last year], in the context of the UK's continental shelf the spill is substantial – but it is not anticipated that oil will reach the shore and it is expected that it will be dispersed naturally.
Smart Meters:
PG&E's Evil Public Payback For Voting Down Prop. 16?
No Corporate PG&E Executives Charged With Murder?
TIME FOR A CORPORATE DEATH PENALTY!
Smart Meter Installers Turn Against Public?
Smart Meters: Not Smart. Not Green. Not Safe. Not Legal
Not so Smart: PG&E Tactics Turning Off the Public
Protests Against Stupid Wireless Meters Spreading
PG&E, I don't want to be part of your experiment!
"Smart" Meters, Dirty Electricity and Disease
Why "Smart" Meters are a Class Issue
TURN Consumer Advocates : Smart Meters
Smart meters are a dumb idea. In short, they're expensive, don't help you save energy and put your privacy at risk.
Do PG&E Smart Meters Cause Cancer?
According to WHO: PG&E and CPUC Are Harming Humans
PG&E Uses Local Police To Protect SmartMeter Installation Atrocities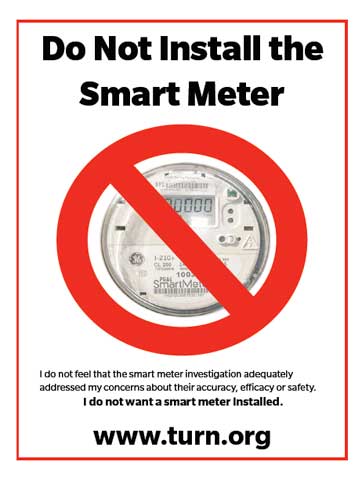 Download a Do Not Install the Smart Meter sign - www.turn.org
World Health Organization has classified SmartMeter
Radiation as "possibly carcinogenic to humans."
Whose Side Is CPUC President Michael R. Peevey On:
The People of California or PG&E?
Mike writes August 17, 2011:
A couple more in my continuing Cowboy & Western series.
The Ridge Runnin' Roan -- The Pecos River Queen
Check out the Pecos River high bridge. Whoa!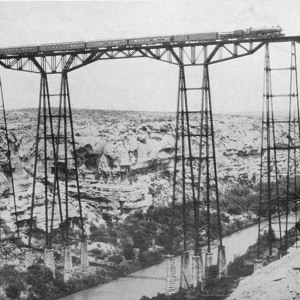 Addendum August 19, 2011: I noticed that Jack Thorpe had it wrong about it being the Comstock bridge. It was Jim Converse's bridge, he being Southern Pacific's Chief Engineer of Lines West and responsible for it's construction. I re-recorded this song today with a corrected lyric and put it up on sound cloud. The previous link works.
Happy trails, Mike Wilhelm
Pine [Keith Lampe] writes, Good Morning, Alexandra writes: This is the history of the high income partnership between psychiatry and drug companies that has created an $80 billion drug profit center.
P.S. Please share Forbidden Knowledge TV e-mails and videos with your friends and colleagues. That's how we grow. Thanks.
The Marketing of Madness
'The Marketing of Madness' is the definitive documentary on the psychiatric drugging industry.

The Marketing of Madness (1/18)

The Marketing of Madness (Full 177 Minute Film)
The Marketing of Madness is the definitive documentary on the psychiatric drugging industry. Here is the real story of the high income partnership between psychiatry and drug companies that has created an $80 billion psychotropic drug profit center.
But appearances are deceiving. How valid are psychiatrists' diagnoses-and how safe are their drugs? Digging deep beneath the corporate veneer, this documentary exposes the truth behind the slick marketing schemes and scientific deceit that conceal dangerous and often deadly sales campaigns.
In this film you'll discover that... Many of the drugs side effects may actually make your 'mental illness' worse. Psychiatric drugs can induce aggression or depression. Some psychotropic drugs prescribed to children are more addictive than cocaine. Psychiatric diagnoses appears to be based on dubious science. Of the 297 mental disorders contained with the Diagnostic and Statistical Manual of Mental Disorders, none can be objectively measured by pathological tests.
Mental illness symptoms within this manual are arbitrarily assigned by a subjective voting system in a psychiatric panel. It is estimated that 100 million people globally use psychotropic drugs.
The Marketing of Madness exposes the real insanity in our psychiatric 'health care' system: profit-driven drug marketing at the expense of human rights.
This film plunges into an industry corrupted by corporate greed and delivers a shocking warning from courageous experts who value public health over dollar. [Also see: Stoned Out of Their Minds]
Why the Hell Do You People Still Drive?
By Wes Siler, Wired, August 19, 2011, Article Source

Photo: Sean Smith/Hell For Leather
I'm a journalist. On any given weekday, I'm scooting around Southern California having meetings, running errands, doing photoshoots and visiting friends. Hollywood, Venice, downtown, Malibu, Pasadena, Long Beach, Orange County, it doesn't matter. I've hit them all on the same day. Hell, some days, I'll hit them all on the same afternoon. I can do this quickly and efficiently because I get around on a motorcycle.
Five weeks ago, however, I rolled a Ural sidecar off road at 50 mph, breaking my left wrist. Aside from providing a killer story for picking up women, the injury objectively and quantifiably ruined my life. How?
It forced me into a car.
Much more than just a major blow to my carefully cultivated self-image, the simple switch from two wheels to four cost me money (both out of pocket and in lost earnings), strained friendships and made dating a real bitch.
Here's how.
The Money
I average 50 to 75 miles a day on the road. Not a huge amount, but living in Long Beach, just south of Los Angeles proper, a lot of that mileage is racked up on SoCal's heavily congested freeways in stop and go traffic. Well, stop and go if you're in a car.
Working as a motorcycle journalist, I ride many different bikes on a daily basis. On the highway, they average anywhere from 25 to 75 mpg. I've never figured out an overall average fuel economy figure because I'm swapping bikes so frequently. It just isn't a factor at all, so it's not worth tracking. My usual fuel bill is 10 or 12 bucks every two or three days.
I borrowed a friend's Mazda3 hatchback while I was unable to ride. It's got a 2.3-liter engine and a five-speed manual and I averaged roughly 20 mpg crawling through traffic. I racked up 600 or so miles during my two weeks in commute hell, burning through roughly 30 gallons of gas. At $3.75 a gallon, that's $112.50 spent in just two weeks. Compare that to the $50 or so I would have put into bikes to go the same distance during the same time frame.
That extra $60 or so might not sound too bad until you figure in my lost earnings.
In addition to running a website, I freelance for clients like Wired.com and a bunch of magazines. Being stuck, often literally, in a car for several hours a day for two weeks had a major impact on my productivity. Looking only at my work for Wired.com, I was unable to find time to complete two motorcycle reviews and attend a car launch. The net loss from that? $750. And that's only one client. That lost productivity was the worst thing about the whole four-wheeled experience.
The Productivity
As a young journalist working in an extremely difficult media market, my entire career is predicated on 10- to 12-hour workdays spent at max efficiency. With two arms and plenty of time, I can crank out 5,000 words or more a day. About two-thirds of that is for Hell For Leather, my motorcycle magazine. The rest is freelance work.
But what happens when that workday is reduced by four hours or so to account for the time spent sitting in traffic? Ask the editors I work for. I missed deadlines. I couldn't honor all my commitments. And my daily word count dropped below 2,000. I currently owe Wired.com four articles. (I'm catching up, guys, I promise.)
There's also the question of Hell For Leather. We have a tiny staff compared to our competitors, yet we've been doubling and trebling readership over the past couple of years largely because we work so damn hard. As editor, nothing gets published without my input, guidance and help. I write a significant portion of the content, too. Stuck in a car for two weeks? Our traffic dropped by more than 20 percent. It's hard to run a business when you're sitting on the Santa Monica Freeway.
The Personal Costs
Borrowing the car from a friend wasn't such a big deal. I loaned him one of my bikes in exchange. But the frustration of sitting in traffic, the lost revenue and the disappointment of being unable to live up to my potential had huge ramifications on my personal life.
All that, plus the added time necessary to, say, meet a friend for dinner, meant I missed out on personal commitments, neglected some friendships and strained others. The stress meant I drank more, which, combined with sitting still in a car for hours at a time, meant I put on a few pounds.
Being unable to effectively transport myself also meant I had to rely on friends for favors. I spent the entirety of Carmageddon weekend, for instance, at a friend's house in Hollywood. I'm pretty sure her roommates were sick of the weird long-haired guy on the couch by the third day. If I'd been on a bike, I could have attended the party and made it home through apocalyptic traffic the same night.
Last weekend, I missed a friend's wedding. I was too swamped catching up on work to take the time off to ride up to San Luis Obispo.
Due largely to how effective a cast and "I rolled a Russian sidecar off road at 50 MPH" are as a pickup line, I've started seeing a new girl. She lives about 20 miles away, via the 710, 5 and 101 freeways. Impromptu, um, visits are virtually impossible when it takes 90 minutes to drive 20 miles. On a bike, that same ride is 20 minutes, regardless of time or traffic. I'm sure you can see the advantage.
The Bike
As you may have noticed in the photo, the cast isn't exactly keeping me off a bike. The first three weeks were spent in a 90-degree, full-arm cast, which is why I had to get around in a big steel cage (Pain meds and whiskey kept me off the road for the first week). Now that I'm in a short cast, I can straighten my arm. And that means I can ride again. Thank God.
I still can't operate a clutch lever, but I can wrap my hand around the grip. Luckily, that's enough to operate an Aprilia Mana 850 GT, which is equipped with a CVT instead of a conventional manual transmission. There's no lever on the left handlebar at all.
This isn't some specially modified bike or unattainable rarity either. It's a practical, do-it-all motorcycle that, at $10,999, is around half the cost of the Mazda I was driving. At 45 mpg, it gets more than twice the fuel economy, too. And then there's that whole performance thing. Equipped with a 75 horsepower V-twin, the Mana accelerates from 0 to 60 in around four seconds. That's faster than most Porsches, much less Mazdas.
It's not just its fuel economy, price or clutchless transmission that makes it practical, either.
The Mana comes with a waterproof storage compartment between your legs, where the fuel tank typically is (The Mana's tank is under the seat for a low center of gravity). Running up to Hollywood to see a girl, I can throw a sweatshirt and my laptop in there, ready for the ride home in the morning. That compartment, plus a backpack, can carry a week's worth of groceries. As a bonus, it encouraged me to switch from beer to whiskey; strapping a case of beer to the passenger seat tends to draw unwanted police attention, but you can slip a fifth in the storage compartment no problem.
Look, I know it seems the real culprit for all this life ruination is motorcycles. I did break my wrist on a sidecar, after all. But, the injury has been less of a hassle than the transportation problem it caused. Knock on my titanium forearm (installed after a previous accident), but I've never hurt myself in mundane daily riding. The injuries have come only when I've chosen to do ridiculously dangerous stuff for fun. A motorcycle might have led to the problem, but the ultimate problem was traveling by car.
Even with a cast, I can still safely take advantage of all the benefits two-wheeled travel offers. Since we're in California, I can legally split lanes, meaning I never need to sit in traffic. I'm saving money on gas and no longer need to pay for parking. I can make meetings, have time to write articles and even get laid. Most importantly, I can head for twisty roads in the mountains after work to blow off all the stress brought by two weeks in a car.
If you're reading this before getting in a car to head home, you're about to get stuck in a traffic jam. With this Aprilia, I can ride a motorcycle in a cast and avoid all that crap. You can too. So what's your excuse?
Aliens may destroy humanity to protect other civilisations, say scientists
Rising greenhouse emissions could tip off aliens that we are a rapidly expanding threat, warns a report
Ian Sample, science correspondent, guardian.co.uk, Thursday 18 August 2011 19.04 BST, Article history, Article Source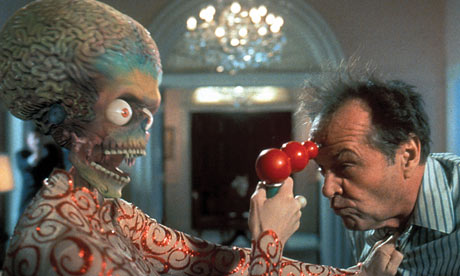 When they see what a mess we've made of our planet, extraterrestrials may be forced to take drastic action. Photograph: PR
It may not rank as the most compelling reason to curb greenhouse gases, but reducing our emissions might just save humanity from a pre-emptive alien attack, scientists claim.
Watching from afar, extraterrestrial beings might view changes in Earth's atmosphere as symptomatic of a civilisation growing out of control – and take drastic action to keep us from becoming a more serious threat, the researchers explain.
This highly speculative scenario is one of several described by a Nasa-affiliated scientist and colleagues at Pennsylvania State University that, while considered unlikely, they say could play out were humans and alien life to make contact at some point in the future.
Shawn Domagal-Goldman of Nasa's Planetary Science Division and his colleagues compiled a list of plausible outcomes that could unfold in the aftermath of a close encounter, to help humanity "prepare for actual contact".
In their report, Would Contact with Extraterrestrials Benefit or Harm Humanity? A Scenario Analysis, the researchers divide alien contacts into three broad categories: beneficial, neutral or harmful.
Beneficial encounters ranged from the mere detection of extraterrestrial intelligence (ETI), for example through the interception of alien broadcasts, to contact with cooperative organisms that help us advance our knowledge and solve global problems such as hunger, poverty and disease.
Another beneficial outcome the authors entertain sees humanity triumph over a more powerful alien aggressor, or even being saved by a second group of ETs. "In these scenarios, humanity benefits not only from the major moral victory of having defeated a daunting rival, but also from the opportunity to reverse-engineer ETI technology," the authors write.
Other kinds of close encounter may be less rewarding and leave much of human society feeling indifferent towards alien life. The extraterrestrials may be too different from us to communicate with usefully. They might invite humanity to join the "Galactic Club" only for the entry requirements to be too bureaucratic and tedious for humans to bother with. They could even become a nuisance, like the stranded, prawn-like creatures that are kept in a refugee camp in the 2009 South African movie, District 9, the report explains.
The most unappealing outcomes would arise if extraterrestrials caused harm to humanity, even if by accident. While aliens may arrive to eat, enslave or attack us, the report adds that people might also suffer from being physically crushed or by contracting diseases carried by the visitors. In especially unfortunate incidents, humanity could be wiped out when a more advanced civilisation accidentally unleashes an unfriendly artificial intelligence, or performs a catastrophic physics experiment that renders a portion of the galaxy uninhabitable.
To bolster humanity's chances of survival, the researchers call for caution in sending signals into space, and in particular warn against broadcasting information about our biological make-up, which could be used to manufacture weapons that target humans. Instead, any contact with ETs should be limited to mathematical discourse "until we have a better idea of the type of ETI we are dealing with."
The authors warn that extraterrestrials may be wary of civilisations that expand very rapidly, as these may be prone to destroy other life as they grow, just as humans have pushed species to extinction on Earth. In the most extreme scenario, aliens might choose to destroy humanity to protect other civilisations.
"A preemptive strike would be particularly likely in the early phases of our expansion because a civilisation may become increasingly difficult to destroy as it continues to expand. Humanity may just now be entering the period in which its rapid civilisational expansion could be detected by an ETI because our expansion is changing the composition of the Earth's atmosphere, via greenhouse gas emissions," the report states.
"Green" aliens might object to the environmental damage humans have caused on Earth and wipe us out to save the planet. "These scenarios give us reason to limit our growth and reduce our impact on global ecosystems. It would be particularly important for us to limit our emissions of greenhouse gases, since atmospheric composition can be observed from other planets," the authors write.
Even if we never make contact with extraterrestrials, the report argues that considering the potential scenarios may help to plot the future path of human civilisation, avoid collapse and achieve long-term survival.
• This article was amended on 19 August 2011. The subhead said the report was "for Nasa". This has been corrected.

Animation by ~@~
As the dream of economic growth dies, a new plan awaits testing
Even when times are supposedly good, neither society nor the environment can take the strain of an ever-expanding economy
George Monbiot, guardian.co.uk, Monday 22 August 2011 22.00 BST, Article history, Article Source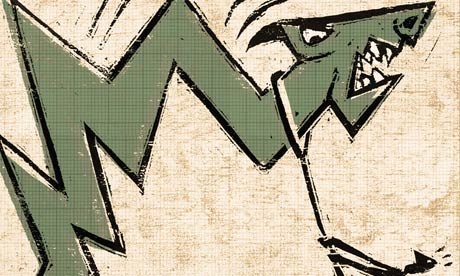 Illustration by Daniel Pudles
How much of this is real? How much of the economic growth of the past 60 years? Of the wealth and comfort, the salaries and pensions that older people accept as normal, even necessary? How much of it is an illusion, created by levels of borrowing – financial and ecological – that cannot be sustained? Go to Ireland and you'll see that even bricks and mortar are a mirage: the marvels of the new economy, built on debt, stand empty and worthless.
To sustain the illusion, we have inflicted more damage since 1950 to the planet's living systems than we achieved in the preceding 100,000 years. The damage will last for centuries; the benefits might not see out the year. Ireland, again, points a withered finger at the future. Among other iniquities, the government forced a motorway through the Gabhra Valley, part of a site – the Hill of Tara complex – comparable in its importance to Stonehenge. It was both an act of wilful vandalism and a notice of intent: no consideration would impede the economic miracle. The road hadn't opened before the miracle collapsed.
Once our needs had been met, continued economic growth did most people few favours. During the second half of the growth frenzy, unemployment rose, inequality rose, social mobility declined, the poor lost amenities (such as housing) while the rich enhanced theirs. In 2004, at the height of the longest boom the UK has ever experienced, the Nuffield Foundation published this extraordinary finding: "Rises in mental health problems seem to be associated with improvements in economic conditions."
Now, bar the shouting, it's over. Last week the Wall Street consultant Nouriel Roubini, one of the few who predicted the financial crash, spelt out the fix we're in. Governments cannot afford to bail out the banks again. Quantitative easing can no longer help, nor can currency depreciation. Italy and Spain will be forced, in effect, to default, and Germany won't pay out any more. The successful capitalist reached this striking conclusion: "Karl Marx, it seems, was partly right in arguing that globalisation, financial intermediation run amok, and redistribution of income and wealth from labour to capital could lead capitalism to self-destruct."
Nor can the current economic system address the environmental crisis. Its advocates promised that economic growth and environmental damage could be decoupled: better technology and efficiency would allow us to use fewer resources even while increasing economic output. Nothing remotely like it has happened. In some cases there has been a decline in resource intensity, which means a lower use of materials per dollar of economic output but higher overall consumption. In some cases – such as iron ore, bauxite and cement – even this hasn't happened: resource use per dollar has risen.
So far governments have responded to the renewed crisis of capitalism by frantically seeking to invoke the old magic again, to start the engine of creative destruction once more. The means to do so no longer exist. Even if they did, they would only delay and enlarge the underlying problems.
But now, in the wake of the English riots and faced with possible collapse, we are at last beginning to talk about the issues ignored while the illusion persisted: equality, exclusion, the feral rich and the discarded poor and, in WH Auden's words, about "what the god had wrought / To please her son, the strong / Iron-hearted man-slaying Achilles / Who would not live long."
The most hopeful sign that politicians might now be prepared to ask the big questions was the presence, in Ed Miliband's pile of holiday reading, of Prof Tim Jackson's book Prosperity Without Growth. It's a revolutionary text, now two years old, whose time has come.
It points out that the financial crisis was caused not by isolated malpractice but by the systematic deregulation of the banks by governments, in order to stimulate economic growth by issuing more debt. Growth and the need to encourage it is the problem, and in the rich world it no longer bears any relationship to prosperity.
Jackson accepts that material wellbeing is a crucial component of prosperity, and that growth is essential to the wellbeing of the poorest nations. But in countries such as the UK, continued growth and the policies which promote it undermine prosperity, which he defines as freedom from adversity or affliction. This means, among other blessings, health, happiness, good relationships, strong communities, confidence about the future, a sense of meaning and purpose.
But how do you escape from growth without tanking the economy – and our prosperity? Under the current system, you can't: when growth stops, it collapses. So Jackson has begun developing a macroeconomic model which would allow economic output to be stabilised. He experiments with raising the ratio of investment to consumption, changing the nature and conditions of investment and shifting the balance from private to public spending, while staying within tight constraints on the use of resources. He finds that the redistribution of both income and employment (through shorter working hours) is essential to the project. So is re-regulation of the banks, enhanced taxation of resources and pollution and measures to discourage manic consumption, such as tighter restrictions on advertising.
His system is not wholly different to today's: people will still spend and save, companies will still produce goods and services, governments will still raise taxes and spend money. It requires more government intervention than we're used to; but so does every option we face from now on, especially if we try to sustain the growth illusion. The results, though, are radically different: a stable, growthless economy which avoids both financial and ecological collapse.
From now on, as the old dream dies, nothing is straightforward. But at least we have the beginning of a plan.
Trinidad, Colorado
Earthquake Rocks Southern Colorado
Largest Quake To Strike The State In Almost 40 Years; No Casualties Reported
By Scott Thompson CNN, Article Source
POSTED: 12:29 am MDT August 23, 2011
UPDATED: 4:07 am MDT August 23, 2011
(CNN) -- A moderate 5.3-magnitude earthquake that rattled southern Colorado early Tuesday morning was the largest to hit the state in almost 40 years, the United States Geological Survey said.
The quake's epicenter was three miles west of Cokedale, which is 190 miles from Denver. There were no immediate reports of casualties.
It was the largest quake to hit the state in 38 years. On May 17, 1973, a 5.7-magnitude quake hit 50 miles north of Grand Junction.
A dispatcher at the sheriff's office in Las Animas County, where Cokedale is located, said Tuesday's quake lasted almost 30 seconds.
The office received reports of rocks falling on a highway and of some structure damage.
CNN's Samuel Gardner III also contributed to this report.
Trinidad, Colorado
The Ugly Reality of Fracking
Written by Trinidadco.com on April 20, 2010, Article Source
In a telephone interview, Jessica Ernst says she's "still getting used to" being compared to Erin Brockovich (the environmental activist made famous by Julia Robert's film portrayal ten years ago). The comparison comes easy because the outspoken Ernst, a landowner in the town of Rosebud, Alberta, is one of the few Albertans who have publicly criticized hydraulic fracturing (called "fracking," in the trade).
Fracking is a technology used by the oil and gas industry to access "unconventional" natural gas deposits trapped in shale, coalbed, and tight-sand formations – potentially at the expense of underground water supplies.
After her well water was contaminated by nearby fracking in 2006, Ernst decided to go public, showing visiting reporters how she could light her tap water on fire, and speaking out about Alberta land owners' problems with the industry, especially Calgary-based EnCana. EnCana is Canada's second biggest energy company (after Suncor) and is now also a major player in British Columbia, with hundreds of natural-gas wells in the province.
Ernst, a biologist and environmental consultant to the oil and gas industry, says EnCana "told us 'we would never fracture near your water.' But the company fracked into our aquifer in that same year [2004]." By 2005, she says, "My water began dramatically changing, going bad. I was getting horrible burns and rashes from taking a shower, and then my dogs refused to drink the water. That's when I began to pay attention." More than fifteen water-wells had gone bad in the little community.
Tests revealed high levels of ethane, methane, and benzene in Ernst's water. "EnCana told us they use the same gelled [fracking] fluids as in the States." Fracking has become a huge controversy in the US, with pending legislation that would impact its regulation.
Ernst says she heard from "at least fifty other landowners the first year" she went public, and she continues to get calls. Groundwater contamination from fracking "is pretty widespread" in Alberta, "but they're trying to keep it hidden." Canada has no national water standards and conducts little information gathering about groundwater.
Chromium-6 In The Water
Being an activist on behalf of her community is not the only connection Ernst has with Brockovich. Through expensive Freedom of Information requests, Ernst obtained post-fracking water well monitoring data that showed the Alberta Environment people had found hexavalent chromium in Rosebud's well water. "The government hasn't told this to people" in the hamlet, says Ernst.
Hexavalent chromium, otherwise known as chromium-6, is the extremely toxic substance Brockovich found in the drinking water in Hinkley, California, which led to a major class action lawsuit against Pacific Gas & Electric, which finally paid the plaintiffs more than $200 million (€146M) in 2006.
Ernst, who knows the industry well, says chromium-6 "is used in fracking and drilling." In an odd coincidence, Erin Brockovich herself is currently involved in investigating a mile-long plume of chromium-6 contamination of drinking water – apparently caused by fracking and drilling – in Midland, Texas. In July 2009, Brockovich investigators told the press they have evidence that hydraulic fracturing specialist Schlumberger is to blame. In the continuing case, Brockovich is representing 40 householders whose water has been contaminated.

Chris Price/iStockphotos.
Trade Secrets
In 2006, when EnCana was fined $266,000 (€194,000) by the state of Colorado for "failure to protect water bearing formations," a company spokesman complained to the press that environmentalists had been spreading "misinformation" about fracking and creating a climate of fear about hydraulic fracturing fluids.
The public however, has no way of knowing what's in the fracking fluids because the chemicals used are considered a "trade secret" – or rather, many trade secrets.
Oil and gas companies like EnCana, Imperial Oil, Suncor, ConocoPhilips, ExxonMobil, etc., generally don't do the hydraulic fracturing themselves, but instead hire specialty services to do it. Each of the big players in the multi-billion-dollar fracking industry – Halliburton, Calfrac Well Services, Schlumberger, BJ Services (all of which operate in Western Canada) – has its own recipe for fracking fluids, of which they are fiercely protective. The precise nature and concentrations of the chemicals in these "proprietary fluids" are not even fully known to government regulatory agencies.
By examining drillers' patent applications and government worker health and safety records, some environmentalists and regulators in the US have been able to piece together a list of some of the fracking fluid ingredients. These include potentially toxic substances such as diesel fuel (which contains benzene, ethylbenzene, toluene, xylene, and napththalene), 2-butoxyethanol, polycyclic aromatic hydrocarbons, methanol, formaldehyde, ethylene, glycol, glycol ethers, hydrocholoric acid, and sodium hydroxide.
US Fracking Controversy
As a sign of just how controversial hydraulic fracturing has become in the US, Exxon Mobil Corp.'s US$29 billion (€21.5b) takeover of fracking specialist XTO Energy Inc. includes a clause stating that any changes to US law that make fracking "illegal or commercially impracticable" would allow the companies to terminate their deal without paying a $900 million (€666) breakup fee.
By 2007, there were 449,000 natural gas wells in 32 American states, an increase of more than 30 percent since 2000, with serious episodes of groundwater contamination near drilling sites documented in seven states.
Companion legislation (S.1215/H.R.2766) – the Fracturing Responsibility and Awareness of Chemicals (FRAC) Act – is currently before Congress to require regulation of hydraulic fracturing under the federal US Safe Drinking Water Act, as well as disclosure of all chemicals used in fracking fluids. New York City Council, the mayor of New York, and a New York Times editorial have all called for a ban on hydraulic fracturing throughout the watershed from which the city obtains its drinking water. That watershed is part of the huge Marcellus shale area being staked out for natural gas drilling and fracking of tens of thousands of wells.
Drilling in Canada
Meanwhile, the BC government has been pushing drilling for unconventional sources of natural gas since at least 2005, offering $50,000 (€36,500) royalty credits for every well drilled before December 2008, and selling oil and gas "sub-surface rights" at a fever pitch.
Both BC and Saskatchewan have been courting the industry with lax or no environmental regulations and promises of low royalties charged to the companies. The Petroleum Services Association of Canada (PSAC) predicts a 10 percent increase in drilling in BC in 2010, mostly in the Montney shale field of northeastern BC and the Horn River Basin near Fort Nelson.
In 2006, researchers for West Coast Environmental Law published a report noting that the oil and gas industry had identified at least six areas of BC holding coalbed methane (CBM) natural gas potential: Peace country in the north east; Elk Valley in the southeast; Vancouver Island; the south central interior (around Merritt and Princeton); northwestern BC (around Telkwa and Iskut); and the Queen Charlotte Islands.
Nanaimo Daily News (Nov. 7, 2009) reported that Vancouver Island's CBM gas deposits – stretching from Chemainus to Parksville, and in the Comox-Campbell River area – are currently not of interest to the industry. Nonetheless, a group called Citizens Concerned About Coalbed Methane-Vancouver Island, has for the past year been pushing for development under its action plan, "Building a Safe Future for CBM."
In 2008, BC took in a record $2.4 billion (€1.75b) from these leases, which is now its biggest source of royalties' income.
Fracking is also in high demand in the Bakken natural gas field in southern Saskatchewan, where 1,000 wells have been drilled and fracked over the past five years. PSAC is predicting 1,935 new wells will be drilled there in 2010, and 300 new wells in Manitoba. As a result, Alberta has just announced that it is removing environmental and regulatory "hurdles" in order to entice the natural-gas industry back.
Huge shale developments are also planned for Quebec, New Brunswick and Nova Scotia. The Utica shale gas field in Quebec covers an area of 5,000sq.km (1,930sq.m) that runs along the St. Lawrence River from Montreal to Quebec City.
The industry is especially interested in the Utica shale because it is close to the New York City market, with export capacity available on TransCanada Corp.'s pipeline system. If the US curtails natural gas development in the Marcellus shale, the Utica could provide gas to the New York market.
Horizontal Drilling Added
The newest technology used by the industry increases the scope of fracking. By drilling horizontal wells, where the drill bit is steered along a horizontal trajectory, the well bore is exposed to as much of the shale gas reservoir as possible. Combined with hydraulic fracturing, the two technologies create many kilometres of contact area for natural gas to flow into a well, giving the operator a fast payback.
BC energy activist Arthur Caldicott, a frequent contributor to the Watershed Sentinel, explained by email: Fracking "is a nearly-continuous operation in shale gas production. Wells may be fracked up to seventeen times along their entire length."
Now some geologists are saying that the use of horizontal drilling and fracking for shale production exhausts the well within a mere eight years, with a decline in output of 75 percent in the first year alone. Some are even calling the sector "a speculative bubble."
In other words, the drilling and fracking endanger the groundwater and deplete rivers and lakes all for a quick payoff to the industry and the province, after which the taxpayer is left with the clean up.
A new report from BC Auditor-General John Doyle states that the BC oil and gas commission must "improve its oversight" of the industry in order to adequately manage the risks of contamination during drilling, production and final site restoration. The minimum cost to restore one well site is $100,000 (€74,000).
While natural gas is touted as a "clean energy" source, the method of extracting this fossil fuel is dirty indeed.
Joyce Nelson is a freelance writer/researcher and the author of five books. Frack Attack was previously published in the Watershed Sentinel, the independent voice for environmental news in British Columbia. Visit: http://www.watershedsentinel.ca/
http://www.greenmuze.com/climate/energy/2562-ugly-reality-of-fracking.html [Investigate Dick Cheney's Secret Energy Task Force]
On September 11 Ask Yourself: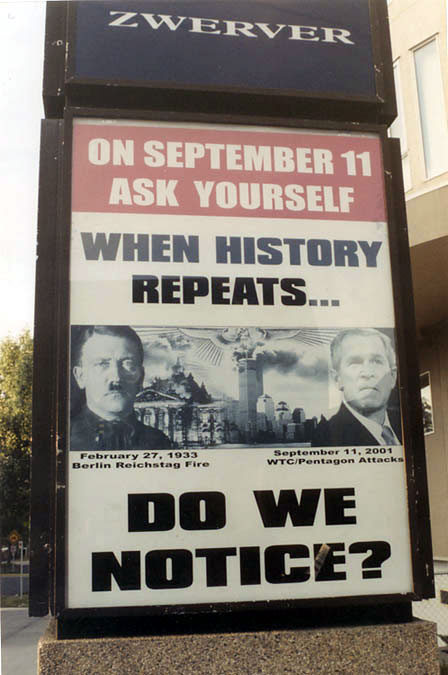 When History Repeats... Do We Notice?

America Remembers Again by Mark Fiore

Lies, Lies, Lies - BlackMustache.com
BEN-VENISTE: Isn't it a fact, Dr. Rice, that the August 6 [2001] PDB warned against possible attacks in this country? And I ask you whether you recall the title of that PDB?
RICE: I believe the title was,
"Bin Laden Determined to Attack
Inside the United States." [using planes]
Condoleezza Rice's 9/11 Historical Statements : They Knew by Balzac
I would move heaven and earth to protect my husb..errr.. President Bush!
A pressing issue of dinner-party etiquette is vexing Washington, according to a story now making the D.C. rounds: How should you react when your guest, in this case national-security adviser Condoleezza Rice, makes a poignant faux pas? At a recent dinner party hosted by New York Times D.C. bureau chief Philip Taubman and his wife, Times reporter Felicity Barringer, and attended by Arthur Sulzberger Jr., Maureen Dowd, Steven Weisman, and Elisabeth Bumiller, Rice was reportedly overheard saying, "As I was telling my husb--" and then stopping herself abruptly, before saying, "As I was telling President Bush."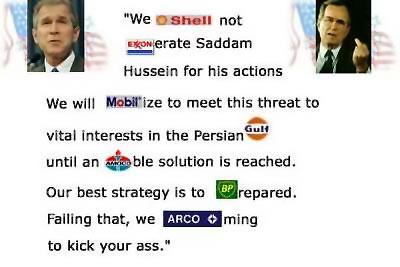 The United States of oil
No administration has ever been more in bed with the energy industry -- but does that mean Big Oil is calling Bush's shots? First of two parts.
BY DAMIEN CAVE, Article Source
The Bush administration's ties to oil and gas are as deep as an offshore well. President George W. Bush's family has been running oil companies since 1950. Vice President Dick Cheney spent the late '90s as CEO of Halliburton, the world's largest oil services company. National Security Advisor Condoleezza Rice sat on the board of Chevron, which graced a tanker with her name. Commerce Secretary Donald Evans was the CEO of Tom Brown Inc. -- a natural gas company with fields in Texas, Colorado and Wyoming -- for more than a decade.
The links don't end with personnel. The bin Laden family and other members of Saudi Arabia's oil-wealthy elite have contributed mightily to several Bush family ventures, even as the American energy industry helped put Bush in office. Of the top 10 lifetime contributors to George W.'s war chests, six either come from the oil business or have ties to it, according the Center for Public Integrity.
"There's no denying that this is an oil administration," says Peter Eisner, managing director of the nonprofit, nonpartisan watchdog group that conducted the study of Bush's campaign finances. "You can't talk about the career of any George Bush -- father or son -- without talking about oil."
But talking is one thing; determining exactly how the ties to the oil industry affect domestic and foreign policy is another. How much influence does the oil industry have? Is the U.S. bombing Afghanistan in part because -- as antiwar critics have claimed -- the industry wants to clear a path for oil and gas pipelines? Will the Bush administration steadfastly avoid confrontation with Saudi Arabia -- home of 15 of the 19 suspected hijackers -- because it doesn't want to upset ExxonMobil and the other oil companies with a deep Saudi stake? Or, even more intriguingly, could the close ties between Bush and the Saudis lead to increased U.S. pressure on Israel to create a peace settlement?
Or is this too simplistic? Since at least World War II, the oil industry has often been forced by the U.S. government to serve foreign policy objectives, rather than the other way around. Presidents have generally accepted oil's economic significance, its role as the grease that makes capitalism go. But even the most conservative administrations have regularly emphasized geopolitical objectives -- Soviet containment, for example -- at the expense of oil industry interests. Aspects of Bush's energy plan suggest that even this administration will not break the give-and-take pattern.
The problem, however, is that this pattern, the so-called "cheap oil strategy" looks more and more like a failure. Foreign oil dependence has risen over the past decade while now -- with anti-American sentiment growing in the Arab world -- foreign oil supplies are looking increasingly insecure. More than ever, some kind of national policy pushing both conservation and the development of renewable energy resources seems eminently prudent, if not necessary.
And that's where the current makeup of the Bush administration becomes crucial -- not because Bush-Cheney and company plan to invade Iraq to make it safe for ExxonMobil, (although that's not totally beyond the bounds of possibility) but because these are the last men and women in the world to expect radical change from on questions related to energy. Their friends, finances, and worldviews are all oil-drenched.
George W.'s ties to oil don't prove that the industry decides our every foreign policy move. But they do just about guarantee, for all practical purposes, that nothing significant will change in American energy policy. With Bush-Cheney in power, oil addiction is here to stay.
The fusion of oil and politics is a Bush family tradition. For generations, the Bushes and their friends have been shuttling back and forth between energy industry boardrooms and Washington's hallowed halls.
Bush's grandfather, Prescott Bush, initiated the pattern. Shortly before winning a Connecticut Senate seat in 1952 he helped his son George raise $350,000 to start what would become Zapata Petroleum.
Sen. Bush also regularly looked out for the oil industry and his son's interests while in Washington. His biggest single favor, according to Herbert Parmet's book "George Bush: The Life of a Lone Star Yankee," came a year into his first Senate term, when he opposed legislation that would have federalized offshore resources -- including oil -- to raise money for education. In the name of states' rights and free enterprise, the bill's defeat helped both the oil companies and gave Zapata just what it needed to expand. In fact, soon after the legislation failed, Zapata moved into offshore drilling -- eventually one of Zapata's most lucrative ventures
George Bush made millions during the '50s and '60s Texas oil boom, and he also made many friends, most notably James Baker, who became Bush's company lawyer in 1963 after Zapata merged with Penn to become Pennzoil.
Bush later brought his friends to Washington, first as a representative in the House, then as head of the Republican National Committee and finally as vice president and president. He didn't stock his administration as full of oilmen and women as his son has, but like Prescott Bush, he didn't mind doing the industry's bidding either. His most public act for oil came in 1981. While serving as Ronald Reagan's vice president, he departed from the White House's official stance and visited Saudi Arabia to plead for an end to sliding prices. Bush argued that he was simply trying to protect American security interests by protecting domestic producers, who have higher costs than their Persian Gulf counterparts. But higher prices had another benefit: by protecting domestic oil jobs, they helped shore up support in Texas for what would eventually become his successful 1988 presidential campaign.
Higher prices also directly helped Bush's son, George W. Bush. George W.'s oil career started in 1978 -- 12 years after his father first entered Congress -- when several of his father's friends invested in his firm, Arbusto ("Bush" in Spanish). Unlike his father, George W. spent much of his oil career in the red. As Joe Conason pointed out in Harper's last year before the election, the company's original investors and others bailed out his firm at least three times. But after a final act of corporate CPR -- a merger with Harken Energy in 1986 -- Bush's connections to power really paid off. Two years after the merger, Abdullah Taha Bakhsh, a former director of Saudi Arabia's income tax department, purchased an 11 percent stake in Harken through his company Traco International. That same year, Harken won a contract for oil-drilling in Bahrain.
"Harken had no international experience at the time," says Eisner at the Center for Public Integrity, which published a detailed account of Bush's rise to power titled "The Buying of the President: 2000." "It was their first out of country contract."
Press reports at the time questioned Bahrain's motivations. Even the normally reserved Wall Street Journal reported in 1991 that the contract "raises the question of ... an effort to cozy up to a presidential son."
The Bush family countered that the contract was well deserved. Regardless, the deal in the Persian Gulf gave Bush a direct tie to the Saudi elite and set Bush on a suddenly successful path.
"It's not just the matter of a single contract," Eisner says. "It also has to do with converting Harken into a player that was then converted into a stake in the Texas Rangers and a run for governor. It's not incidental. The Bahrain deal is central to Bush's life."
Some experts suggest that it's not necessarily a bad thing to have a presidential family so steeped in oil knowledge, given the importance of oil to both national security and the domestic economy. But Bush has shown a pervasive willingness to let oil interests define energy and environmental policy. After accepting millions from the industry during his run for governor, he signed into law tax breaks for state energy producers, and in 1997, he gave them a hand in writing their own rules. Upon hearing that Texas' state environmental agency planned to end an exemption that allowed power plants built before 1971 to avoid complying with state pollution laws, Bush tapped two people to come up with an alternative plan: Vic Beghini, an executive with Marathon Oil Inc. and Ansel Condray, an executive with Mobil.
The plan they came up with initiated a voluntary pollution reduction program that didn't punish companies for noncompliance and thus essentially failed. A study by the Environmental Defense Fund published six months after Bush announced the program revealed that only three of the 26 companies had actually cut their emissions. Two years later, under increasing public pressure, Bush signed a bill forcing power plants to cut their emissions in half by 2003 -- but the essential exemption, as the industry wanted, still stands.
The politicos surrounding Bush also have enjoyed warm government/oil-industry connections. While Bush used his elected position to help friends in his former industry, Cheney employed past government connections to improve his own bottom line.
Iraq provides the most dramatic example. Cheney, intentionally or inadvertently, went against his own edicts in order to pad his company's profits. He told Sam Donaldson in August 2000 that, as the head of Halliburton, "I had a firm policy that I wouldn't do anything in Iraq, even arrangements that were supposedly legal." And yet, as the Financial Times eventually proved, Cheney oversaw $23.8 million in sales to Iraq in 1998 and 1999. Cheney, who collected a $36 million salary before becoming vice president, essentially profited from the destruction of Iraq that he oversaw as secretary of defense during the Gulf War. And while the oil-rig and equipment sales were legal -- a 1998 U.N. resolution gave Iraq the right to rebuild its oil industry -- Cheney's firm sold through European subsidiaries "to avoid straining relations with Washington and jeopardizing their ties with President Saddam Hussein's government," according to a November 2000 Financial Times report.
Cheney also helped Halliburton obtain a windfall of U.S. government loans. He secured $1.5 billion in taxpayer-backed financing for Halliburton -- a massive increase over the $100 million loan it received during the five-year period before Cheney took over. And while Cheney has claimed that Halliburton's rise to power had nothing to do with his political stature, State Department documents obtained by the Los Angeles Times suggest that U.S. officials assisted Halliburton both in Asia and Africa. Even the domestic defense-contracting arm of Halliburton -- Brown & Root -- saw its fortune change drastically once Cheney took over. The company booked $1.2 billion in contracts between 1990 and 1995; with Cheney at the helm, contract awards spiked to $2.3 billion between 1995 and 2000.
Other Bush administration officials have also profited from past government experience and influence. Bush's father and his then Secretary of State James Baker -- the lawyer who fought for Bush during the Florida election fiasco -- work for the Carlyle Group, an investment firm that until recently collected investments from the bin Laden family and other members of the Saudi elite. Reagan's Secretary of State George Schultz sat on the board of Chevron before the arrival of Condoleezza Rice.
Rice joined the Chevron board in 1991, after serving for a year on Bush Sr.'s National Security Council. There, she earned a $35,000 annual retainer, $1,500 for every meeting she attended and stock options worth hundreds of thousands of dollars, according to SEC documents. She was reportedly hired for expertise in the former Soviet states, and long before U.S. planes started dropping bombs in nearby Afghanistan, she spent much of her time at Chevron working on prospective deals in the Caspian region. Chevron (with Mobil) already produces 70 percent of the oil coming out of the Tengiz oil field in Kazakhstan, according to Ahmed Rashid's book, "Taliban," and the company has been working hard to secure a pipeline that would allow more oil to be produced. In 1993, with Rice on the board, the company pulled together a pipeline project to carry oil to a Russian port on the Black Sea. Russian opposition eventually postponed the plan indefinitely but Chevron still holds a 45 percent stake in the project -- and given the present state of improved Russian-American relations, many suspect that project will eventually get off the ground.
The slowly improving relations between the U.S. and Iran could also help Chevron. When negotiations over pipelines from Tengiz broke down a few years ago, Chevron turned its focus toward the Islamic theocracy, asking the Clinton State Department for a "swapping" license. Approval would have allowed oil from Tengiz to be shipped across the Caspian to Iran while, in exchange, Chevron would be able to sell an equal amount of Iranian oil that would be shipped from the Persian Gulf. The proposal was never approved, but given Rice's ties, many have suspected that Chevron will soon play a larger role in American foreign policy, whether in Iran or the Caspian.
Critics of the Bush administration point out that a stabilized Caspian region could benefit Rice's friends at Chevron, and if she returns to the board, Rice herself. They also argue that maintaining dependence on Saudi oil could benefit Cheney's old firm and Bush's father, and ultimately, the president himself when an inheritance comes his way.
But there is no clear evidence, right now, of oil company desires affecting current U.S. foreign policy. If anything, the terrorist attacks have reduced the energy industry's influence. Before Sept. 11 Saudi Arabia was reportedly pushing the U.S. to pressure Israel into Palestine peace concessions and, according to a Newsweek story, Bush was beginning to comply. But after Sept. 11, the chance that the U.S. would accede to Saudi requests evaporated, given the numerous Saudi connections to the attacks.
In that sense, the trajectory of oil influence over foreign policy has continued upon its historical path. A review of the evidence suggests that over time, the oil industry has progressively lost power. But that still doesn't mean that the current administration is likely to do anything radical to alter U.S. dependence on foreign oil -- barring the unlikely event of Bush pulling a Nixon-visit-to-China shock, and using his oil ties to force a real commitment to renewable energy and conservation.
Plans For Iraq Attack Began On 9/11
[War Criminal Says What? "Go massive, Sweep it all up. Things related and not."]
By Joel Roberts, Article Source
CBS) CBS News has learned that barely five hours after American Airlines Flight 77 plowed into the Pentagon, Defense Secretary Donald H. Rumsfeld was telling his aides to come up with plans for striking Iraq -- even though there was no evidence linking Saddam Hussein to the attacks.
That's according to notes taken by aides who were with Rumsfeld in the National Military Command Center on Sept. 11 – notes that show exactly where the road toward war with Iraq began, reports CBS News National Security Correspondent David Martin.
At 9:53 a.m., just 15 minutes after the hijacked plane had hit the Pentagon, and while Rumsfeld was still outside helping with the injured, the National Security Agency, which monitors communications worldwide, intercepted a phone call from one of Osama bin Laden's operatives in Afghanistan to a phone number in the former Soviet Republic of Georgia.
The caller said he had "heard good news" and that another target was still to come; an indication he knew another airliner, the one that eventually crashed in Pennsylvania, was at that very moment zeroing in on Washington.
It was 12:05 p.m. when the director of Central Intelligence told Rumsfeld about the intercepted conversation.
Rumsfeld felt it was "vague," that it "might not mean something," and that there was "no good basis for hanging hat." In other words, the evidence was not clear-cut enough to justify military action against bin Laden.
But later that afternoon, the CIA reported the passenger manifests for the hijacked airliners showed three of the hijackers were suspected al Qaeda operatives.
"One guy is associate of Cole bomber," the notes say, a reference to the October 2000 suicide boat attack on the USS Cole in Yemen, which had also been the work of bin Laden.
With the intelligence all pointing toward bin Laden, Rumsfeld ordered the military to begin working on strike plans. And at 2:40 p.m., the notes quote Rumsfeld as saying he wanted "best info fast. Judge whether good enough hit S.H." – meaning Saddam Hussein – "at same time. Not only UBL" – the initials used to identify Osama bin Laden.
Now, nearly one year later, there is still very little evidence Iraq was involved in the Sept. 11 attacks. But if these notes are accurate, that didn't matter to Rumsfeld.
"Go massive," the notes quote him as saying. "Sweep it all up. Things related and not."
Liars Club
Simply stated, there is no doubt that Saddam Hussein now has weapons of mass destruction.
Dick Cheney - August 26, 2002
Every day Saddam remains in power with chemical weapons, biological weapons, and the development of nuclear weapons is a day of danger for the United States.
Sen. Joseph Lieberman, D-CT - September 4, 2002
If we wait for the danger to become clear, it could be too late.
Sen. Joseph Biden D-Del. - September 4, 2002
Right now, Iraq is expanding and improving facilities that were used for the production of biological weapons.
George W. Bush - September 12, 2002
If he declares he has none, then we will know that Saddam Hussein is once again misleading the world.
Ari Fleischer - December 2, 2002
We know for a fact that there are weapons there.
Ari Fleischer - January 9, 2003
Our intelligence officials estimate that Saddam Hussein had the materials to produce as much as 500 tons of sarin, mustard and VX nerve agent.
George W. Bush - January 28, 2003
We know that Saddam Hussein is determined to keep his weapons of mass destruction, is determined to make more.
Colin Powell - February 5, 2003
Iraq both poses a continuing threat to the national security of the United States and international peace and security in the Persian Gulf region and remains in material and unacceptable breach of its international obligations by, among other things, continuing to possess and develop a significant chemical and biological weapons capability, actively seeking a nuclear weapons capability, and supporting and harboring terrorist organizations.
Sen. Hillary Clinton, D-NY - February 5, 2003
We have sources that tell us that Saddam Hussein recently authorized Iraqi field commanders to use chemical weapons -- the very weapons the dictator tells us he does not have.
George Bush - February 8, 2003
So has the strategic decision been made to disarm Iraq of its weapons of mass destruction by the leadership in Baghdad? I think our judgment has to be clearly not.
Colin Powell - March 8, 2003
Intelligence gathered by this and other governments leaves no doubt that the Iraq regime continues to possess and conceal some of the most lethal weapons ever devised.
George Bush - March 18, 2003
We are asked to accept Saddam decided to destroy those weapons. I say that such a claim is palpably absurd.
Tony Blair, Prime Minister - March 18, 2003
Well, there is no question that we have evidence and information that Iraq has weapons of mass destruction, biological and chemical particularly . . . all this will be made clear in the course of the operation, for whatever duration it takes.
Ari Fleisher - March 21, 2003
There is no doubt that the regime of Saddam Hussein possesses weapons of mass destruction. As this operation continues, those weapons will be identified, found, along with the people who have produced them and who guard them.
Gen. Tommy Franks - March 22, 2003
One of our top objectives is to find and destroy the WMD. There are a number of sites.
Pentagon Spokeswoman Victoria Clark - March 22, 2003
I have no doubt we're going to find big stores of weapons of mass destruction.
Kenneth Adelman, Defense Policy Board - March 23, 2003
We know where they are. They are in the area around Tikrit and Baghdad.
Donald Rumsfeld - March 30, 2003
Saddam's removal is necessary to eradicate the threat from his weapons of mass destruction
Jack Straw, Foreign Secretary - April 2, 2003
Obviously the administration intends to publicize all the weapons of mass destruction U.S. forces find -- and there will be plenty.
Neocon scholar Robert Kagan - April 9, 2003
I think you have always heard, and you continue to hear from officials, a measure of high confidence that, indeed, the weapons of mass destruction will be found.
Ari Fleischer - April 10, 2003
We are learning more as we interrogate or have discussions with Iraqi scientists and people within the Iraqi structure, that perhaps he destroyed some, perhaps he dispersed some. And so we will find them.
George Bush - April 24, 2003
There are people who in large measure have information that we need . . . so that we can track down the weapons of mass destruction in that country.
Donald Rumsfeld - April 25, 2003
Before people crow about the absence of weapons of mass destruction, I suggest they wait a bit.
Tony Blair - April 28, 2003
We'll find them. It'll be a matter of time to do so.
George Bush - May 3, 2003
I am confident that we will find evidence that makes it clear he had weapons of mass destruction.
Colin Powell - May 4, 2003
I never believed that we'd just tumble over weapons of mass destruction in that country.
Donald Rumsfeld - May 4, 2003
I'm not surprised if we begin to uncover the weapons program of Saddam Hussein -- because he had a weapons program.
George W. Bush - May 6, 2003
U.S. officials never expected that "we were going to open garages and find" weapons of mass destruction.
Condoleeza Rice - May 12, 2003
I just don't know whether it was all destroyed years ago -- I mean, there's no question that there were chemical weapons years ago -- whether they were destroyed right before the war, (or) whether they're still hidden.
Maj. Gen. David Petraeus, Commander 101st Airborne - May 13, 2003
Before the war, there's no doubt in my mind that Saddam Hussein had weapons of mass destruction, biological and chemical. I expected them to be found. I still expect them to be found.
Gen. Michael Hagee, Commandant of the Marine Corps - May 21, 2003
Given time, given the number of prisoners now that we're interrogating, I'm confident that we're going to find weapons of mass destruction.
Gen. Richard Myers, Chairman Joint Chiefs of Staff - May 26, 2003
They may have had time to destroy them, and I don't know the answer.
Donald Rumsfeld - May 27, 2003
For bureaucratic reasons, we settled on one issue, weapons of mass destruction (as justification for invading Iraq) because it was the one reason everyone could agree on.
Paul Wolfowitz - May 28, 2003 - Permmalink Source
Auferte malum ex vobis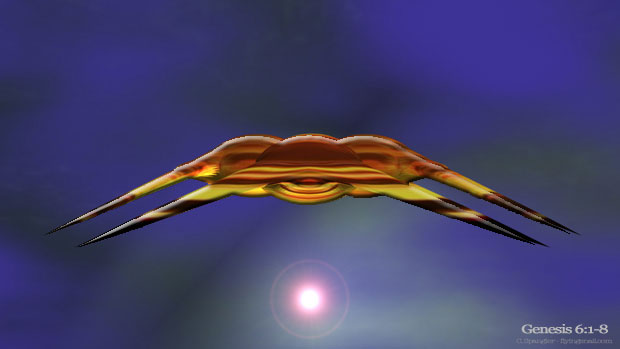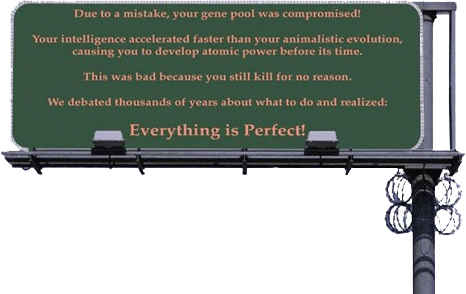 Due to a mistake, your gene pool was compromised! Your intelligence accelerated faster than your animalistic evolution, causing you to develop atomic power before its time. This was bad because you still kill for no reason. We debated thousands of years about what to do and realized: Everything is Perfect!
Be Aware: The Nexus Approaches!
Posted on October 10, 2010 by mayasoma
http://www.flyingsnail.com/201010.html - reposted
10-10-10 Star Gate Portal
The human race is headed towards a great change, many spirits will return to the stars and something magnificent is going to happen!" Astral Walker
Can you feel it? The race is on, the diaspora has begun and souls are scrambling to make sense of the intensifying energies on Planet Earth. If only our history books had documented the truth of the astrological cycles as the Maya, and many other indigenous tribes, have long done for their own people, then there would not be so much uncertainty and fear. Unfortunately, that is not how this part of our homo-sapien history is to be played out. At present, the 3D world is going crazy and the only way to manuever these times is to understand the facts. And so, without further ado, here is some of our history…
26,000 years ago, the galactic center of the Milky Way emitted an enormous energetic wave better known as the Nexus. It does this every 26,000 years, as they say, there is nothing new under the sun. This emissions are what have caused the tumultuous transitions from each of our previous world eras. If you are not familiar with these facts, simply research indigenous tribes and their 1st, 2nd, 3rd, 4th, and soon to be 5th worlds.
What was released all that time ago will soon reach our earth in full strength. The Nexus has its own personal rhythm and does take some time to cross the galaxies and skies. I believe its arrival correlates to the Mayan Long Count End Date of December 2012. Afterall, the center of the Milky Way is where the Maya believe their Creator Hunab Ku resides. Our Creator has sent out an energy impulse, this Supreme Being is blowing us/creation a kiss. Unfortunately, our consciousness resides too far away from our original empowered selves to simply receive that kiss in bliss.
That incoming energy is meant to completely change our world, in other words, to wake us all up to who we are: infinite Gods and Goddesses with incredible abilities and powers. This incoming beam of bluish-white light will alter and restore our DNA from its current state which only uses 3% of its capacities to a renewed state of 100% remembrance. Translated: 97% of what scientist call junk DNA will be reactivated. WoW…a jolt of electricity that courses through our veins, awakening our souls and minds. No one is going to escape this phenomena. Thank you Hunab Ku!
Our main problem lies then with the Dark Lords who currently control the 3D world. They are also fully aware of the approaching Nexus and have set out a program to depopulate the Earth as much as possible. Why would they do that? Who are these Dark Lords? It's an old story, again, much of our missing history, but the short and long version of it is there is an inter-galalctic battle on right now, a war that is being waged for souls. If the Dark Lords, negative Et's, have their way, the coming earth catastrophes will take people into fear and fear is a place where they can trap one's soul, one's consciousness, forevermore. On a distant planet, in a distant place, maybe somewhere that looks exactly like our Earth, a new slave race can be created with the trapped souls. The Dark Lords know, full well, that their "time" on Planet Earth is over. A new era has cometh… the age of peace and enlightenment…and they must flee. They intend to flee with as many captives as possible. Sound like a bad sci-fi movie? I wish it were, but these are our current events and the facts are unknown to almost everyone. How frightening! Wake up, please, before you are whisked away to another dimension without personal agreement to do so.
"Right now the realm of darkness is not interested in this (peace). They are organized to block it. They seek to unbalance the Earth and its environment so we will be unready for the alignment in 2012." Carlos Barrios, Mayan Datekeeper
Take a look around…. ecological disasters leading to worldwide famines and extinction, environmental catastrophes that destroy the lives of millions, economical collapses that create a fearful, dependent race and threats of terrorism and world wars loom over our existence. Is this the four horsemen spoken of in the Book of Revelations? It clearly is the workings of the Dark Lords and its about to get more intense, after all, these are their death throes.
"From that 1987 date until now, Mr. Barrios says, we have been in a time when the right arm of the materialistic world is disappearing, slowly but inexorably. We are at the cusp of the era when peace begins, and people live in harmony with Mother Earth. We are no longer in the World of the Fourth Sun, but we are not yet in the World of the Fifth Sun. This is the time in-between, the time of transition.
As we pass through transition there is a colossal, global convergence of environmental destruction, social chaos, war, and ongoing Earth changes. All this, Mr. Barrios says, was foreseen via the simple, spiral mathematics of the Mayan calendars. It will change, Mr. Barrios observes. Everything will change. He said Mayan Daykeepers view the Dec. 21, 2012 date as a rebirth, the start of the World of the Fifth Sun. It will be the start of a new era resulting from -- and signified by -- the solar meridian crossing the galactic equator, and the earth aligning itself with the center of the galaxy." Carlos Barrios, Mayan Datekeeper
Meanwhile, the Family of Light is exerting every effort for a mass awakening, for gathering, for consciously uniting as we know on some level that everything is dependent on us to do so. We are supposed to be creating an astral force field around the planet and ourselves in the shape of the Flower of Life (see Drunvalo Melchizedek's work on this matter for more information). This symbol can and will prepare us for the enormity of the approaching Nexus. We are supposed to be clearing our fields as much as possible of debris, creating no new karma, so that we are a crystal clear channel for receiving the Nexus energy. We must give praise and thanks as we have received, and will continue to receive, so much help from the Galactic Federation of positive Et's.
I ask myself though, have enough souls awoken to make this transition happen with ease? Can geological earth disasters be diminished? The Dark Lords are earnestly working hard to create as many earth catastrophes as possible in these last days in order to capture their slave race of unaware humans. Many will succumb to this fate due to fear, many will go to the stars as their earth contracts are complete, and a handful of ascended beings will remain on the New Earth.
If you happened to be a person who was to die in shock and fear, your consciousness would be lost and confused on the astral plane for a moment. It is in those crucial moments that the negative Et's can and will capture your essence in a containment vehicle if you are not aware. As quickly as you come into consciousness, get to the benevolent blue light. I have been warned not to be drawn down any tunnels or caves, nor gravitate to any bright yellow-red lights and by no means go with any beckoning ET's.
The benevolent ET's, the light ones, are calling us home and their bioluminescent blue-white light is the signal. You can feel this with your heart. They have said Operation Victory is at hand. They have stated that the Dark Lords cannot succeed and all disasters will be minimized (let's hope so as some seriously dangerous threats are presenting themselves on the earth right now). They have also said the Dark Lords are at their most dangerous as they face defeat, so it is crucial to be fully present! Be aware! Vaccines? Genetically modified foods? Chemical spraying? Understand, these are some of their tools for mind control and keeping the masses asleep. Whatever cometh, wherever you find yourself in these last days where we count days, simply remember, you have only one thing to do: get to the bluish-white light, reach out for the Nexus. If you do, your full consciousness will be re-instated and you will be safe and empowered.
Let us recall the last sign in the Hopi prophecy which states that a blue planet from the Heavens will crash into Earth causing earth destruction, this last sign is what all elders are awaiting as our entry into the 5th world. Possibly, it is not a planet, but an energy wave: the Nexus?
Lightwalkers, we are going home now. We have felt the Nexus approaching for years, even if we could or could not put words to it. Our Creator desires our remembrance and this collective shift to magnificence is welcome. Stay in your heart and the Dark Lords will lose power. It is promised and all is well!
Navajo, awaiting portal 11-11-11 and 12-12-12 to the Nexus!
Inside the secret world of hackers
Computer hackers are frequently denigrated as mere digital pranksters. But some are now finding they have the power to change the world for good
Heather Brooke, guardian.co.uk, Wednesday 24 August 2011 20.00 BST, Article history, Article Source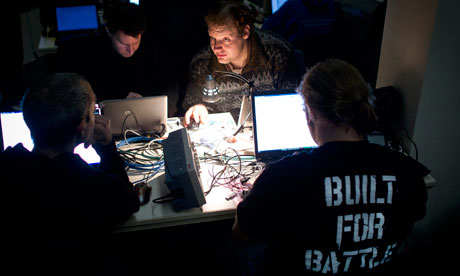 The Chaos Computer Club's annual conference attracts an international audience
of hackers, scientists, artists and utopians. Photograph: Thomas Peter/Reuters
Hackerspaces are the digital-age equivalent of English Enlightenment coffee houses. They are places open to all, indifferent to social status, and where ideas and knowledge hold primary value. In 17th-century England, the social equality and merit-ocracy of coffee houses was so deeply troubling to those in power that King Charles II tried to suppress them for being "places where the disaffected met, and spread scandalous reports concerning the conduct of His Majesty and his Ministers". It was in the coffee houses that information previously held in secret and by elites was shared with an emerging middle class. They were held responsible for many of the social reforms of the 18th century, when English public life was transformed.
Hackerspaces could prove to be as important for reform in the digital age. While collectives of rogue hackers such as Anonymous and Lulzsec have grabbed headlines with their mischievous hacks of personal information from Sony, News International and governments, hackerspaces have quietly focused on creating alternatives to the things they see wrong in society: secretive government, unfettered corporate power, invasion of privacy. Bradley Manning, the US Army intelligence analyst accused of leaking files to WikiLeaks, attended the launch of BUILDS, a hackerspace at Boston University last year. In Sweden the hacker collective Telecomix has been involved in keeping lines of communication open in middle eastern countries when political leaders shut down networks.
As part of the research for my book, The Revolution Will Be Digitised, I travelled to Berlin to meet the group of hackers known as the Chaos Computer Club (CCC). The Club was so named not because it set out to cause chaos but rather because one of the founders, Wau Holland, felt chaos theory offered the best explanation for how the world actually worked. Dutch hacker and entrepreneur Rop Gonggrijp says the club is about "adapting to a world which is (and always has been) much more chaotic and non-deterministic than is often believed".
In Berlin, just after Christmas last year, more than 2,000 hackers and information activists gathered at the CCC's annual conference to discuss technology and the future. Gonggrijp gave the keynote speech, which was startlingly prescient in light of subsequent uprisings, revolutions and riots. "Most of today's politicians realise that nobody in their ministries, or any of their expensive consultants, can tell them what is going on any more. They have a steering wheel in their hands without a clue what – if anything – it is connected to. Our leaders are reassuring us that the ship will certainly survive the growing storm. But on closer inspection they are either quietly pocketing the silverware or discreetly making their way to the lifeboats."
The hacker community may be small but it possesses the skills that are driving the global economies of the future. So what is a hacker? Hackers often describe what they do as playfully creative problem solving. It's much easier to attack than to defend a system, so the best hackers are those who build things. The ones who break them are known as "crackers". The world wide web, and free software operating systems such as the GNU Project and the Linux kernel, could all be considered hacker creations. Even Facebook began as a hack. That is not to say hackers don't attack systems and take things apart. They do, with a compulsive glee, and the more adolescent hackers use their skills as much to show off to each other and rebel against authority than for any greater good. There are good hackers and bad hackers. Some of the best hackers say the line between hacker/cracker or white hat/black hat (ie, good/bad) is of little relevance. Some are amoral, interested only in the intellectual challenge, while others think the ethics behind hacking are all-important. A hacker could use his skill to protect a system he knows is used to track down and kill protesters. He's not "cracking" but how can he be considered a white-hat hacker? The ethics of hacking, like life, are slightly more complicated than a 1950s western movie.
Some who have hacking skills want nothing to do with a community they see as comprised of "alpha geeks" – macho, misogynistic thugs and vandals. "A lot of them are just selfish teenage assholes," says Benjamin Mako Hill, a student at MIT's media lab specialising in sociology and online communities. "Most grow out of it, others go on to do computer security." Certainly that is the impression one gets from reading the chat logs of some Anonymous members. Even within the hacker scene there are divisions. An older hacker known as Virus recently described the younger hackers of Anonymous as "nothing but a bunch of fat, pimply basement dwelling losers who masturbate 3+ times a day".
If Anonymous and Lulzsec are the id of hacking, then physical hackerspaces are the heart of the higher-minded hacking ideals: freedom of information, meritocracy of ideas, a joy of learning and anti-authoritarianism. The CCC is Europe's largest hacker organisation and also one of the oldest worldwide, having been set up in 1981 by Wau Holland and others who predicted the rising importance digital technology would have in people's lives. CCC's hackers are often older and run their own businesses. They hold conferences and even consult with the German government. The CCC is famous for exposing the security flaws of major technologies, from chip and PIN to smartphones. Want to know how to listen in on GSM mobile phone traffic? Here's the place to learn (within legal constraints, of course). Among some of their more noteworthy "hacks" is pulling the fingerprints of the German interior minister from a water glass and putting them on a transparent film that could be used to fool fingerprint readers. The Club also worked with activists for voting transparency to expose flaws in computerised voting machines. These were later ruled unconstitutional in Germany and abolished in Holland.
The CCC isn't just about technical hacking, it is a hub of political activism based around a few common goals: transparency of governments, privacy for private people and the removal of excessive restrictions on sharing information. Many of these hacks are demonstrated at the annual conference at the Berlin Congress Centre, and it was here that Julian Assange presented WikiLeaks to an enthusiastic crowd in 2008.
The CCC has its own permanent base on Marienstraße in Berlin. It's not a secret and you'll find "Chaos Computer Club" listed on the bell push of the neo-classical building. You pass through a stone walkway to an inner courtyard and on the far right side is the entrance to the CCC. Inside, there's a collection of desks pushed together, well-worn office chairs and sofas and coils of wires strewn across most surfaces. Crates of Club-Mate, a soft drink beloved by hackers for its high caffeine content, are piled at the back and dispensed from a defaced Coke machine. Someone has drawn a noughts and crosses board in the dusty screen of an old video game, Ideal Twinline, and underneath, the words, "How about a nice game of chess?" There are posters on the walls: "Liberty waits on your fingers" and "Keep on blogging".
Hackerspaces aren't just about hacking with computers. The ideals can be applied to every aspect of life including politics – which is considered just another "system" by which humans live together. Like any other system, it can therefore be hacked and these spaces offer a real-time experiment in political hacking. They often contain power tools, industrial cutting machines, sewing machines and sometimes even kitchens for "culinary hacking". At the tiny hackerspace HACK (the Hungarian Autonomous Center for Knowledge) in Budapest, members have built an electronic plantwatering system, and at Sprout in Cambridge, Massachusetts, I saw an MIT student building a jet propeller. In large spaces such as Noisebridge in San Francisco members have created an active space-exploration programme sending weather-balloon probes up to 70,000ft in the sky to collect images and data using GPS smartphones and digital cameras. Access to and membership of the spaces is usually governed by commonly agreed norms, but notably there is a lack of formal rules. Asking permission is frowned upon as it implies a power imbalance. The chosen way is to observe the culture and then seek agreement.
"What we've done at Noisebridge is not to say how bad everything is but to create a viable alternative," says Jacob Appelbaum, one of its founders. "I wanted a space where we could make things come true. Almost like a magical environment where we could decide one day we wanted to have a space programme and then ... we did. That's not going to happen in a cafe. There currently isn't a public place where you can have a lathe or a table saw or computer access or couches where you can sit, where no one feels entitled to throw you out. The closest thing is the university lab where I work now but there we're beholden to university administrators. In this place we are beholden to no one but ourselves."
I caught up with Appelbaum in Seattle, where he's now a staff research scientist at the University of Washington. He explained that the political ideology of the hackerspace is probably nearest to libertarian, "in the liberty sense". Anyone who wants to contribute something, whether time, money or ideas, is welcome. The ability to do things is dependent on being accepted by the group, and that comes when one's actions have merit. Appelbaum says that Noisebridge is run along anarchist principles of mutual aid, solidarity and respect. He is keen to stress that this is not anarchy in the sense of chaos but as author Emma Goldman describes it: the liberation of the human mind from religion, property and government, "a social order based on the free grouping of individuals for the purpose of producing real social wealth".
The group makes decisions based on consensus. "It can take a while," he admits, but the advantages outweigh the costs. "In our society people don't have a lot of agency to change things. And when I say 'our society' I mean 'the world'. Sometimes in our discussions it will be the first time that someone has ever felt listened to in their entire lives. That's actually incredibly sad but I'm happy we can give them that opportunity. I think there are a lot of us who don't think the world is as we would like to see it. And anyone who is not a utopianist is a schmuck."
Even in the world of hackers and web revolutionaries, Appelbaum's dedication to the internet is startling (it is "the only reason I'm alive today", he once told Rolling Stone magazine). He found in computers an escape from a chaotic upbringing and credits his skill in technology for moving him out of America's underclass and into the middle class. As well as working at the university he is also a spokesman for Tor, a free internet-anonymising software that helps people defend themselves against surveillance, and he is spent five years teaching activists how to install and use the service to avoid being monitored by repressive governments. Now he himself is frequently targeted by the US government as a result of his relationship with WikiLeaks, which used Tor software.
Sometimes, though, hackers don't realise they are no longer outsiders but have their hands on the levers of power. Tech writer Danny O'Brien points to Bill Gates, who continued to believe right up until the anti-trust lawsuits of the 1990s that Microsoft would be destroyed by big powerful companies such as IBM – despite the fact that he was, by then, one of the world's richest men and Microsoft the world's biggest IT company. Furthermore, it can prove difficult to reconcile the subversive hacker mindset with the demands of running a multinational firm. A robust disregard for intellectual property in youth, for example, is often replaced with a cadre of lawyers enforcing draconian copyright law once the requisite information has been hacked, the product built and the company made profitable.
O'Brien is himself an embodiment of the transformation. This once-shabby Londoner, who wrote a tech newsletter called Need To Know, meets me in a swish cocktail bar in Palo Alto, California. "When we wrote [NTK] originally, geeks were under-represented; an unconnected group of outsiders who were excited about technology. But now the story is how much ridiculous power we have and how we're misusing that power or unaware of it."
Evil War Criminal Watch
[Dick] Cheney claims that then-House Speaker Nancy Pelosi, then-Senate Majority Leader Tom Daschle, Rep. Jane Harman, and Sen. Jay Rockefeller--all Democrats--unanimously approved of the administration's illegal warrantless wiretapping program and agreed that the full Congress should be kept in the dark about it. (BTW) Where is the missing money? Is it being used to fund the overthrough of governments in the Middle East?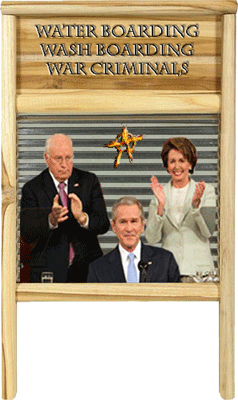 Water Boarding, Wash Boarding, War Criminals
Fracking Could Have Caused East Coast Earthquake
By Russia Today, 25 August 11, Article Source

Floor hands connect sections of steel pipe at a natural gas well-site in Texas
where hydraulic fracturing is used. (photo: Robert Nickelsberg/Getty Images)
Experts are looking for a reason behind Tuesday afternoon's unlikely 5.8 magnitude earthquake that shook people up and down the East Coast, and some are saying that a recent rise in fracking could be the culprit.
Hydraulic fracturing, or "fracking," is the man-made splintering of underground rocks to expedite the exploiting of natural resources. It's become a widespread phenomenon since its introduction in 2004, and though the practice can help increase supplies of oil and gas without reaching out internationally for imports, the result it can have on the geological make-up of the Earth can be ravaging. Now some experts say the rise in fracking could be to blame for yesterday's quake.
The odds of a quake exceeding a magnitude of 5.5 occurring in central Virginia are so slim that Dominion Power determined only around six quakes of that size would occur in the area over the next 10,000 years. Dominion was looking at building a third nuclear reactor at their power plant in North Anna, VA, where facilities had to be taken offline yesterday as a result of the quake. Despite predicting that the site would be scarcely affected ever by a tremor, the quake's epicenter was only mere miles from the nuclear facility.
Dominion, which confirmed in February that it will be building a third reactor for the plant, was rated by the US Nuclear Regulatory Commission as the seventh most-likely site to receive damage from a quake, taking into consideration the 100-plus plants from coast-to-coast. Even still, the plant had its earthquake-sensing seismographs removed in the 1990s in order to save money.
When sites are subjected to fracking, waste salt water is injected back into the earth once fractures are created; in some cases, as many as 3 million gallons of the waste can be put into the earth in each well. Though earthquakes out east are unlikely, Braxton County West Virginia, only 160 miles from the epicenter of Tuesday's tremor, has seen eight minor movements in 2010 alone. That site has also seen a slew of fracking operations in the several years before it.
Explicitly, the United States Geological Survey has published a finding confirming that processes like fracking can be to blame for "natural" disasters. "Earthquakes induced by human activity have been documented in a few locations in the United States, Japan and Canada," writes the USGS. "The cause was injection of fluids into deep wells for waste disposal and secondary recovery of oil and the use of reservoirs for water supplies."
Out West, geologists have blamed fracking on earthquakes that unexpectedly shook up the state of Arkansas, which recently saw over 20 small tremors in a single day. Freak earthquakes have also occurred in regions of Texas, New York and Oklahoma that should not be likely sites of epicenters, though those locales have all seen a rise in fracking in recent years.
Multi-stage fracking, which can drill several miles deep in the Earth, has only become prevalent in recent years. Once introduced, however, Arkansas, West Virginia and Texas all saw an unexpected increase in quakes across the region. The correlation has caused concern in other parts of the country, including West Virginia, where residents are asking lawmakers to reconsider the legality of fracking, which can not only cause earthquakes but is overall detrimental to the local ecosystem. One incident in central Virginia occurred in 2008 when fracking caused an explosion of a natural gas pipeline that created a fireball that stretched up to half a mile long and tall and injured five people.
Mineral, VA, the site of Tuesday's quake's epicenter, is only 90 miles from the West Virginia border, where activists are rallying to change the lax state legislation which has caused companies to conduct fracking operations more and more and recent years.
From Wikipedia, the free encyclopedia: Hydraulic fracturing - You can thank Halliburton War Criminal Dick Cheney's Secret Energy Task Force
8. Secrets of Cheney's Energy Task Force Come to Light
http://www.projectcensored.org/top-stories/articles/8-secrets-of-cheneys-energy-task-force-come-to-light/
Documents turned over in the summer of 2003 by the Commerce Department as a result of the Sierra Club's and Judicial Watch's Freedom of Information Act lawsuit, concerning the activities of the Cheney Energy Task Force, contain a map of Iraqi oilfields, pipelines, refineries and terminals, as well as two charts detailing Iraqi oil and gas projects, and "Foreign Suitors for Iraqi Oilfield Contracts." The documents, dated March 2001, also feature maps of Saudi Arabian and United Arab Emirates oilfields, pipelines, refineries and tanker terminals. There are supporting charts with details of the major oil and gas development projects in each country that provide information on the project's costs, capacity, oil company and status or completion date.
Documented plans of occupation and exploitation predating September 11 confirm heightened suspicion that U.S. policy is driven by the dictates of the energy industry. According to Judicial Watch President, Tom Fitton, "These documents show the importance of the Energy Task Force and why its operations should be open to the public."
When first assuming office in early 2001, President Bush's top foreign policy priority was not to prevent terrorism or to curb the spread of weapons of mass destruction-or any of the other goals he espoused later that year following 9-11. Rather, it was to increase the flow of petroleum from suppliers abroad to U.S. markets. In the months before he became president, the United States had experienced severe oil and natural gas shortages in many parts of the country, along with periodic electrical power blackouts in California. In addition, oil imports rose to more than 50% of total consumption for the first time in history, provoking great anxiety about the security of the country's long-term energy supply. Bush asserted that addressing the nation's "energy crisis" was his most important task as president.
The energy turmoil of 2000-01 prompted Bush to establish a task force charged with developing a long-range plan to meet U.S. energy requirements. With the advice of his close friend and largest campaign contributor, Enron CEO, Ken Lay, Bush picked Vice President Dick Cheney, former Halliburton CEO, to head this group. In 2001 the Task Force formulated the National Energy Policy (NEP), or Cheney Report, bypassing possibilities for energy independence and reduced oil consumption with a declaration of ambitions to establish new sources of oil.
The Bush Administration's struggle to keep secret the workings of Cheney's Energy Task Force has been ongoing since early in the President's tenure. The General Accounting Office, the investigative arm of Congress, requested information in spring of 2001 about which industry executives and lobbyists the Task Force was meeting with in developing the Bush Administration's energy plan. When Cheney refused disclosure, Congress was pressed to sue for the right to examine Task Force records, but lost. Later, amid political pressure building over improprieties regarding Enron's colossal collapse, Cheney's office released limited information revealing six Task Force meetings with Enron executives.
With multiple lawsuits currently pending, the Bush Administration asserts that its right to secrecy is a matter of executive privilege in regard to White House records. But because the White House staffed the Task Force with employees from the Department of Energy and elsewhere, it cannot pretend that its documents are White House records. A 2001 case, in which the Justice Department has four times appealed federal court rulings that the Vice President release task force records, has been brought before the Supreme Court. The case Richard B Cheney v. U.S. District Court for the District of Colombia, No. 03-475, to be heard by Cheney's friend and duck hunting partner, Justice Scalia, is now pending. Cases based on the Federal Advisory Committee Act and Freedom of Information Act which require the Task Force a balanced membership, open meetings, and public records, are attempting to beat the Bush Administration in its battle to keep its internal workings secret.
UPDATE BY MICHAEL KLARE: The issue of U.S. dependence on imported oil has only become more critical over the past few months as U.S. oil demand has risen and global supplies have contracted, pushing up gasoline prices in the U.S., and thereby threatening the economic recovery now (supposedly) under way. This, in turn, has made oil prices and dependency an issue in the presidential election, with President George W. Bush defending the status quo and Senator John Kerry, the presumed Democratic nominee, calling for dramatic action to reduce U.S. dependence on imported petroleum.
The contraction of global supplies is due in large part to political turmoil in the major producing areas – precisely the sort of situation I predicted in my article. In particular, the pace of overseas oil production has been moderated by repeated sabotage of oil infrastructure in Iraq, terrorist strikes on foreign oil firms in Saudi Arabia, ethnic unrest in the Delta region of Nigeria, and continuing political turbulence in Venezuela. Together, these developments have pushed oil prices to their highest levels in decades. At the same time, the Bush Administration has shown no inclination to reduce U.S. military involvement in major overseas producing areas, especially the Persian Gulf, the Caspian Sea basin and Africa.
All of this has had one effect: The major news media are beginning to pay much closer attention to the links between political turmoil abroad and the economics of oil at home. Most major newspapers, including the New York Times and the Wall Street Journal, have published articles on various aspects of this problem. Still, the media remains reluctant to explain the close link between the energy policies of the Bush Administration and U.S. military strategy.
A number of new books have come out (or soon will) that bear on this subject. My own book, "Blood and Oil: The Dangers and Consequences of America's Growing Petroleum Dependency" will be published by Metropolitan Books in August. Also highly recommended are: "Out of Gas," by David Goodstein (W.W. Norton); "The End of Oil," by Paul Roberts (Houghton Mifflin); and "The Party's Over," by Richard Heinberg (New Society Publishers).

Mitch McConnells Right Wing Circus - http://www.zinasaunders.com/
The UK's lack of fracking regulation is insane
The UK government must not permit further drilling of shale gas until we can be assured that fracking is safe
George Monbiot, guardian.co.uk, Article Source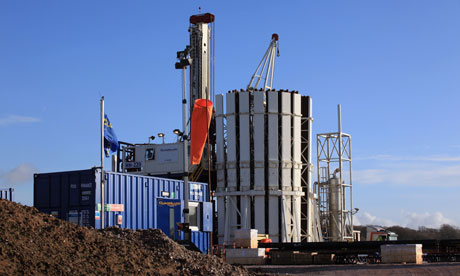 The drilling rig of Cuadrilla Resources explores the Bowland shale for gas,
near Blackpool. Photograph: Christopher Furlong/Getty Images
Before the government approves a new industrial process in the UK it must have ensured that it won't harm either people or the environment. Mustn't it? That's what any sane person would expect. Any sane person would be wrong.
One year ago, a company called Cuadrilla Resources began drilling exploratory shafts into the rock at Preese Hall near Blackpool, in north-west England, to begin the UK's first experiments with extracting gas trapped in formations of shale. The process – called hydraulic fracturing, or fracking - involves pumping a mixture of water, sand and drilling fluids at high pressure into the rock, to split it apart and release the natural gas it contains. In June, Cuadrilla temporarily suspended its operations as a result of two small earthquakes in the area, which might have been caused by the fracking. The experiment is likely to resume soon. Cuadrilla has also started exploratory drilling at two other sites in the region.
Here are the issues that must be resolved if we are to be assured that fracking is a safe and responsible process.
1. Contamination
There are two issues here: the chemicals injected into the rocks and the contaminants released by the fracturing. Both have the potential to pollute water supplies.
The Tyndall Centre at the University of Manchester reviewed the impacts of fracking in the only country where it has so far been commercially exploited, the United States. It found that fracking poses "significant potential risks to human health and the environment."
"The fracturing and 'flowback' fluids … contain a number of hazardous substances that, should they contaminate groundwater, are likely to result in potentially severe impacts on drinking water quality and/or surface waters/wetland habitats."
Amazingly, fracking fluids in the US are exempt from regulation. Companies are allowed to treat the composition of the fluids as trade secrets. There is little information on what they contain and what risks they might present.
But, using data on the chemicals being stored by these companies, the Tyndall Centre has been able to identify at least some of the substances being injected into the rocks there. Of 260 chemicals, it finds that 58 give rise to concern. Some are known carcinogens, some are suspected carcinogens, some are toxic to people, some are toxic to aquatic life, some are mutagenic (which means they can cause genetic defects) and some have reproductive effects.
The fluids returning to the surface carry not only the chemicals injected into the rocks, but also those picked up in travelling through them. Among these, the Tyndall report shows, are heavy metals and radioactive materials.
Both the fracking fluids and the flowback fluids can contaminate water either through the cracks forced open in the rocks by the fracking process, or through drilling bores through aquifers. In the US this has happened repeatedly. The Tyndall Centre found that water supplies have been contaminated not only by the fracking chemicals and dissolved pollutants from the rocks, but also by gas bubbling out through the cracks.
The documentary Gasland shows people turning their taps on and setting light to the water. In some cases, gas bubbling up from underground fractures has caused explosions in the basements of people's homes.
Cuadrilla's bore passes through an aquifer before it reaches the shale formation. The company's chief executive told the Guardian: "You never have control. Fractures will always go into the path of least resistance."
2. Water use
Fracking requires the use of very high volumes of water. The Tyndall Centre report warns that it "could put considerable pressure on water supplies at the local level in the UK." All the zones in the catchment in which Cuadrilla's operations at Preese Hall take place are classified by the Environment Agency as "over licensed", "over abstracted" or "no water available".
3. Greenhouse gases
The natural gas produced by fracking is the same simple chemical (methane) as the gas extracted by conventional means. When it is burnt, a given volume produces the same quantity of carbon dioxide as conventional gas does. Even so, the impact of shale gas on the atmosphere could be much greater than the impact of the same volume of conventional gas. Here's why.
Methane is itself a powerful greenhouse gas. It does not persist in the atmosphere for as long as carbon dioxide, but during the first 20 years following its release, it is 56 times as effective at trapping heat.
More methane is likely to escape from the process of splitting rocks open than from drilling into conventional aquifers.
A paper published earlier this year in the journal Climatic Change found that methane emissions from shale gas fracking, "are at least 30% more than and perhaps more than twice as great as those from conventional gas." This, it says, boosts the climate changing impact of shale gas to such an extent that it is not just worse than conventional supplies, but worse even than coal, which is the most carbon-intensive fossil fuel. The paper found that, per unit of energy released, burning shale gas produces between 120% and 200% of the emissions produced by burning coal.
4. Raising fossil fuel reserves
Last month the Carbon Tracker Initiative worked out the proportion of current fossil fuel reserves that humanity can burn while keeping the chances of exceeding 2C of global warming to 20% or less. It found that current reserves contain roughly twice as much carbon as we can afford to release in the entire millennium.
Fossil fuel companies have already found far too much, in other words. It seems like madness to be prospecting for new reserves, especially new reserves with such a high potential to do harm, when we can't afford to use existing supplies.
So I asked the government some simple questions. The answers should stop anyone with a concern for human health or the environment in their tracks.
I asked to see the environmental impact assessment (EIA) for Cuadrilla's fracking operations, which it hopes to resume soon. Answer: there isn't one. The Department of Energy and Climate Change told me:
"The local planning authority has concluded that Cuadrilla's exploration activities do not fall within the criteria for EIA, and none has been performed."
I asked to see the Health Impact Assessment. This is what the government said:
"We are aware of no requirement on Cuadrilla to perform a health impact assessment, and we gather that they have not to date done so."
I asked to see the Life Cycle Analysis for the full impacts of extracting shale gas. The department told me:
"Government has not conducted a specific analysis of the size and variability of greenhouse gas emissions from the shale gas extraction process."
But, apparently disregarding the paper in Climatic Change, it produced the following guess:
"We would expect that shale gas should have a carbon footprint of the same order as natural gas from conventional onshore fields, and significantly lower than that of coal."
The government passed my questions about contamination to the Environment Agency (EA). I asked which chemicals have been licensed for underground injection by gas fracking operations in the UK.
It told me that the chemicals being used by Cuadrilla have been "assessed as 'non hazardous' under the Groundwater Directive".
But which chemicals are they? I had to press the agency for a list. It sent the following:
Hydrochoric acid; FR-40, which it calls "a blend of chemicals including Polyacrylamide"; Ucarcide, a bacteria-killing pesticide whose active substance is Glutaraldehyde; and Stimlube-W, which it simply described as "a polymer".
I asked the Environment Agency where it had got this list from. Cuadrilla sent it to them. Has the EA taken its own samples? Yes, or so it claims. But despite my repeated requests, it has failed to send me the results.
Has it analysed the trade-marked substances to determine whether they contain only the chemicals listed by Cuadrilla? I have now asked this question several times, and the agency, while giving minimal and uninformative answers to my other requests, has pointedly ignored it.
Worse still, in responding to me, the Environment Agency appears to have cut and pasted a phrase from Cuadrilla's website: "The fluids used by Cuadrilla are 99.75% composed of fresh water and sand." Is this how the agency sees its job? Lifting phrases from the site of a company it's supposed to be regulating? And has it ensured that this claim is true?
But there's nothing to worry about, the agency says, because "Groundwater is not present in the shale formation at the Preese Hall site."
As the disasters in the US demonstrate, the point is not just whether groundwater is present in the shale formation, but whether it is present in the overlying formations, through which the drill must pass, or into which the fractures might spread. At Preese Hall, Cuadrilla's drilling cuts through an aquifer to reach the shale.
Earlier this month, two campaigners hung banners from Blackpool tower in protest against Cuadrilla's plans to resume drilling at Preese Hall. In mid-September a group of activists will be setting up Camp Frack, not far from Cuadrilla's rig, to plan a campaign against the exploitation of shale gas. We should wish them luck. - monbiot.com

Freedom of expression and freedom of speech aren't really important unless they're heard...It's hard for me to stay silent when I keep hearing that peace is only attainable through war. And there's nothing more scary than watching ignorance in action. So I dedicated this Emmy to all the people who feel compelled to speak out and not afraid to speak to power and won't shut up and refuse to be silenced. - Tommy Smothers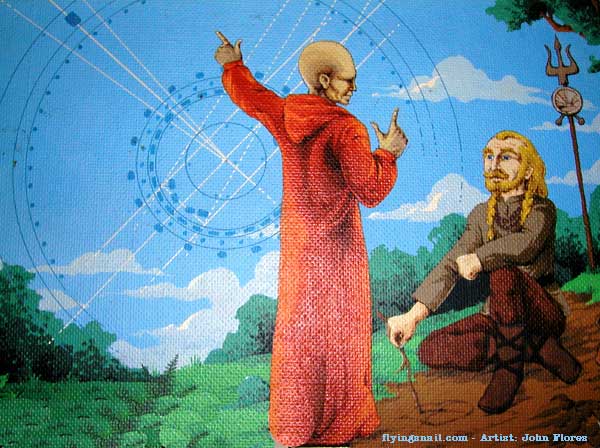 The man whispered, "God, speak to me" and a meadowlark sang. But the man did not hear. So the man yelled "God, speak to me" and the thunder rolled across the sky. But the man did not listen. The man looked around and said, "God let me see you" and a star shined brightly. But the man did not notice. And the man shouted, "God show me a miracle" and a life was born. But the man did not know. So the man cried out in despair, "Touch me God, and let me know you are there" Whereupon God reached down and touched the man. But the man brushed the butterfly away and walked on.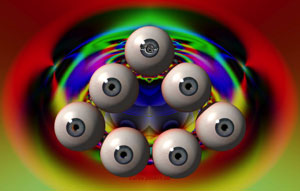 Don't miss out on a blessing because it isn't packaged the way you expect.