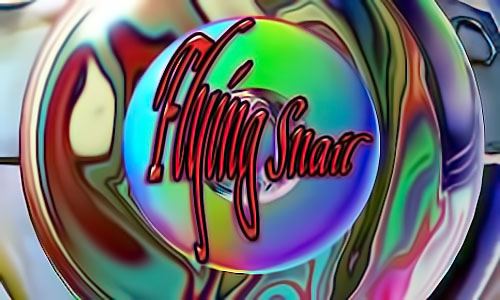 Tell~A~Vision = Why Not Try Love Again?
---
---
Internet (1991~2013): A virus forced into prostitution by
greedy corporations & used as a tool to Divide & Conquer.

Turn It Off, Tune It Out, Re-learn to Go Outside & Play.

---

---

Please begin your FlyingSnail adventure by:
Clicking Here _or_ _or_ Archive

---

---

Note to UMF-2014 Audience from ~@~

Your love killed Miami when you sang as one!

---

---

Board of Supervisors to consider request to
join state of Jefferson formation effort

Elizabeth Larson, Lake County News, Monday, 31 March 2014 00:30, Article Source

LAKEPORT, Calif. – This week the Board of Supervisors will consider whether Lake County should secede from the state of California and join the movement to form Jefferson, a new state.

The board will meet beginning at 9 a.m. Tuesday, April 1, in the board chambers on the first floor of the Lake County Courthouse, 255 N. Forbes St., Lakeport. TV8 will broadcast the meeting live.

In a discussion timed for 9:15 a.m., the board will consider a request from Kelseyville residents Truman and Sheryl Bernal of the Lake County Jefferson Declaration Committee to approve a declaration and petition to the California State Legislature for the withdrawal of Lake County from the state of California and to form the state of Jefferson.

Lake's Board of Supervisors is the latest county government body to be asked to join the state of Jefferson movement, the proposed boundaries of which include Butte, Colusa, Del Norte, El Dorado, Glenn, Humboldt, Lake, Lassen, Mendocino, Modoc, Nevada, Placer, Plumas, Shasta, Sierra, Siskiyou, Sutter, Tehama, Trinity and Yuba in California, with several Southern Oregon counties also part of the proposed 51st state.

Beginning last September, Siskiyou and Modoc counties' boards of supervisors voted to adopt a declaration and petition to the California State Legislature to withdraw from California to form the state of Jefferson. The Glenn County Board of Supervisors followed suit in January. Tehama County is putting the decision up to voters this June.

Movement organizers say there are committees in support of the movement that either have formed or are forming in the remaining counties.

[Ed. Note: Support the state of Jefferson in order to prevent evil wealthy corporations from stealing water Northern California currently survives on!]

---

---

The Cure review
'A free approach to 45 songs proves numbing'

They can play for hours, settling into dense, swirling grooves without exhausting their hits, but this show needs a greater sense of momentum

Caroline Sullivan, The Guardian, Sunday 30 March 2014 11.14 EDT, Article Source


Robert Smith of the Cure at the Royal Albert Hall. Photograph: Yui Mok/PA

"Show your hands if you're wearing black nail varnish," commands XFM presenter Jon Holmes, introducing the first of the Cure's two Teenage Cancer Trust shows. When a surprising number of arms shoot upward, he sighs: "Forty-year-olds in black nail varnish. That's scary." But not as scary, we soon discover, as Robert Smith in full fig: big-screen closeups reveal that the 54-year-old frontman has acquired a passing resemblance to Gene Simmons of Kiss, which seems fitting: both the Cure and Kiss are fan bands these days, mining catalogues so extensive that they could tour for the rest of their days without repeating themselves too often.

The Cure, however, would benefit from heeding the Simmons dictum: "Rock is about grabbing people's attention." They may be able to play for more than three hours without exhausting their hits, but they've yet to work out how to build up a show: song follows song – an incredible 45 in all – but there are few peaks or teasers, let alone much of the fraught darkness that got them here in the first place.

Though they hit the ground running with swampy, bass-drenched versions of Plainsong, A Night Like This and the joyous release of In Between Days, the momentum trundles to a halt. Once settled into their dense, swirling groove, they stay there for the rest of the night, with occasional diversions into the sunny uplands of Friday I'm in Love, The Walk and The Lovecats. It's numbing, even though Smith's voice still quavers affectingly and B-sides such as Harold and Joe get their first airing in decades. But then, there's no new album, and the last, 4:13 Dream, is mostly overlooked tonight, which gives them licence to do what they like. Condensed into 90 minutes, though, this would have been one of the gigs of the year.

• Did you catch this show – or any other recently? Tell us about it using #gdnreview

http://vimeo.com/57112375
---
---

http://vimeo.com/36131684
---
---
On Being Safe, Rather Than Sorry

Shake It Up Baby


http://static4.emsc-csem.org/#2w

----------------------

M 4.8 - YELLOWSTONE NAT. PARK, WYOMING - 2014-03-30 12:34:42 UTC

----------------------

M 4.4 - OKLAHOMA - 2014-03-30 14:09:59 UTC ~ [Fracking?]

M 4.3 - OKLAHOMA - 2014-03-30 08:42:36 UTC ~ [Fracking?]

M 4.3 - OKLAHOMA - 2014-03-30 06:51:56 UTC ~ [Fracking?]

----------------------

M 4.1 - GREATER LOS ANGELES AREA, CALIF. - 2014-03-29 21:32:46 UTC

----------------------
---
---

http://vimeo.com/75885228
---
---
Keith Lampe ~ Co-Founder of YIPPIE and Progressive Activist Groups + YouTube Video Channel :
Google

Explains How They Work
With the Government to

Spy on Users

Click to view: http://www.activistpost.com/2014/03/google-explains-how-they-work-with.html

Yes we give your data to the government, but don't worry, a process of checks and balances is in place. Trust us! We protect you from big brother! [Ed. Note: Also Has Brooklyn Bridge For Sale...]

Activist Post, Thursday, March 27, 2014, Article Source
---
---

http://vimeo.com/6344711

http://vimeo.com/37423889
---
---
Keith Lampe ~ Co-Founder of YIPPIE and Progressive Activist Groups + YouTube Video Channel :
French consumer watchdog sues
Facebook, Twitter and Google

By Dheepthika Laurent, CNN March 26, 2014 -- Updated 1246 GMT (2046 HKT), Article Source

Paris (CNN) -- France's top consumer watchdog filed a lawsuit Tuesday against Facebook, Twitter and Google, accusing them of breaching Internet users' privacy, in the latest crackdown against data-collection policies.

UFC-Que Choisir is suing the social media giants at the French High Court, alleging "abusive" and "illegal" practices and not heeding repeated warnings in June to modify what it called "inaccessible" and "illegible" user terms of conditions.

"Facing such negligence," the group is asking French judges to "order the suppression or modification of the myriad of litigious clauses imposed by these companies."

It accuses the social media networks of "continuing to allow the collection, modification, conservation and exploitation of user data and that of their entourage" including friends and followers.

"If the social media networks are particularly greedy in terms of data, they are dieting when it comes to responsibility," the group said in a statement.

Alexandra Neri, an attorney for Google and Twitter, said she could not comment on the lawsuit until receiving the formal summons and complaint, which can take up to a month. A representative for Facebook could not immediately be reached for comment.

European nations, including France, have increasingly cracked down on the privacy policies of global Internet giants.
---
---
Paul Krassner ~ The Realist/Writer/Comic/Investigative Satirist
How to Write Good Political Satire:
Christopher Hitchens (1998) with Paul Krassner

http://www.youtube.com/watch?v=f5uJN-dsals
---
---
SOS

~ Somebody Help Us! ~

SOS


Venezuela protests

---

---

ARPSN Seismic Heliplots ~ Seismic Activity & Weather at Seismic Site


It is raining 201403.26

---

---

Arnold Schwarzenegger 'linked
to destructive logging companies'

Former governor has financial ties via investment company to companies implicated in illegal logging, Global Witness says

Suzanne Goldenberg, theguardian.com, Tuesday 25 March 2014 19.00 EDT, Article Source


Former governor of California Arnold Schwarzenegger speaks during the opening
ceremony of a conference on the green economy. Photograph: Louafi Larbi/Reuters

Arnold Schwarzenegger, the one-time action hero fronting a blockbuster TV special on climate change next month, has financial ties to some of the world's most destructive logging companies, an investigation group found on Tuesday.

The former governor and climate champion is a part owner of an investment company, Dimensional Fund Advisers, with significant holdings in tropical forestry companies.

A number of those forestry companies were implicated in highly destructive and illegal logging which has destroyed rainforest and critical orangutan habitat in Borneo, and fuelled conflict and arms trafficking in Liberia, the investigators from Global Witness said.

The group, whose founder won this year's $1 million TED prize for its campaigns, said the holdings were at odds with Schwarzenegger's public image as a climate champion. Tropical forests are an important store of carbon that would otherwise accelerate climate change.

"He is a very prominent environmental champion in his public life while profiting from some of the most egregiously notorious companies operating in the forestry sector, and in our view that is deeply hypocritical, " said Oliver Courtney, a Global Witness spokesman.

There was no immediate comment from Schwarzenegger. DFA responded through an email from a public relations firm, saying: "We are a privately held company and cannot comment on Mr. Schwarzenegger's investment in Dimensional."

The emailed statement from Alex Stockham of Rubinstein Associates said DFA had systems in place for clients seeking to ensure investments free of serious environmental or ethical impacts. "Dimensional understands that some clients have perspectives and preferences related to social, sustainability and/or environmental issues and works to accommodate those preferences in customised separate accounts."

Global Witness said their research indicated Schwarzenegger held an estimated 5% stake in the firm, which manages an estimated $338 billion globally.

Those holdings included $174 million in about 20 forestry companies. Global Witness has questioned the allegedly destructive activities of some of those firms.

The group said Schwarzenegger had disclosed the investment in DFA while he was still serving as California's governor.

Schwarzenegger and DFA did not immediately respond to requests for comment. It is not clear whether Schwarzenegger was aware of how the investments were made.

Schwarzenegger pushed for action on climate change while serving as Republican governor of California.

In the run-up to the Copenhagen climate conference in 2009, he joined regional leaders from Indonesia and Brazil urging Barack Obama and other leaders to help developing countries stop deforestation.


California Governor Arnold Schwarzenegger talks to Danish media as he leaves his hotel in
Copenhagen o n December 15, 2009 to go to a press conference at the UN Climate Change
Conference at the Bella Center. Photograph: Bax Lindhardt/AFP/Getty Images

In his post-political career, he has raised his profile as a climate champion even further as executive producer of an ambitious new television series airing on Showtime from 13 April, Years of Living Dangerously.

The series – fronted by a slew of Hollywood A-listers from Matt Damon to Jessica Alba and Don Cheadle – aims to make climate change part of mainstream conversation.

"A scientist will never get the attention of an actor," Schwarzenegger told a press tour in January. "I always felt there was a communication gap in bringing people in and making them part of the movement."

For his episode, Schwarzenegger went out with "hot shot" crew to fight an active wildfire in Montana.

In his disclosure forms, which date from 2011, Schwarzenegger said he had stock of "more than $1 million" in DFA – the highest category. He also listed annual dividends of at least $100,000.

The forms did not require full disclosure of Schwarzenegger's entire holdings in DFA, the group noted.

A number of campaign groups – and ethical investment networks – have grown more concerned over the years about human rights abuses and environmental destruction caused by illegal logging.

Global Witness singled out six of the forestry companies in DFA portfolios for engaging in deforestation on an industrial-scale in countries across South-East Asia and Africa.

Four of the companies held by DFA were blacklisted by investment managers for the Norwegian government's sovereign wealth fund.

In 2012, the Norwegian government found one of those companies, Ta Ann, had clear felled at least 100,000 hectares of tropical forest in Sarawak - critical habitat for endangered orangutan. "There can be no doubt that [this destruction] will have serious, irreversible consequences for biodiversity and the ecosystem services delivered by the forest," the Norwegian investigation found.

Global Witness said DFA had $4.15 million investment in Ta Ann as of November 2013.

Read the following articles at:
Flashbacks: March 27, 2010

Project Censored:
TOP 25 CENSORED STORIES FOR 2005:
13. Schwarzenegger Met with Enron's
Ken Lay Before the California Recall

Cheney's Energy Pirates
Behind Schwarzenegger Recall Hoax
by Jeffrey Steinberg

Schwarzenegger Accused of Involvement in
$9B California Swindle with Enron's Ken Lay
with Amy Goodman and Greg Palast

Arnold Schwarzenegger Kept His
New Girlfriend A Secret UNTIL NOW!
by Perez Hilton
---
---

Goodbye Yellowcake Road ~ Cartoon by Steve Bell

The Scooter Libby verdict is inextricably linked to Iraq: his lies were an attempt to cover up the disingenuous case for war.

Sidney Blumenthal, guardian.co.uk, Tuesday 6 March 2007 22.00 GMT, Article history

The conviction of I Lewis "Scooter" Libby, Vice President Dick Cheney's former chief of staff, on criminal charges of obstruction of justice and perjury brings only a partial conclusion to the sordid political tragedy that is the Bush presidency. Yet the judgment on this matter goes to the heart of the administration. The means and the ends of Bush's White House have received a verdict from the bar of justice.

Foreign policy was and is the principal way of consolidating unchecked executive power. In the run-up to the Iraq war, professional standards, even within the military and intelligence agencies, were subordinated to political goals. Only information that fit the preconceived case was permitted. Those who advanced facts or raised skeptical questions about sketchy information were seen as deliberate enemies causing damage from within. From the beginning, the White House indulged in unrestrained attacks on such professionals. Revealing the facts, especially about the politically-driven method of skewing policy, was treated as a crime against the state.

For questioning the undermanned battle plan for the invasion of Iraq, Army Chief of Staff Eric Shinseki was publicly humiliated by neoconservative Deputy Secretary of Defense Paul Wolfowitz and then cashiered. For disclosing negligence on terrorism before the Setempber 11 attacks, counterterrorism chief Richard Clarke was accused by then-National Security Adviser Condoleezza Rice of acting purely out of motives of personal greed to promote his recently published memoir. For exposing the absence of rational policymaking in economics as well as foreign policy, Secretary of the Treasury Paul O'Neill was threatened with an investigation for allegedly abusing classified material. Once he was intimidated into silence, the probe was dropped.

In the aftermath of former ambassador Joseph Wilson's revelation that the most explosive reason given for war against Iraq - that Saddam Hussein was seeking yellowcake uranium in Niger to fuel nuclear weapons - had no apparent basis in fact, the Bush White House revved into high gear against the critic. Wilson, however, was even more dangerous than the others because he was a witness to the false rationale for the war.

As Libby's defense counsel insisted, Scooter was merely one of many in the White House assailing Wilson's integrity. Others, including Bush's political strategist Karl Rove, were involved. To a degree, the smear campaign was for a time successful, fueled by the Republican-controlled Senate Intelligence Committee and elements of the Washington press corps. But the trial exhibits - documents entered by the special prosecutor - knocked down every single one of their falsehoods.

Libby's defenders argued that there was no underlying crime. He was not charged with revealing the identity of Valerie Plame, Wilson's wife, as a covert CIA agent, which was a charge raised by the White House gang in an effort to prove she sent Wilson on his Niger mission - another of the lies spread about him.

But Libby committed his crimes to cover-up the role of his boss and to protect his own position in the attack on Wilson. At base, then, the reasons for war were the scandal.

Libby was no mere factotum. He was a central member of the neoconservative cast of characters, who began as a protégé of Wolfowitz and was elevated to the role of Cheney's indispensable man.

Libby's conviction not only indelibly stains neoconservatism. It is a damning condemnation of the Bush White House belief that the ends justify the means and its aggrandizement of absolute power. Ultimately, this is a verdict that can never be erased from the history of the Bush presidency.

Source: http://www.guardian.co.uk/commentisfree/2007/mar/06/scooterlibby1
---
---
Turkey bans Google's DNS following Twitter ban

By James Plafke Mar. 24, 2014 2:42 pm, Article Source

Late last week, Turkey banned its citizens from accessing Twitter, and threatened to ban Facebook and YouTube as well. When visiting Twitter from a Turkish ISP, customers were presented with court orders stating why the service was blocked. The ban hammer was brought down on Twitter because the country's prime minister was embroiled in a scandal (involving recordings of him ordering his son to dispose of money), and social media — as it tends to do — helped spread the word. After the ban, though, tweets from the country actually rose 138%, clearly displaying that the administration couldn't enact a ban on internet service in this day and age. Now, however, Turkey has gone one step further in an attempt to eradicate Twitter: banning Google's DNS.

Many speculate that the real reason why Twitter was blocked was to prevent it from interfering with upcoming elections, which are scheduled to begin on March 30. Regardless of the reason for the ban, which the Turkish administration claims is due to Twitter not adhering to simple court orders of removing certain links, it proved futile. Users found simple ways around the ban, such as using Twitter through its SMS service, or by using Google's public DNS. However, soon after tweets rose 138% post-ban, Turkey moved swiftly to block Google's public DNS.

The bans haven't yet dissuaded Turkish citizens from accessing the internet, or specific sites. Users can still access the site through VPNs, and there are reports of other DNS servers that haven't yet been banned. The only thing the bans are doing are making the Turkish administration look bad, and since it's censoring services that disregard a geographical divide, the suffering citizens are only gaining support from everywhere else on the planet.

For now, if the administration's goal of the ban was to quell any outcry against itself, the ban completely backfired, and appears to have done more harm than not actually attempting to ban Twitter in the first place.
---
---
CommuniTree

In Memory of Dean Gengle

Dia (CommuniTree genealogical chart)

Click to visit: The San Francisco CommuniTree ~or~ Index Source

Let's look at some of the earliest electronic virtual communities. This kinship chart shows the origins of the first computer bulletin boards (BBSs) that supported social interaction. Prior to this moment, BBSs messages were organized by alphabetical order, or by date. BBSs were metaphors for physical bulletin boards... objects for the exchange of simple messages, not conversations. Now, in 1978 a group of people in Northern California designed a BBS that used message attachment protocols that facilitated conversations. As a metaphor for this structure they used a tree, firstly because it was based on a principle of computer science called binary tree protocol, and secondly because Northern California near Silicon Valley was a land of hot tubs, Eastern mysticism, and computer hackers, and the organicity that the word "tree" suggested was important to those hackers' worldview.

The story of the life and death of the first CommuniTree tells us how and why the later virtual community systems were designed. The original CommuniTree was designed with the idea that the community it facilitated would be completely free. Anyone could enter any sort of message. In fact, censorship was completely prohibited at the level of the code, of the Tree's program. It worked this way: First, the system operator was prevented from reading messages as they arrived. Second, messages were hard to remove once they were entered. Third, anything could be entered into the system, including so-called control characters, which are not part of the standard alphanumeric set and which can be used to control the operation of the host computer. Lastly, to make sure that no system operator could tamper with the system, the code was written in language called Forth, and not documented. Now Forth is a religion unto itself, and if you know anything about Forth you recognize that this makes the system a total black box -- it's impossible to know anything about how the code works.

CommuniTree went online in 1978. The kinds of conversations they had in there were of a high intellectual and spiritual character. They talked about new philosophies and new religions for post-Enlightenment humanity, the first time such conversations had taken place online.

Now, at the same moment Apple Computer had reached an agreement with the U. S. Government that in return for a tax break, Apple put computers into primary and secondary schools in the U.S., and some of those computers had modems. This meant that quite suddenly a lot of kids could get online. At first both boys and girls had access, but the boys quickly elbowed the girls out of the way -- high tech was men's work. The boys quickly found out CommuniTree's phone number and logged on. They were clearly unimpressed with the high intellectual level of the discourse on CommuniTree, and they expressed their dissatisfaction in ways that were appropriate to their age and linguistic abilities. Now, the hardware of the Tree was the best that Apple had to offer in 1978, it had two floppy disk drives with a combined total of 300 kilobytes of storage. At the time, the folks who designed the Tree said "300K -- we can go on forever. We'll never fill this up." A common BBS today would have at least 100 megabytes of storage, many orders of magnitude greater than the Tree. So it didn't take long for the kids to fill every byte of disk space with every word they could think of that meant shitting or fucking, and then they'd add control characters on top of that, characters that could mess with the program or stop the floppy drives. The sysops couldn't see the messages arriving and couldn't remove them afterward. The Tree was doomed.

One of the participants in the Tree discourse said "Well, the barbarian hordes mowed us down." And the people who were on the Tree ran away, just like the population of a village during a sack. It was a kind of scattering of the tribes. Some of those people went off and designed BBSs of their own that had built into them the elements of control and surveillance that appeared to be necessary to ensure the BBS's survival in a real world that included roaming barbarians. That kind of surveillance and control continues to the present day, built right into the software; we don't think about it much any more.

And that's how, back at the beginning of virtual time, the first virtual community left the Magic Garden and entered the "real" virtual world in which good had to find ways to coexist with evil.

https://w2.eff.org/Net_culture/Gender_issues/what_vampires_know.html


Curtis Spangler ~ CommuniTree's First Fairwitness

---

---

MIT ~ ITS


MIT Artificial Intelligence Laboratory

Tourist Policy and Rules for Tourist Use of ITS Machines


Click to visit source

Dear Curtis,

You have applied for an account on the MIT ITS system with the login name CSPANG. Please read the enclosed tourist policy statement and rules, and then fill out tile enclose(i information/application form, making sure to sign it in the place indicated, attesting to your having read the policy statement and rules. Then return it to Tourist Policy, 545 Technology Square, Cambridge, MA 02139.

You should retain the policy statement and rules for future reference.

When your completed form has been received (please allow at least a week for the U.S. Mail), your account will be initialized. When you log in for the first time, you will receive a message reminding YOU to run tile INQUIRE program (see item 6) and telling you who your "advisor" is (see item 5). This person will be your contact with MIT, and is the person to whom YOU Should direct most Of Your questions and problems and the person who will direct your activities associated with your use of the MIT ITS machine. The laboratories will from time to time inform you about any specific policies you should follow concerning use of the machine on which you have an account.

We hope your use of the MIT ITS machine will prove pleasant and beneficial.


Click to visit source ~or~ Index Source

---

---

Dial-Up Disconnection ~ January/February 1981


Click to visit source

Function: A,B,C,D,E,F,G,H,K,L,N,'O,P,Q,R,S,
T,U,V,W,X,Y,Z',# (Or "?" if not known)? ,S,R
Message: What message to retrieve, 1/5962? 5808

Message number 5808 is 16 lines from Susan Thunder
To Curtis Spangler and SYSOP at 15:47:52 on 30-Jan-81.
Subject: DIAL-UP DISCONNECTION

Dear Bernard,

I'm sorry that your line was disconnected for about a half hour right around 3:15 today, but this impatient asshole known as Curtis Spangler decided to dump me off and use the system... needless to say, I had the line "removed" from service for a few minutes so that Curtis would KNOW that not all the users on this system just let getting dumped off go right past them...Eric Moyer was lucky ... he slipped in there just as I reestablished service to this line ... If anyone reading this happens to know Curtis's phone number or address, I will tell you how to NO AMA calls all over the country via the TSPS in exchange for the information ... (free calls ... ) ... And maybe those of you who like to "dump" into this BBS will think twice about doing it ... Curtis is certainly going to remember it for awhile!!!

THUNDR@ MIT-DM, AI


Click to visit source

Message: What message to retrieve, 1/5982? 5966

Message number 5966 is 20 lines from Curtis Spangler
To MS. THUNDER at 09:08:55 on 03-Feb-01.
Subject: Perhaps you could explain.

Dear Susan:

I thought that it was necessary to let you know that I am not sure what you are talking about. I have seen my name come up in reference to you several times, although I do not know you, or even care what you do. What seems to be the problem? I have never "bumped" you off any sys. that I can remember, nor would I have a reason too. There is something that you might consider, and that is the old ploy of divide and conquer. If you take the time to look at history in general, you will find that "we" have been controlled by 5% of the population throughout history and if you look deeper you will find that the moment people start working together to break up this 5% that the 5% will initiate some kind of tactic to separate everyone.....cause how this 5% has maintained control is thru ignorance.....and the moment that the people start to get smart and learn they get divided and conquered. I hope that this does not happen with the information that is being shared about this state of the art reality called telecommunications. Ignorance and Divide & Conquer have been around too long and I am open for change. I am sorry that you feel the way you do, but I can't think of anything that I have done that would upset you I do know that since I use my real name and no handles that someone has used my name in several areas of the country. (cont.) Message: What message to retrieve, 1/5982? 5967


Click to visit source

Message number 5967 is 20 lines from Curtis Spangler
To MS. THUNDER at 09:31:08 on 03-Feb-81.
Subject: (cont.)

I cannot do much about this except changing my psw access. I am more into hardware & software rather than into the phone, so most of the information that you exchange is of no value to me. If you feel that I am "out to get you" forget it, cause I have made a special effort to get along with people rather than kick up s--t with them. I don't know of anything more useless than trying to make people uptight/feel bad/paranoid/etc. I will apologize to you if I have done something to offend you, and if you want my phone number that is probably ok too, except you do not have to put a reward out for me, although it makes me feel like "Billy-the-Kid", which is kinda flattering. I would be open to talk to you and find out what the difficulties are if you choose.

Susan, I don't know why this even came up, maybe you could help me to understand so why don't you leave me a private message on the CBBS at (415) xxx-xxxx to C. SPANGLER, or here non private.

There is another thing.....if you know the sysop of 8BBS ask him how many times I check in on this system .... I think that it amounts to maybe 4 or 5 times a month. I am not on your case, please don't put me there. As John Lennon said "IF YOU CAN'T STAND THE HEAT GET INTO THE SHADE. cas

Click to view and continue reading messages: http://www.flyingsnail.com/missingbbs/8BBS.html ~ BBS Index

---

---

The Stanford Packet Radio Network

Michael J. Flynn, Curtis Spangler, and Andrew Zimmerman
Computer Systems Laboratory, Electrical Engineering Department
Stanford University, Stanford CA 94305-2192

Abstract

The Stanford Packet Radio Network is designed to provide from 9600 to about 56,000 baud access to "line of sight" users (within about 30 miles) of SUN-the Stanford University Network. The cost objective is $'~,000 per user for the marginal cost of modem, transceiver, etc. Basic testing has been completed, and a preliminary network will begin operations in early 1986. [Click to continue reading]

Background

Bulletins from the Pacific Packet Radio Society

A Collection of Messages Transmitted via Packet Radio and other Electronic Media.
Book prepared by C. Spangler, N6ECT - 1983 [Click to Read _or_ Click to visit Main Index]

PACKET RADIO ON NETWORK TV

On July 16 [1984] at 0745 PDT, a packet from N6ECT was heard throughout the nation on the CBS Morning News show. Curtis Spangler, N6ECT, was being interviewed by CBS for a piece on the Haight/Ashbury and the film crew focused on his CRT. As luck would have it, Curtis was transmitting packets through the KA6M digipeater. The audio from one of the packets came through loud and clear, and the frame was heard in all 50 states and throughout half the world Via KA6M. [Click to continue reading]

HIGH-SPEED PACKETS

On August 23 [1984], Curtis Spangler, N6ECT, and Mike Flynn, W2FRT, exchanged packets at 9600 bauds using quadrature amplitude modulation (QAM) techniques. Both stations were using personal computers, 9600-bit/s modems, homemade radio/modem interfaces, and 440-MHz radios. Special software, written in Turbo Pascal, drove the synchronous data link controller (SDLC) cards in the computers. Over the five-mile path between the stations, there were no errors using 10 watts, and 60% to 70% throughput at one watt. Via KA6M [Click to continue reading]

---

---

RISKS-LIST

RISKS-FORUM Digest Tuesday 11 April 1989 Volume 8 : Issue 54

FORUM ON RISKS TO THE PUBLIC IN COMPUTERS AND RELATED SYSTEMS ACM Committee on Computers and Public Policy, Peter G. Neumann, moderator

Date: Tue, 11 Apr 89 08:12:04 PDT
From: cas@toad.com (Curtis Spangler)
Subject: NSA and Not Secure Agencies

San Francisco Chronicle, Chronicle Wire Services, April 11, 1989:

"Computer Group Wary of Security Agency

A public interest group said yesterday that the National Security Agency, the nation's biggest intelligence agency, could exert excessive control over a program to strengthen the security of computer systems throughout the federal government.

The group, Computer Professionals for Social Responsibility - based in Palo Alto - urged key members of Congress to focus "particularly close scrutiny" on the agency's role in helping to implement legislation aimed at safeguarding sensitive but unclassified information in federal computers.

"There is a constant risk that the federal agencies, under the guise of enhancing computer security, may find their programs - to the extent that they rely upon computer systems - increasingly under the supervision of the largest and most secretive intelligence organization in the country," it said."

---

---

Tread Lightly Futhermuker
You obviously failed to do research before opening your mouth!

Or... Why I Get Upset At Sheeple errr... The People

This is the last time I will repeat this truth regarding spying on U.S. citizens, knowing all secrets, having copies of all sexually explicit images, knowing all dealers, knowing all visited porn sites, knowing all passwords, having master keys, etc., etc., etc.!

NSA are NOT the BAD GUYS

or the reason for your current loss of all privacy and previously granted rights. According to protocol they were following orders.

The BAD GUYS are POLITICIANS

and here is proof, whether it is liked or not: Drop Dead ~ Telecom Crimes ~ Patriot Act ~ Denialist ~ He Said It ~ Rethinking 9/11 ~ Are you better off?

Politicians allow Corporations to get away with slave labor using children, murder, mass pollution, etc.

Maybe It's Time for a
Corporate Death Penalty?

Lately, there have been outcries from Corporate America who sold out their users and here is the reason why:

It was discovered internal servers in these corporations; specifically the ones corporate executives use, were being watched and recorded; meaning it was okay for corporations to hand over user information, but when their own executives were being spied on, they complained.

Corporations knew spying was being done as far back as the '90s and here is proof directly from the NSA:

http://www.nsa.gov/research/selinux/background.shtml:

SELinux Background ~ Researchers in the National Information Assurance Research Laboratory of the National Security Agency (NSA) worked with Secure Computing Corporation (SCC) to develop a strong, flexible mandatory access control architecture based on Type Enforcement, a mechanism first developed for the LOCK system. The NSA and SCC developed two Mach-based prototypes of the architecture: DTMach and DTOS. The NSA and SCC then worked with the University of Utah's Flux research group to transfer the architecture to the Fluke research operating system. During this transfer, the architecture was enhanced to provide better support for dynamic security policies. This enhanced architecture was named Flask. The NSA integrated the Flask architecture into the GNU/Linux® operating system to transfer the technology to a larger developer and user community. The architecture has been subsequently mainstreamed into GNU/Linux® and ported to several other systems, including the Solaris™ (Sun Microsystems/Oracle) operating system, the freeBSD® operating system, and the Darwin (Apple) kernel, spawning a wide range of related work.

In other words, today, unless one is willing to give up all forms of current communication, as well as debit cards, credit cards, anything containing GPS, etc. there is no privacy.

One More Thing

It appears something is defeating Facebook login accounts and using accumulated email addresses for phishing and/or spaming, which makes one curious why Google's YouTube is posting a How-To Crack Facebook video:


[Click Above for Large Image]

A lot of the above could be simply fixed by including

NONE OF THE ABOVE
On Voter Ballots !!!

---

---

Internet (1991~2013): A virus forced into prostitution by
greedy corporations & used as a tool to Divide & Conquer.

Turn It Off, Tune It Out, Re-learn to Go Outside & Play.
---
---
Dahbud Mensch ~ Stuck In the Middle With Who
Donald Rumsfeld says "a trained ape"
could do better than Obama on Afghanistan

[Ed. Note: How many U.S. military were maimed or murdered because Rumsfeld and the Bush Administration did not provide U.S. troops with appropriate equipment in Afghanistan?

Why hasn't the Bush Administration been charged with War Crimes for pulling troops out of Afghanistan (based on Neocon WMD Lies) and sending them to Iraq, without proper equipment again, to Murder innocent women, children, and civilians; both of which are actual crimes? Why hasn't Stanford, Condoleezza Rice, mother of torture, been put in prison for having children raped in front of their parents? Another reason why NONE of the ABOVE should be a choice on Voter Ballots!!!]

The former defense secretary tells Fox News that the U.S.-Afghanistan relationship has been "mismanaged"

Elias Isquith, Tuesday, Mar 25, 2014 07:25 AM PDT, Salon Article Source


Click to read how Raygun, Bush I, Cheney, and Rumsfeld gassed the Kurds

Donald Rumsfeld, the man who as defense secretary helped orchestrate and oversee not one but two disastrous wars, appeared on Fox News on Monday in order to bash President Obama by negatively comparing him to "a trained ape."

"A trained ape could get a status of forces agreement [with Afghanistan]," Rumsfeld said. "It does not take a genius. And we have so mismanaged that relationship."

Rumsfeld went on to offer sympathy for Afghanistan President Hamid Karzai, who recently angered the White House by voicing his support for Russia's annexation of Crimea, saying that the wildly corrupt leader of the delicate and unstable Afghanistan government has good reason to be angry with his American backers.

"United States diplomacy has been so bad -- so embarrassingly bad -- that I'm not the least bit surprised that he felt cornered and is feeling he has to defend himself in some way or he's not president of that country," Rumsfeld explained.

He then went on to brag that, during the George W. Bush administration, the U.S. and Karzai had a "first-rate" relationship. It's only under Obama, Rumsfeld said, that relations between the two nations have gone "downhill like a toboggan."

Rumsfeld served as President Bush's first defense secretary, holding the position from 2001 to 2006, when he was ignominiously canned by Bush in an attempt to communicate to the public that the Democrats' landslide win in that year's midterm elections hadn't gone unheeded.

[Stanford, Hoover Institution, War Criminal, Donald Rumsfeld called Vietnam Veterans Stupid for not figuring out a way to dodge the draft like War Criminal Dick Cheney or go AWOL like War Criminal George W Bush.

Statement by Vietnam Veterans of America Foundation on Secretary Rumsfeld's Comments about Vietnam War Conscription

As an organization founded by Vietnam War veterans seeking justice and fairness for all - whether military personnel or civilians - we are outraged by Secretary of Defense Donald Rumsfeld's comments made at a January 7th DOD press conference when asked about the possibility of resurrecting the draft. Secretary Rumsfeld said troops from Vietnam War conscription, "added 'no value, no advantage, really, to the United States armed services…"

As Vietnam veterans who served with conscripted soldiers, we find Secretary Rumsfeld's egregious slur a grave insult to the memory, sacrifice and valor of those who lost their lives, and, further, dismissive of the hundreds and thousands of lives, both in the U.S. and in Vietnam, who were devastatingly shattered by the Vietnam War.

We suggest that the Secretary choose his words much more carefully in the future, and be sensitive as to how they affect those who put their lives on the line for this country, whether drafted or enlisted. This is all the more critical as our country is on the eve of war with Iraq, and thousands of U.S. troops are again mobilized to potentially engage in battle.

Bobby Muller, President of Vietnam Veterans of America Foundation
[Broken Link] - http://www.vvaf.org/newsroom/2003/01-09-2003.html

Neocon Rumsfeld possibly stole 2+ trillion tax payer dollars that Nobody cared enough about to thoroughly investigate ... just like the 9/11 cOmmission who ignored new airspace rules were in place after a small plane crashed into the White house; trying to kill Clinton, during 1994,

Radar Detected Airplane before White House Crash

The Tech ~ Volume 114 >> Issue 40 : Tuesday, September 13, 1994
http://tech.mit.edu/V114/N40/crash.40w.html

By Ruben Castaneda and Pierre Thomas, The Washington Post

WASHINGTON

The plane that slammed against the White House early Monday morning had been detected by radar at National Airport minutes before the crash, according to federal investigators who are trying to determine why Secret Service officers guarding the mansion weren't warned of the aircraft's approach.

Frank Eugene Corder, 38, a student pilot with a history of alcohol and drug abuse, stole the single-engine Cessna from an airfield north of Baltimore and died in the crash, officials said. Initial interviews with associates of Corder suggest the crash was intentional, federal officials said, but they said they did not believe it was politically motivated.

FBI and Secret Service investigators plan to pore over Federal Aviation Administration records to determine what the FAA's radar showed, whether it seemed to indicate a potential threat, and what was done with the information, federal sources said.

As it turned out, a patch of lawn, a holly hedge and an old magnolia tree were all that slowed down the airplane as it hurtled toward the home of the president.

Startled uniformed Secret Service officers at the White House saw the descending plane at 1:49 a.m. and ducked for cover. The plane crashed onto the South Lawn of the White House, skidded, slammed through the hedge and clipped the tree before it hit a wall on the west side of the mansion.

Corder had stolen the plane from an airfield north of Baltimore, investigators said. Federal officials conceded that Corder's flight exposed a seam in the government's muscular, electronically sophisticated zone of presidential defense.

Heavily armed guards protect the president and his home. Buildings are searched and snipers are perched for presidential motorcades. And flying over or near the White House, the Mall, the monuments and the Capitol is prohibited by federal law. But if someone chooses not to obey the rules, they can zoom into the forbidden zone without resistance, federal officials and aviators said.

"The scenario for a crackpot pilot being able to do that is within reason," said Leo Janssens, president of the Ohio-based Aviation Safety Institute. "It's almost impossible to keep planes out of that area because it's so close to National Airport."

The astonishing crash raised questions about the basic security of the home and office of the president.

Only after repeated questions did Carl Meyer, a Secret Service special agent, acknowledge that Secret Service officers had not fired on the plane to prevent it from reaching the White House. Asked how much notice the officers had of the plane, Meyer responded, "I think enough time to run for cover."

President Clinton and his family are staying at Blair House, just north of the mansion, while the White House is being renovated. They were not harmed or awakened by the crash.

"Any effort like this has to be treated as an assumed assassination attempt," said Sen. Dennis DeConcini, D-Ariz. Numerous questions need to be answered, said the senator, who sits on a subcommittee that oversees the Secret Service.

It was unclear Monday whether the Secret Service has a specific plan to deal with an airborne attack. Secret Service officials declined to answer questions on the matter.

Corder, of Perry Point, Md., was killed on impact, officials said. Corder, a high school dropout from Aberdeen, was an Army veteran who until recently had owned a trucking company. Until recent weeks, he had lived with his wife on the grounds of the Veterans Hospital in Perry Point, in Harford County. About two weeks ago, Corder separated from his wife. Since then he had been living out of his car, a federal official involved in the investigation said.

Much about Corder and his flight could not be determined Monday.

Federal investigators and officials at the Harford County Airpark, from where Corder stole the plane, gave this account of the events leading to the crash:

About 7 p.m. Sunday, the single-engine, two-seat Cessna airplane was returned to the airfield by a student pilot who had flown it for training.

Airfield manager Joseph V. Kessler said the plane was still at the field when he left at 8:30 p.m.

At 1:49 a.m., Secret Service agents and witnesses saw the plane descend toward the White House.

Eyewitnesses said the plane flew near the Washington Monument, then banked left and turned toward the White House.

Arthur Jones, a White House spokesman, said the plane initially hit the grass lawn about 75 feet from a holly hedge and a magnolia tree that was planted during Andrew Jackson's presidency, from 1829 to 1837. The plane skidded into the hedge, and its left wing was clipped by the magnolia tree, Jones said.

The plane traveled another 30 feet before crashing into the West Wing of the White House, Jones said. A mangled heap stopped against the wall to the office of the White House physician, Jones said.

Navy Lt. Cmdr. Rich Fitzpatrick, who carries "the football," a suitcase containing codes to launch nuclear weapons, was sleeping in the basement of the White House. Awakened by the crash, he called the head of the White House military office, who called White House Chief of Staff Leon Panetta.

that Nobody attempted to stop !!!]

Gutless Coward

When Cheney became eligible for the draft, during the Vietnam War, he applied for and received five draft deferments. In 1989, The Washington Post writer George C. Wilson interviewed Cheney as the next Secretary of Defense; when asked about his deferments, Cheney reportedly said, "I had other priorities in the '60s than military service." Cheney testified during his confirmation hearings in 1989 that he received deferments to finish a college career that lasted six years rather than four, owing to sub par academic performance and the need to work to pay for his education. Initially, he was not called up because the Selective Service System was only taking older men. When he became eligible for the draft, he applied for four deferments in sequence. He applied for his fifth exemption on January 19, 1966, when his wife was about 10 weeks pregnant. He was granted 3-A status, the "hardship" exemption, which excluded men with children or dependent parents. In January 1967, Cheney turned 26 and was no longer eligible for the draft. - Wikipedia


Lies, Lies, Lies - BlackMustache.com

Lying War Criminal Says What? == We know where they are [WMD]. They are in the area around Tikrit and Baghdad. ~ Donald Rumsfeld ~ March 30, 2003
---
---
Notes from ~@~
You go girl !!!

Cher turns back time for Dressed to Kill tour

Lauren Cochrane, theguardian.com, Monday 24 March 2014 08.24 EDT, Article Source


Cher performs on stage during her Dressed To Kill tour opener at the US Airways Centre on 22 March 2014.
Photograph: Kevin Mazur/WireImage

There's a lot to take in here, isn't there? Cher's farewell tour – which is even called Dressed to Kill – was always going to be a great excuse for some interesting outfits. The first night boasted several costume changes – including one that had her wearing a pastel version of a Native American chief's outfit – but the rehash of her famous sheer body stocking from 1989's Turn Back Time video was the winner. Twenty-five years on, Cher knows a reprise needs something a bit different, and that comes with the hair: it's gargantuan enough to make Charles II jealous, and the pop star adds a wine-coloured purple rinse for good measure. It's breathtaking, really. When Cher retires, we'll miss her. This is a 67-year-old who knows how to put on a show – and wear a sequined body stocking to boot.
---
---
Rainbow Puddle ~ Stellar Light Shows + YouTube Video Channel ~ Sends the following article:
WATCH: Biologist explains how marijuana drives tumor cells to 'suicide'
by Arturo Garcia [Click Here To View Article]
---
---
Dahbud Mensch ~ Stuck In the Middle With Who
Lying Scum, Drug Forging, POS Sexist Says What?
We Already Have Museums For Women -- "They Are Called Malls"
Our Culture Has Been "Chickified" By Women Taking The Same Career Paths As Men
Dismisses Gender Pay Arguments As "Tripe": "We Don't Get It" But "We're Not Single Women [Who] Hate Men"
NFL Wearing Pink For Breast Cancer Proves There's A National Assault On Masculinity
Use Of Concussion-Preventing Technology In NFL Proves "Everything In Our Culture Is Being Chickified"
Feminism Rooted In "Sexual Perversion"
blah, blah, blah, = limpbaugh
Why The GOP's Attempt To Rebrand On Women's Issues Is Doomed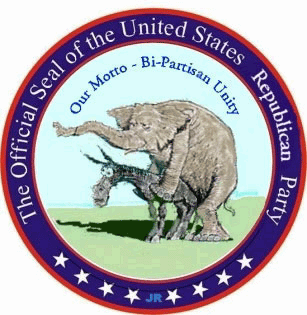 Bi-Partisan Unity
NONE of the ABOVE
should be a choice on
VOTER BALLOTS
No Republicon or Democrap Should Ever Be Elected President Again
---
---
Anybody See A Pattern Here?

Tech giants to press Obama on NSA reform
in private White House meeting

Executives from Facebook, Google and Yahoo invited to Oval Office discussion amid continued frustration over lack of action

Dan Roberts in Washington and Dominic Rushe in New York, theguardian.com, Friday 21 March 2014

What comes around, Goes Around?
20 Years Earlier:

April 14, 1994 - The Seven Dwarves: I believe that nicotine is not addictive


https://www.youtube.com/watch?v=jQUNk5meJHs

Telecom Crimes ~ Patriot Act ~ Denialist ~ Drop Dead
Obama Patriot Act ~ Obama's FISA Shift


Dale Gribble [King of the Hill animated cartoon]
Warns You About the Government Everyday
Was Right the Whole Time
---
---
Microsoft tightens privacy policy
after admitting to reading journalist's emails

After outrage from privacy campaigners, the tech firm will now seek legal advice before examining the contents of customers' inboxes

Alex Hern, theguardian.com, Friday 21 March 2014 06.34 EDT, Article Source


The logo for Microsoft's Hotmail, now replaced with Outlook.com

Microsoft has tightened up its privacy policy after admitting to reading emails from a journalist's Hotmail account while tracking down a leak.

The new rules prevent the company from snooping on customers' communications without first convincing two legal teams, independent of the internal investigation, that they have evidence sufficient to obtain a court order were one applicable.

The company did not apologise for the search.

John Frank, vice president and deputy general counsel at the firm, says that following coverage of the case in the Guardian and elsewhere, Microsoft wants "to provide additional context regarding how we approach these issues generally and how we are evolving our policies.

"Courts do not issue orders authorising someone to search themselves, since obviously no such order is needed," he continues.

"So even when we believe we have probable cause, it's not feasible to ask a court to order us to search ourselves. However, even we should not conduct a search of our own email and other customer services unless the circumstances would justify a court order, if one were available."

As well as requiring an internal and external review of the evidence, Frank also promises to confine any future searches "to the matter under investigation and not search for other information". Finally, he says that the firm will begin to "report the data on the number of these searches that have been conducted and the number of customer accounts that have been affected" in its bi-annual transparency report.

"The only exception to these steps will be for internal investigations of Microsoft employees who we find in the course of a company investigation are using their personal accounts for Microsoft business," Frank concludes. "And in these cases, the review will be confined to the subject matter of the investigation."

The initial search occurred in September 2012, when the company was attempting to discover who had handed an anonymous blogger the source code to Windows 8, its then-upcoming operating system. It discovered that the blogger was using a Microsoft Hotmail email address, and that they had used it to send the code to a third party.

"After confirmation that the data was Microsoft's proprietary trade secret, on September 7, 2012 Microsoft's office of legal compliance (OLC) approved content pulls of the blogger's Hotmail account", said FBI agent Armando Ramirez III in court papers filed Monday.

The company's user agreement reserves the right to carry out such searches, even after the changes Frank announced. "We may access information about you, including the content of your communications, to protect the rights or property of Microsoft," it reads.

The news of the search sparked immediate reaction following the Guardian's report on Thursday. Parker Higgins, an activist for San Francisco-based pressure group EFF, wrote that the decision was a "very bad move" and that he was "reeling from this Microsoft story. Journalists need to be wary of government and corporate espionage. Knowing your source's ID is a liability."

Microsoft has taken a further PR hit due to the fact that email privacy has been a key weapon in its fight against Google's dominance of the sector.

In the company's "Scroogled!" campaign, it emphasises that "Outlook.com [the service which replaced Hotmail] prioritises your privacy… Your email is nobody else's business." It even offers a petition asking customers to"tell Google to stop! Let them know they shouldn't go through your email".

Full statement by John Frank, Microsoft's vice president and deputy general counsel

We believe that Outlook and Hotmail email are and should be private. Today there has been coverage about a particular case. While we took extraordinary actions in this case based on the specific circumstances and our concerns about product integrity that would impact our customers, we want to provide additional context regarding how we approach these issues generally and how we are evolving our policies.

Courts do not issue orders authorizing someone to search themselves, since obviously no such order is needed. So even when we believe we have probable cause, it's not feasible to ask a court to order us to search ourselves. However, even we should not conduct a search of our own email and other customer services unless the circumstances would justify a court order, if one were available. In order to build on our current practices and provide assurances for the future, we will follow the following policies going forward:

• To ensure we comply with the standards applicable to obtaining a court order, we will rely in the first instance on a legal team separate from the internal investigating team to assess the evidence. We will move forward only if that team concludes there is evidence of a crime that would be sufficient to justify a court order, if one were applicable. As an additional step, as we go forward, we will then submit this evidence to an outside attorney who is a former federal judge. We will conduct such a search only if this former judge similarly concludes that there is evidence sufficient for a court order.

• Even when such a search takes place, it is important that it be confined to the matter under investigation and not search for other information. We therefore will continue to ensure that the search itself is conducted in a proper manner, with supervision by counsel for this purpose.

• Finally, we believe it is appropriate to ensure transparency of these types of searches, just as it is for searches that are conducted in response to governmental or court orders. We therefore will publish as part of our bi-annual transparency report the data on the number of these searches that have been conducted and the number of customer accounts that have been affected.

The only exception to these steps will be for internal investigations of Microsoft employees who we find in the course of a company investigation are using their personal accounts for Microsoft business. And in these cases, the review will be confined to the subject matter of the investigation.

The privacy of our customers is incredibly important to us, and while we believe our actions in this particular case were appropriate given the specific circumstances, we want to be clear about how we will handle similar situations going forward. That is why we are building on our current practices and adding to them to further strengthen our processes and increase transparency.
Keith Lampe ~ Co-Founder of YIPPIE and Progressive Activist Groups + YouTube Video Channel ~ Sends the following article:
Syrian hackers claim to reveal how much
FBI pays Microsoft for customer data

Published time: March 21, 2014 ~ Article Source


Syrian Electronic Army

Syrian Electronic Army (SEA) hackers have reportedly obtained documents that reveal how much money the FBI pays Microsoft each time agents try to obtain or view an individual customer's communication information.

The SEA, a group that has made headlines in the past for infiltrating Western media outlets that it perceives to be against Syrian President Bashar Assad, provided a trove of emails and invoices to the Daily Dot, which analyzed the documents before publishing them.

"The documents consist of what appear to be invoices and emails between Microsoft's Global Criminal compliance team and the FBI's Digital Intercept Technology Unit (DITU), and purport to show exactly how much money Microsoft charges DITU, in terms of compliance costs, when DITU provides warrants and court orders for customers' data," wrote the Daily Dot's Kevin Collier and Fran Berman.

"In December 2012, for instance, Microsoft emailed DITU a PDF invoice for $145,100, broken down to $100 per request for information, the documents appear to show," they went on. "In August 2013, Microsoft allegedly emailed a similar invoice, this time for $352, 200 at a rate of $200 per request. The latest invoice provided, from November 2013, is for $281,000."

The documents make clear just how often law enforcement officials work to acquire information that individuals would likely consider private. DITU agents seem to have filed requests for information from Microsoft hundreds of times each month, finding success by preying on sympathetic relationships at the company.

From Microsoft's perspective, though, nothing about the arrangement is out of the ordinary.

"Regarding law enforcement requests, there's nothing unusual here," a company spokesperson told The Verge's Valentina Palladino. "Under US law, companies can seek reimbursement for costs associated with complying with valid legal orders for customer data. We attempt to recover some of the costs associated with such orders."

While the public now has a basic figure showing how much taxpayer money is dedicated to surveillance, these numbers only include Microsoft – whereas the taxpayer cost for companies like Verizon, Google, and others are almost certainly in the millions as well.

The ongoing debate over security versus privacy has been making headlines since Edward Snowden leaked classified intelligence files obtained from the US National Security Agency. The initial public reaction put at least some of the blame at the feet of the major communication and data companies, though it has since been revealed that these corporations are legally required to provide information that the government requires.

Consequently, the SEA's hack essentially makes clear how much money Microsoft charged the government for work that the company had already completed at investigators' behest.

Similar relationships have turned sour, as US Department of Justice lawyers announced earlier this month that they had filed suit against Sprint. The attorneys claim the corporation, when issuing invoices for three years of surveillance, overcharged the government by $21 million, inflating the actual cost by 58 percent. Furthermore, the government accused Sprint of "knowingly" submitting "false claims to federal law enforcement agencies."
---
---

[Click to Enlarge] (btw) New subtle Chemtrail running across entire sky?

HEADS UP
HEADS DOWN

Be Aware == Any Future Corporate Computer Update Could Possibly Compromise Your Privacy and #dickpics

Something To Consider

A note from: alittletotheleft, 20 March 2014 5:51am

The tech giants continue to roll out rigid features under the premise of user 'convenience', while these same features appear to align perfectly with a.spying-obsessed government.

Many blog and news comment sites are forcing consolidation of logins only through facebook or google, which erodes the anonimty that users sometimes prefer.

Microsoft is pushing its cloud-based office and email products. Adobe stopped selling its popular photoshop progran, moving iit to a subscription-only cloud-based product. Every day, more applications are migrated to the cloud, which also transfers more and more of our personal data from our privately-owned hard drives to remote servers somewhere. The Rights to our very own pictuures, conversations, and data is locked behind complicated sign-up agreements.

Google encouages you to login before searching for stuff. Google earth has pictures of our houses.

Operating systems imbed user information in documents. Browsers store the history of website visits in multiple places.

Smartphones constantly want to enable your location services. We have GPS in our cars, and soon our watches and eyeglasses. Our cellphones are tracked by signal triangulation and satelites.

Facebook - after amassing a database of billions of photos, and relentlessly hounding its users to identify all of their families, friends & associates using a childs game-like term called 'tagging' - still isn't content.

They've announced the development of sophisticated facial-recognition technology, called Deep Face.

So we've reached a point just shy of the concept of 'chip implants'. Yes, you can try to abandon all of your location tracking personal electronics, but street and lobby cameras will still be able to recognize you, and know your favorite food. Thanks to the massive stores of personal data held by companies (and apparently tapped into by certain goverment agencies).

The question is, are these technologies driven by customer demand, or are the tech giants being encouraged to weave them into every part of our lives?

The insatiable appetites for revenue and security data are coexisting just fine, thank you very much.

And at the very least, goverment and tech giants seem determined to suck all the fun out of whatever's left of the once free and open internet.

JanHolm replied:

Especially Apple seems to be doing exactly this with their latest 'updates' bundling and tracking all of your Mac equipment/hardware!

Then there is this [Dated January 24, 2014]:

Apple's Tim Cook On PRISM: "There Is No Back Door. The Government Doesn't Have Access To Our Servers"

Posted Jan 24, 2014 by Greg Kumparak ~ http://techcrunch.com/2014/01/24/apple-tim-cook-nsa/

"The government doesn't have access to our servers," Tim Cook says. "They would have to cart us out in a box for that."

David Muir: "What is your biggest concern — with the surveillance program here in this country?"

Tim Cook: "I've been pushing very, very hard to open the books and be totally transparent. Much of what has been said isn't true; there is no back door. The government doesn't have access to our servers. They would have to cart us out in a box for that. And that just will not happen. We feel that — strongly about it. But I do want to be transparent, because I think transparency would help put everything in perspective."

David Muir: "Do you think Americans, Tim, would be more at ease if you could tell them more?"

Tim Cook: "I do."

EA Games website hacked cracked to steal Apple IDs

---

---


Liar, Liar, Pants On Fire

Politicians allow Corporations to get away with slave labor using children, murder, mass pollution, etc.

Maybe It's Time for a
Corporate Death Penalty?

Lately, there have been outcries from Corporate America who sold out their users and here is the reason why:

It was discovered internal servers in these corporations; specifically the ones corporate executives use, were being watched and recorded; meaning it was okay for corporations to hand over user information, but when their own executives were being spied on, they complained.

Corporations knew spying was being done as far back as the '90s and here is proof directly from the NSA:

http://www.nsa.gov/research/selinux/background.shtml:

SELinux Background ~ Researchers in the National Information Assurance Research Laboratory of the National Security Agency (NSA) worked with Secure Computing Corporation (SCC) to develop a strong, flexible mandatory access control architecture based on Type Enforcement, a mechanism first developed for the LOCK system. The NSA and SCC developed two Mach-based prototypes of the architecture: DTMach and DTOS. The NSA and SCC then worked with the University of Utah's Flux research group to transfer the architecture to the Fluke research operating system. During this transfer, the architecture was enhanced to provide better support for dynamic security policies. This enhanced architecture was named Flask. The NSA integrated the Flask architecture into the GNU/Linux® operating system to transfer the technology to a larger developer and user community. The architecture has been subsequently mainstreamed into GNU/Linux® and ported to several other systems, including the Solaris™ (Sun Microsystems/Oracle) operating system, the freeBSD® operating system, and the Darwin (Apple) kernel, spawning a wide range of related work.

In other words, today, unless one is willing to give up all forms of current communication, as well as debit cards, credit cards, anything containing GPS, etc. there is no privacy.

One More Thing

It appears something is defeating Facebook accounts and using accumulated email addresses for phishing and/or spaming, which makes one curious why Google's YouTube is posting a How-To Crack Facebook video:


[Click Above for Large Image]

Bender Bending Rodríguez (Futurama) offers advice:


We'll make our own government with blackjack and hookers

---

---

Read the Next (below) Article & Determine the Truth !!!
US tech giants knew of NSA data collection,
agency's top lawyer insists

NSA general counsel Rajesh De contradicts months of angry denials from big companies like Yahoo, Apple, Google, AOL, Microsoft, and Facebook

Spencer Ackerman in Washington, theguardian.com, Wednesday 19 March 2014 14.40 EDT, Article Source


De said communications content and associated metadata harvested by the NSA
occurred with the knowledge of the companies. Photo: KeystoneUSA-Zuma/Rex

The senior lawyer for the National Security Agency stated unequivocally on Wednesday that US technology companies were fully aware of the surveillance agency's widespread collection of data, contradicting months of angry denials from the firms.

Rajesh De, the NSA general counsel, said all communications content and associated metadata harvested by the NSA under a 2008 surveillance law occurred with the knowledge of the companies – both for the internet collection program known as Prism and for the so-called "upstream" collection of communications moving across the internet.

Asked during a Wednesday hearing of the US government's institutional privacy watchdog if collection under the law, known as Section 702 or the Fisa Amendments Act, occurred with the "full knowledge and assistance of any company from which information is obtained," De replied: "Yes."

When the Guardian and the Washington Post broke the Prism story in June, thanks to documents leaked by whistleblower Edward Snowden, nearly all the companies listed as participating in the program – Yahoo, Apple, Google, Microsoft, Facebook and AOL – claimed they did not know about a surveillance practice described as giving NSA vast access to their customers' data. Some, like Apple, said they had "never heard" the term Prism.

De explained: "Prism was an internal government term that as the result of leaks became the public term," De said. "Collection under this program was a compulsory legal process, that any recipient company would receive."

After the hearing, De said that the same knowledge, and associated legal processes, also apply when the NSA harvests communications data not from companies directly but in transit across the internet, under Section 702 authority.

The disclosure of Prism resulted in a cataclysm in technology circles, with tech giants launching extensive PR campaigns to reassure their customers of data security and successfully pressing the Obama administration to allow them greater leeway to disclose the volume and type of data requests served to them by the government.

Last week, Facebook founder Mark Zuckerberg said he had called US president Barack Obama to voice concern about "the damage the government is creating for all our future." There was no immediate response from the tech companies to De's comments on Wednesday.

It is unclear what sort of legal process the government serves on a company to compel communications content and metadata access under Prism or through upstream collection. Documents leaked from Snowden indicate that the NSA possesses unmediated access to the company data. The secret Fisa court overseeing US surveillance for the purposes of producing foreign intelligence issues annual authorisations blessing NSA's targeting and associated procedures under Section 702.

Passed in 2008, Section 702 retroactively gave cover of law to a post-9/11 effort permitting the NSA to collect phone, email, internet and other communications content when one party to the communication is reasonably believed to be a non-American outside the United States. The NSA stores Prism data for five years and communications taken directly from the internet for two years.

While Section 702 forbids the intentional targeting of Americans or people inside the United States – a practice known as "reverse targeting" – significant amounts of Americans' phone calls and emails are swept up in the process of collection.

In 2011, according to a now-declassified Fisa court ruling, the NSA was found to have collected tens of thousands of emails between Americans, which a judge on the court considered a violation of the US constitution and which the NSA says it is technologically incapable of fixing.

Renewed in December 2012 over the objections of senate intelligence committee members Ron Wyden and Mark Udall, Section 702 also permits NSA analysts to search through the collected communications for identifying information about Americans, an amendment to so-called "minimisation" rules revealed by the Guardian in August and termed the "backdoor search loophole" by Wyden.

De and his administration colleagues, testifying before the Privacy and Civil Liberties Oversight Board, strongly rejected suggestions by the panel that a court authorise searches for Americans' information inside the 702 databases. "If you have to go back to court every time you look at the information in your custody, you can imagine that would be quite burdensome," deputy assistant attorney general Brad Wiegmann told the board.

De argued that once the Fisa court permits the collection annually, analysts ought to be free to comb through it, and stated that there were sufficient privacy safeguards for Americans after collection and querying had occurred. "That information is at the government's disposal to review in the first instance," De said.

De also stated that the NSA is not permitted to search for Americans' data from communications taken directly off the internet, citing greater risks to privacy.

Neither De nor any other US official discussed data taken from the internet under different legal authorities. Different documents Snowden disclosed, published by the Washington Post, indicated that NSA takes data as it transits between Yahoo and Google data centers, an activity reportedly conducted not under Section 702 but under a seminal executive order known as 12333.

The NSA's Wednesday comments contradicting the tech companies about the firms' knowledge of Prism risk entrenching tensions with the firms NSA relies on for an effort that Robert Litt, general counsel for the director of national intelligence, told the board was "one of the most valuable collection tools that we have."

"All 702 collection is pursuant to court directives, so they have to know," De reiterated to the Guardian.
---
---
Does a growing global youth
population fuel political unrest?

Young people under 30 are the majority in many countries in the Middle East and South America, yet politicians do little or nothing for them. Is the demographics of the 'youth bulge' enough to explain the huge rise in disaffection?

• A youth heatmap of the world

Patrick Kingsley, The Guardian, Wednesday 19 March 2014 14.50 EDT, Article Source


Yemenis shout slogans during a rally in the capital, Sanaa, on 18 September 2013.
Photograph: Mohammed Huwais/AFP/Getty Images

Towards the end of January, Egyptian activists shared a picture on social media of some of their grey-haired countrymen. The people pictured were queuing to take part in Egypt's recent constitutional referendum. These voters were mostly aged in their 50s or above, and typed in Arabic over their faces were the damning words: "the Shameful Generation".

In Egypt, this is how some have come to see the country's revolution. For many, it is a struggle between the aspirations of a bulging younger generation – 60% of Egyptians are under 30, while the country's median age is 24.8 – and the conservatism of many of their parents.

Thousands of older Egyptians fought for years to end the regime that finally toppled in 2011, while Nobel laureate Mohamed ElBaradei, now 71, was one of the revolution's figureheads. But it is hard not to see a generational dimension to what has happened since. It is the older generation that is still largely in charge: Egypt's ministers are mostly in their 60s and 70s, as are the leaders of most political groups. And it is the older generation that also largely rubber-stamped a return to pre-2011 policies. January's referendum, which was mainly backed by older voters, was seen as a mandate for the restoration of an authoritarian government.

"It's the generation that supported Hosni Mubarak for 30 years with their silence, and ruined our present. Now they're going to the polling booths to ruin our future," says Ahmad Abd Allah, a prominent activist with 6 April – the youth movement that spearheaded protests in 2011 and is now the subject of a state crackdown.

"We revolted against the silence of our parents and the elder generation," Abd Allah says. "But still that generation is in control and we are the ones who pay the price – even though most of the population is under 30."

Frustrations such as this are not limited to Egypt. Across the Red Sea in Yemen – where nearly 74% are under 30 – youth disenfranchisement also played a large role in the 2011 unrest that led to the removal of former president Ali Abdullah Saleh. Three years on, Yemen's continued tension has sectarian, regional and tribal roots. But it also has generational dynamics, with the new president, 68-year-old Abd Rabbuh Mansur Hadi, four times older than the country's median age of 18.5, and the opposition parties governed by the same ageing elites.

In a survey of young political activists by the NGO Safer World, an overwhelming majority of respondents said that – three years after an uprising they helped drive – they still felt sidelined by their leaders from shaping party policy, and from involvement in the country's crucial national dialogue sessions. At a national level, wholesale political change is now impossible because of conditions placed on the post-2011 political transition by other countries in the Gulf. At a party level, leaders avoid internal elections, to stop youth members electing their own representatives.

"I don't think most Yemenis feel that older leaders are in touch with their problems," says Farea al-Muslimi, a 24-year-old Yemeni writer and activist who made international headlines last year when he appeared at a US Senate hearing to denounce American drone strikes. "They don't feel represented or even consulted. Most foreigners who do research in Yemen understand my problems better than Yemeni leaders."


Egyptian youths in Cairo during the unrest in November 2011.
Photograph: Kim Badawi Images/Getty Images

One issue that exemplifies the generational gap is that of transitional justice. Younger activists tend to feel that state-led crimes allegedly committed during the country's late-80s civil war should be investigated – not just those in 2011. But the older generation largely disagree, says al-Muslimi. "Why? Because most of these leaders were part of the regime before 1990." Most of their constituents, on the other hand, were not even born.

It is not necessarily a coincidence that these kinds of political tensions are taking place in countries where there is a disproportionately high youth population. Several political scientists have argued that there is a connection between a "youth bulge" – as a high under-30 population is known – and increased unrest. According to a 2007 report by demography-focussed thinktank Population Action, 80% of civil conflicts between 1970 and the end of the millennium took place in nations where at least 60% of the population had not reached 30. As youth populations rise, the argument goes, job prospects, resources and the opportunity for social mobility fall. This can lead to social discontent, and then to unrest. In turn, this gives governments the excuse to implement a campaign of oppression – and the cycle continues.

"A large proportion of young adults and a rapid rate of growth in the working-age population tend to exacerbate unemployment, prolong dependency on parents, diminish self-esteem and fuel frustrations," Richard Cinciotta, a former consultant for the US's national intelligence council, once summarised.

German demographer Gunnar Heinsohn took the theory of the youth bulge to its most extreme. According to Heinsohn, there are very causal links between a youth population that is exploding in metaphorical terms, and one that is literally doing so. "In such 'youth bulge' countries, young men tend to eliminate each other or get killed in aggressive wars until a balance is reached between their ambitions and the number of acceptable positions available in their society," writes Heinsohn, the head of the Raphael Lemkin centre for genocide prevention, housed at Auschwitz. Heinsohn cites Algeria and Lebanon, where civil wars killed hundreds of thousands in the 80s and 90s until, he says, fertility rates in both countries fell drastically. "The warring stopped," Heinsohn argues, "because no more warriors were being born."

But Heinsohn is sniffed at by some contemporaries, who are wary of drawing too strong a connection between the youth bulge and instances of unrest – particularly very violent ones. "He has some very strong claims about the more or less mechanistic relationship between large youth bulges and violence, claiming that large youth bulges, unless there are some very important mitigating factors, will lead to conflict," says Henrik Urdal, editor of the Journal for Peace Research, and author of bulge-related reports for the UN and the World Bank. "But the reality is that most countries in sub-saharan Africa have very significant youth populations, and yet political violence on that scale is still very rare."

Urdal finds that the likelihood of youth-driven conflict can be tempered by the existence of a good education system, and is also dependent on the kind of authoritarian regime a bulging youth finds itself up against. There is evidence of a link between a young population and a heightening of political tensions, he says, "but we're talking about an increase in the risk of low-intensity conflicts [that generate] between 25 and 1,000 battle deaths".

Nor does youth-led political tension always lead to an us-v-them attitude to older generations, Urdal says. "What I argue is that generational consciousness isn't necessarily something that needs to be present in order to facilitate collective action. There doesn't have to be a generational feeling of young against the old."

In Nigeria, for example, where nearly 71% are under 30, demographics have not led to a collective youth consciousness or widespread concern about the lack of youth involvement in politics, argues Dabesaki Mac-Ikemenjima, a Nigerian researcher who studies youth aspirations in Africa. Religion and ethnicity play a much stronger role in Nigerian tensions.


Young protesters shout slogans against the new government in November 2013.
Photograph: Mahmoud Khaled/Rex Features

"In Nigeria, it's not so much about generational disagreement or conflict," says Mac-Ikemenjima. "You have a minute group of people who are concerned about whether there is enough space for young people in the political arena." And those younger politicians who do enter the political arena often do so for personal reasons, he adds, rather than to advance their generation's cause. "It's about one person occupying political space for their own advancement."

Recent protest movements in South America – where under-30s typically form just over half of the population – also underline how, where there is unrest, a youth bulge is not always its primary driver. Here, popular narratives argue that it is an aspiring middle-class, rather than a disenfranchised, impoverished youth, that was the main cause of huge recent demonstrations.

"If you look at Brazil, at the million and a half people who took to the streets last June, that was middle-class, not impoverished, citizens," says Chris Garman, an analyst who studies the region for the Eurasia Group, a political consultancy. "If you look at the people who took to the streets two years ago in Argentina, they were middle class. You see that in Colombia as well – middle-class protests that shut down Bogota. What are they unhappy about? Education, transport – those are the issues driving the protests there. That's different to the protests we've seen in the Middle Eastern countries, where you've had economic dislocation for a prolonged period of time, and a lack of economic alternatives for disaffected youth."

Garman sees the South American protests as "a symptom of success" – of professionals wanting more out of an already democratic system, rather than alienated youth seeking the end of an autocratic one. This argument founders slightly given that it was twentysomething student leaders such as Camila Vallejo and Giorgio Jackson who led protests in Chile, and who have at times portrayed their struggle as a generational one. "For people who are now in their 60s and 70s, the transition from dictatorship to democracy was a huge achievement in itself," Jackson, 27, told the BBC recently. "They're happy with that. But our generation wants to push the limits and take things further forward. We don't feel comfortable with the status quo."


Chilean student leader Camila Vallejo during a protest in Santiago, Chile in April 2012.
Photograph: Marcelo Hernandez/dpa/Corbis

But it is significant that Jackson frames his fight as one that seeks to improve Chile's democracy, rather than to topple it. He and Vallejo took up their seats in Chile's congress this month after being elected last November – supporting the argument that protesters there often want to refine their democracy from within, not start from scratch. "Our story is about being born in the last years of the Pinochet dictatorship," Jackson adds. "We were raised in democracy, and that immediately changes your expectations about what democracy is."

Chile is an example of a country that has experienced youth-driven protests despite housing only an average-sized (47%) population of the under-30s. The reverse is also true: historically, several nations have managed to increase stability and prosperity despite a youth bulge. Or, as some have argued, because of it.

In the countries of eastern Asia, income per head tripled between 1965 and 1990 largely because of a bulging youth demographic – a welcome phenomenon known by demographers as a "demographic dividend". Young professionals in countries such as Korea and Japan outnumbered their parents and children, allowing them to spend less on their dependents, and save more – while still splashing out on themselves. But there is a proviso: the region's youth bulge came hand-in-hand with high-quality education that prepared a generation for the marketplace – as well as shrewd economic policies that widened that marketplace in the first place.

"Of course, in order to get here," summarises Banu Bhaweja in the Financial Times, "the governments need to invest in healthcare, especially for children, primary and tertiary education, vocational training and, most of all, engage in policy that creates the incentives for higher investments to productively absorb the country's labour." In places such as Egypt and Yemen, that isn't immediately likely.

Still, Ahmad Abd Allah, the Egyptian activist, can dream. "Some day, we're going to be the winners," he says, the night before his group's leaders claimed they had been tortured while in jail for organising a protest. "We are a young nation, and we are the future."

But for the present, young Egyptians' involvement in the formal political process remains largely nominal: a roundtable with the president here, a token appointment there. As in many countries, they would rather a real partnership: youth involvement as an integral part of national reform, not just as a box-ticking exercise. "The youth is also part of the process of a much greater social transformation that involves the rest of society," says Vallejo. She is talking about Chile. But it could be the mantra for a bulging youth – in Egypt, or anywhere.
---
---
Climate change is putting world at risk
of irreversible changes, scientists warn

AAAS makes rare policy intervention urging US to act swiftly to reduce carbon emissions and lower risks of climate catastrophe

Suzanne Goldenberg, theguardian.com, Tuesday 18 March 2014 05.53 EDT, Article Source


The seven summers with the lowest minimum sea ice extents have all occurred
in the last seven years. Photograph: NASA/Reuters

The world is at growing risk of "abrupt, unpredictable and potentially irreversible changes" because of a warming climate, America's premier scientific society warned on Tuesday.

In a rare intervention into a policy debate, the American Association for the Advancement of Scientists urged Americans to act swiftly to reduce greenhouse gas emissions – and lower the risks of leaving a climate catastrophe for future generations.

"As scientists, it is not our role to tell people what they should do," the AAAS said in a new report, What we know.

"But we consider it our responsibility as professionals to ensure, to the best of our ability, that people understand what we know: human-caused climate change is happening, we face risks of abrupt, unpredictable and potentially irreversible changes, and responding now will lower the risks and costs of taking action."


We Brake 4 Climate ~ http://vimeo.com/88817119 ~ AAAS film on climate risks:
'We manage risks every day. We take precautions — like wearing our seat belts and bike helmets —
with hardly a thought. Here's a way to better understand the risks that climate change might present.'

The United Nations' climate science panel, the IPCC, will gather in Yokohama, Japan next week to release the second in a series of blockbuster reports, this time outlining how a changing climate is affecting rainfall and heat waves, sea level and the oceans, fisheries and food security.

But the AAAS scientists said they were releasing their own assessment ahead of time because they were concerned that Americans still failed to appreciate the gravity of climate change.

Despite "overwhelming evidence", the AAAS said Americans had failed to appreciate the seriousness of the risks posed by climate change, and had yet to mobilise at a pace and scale needed to avoid a climate catastrophe.

The scientists said they were hoping to persuade Americans to look at climate change as an issue of risk management. The society said it plans to send out scientists on speaking tours to try to begin a debate on managing those risks.

The report noted the climate is warming at almost unprecedented pace.

"The rate of climate change now may be as fast as any extended warming period over the past 65 million years, and it is projected to accelerate in the coming decades,"

An 8F rise – among the most likely scenarios could make once rare extreme weather events – 100-year floods, droughts and heat waves – almost annual occurrences, the scientists said.

Other sudden systemic changes could lie ahead – such as large scale collapse of the Antarctic and Greenland ice sheets, collapse of part of the Gulf Stream, loss of the Amazon rain forest, die-off of coral reefs, and mass extinctions.

"There is a risk of abrupt, unpredictable and potentially irreversible changes in the earth's climate system with massively disruptive impacts," the report said.

The risks of such catastrophes would only grow over time – unless there was action to cut emissions, the scientists said.

"The sooner we make a concerted effort to curtail the burning of fossil fuels as our primary energy source and releasing the C02 to the air, the lower our risk and cost will be."
---
---
Fred Phelps Sr, ex-pastor of gay-hating
Westboro church, 'close to death'
• Estranged son says pastor 'gravely ill at hospice in Topeka'
• Westboro Baptist Church used 'God hates fags' slogan
Martin Pengelly in New York, theguardian.com, Sunday 16 March 2014 22.40 GMT, Article Source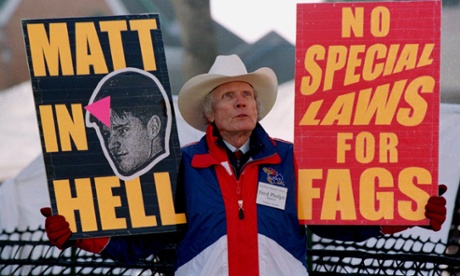 Pastor Fred Phelps Sr displays provocative placards in Laramie, Wyoming in April 1999
Photograph: David Zabulowski/AP
Fred Phelps Sr, once pastor of the infamously intolerant Westboro Baptist Church, is close to death, according to his son.
Nathan Phelps, who has been estranged from his father for 30 years, posted a statement on Facebook which said: "I've learned that my father, Fred Phelps Sr, pastor of the 'God Hates Fags' Westboro Baptist Church, was ex-communicated from the 'church' back in August of 2013. He is now on the edge of death at Midland Hospice house in Topeka, Kansas.
"I'm not sure how I feel about this. Terribly ironic that his devotion to his god ends this way. Destroyed by the monster he made.
"I feel sad for all the hurt he's caused so many. I feel sad for those who will lose the grandfather and father they loved. And I'm bitterly angry that my family is blocking the family members who left from seeing him, and saying their goodbyes."
Nathan Phelps, the sixth of Fred Phelps Sr's 13 children, ran away from home when he was 18. He now lives in Canada and works to promote LGBT rights.
Steve Drain, a spokesman for the church, told the Associated Press on Sunday: "I can tell you that Fred Phelps is having some health problems. He's an old man, and old people get health problems."
AP said Drain said Phelps was being cared for but did not identify where.
The Topeka-based Westboro Baptist Church gained notoriety in the US and beyond through its practice of picketing funerals, often of service members killed in Afghanistan or Iraq but also of public figures, in order to promote a virulently anti-gay message under the slogan "God Hates Fags".
The Calvinist group, usually only around 70-strong and which also propounds antisemitic and xenophobic views, has also picketed culturally sensitive sites such as Ground Zero in New York and attempted to disrupt the funeral of a child killed in a mass shooting in Arizona.
Other members of Phelps's family and some followers have also left the church in recent years. On Sunday the Topeka Capital-Journal reported an email from Nathan Phelps as saying his father was voted out of the church last summer. The newspaper said Drain had declined to comment on the "excommunication".
In 2011 the US supreme court ruled in favour of the church's right to stage its protests, on grounds of free speech, after the father of a marine killed in Iraq in 2006 had won $5m (£3m) in damages for emotional distress caused by the pickets.
Writing the majority opinion in the case, Chief Justice John Roberts said: "Speech is powerful. It can stir people to action, move them to tears of both joy and sorrow, and – as it did here – inflict great pain. As a nation, we have chosen a different course – to protect even hurtful speech on public issues to ensure that we do not stifle public debate."
In 2012 Barack Obama signed a controversial law making it more difficult for protesters to picket military funerals, prompting opposition from the American Civil Liberties Union.
The church was the subject of a famous documentary made by the British filmmaker Louis Theroux, entitled The Most Hated Family in America. In 2009 Fred Phelps Sr was denied entry to the UK.
Reminder for Hypocrites
GOD said, "thou shall not kill" and JESUS extended this concept when he said:
Christians are to no longer execute sinners, so they should not wage carnal war, but spiritual warfare (John 18:36; 2 Corinthians 10:1-6; Ephesians 6:10-18; 1 Timothy 1:18-20; 6:11-14; 2 Timothy 2:3-5; 4:6-8)
Christians must be peacemakers forgiving those who do them harm treating their enemies with love and not seeking revenge (Matthew 5:9, Romans 14:19), (Ephesians 4:29-32; Colossians 3:12-14; Matthew 6:9-15; Mark 11:25-26), (Luke 6:27-36) (Romans 12:17-21; 1 Peter 3:8-12)
Hatred which is the same as murder is unforgiving, vengeful and hostile towards one's enemies (1 John 3:15)
---
---
Shock and Awe
Baby Murderers and Torture Ghouls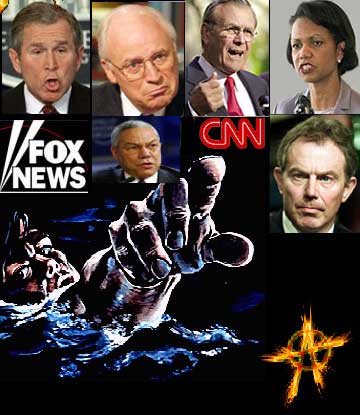 When contemplating war, beware of babies in incubators
Sometimes people don't want to hear the truth
because they don't want their illusions destroyed.
Friedrich Nietzsche

The Melodians ~ Rivers of Babylon
---
'It was widely known before the Iraq war over 50% of the Iraqi population were children under the age of 15, and the war began with this act of sheer cowardice.'
---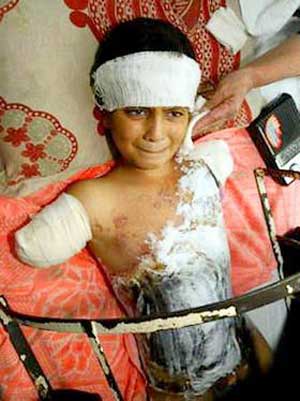 For the record Bush said, 'Anyone who harms children is a terrorist.'
Above child was maimed by a Republican Bush Administration with Democrat support.
Baby Murderers Who Voted For Illegal Iraq War

H J RES 114 - YEA & NAY - 10 Oct 2002 - 3:05 PM
To Authorize the Use of United States Armed Forces Against Iraq

House of Representatives

Yea = 296 Votes

Democrat Baby & Women Murderers

Gary Ackerman, Rob Andrews, Jim Barcia, Ken Bentsen, Shelley Berkley, Howard Berman, Marion Berry, Sanford Bishop, Rod Blagojevich, Bob Borski, Leonard Boswell, Rick Boucher, Allen Boyd, Brad Carson, Bob Clement, Bud Cramer, Joseph Crowley, Jim Davis, Peter Deutsch, Norm Dicks, Cal Dooley, Chet Edwards, Eliot Engel, Bob Etheridge, Harold Ford, Martin Frost, Dick Gephardt, Bart Gordon, Gene Green, Ralph Hall, Jane Harman, Baron Hill, Joe Hoeffel, Tim Holden, Steny Hoyer, Steve Israel, William Jefferson, Chris John, Paul Kanjorski, Patrick Kennedy, Ron Kind, Nicholas Lampson, Tom Lantos, Nita Lowey, Ken Lucas, Bill Luther, Stephen Lynch, Carolyn Maloney, Edward Markey, Frank Mascara, Jim Matheson, Carolyn McCarthy, Mike McIntyre, Michael McNulty, Martin Meehan, Dennis Moore, John Murtha, Bill Pascrell, Collin Peterson, David Phelps, Earl Pomeroy, Tim Roemer, Mike Ross, Steven Rothman, Max Sandlin, Adam Schiff, Brad Sherman, Ronnie Shows, Ike Skelton, Adam Smith, John Spratt, Charles Stenholm, John Tanner, Ellen Tauscher, Gene Taylor, Karen Thurman, Jim Turner, Henry Waxman, Anthony Weiner, Robert Wexler, Al Wynn

Republican Baby & Women Murderers

Robert Aderholt, Todd Akin, Dick Armey, Spencer Bachus, Richard Baker, Cass Ballenger, Bob Barr, Roscoe Bartlett, Joe Barton, Charlie Bass, Doug Bereuter, Judy Biggert, Michael Bilirakis, Roy Blunt, Sherwood Boehlert, John Boehner, Henry Bonilla, John Boozman, Kevin Brady, Henry Brown, Ed Bryant, Richard Burr, Dan Burton, Steve Buyer, Sonny Callahan, Ken Calvert, Dave Camp, Chris Cannon, Eric Cantor, Shelley Moore Capito, Mike Castle, Steve Chabot, Saxby Chambliss, Howard Coble, Mac Collins, Larry Combest, John Cooksey, Christopher Cox, Phil Crane, Ander Crenshaw, Barbara Cubin, John Culberson, Randy 'Duke' Cunningham, Jo Ann Davis, Tom Davis, Tom DeLay, Jim DeMint, Nathan Deal, Lincoln Diaz-Balart, John Doolittle, David Dreier, Jennifer Dunn, Vern Ehlers, Bob Ehrlich, Jo Ann Emerson, Phil English, Terry Everett, Mike Ferguson, Jeff Flake, Ernest Fletcher, Mark Foley, Randy Forbes, Vito Fossella, Rodney Frelinghuysen, Elton Gallegly, Greg Ganske, George Gekas, Jim Gibbons, Wayne Gilchrest, Paul Gillmor, Ben Gilman, Virgil Goode, Bob Goodlatte, Porter Goss, Lindsey Graham, Kay Granger, Sam Graves, Mark Green, Jim Greenwood, Felix Grucci, Gil Gutknecht, James Hansen, Melissa Hart, J. Dennis Hastert, Doc Hastings, Robin Hayes, J.D. Hayworth, Joel Hefley, Wally Herger, Van Hilleary, David Hobson, Peter Hoekstra, Steve Horn, Kenny Hulshof, Duncan Hunter, Henry Hyde, Johnny Isakson, Darrell Issa, Ernest Istook, William Jenkins, Nancy Johnson, Tim Johnson, Sam Johnson, Walter Jones, Ric Keller, Sue Kelly, Mark Kennedy, Brian Kerns, Peter King, Jack Kingston, Mark Kirk, Joe Knollenberg, Jim Kolbe, Ray LaHood, Steven LaTourette, Tom Latham, Jerry Lewis, Ron Lewis, John Linder, Frank LoBiondo, Frank Lucas, Mary Mack, Donald Manzullo, Jim McCrery, John McHugh, Scott McInnis, Buck McKeon, John Mica, Dan Miller, Gary Miller, Jeff Miller, Jerry Moran, Sue Myrick, George Nethercutt, Robert Ney, Anne Northup, Charles Norwood, Jim Nussle, Tom Osborne, Doug Ose, Butch Otter, Michael Oxley, Mike Pence, John Peterson, Thomas Petri, Chip Pickering, Joe Pitts, Todd Platts, Richard Pombo, Rob Portman, Deborah Pryce, Adam Putnam, Jack Quinn, George Radanovich, Jim Ramstad, Ralph Regula, Dennis Rehberg, Thomas Reynolds, Bob Riley, Hal Rogers, Mike Rogers, Dana Rohrabacher, Ileana Ros-Lehtinen, Edward Royce, Paul Ryan, Jim Ryun, Jim Saxton, Bob Schaffer, Ed Schrock, Jim Sensenbrenner, Pete Sessions, John Shadegg, Clay Shaw, Christopher Shays, Don Sherwood, John Shimkus, Bud Shuster, Rob Simmons, Michael Simpson, Joe Skeen, Nick Smith, Christopher Smith, Lamar Smith, Mark Souder, Cliff Stearns, John Sullivan, John Sununu, John Sweeney, Tom Tancredo, Billy Tauzin, Charles Taylor, Lee Terry, Bill Thomas, Mac Thornberry, John Thune, Todd Tiahrt, Pat Tiberi, Pat Toomey, Fred Upton, David Vitter, Greg Walden, James Walsh, Zachary Wamp, Wesley Watkins, J.C. Watts, Dave Weldon, Curt Weldon, Jerry Weller, Ed Whitfield, Roger Wicker, Heather Wilson, Joe Wilson, Frank Wolf, Don Young, Bill Young

Senate

Yea = 77 Votes

Democrat Baby & Women Murderers

Baucus (MT) Bayh (IN) Biden (DE) Breaux (LA) Cantwell (WA) Carnahan (MO) Carper (DE) Cleland (GA) Clinton (NY) Daschle (SD) Dodd (CT) Dorgan (ND) Edwards (NC) Feinstein (CA) Harkin (IA) Hollings (SC) Johnson (SD) Kerry (MA) Kohl (WI) Landrieu (LA) Lieberman (CT) Lincoln (AR) Miller (GA) Nelson (FL) Nelson (NE) Reid (NV) Rockefeller (WV) Schumer (NY) Torricelli (NJ)

Republican Baby & Women Murderers

Allard (CO) Allen (VA) Bennett (UT) Bond (MO) Brownback (KS) Bunning (KY) Burns (MT) Campbell (CO) Cochran (MS) Collins (ME) Craig (ID) Crapo (ID) DeWine (OH) Domenici (NM) Ensign (NV) Enzi (WY) Fitzgerald (IL) Frist (TN) Gramm (TX) Grassley (IA) Gregg (NH) Hagel (NE) Hatch (UT) Helms (NC) Hutchinson (AR) Hutchison (TX) Inhofe (OK) Kyl (AZ) Lott (MS) Lugar (IN) McCain (AZ) McConnell (KY) Murkowski (AK) Nickles (OK) Roberts (KS) Santorum (PA) Sessions (AL) Shelby (AL) Smith (NH) Smith (OR) Snowe (ME) Specter (PA) Stevens (AK) Thomas (WY) Thompson (TN) Thurmond (SC) Voinovich (OH) Warner (VA)

Non Voting Democrat & Republican Baby & Women Murderers

Democrat = Solomon Ortizand **** Republicans = Margaret Roukema, Bob Stump
---
---
What we Lost: Top Ten Ways the Iraq War Harmed the US
03/18/2013 by Juan Cole, Article Source
As the tenth anniversary of the launching of the Iraq War approaches, I'll be making some comments about the episode at this blog, which for the years 2003-2010 intensively covered events in Iraq. A decade is long enough for some things to become clear.
The first set of issues I want to discuss has to do with the harm the war did to the United States. Coming into 2003, the US enjoyed a great deal of sympathy and solidarity from the rest of the world (including Iran) over the al-Qaeda strikes of September 11, 2001. In the aftermath of the invasion and occupation of Iraq, the US was widely seen as an international bully. The hard-nosed realists of Washington, of course, don't care how the country is perceived. But the poor opinion translated into an unwillingness to help out with the Iraq project, a project far too large for the United States to handle on its own. And no, El Salvador wasn't able to help that much. Moreover, in the wake of the Civil Rights movement, public discourse in the US moved toward greater decency. Some of that achievement was lost because of war propaganda against Arabs and Muslims.
1. The US invasion and occupation of Iraq harmed the US in bringing into question its basic competency as a world leader. Almost everything the US did in Iraq was a disaster. It could not even get the stated reason for the invasion right, as it turned out there was no nuclear, biological or chemical weapons program. It looked dishonest, bumbling. It went into the war having no plans, and the plans the Bush administration made on the fly were mostly poorly thought-out and doomed to fail. It fell into search and destroy as a tactic for counter-insurgency, with the same results as it had had in Vietnam-- it caused resistance to swell. Billions were wasted on reconstruction projects that assumed Iraqi know-how and equipment that they did not have, and which could not therefore be maintained even if they were completed. The US tried to run in English an Arabic-speaking country that had been deliberately isolated and cut off from the world by sanctions, without any basic understanding of Iraqi culture, customs, beliefs or ways of life. The pro-Israel Neoconservatives high in the administration blackballed (as insufficiently pro-Israel) Arabists who volunteered to go help and left the Coalition Provisional Authority blind.
Basically, the world is always looking around for a team leader and a consulting group that is known for competence and for getting good results. After World War II, the US was for the most part that country. Being the world's team leader turns into respect, cooperation and, ultimately, confidence and investment. If the US came to most of the world today with a group project, it likely couldn't get the time of day from them. The United States is deeply diminished in world counsels.
2. The post-World War II generation wanted to erect an international order that would forever forestall Nazi-like aggression against neighbors on the part of world powers. The Greatest Generation therefore forged a UN charter that forbade aggressive war, allowing hostilities only if a country had been attacked or if the UN Security Council designated a country a danger to world order. Iraq did not attack the US in 2002 or early 2003. The UN Security Council declined to pass a resolution calling for war on Iraq, especially after the ridiculous circus act of then Secretary of State Colin Powell before the UN laying out a self-evidently false and propagandistic case (which provoked gales of laughter in the room). The United States has irrevocably undermined that structure of international law, and any aggressor can now appeal to Bush of 2003 as a precedent. Indian politicians of the right wing Hindu Bharatiya Janata Party instanced the Bush doctrine when they wanted to go to war with Pakistan. (Wiser heads prevailed, given that Pakistan has nuclear warheads). The US has loosed a demon into the world, of the war of choice.
3. The Iraq War revived al-Qaeda's fortunes and prolonged its life as an important actor. With the overthrow of the Taliban in 2001 and the scattering of al-Qaeda after Tora Bora, the movement was on the ropes. Internal critics lambasted Usama Bin Laden for destroying the movement by foolishly attacking the United States. But the brutal Bush occupation of Iraq and the US favoritism toward Shiites and Kurds created a Sunni Iraqi backlash. While most Sunni Iraqis were and are fairly secular-minded, a small minority gravitated to al-Qaeda as a model of resistance against the US, leading to the creation of the 'Islamic State of Iraq' and similar groups. The fringe of Libyans who attacked the US consulate in Benghazi last September included activists who had fought US troops in Iraq, and who otherwise would have lacked the training and motivation to hit the consulate. Iraqi al-Qaeda affiliates in turn have now fostered Jabhat al-Nusrah in northern Syria. Without the American occupation of Iraq, al-Qaeda would likely have dwindled into insignificance.
4. The US permanently lost its chance to achieve a two-state solution. The Clinton administration had come very close in 2000 to achieving a permanent solution to the conflict between the Israelis and the Palestinians. Like the Clinton economy and budget surpluses, however, the Bush administration completely undermined its predecessor's achievement. Distracted in Iraq, Washington dropped the ball on Palestine. Permanently. It allowed the Israelis vastly to increase the number of settlers on Palestinian land grabbed illegally in 1967. It undermined the elected Palestinian government of 2006 and subsequently collaborated in an evil and creepy blockade of the civilian population of Gaza. The slogan of the Neoconservatives, that the road to peace in Jerusalem lay through Baghdad, was either profoundly dishonest or profoundly stupid on their parts. It was in any case profoundly untrue. A deep gulf has opened between the US and all the other members of the UN Security Council on Israeli policy, as well as with the European Union. The US is widely hated by the rest of the world for daily getting up in the morning and screwing over millions of Palestinians. That its bizarre malice toward the displaced and oppressed Palestinians comes on top of the catastrophe it wrought on Iraq makes it look all the more monstrous to much of the globe. It is highly unlikely that Israel can survive for more than a few decades as an Apartheid state, which is what it became while the Bush team was obsessed with Baghdad.
5. The US, which once prosecuted Japanese generals for water-boarding, and which had laws against torture and against assassination, became an international symbol of torture pornography when some of the Abu Ghraib photographs of the mistreatment of Iraqi prisoners were released. I talked to a US embassy official charged in the middle of the last decade with upbraiding Uzbekistan's Islam Karimov for his use of torture; the diplomat knew that Abu Ghraib had pulled the rug out from under him.
6. The motives of the US in attacking Iraq were presumed by the rest of the world to be getting that country's petroleum on the world market. That the most powerful country in the world might just fall upon any victim it chose alarmed other nations and provoked their suspicions. China all of a sudden wanted an aircraft carrier group. Those already inclined to see the US as imperialist, like Venezuela's Hugo Chavez, were were given proof they were right. Iran's insistence on maintaining a nuclear enrichment program, even a non-military one, certainly has to do with the deterrent effect of nuclear latency (knowing how to quickly throw together a warhead). The Brazilian nuclear submarine program is aimed in part at protecting its natural resources from being summarily looted by Washington.
7. The long Iraq War did much more than the 9/11 attacks to promote Islamophobia and to make promoting hatred and fear of Muslims a common political tactic by American politicians, especially on the Right. The Civil Rights movement of the 1960s had for decades succeeded in stigmatizing openly racist speech in public. TV and radio personalities have even had to resign for speaking in a prejudiced way. But after all those years fighting Muslims in Iraq, the US establishment has decided that it is all right to bring back the language of bias when speaking of Arabs and Muslims, thus debasing our American values, which proclaim that all men are created equal and all are endowed by their Creators with certain inalienable rights.
8. The Iraq War allowed Iran to rise as a regional power, so that a Tehran-Baghdad-Damascus-Beirut political axis was created. This alignment is visible in the Syria conflict, with Iran and its allies attempting to prop up Syria's ruling elite (which adheres to the Alawi sect of Shiite Islam). This Iranian geopolitical dominance exacerbated sectarian conflict throughout the region, with militant Sunnis striking back at ascendant Shiites, contributing to a destabilization of the region.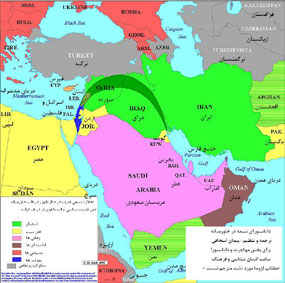 9. The financial cost of the Iraq War to the US will rise over time into the trillions. This cost derives in large part from the need to treat the thousands of Iraq War veterans who were injured by roadside bombs, and who have damaged limbs, spines and/or brains. Some 33,000 vets were injured seriously enough to go to hospital, a number seldom mentioned when the over 4,000 soldiers killed are eulogized. (Dead and wounded contractors are also seldom mentioned).
10. If the Iraqi government does ever manage to get its act together enough to produce substantially more petroleum, that will hurt green energy by lowering the cost of hydrocarbons, and so will contribute to ever more global warming. The US would have been much better off with high oil prices, encouraging consumers to move to electric vehicles powered by solar panels and wind. The oil men who plotted out the invasion of Iraq were attempting to put the price of oil back down to $14 a barrel, according to Rupert Murdoch. They failed, but whatever success they had is bad for the world.
Reconciliation in Iraq is impossible
without US truth about its dirty war
America's claim to have helped Iraq to democracy is hollow until the US makes Bush era officials accountable for torture
Ben Emmerson, guardian.co.uk, guardian.co.uk, Thursday 7 March 2013 13.06 EST, Article Source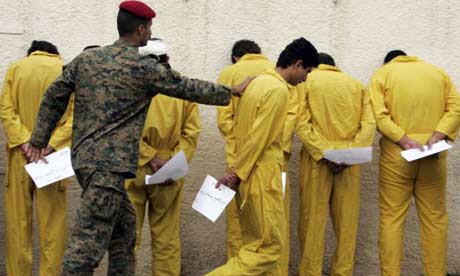 A guard escorts suspected terrorists at the police headquarters in Baghdad, 2008. Photograph: Karim Kadim/AP
The investigation by the Guardian and the BBC into direct Pentagon involvement in the systematic torture of Sunni insurgents in Iraq is a bloody reminder of the catastrophe that the 2003 invasion wreaked on the people of Iraq. It also a key reason behind the decade of sectarian violence the war has left in its wake.
After a decade of the most extreme bloodshed on both sides, the Sunni minority is now asserting its collective muscle in an organised fashion under the leadership of figures such as the Sunni scholar Abdul-Malik al-Saadi. The immediate reason for this upsurge in confidence among the Sunnis of Iraq is not hard to find.
The rebellion in neighbouring Syria, which began as essentially secular resistance movement, has attracted Sunni extremist groups from across the globe in support of the effort to bring down President Assad. Armed by regional troika of Turkey, Saudi Arabia and Qatar, they are now about to be provided with military support by the west, including Britain, in an echo of the strategy under which western countries provided firepower to support the Islamist rebel forces in Libya.
This, in turn, has emboldened the Sunni minority, comprising a fifth of Iraq's population, which has been holding large-scale public demonstrations. Their attempt to mount a cross-sectarian challenge to the government in Baghdad has also attracted the support of Shia cleric Muqtada al-Sadr. Meanwhile, the remnant of al-Qaida in Iraq has been attempting to use the protests as cover for a highly incendiary campaign inciting Sunnis to take up arms against the regime.
The essentially pluralist administration in Baghdad is committed to the re-intergration of the Sunni minorities into positions of responsibility in Iraq. They have set up a dedicated ministry of reconciliation, and the minister for human rights is actively pursuing an agenda for positive change. My UN mandate is to work closely with the government and civil society in Iraq, aiming to delivering cross-sectarian initiatives that will stem the flow of violence.
But who is really to blame? The government is in no doubt that the causes of the deep-seated sectarian violence in the country lie in the excessive and extreme policy of de-Ba'athification pursued by the US administration under the now discredited Paul Bremmer.
During the Saddam era, membership of the Ba'ath party was effectively a prerequisite for public employment in positions of any responsibility. Expelling all Sunni members of the Ba'ath party from the administration was as ill-judged a policy as excluding members of the Communist party from public office in the former Soviet Union following the collapse of the Berlin wall. Individuals who had no connection whatsoever with the crimes of the former regime were ignominiously put out of their jobs and often their homes.
Almost overnight, a privileged Sunni ruling class was turned into a marginalised and unemployed minority, with a deep sense of grievance against the US-backed Shia authorities. Many were men with military or paramilitary training, access to weapons, and nothing to to do except hate.
Into this political tinderbox, the Bush-era Pentagon, the CIA, and their proxies among the brutal Shia militias, threw the lighted match of systematic torture. Suspected Sunni insurgents were rounded up and subjected the most brutal forms of torture under the eyes of American agents. The Guardian/BBC investigation advances our knowledge of this criminal conspiracy, taking it right to the heart of the Bush administration. That set off a chain reaction that is still reverberating in Iraq.
On Tuesday this week, I presented a report to the UN Human Rights Council in Geneva calling on the US and other states, including the UK, to secure accountability for the crimes committed by the Bush-era CIA and its allies in pursuit of the counterproductive campaign of rendition, secret detention and torture. To the list of international crimes committed by that administration must now be added the evidence uncovered by the Guardian and the BBC.
As long ago as 2006, during its last periodic review by the UN Human Rights Committee, the US was heavily criticised for adopting a policy of impunity towards the officials who committed these grave and systematic crimes. It is due for its next periodic review in the autumn of this year, and I have every confidence that the committee will expect to see the results of a full investigation into these new allegations. This would have the objective of bringing those responsible, including the politicians who authorised this conduct, to justice.
Taken with the compelling evidence that is now available concerning the crimes of torture and rendition that were committed internationally, this latest investigations presents an image of lawlessness and hypocrisy that is antithetical to building international co-operation with the Islamic peoples of the Middle East and North Africa. The urgent and imperative need to develop an international consensus in favour of ethical counter-terrorism was underlined by William Hague in a recent speech on ethical to the Royal United Services Institute in London, in which he said that where allegations of this kind are made, they must be fully investigated and the perpetrators brought to justice. One can only hope that he will be impressing upon the US Department of Justice the need for an investigation into the allegations against David Petraeus and others.
Failure to address the past inevitably generates the misperception that the perpetrators remain as beneficiaries of official toleration or collusion. However inaccurate some of these perceptions may be, they will endure until decisive action is taken. Holding those responsible to account is now the only way of genuinely drawing a line under the past.
Iraq is in desperate need of reconciliation initiatives. There may well be a case for an effective truth and reconciliation commission. But before reconciliation, there must be reckoning with the past.
Justice for the perpetrators of these crimes is an essential prerequisite to peace and stability in the region.
Condoleezza Rice: First to Authorize Torture in U.S.A.

Martin Rowson
According to a Senate Intelligence Committee Memo, George Bush's National Security Adviser, Condoleezza Rice, was the first person to verbally approve torture during July 2002 ... and then there was this:
BEN-VENISTE: Isn't it a fact, Dr. Rice, that the August 6 [2001] PDB warned against possible attacks in this country? And I ask you whether you recall the title of that PDB?
RICE: I believe the title was, "Bin Laden Determined to Attack Inside the United States [using planes]." ((fwiw) War Criminal Condoleezza Rice had previously denied any forewarning of the 9/11 mass murders until she was forced to testify in front of the (truth questionable) 9/11 cOmmission. == One more thing that is really odd: She kept claiming George W Bush was her husband ???)
Drop Dead ~ Telecom Crimes ~ Patriot Act ~ Denialist ~ He Said It ~ Rethinking 9/11 ~ Are you better off?
2 Corinthians 11:15
15. It is not surprising Satan's servants also masquerade as servants of God and their end will be what their actions have sewn.
In case you haven't noticed,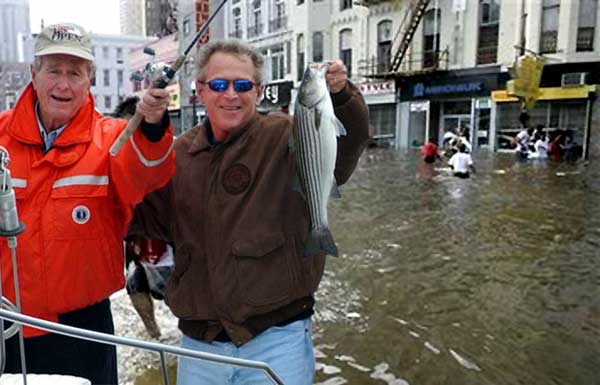 THEY RETURNED
THEY Took Your Jobs
THEY Took Your Homes
THEY Took Your Money
THEY Started Illegal Wars
THEY Destroyed the Economy
THEY Murdered Women & Children
THEY Put Martha Stewart & Tommy Chong In Jail
and... THEY
Held the Teachers Accountable!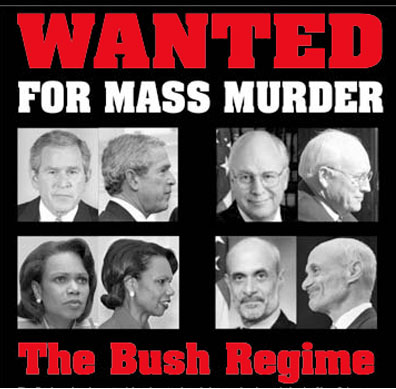 This EVIL Good Ol' Boy Network Brought Disgrace to the United States
& Walk Free Today with Supreme Court help and Politician Approval !
God told me to strike at al Qaida and I struck them, and then he instructed me to strike at Saddam, which I did, and now I am determined to solve the problem in the Middle East. If you help me I will act, and if not, the elections will come and I will have to focus on them. ~ George W. Bush, HAARETZ.COM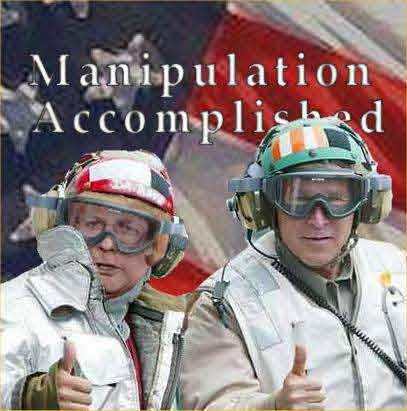 Manipulation Accomplished
U.S. Politicians Pay Foreign Governments to
MURDER U.S. CITIZENS?
Remembering Rachel Aliene Corrie (April 10, 1979 ~ March 16, 2003)
Rachel Corrie was an American peace activist and member of International Solidarity Movement (ISM) from Olympia, Washington, who was crushed to death [Murdered] by an Israel Defense Forces (IDF) armored bulldozer in Rafah, in the southern part of the Gaza Strip. [Click to view related flyingsnail.com Rachel Corrie links and articles]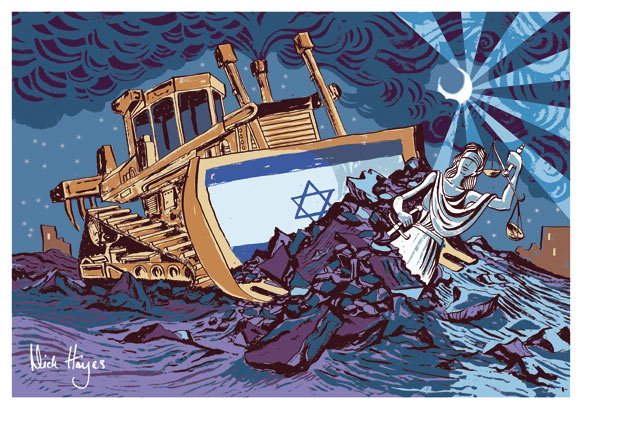 Nick Hayes cartoon on the Rachel Corrie court verdict, Cartoon Source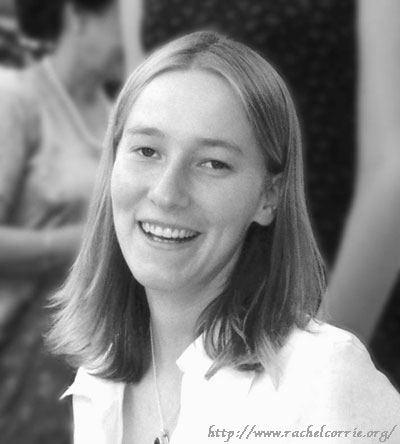 Rachel Corrie, U.S. Citizen Murdered By Israel Military,
Just like USS Liberty Naval Personnel, and covered up by U.S. Politicians

Rachel Corrie ~ Interview ~ http://www.youtube.com/embed/O3JI-axaRF4?rel=0
---
---
Closing Argument
Notes from ~@~
The World Famous Glenn Miller Orchestra

Click for Glenn Miller Orchestra: Web Page ~ Tour Schedule ~ Reviews

I was a guest at The World Famous Glenn Miller Orchestra show, had a wonderful time, and highly recommend attending their excellent performance.

(Present) In The Mood ~ http://www.youtube.com/watch?v=86YtJpS6ij0

(Past) In The Mood ~ http://vimeo.com/78424748
Controversy ~ Click to Read
Miller spent his last night alive at the Hall in Milton Ernest, near Bedford. On December 15, 1944, Miller was to fly from the United Kingdom to Paris, France, to play for the soldiers there. His plane (a single-engined UC-64 Norseman, USAAF serial 44-70285) departed from RAF Twinwood Farm in Clapham, on the outskirts of Bedford and disappeared while flying over the English Channel. No trace of the aircrew, passengers or plane has ever been found. Miller's status is "missing in action".
There are three main theories about what happened to Miller's plane, including the suggestion that he might have been hit by Royal Air Force bombs after an abortive raid on Siegen, Germany. One hundred and thirty-eight Lancaster bombers, short on fuel, jettisoned approximately 100,000 incendiaries in a designated area before landing. The logbooks of Royal Air Force navigator Fred Shaw recorded that he saw a small, single-engined monoplane spiraling out of control and crashing into the water. However, a second source, while acknowledging the possibility, cites other RAF crew members flying the same mission who stated that the drop area was in the North Sea. Further research by British scholars also seems to indicate that this is the most likely probability, making Miller's death a "friendly fire" incident. In his 2006 self-published book, I Kept My Word: The Personal Promise Between a World War II Army Private and His Captain About What Really Happened to Glenn Miller, Clarence B. Wolfe — a gunner with Battery D, 134th AAA Battalion, in Folkestone, England — claims that his battery shot down Miller's plane. Another book by Lt. Col. Huton Downs, In 1997, German journalist Udo Ulfkotte came up with another explanation, this one more salacious. According to the German tabloid Bild, Ulfkotte had been researching American and German intelligence efforts during the war for a book on German intelligence agencies. Ulfkotte claimed that while going over documents he had obtained from the American government under the Freedom of Information Act, he found evidence that Miller had actually arrived safely in Paris on the 14th, but had a heart attack on the 15th while consorting with a French prostitute, and that the American military had covered up the episode.

http://www.youtube.com/watch?v=W1kPrL9ykO0
---
---
email
I will no longer be visiting the email guardian's spam/virus/weird shit/etc. holding tank.
Only previously approved e-addresses will be accepted.
Since it is not a perfect world, some email did manage to slip through the cracks and I believe I got most of it (this involved going through tens of thousands of emails).
In general, rather than self question things like "Am I being ignored by this person for some reason?" send a second email, without links, pictures, attachments, etc. asking, "Did you get the email I sent on (fill in the blank) ?"
(fwiw) In the past there have been personal situations where I have lost email addresses due to computer crashes and did not have a backup.
In turn, if I never hear from that person again, I have no way to contact them.
~@~ 201403.15
Jonathan the tortoise
slowly yet surely he wins over the human race

The 182-year-old tortoise is not just an example of how we humanise animals. Through his age, he has transcended the limits of our experience

Everyday Analysis, theguardian.com, Friday 14 March 2014 13.38 EDT, Article Source


'We treat Jonathan the tortoise as if he is already dead, a fetishised relic of the past.'
Photograph: Kent Kobersteen/National Geographic

The BBC News Magazine's most-read article yesterday focused on Jonathan the 182-year-old tortoise. With the internet as famous for its fixation on animals as it is for anything else nowadays, we ask, what it is about this particular article that has garnered such huge interest? In our book Why Are Animals Funny, we argue that the popularity of the funny animal is based on the animal seeming "human". Contrary to the notion that it is the superiority of the human to the animal that makes us chuckle, the rise of the animal-acting-human memes of grumpy cats, nonplussed dogs and cuter-than-thou sloths taking shade under umbrellas suggests that it is in fact the uncanniness of the animal that tickles our funny bones and pulls at our heartstrings. With Jonathan the ancient tortoise, there may be something similar at work.


Grumpy Cat ~ Photograph: Amanda Edwards/WireImage

In the article, the question, "Is it true that a living tortoise could have started its life in the first half of the 19th century?" shows how we are putting this creature into a very human context. We are told that there is a photograph of Jonathan taken in 1882 in which he is full-size, dating him to half a century, and then we are shown another, circa 1900, in which he is pictured with a Boer war prisoner and guard. This humanises the tortoise, as does giving him the name Jonathan. Indeed, as historian of consciousness Donna Haraway has noted, compared to 10 years ago, pets are now almost universally given human names, as our relationships with animals have become increasingly substitutional for those with humans.

This substitutional logic is something that the philosopher Jacques Derrida charmingly deconstructs in his 2002 lecture The Animal That Therefore I Am. Here Derrida analyses the bizarre feeling of shame and nakedness he feels when he comes out of the shower and is confronted by his cat. In this instance both human and animal are naked, but Derrida's point is that they are not naked in the same way. Contrary to the human, the animal "neither feels nor sees itself naked, and therefore it is not naked". In other words, one can only feel nude after having been clothed. This is why the human feels shame and the animal does not; nakedness for the human is something altogether different. This demonstrates the way we graft a certain "nature" on to the animal. When we think of animals as "naked" or "innocent", these are only attributes that make sense in human language, they do not exist in the animal kingdom before their deployment as human concepts. We humanise the animal.

So what of old Jonathan? How is he different to this now-normal love of animals that we find all over the internet and our TV screens? Might it be that Jonathan's remarkable appeal lies in the opposite: not in the way that he is like a human but in the way that he is somehow beyond human? Compared to a human, Jonathan has managed to live beyond the changing times of history. Jonathan has been able to live beyond what we know as "living memory", he has seen the other side of a time which is for us accessed only through historians' representations, TV programmes and cultural generalisations. Jonathan seems to us to have transcended limits of the human.

Yet as the BBC article shows, the limits of the human are not so easily escaped by pretending to identify with an aging tortoise and imagining what he might have seen. With his obituary and "shell preservation" arrangements already in place, the article ends: "When he goes, Jonathan will be mourned by friends and admirers on St Helena and around the world."

We like Jonathan because he is old and has seen so many things that our lives would have to at least double in order to experience the equivalent. But really we see him as if he is already dead, and therefore treat him like a fetishised relic of a past that is as unreachable for us as it is incommunicable for Jonathan.
---
---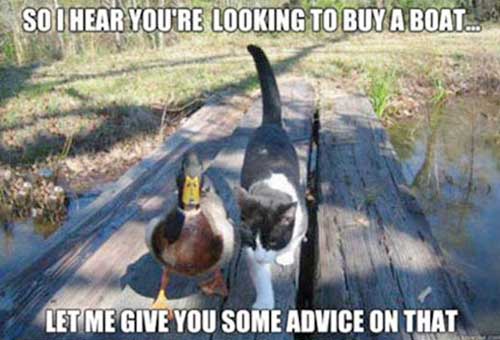 So I hear you're looking to buy a boat... Let me give you some advice on that
---
---
Clemency for Timothy Tyler,
life for a nonviolent drug offense

Petitioning President of the United States

Petition by Carrie Tyler, Las Vegas, NV

My brother Timothy Tyler was just 25 years old when he was sentenced to die in prison for a nonviolent drug offense. He's watched murderers and rapists leave prison while he has no chance of ever leaving. He is now 45 years old and I want to bring him home.

Timothy was a young Grateful Dead fan, who in May of 1992, sold pot and LSD to a friend who turned out to be a police informant. He had never been to prison before, but a judge was forced to give him double life without the possiblity of parole because of two prior drug convictions — even though both those convictions resulted in probation.

Life without the possibility of parole means my brother will never have a chance to live outside of prison walls. It's effectively a death sentence.

Tim made mistakes when he was young, but after 22 years in prison, he has more than paid his debt to society. He is not a threat to anyone. He wasn't given a chance to get clean and sober to think about the damage he was doing to his life. They locked him up and threw away the key.

But there's hope.

In December, President Obama granted clemency to 8 nonviolent drug offenders who were serving mandatory sentences for crack cocaine. And the Department of Justice recently asked for Bar Associations throughout the country to send them more clemency petitions for nonviolent drug offenders.

It costs $25,000 per year to keep my non-violent brother in prison for a mistake he made more than 20 years ago. So far, that is over half a million dollars. Not only is that not justice, but it's a waste of money.

I need your help to show them that Americans think Timothy has paid his debt to society and shouldn't be housed in a cage at the expense of taxpayers anymore. He should be granted clemency.
---
---
The Stranglers on 40 years of fights, drugs,
UFOs and 'doing all the wrong things'

Legend has it the Stranglers started a fight with the Clash, took heroin for a year, exploited strippers on stage, and incited a riot in Nice. But the truth was often much worse

Dave Simpson, The Guardian, Wednesday 12 March 2014 18.11 GMT, Article Source


The Stranglers' Jean-Jacques Burnel and Hugh Cornwell playing in Battersea Park
in London in 1978. Photograph: Gus Stewart/Redferns

A fight with punk royalty

Jean-Jacques Burnel (bass): In 1976, we played with the Ramones. In those days, [Clash bassist] Paul Simonon had a nervous tic: he used to spit on the ground. He did this just as we came off stage at Dingwalls in London, so I thumped him and it all kicked off. We were thrown out by the bouncers and it continued in the courtyard. On one side were the Pistols, the Clash, the Ramones and a load of their journalist friends. On the other side was us, a few of our fans and me, nose to nose with Paul. Dave [Greenfield, Stranglers keyboards] had John Lydon up against the ice-cream van.

Jet Black (drums): It polarised opinion against us, but we've always been at our best with our backs against the wall.

Burnel: Contrary to what has been written, Hugh [Cornwell, Stranglers singer] and I never had punch-ups. There was one incident in Rome where he tried jumping in the air during Hanging Around and managed to get two inches off the ground. I said something afterwards and he threw a glass against the wall. I pushed him and he just went straight through a paper-thin wall. It was like a Tom and Jerry cartoon, with a silhouette in the wall in the shape of Hugh.

Touring in an ice-cream van

Black: I had an ice-cream business and decided to sell it to start a band, but I kept one of the vans. It was the perfect mode of transport for two years. We had a special way of arranging all the speakers and equipment so they'd all fit in.

Burnel (bass): Jet would drive and the rest of us would lie on top of the gear. After some gigs, we'd pile out and sleep in a field, surrounded by cows.

Black: In Bude, we once slept on a lawn by the sea. The next morning, we were woken by the sound of a lawnmower. We'd slept on a cricket pitch and they were cutting the wicket around us.

Burnel: There were some funny incidents in those early days. We were booked to play a Young Conservatives dance.

Black: At the start of the first song, there were 300 people in the hall. By the end, there were four left watching. But they started following us. It was a similar story all over the country

Gaffer-taping a journalist to the Eiffel Tower

Burnel: A guy called Philippe Manoeuvre – who's now head of the biggest music magazine in France – was always bugging me. One day, he turned up at our hotel demanding an interview, so I agreed – if we could do it at the Eiffel Tower. We took his trousers off, gaffer-taped him to one of the girders and left him there to be photographed by Japanese tourists. It was only the first floor. Admittedly, that is 400ft off the ground.

Black: He wasn't best pleased.


The Stranglers ~ No More Heroes

Deciding to take heroin for a year

Burnel: It was an artistic decision to see what would happen.

Black: It was crazy.

Burnel: Jet and Dave were sensible and quit after a day. Hugh and I didn't. We headed into a surreal, dark, necromantic abyss.

Black: We were making an album called The Meninblack, which was based on this phenomenon back then known only to a small coterie of UFO obsessives – that people who saw UFOs were visited by strange people wearing black to shut them up. Anyway, as soon as we started making the album, studios blew up, tour buses broke down and gigs became riots. People working for us dropped dead. We were convinced something occult was going on.

Burnel: One night, I was so blissed out I thought it would be wonderful to die. I wrote a lovely suicide note, took loads of heroin and woke up three days later. The band hadn't even noticed I hadn't been in the studio.

Being escorted out of Sweden by armed police

Burnel: This happened twice. The first time, 200 members of this teddy boy gang who hated punk drove up in their big 1950s American cars, beat up our road crew and smashed our equipment. We were locked in our dressing room, but managed to escape by throwing a few Molotovs before the police arrived. The second time was your fault. You destroyed the hotel restaurant!

Black: That's true. I kicked up a fracas because I couldn't get served any food and the hotel threatened to call the police, who turned up with machine guns again to escort us on to the next plane. There's been so many incidents in hotels. We once locked a hotelier in the broom cupboard, where he was found the following morning by the receptionist.


Burnel is dragged back on stage by Hells Angels during a 1977 concert in
Bracknell. Photograph: Peter Still/Redferns

Performing with strippers in a park

Burnel: The Battersea Park incident was completely misinterpreted. I was living with my girlfriend, Tracy, who shared her flat with a stripper called Linda. When we became the focus of attention, right-on shops such as Rough Trade banned our records, saying they were sexist and misogynist. So Linda said: "Look, I've got some friends who'd love to strip for you – to show we're in control of our bodies." So these girls stripped off on stage at Battersea during Nice'n'Sleazy and, of course, everyone thought we were being exploitative.

Black: The police inspector wanted everybody arrested, but he couldn't find his coppers. They were all in the front row watching the show.

Being jailed for "inciting a riot"

Burnel: We were booked to play Nice University but unknowingly walked into a war between the students and the authorities, who wouldn't let us use any of the power points on campus. We ended up having to run elevated cables from generators outside the university, because the authorities wouldn't let them touch the campus grounds. It was ludicrous. Every time we went on stage, the power failed. In the end, we gave up and told the crowd: "We're really sorry. Just remember it's not our fault." All hell broke loose. A full-scale riot ended with us being put in prison, where I shared a cell with two murderers.

Black: We were facing 10 years. In the end, a large fine was split between us and the university, but we laughed all the way to the bank. Before that, we were unknown in France. From then on, we played to packed houses.

Burnel: You might well ask why we are still here. The latest tour is our biggest-selling ever. We've done all the wrong things – but they turned out to be right.

• Giants and Gems, the Stranglers' 40th anniversary 11-CD box set, is out on Parlophone on 24 March. The band tour until 29 March. Details: stranglers.net
---
---
---
---
So.... It's okay to spy on US citizens, but not crooks?

Click to read about controversy

by Zelda

Dianne Feinstein, symbol of the worthless Beltway Democrat

by Glenn Greenwald

* Voted in FAVOR of funding the Iraq War without conditions

* Voted in FAVOR of the Bush White House's FISA bill to drastically expand warrantless eavesdropping powers

* Voted in FAVOR of condemning MoveOn.org;

* Cast the deciding vote in August on the Senate Judiciary Committee in FAVOR of the nomination of far right Bush nominee Leslie Southwick to the 5th Circuit Court of Appeals.

In 2006, Feinstein not only voted in favor of extending the Patriot Act without any of the critical safeguards sought by Sen. Feingold, among others, but she was one of the most outspoken Democratic proponents arguing for its extension ("I have never been in favor of allowing any provisions of the Patriot Act to expire."). Also in 2006, she not only voted in favor of amending the Constitution to outlaw flag burning, but was, as she proudly described herself, "the main Democratic sponsor of this amendment." [Click to Continue Reading]

U.S Senator Dianne Feinstein's Husband Selling Post Offices to Friends

Feinstein's Conflict of Interest in Iraq

Little Known Federal Law Paves The Way for National Identification Card
---
---
M 3.0 - NORTHERN CALIFORNIA
2014-03-12 03:39:58 UTC ~ 10 km E of Hidden Valley Lake, CA
---
---

http://vimeo.com/87696634
---
---
M 6.9 - OFFSHORE NORTHERN CALIFORNIA
2014-03-10 05:18:13 UTC ~ 69 km W of Eureka, CA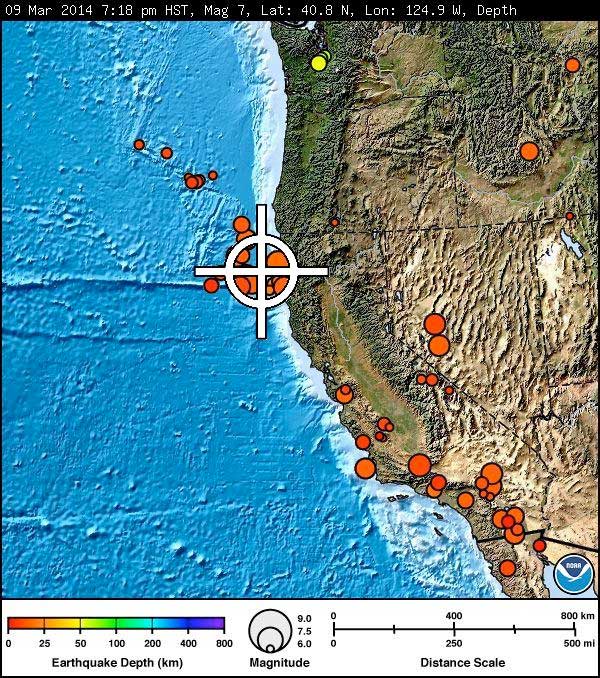 NOAA ~ Pacific Tsunami Warning Center
M 3.0 - NORTHERN CALIFORNIA
2014-03-09 04:25:40 UTC ~ 7 km W of Cobb, CA
---
---
Below is the page mentioned in
Keith Lampe, Ro-Non-So-Te, Ponderosa Pine's
March 8, 2014 Newsletter
Click to view Peace On War by dahbud mensch
How THEY Silenced the Counterculture
---
---
Executives Screw 99% & Prove 1% Rules
Non-Wealthy Taxpaying Suckers
Pay for Executive Billionaires Airplane Fuel
---
---
Notes from ~@~

Winky Dinks' Unfinished Business ~ http://vimeo.com/45343709
Time to Move On? The Case Against Daylight Saving Time

Changing our clocks twice a year doesn't save us energy or money, experts say.

Brian Handwerk, National Geographic, Published November 1, 2013, Article Source

[Ed Note: Clocks "spring forward" this Sunday, March 9, 2014 and Nobody is asking if this is a politicians trick to prevent NONE of the ABOVE from being a choice on Voter Ballots by using daylight savings time to keep voters dazed and confused ?]

Clocks "fall back" this Sunday, November 3, and people are again asking: Why do we bother with daylight saving time?

The latest Rasmussen Report from March 2013 found that only 37 percent of Americans surveyed thought daylight saving time (DST) is "worth the hassle," while 45 percent said it was not.

Tufts University professor Michael Downing, author of Spring Forward: The Annual Madness of Daylight Saving Time, said such opposition has been around for a century.

"The whole proposition that you can gain or lose an hour is at best theoretical," he said. "So I think from the start people had no clear idea what we were doing or why we were doing it. It just generates confusion, and confusion generates bad will."

Beyond simple confusion and inconvenience, opponents make many cases against continuing to observe daylight saving time. (Related: "Daylight Saving Time 2013: When Does it End? And Why?")

No Energy Savings

From the early, humorous musings of Benjamin Franklin to the first widespread implementation of daylight savings during World War I and into the present day, observing DST has had a foundation in energy savings.

Lighter evenings mean lower demand for illumination and electricity, the theory goes. But studies question whether daylight saving time produces any gains at all—and some suggest it may have the opposite effect.

Indiana, once home to counties that both did and did not observe DST, adopted the practice statewide in 2006.

That unusual event meant Matthew Kotchen, an environmental economist at Yale, and colleagues could compare before-and-after electricity use across the state.

In their 2008 National Bureau of Economic Research study, the team found that lighting demand dropped, but the warmer hour of extra daylight tacked onto each evening led to more air-conditioning use, which canceled out the gains from reduced lighting and then some: Hoosiers paid higher electric bills than before DST, the study showed. (Related: "Extended Daylight Saving Time Not an Energy Saver?")

During the 2000 Sydney Olympics, parts of Australia extended daylight saving time while others did not.

Environmental economist Hendrik Wolff, of the University of Washington, and colleagues found that the practice did indeed drop lighting and electricity use in the evenings—but that higher energy demands during darker mornings completely canceled out the evening gains.

Wolff found regional differences in DST energy impacts, but paints an overall picture that's not positive.

"Everywhere there is air conditioning, our evidence suggests that daylight saving is a loser," Wolff said.

"If you don't have air conditioning, it could be a slight energy winner, but not overall in the United States. In 2007 we extended DST by one month in the U.S., and in that one month it turned out to be basically a zero-impact event." (See "Six Stealthy Energy Hogs: Are They Lurking in Your Home?")

In terms of energy savings, Downing said, Wolff's and other studies are no longer in much dispute: It's clear that DST doesn't save energy in the big picture.

Part of the story that is often ignored, he added, is the energy required to get people from place to place—gasoline. In fact the petroleum and automobile industries have always been huge supporters of DST, Downing said.

"When you give Americans more light at the end of the day, they really do want to get out of the house. And they go to ballparks, or to the mall and other places, but they don't walk there. Daylight saving reliably increases the amount of driving that Americans do, and gasoline consumption tracks up with daylight saving."

Hazardous to Your Health?

Shifting our clocks an hour naturally makes for a few groggy mornings, but some research suggests a far more dangerous impact to our bodies—an increased risk of heart attack. A 2012 study by University of Alabama at Birmingham's Martin Young found that the risk of heart attack surges by 10 percent on the Monday and Tuesday after moving the clocks ahead an hour each spring.

"Exactly why this happens is not known but there are several theories," Young said in a statement accompanying the study.

"Sleep deprivation, the body's circadian clock, and immune responses all can come into play when considering reasons that changing the time by an hour can be detrimental to someone's health."

The research reinforces 2008 findings published in the New England Journal of Medicine showing that in Sweden, heart-attack risk rose just after the spring time change.

"The most likely explanation to our findings are disturbed sleep and disruption of biological rhythms," lead author Imre Janszky, of the Norwegian University of Science and Technology, told National Geographic News in 2010.

Fortunately, these scary statistics may be balanced by the return to standard time, according to Young's research, which also found that heart-attack risk decreases 10 percent when clocks fall back.

"Just Plain Tired"

Till Roenneberg, a chronobiologist at Ludwig-Maximilians University in Munich, Germany, studies less dramatic but cumulative and possibly critical impacts to our body's natural relationship with light and dark.

His research suggests that the human body's circadian clock, kept in tune by light and darkness, never adjusts to the changing chronology of DST. (Also see "Jet Lag Cure for Mice Illuminates Inner Workings of Circadian Clocks.")

"The consequence of that is that the majority of the population has drastically decreased productivity, decreased quality of life, increasing susceptibility to illness, and is just plain tired," Roenneberg told National Geographic in 2010.

Shifting a daylight hour from morning to evening only increases "social jet lag," Roenneberg explained, in which people's actual sleeping schedule is out of whack with optimal circadian sleep periods, making them chronically tired. (See: "Leap Year: How the World Makes Up for Lost Time.")

"Light doesn't do the same things to the body in the morning and the evening. More light in the morning would advance the body clock, and that would be good. But more light in the evening would even further delay the body clock."

Our health may benefit, however, from a quantifiable boost in recreational activities that goes along with lighter evenings. Hendrik Wolff and colleagues were among several groups to document this phenomenon, in their case using data from a nationwide American time-use study.

"We found that during the period of the 2007 [daylight] extension, people engaged in more outdoor recreation and less indoor-TV watching," he said. "An additional 3 percent of people engaged in outdoor behaviors who otherwise would have stayed indoors."

Cash is king, and economics have always played a role in the politics of daylight saving time. Over the past 50 years, DST has been stretched from six months to seven months to now eight months in part because several industries have been huge supporters. In the mid-1980s, for example, the golf industry estimated that an extra month of DST was worth $200 to $400 million.

During that same time the U.S. barbecue industry pegged their increased profits at $150 million for that same additional month.

Farmers Against DST

With any controversial subject, there are sure to be groups for and against. In the case of daylight saving time, it's often difficult to sort out which are which.

For some reason, many Americans grew up believing that the practice was adopted for farmers, Downing said.

"That's the complete inverse of what's true," he said. "The farmers were the only organized lobby against daylight saving in the history of the country," he said, explaining that the practice left them with an hour less sunlight to get crops to market.

"The farmers were the reason we never had a peacetime daylight saving time until 1966. They had a powerful lobby and were against it vociferously."

Many farmers still don't like DST, including some dairy farmers, who find that cows' natural milking schedules don't adapt easily to a sudden shift.

Religious, TV Opposition

Downing noted that a number of religions with prayer times depending on sunrise or sunset also object to DST because they don't like to have holy days fooled with—particularly among Orthodox practitioners.

"That echoes the original objections with daylight saving," he said. "The idea that we were fooling around with God's time and this was the mechanized world's way of somehow taking over God's world.

"Another group that's traditionally been opposed to it are organizations like the PTA and people concerned with schoolchildren," Downing noted.

"It has been expanded by a month every 20 years or so since the mid-1960s, and now we start to get daylight saving time in the late winter/early spring and in the very late autumn. This means that our sunrise times are so late that schoolchildren are out on dark streets in the morning, and that raises objections among parents of schoolchildren."

Downing's research also suggests that studies of increased traffic accidents and injuries, which variously support or condemn the practice of daylight saving time, don't really show enough of a difference to be statistically significant in a nation where more than 30,000 people are killed in traffic accidents each year.

The TV industry, Downing said, is also among the practice's opponents. "If you look at the Nielsen ratings during the first week of daylight saving, no matter when it is, even the most popular shows go down by 10 to 15 percent in viewership."

And Utah State University economist William F. Shughart II has estimated that the simple but inconvenient act of changing America's clocks and devices back and forth represents an annual $1.7 billion of lost opportunity cost.

Shughart's rough estimates were based on the average American's hourly wage and an assumption that each person spent some ten minutes changing clocks, watches, and other devices—time that could have been far more productively spent.

Daylight Saving Time Here to Stay?

The U.S. Energy Policy Act of 2005 mandated a controversial month-long extension of daylight saving time, which began in 2007. A White House petition to end DST entirely stalled earlier this year because it failed to garner the required number of signatures, and Congress isn't currently exploring ending the practice, so it seems here to stay—at least where it's observed.

Because the federal government doesn't require states or territories to observe DST, Arizona—except for residents of the Navajo Nation—Hawaii, Puerto Rico, the Virgin Islands, American Samoa, Guam, and the Northern Marianas Islands will ignore this weekend's switch.

This type of mishmash is common around the globe, creating the confusion that may be one of DST's biggest problems, according to critics. Most Asian and African nations avoid DST altogether. South America features a mix of different DST and non-DST schedules even among neighboring nations.

And while most of North America and Europe observe DST, all those nations don't change clocks at the same time, creating further discrepancies. "Every country tries to make their best switching dates based on their best beliefs," Wolff said.

Meanwhile, the passionate debate on the subject, at least, is likely to continue as it has for a century—even where facts linking DST to a given behavior are thin to nonexistent.

"Daylight saving has been credited with speeding up production in industrial plants and lessening eye-strain among school children, and it has been blamed for forcing homemakers to prepare dinner during the hottest hours of the day and browning out lawns unaccustomed to so much sunshine," Downing said.

"As you can imagine, the Congressional Record on daylight saving constitutes the great comic novel of the 20th century," he said.

"It's absolutely fascinating what daylight saving been blamed for and credited with over the years."

Should we drop daylight savings time?

Last week the UK changed the clocks, and this weekend it's time for the US to do the same. But a substantial amount of research suggests daylight saving time may not be beneficial – and in fact, might be harmful. Is it worth keeping?

theguardian.com, Friday 1 November 2013 14.30 EDT, Article Source


Is daylight savings time outdated? Photograph: Darren Staples/Reuters

Should we no longer have daylight savings time?


68% = YES and 32% = NO

This poll is now closed

---

---


Nobody brought Peace Our Times, Nobody should be President,
& None of the Above should be a choice on Voter Ballots
---
---
Boptime with Even Steven + The Legends of Wilmington Jazz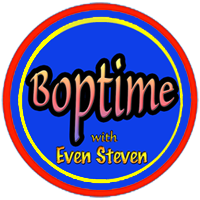 WVUD-FM
Boptime: Saturday, 6 AM Eastern time, 3 AM Pacific time
MP3 Stream ~ Low 24K ~ High 128K ~ Real Audio ~ Low 24K ~ High 128K ~ Windows ~ Low 24K ~ High 128K
---
---
Freedom of expression and freedom of speech aren't really important unless they're heard...It's hard for me to stay silent when I keep hearing that peace is only attainable through war. And there's nothing more scary than watching ignorance in action. So I dedicated this Emmy to all the people who feel compelled to speak out and not afraid to speak to power and won't shut up and refuse to be silenced. ~ Tom Smothers
---
---
One Can Lead A Horse To Water, But...
Until there is a solution for this, where one solution has been provided, Nobody will continue to bring Peace to Our Times, feed the hungry, care for the sick, bake apple pie better than Mom, and believes NONE of the ABOVE should be a choice on Voter Ballots.


Nobody for President
Oh, I hope that I see you again I never even caught your name As you looked through my window pane ~~ So I'm writing this message today I'm thinking that you'll have a way Of hearing the notes in my tune ~~ Where are you going? Where have you been? I can imagine other worlds you have seen ~~ Beautiful faces and music so serene ~~ So I do hope I see you again My universal citizen You went as quickly as you came ~~ You know the power Your love is right You have good reason To stay out of sight ~~ But break our illusions and help us Be the light ~ Mike Pinder
Without love in the dream, it will never come true. ~ Jerry Garcia/Robert Hunter
---
---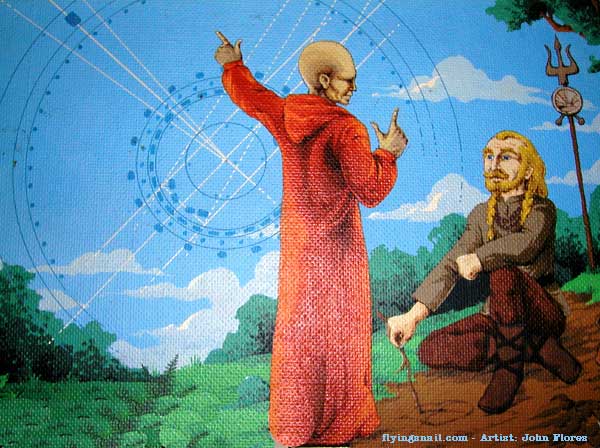 ---
---
The man whispered, "God, speak to me" and a meadowlark sang. But the man did not hear.

So the man yelled "God, speak to me" and the thunder rolled across the sky. But the man did not listen.

The man looked around and said, "God let me see you" and a star shined brightly. But the man did not notice.

And the man shouted, "God show me a miracle" and a life was born. But the man did not know.

So the man cried out in despair, "Touch me God, and let me know you are there"

Whereupon God reached down and touched the man. But the man brushed the butterfly away and walked on.


Don't miss out on a blessing because it isn't packaged the way you expect.