Why Not Try Love Again by Jumpin' Jupiter
BOPTIME ~ SATURDAYS, 6 AM/EST ~ LISTEN

Index & Archive & March Archive &
πday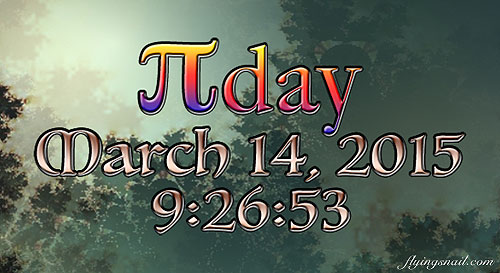 March 14, 2015, 9:26:53
---
---
GOAT


Goat ~ Hide from the Sun ~ from samuel j macon ~ https://vimeo.com/108940057

Goat is a Swedish alternative and experimental fusion music group. The band originates—according to its own publicity—from Korpilombolo, Norrbotten County, Sweden. Their album World Music, released on 20 August 2012 by Rocket Recordings, was hailed by The Guardian as one of the best albums of 2012.


Goat ~ Commune ~ from ian wilson ~ https://vimeo.com/108616604

Tracklist: Talk To God ~ Words ~ The Light Within ~ To Travel The Path Unknown ~ Goatchild ~ Goatslaves ~ Hide From The Sun ~ Bondye ~ Gathering of Ancient Tribes

Enigmatic and psychedelic Swedes Goat display more excellence on their follow up to their sublime debut, "World Music".

If someone said that the band GOAT took its name from the initials for "Get Out A Tambourine," it'd be easy to believe. The Swedish collective makes irresistible trance/dance music that doubles as hypnotic hippie hoodoo. GOAT captures the spirit of the '60s in its guitar meanderings and acid tones; its rhythms feel inspired by rave culture and electronic music, but are made with hands instead of machines. Oh, and the band members wear masks, hit cowbells, and sing in unison a lot.

Commune, GOAT's second album, balances all that joy with the darkness of krautrock: The band Can and its minimalist excursions come to mind, but then there are also moments that would fit comfortably as an artifact from the first psychedelic era circa 1968. The song titles on Commune ("Talk To God," "Goatchild," "Goatslaves," "Gathering Of Ancient Tribes") tell a story, even when it's hard to make out the words. Throughout, the album's strong, clear vibe positively calls out for listeners to don face paint and grab a cowbell — or even a tambourine.
---
---
Notes from ~@~

Carlin Step ~ DJ Steve Porter & Eli Wilkie ~ http://vimeo.com/21162532


The Great Bell Chant (The End of Suffering) ~ http://vimeo.com/6518109


One Day ~ Matisyahu ~ http://vimeo.com/11520225


Unsung Hero ~ Still Anonymous ~ http://vimeo.com/90853494



Remembering the United State Cafe


Rock Of Ages ~ DJ Schmolli / Video: Panos T ~ http://vimeo.com/44298418
---
---
The Heyókȟa symbolize and portray many aspects of the sacred, the Wakȟáŋ. Their satire presents important questions by fooling around. They ask difficult questions, and say things others are too afraid to say. By reading between the lines, the audience is able to think about things not usually thought about, or to look at things in a different way.

Principally, the Heyókȟa functions both as a mirror and a teacher, using extreme behaviors to mirror others, thereby forcing them to examine their own doubts, fears, hatreds, and weaknesses. Heyókȟas also have the power to heal emotional pain; such power comes from the experience of shame--they sing of shameful events in their lives, beg for food, and live as clowns. They provoke laughter in distressing situations of despair and provoke fear and chaos when people feel complacent and overly secure, to keep them from taking themselves too seriously or believing they are more powerful than they are.

In addition, sacred clowns serve an important role in shaping tribal codes. Heyókȟa's don't seem to care about taboos, rules, regulations, social norms, or boundaries. Paradoxically, however, it is by violating these norms and taboos that they help to define the accepted boundaries, rules, and societal guidelines for ethical and moral behavior. This is because they are the only ones who can ask "Why?" about sensitive topics and employ satire to question the specialists and carriers of sacred knowledge or those in positions of power and authority. In doing so, they demonstrate concretely the theories of balance and imbalance. Their role is to penetrate deception, turn over rocks, and create a deeper awareness.
---
---
Mike Wilhelm ~ Charlatans, Flamin' Groovies, Loose Gravel, and more ~ (Links Page)
High Curtis,

Diamond Ed Chatham is now uploading his stuff to Vimeo. The first of mine he has up is Louie Louie. Looks nice and clean displayed full screen.

Keep rockin', Mike


LOUIE LOUIE ~ Mike Wilhelm & Hired Guns ~ from ed chatham
https://vimeo.com/52509099
---
---
Paul Krassner ~ The Realist, Writer, Comic, Investigative Satirist ~ (Links Page)

Paul Krassner ~ Frank Moore's Shaman's Den
from Eroplay.com ~ https://vimeo.com/110267592
---
---
Nobody for President ~ NONE of the ABOVE should be a choice on voter ballots ~ (Links Page)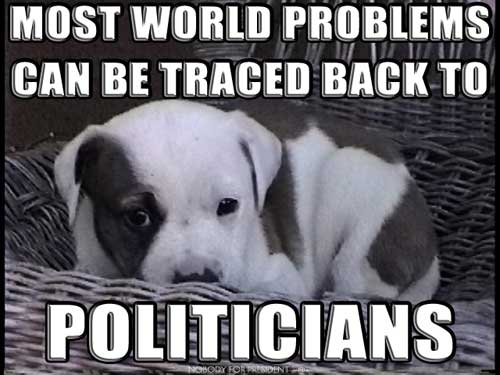 MOST WORLD PROBLEMS CAN BE TRACED BACK TO POLITICIANS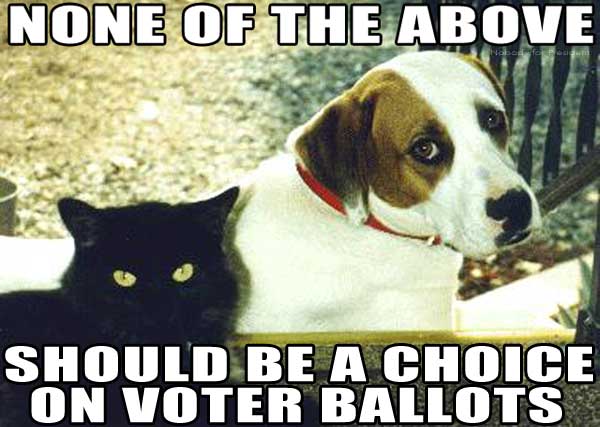 NONE OF THE ABOVE SHOULD BE A CHOICE ON VOTER BALLOTS
Don't Worry, Be Happy, Take Control of Your Life,
Restore Political Balance, Consider Making
"NONE of the ABOVE"
A Valid Choice on Voter Ballots.
---
---
Freedom of expression and freedom of speech aren't really important unless they're heard...It's hard for me to stay silent when I keep hearing that peace is only attainable through war. And there's nothing more scary than watching ignorance in action. So I dedicated this Emmy to all the people who feel compelled to speak out and not afraid to speak to power and won't shut up and refuse to be silenced. ~ Tom Smothers
---
---

Turn It Off, Tune It Out, Re-learn to Go Outside & Play.
Internet (1991~2013): A virus forced into prostitution by
greedy corporations & used as a tool to Divide & Conquer.
---
---
Cree Prophecy

Only after the last tree has been cut down,

Only after the last river has been poisoned,

Only after the last fish has been caught,

Only then will you find money cannot be eaten.
---
---
Science Fiction ... or Not
Do Not Allow This Happen!

[Ed. Note: "Why do you post crap like this?" is frequently asked and the answer requires an example.

During Apollo 11's return from the moon astronaut Neil Armstrong said, "A hundred years ago, Jules Verne wrote a book about a voyage to the Moon. His spaceship, Columbia, took off from Florida and landed in the Pacific Ocean after completing a trip to the Moon. It seems appropriate to us to share with you some of the reflections of the crew as the modern-day Columbia completes its rendezvous with the planet Earth and the same Pacific Ocean tomorrow" (source) and simply, the above example shows science fiction is able become real.

Multus* discovered that posting science fiction stories and false flag information can prevent certain things from happening because powers that be prefer not to give any credibility, whatsoever, to "crap posters."

*Multus ~ Latin word for multiple & an alleged highly educated, secret, fraternal order.

Members of Multus, also known as "Multies," work, on occasion, with "Singulars."

Singulars are most common (87%) and usually educated in one field of study. Multies (3%) are educated in a variety of scientific and related fields of study.

It is alleged one has to have an "Above 33" secret clearance (no president of the United States has ever had) in order to know the true purpose of Multies and ... that they are peaceful, positive beings involved with preservation of humanity.

In order to understand a little more about Multus, ARPA, established during 1958, was renamed "DARPA" (D for Defense) in March 1972, then renamed "ARPA" in February 1993, and then renamed "DARPA" again in March 1996 because Multies refused to harm any living thing. They turned DARPA back into ARPA, for a while, in order to get some important classified work done.]

---

John Titor on Civil War

I remember 2036 very clearly. It is difficult to describe 2036 in detail without spending a great deal of time explaining why things are so different.

In 2036, I live in central Florida with my family and I'm currently stationed at an Army base in Tampa. A world war in 2015 killed nearly three billion people. The people that survived grew closer together. Life is centered on the family and then the community. I cannot imagine living even a few hundred miles away from my parents.

There is no large industrial complex creating masses of useless food and recreational items. Food and livestock is grown and sold locally. People spend much more time reading and talking together face to face. Religion is taken seriously and everyone can multiply and divide in their heads.

Life has changed so much over my lifetime that it's hard to pin down a "normal" day. When I was 13, I was a soldier. As a teenager, I helped my dad haul cargo. I went to college when I was 31 and I was recruited to "time travel" shortly after that. Again, I suppose an average day in 2036 is like an average day on the farm.

There is a civil war in the United States that starts in 2005. That conflict flares up and down for 10 years. In 2015, Russia launches a nuclear strike against the major cities in the United States (which is the "other side" of the civil war from my perspective), China and Europe. The United States counter attacks. The US cities are destroyed along with the AFE (American Federal Empire)...thus we (in the country) won. The European Union and China were also destroyed. Russia is now our largest trading partner and the Capitol of the US was moved to Omaha Nebraska.

One of the biggest reasons why food production is localized is because the environment is affected with disease and radiation. We are making huge strides in getting it cleaned up. Water is produced on a community level and we do eat meat that we raise ourselves.

After the war, early new communities gathered around the current Universities. That's where the libraries were. I went to school at Fort UF, which is now called the University of Florida. Not too much is different except the military is large part of people's life and we spend a great deal of time in the fields and farms at the "University" or Fort.

The Constitution was changed after the war. We have 5 presidents that are voted in and out on different term periods. The vice president is the president of the senate and they are voted separately. ~ John Titor
---
---
Today's Secret Question Is:

How many Children, Women, Civilians, and Military were Maimed & Murdered over this outright, blatant, Neocon, Politician LIE:

Iraq has Weapons
of Mass Destruction?

---

---

'It was widely known before the Iraq war over 50% of the Iraqi population were children under the age of 15, and the war began with this act of sheer cowardice.'


For the record Bush said, 'Anyone who harms children is a terrorist.'
The above child was maimed by Republicons and Democraps.
---
---

Lies, Lies, Lies - BlackMustache.com

Lying, Baby Killer,
Politician Says What?

Simply stated, there is no doubt that Saddam Hussein now has weapons of mass destruction. - Dick Cheney - August 26, 2002

Every day Saddam remains in power with chemical weapons, biological weapons, and the development of nuclear weapons is a day of danger for the United States. - Sen. Joseph Lieberman, D-CT - September 4, 2002

If we wait for the danger to become clear, it could be too late. - Sen. Joseph Biden D-Del. - September 4, 2002

Right now, Iraq is expanding and improving facilities that were used for the production of biological weapons. - George W. Bush - September 12, 2002

If he declares he has none, then we will know that Saddam Hussein is once again misleading the world. - Ari Fleischer - December 2, 2002

We know for a fact that there are weapons there. - Ari Fleischer - January 9, 2003

Our intelligence officials estimate that Saddam Hussein had the materials to produce as much as 500 tons of sarin, mustard and VX nerve agent. - George W. Bush - January 28, 2003

We know that Saddam Hussein is determined to keep his weapons of mass destruction, is determined to make more. - Colin Powell - February 5, 2003

Iraq both poses a continuing threat to the national security of the United States and international peace and security in the Persian Gulf region and remains in material and unacceptable breach of its international obligations by, among other things, continuing to possess and develop a significant chemical and biological weapons capability, actively seeking a nuclear weapons capability, and supporting and harboring terrorist organizations. - Sen. Hillary Clinton, D-NY - February 5, 2003

We have sources that tell us that Saddam Hussein recently authorized Iraqi field commanders to use chemical weapons -- the very weapons the dictator tells us he does not have. - George Bush - February 8, 2003

So has the strategic decision been made to disarm Iraq of its weapons of mass destruction by the leadership in Baghdad? I think our judgment has to be clearly not. - Colin Powell - March 8, 2003

Intelligence gathered by this and other governments leaves no doubt that the Iraq regime continues to possess and conceal some of the most lethal weapons ever devised. - George Bush - March 18, 2003

We are asked to accept Saddam decided to destroy those weapons. I say that such a claim is palpably absurd. - Tony Blair, Prime Minister - March 18, 2003

Well, there is no question that we have evidence and information that Iraq has weapons of mass destruction, biological and chemical particularly . . . all this will be made clear in the course of the operation, for whatever duration it takes. - Ari Fleischer - March 21, 2003

There is no doubt that the regime of Saddam Hussein possesses weapons of mass destruction. As this operation continues, those weapons will be identified, found, along with the people who have produced them and who guard them. - Gen. Tommy Franks - March 22, 2003

One of our top objectives is to find and destroy the WMD. There are a number of sites. - Pentagon Spokeswoman Victoria Clark - March 22, 2003


Five Finger Death Punch ~ Wrong Side of Heaven
from Nick Peterson ~ https://vimeo.com/101360301

I have no doubt we're going to find big stores of weapons of mass destruction. - Kenneth Adelman, Defense Policy Board - March 23, 2003

We know where they are. They are in the area around Tikrit and Baghdad. - Donald Rumsfeld - March 30, 2003

Saddam's removal is necessary to eradicate the threat from his weapons of mass destruction. - Jack Straw, Foreign Secretary - April 2, 2003

Obviously the administration intends to publicize all the weapons of mass destruction U.S. forces find -- and there will be plenty. - Neocon scholar Robert Kagan - April 9, 2003

I think you have always heard, and you continue to hear from officials, a measure of high confidence that, indeed, the weapons of mass destruction will be found. - Ari Fleischer - April 10, 2003

We are learning more as we interrogate or have discussions with Iraqi scientists and people within the Iraqi structure, that perhaps he destroyed some, perhaps he dispersed some. And so we will find them. - George Bush - April 24, 2003

There are people who in large measure have information that we need . . . so that we can track down the weapons of mass destruction in that country. - Donald Rumsfeld - April 25, 2003

Before people crow about the absence of weapons of mass destruction, I suggest they wait a bit. - Tony Blair - April 28, 2003

We'll find them. It'll be a matter of time to do so. - George Bush - May 3, 2003

I am confident that we will find evidence that makes it clear he had weapons of mass destruction. - Colin Powell - May 4, 2003

I never believed that we'd just tumble over weapons of mass destruction in that country. - Donald Rumsfeld - May 4, 2003

I'm not surprised if we begin to uncover the weapons program of Saddam Hussein -- because he had a weapons program. - George W. Bush - May 6, 2003

U.S. officials never expected that "we were going to open garages and find" weapons of mass destruction. - Condoleezza Rice - May 12, 2003

I just don't know whether it was all destroyed years ago -- I mean, there's no question that there were chemical weapons years ago -- whether they were destroyed right before the war, (or) whether they're still hidden. - Maj. Gen. David Petraeus, Commander 101st Airborne - May 13, 2003

Before the war, there's no doubt in my mind that Saddam Hussein had weapons of mass destruction, biological and chemical. I expected them to be found. I still expect them to be found. - Gen. Michael Hagee, Commandant of the Marine Corps - May 21, 2003

Given time, given the number of prisoners now that we're interrogating, I'm confident that we're going to find weapons of mass destruction. - Gen. Richard Myers, Chairman Joint Chiefs of Staff - May 26, 2003

They may have had time to destroy them, and I don't know the answer. - Donald Rumsfeld - May 27, 2003

For bureaucratic reasons, we settled on one issue, weapons of mass destruction because it was the one reason everyone could agree on. - Paul Wolfowitz - May 28, 2003 - Permmalink Source


Remembering Paul Krassner's 1963 Contribution

---

---

REMEMBER KIDS, ... every time you hear BUSH, or Wolfowitz, or Weapons of Mass Destruction (WMD), or Shock and Awe, or Senate, or Congress, or Republican, or Democrat, or Politician ... SCREAM REAL LOUD:


Pee Wee's Punk Rock Pogo Party with Cowboy Curtis
Robert Lyons ~ http://vimeo.com/24793063
---
---
---

---


The Dictator ~ Sacha Baron Cohen ~ http://vimeo.com/47420554
---
---
Seriously, ... what would it take for "The People" to understand their lives would be incredibly better and far less complicated if:

NONE OF THE ABOVE
was a 'valid choice' on voter ballots?


American Dream ~ George Carlin/L.I.L.T ~ http://vimeo.com/72719973

Nobody should have that much power

Until there is a solution for this, Nobody will continue to bring Peace to Our Times, feed the hungry, care for the sick, bake apple pie better than Mom, and believes None of the Above should be a choice on Voter Ballots
---
---
Oh, I hope that I see you again I never even caught your name As you looked through my window pane ~ So I'm writing this message today I'm thinking that you'll have a way Of hearing the notes in my tune ~ Where are you going? Where have you been? I can imagine other worlds you have seen ~ Beautiful faces and music so serene ~ So I do hope I see you again My universal citizen You went as quickly as you came ~ You know the power Your love is right You have good reason To stay out of sight ~~ But break our illusions and help us Be the light ~ The Promise by Mike Pinder
Without love in the dream, it will never come true. ~ Jerry Garcia/Robert Hunter
And in the end, the love you take is equal to the love you make. ~ John Lennon
---

Rivers Of Babylon ~ BONEY M ~ http://vimeo.com/68371548