Why Not Try Love Again by Jumpin' Jupiter

BOPTIME with Even Steven,
SATURDAYS 6 am East ~ 3 am West, Listen Live
---
Simple Response to Denial Question:
WESAYSO Knows Best
Dinosaurs Ep29 1/3
Video Listed Here
Click to View
---
If you click on Jennifer Lawrence's naked
pictures, you're perpetuating her abuse

Actors may offer their image to public consumption as their professional practice, but what they are not trading is their intimacy. To merely look is an act of sexual violation

Van Badham, theguardian.com, Sunday 31 August 2014 23.05 EDT, Article Source = Click to read
Google's ChromeOS means
losing control of data, warns
GNU founder Richard Stallman

New cloud computing OS released by Google is plan to push people into 'careless computing', warns free software advocate (updated)

Posted by Charles Arthur, Technology Blog, theguardian.com, Article Source

Google's new cloud computing ChromeOS looks like a plan "to push people into careless computing" by forcing them to store their data in the cloud rather than on machines directly under their control, warns Richard Stallman, founder of the Free Software Foundation and creator of the operating system GNU.

Two years ago Stallman, a computing veteran who is a strong advocate of free software via his Free Software Foundation, warned that making extensive use of cloud computing was "worse than stupidity" because it meant a loss of control of data.

Now he says he is increasingly concerned about the release by Google of its ChromeOS operating system, which is based on GNU/Linux and designed to store the minimum possible data locally. Instead it relies on a data connection to link to Google's "cloud" of servers, which are at unknown locations, to store documents and other information.

The risks include loss of legal rights to data if it is stored on a company's machine's rather than your own, Stallman points out: "In the US, you even lose legal rights if you store your data in a company's machines instead of your own. The police need to present you with a search warrant to get your data from you; but if they are stored in a company's server, the police can get it without showing you anything. They may not even have to give the company a search warrant."

Google gave ChromeOS a "soft" launch last week, showing off aspects of the software and providing developers and some journalists with Cr-48 laptops set up to run it, while saying that it won't be widely available until mid-2011.

Eric Schmidt, Google's chief executive, praised it in a blogpost: "For me, these announcements were among the most important of my working life – demonstrating the real power of computer science to transform people's lives. It's extraordinary how very complex platforms can produce beautifully simple solutions like Chrome and Chrome OS, which anyone can use from the get-go – as long as you get it right," he wrote. "As developers start playing with our beta Cr-48 Chrome OS computer, they'll see that while it's still early days it works unbelievably well. You can build everything that you used to mix and match with client software—taking full advantage of the capacity of the web."

But Stallman is unimpressed. "I think that marketers like "cloud computing" because it is devoid of substantive meaning. The term's meaning is not substance, it's an attitude: 'Let any Tom, Dick and Harry hold your data, let any Tom, Dick and Harry do your computing for you (and control it).' Perhaps the term 'careless computing' would suit it better."

He sees a creeping problem: "I suppose many people will continue moving towards careless computing, because there's a sucker born every minute. The US government may try to encourage people to place their data where the US government can seize it without showing them a search warrant, rather than in their own property. However, as long as enough of us continue keeping our data under our own control, we can still do so. And we had better do so, or the option may disappear."

The accountability of cloud computing providers has come under close focus in the past fortnight after Amazon removed Wikileaks content from its EC2 cloud computing service, saying that the leaks site had breached its terms and conditions, and without offering any mediation in the dispute.

Stallman only sees one aspect of ChromeOS to applaud: its GNU/Linux heritage. "In essence, Chrome OS is the GNU/Linux operating system. However, it is delivered without the usual applications, and rigged up to impede and discourage installing applications," he told the Guardian. "I'd say the problem is in the nature of the job ChromeOS is designed to do. Namely, encourage you to keep your data elsewhere, and do your computing elsewhere, instead of doing it in your own computer."

• Stallman warns would-be hackers not to download the LOIC software being pushed as a method of expressing anger with sites that have acted against Wikileaks - not because he thinks the protest is wrong, but because the tool's code is not visible to the user. "It seems to me that running LOIC is the network equivalent of the protests against the tax-avoiders' stores in London. We must not allow that to constrict the right to protest," he notes. "[But] if users can't recompile it, users should not trust it."

Update: Richard Stallman writes: "A BBC article reported someone from Sophos said that LOIC was "unknown software" and I thought that meant it was proprietary, but I was mistaken. It turns out LOIC is actually free software, so users can see and change the source code. Thus, its workings are not a secret like those of Windows, MacOS and Adobe Flash Player, so nobody can impose malicious features through it, the way that has been done in those packages."

(Note: deleted a duplicate paragraph at end of story. Added clarification from Richard Stallman re LOIC.)
Cloud computing is a trap, warns
GNU founder Richard Stallman

Web-based programs like Google's Gmail will force people to buy into locked, proprietary systems that will cost more and more over time, according to the free software campaigner

Bobbie Johnson, technology correspondent, guardian.co.uk, Mon. 29 September 2008 09.11 EDT, Article Source

The concept of using web-based programs like Google's Gmail is "worse than stupidity", according to a leading advocate of free software.

Cloud computing – where IT power is delivered over the internet as you need it, rather than drawn from a desktop computer – has gained currency in recent years. Large internet and technology companies including Google, Microsoft and Amazon are pushing forward their plans to deliver information and software over the net.

But Richard Stallman, founder of the Free Software Foundation and creator of the computer operating system GNU, said that cloud computing was simply a trap aimed at forcing more people to buy into locked, proprietary systems that would cost them more and more over time.

"It's stupidity. It's worse than stupidity: it's a marketing hype campaign," he told The Guardian.

"Somebody is saying this is inevitable – and whenever you hear somebody saying that, it's very likely to be a set of businesses campaigning to make it true."

The 55-year-old New Yorker said that computer users should be keen to keep their information in their own hands, rather than hand it over to a third party.

His comments echo those made last week by Larry Ellison, the founder of Oracle, who criticised the rash of cloud computing announcements as "fashion-driven" and "complete gibberish".

"The interesting thing about cloud computing is that we've redefined cloud computing to include everything that we already do," he said. "The computer industry is the only industry that is more fashion-driven than women's fashion. Maybe I'm an idiot, but I have no idea what anyone is talking about. What is it? It's complete gibberish. It's insane. When is this idiocy going to stop?"

The growing number of people storing information on internet-accessible servers rather than on their own machines, has become a core part of the rise of Web 2.0 applications. Millions of people now upload personal data such as emails, photographs and, increasingly, their work, to sites owned by companies such as Google.

Computer manufacturer Dell recently even tried to trademark the term "cloud computing", although its application was refused.

But there has been growing concern that mainstream adoption of cloud computing could present a mixture of privacy and ownership issues, with users potentially being locked out of their own files.

Stallman, who is a staunch privacy advocate, advised users to stay local and stick with their own computers.

"One reason you should not use web applications to do your computing is that you lose control," he said. "It's just as bad as using a proprietary program. Do your own computing on your own computer with your copy of a freedom-respecting program. If you use a proprietary program or somebody else's web server, you're defenceless. You're putty in the hands of whoever developed that software."

---

Possible Interesting Addendum:
---
How Apple and Amazon Security Flaws




Led to My Epic Hacking

By Mat Honan, Wired, Permalink ~ Click to Read

In the space of one hour, my entire digital life was destroyed. First my Google account was taken over, then deleted. Next my Twitter account was compromised, and used as a platform to broadcast racist and homophobic messages. And worst of all, my AppleID account was broken into, and my hackers used it to remotely erase all of the data on my iPhone, iPad, and MacBook. [Click to continue reading]
---
---
Notes from ~@~

The Great Bell Chant (The End of Suffering) ~ http://vimeo.com/6518109


One Day ~ Matisyahu ~ http://vimeo.com/11520225



Remembering the United State Cafe

---


Rock Of Ages ~ DJ Schmolli ~ http://vimeo.com/44298418
---

George Carlin mix ~ http://vimeo.com/21162532
---
John Flores ~ Graphic Artist
Yeah Yeah Yeah ~ My favorite Beatles songs
Paintings & Illustrations by Giancarlo John Flores
Italian Cultural Institute
814 Montgomery Street, San Francisco, CA 94133 ~ (415) 788-7142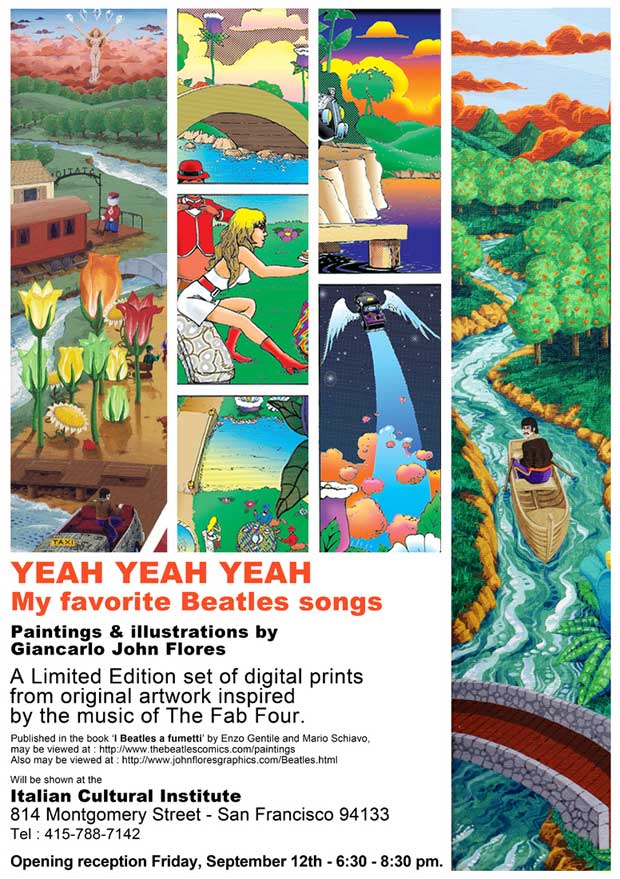 Opening reception Friday, September 12th, 6:30 ~ 8:30 pm
Click to Visit John Flores Beatle Gallery
---
Freedom of expression and freedom of speech aren't really important unless they're heard...It's hard for me to stay silent when I keep hearing that peace is only attainable through war. And there's nothing more scary than watching ignorance in action. So I dedicated this Emmy to all the people who feel compelled to speak out and not afraid to speak to power and won't shut up and refuse to be silenced. ~ Tom Smothers
---

A Question Of Honour ~ Sarah Brightman ~ http://vimeo.com/20989311
Closing Argument

Alan Shore: When the weapons of mass destruction thing turned out to be not true, I expected the American people to rise up. Ha! They didn't.

Then, when the Abu Ghraib torture thing surfaced and it was revealed that our government participated in rendition, a practice where we kidnap people and turn them over to regimes who specialize in torture, I was sure then the American people would be heard from. We stood mute.

Then came the news that we jailed thousands of so-called terrorists suspects, locked them up without the right to a trial or even the right to confront their accusers. Certainly, we would never stand for that. We did.

And now, it's been discovered the executive branch has been conducting massive, illegal, domestic surveillance on its own citizens. You and me. And I at least consoled myself that finally, finally the American people will have had enough. Evidentially, we haven't.

In fact, if the people of this country have spoken, the message is we're okay with it all. Torture, warrantless search and seizure, illegal wiretapping's, prison without a fair trial - or any trial, war on false pretenses. We, as a citizenry, are apparently not offended.

There are no demonstrations on college campuses. In fact, there's no clear indication that young people seem to notice.

Well, Melissa Hughes noticed. Now, you might think, instead of withholding her taxes, she could have protested the old fashioned way. Made a placard and demonstrated at a Presidential or Vice-Presidential appearance, but we've lost the right to that as well. The Secret Service can now declare free speech zones to contain, control and, in effect, criminalize protest.

Stop for a second and try to fathom that.

At a presidential rally, parade or appearance, if you have on a supportive t-shirt, you can be there. If you are wearing or carrying something in protest, you can be removed.

This, in the United States of America. This in the United States of America. Is Melissa Hughes the only one embarrassed?

*Alan sits down abruptly in the witness chair next to the judge*

Judge Robert Sanders: Mr. Shore. That's a chair for witnesses only.

Alan: Really long speeches make me so tired sometimes.

Judge Robert Sanders: Please get out of the chair.

Alan: Actually, I'm sick and tired.

Judge Robert Sanders: Get out of the chair!

Alan: And what I'm most sick and tired of is how every time somebody disagrees with how the government is running things, he or she is labeled un American.

U.S. Attorney Jonathan Shapiro: Evidentially, it's speech time.

Alan: And speech in this country is free, you hack! Free for me, free for you. Free for Melissa Hughes to stand up to her government and say "Stick it"!

U.S. Attorney Jonathan Shapiro: Objection!

Alan: I object to government abusing its power to squash the constitutional freedoms of its citizenry. And, God forbid, anybody challenge it. They're smeared as being a heretic. Melissa Hughes is an American. Melissa Hughes is an American. Melissa Hughes is an American!

Judge Robert Sanders: Mr. Shore. Unless you have anything new and fresh to say, please sit down. You've breached the decorum of my courtroom with all this hooting.

Alan: Last night, I went to bed with a book. Not as much fun as a 29 year old, but the book contained a speech by Adlai Stevenson. The year was 1952. He said, "The tragedy of our day is the climate of fear in which we live and fear breeds repression. Too often, sinister threats to the Bill of Rights, to freedom of the mind are concealed under the patriotic cloak of anti-Communism."

Today, it's the cloak of anti-terrorism. Stevenson also remarked, "It's far easier to fight for principles than to live up to them."

I know we are all afraid, but the Bill of Rights - we have to live up to that. We simply must. That's all Melissa Hughes was trying to say. She was speaking for you. I would ask you now to go back to that room and speak for her.

Boston Legal ~ Stick It, Season 2, Episode 19 [Video at link] Written by David E. Kelley & Janet Leahy ~ Directed by Adam Arkin.
NOBODY


should have that much power

Until there is a solution for this, Nobody will continue to bring Peace to Our Times, feed the hungry, care for the sick, bake apple pie better than Mom, and believes None of the Above should be a choice on Voter Ballots!


American Dream ~ George Carlin/L.I.L.T ~ http://vimeo.com/72719973


Click to open Nobody for President 2016
---
Oh, I hope that I see you again I never even caught your name As you looked through my window pane ~ So I'm writing this message today I'm thinking that you'll have a way Of hearing the notes in my tune ~ Where are you going? Where have you been? I can imagine other worlds you have seen ~ Beautiful faces and music so serene ~ So I do hope I see you again My universal citizen You went as quickly as you came ~ You know the power Your love ~ The Promise by Mike Pinder
Without love in the dream, it will never come true. ~ Jerry Garcia/Robert Hunter
And in the end, the love you take is equal to the love you make. ~ John Lennon
---