Why Not Try Love Again by Jumpin' Jupiter

BOPTIME with Even Steven,
SATURDAYS 6 am East ~ 3 am West, Listen Live
---
Mike Wilhelm ~ Charlatans, Flamin' Groovies, Loose Gravel, and more
Hi Curtis...
Something for the page.
Keep rockin', Mike
Michael Wilhelm


Photo: Ukiah Daily Journal, Karen Rifkin. Mike Wilhelm (left) & Rich Kirch jam unplugged.

Blues, Brews and BBQ:
Meals on Wheels benefit
September 27, 2014
6 to 10 PM
Mendocino Lake Event Center
1500 Lake Mendocino Drive, Ukiah, CA

Boogie in the Wine Country! Mike Wilhelm will be opening the show solo acoustic at Blues, Brews and BBQ on Sept. 27 at Mendocino Lake Event Center at 1500 Lake Mendocino Drive, Ukiah, CA.

The headliner is Rich Kirch's Talk That Talk featuring: vocals by Lisa Kindred (Lisa Kindred Band); guitars by Rich Kirch, (John Lee Hooker Band), Dave Aguilar (Norton Buffalo); bass by Ron Perry (John Lee Hooker Band) and, last but not least, drums by Roy Blumenfeld (The Blues Project), Barry Melton Band. Expect a lot of jamming and unexpected surprises.

This show is a Plowshares benefit for Meals on Wheels which will run from 6 to 10 pm. Gourmet BBQ & Anderson Valley Brewing beers, vegetarian menu available as well. Admission includes dinner and music.

Advance tickets are available at Dig Music, Mendocino Book Company and Plowshares. Sponsors include: Thurston Auto Corporation, Frey Organic Winery, Anderson Valley Brewing Company, Beckstoffer Vineyards, K-Wine and Max radio stations. Further information at Plowshares, tel. (707) 462-8582.
---
Wavy Gravy ~ Clown, Comic, Artist
Curtis,
I have 4 one man shows coming up at the marsh in Berkeley and a big gig at the City Winery in the cement Apple (NYC) on October 20th, with an added night if the 20th show is sold out. Please post.
Wavy G.
Hippy Icon, Flower Geezer, &
Temple of Accumulated Error

Stories by Wavy Gravy


Wavy Gravy at Flying Snail Ranch, photograph by C. Spangler

at the marsh:
September 27th, 5:00 PM, September 28th, 2:00 PM
October 4, 2014 5:00 PM, October 5, 2014 2:00 PM
the marsh is located at 2120 Allston Way, Berkeley, CA
$15~$35~$50. (415) 282-3055

Wavy Gravy performs at NYC's City Winery on October 20. What better way to get ready than to perform for Marsh Audiences for four shows only. In Hippy Icon, Flower Geezer & Temple of Accumulated Error, Wavy Gravy recounts his legendary life and times, spilling proverbial beans. Among many other things, you may possibly hear about Albert Einstein walking five-year-old Wavy around the block or maybe about the time Tom Paxton shared a room with Wavy over the Gaslight in Greenwich Village and Bob Dylan wrote "A Hard Rain's A-Gonna Fall" on Wavy's typewriter or, yet again, just maybe, about Wavy at Woodstock. All performances will benefit Seva Foundation and Camp Winnarainbow.

Artist Biography

He may be best known to millions as a cosmic cut-up and the inspiration for a Ben & Jerry's ice cream flavor – "I am an activist clown and former frozen dessert," he says – but it is because of his good work on behalf of the planet and its least fortunate residents that Wavy Gravy has achieved his own brand of sainthood. His friend and satirist Paul Krassner has called him "the illegitimate son of Harpo Marx and Mother Teresa." Wavy says, "Some people tell me I'm a saint, I tell them I'm Saint Misbehavin'," which is also the name of Michelle Estrick's critically acclaimed documentary on Wavy.

Hugh Romney, much better known as Wavy Gravy, already well into his official geezerhood', is more active and more effective in the world then he was decades ago. Back then when still known as Hugh Romney he stood on the stage of the original Woodstock concert and announced…." What we have in mind is breakfast in bed for 400,000!" He was at Woodstock as a member of an entertainment/activist commune known as the Hog Farm. Today, the Hog Farm still exists, collectively owning and operating the 700-acre Black Oak Ranch and hosting the annual Pig-Nic. And Wavy lives 8 months of the year in a Berkeley Hog Farm urban outpost, a big communal house he refers to as "hippie Hyannisport" But Mr. Gravy has expanded his activities over the past three & a half decades to include codirectorship of Camp Winnarainbow, a performing arts camp for children which takes over the Hog Farm for 10 weeks every summer, and the organization of all-star rock concerts to raise money for a variety of environmental, progressive, political, and charitable causes, most notably Seva, a foundation he cofounded in 1978, initially to combat preventable and curable blindness in the Third World.

When you spend any stretch of time with Wavy Gravy, strolling around the Hog Farm during the Pig-Nic, hanging out with him at his "hippie Hyannisport" in Berkeley, observing him in action at a public function – you quickly discover that the man with the rubbery face and ever-changing costume is a walking public service announcement for positive social change and compassion.

According to Wavy, his commitment to the kind of work he does was indeed a product of the '60s. "That's when I knew this thing was real," he says, "that it was the only game in town and I wanted to go to work for it, whatever it was. Once you realize the interconnectedness of all stuff, there's no going back. I have an old Gravy line, 'We are all the same person trying to shake hands with our self.' Remember that the next time you say, 'pass the gravy.'"
---
Notes from ~@~

George Carlin mix ~ DJ Steve Porter & Eli Wilkie ~ http://vimeo.com/21162532
---
---
End of Age Scenario for Couth Kith

Those Without Personal Experience Will Not Understand

by C. Spangler

LORD IF THERE IS A HARDER WAY PLEASE
SHOW IT TO ME BECAUSE IT MUST BE BLISSFUL

One perspective shows that in this place reality is simple, only exists in duality, and (as presented by the Einstein~Podolsky~Rosen Paradox) is telepathic.

Duality separated from the proverbial You can be observed like sunrise and sunset and is nothing more than an age old struggle of darkness vs. light or negative vs. positive and can be viewed as a "there's that one again" scenario; allowing one to obtain 'observer' mode, which I highly approve of ... as opposed to a 'caught up in' mode.

The upcoming aeon transition (2050 by my calculation) was known far in advance; however, here is where a problem lies. There is no previous experience recorded (currently known) that one can call on for guidance. In other words, everything is new for all facets of this conversion, where light overpowers darkness, people finally get along, and there is no more war.

In the past, here is how I have attempted to described what is to occur when this aeon change happens.

If one looks at a Yin/Yang symbol (above graphic), ... on one side there is a vast amount of dark with a little light spot and on the other side there is a vast amount of light with a little dark spot.

When the 2050 conversion occurs, those in the smaller dot of light will move to the larger side of light and those currently in the larger side of darkness will move to the small dark spot, where they will be constantly observed and kept in check. There is an obscure old saying that relates to this, "You have made your bed, now sleep in it."

Because this is duality there are specific rules that grant powers to the dark side allowing THEM to obtain souls for their new realm, and in order to do this, they will exert massive amounts of negativity in order to create fear; thus obtaining slaves for their new reign in their small dot of darkness. This is nothing new because it has always been like this and is, proverbially, the 'same old, same old' ... stuff.

In realms of astral and casual realities; remembering one definition of Hiranyaloka is a subtle astral heaven where souls of the astral and casual planes are able to converse, it is noted "things do not change, people do" ... meaning, ... until the recording called life plays through perfectly, without incident, this cycle will constantly repeat itself, no matter where this scenario is experienced or played out. For example, Jesus said, "In my father's house there are many mansions" suggesting Earth is not our only home.

Without being aware of it, the general population attempts to achieve liberation; which is, 'freedom from the cycle, of birth and death'.

Most folks I know are in a state of devotional liberation; having achieved freedom from this cycle, and return to the carnal world to help those seeking liberation as an act of Seva or selfless service.

Needless to say, negative aspects of this dualism scenario are well aware of this conversion and make a tremendous amount of noise in order to divert attention from those souls attempting to obtain liberation.

There is no set guide or path to achieve this state of awareness other than one's personal experience; however, here is where selfless service or meditation enter the picture as a calming and growing aid.

Although not specific to what is presented above, and as a temporary conclusion for now, here is a related story as told by someone else on a similar path, and in my opinion food for thought for preparing for this aeon change.

Be Aware: The Nexus Approaches!

Posted on October 10, 2010 by mayasoma

10-10-10 Star Gate Portal

"The human race is headed towards a great change, many spirits will return to the stars and something magnificent is going to happen!" Astral Walker

Can you feel it? The race is on, the diaspora has begun and souls are scrambling to make sense of the intensifying energies on Planet Earth. If only our history books had documented the truth of the astrological cycles as the Maya, and many other indigenous tribes, have long done for their own people, then there would not be so much uncertainty and fear. Unfortunately, that is not how this part of our homo-sapien history is to be played out. At present, the 3D world is going crazy and the only way to manuever these times is to understand the facts. And so, without further ado, here is some of our history…

26,000 years ago, the galactic center of the Milky Way emitted an enormous energetic wave better known as the Nexus. It does this every 26,000 years, as they say, there is nothing new under the sun. This emissions are what have caused the tumultuous transitions from each of our previous world eras. If you are not familiar with these facts, simply research indigenous tribes and their 1st, 2nd, 3rd, 4th, and soon to be 5th worlds.

What was released all that time ago will soon reach our earth in full strength. The Nexus has its own personal rhythm and does take some time to cross the galaxies and skies. I believe its arrival correlates to the Mayan Long Count End Date of December 2012. Afterall, the center of the Milky Way is where the Maya believe their Creator Hunab Ku resides. Our Creator has sent out an energy impulse, this Supreme Being is blowing us/creation a kiss. Unfortunately, our consciousness resides too far away from our original empowered selves to simply receive that kiss in bliss.

That incoming energy is meant to completely change our world, in other words, to wake us all up to who we are: infinite Gods and Goddesses with incredible abilities and powers. This incoming beam of bluish-white light will alter and restore our DNA from its current state which only uses 3% of its capacities to a renewed state of 100% remembrance. Translated: 97% of what scientist call junk DNA will be reactivated. WoW…a jolt of electricity that courses through our veins, awakening our souls and minds. No one is going to escape this phenomena. Thank you Hunab Ku!

Our main problem lies then with the Dark Lords who currently control the 3D world. They are also fully aware of the approaching Nexus and have set out a program to depopulate the Earth as much as possible. Why would they do that? Who are these Dark Lords? It's an old story, again, much of our missing history, but the short and long version of it is there is an inter-galalctic battle on right now, a war that is being waged for souls. If the Dark Lords, negative Et's, have their way, the coming earth catastrophes will take people into fear and fear is a place where they can trap one's soul, one's consciousness, forevermore. On a distant planet, in a distant place, maybe somewhere that looks exactly like our Earth, a new slave race can be created with the trapped souls. The Dark Lords know, full well, that their "time" on Planet Earth is over. A new era has cometh… the age of peace and enlightenment…and they must flee. They intend to flee with as many captives as possible. Sound like a bad sci-fi movie? I wish it were, but these are our current events and the facts are unknown to almost everyone. How frightening! Wake up, please, before you are whisked away to another dimension without personal agreement to do so.

"Right now the realm of darkness is not interested in this (peace). They are organized to block it. They seek to unbalance the Earth and its environment so we will be unready for the alignment in 2012." Carlos Barrios, Mayan Datekeeper

Take a look around…. ecological disasters leading to worldwide famines and extinction, environmental catastrophes that destroy the lives of millions, economical collapses that create a fearful, dependent race and threats of terrorism and world wars loom over our existence. Is this the four horsemen spoken of in the Book of Revelations? It clearly is the workings of the Dark Lords and its about to get more intense, after all, these are their death throes.

"From that 1987 date until now, Mr. Barrios says, we have been in a time when the right arm of the materialistic world is disappearing, slowly but inexorably. We are at the cusp of the era when peace begins, and people live in harmony with Mother Earth. We are no longer in the World of the Fourth Sun, but we are not yet in the World of the Fifth Sun. This is the time in-between, the time of transition.

As we pass through transition there is a colossal, global convergence of environmental destruction, social chaos, war, and ongoing Earth changes. All this, Mr. Barrios says, was foreseen via the simple, spiral mathematics of the Mayan calendars. It will change, Mr. Barrios observes. Everything will change. He said Mayan Daykeepers view the Dec. 21, 2012 date as a rebirth, the start of the World of the Fifth Sun. It will be the start of a new era resulting from ~ and signified by ~ the solar meridian crossing the galactic equator, and the earth aligning itself with the center of the galaxy." Carlos Barrios, Mayan Datekeeper

Meanwhile, the Family of Light is exerting every effort for a mass awakening, for gathering, for consciously uniting as we know on some level that everything is dependent on us to do so. We are supposed to be creating an astral force field around the planet and ourselves in the shape of the Flower of Life (see Drunvalo Melchizedek's work on this matter for more information). This symbol can and will prepare us for the enormity of the approaching Nexus. We are supposed to be clearing our fields as much as possible of debris, creating no new karma, so that we are a crystal clear channel for receiving the Nexus energy. We must give praise and thanks as we have received, and will continue to receive, so much help from the Galactic Federation of positive Et's.

I ask myself though, have enough souls awoken to make this transition happen with ease? Can geological earth disasters be diminished? The Dark Lords are earnestly working hard to create as many earth catastrophes as possible in these last days in order to capture their slave race of unaware humans. Many will succumb to this fate due to fear, many will go to the stars as their earth contracts are complete, and a handful of ascended beings will remain on the New Earth.

If you happened to be a person who was to die in shock and fear, your consciousness would be lost and confused on the astral plane for a moment. It is in those crucial moments that the negative Et's can and will capture your essence in a containment vehicle if you are not aware. As quickly as you come into consciousness, get to the benevolent blue light. I have been warned not to be drawn down any tunnels or caves, nor gravitate to any bright yellow-red lights and by no means go with any beckoning ET's.

The benevolent ET's, the light ones, are calling us home and their bioluminescent blue-white light is the signal. You can feel this with your heart. They have said Operation Victory is at hand. They have stated that the Dark Lords cannot succeed and all disasters will be minimized (let's hope so as some seriously dangerous threats are presenting themselves on the earth right now). They have also said the Dark Lords are at their most dangerous as they face defeat, so it is crucial to be fully present! Be aware! Vaccines? Genetically modified foods? Chemical spraying? Understand, these are some of their tools for mind control and keeping the masses asleep. Whatever cometh, wherever you find yourself in these last days where we count days, simply remember, you have only one thing to do: get to the bluish-white light, reach out for the Nexus. If you do, your full consciousness will be re-instated and you will be safe and empowered.

Let us recall the last sign in the Hopi prophecy which states that a blue planet from the Heavens will crash into Earth causing earth destruction, this last sign is what all elders are awaiting as our entry into the 5th world. Possibly, it is not a planet, but an energy wave: the Nexus?

Lightwalkers, we are going home now. We have felt the Nexus approaching for years, even if we could or could not put words to it. Our Creator desires our remembrance and this collective shift to magnificence is welcome. Stay in your heart and the Dark Lords will lose power. It is promised and all is well!

Navajo, awaiting portal 11-11-11 and 12-12-12 to the Nexus!

http://mayasoma.wordpress.com/2010/10/10/be-aware-the-nexus-approaches/
---
---

The Great Bell Chant (The End of Suffering) ~ http://vimeo.com/6518109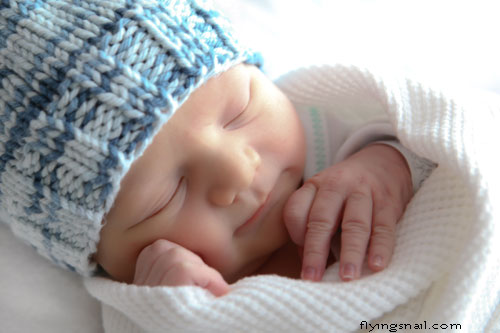 One Day ~ Matisyahu ~ http://vimeo.com/11520225

Unsung Hero ~ Still Anonymous ~ http://vimeo.com/90853494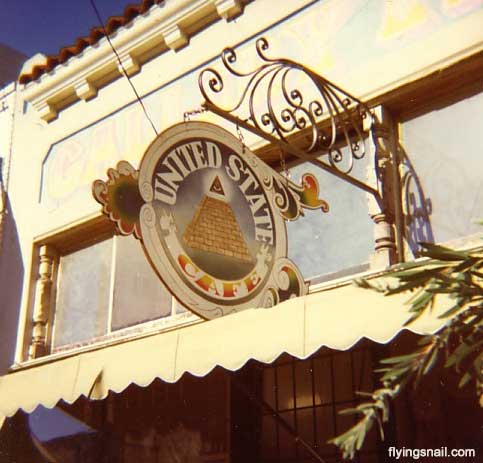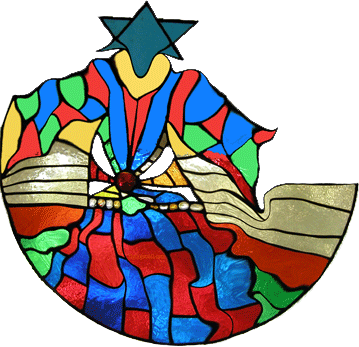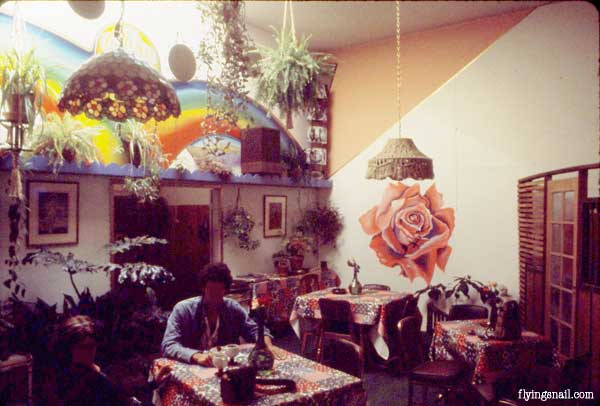 Remembering the United State Cafe

Rock Of Ages ~ DJ Schmolli / Video: Panost ~ http://vimeo.com/44298418
---
---
John Flores ~ Graphic Artist
Yeah Yeah Yeah ~ My favorite Beatles songs




Paintings & Illustrations by

Giancarlo John Flores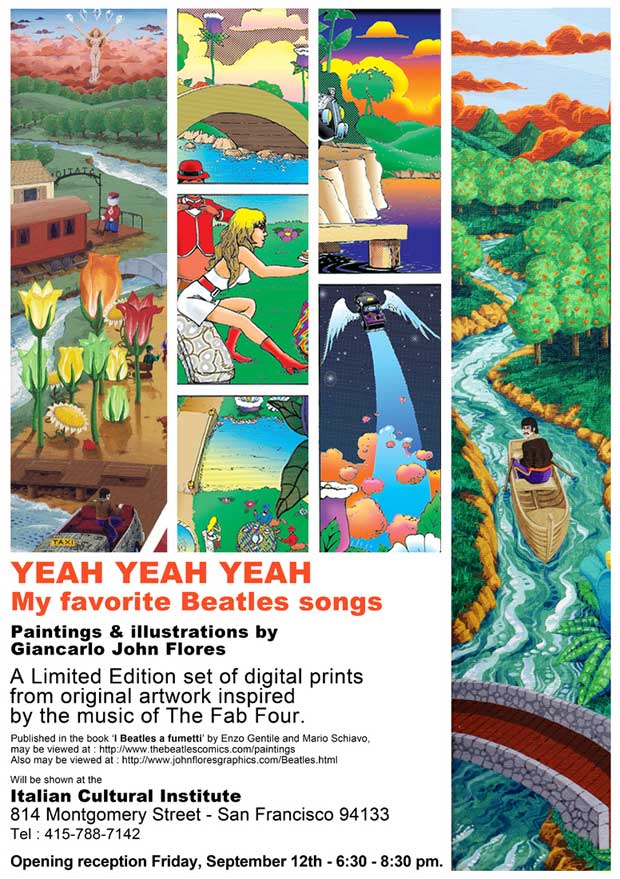 Italian Cultural Institute
814 Montgomery Street, San Francisco, CA 94133 ~ (415) 788-7142
Friday, September 12, ~ Friday, October 31, 2014
Click to Visit John Flores Beatle Gallery
---
Karl Cohen ~ Association International du Film d'Animation-SF Newsletter
Last Minute details about 3 upcoming ASIFA-SF Events:

A Free Screening of "THE BOXTROOLS" ~ Ron Diamond's ANIMATION SHOW OF SHOWS ~ NEW CANADIAN ANIMATION

Plus:

A Siggraph Show ~ Other places you can see The Animation Show Of Shows closer to where you live ~ Animation Festival in Portland, OR, No Entry Fee if you enter by Oct. 1 [Click to read]
---
Marliese's Corner ~ San Francisco Events
---
---
Freedom of expression and freedom of speech aren't really important unless they're heard...It's hard for me to stay silent when I keep hearing that peace is only attainable through war. And there's nothing more scary than watching ignorance in action. So I dedicated this Emmy to all the people who feel compelled to speak out and not afraid to speak to power and won't shut up and refuse to be silenced. ~ Tom Smothers
---
---
ISIS Posts Photo of Their Members
Chilling With Sen. John McCain

[Click Here for complete article]


Senator McCain "chillin'" with ISIS Leaders in Syria

Why do Congress, Senate, & Politicians like John "Hotdog" McCain Continue To Support Israel's Murder and Maiming of United States Naval Personnel?

None of the Above
should be a choice on Voter Ballots!
---
---
[Your Burdensome Tax Dollars At Work?]
[Where's the money Rumsfeld; offshore politician accounts?]

US school districts given free
machine guns and grenade launchers

Calls to hand back weapons and gear, from M16 rifles to mine-proof vehicles, obtained under Pentagon scheme

Associated Press in Los Angeles, theguardian.com, Thursday 18 September 2014 00.30 EDT, Article Source


An MRAP armoured vehicle of the type acquired by US school districts under a Pentagon
giveaway of military equipment and weaponry. Photograph: Steven Valenti/AP

School police departments across the US have taken advantage of free military surplus gear, stocking up on mine-resistant armoured vehicles, grenade launchers and scores of M16 rifles.

At least 26 school districts have participated in the Pentagon's surplus program, which is not new but has come under scrutiny after police responded to protesters in Ferguson, Missouri, with teargas, armour-clad military trucks and riot gear.

Amid that increased criticism, several school districts have said they will give some of the equipment back but others plan to keep it. Nearly two dozen education and civil liberties groups have sent a letter to the Pentagon and the justice and education departments urging a stop to transfers of military weapons to school police.

The Los Angeles unified school district, the nation's second-largest at 710 square miles with more than 900,000 students enrolled, said it would remove three grenade launchers it had acquired because they "are not essential life-saving items within the scope, duties and mission" of the district's police force.

But the district would keep the 60 M16s and a military vehicle known as an MRAP used in Iraq and Afghanistan that was built to withstand mine blasts.

District police Chief Steve Zipperman told the Associated Press that the M16s were used for training and the MRAP, parked off campus, was acquired because the district could not afford to buy armoured vehicles that might be used to protect officers and help students in a school shooting.

"That vehicle is used in very extraordinary circumstances involving a life-saving situation for an armed threat," Zipperman said. "Quite frankly I hope we never have to deploy it."

Law enforcement agencies around the country equipped themselves by turning to the Pentagon program, which the defence department has used to get rid of gear it no longer needs. Since the Columbine school shooting in 1999 school districts have increasingly participated.


Federal records show schools in Florida, Georgia, Kansas, Michigan, Nevada, Texas and Utah obtained surplus military gear. At least six California districts have received equipment, state records show.

Democratic congressman Adam Schiff said while there was a role for surplus equipment going to local police departments "it's difficult to see what scenario would require a grenade launcher or a mine-resistant vehicle for a school police department".

In Texas, Tina Veal-Gooch, executive director of public relations at Texarkana ISD, said the 2012 school shooting in Newtown, Connecticut, led the district to acquire assault rifles and it had no plans to return them.

In Florida, Rick Stelljes, the chief of Pinellas county schools police, said the county possessed 28 semi-automatic M16 rifles. They had never been used, and he hoped they never would be, but they were "something we need given the current situation we face in our nation. This is about preparing for the worst-case scenario."

School officials in Utah's Granite school district and Nevada's Washoe county school district said they did not have any immediate plans to give back the M16s they received.

San Diego unified school district said it was painting its MRAP white and hoping to use the Red Cross symbol on it to assuage community worries, said Ursula Kroemer, a district spokeswoman. The MRAP had been stripped of weapon mounts and turrets and would be outfitted with medical supplies and teddy bears for use in emergencies to evacuate students and staff, she said.

Jill Poe, police chief in southern California's Baldwin Park school district, said she would be returning the three M16 rifles acquired under her predecessor.

"Honestly I could not tell you why we acquired those," Poe said. "They have never been used in the field and they will never been used in the field."
---

A Question Of Honour ~ Sarah Brightman ~ http://vimeo.com/20989311
---
Cree Prophecy
Only after the last tree has been cut down,
Only after the last river has been poisoned,
Only after the last fish has been caught,
Only then will you find money cannot be eaten.
---
Closing Argument

Alan Shore: When the weapons of mass destruction thing turned out to be not true, I expected the American people to rise up. Ha! They didn't.

Then, when the Abu Ghraib torture thing surfaced and it was revealed that our government participated in rendition, a practice where we kidnap people and turn them over to regimes who specialize in torture, I was sure then the American people would be heard from. We stood mute.

Then came the news that we jailed thousands of so-called terrorists suspects, locked them up without the right to a trial or even the right to confront their accusers. Certainly, we would never stand for that. We did.

And now, it's been discovered the executive branch has been conducting massive, illegal, domestic surveillance on its own citizens. You and me. And I at least consoled myself that finally, finally the American people will have had enough. Evidentially, we haven't.

In fact, if the people of this country have spoken, the message is we're okay with it all. Torture, warrantless search and seizure, illegal wiretapping's, prison without a fair trial - or any trial, war on false pretenses. We, as a citizenry, are apparently not offended.

There are no demonstrations on college campuses. In fact, there's no clear indication that young people seem to notice.

Well, Melissa Hughes noticed. Now, you might think, instead of withholding her taxes, she could have protested the old fashioned way. Made a placard and demonstrated at a Presidential or Vice-Presidential appearance, but we've lost the right to that as well. The Secret Service can now declare free speech zones to contain, control and, in effect, criminalize protest.

Stop for a second and try to fathom that.

At a presidential rally, parade or appearance, if you have on a supportive t-shirt, you can be there. If you are wearing or carrying something in protest, you can be removed.

This, in the United States of America. This in the United States of America. Is Melissa Hughes the only one embarrassed?

*Alan sits down abruptly in the witness chair next to the judge*

Judge Robert Sanders: Mr. Shore. That's a chair for witnesses only.

Alan: Really long speeches make me so tired sometimes.

Judge Robert Sanders: Please get out of the chair.

Alan: Actually, I'm sick and tired.

Judge Robert Sanders: Get out of the chair!

Alan: And what I'm most sick and tired of is how every time somebody disagrees with how the government is running things, he or she is labeled un American.

U.S. Attorney Jonathan Shapiro: Evidentially, it's speech time.

Alan: And speech in this country is free, you hack! Free for me, free for you. Free for Melissa Hughes to stand up to her government and say "Stick it"!

U.S. Attorney Jonathan Shapiro: Objection!

Alan: I object to government abusing its power to squash the constitutional freedoms of its citizenry. And, God forbid, anybody challenge it. They're smeared as being a heretic. Melissa Hughes is an American. Melissa Hughes is an American. Melissa Hughes is an American!

Judge Robert Sanders: Mr. Shore. Unless you have anything new and fresh to say, please sit down. You've breached the decorum of my courtroom with all this hooting.

Alan: Last night, I went to bed with a book. Not as much fun as a 29 year old, but the book contained a speech by Adlai Stevenson. The year was 1952. He said, "The tragedy of our day is the climate of fear in which we live and fear breeds repression. Too often, sinister threats to the Bill of Rights, to freedom of the mind are concealed under the patriotic cloak of anti-Communism."

Today, it's the cloak of anti-terrorism. Stevenson also remarked, "It's far easier to fight for principles than to live up to them."

I know we are all afraid, but the Bill of Rights - we have to live up to that. We simply must. That's all Melissa Hughes was trying to say. She was speaking for you. I would ask you now to go back to that room and speak for her.

Boston Legal ~ Stick It, Season 2, Episode 19 [Video at link] Written by David E. Kelley & Janet Leahy ~ Directed by Adam Arkin.

---

Until there is a solution for this, Nobody will continue to bring Peace to Our Times, feed the hungry, care for the sick, bake apple pie better than Mom, and believes:

None of the Above should be a choice on Voter Ballots


American Dream ~ George Carlin/L.I.L.T ~ http://vimeo.com/72719973

Nobody should have that much power
---
---
Oh, I hope that I see you again I never even caught your name As you looked through my window pane ~ So I'm writing this message today I'm thinking that you'll have a way Of hearing the notes in my tune ~ Where are you going? Where have you been? I can imagine other worlds you have seen ~ Beautiful faces and music so serene ~ So I do hope I see you again My universal citizen You went as quickly as you came ~ You know the power Your love is right You have good reason To stay out of sight ~~ But break our illusions and help us Be the light ~ The Promise by Mike Pinder
Without love in the dream, it will never come true. ~ Jerry Garcia/Robert Hunter
And in the end, the love you take is equal to the love you make. ~ John Lennon
---